This Roasted Delicata Squash with Quinoa salad–filled with autumnal squash, nutty quinoa, red onions, peppery greens, blue cheese, and toasty pecans – will look like a jewel on any table and taste delicious, too. 
There are some recipes that without trying hard are instant winners. Without much fuss, they come together easily and immediately become your new favourite. This roasted delicata squash with quinoa salad is one of them. It is a stellar salad that is worth getting excited about. Glistening with Autumnal colours, it is wholesome, satisfying, and a feast for the eyes.
Admittedly, when it comes to grains, quinoa is more of the old kid on the block. But we can't forget it is a nutrient powerhouse: full of vitamins, naturally gluten-free, and has a low glycemic index, just to name a few of its virtues. And when paired with exuberant greens, roasted rings of the overwhelmingly impressive delicata squash, red onions, and a knockout dressing, its downright delicious.
Roasted delicata squash with quinoa salad
I love any salad you put in front of me, but occasionally when I need something more than greens, adding a grain and/or vegetables is the way to. Here, red onions are roasted alongside soft and creamy delicata squash rings then tossed with earthy quinoa grains and heaps of arugula which lend a bright peppery taste to this salad. Pecans, blue cheese, and a sweet-savoury dressing take this salad to someplace wonderful.
Here is why you will love this salad:
It is a heaping bowl of Autumnal wholesome goodness
Excellent alongside grilled or roasted chicken, fish, and meat
It can be served as a side or light vegetarian main meal
It is full of vibrant colour, insane flavour, and satisfying textures
Adult lunch-box prep potential
You get your greens, vegetables, and grains all in one
About delicata squash 
A delicata squash, with its edible skin and creamy interior is a thing of joy. A little fancy, but unlike other squashes, not fussy to prepare, or cook. Needing little more than a generous slick of oil and a smidge of honey for some uplifting flavourings, they're easily transformed to addictive fabulousness. You could say, with already two other delicata squash recipes on this blog, I am perhaps one of their biggest fans. Like most things, however, a little attention goes a long way so in case you are new to delicata squash, visit here to learn everything about buying, preparing, and cooking this gorgeous squash.
Tips for cooking quinoa
Rinse it well: Quinoa has a natural coating called saponin which can apparently be mildly toxic to humans and make it taste bitter when cooked. Rinsing removes the coating and also helps with hydrating the grains. A lot of boxed quinoa will say it is pre-rinsed, but I like to give it another rinse to be safe.
Toast it in oil: I sometimes skip this step if feeling lazy but toasting the quinoa in a bit of oil before cooking enhances the rich nuttiness of the grains which will add a little more depth of flavour to your dish.
Mix it up: There are hundreds of quinoa varieties. For most quinoa grain bowls, I love to mix red and white quinoa to make it more interesting. White quinoa is milder in flavour and cooks up really fluffy. Red quinoa has a bit more texture and richer flavour compared to white quinoa and holds up really well in salads. Try using both for this salad for a little more visual interest, texture, and flavour.
Add aromatics to the cooking water: For a bit more flavour I like to add a bay leaf and a few whole garlic cloves to the cooking liquid.
Season well: A generous seasoning of salt and pepper, after the quinoa has cooked, coaxes out the nutty flavours of quinoa and makes it tastier.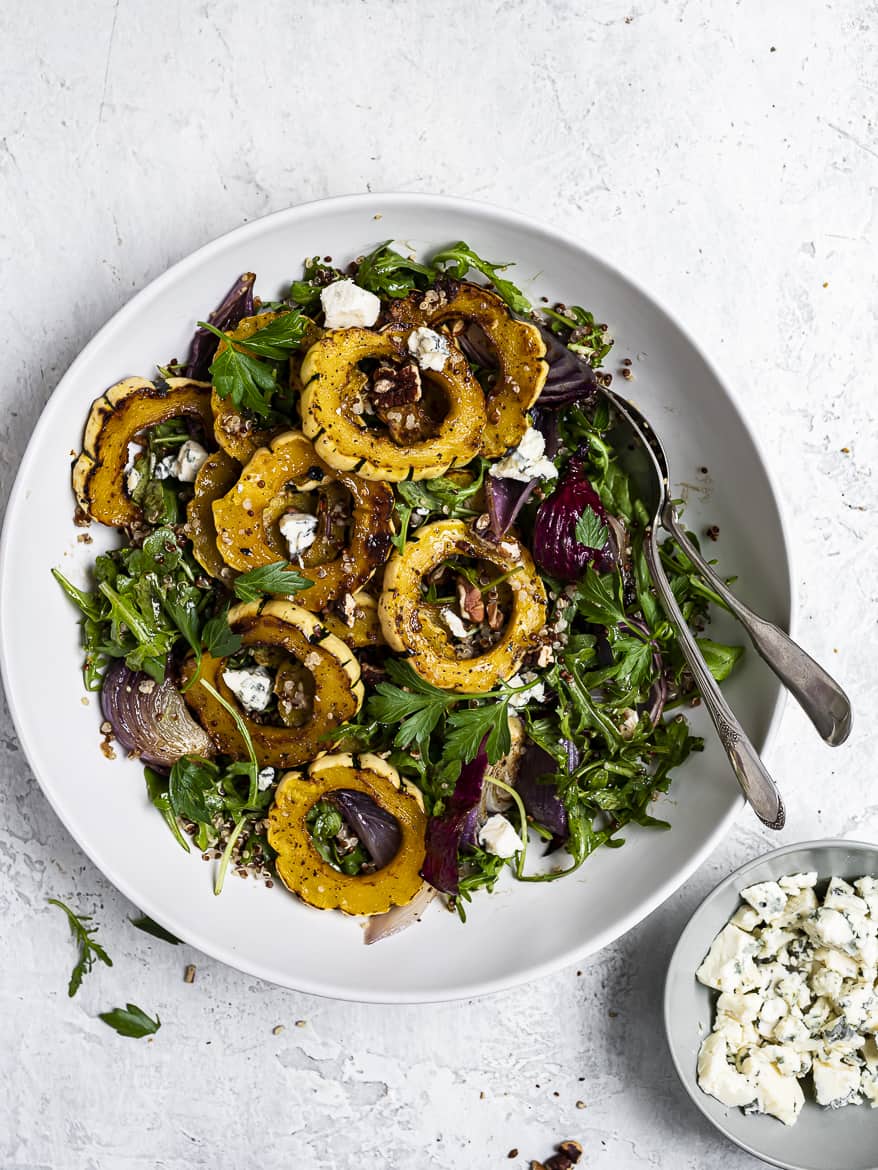 Tips to make the best roasted delicata squash with quinoa salad
Roast the delicata squash on high heat. In a hot oven, it won't take long for the delicata squash to become soft and creamy with caramelized edges. The best thing about delicata squash? There is no need to peel it and you get to eat all the deliciously caramelized soft skin.
Let the cooked quinoa dry out. If you mix hot, still moist, quinoa with your veggies and greens it will make a very sad soggy salad with diluted flavours. Leave the quinoa to cool and dry out in the pot, or better yet, spread it out to dry on the bowl you will be serving the salad while you prepare the other ingredients.
Serve warm or at room temperature: I have been known to eat the salad fridge-cold, but it is so much better warm or at room temperature.
Dress your salad twice. It is hard to gage how much dressing a salad really needs if you dump the whole dressing in at once. I like to gently toss the salad before dressing it, then I add half the dressing, toss again, taste, and add more dressing if needed.
Texture is everything. Every salad benefits from contrast and complexity. Here, I added pecans for some crunch and interest because they felt seasonal. Feel free to any other nuts such as pistachios, almonds, or walnuts.
Top with fresh herbs. I am always upset with myself when I forget to add herbs to my salad. They add fantastic dimension and freshness to any salad. Here, I added Parsley but chives, basil, cilantro, mint, and dill would all work.
Add cheese. A salty or creamy cheese is wonderful in this salad. I went with blue cheese because, but again, feel free to use feta, goat cheese, or a shaved hard cheese such as pecorino or parmesan. So good.
To serve
Serve this filling roasted delicata squash with quinoa salad as a light main meal. Delicious alongside this Chicken Marbella with Dates or this super popular Chicken Provençal. Any leftovers can be packed for work lunches (leave some greens undressed for this purpose).
This salad with simple ingredients has a lot going for it; seasonal, vibrant, wholesome, hearty, satisfying. With Canadian Thanksgiving just around the corner it makes the perfect side to add to your holiday table. I hope you give it a try and love it as much as we do.
Your comments and reviews are very much appreciated. If you make this Roasted Delicata and Quinoa Salad, please be sure to let us know by leaving a review and rating below! 
Similar recipes you might enjoy:
Print Recipe
Pin Recipe
Roasted Delicata Squash with Quinoa Salad
This Autumnal Roasted Delicata Squash with Quinoa Salad is healthy, nutritious, and filling enough to be a light meal that is both cozy and warm. For the quinoa, you can follow the cooking instructions on the package, or you can follow the recipe instructions I provide which always results in really fluffy, perfectly cooked quinoa. The beauty of the delicata squash is that the skin is thin and soft and delicious so need to peel it!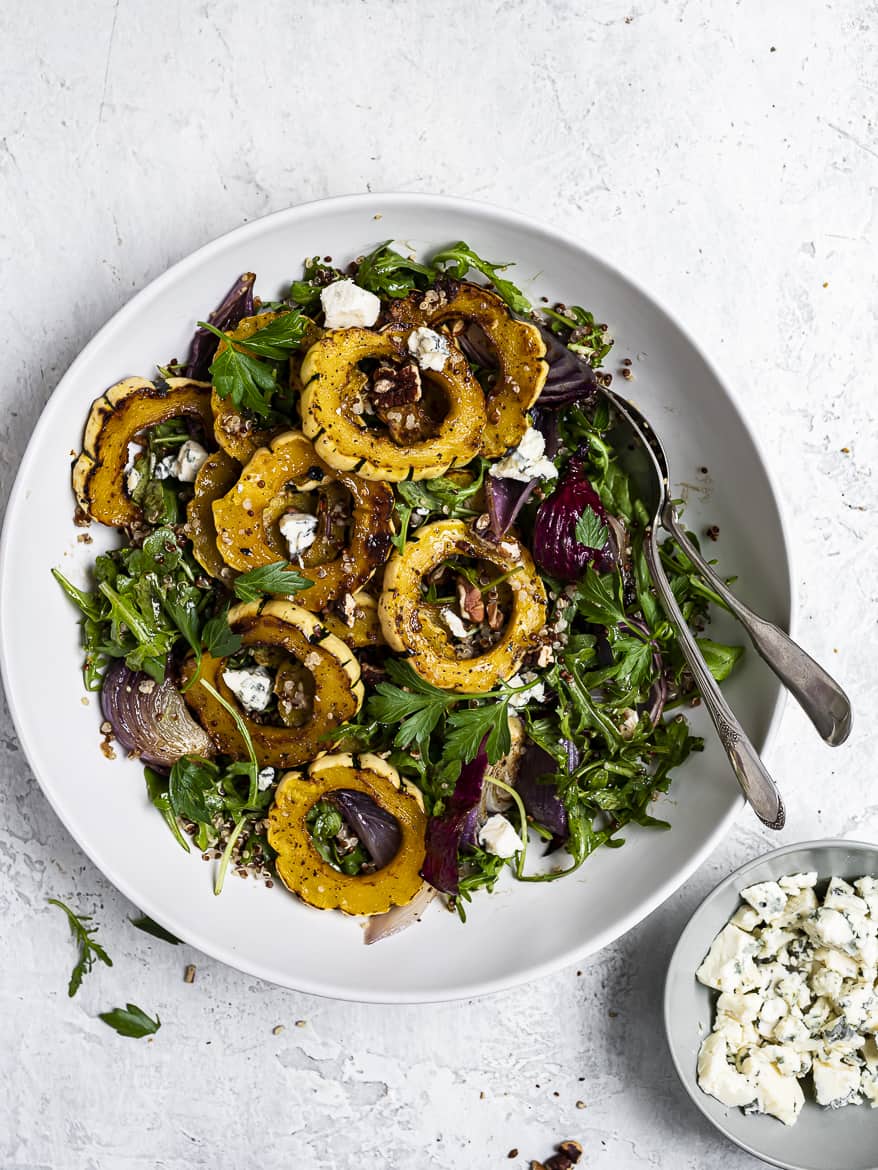 Ingredients
For the Delciata Squash
2-2 1/2

pounds

delicata squash

about 2 medium squash

1

large red onion, or any onion

sliced in thick wedges

3

tablespoons

olive oil

2

tablespoons

honey

1/4

teaspoon

Kosher salt

Freshly ground pepper

to taste
For the Quinoa
1

cup

uncooked quinoa, rinsed well (*see notes)

I used red and white, but you can use any variety

2

cups

water

1/2

teaspoon

kosher salt

freshly cracked black pepper to taste
For the dressing
1

small garlic clove

grated or finely minced

3

tablespoons

balsamic vinegar

2

teaspoons

honey

or maple syrup

1/2

teaspoon

kosher salt

freshly cracked black pepper to taste

2

tablespoons

extra-virgin olive oil
For the Salad
4

cups

greens such as arugula, spinach, or mixed greens

1/2

cup

toasted pecans

roughly chopped

1/2

cup

crumbled blue cheese

or feta

a handful of chopped herbs such as parsley, mint, or chives

kosher salt and freshly cracked black pepper

to taste
Instructions
Preheat oven to 425 degrees F. Line two large baking sheets with parchement paper.

Trim the ends of the delicata squash and cut it in half crosswise. Scoop out seeds, and cut crosswise into 1/4-inch rings. Alternatively, cut in half lenghtwise, scoop out seeds, and cut into 1/4-inch half moons. The latter method makes it a little easier to scoop out the seeds.

In a large bowl, whisk together the 3 tablespoons olive oil and the 2 tablespoons of honey. Add the sliced delicata squash and red onion wedges and toss to coat well. Distribute the delciata squash, and the red onion wedges, evenly amongst the two baking sheets, making sure not to overcrowd them so they can get crispy. Sprinkle with salt and pepper.

Roast for 25 to 30 minutes, flipping the squash and rotating the baking sheets halfway through, until squash is crisp and browned on the outside and tender on the inside.

While the squash and onions are cooking, make the quinoa. Bring rinsed quinoa, a pinch of salt, and 2 cups water to a boil over med-high heat, then decrease heat and maintain a gentle simmer. Cook until the quinoa has absorbed all the water, about 15 minutes. You may need to lower the heat as the water is absorbed. Remove from heat, cover, and let sit for 5-10 minutes. Fluff with fork and transfer cooked quinoa to a large bowl and set aside.

While quinoa is cooking, whisk all the dressing ingredients together in a small bowl.

Assemble the salad: Once the quinoa has cooled, add the greens to the bowl and top with the roasted squash, red onions, pecans, blue cheese, and parsley. Drizzle with half of the dressing and toss gently to combine. Taste and add a little more salt, pepper, and dressing, if needed. Serve warm or at room temperature.
Notes
*Quinoa has a natural coating called saponin which can apparently be mildly toxic to humans and make it taste bitter when cooked. Rinsing removes the coating and also helps with hydrating the grains. A lot of boxed quinoa will say it is pre-rinsed, but I like to give it another rinse to be safe.
The salad, without the greens, will keep in an airtight container in a refrigerator for up to 4 days.
You can certainly have the salad cold. I prefer it brought up to room temperature or gently heated in the microwave, or on the stovetop, for just a few minutes.