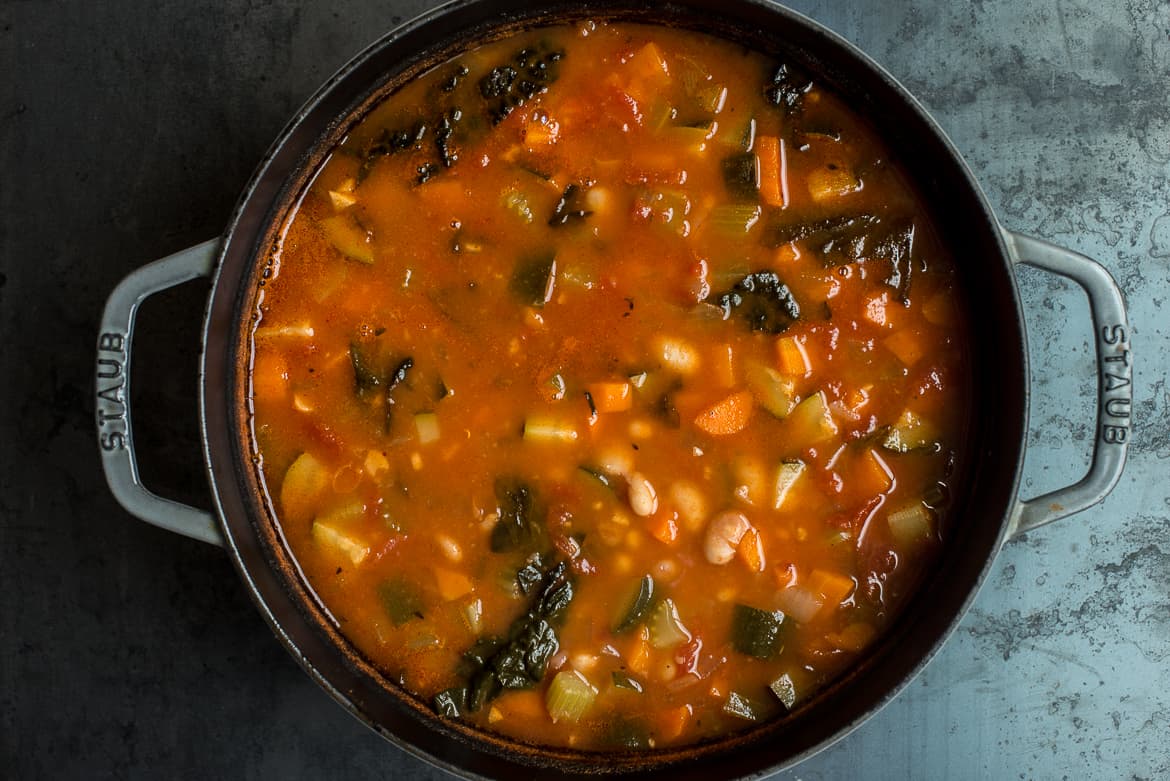 I cooked, photographed, and ate this soup a few weeks ago. As I finally find some time to post it, I would give anything to have it front of me again since I am battling the cold of all colds, more of a flu actually judging by the fact that I haven't moved from the sofa for hours — unheard of for me. I can't say this soup is a quick one to make. A version of a minestrone, really, it does involve a lot of chopping and a few steps that require your attention. Nevertheless, it is a very straightforward and uncomplicated recipe that requires no specific formula; add as many or as few vegetables as you like, add pasta if you wish (I omit it, but if you do add it consider cooking the pasta separately so it doesn't get mushy when re-heated), bulk it out further by adding a grain like farro or brown rice, make it completely vegan or add some tiny meatballs to make it more robust. Though I do love using dry beans for this soup, I understand it is one more step that not all of us have the time for and canned beans work just fine here. I do however encourage you to use a good vegetable stock, preferably homemade, and you can find the recipe here. Unlike chicken stock that needs a few hours of cooking, vegetable stock cooks in 45 minutes and couldn't be simpler or faster to prepare. If making this Italian soup, you can make the stock before you start chopping and browning your vegetables. By the time you need to add the stock, it will be ready for you.
If you want something comforting and delicious, take a little time and make this soup. It gets better and better the longer it sits. Hopefully you will be spared a nasty cold or flu this season, but in case you aren't, stash a few containers of this soup in your freezer; you will love me for it.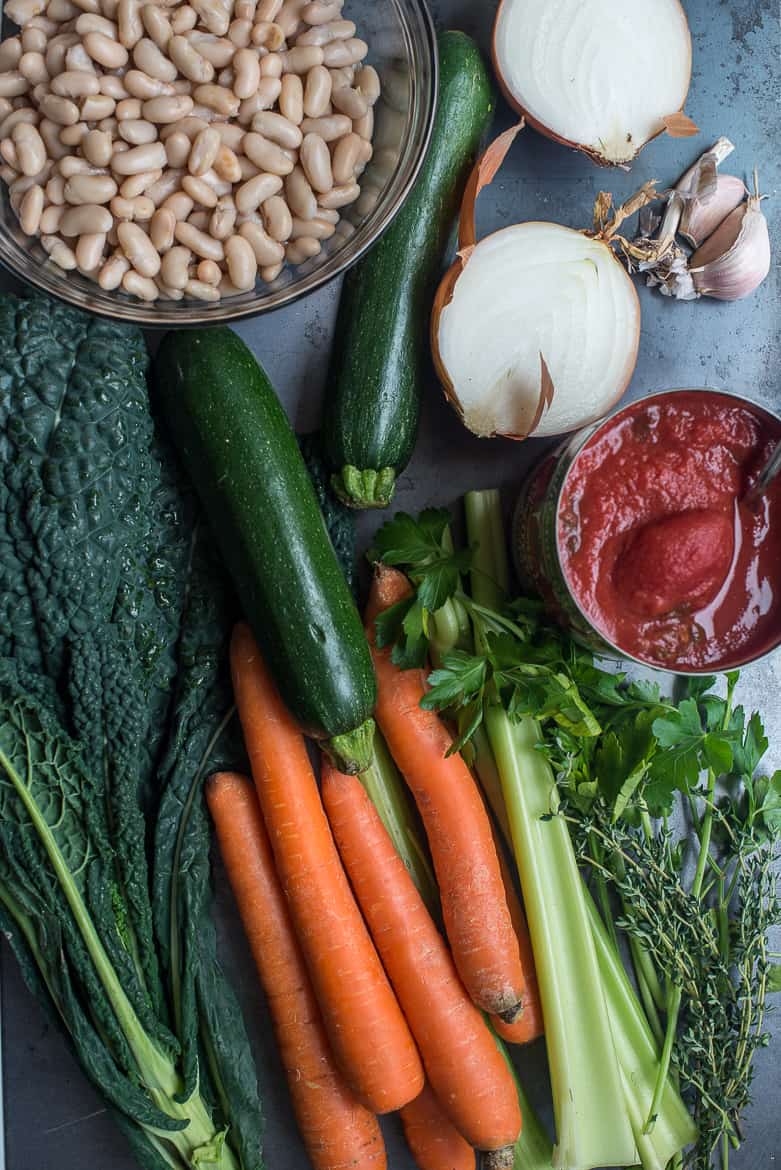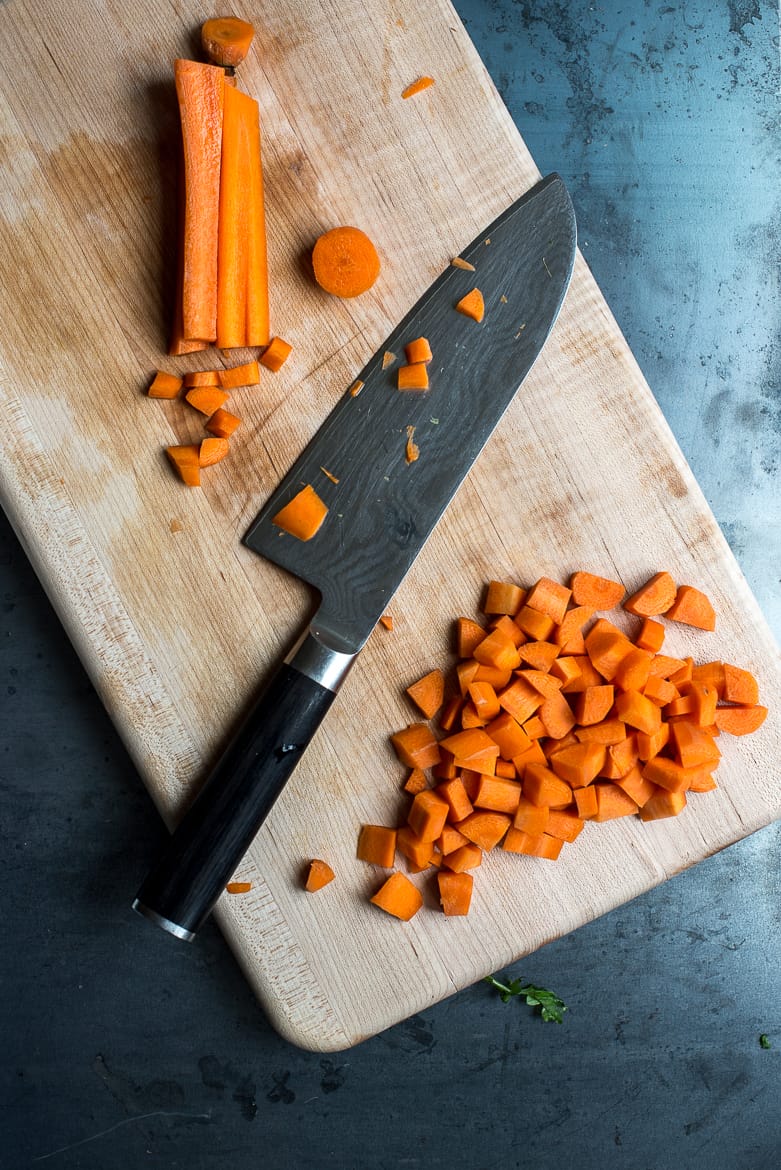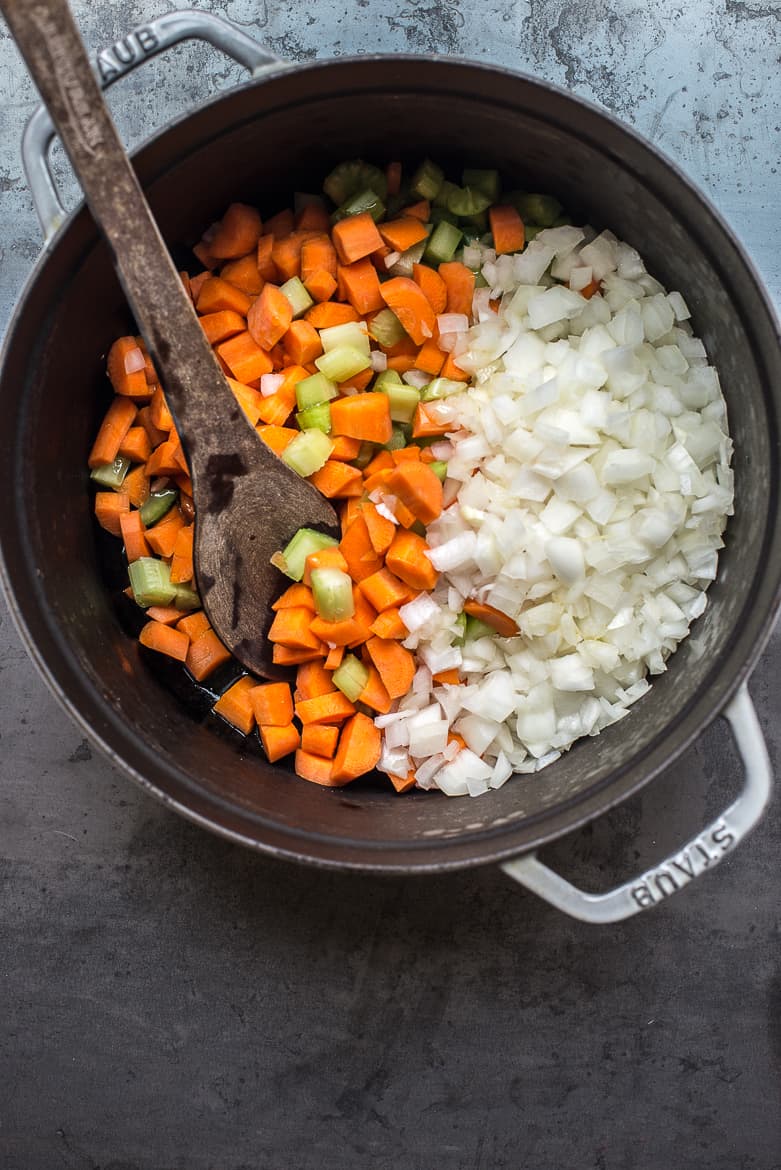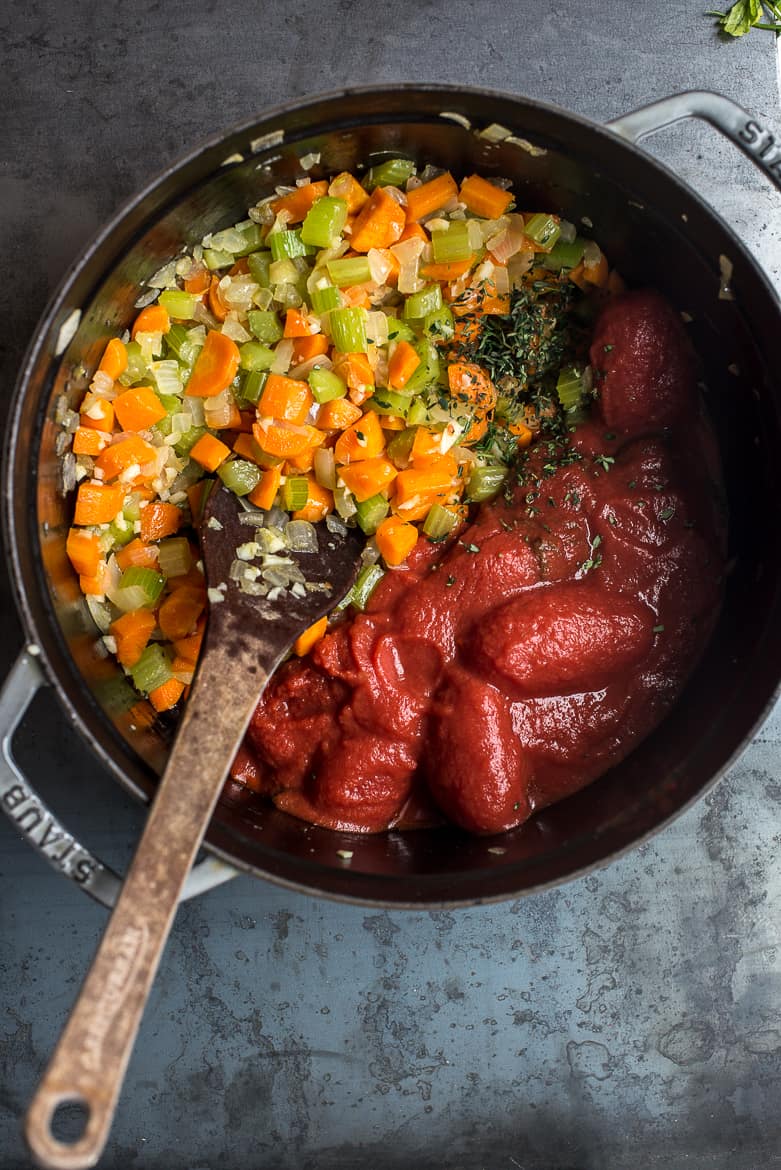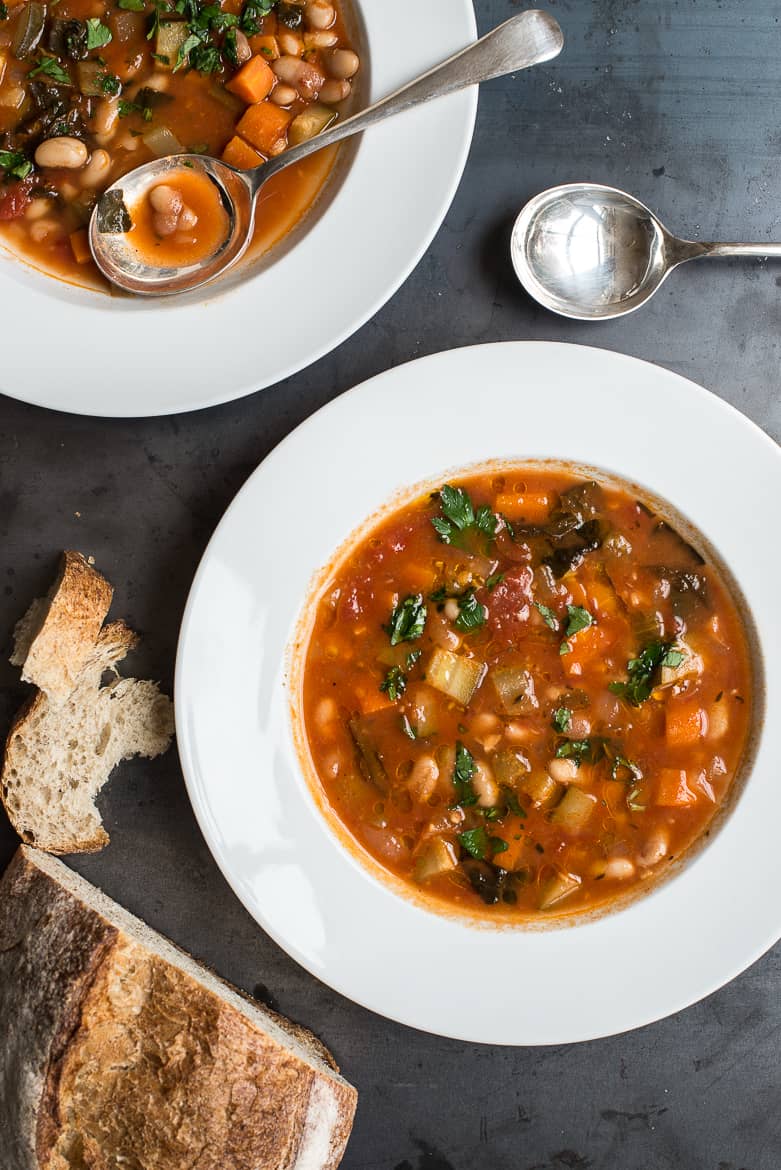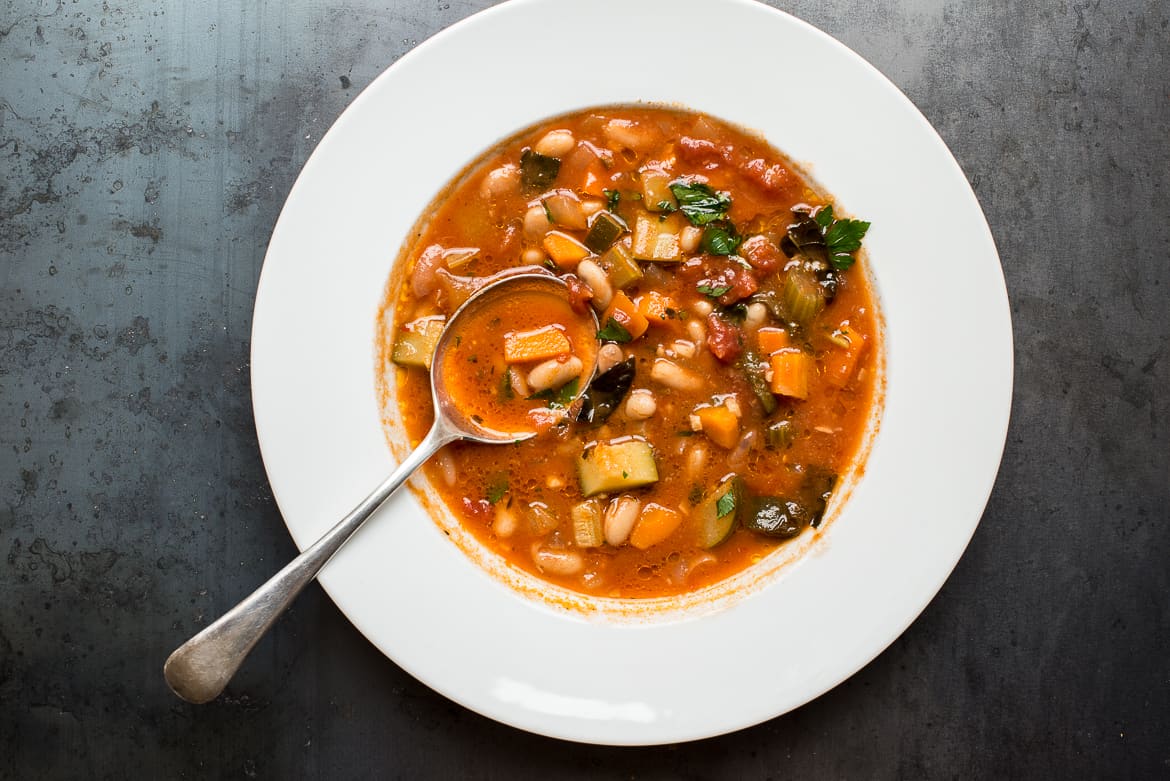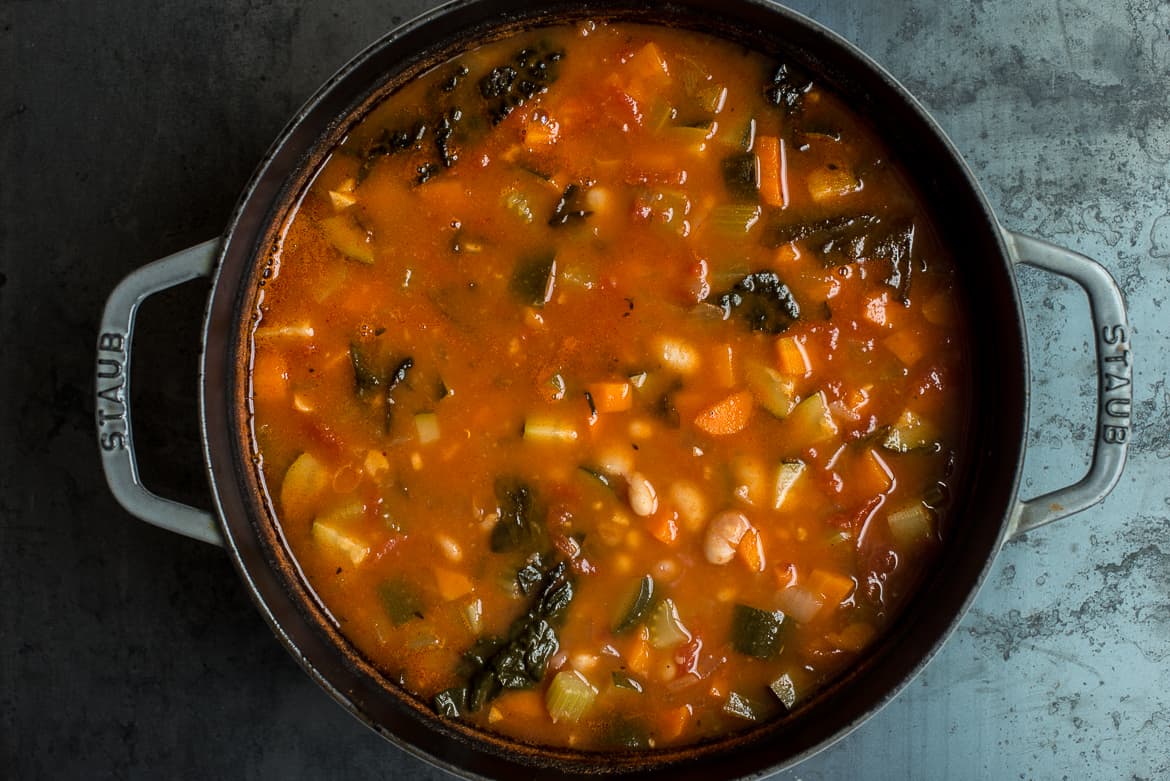 Ingredients
3

Tablespoons

olive oil

plus more for serving

2

medium onions

diced

6

medium carrots

peeled, finely chopped

4

celery stalks

finely chopped

4

cloves

garlic cloves

minced

½

teaspoon

crushed red pepper flakes

optional

2

tablespoons

fresh thyme leaves

finely chopped

1 28-

oz.

can whole peeled tomatoes

with juice

Kosher or sea salt

8

cups

low-sodium vegetable stock

preferably homemade

2

medium zucchini

medium diced

2 15-

oz.

cans cannellini

white kidney beans, drained and rinsed really well

½

bunch Lacinato

black kale, ribs and stems removed, leaves torn into 1" pieces (you can also use spinach, chard or any other hearty green)

2

Tablespoons

chopped

fresh flat-leaf parsley, plus more for garnish

Freshly ground black pepper

Freshly grated Parmesan

for serving, optional
Instructions
Heat the olive oil over medium-low heat in a large, heavy-bottomed pot, and add the onions, carrots, celery, garlic, red pepper flakes, and 1/2 teaspoon salt. Cook, stirring often, until the vegetables have softened, about 10-12 minutes. Do not allow the vegetables to brown.

Add the thyme leaves and the tomatoes, crushing them with your hand or wooden spoon as you go. Season with 2 teaspoons salt and cook for 5 minutes more, until the tomatoes have somewhat dissolved.

Add the stock and bring to a boil. Reduce heat and cook about 15 minutes.

Add the zucchini and cook another 10 to 15 minutes.

Add the beans, kale, parsley, and freshly ground pepper to taste; add a bit more stock or water, if needed. Cook until kale is tender, about 5 minutes.

Taste and adjust seasonings and serve with chopped parsley, freshly grated parmesan cheese and a little drizzle of olive oil on top.