This Salmon Rice bowl with sweet potatoes, sliced cabbage, edamame, and avocado is a fast and easy dinner recipe that is deliciously satisfying, healthy, and perfect for a weeknight.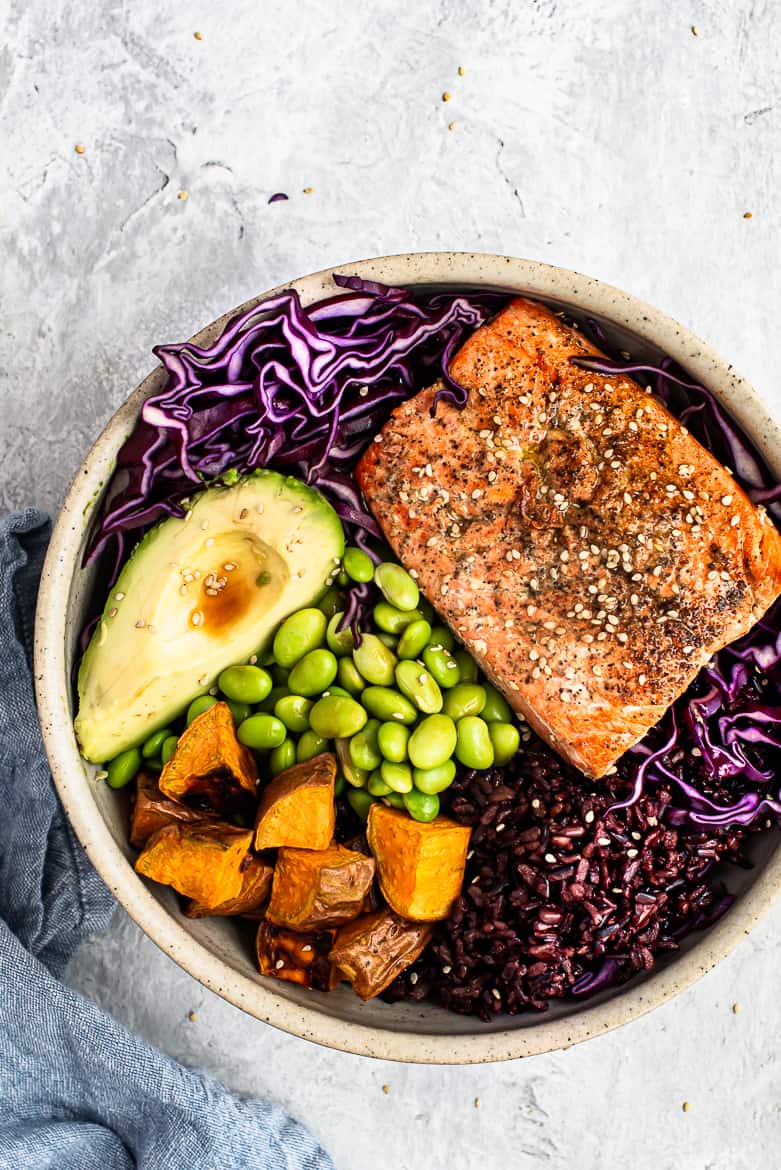 I could not love this bowl more. In this recipe, crispy salmon is accompanied by nutty Riceberry rice, crunchy red cabbage, edamame, tender sweet potato cubes, and perfect creamy avocado slices. Toasted sesame seeds are there for more than just visual pleasure adding a little crunch and extra flavour. A flavour-packed, sweet and salty sauce is used to marinade the salmon then stirred through the whole bowl. It is a bright and healthy meal that will immediately become one of your favourites.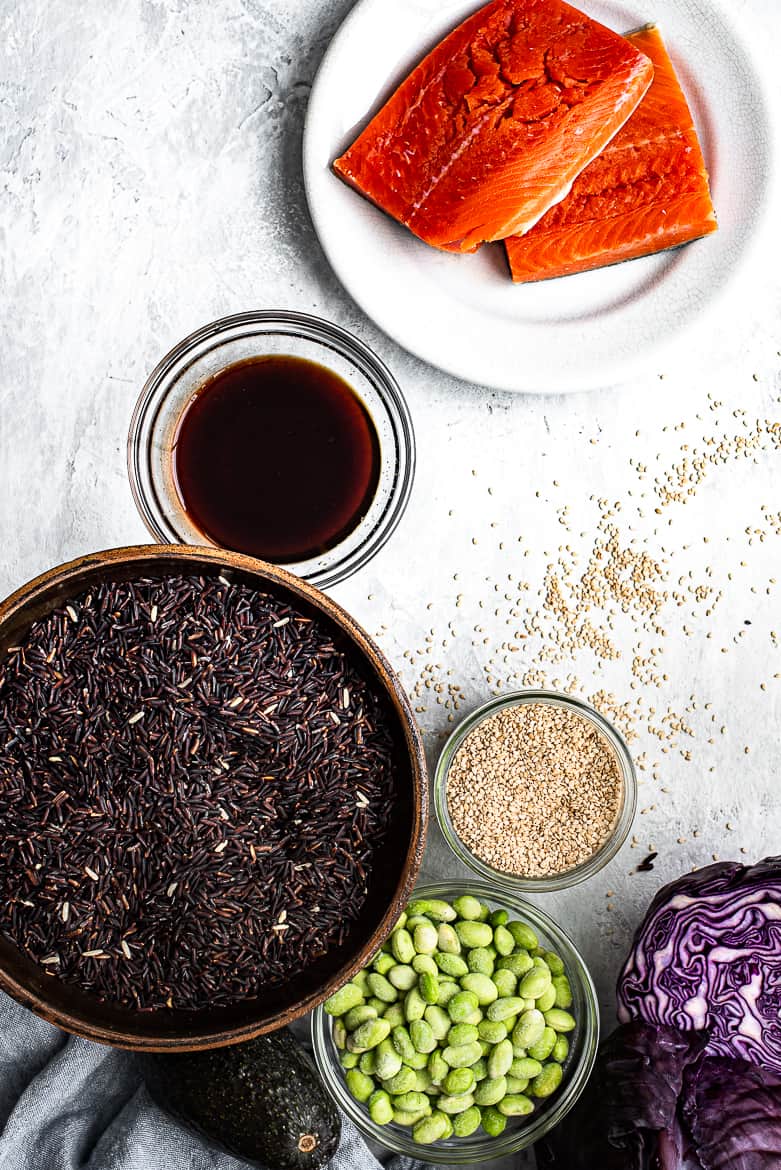 The Bowl Components
The basic components in this recipe are salmon and rice plus whatever is easy and on hand in the refrigerator or your pantry. I had sweet potatoes, edamame, cabbage, and avocado so that's what I used. The beauty of these bowls is that almost anything goes so use any veggies you prefer or that are easy for you to come by.
The sauce: This marinade/dressing is made with soy sauce, maple syrup, toasted sesame oil, rice vinegar, garlic, ginger and a little sriracha for some heat. Here it serves two purposes: A portion of the salty-sweet sauce is used as a marinade for the salmon and the remaining sauce is quickly simmered to thicken and then used to dress the other components in the bowl.
The salmon: Salmon fillets are very convenient for weeknight meals; they are easy to prepare, healthful, and cook quickly. I use wild-caught Alaskan salmon as opposed to farm-raised which I prefer to avoid if at all possible. If you keep frozen fillets in your freezer (Costco has very nice frozen, wild-caught salmon fillets) you can whip up these salmon bowls in a jiffy.
Sweet potatoes: I don't always add sweet potatoes to my salmon bowls, but if I have them on hand, I like to add them for a little extra heartiness. Cut them up in small cubes and roast them while the salmon marinates and you prep the other ingredients. When cut small, they only take about 15 minutes to cook and they are so good.
Cabbage: Red or green cabbage, or a mix, all work great in this bowl. Once the cabbage is sliced, I like to add a little salt and vinegar. This helps it wilt a little and become juicy and even more delicious while it sits.
Edamame: I have to admit I could eat these soy beans everyday. So good and so easy to prepare. I can't imagine this bowl being as good without them but green beans, snow peas, sugar snaps are of course all great swaps.
Riceberry rice: This rice variety is my recent obsession. I had a lot to say about it so I wrote a post which you can find here. I absolutely love it in this salmon bowl but if you can't find it, or don't have time to make it, feel free to use noodles or white or brown Jasmine rice, or any other grain.
Avocado: Obviously not a deal-breaker but makes your salmon bowl oh so much better.
Salmon Rice Bowl; The process
With minimal prep and chopping, this dish comes together very quickly. Here's how to get it done:
If you don't have rice already made, start by cooking the rice since this is what takes the longest.
Whisk together the salty-sweet sauce and use a portion to marinate the salmon for about 15 minutes.
Next, roast the sweet potatoes. When the sweet potatoes have cooked half-way, I like to add the salmon so use a baking sheet that is large enough to accommodate this.
While the sweet potatoes and salmon are cooking, prep the cabbage and edamame. I use a mandolin to shred the cabbage but you can also use a sharp knife. Edamame takes only a few minutes to prepare and it is always best to follow package instructions.
Quickly simmer the remaining sauce until slightly thickened.
Once the salmon and sweet potatoes are cooked, prepare the avocado slices.
Now assemble the bowls by layering the rice, veggies, and salmon then drizzling it all with the sauce. Top with a sprinkle of toasted sesame seeds, if desired. So, so good.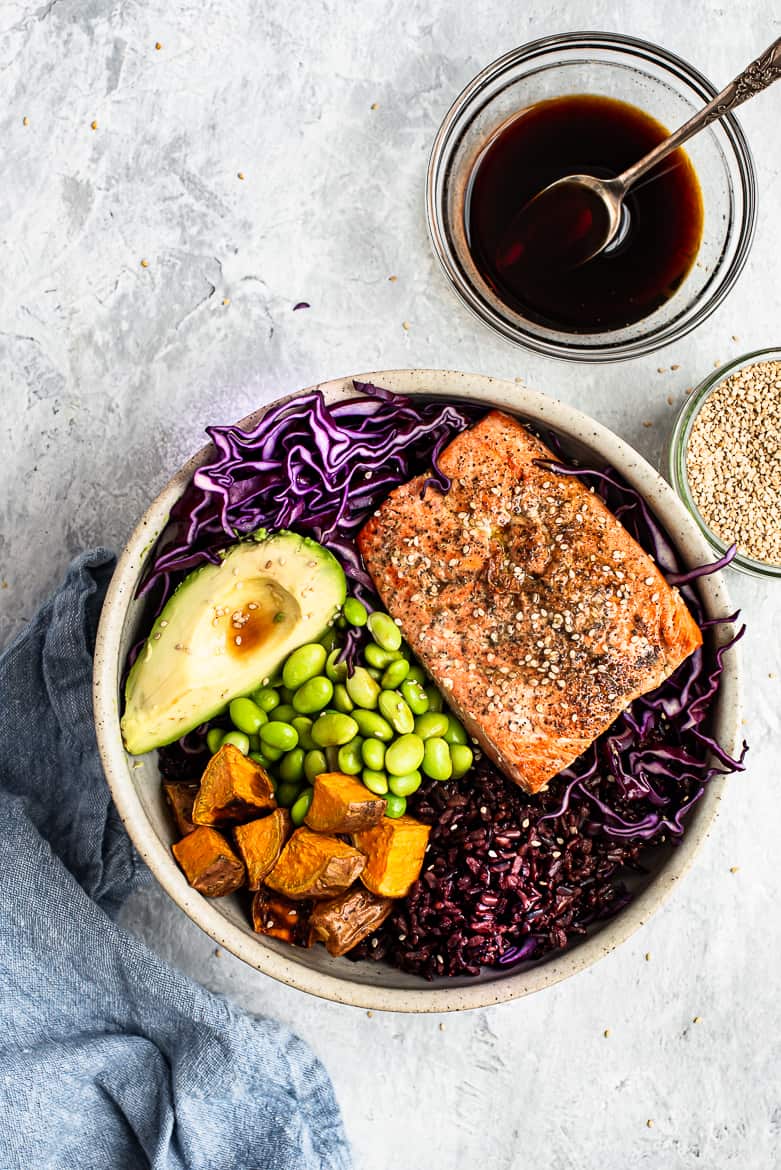 A few tips to cook the salmon
Salmon does not need to cook for long, especially if you are using wild-caught fillets. For this recipe, I like to bake the salmon for no longer than 10-12 minutes (depending on the thickness) then ending with a 1 minute broil. The heat from the broiler adds a slight touch of caramelization to the salmon that I really enjoy.
Feel free to employ whichever cooking method you prefer for the salmon — a quick pan fry, or even grilled, would also work.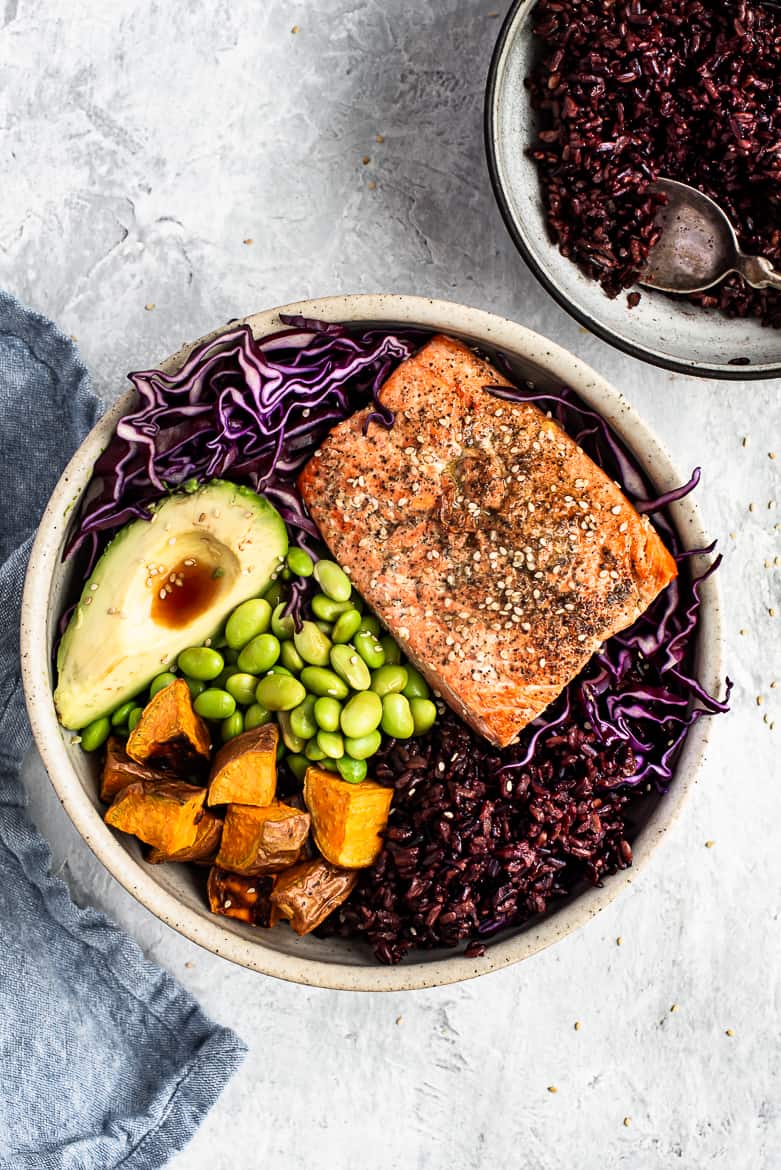 Variations
If you're avoiding animal products, this flavourful, salty-sweet sauce would work beautifully on tempeh or tofu. If you are avoiding grains, buckwheat soba noodles would make a fantastic base for this salmon bowl.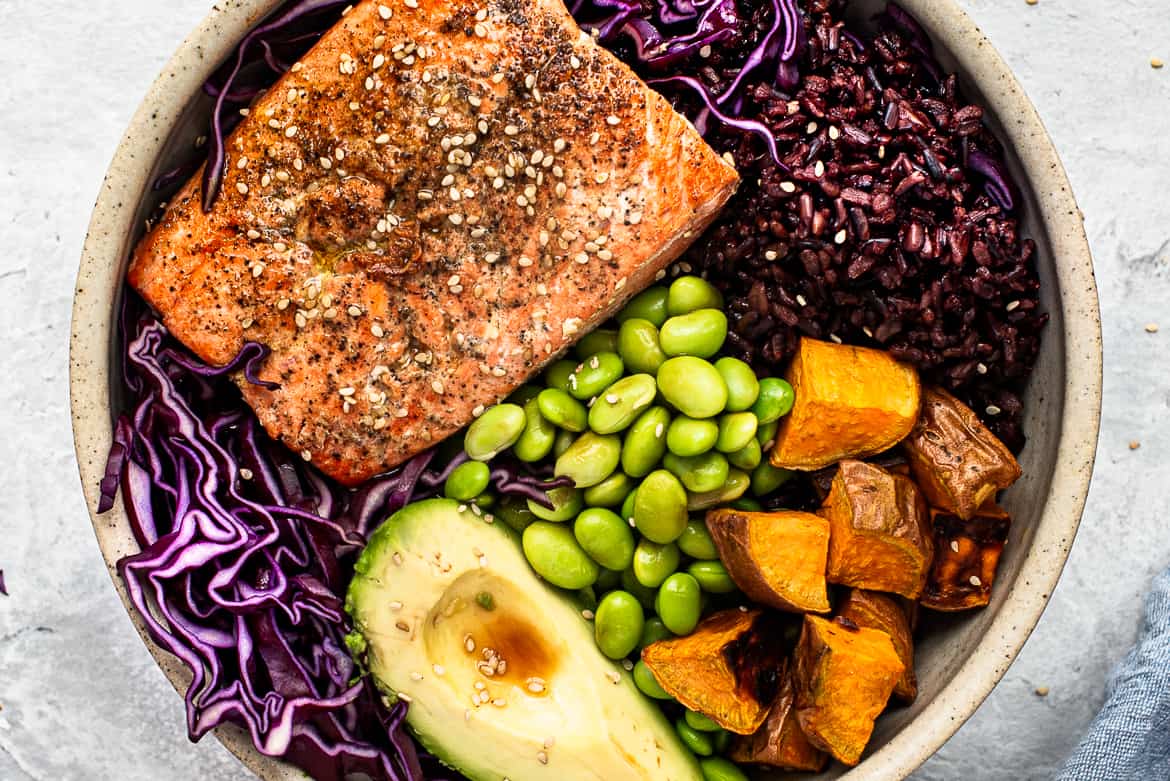 I hope you give this salmon rice bowl a try. It's tasty, it's healthy and it comes together so fast. I would eat all my food in a bowl if I could, wouldn't you?
Print Recipe
Pin Recipe
Salmon Rice Bowl
This recipe assumes you already have cooked rice on hand. If you do not have the rice cooked, start by cooking the rice as it takes the longest to cook. See notes for rice instructions.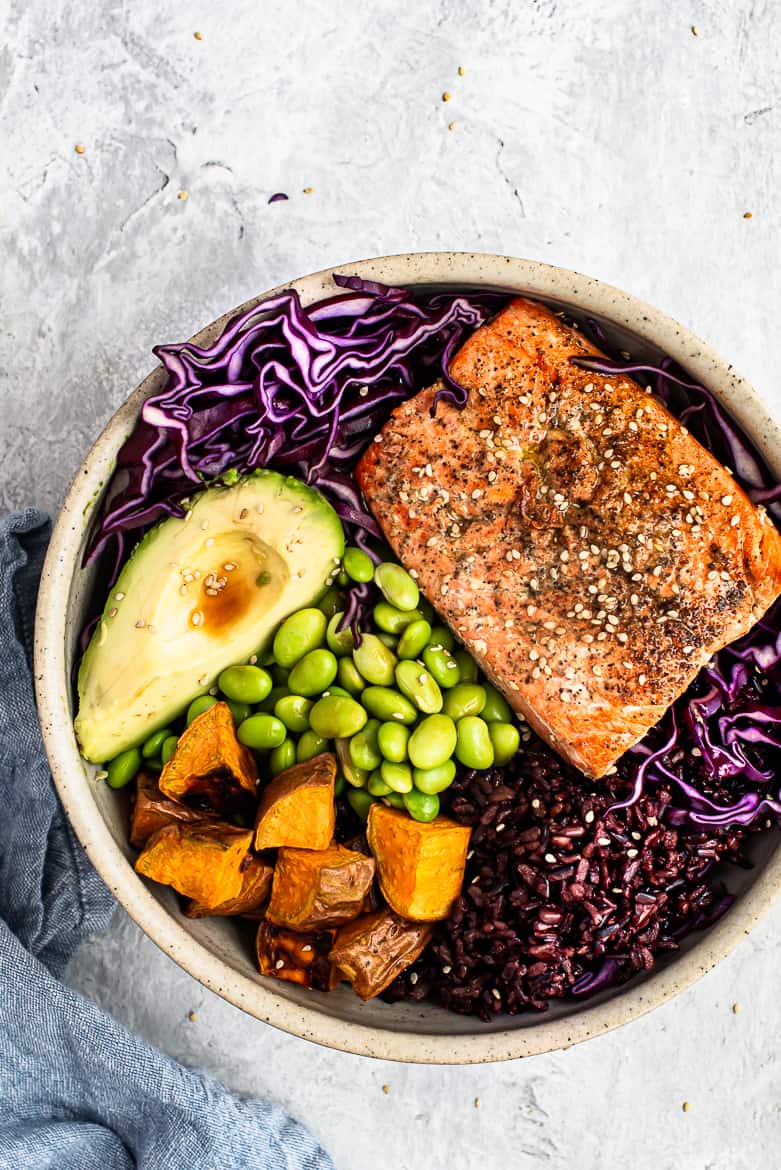 Ingredients
1

large sweet potato

cut into 3/4-inch pieces

1

Tablespoon

olive oil

2

salmon fillets

6-8 ounces each (preferably wild-caught)

1/2

teaspoon

kosher salt

freshly cracked black pepper to taste
For the Sauce
1/4

cup

low-sodium soy sauce

or tamari

4

Tablespoons

honey

or maple syrup

2

cloves

garlic

minced

1

tsp

ginger

grated

2

Tablespoons

rice vinegar

unseasoned

1

Tablespoon

sesame oil

1

teaspoon

sriracha

optional

1/4

water
For the Bowl
2

cups

cooked Riceberry rice

or any other cooked grain or noodle of choice

3

cups

shredded cabbage*

1

cup

edamame

cooked

1

avocado

sliced
Instructions
Preheat oven to 425 degrees F. Prepare a large rimmed baking sheet with parchment paper.
Place sweet potato on baking sheet, drizzle with 1 tablespoon olive oil and toss to coat. Roast, until almost tender, about 15 minutes.

Meanwhile, prepare sauce and salmon. Mix all of the sauce ingredients, except the water, in a small bowl. Season the salmon with salt and pepper and spoon 2 tablespoons of the sauce over the salmon pieces. Let rest for 10 minutes and then add the salmon to the sweet potato baking sheet. Bake the salmon until just cooked through, 10-12 minutes.

While the salmon is baking, add the remaining sauce, plus the 1/4 cup water to a small pot and bring to a boil. Whisk until sauce thickens slightly, about 3-4 minutes. If sauce is too thick, thin with additional water. Set aside.

Assemble the bowls: Divide rice between 2 bowls. Arrange cabbage, sweet potatoes, and any other veggies in the bowl and top with the salmon. Spoon the remaining sauce over the veggies, rice, and salmon. Serve immediately.
Notes
*Toss the cabbage with a little salt and 1 tablespoon apple cider vinegar. Let sit for a few minutes before serving. This is an optional step but it helps soften the cabbage while still maintaining a nice crunch.
To make Riceberry rice, go here.
To make Jasmine rice:
Rinse rice well to remove excess starch: place rice in a large bowl and cover by an inch with water. Swish rice around with your hands and pour off the cloudy water. Repeat 2 or 3 times more until water is barely cloudy. Drain in a fine mesh colander. Cook rice per package directions or use 1 1/2 cups of water to 1 cup rice. Bring to a boil, stir, reduce heat to a low simmer and cook covered for 15 minutes. Let stand for 10 minutes before uncovering. Fluff with fork.