Thai Riceberry is a delicious new variety of whole grain rice. Loaded with nutrients, Riceberry is as easy to cook as Jasmine rice and perfect for stir-fries, curries, rice bowls and salads.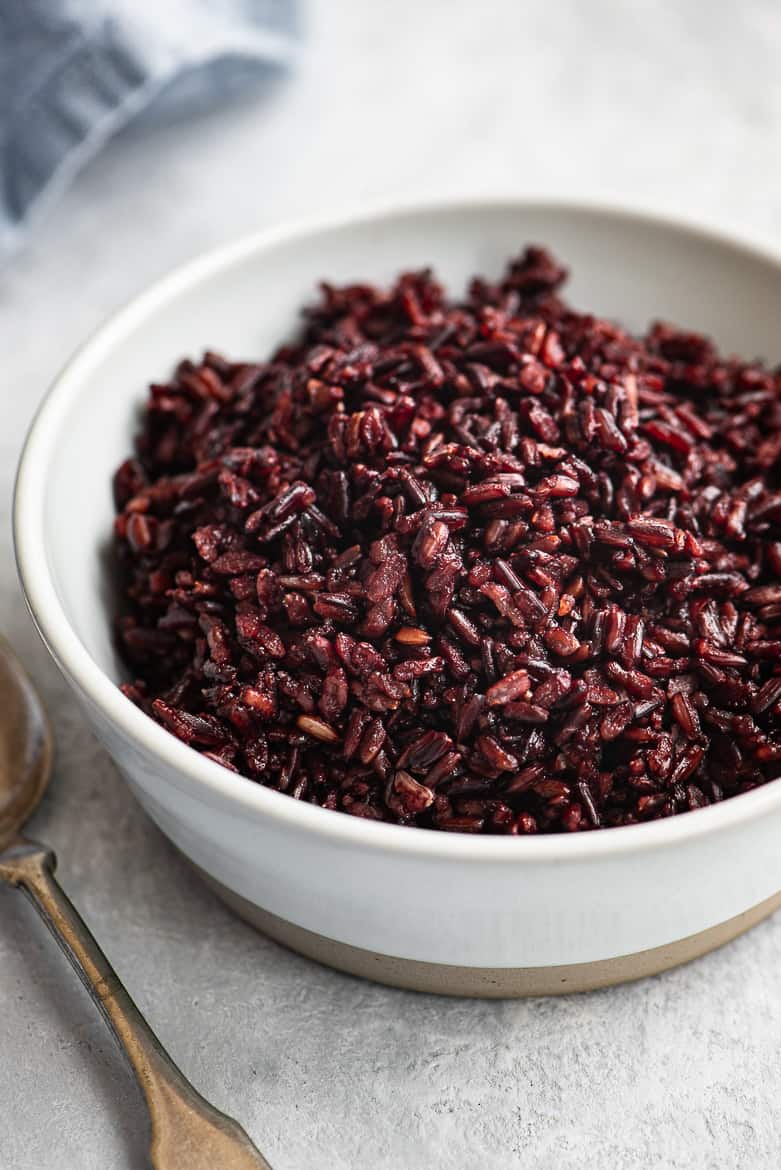 Never say never, I know, but I will never give up my beloved white rice. Cut down, yes, but I can't see my life without white rice in it, ever. I simply love it too much. As in most Latin American homes, it was present at every meal on our table as an accompaniment to stews, beans, soups and just about everything else you can think of. I would pile heaps of it on my plate. Despite being aware it is not all that healthy to consume too often, I still do.
One of my favourite white rice varieties is Jasmine rice. It is beautifully perfumed, easy to cook, and ready fast. Though I have lowered my consumption of white rice (somewhat), I often do feel guilty eating it too often and feeding it to my family. So imagine my delight in finding out about this fairly new, and super healthy, rice variety from Thailand called Riceberry. Let me tell you all about it and why you it should become a staple in your pantry.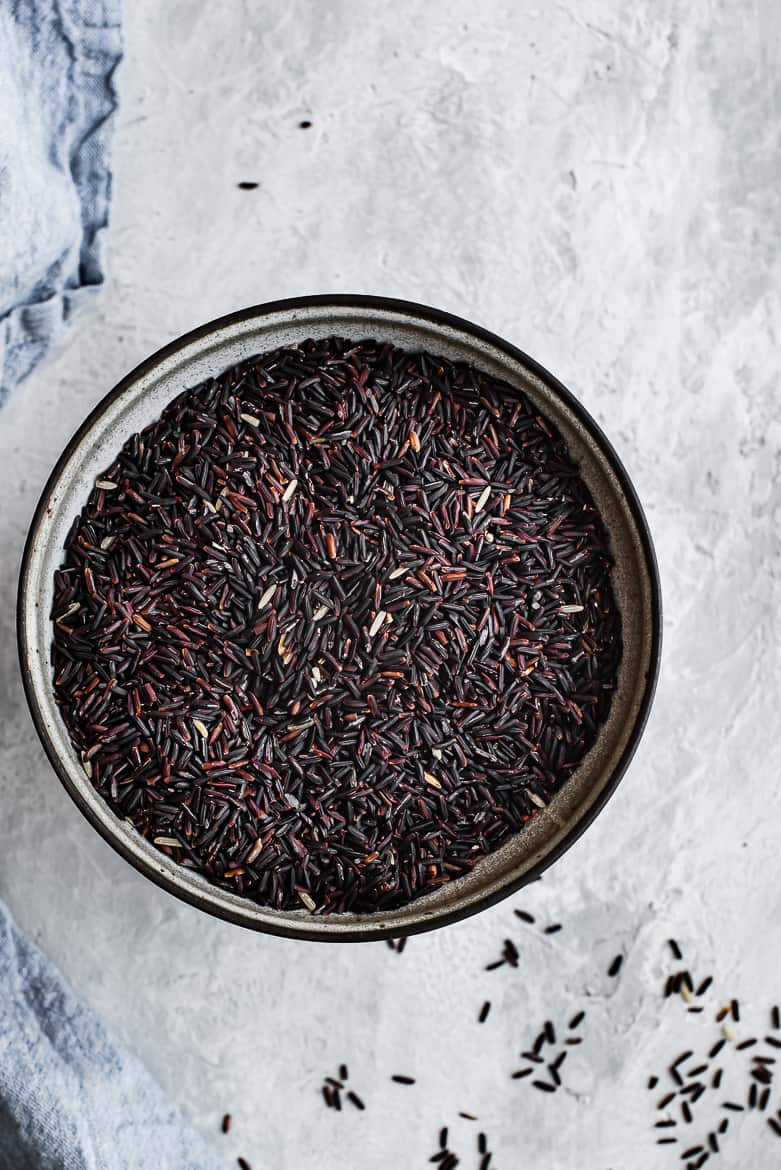 What is riceberry
Interesting to know, Thailand is one of the leading rice producers in world. As such, they adhere themselves to one of the highest standards of food safety and quality control in rice. To remain competitive in the rice industry, and to boost nutrition and flavour in rice, researchers from Thailand's Kasetsart University Rice Science Center have been developing new strains of rice and Riceberry is one of them.
Riceberry is a crossbreed between two varieties of Thai Jasmine rice; Jao Hom Nin and Khao Dawk Mali 105. Like Jasmine rice, it is a long grain rice but unlike Jasmine rice the grain is unmilled and it is brown/purple in colour. Riceberry is grown only in organic conditions in the North and North-East regions of Thailand. It has quickly become a super popular grain for it's texture, flavour, and health benefits.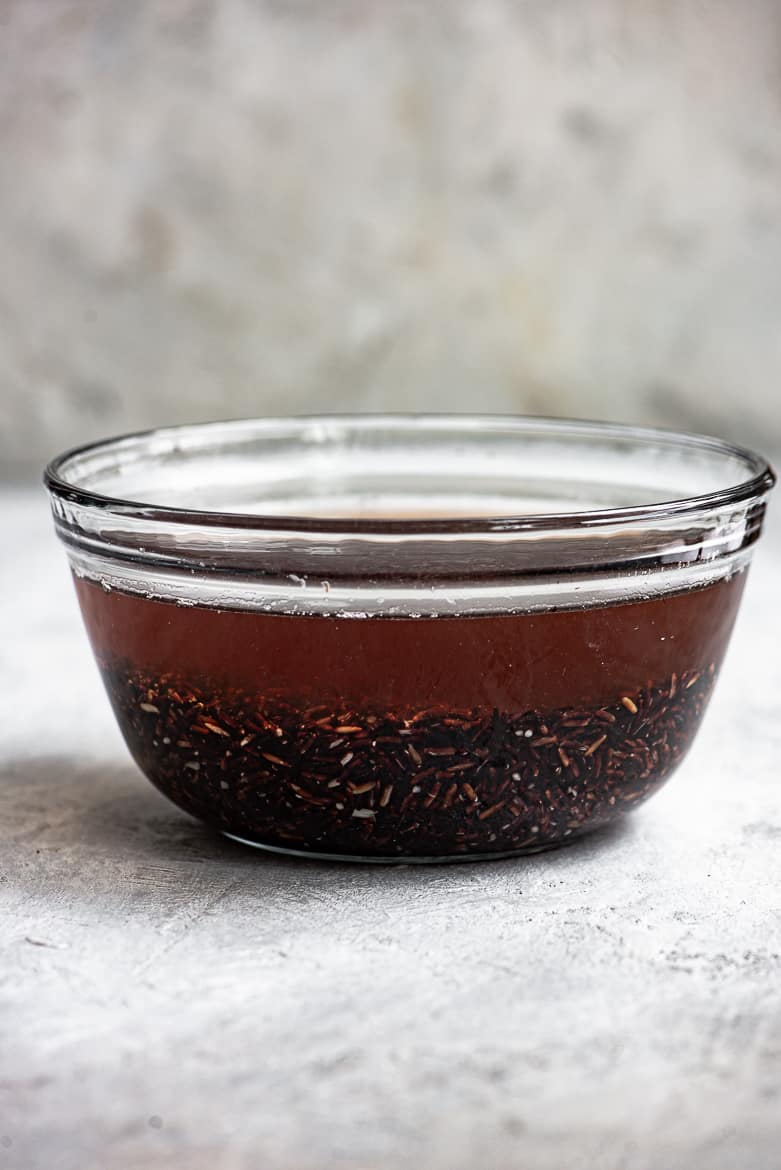 Is Riceberry healthy
Riceberry is a whole grain rice that is loaded with powerful antioxidants, is high in fibre, and rich in omega-3 fatty acids. All essential compounds that help lower risks of heart disease, Alzheimer's and cancer.
This powerful gluten-free and non-GMO grain also has a medium to low Glycemic Index so it will not elevate your blood sugar like other carbohydrates.
What does Riceberry taste like
Riceberry is taking the rice world by storm not only because it is loaded with powerful antioxidants, but because it also tastes absolutely delicious. Once cooked, Riceberry appears to have a similar texture to brown rice but it is much more tender and soft on the inside.
Like white jasmine rice, it is fluffy, aromatic and fragrant but with a nuttier, almost sweet flavour.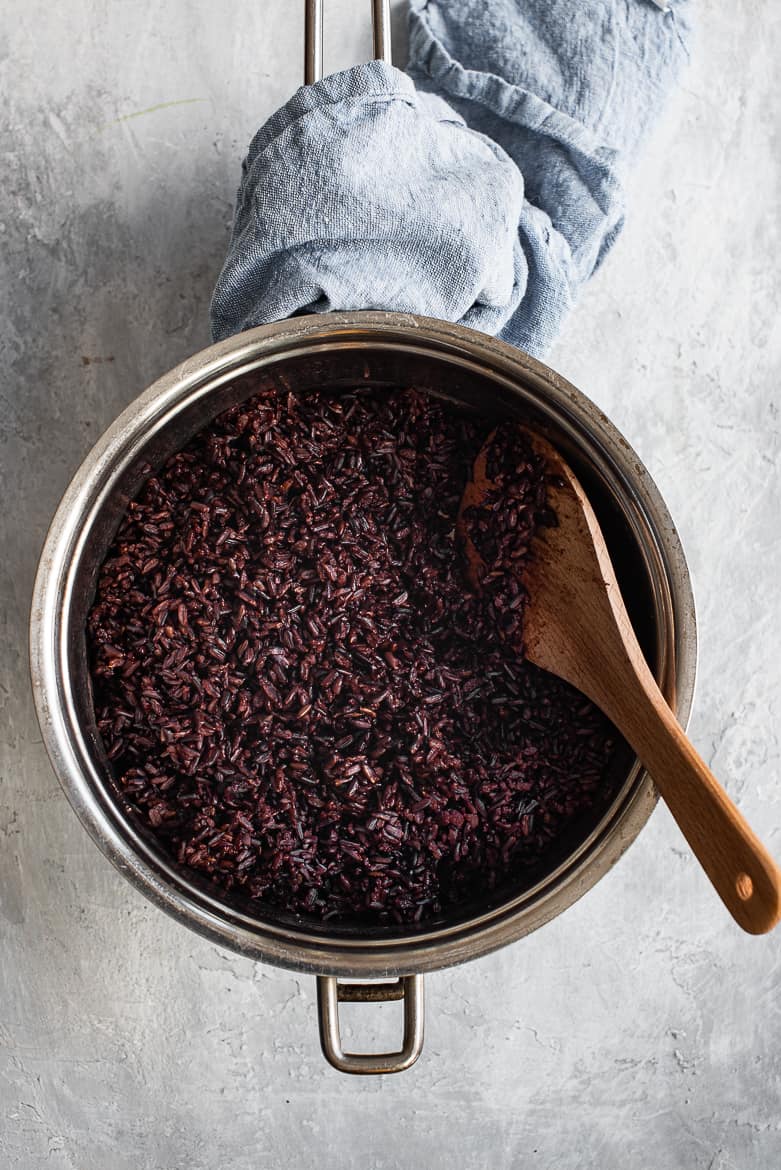 How to cook Riceberry
What I love the most about Riceberry is that unlike other whole grains, it cooks relatively fast and is prepared the same as Jasmine rice.
Rinse the rice thoroughly to remove any starch and dust.
Place in a heavy-bottomed pot using 1 part riceberry to 1.5 parts water.
Bring to a boil, reduce heat to the lowest setting possible, cover and cook for 25 minutes. Remove from heat and allow the rice to rest for 10 minutes before uncovering. Fluff the rice with a rice spoon or fork and serve.
Where to find Riceberry
Because riceberry is a fairly new grain in the market, it may be a little difficult to find. I have had luck finding it at most well-stocked Asian stores and I have also seen it at a few large supermarkets. In the US, check Trader Joe's and Whole Foods. If the don't carry it yet, I'm sure they will soon.
In Toronto, I have found it at Fiesta Farms and Farm Boy.
If you live in the Kitchener-Waterloo area you can find it at T & T and at Lao-Thai Superstore in Kitchener (sorry, no website to link to but google the name for directions). Lao-Thai Superstore is a delightful little gem full of legit foods and products from Thailand and I could spend hours chatting to David, the owner. He is a wealth of knowledge on all things Thai and if you need ideas for dinner, he will even share his Thai curry recipe with you. It's a good one.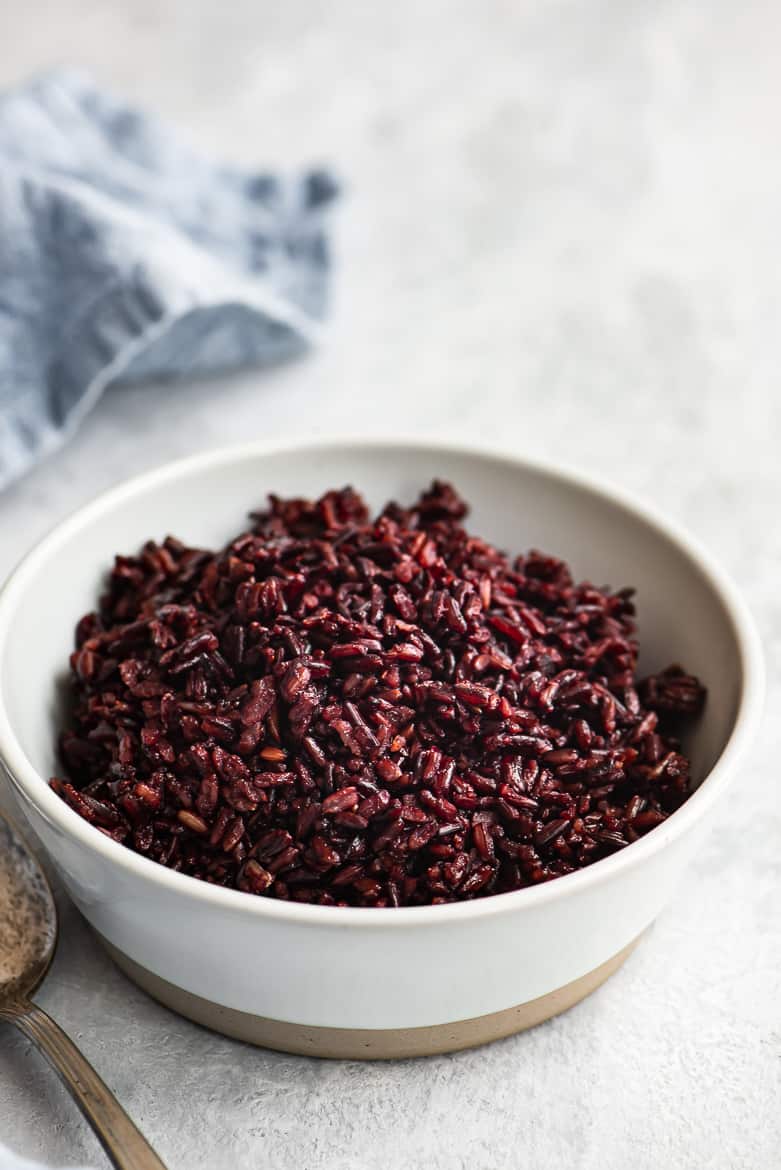 How to serve Riceberry
Riceberry can be used in rice bowls, stir-fries, curries, stews, or as a side to accompany any grilled or roasted meat as well as fish. The grains hold up beautifully for leftovers that can be used to toss into salads, wraps, or to make stir-fried rice.
A few tips
Soak the rice if possible: Riceberry does not need to be soaked, only rinsed. However, all grains benefit from soaking. They becoming more digestible and this also reduces the cooking time. I like to to soak rice for 1 hour but if you don't have time to soak it for that long, leave it in water for a few minutes before rinsing.
Once cooked, allow it to rest: A really important step with all rice but particularly with Riceberry. This allows the rice to absorb any remaining moisture resulting in tender, fluffy grains.
Test the grains: If the cooked grains have not absorbed all the water, cook it on low, uncovered, until the water is absorbed. If the grains seem dry and hard add a little water, cover, and cook an additional 10 minutes.
Do not confuse Riceberry with black rice: It seems obvious but other black rice varieties look almost identical to Riceberry. Be sure the label says "Riceberry".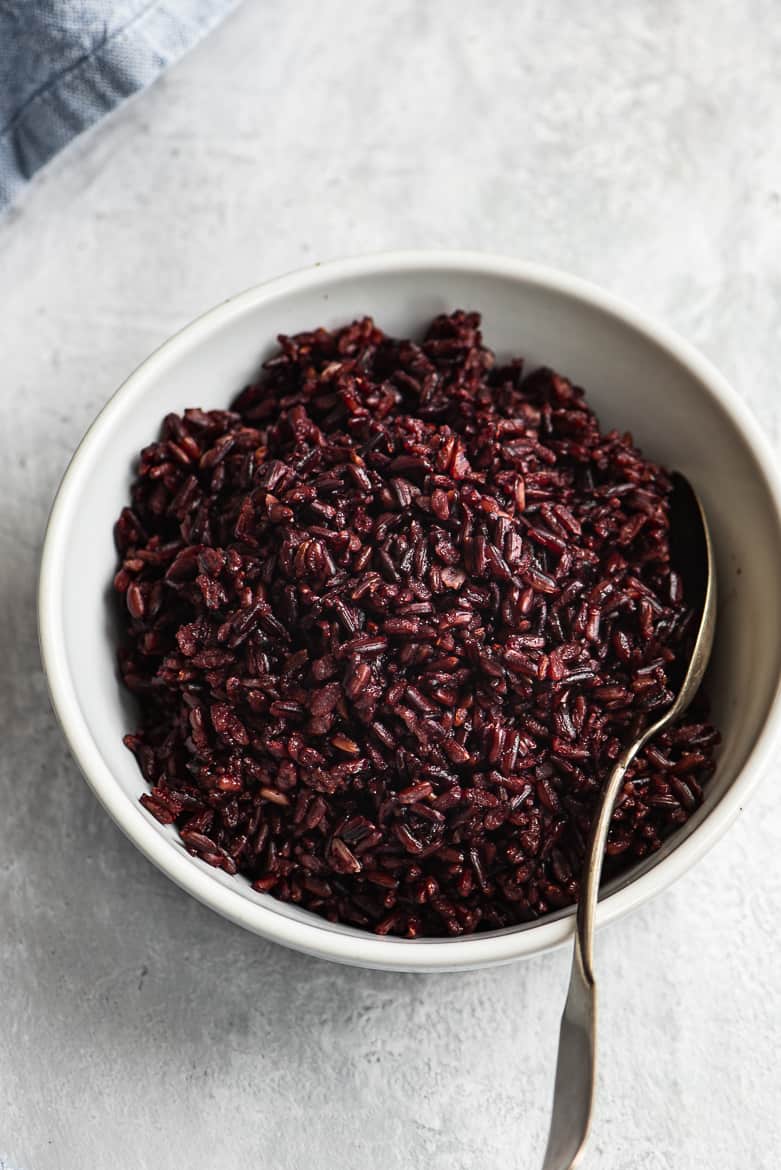 I'm not ready to give up white rice entirely, but for now, this "super grain" is making me really happy. I hope you give it a try and if you do, I would love to know what you think.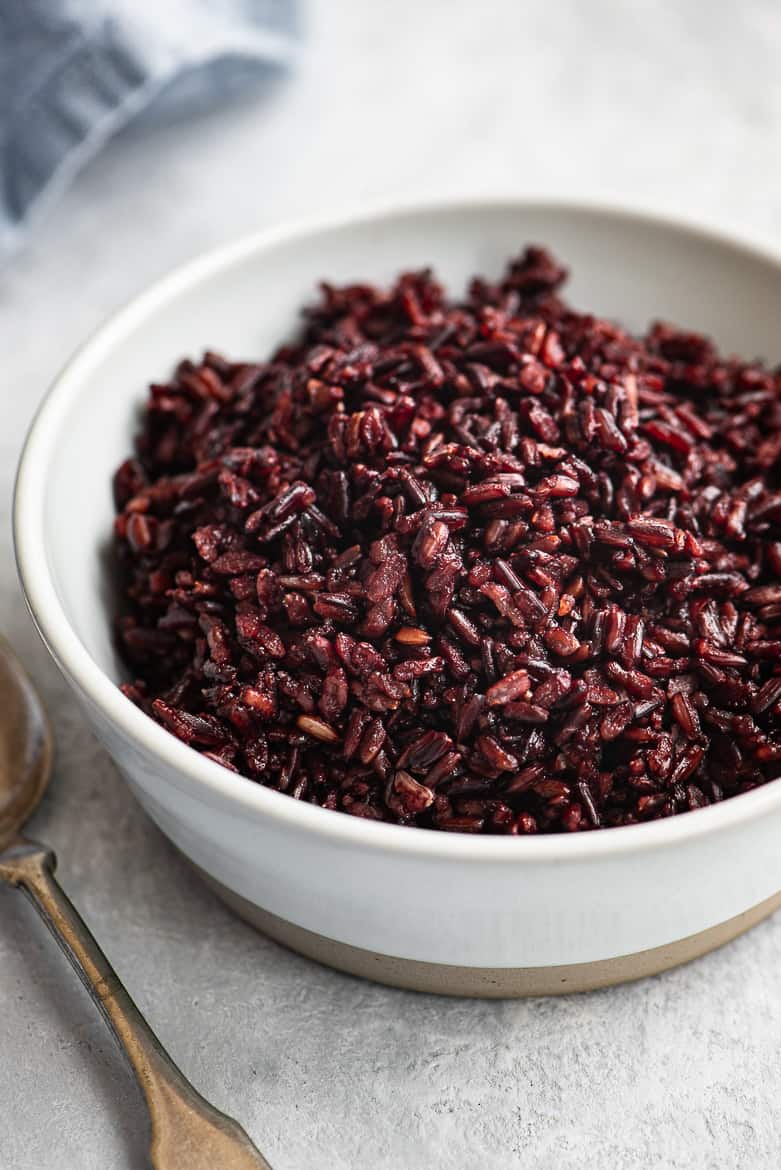 Ingredients
1

cup

Riceberry rice

rinsed (soak for 1 hour if possible*)

1 1/2

cups

water

pinch

of kosher salt
Instructions
Place the Riceberry and water in a heavy-bottomed pot. Bring to a gentle boil and stir. Reduce heat to a very low simmer. Cover and cook for 25 minutes.

Remove from heat without uncovering and let rest for 10 minutes.
Notes
*Riceberry does not need to be soaked but if you have the time, soaking makes all grains easier to digest and it helps reduce the cooking time.
TIPS:
Once cooked, if the grains have not absorbed all the water, cook it on low, uncovered, until the water is absorbed.
If the grains seem dry and hard add a little water, cover and cook an additional 10 minutes.