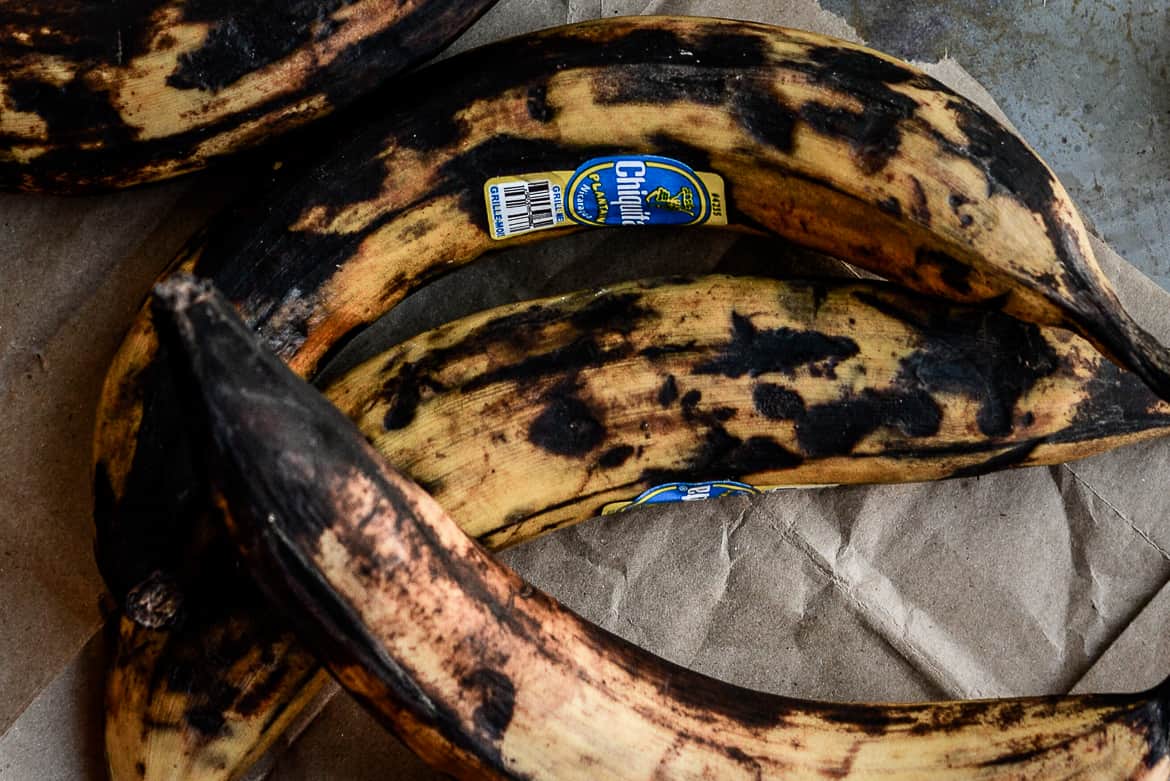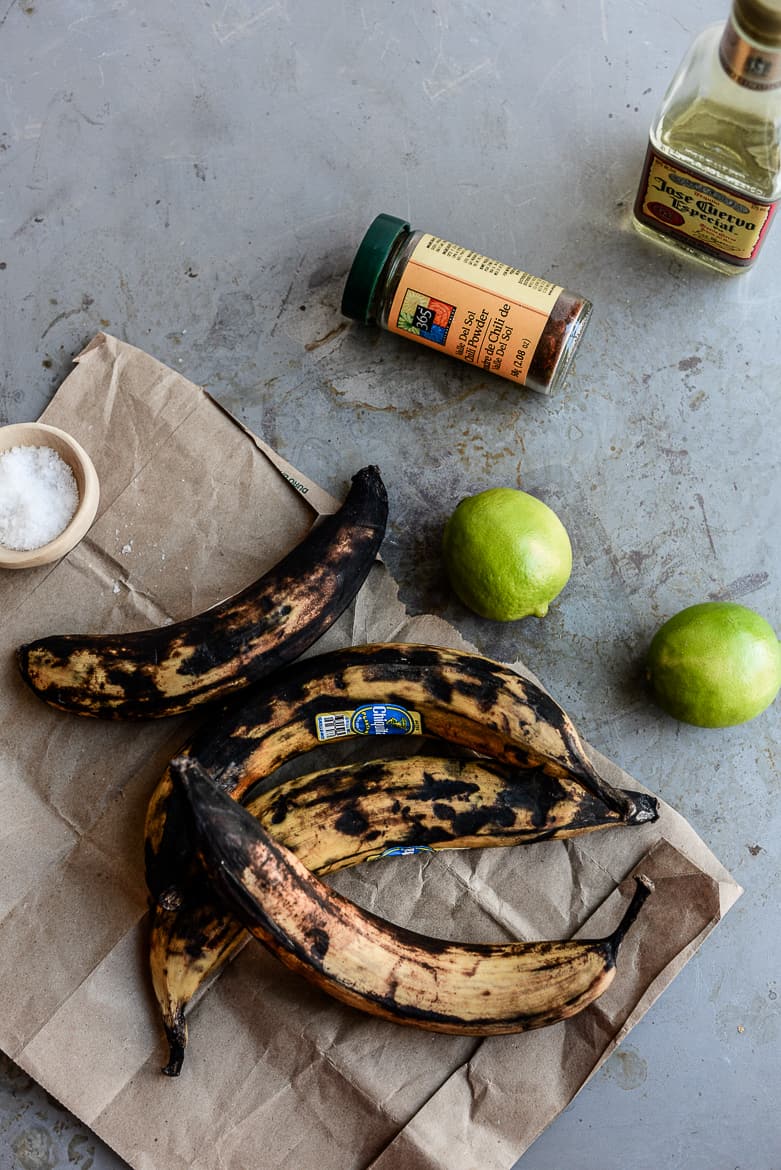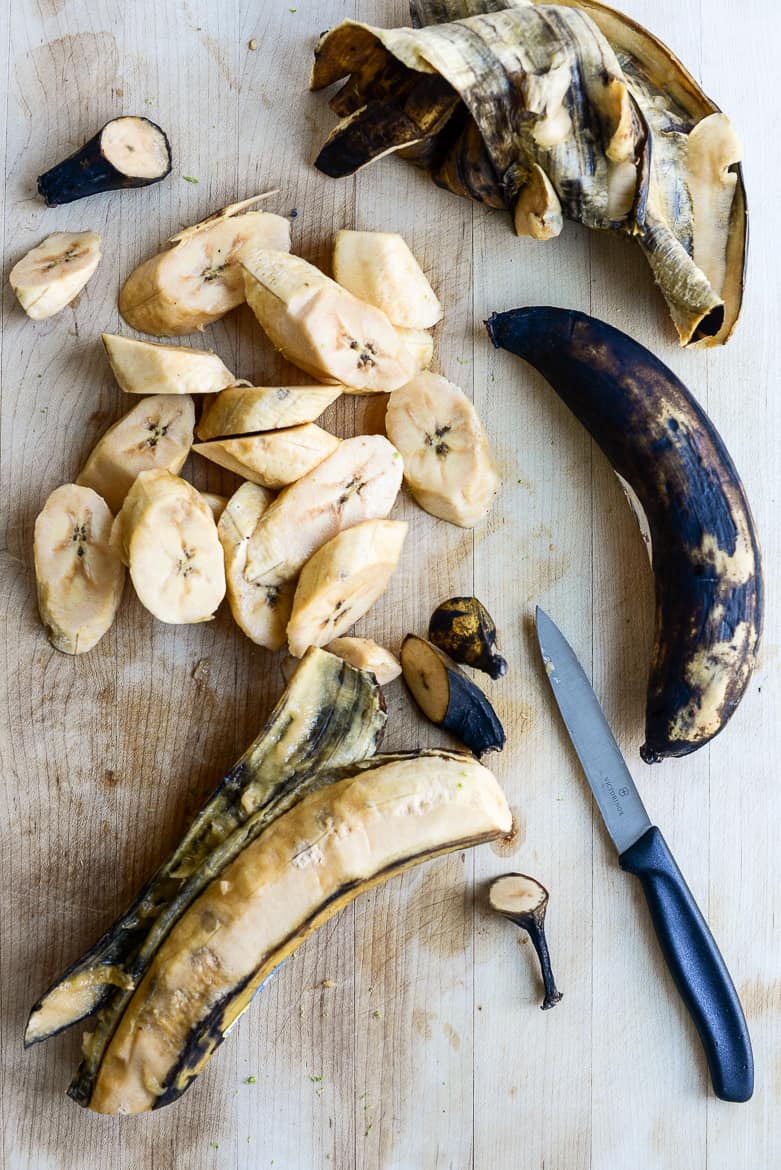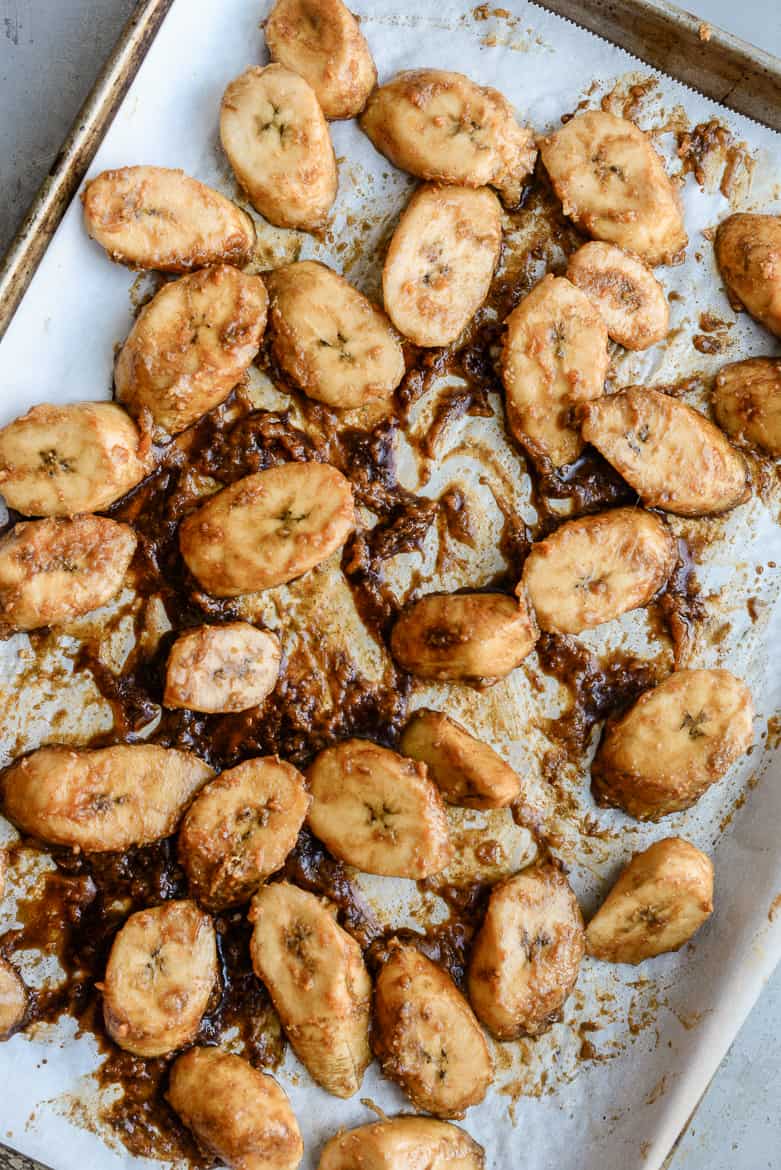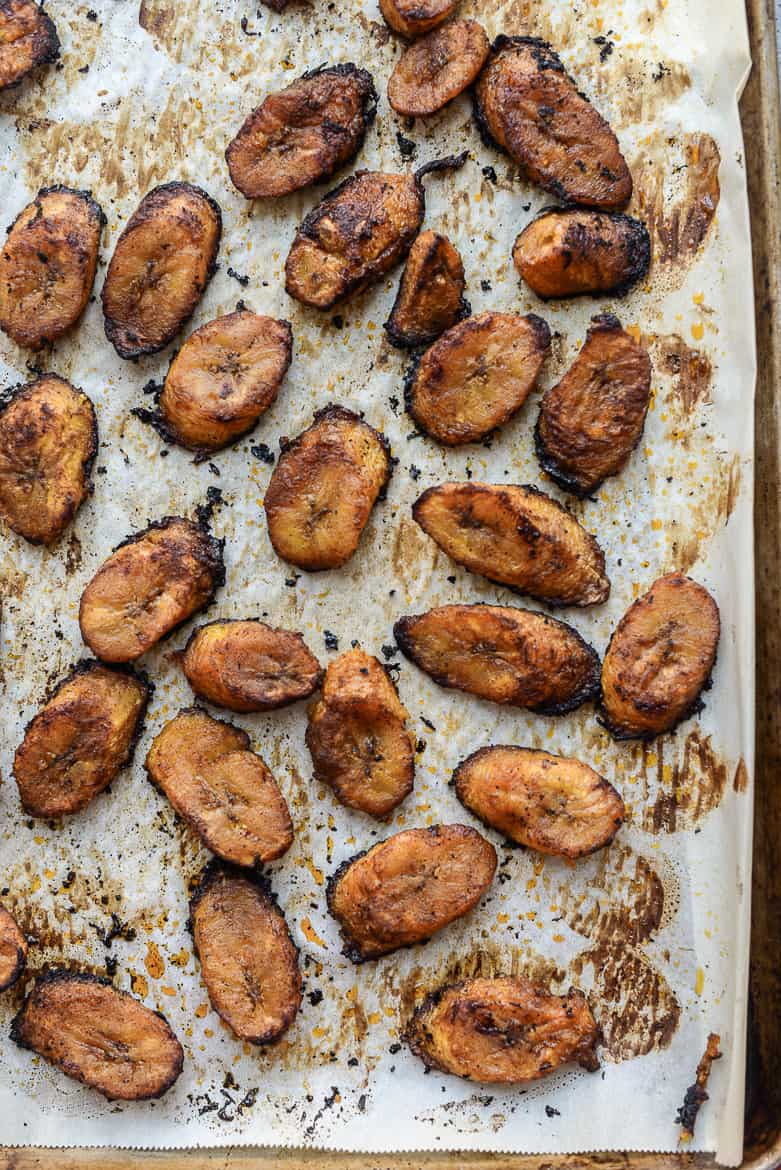 It is kind of insane how much I love plantains. Growing up, I would eat my beloved tosotnes (fried green plantains) every single night for dinner. When my Mom would ask me if I had tired of them yet, I remember being confused. Can one get tired of plantains? It's unfortunate, but in North America, plantains are still not very popular. This baffles me since they can now be found at most major grocery stores, and they are such a unique and nutritious fruit — low in sodium, rich in potassium, vitamin A and vitamin C and a very good source of fiber. The sweet ones in particular, are super easy to make, a perfect side for many savoury dishes, and totally delicious.
For those of you who have not cooked with plantains before, here is some useful information. The first thing, unlike bananas, plantains are always cooked; never eaten raw. Plantains are related to bananas but are larger, starchier, and not as easy to peel. Plantains are also a lot more versatile with many different stages of ripeness which will dictate how they are cooked and eaten. When the plantain is green, it is very starchy and will have similar qualities to a potato. It will be hard when you touch it and this will be the perfect stage for making plantain chips, tosotnes, adding it into soups or boiling and mashing it (mangú). As the plantain ripens, the peel will change to a yellow colour, then dark brown, then almost black and will it will get very sweet. For this recipe, we are looking for the almost black ripeness. The plantain needs to feel very soft to the touch, almost mushy, and smell like a very ripe banana. If you bought a green plantain, depending on the temperature it is kept at, it could take up to two weeks for it to reach this stage of ripeness. I am the usually the crazy lady at grocery store begging the produce worker to check the back for plantains they are about to throw away because of ripeness. For some reason, in all the grocery stores I frequent (and much to my horror), as soon as plantains start to ripen they get rid of them.
Plantains have a thick, tough skin so to peel them you have to cut the ends off, then you make a slit down the peel from end to end with a knife and just unwrap the plantain with your hands. You will almost always see recipes indicating to cut the plantain into diagonal pieces — this provides a larger surface for caramelization. The traditional cooking method for sweet plantains, is frying, but luckily, I find they are just as good when baked.
I was at Whole Foods Market recently, and saw 'chili-lime' sweet plantains in their hot food bar. Super intrigued I snapped a picture of the ingredient list and figured I could try making them at home. Tequila-chili powder was on the list of ingredients which I am pretty sure is not sold anywhere near me so I tested using straight tequila. To be honest, I'm not sure I could taste the tequila and the chili and lime flavour is quite subtle. So if you have never made plantains before keep it simple and make them plain; a sprinkle of flaky salt once they come out of the oven is all they need to blow your mind. Having said that, adding a few dashes of chili powder, a squirt of lime juice, and a glug of tequila gave these sweet plantains a little twist that I for one found super irrestible. Enjoy!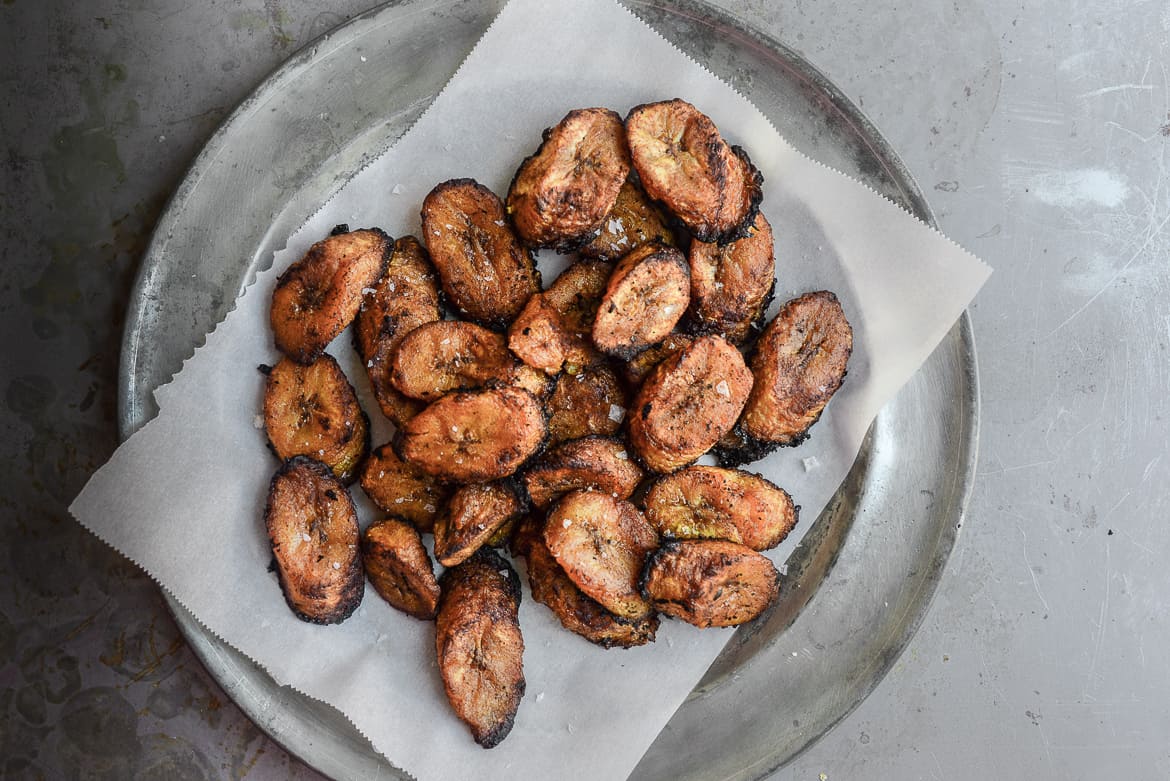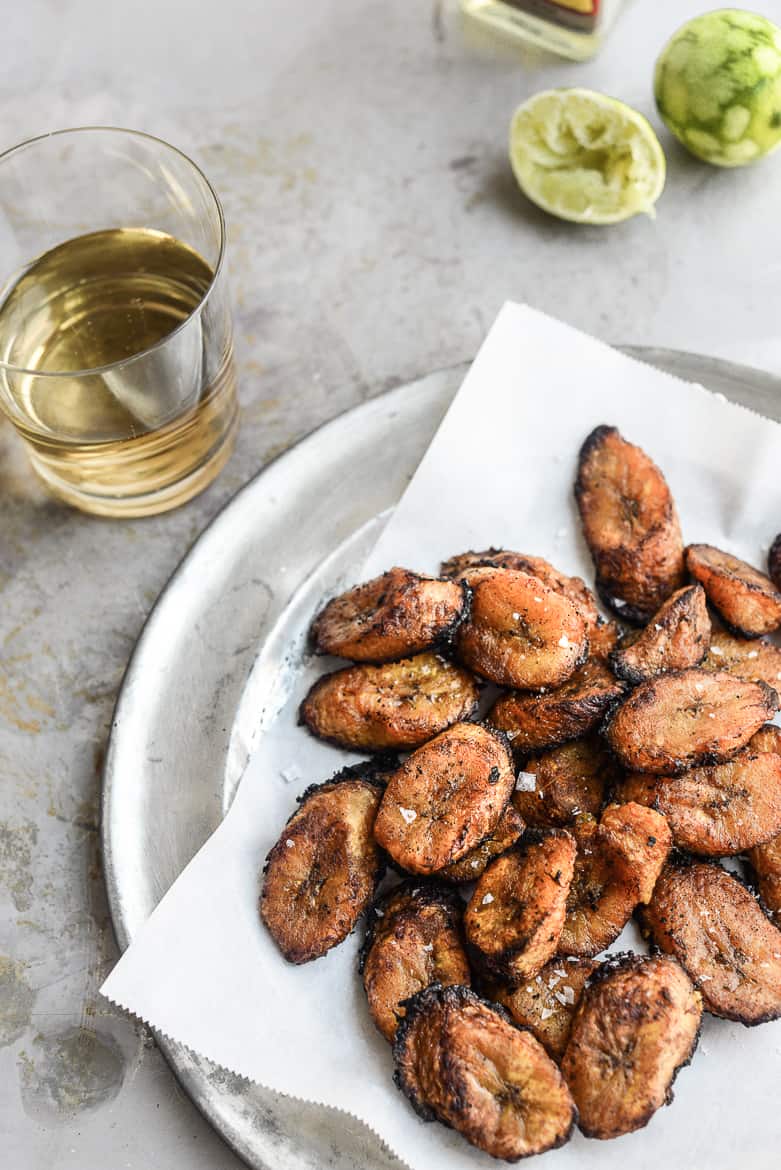 Ingredients
4

very ripe plantains

diagonally sliced

1/4

cup

coconut oil

melted and cooled

2

small limes

zested and juiced (optional)

2

Tablespoons

tequila

optional

1

tsp

chili powder

optional

flaked sea salt to taste

I like Maldon
Instructions
Preheat the oven to 400 degrees and line a baking sheet with parchment paper.

In a large bowl, mix the coconut oil, lime zest, lime juice, tequila and chili powder. Add the plantain slices and toss gently to coat.

Spread in a single layer on the prepared baking sheet. Roast until plantains are lightly golden on bottom, about 15 minutes. Turn slices over, and continue roasting until evenly cooked and soft, about 15 minutes more. Depending on your oven, they might need a little longer to cook through.

If they need to be a bit more caramelized, increase oven temperature to broil, and broil until deeply golden, 1 to 2 minutes. Watch them carefully so they don't burn.

Sprinkle with flaked sea salt and serve immediately.