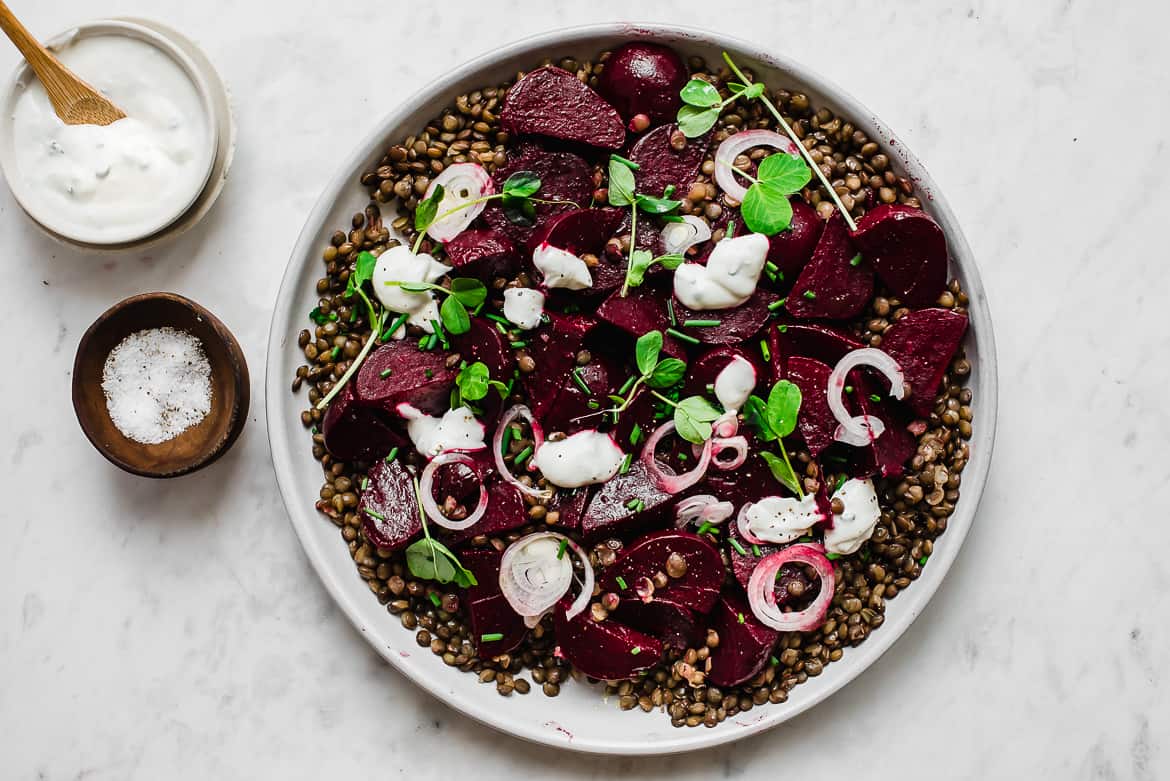 Hopefully, if you are celebrating Easter, you haven't finished your grocery shopping because this dish is a great addition to your brunch or dinner buffet. Not only is it astonishingly beautiful, but it is equally delicious, and does not involve a lot of work. With no need to re-heat it, it is a perfect make-ahead dish and a great one to transport. I could also go on about how great it is the next day, however, we (I) tend to always eat mounds of it so leftovers are rare.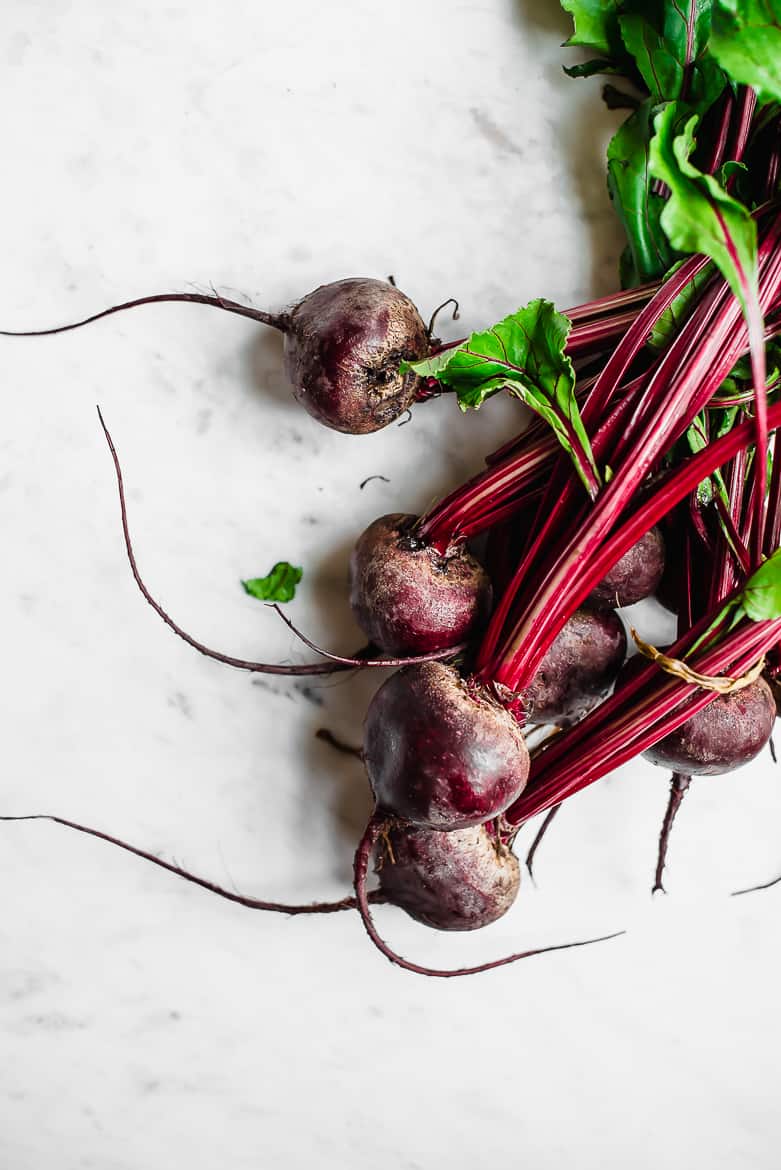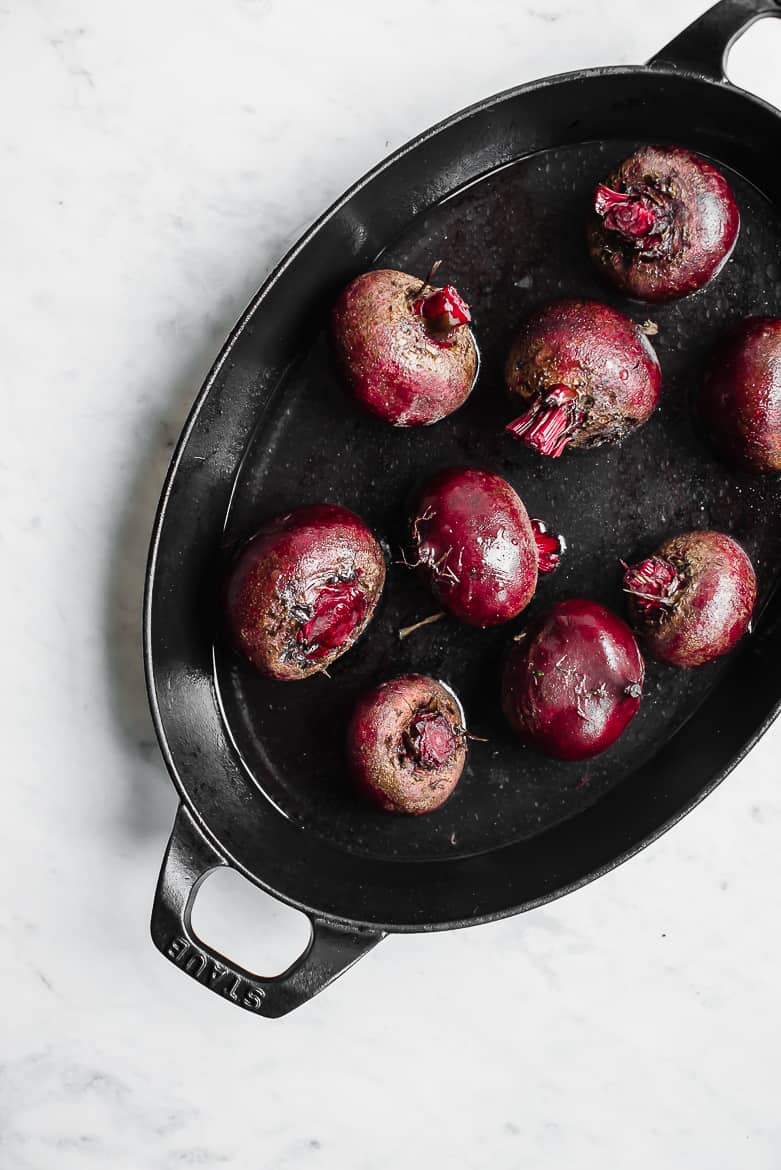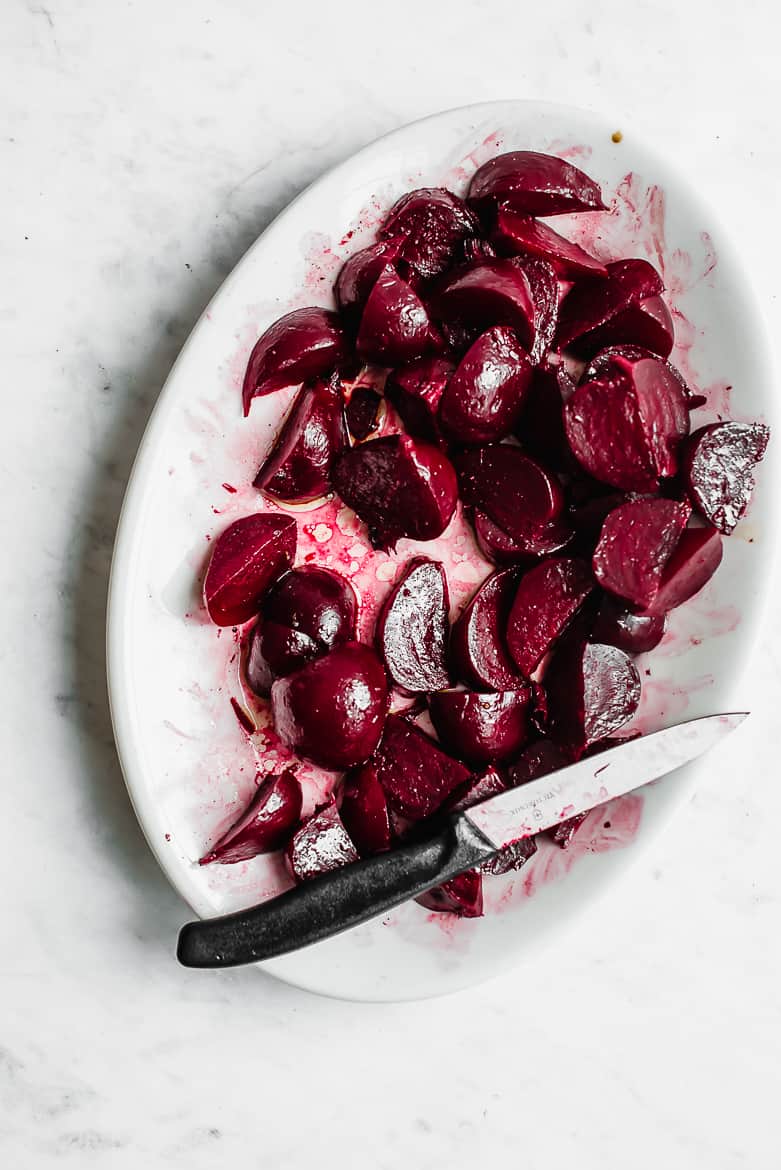 You probably already have some lentils stashed in your pantry; I like the French (green) lentils, but brown or black will also work. That leaves you with only having to grab some bunches of beets, which are looking quite nice in most grocery stores right now. Pick red or golden or both, you can't go wrong. Size-wise, I do like the smaller bulbs since they will cook faster and are sometimes a little sweeter, less "earthy".  If you find the the pretty pink-and-white-striped ones, go for it, they will look gorgeous. For the yogurt, go for a high fat content which will have a fuller flavour. You can add any herbs you like to the finished dish or to the yogurt dressing — dill is a great one though I prefer chives.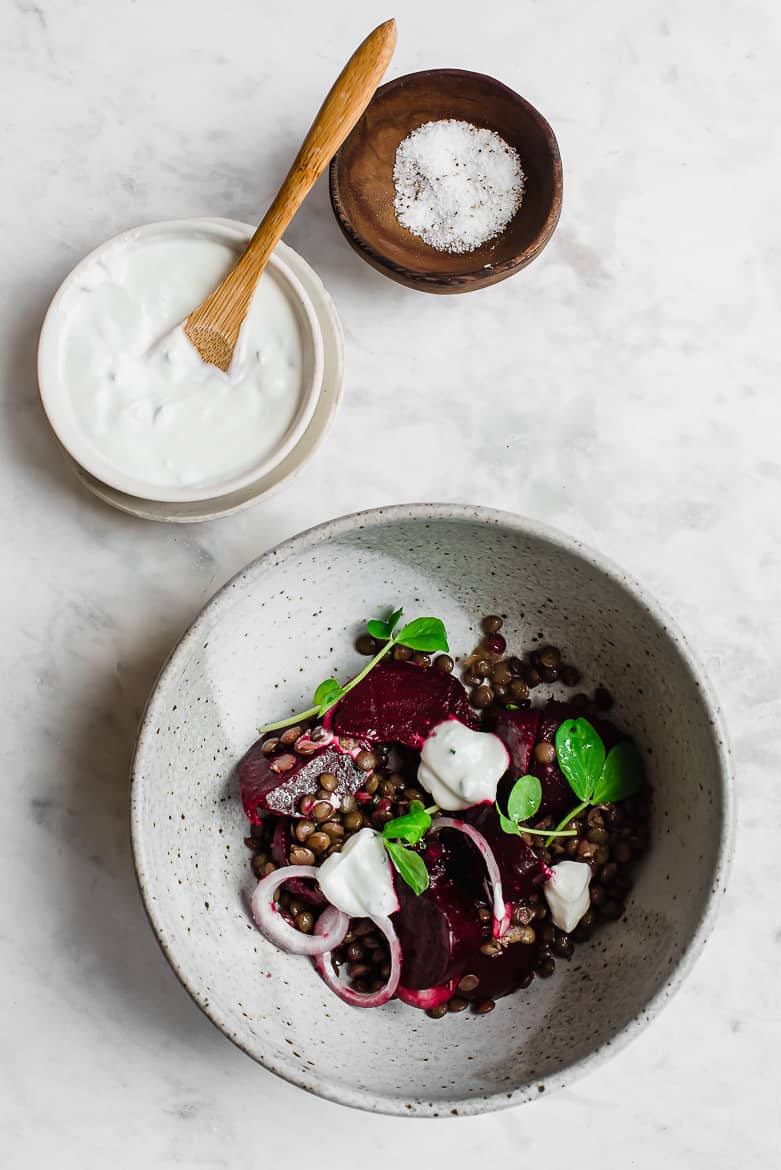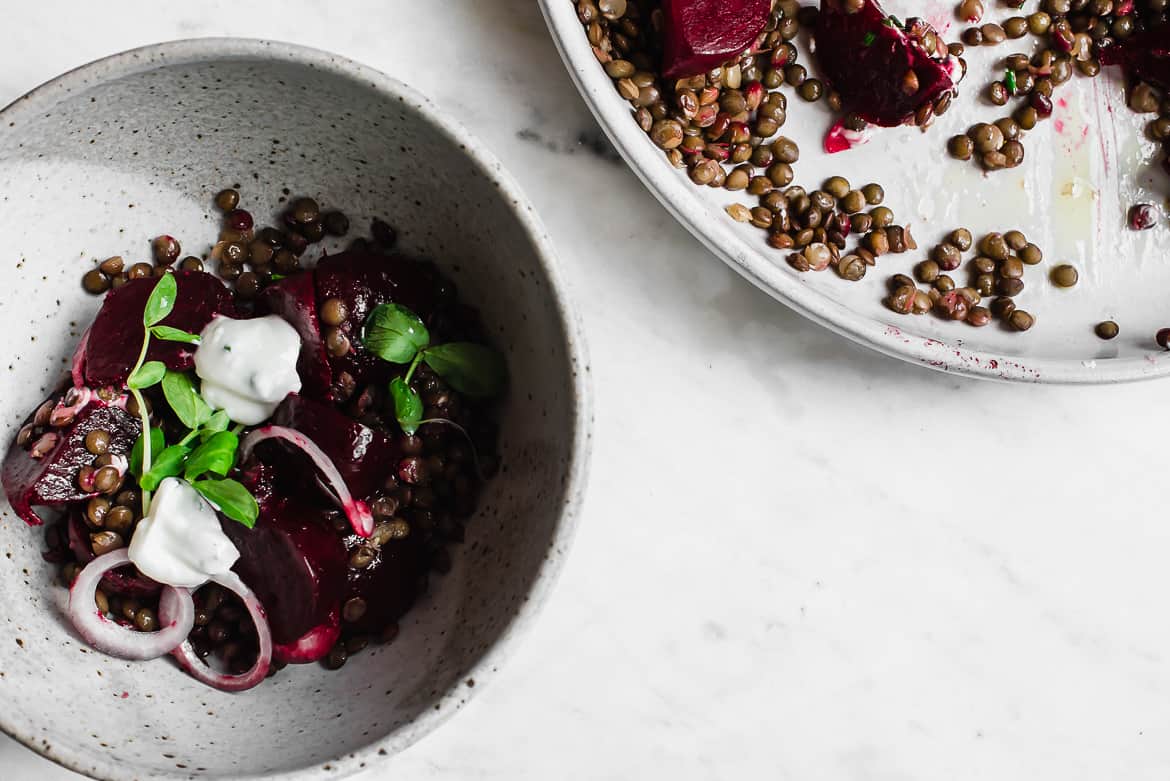 I found this recipe years ago in an issue of Gourmet Traveller. At the time, I wasn't a huge fan of greek yogurt so I left it out. You can as well, but the tart astringency of the yogurt dressing against the sweet beets truly transforms this dish. You will want to add it to all your roasted veggies, I swear. In case you do leave it out, up the amount of balsamic vinegar and drizzle with extra olive oil before serving. I hope you have a lovely weekend with lots of chocolate and a side of beets with lentils. Happy easter!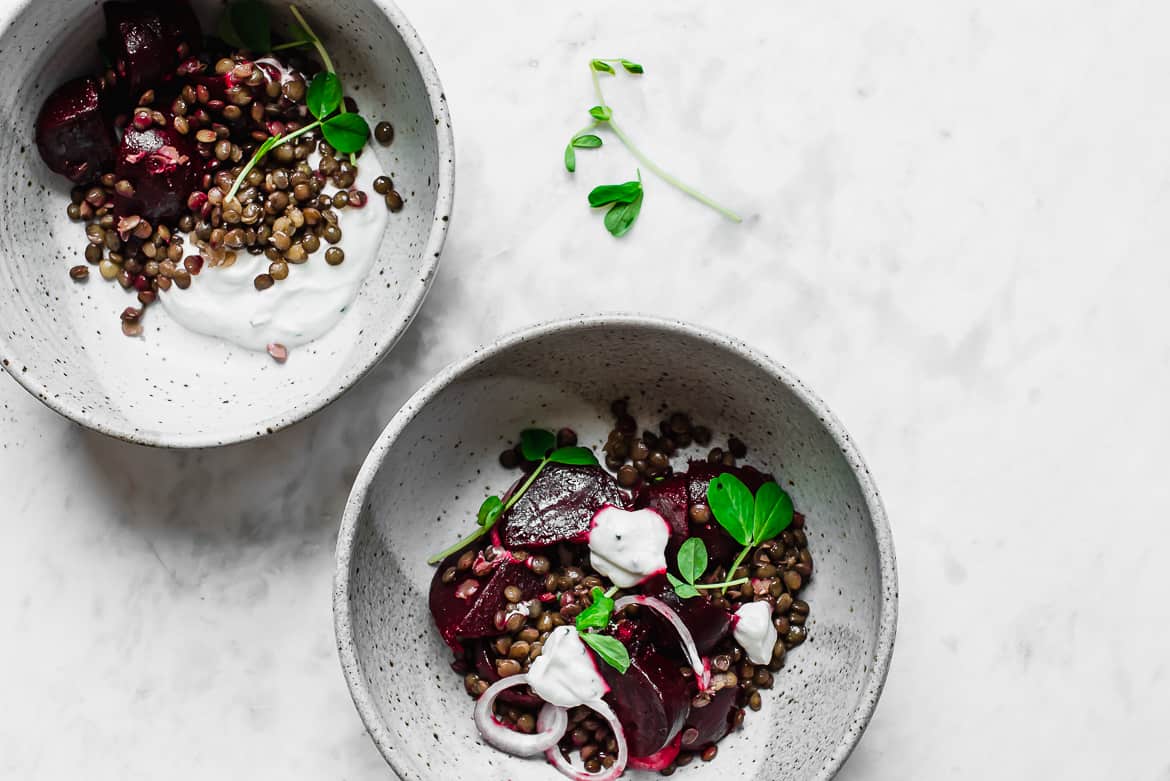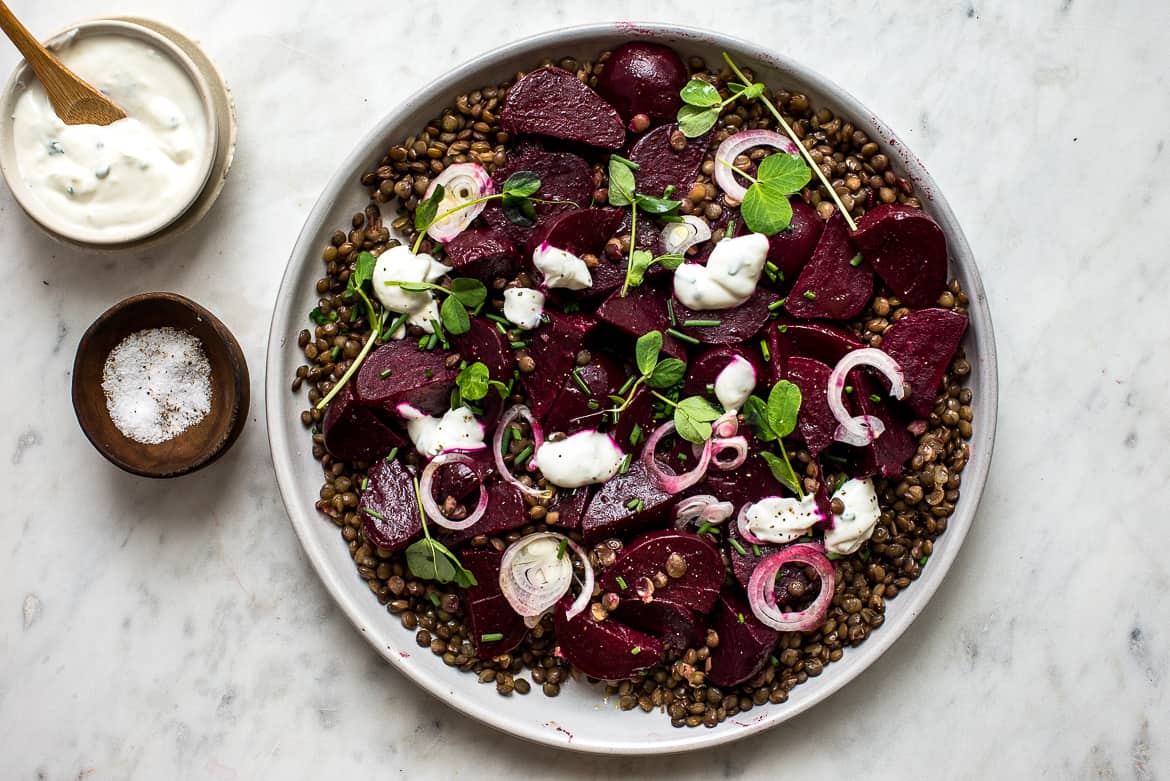 Ingredients
8-10

red beets

trimmed and scrubbed

2

Tablespoons

extra-virgin olive oil

2

Tablespoon

good quality balsamic vinegar

Kosher salt and freshly cracked black pepper to taste

2

cups

French lentils

rinsed (or brown or black, not red)

1

large shallot

thinly sliced on a mandolin

1/4

cup

choice of chives

dill, parsley or a mix, finely chopped

1/4

cup

microgreens for garnish

optional
For yogurt dressing:
1

cup

full fat Greek yogurt

1/4

cup

lemon juice

1

garlic clove

grated or minced

2

Tablespoons

extra-virgin olive oil

2

Tablespoons

chopped chives or dill

optional

Salt and pepper to taste
Instructions
Preheat oven to 400 degrees.

Cut the greens off the beets, leaving about ½ inch of the stems still attached. Save the greens for another time. Wash the beets well and place them in a roasting pan or pie plate with 1/2-inch of water on the bottom. Tightly cover with foil and roast beets about 50-70 minutes (larger beets will take longer). You should be able to insert a paring knife easily into the center of the largest beet. When the beets are done, carefully remove the foil. Once cooled, peel them by slipping off the skins with your fingers and cut them into ½-inch wedges. Place them in a bowl and add the 2 tablespoons of olive oil, the balsamic vinegar, and the salt and pepper to taste. Toss well and set aside.

Meanwhile, bring a saucepan of water to the boil, add a big pinch of salt, add the lentils and cook until tender (20-25 minutes). Drain well.
For yogurt dressing:
Combine ingredients in a bowl and season to taste.
To serve:
Arrange beetroot, lentils, shallot and herbs on a platter, drizzle with yogurt dressing and serve.