This magnificent Dutch Baby with Caramelized Apples is about as glorious as a pancake gets. Perfect for a weekday or weekend, it is much quicker to make than pancakes and will please children and adults alike.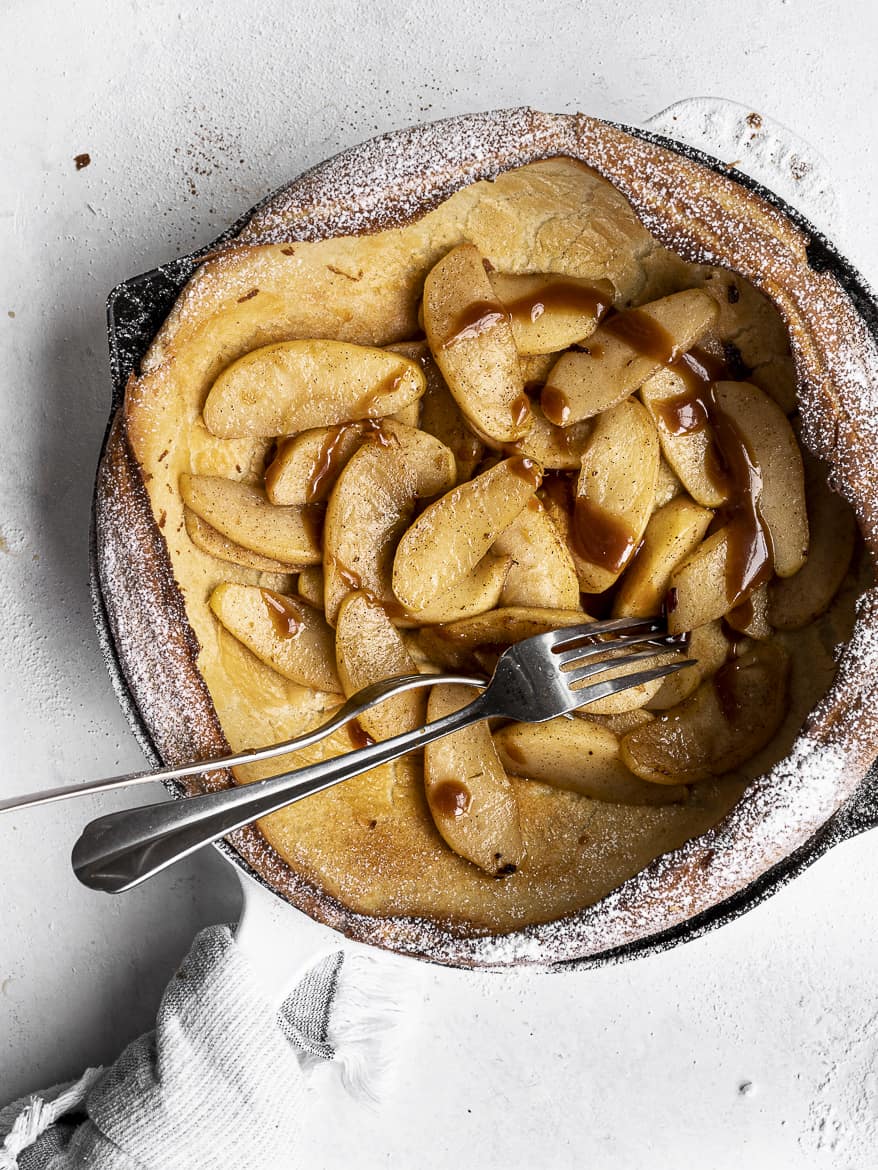 Pancakes are always taking the limelight as the definitive dish for breakfast. But when you need to whip something up in the morning after an utterly exhausting night of holiday cooking, or for a satisfying breakfast in anticipation of said holiday cooking, nothing can beat a Dutch baby. This Dutch baby, with Caramelized Apples that are just this side of sweet, will be the indulgent hero of the breakfast table each and every time. It is absurdly easy to make and is the airiest most perfect puffed pancake you ever did see. It is just as lovely for breakfast as it is for dessert and if you haven't yet tried your hand at making one, this needs to be your next pancake-like adventure.
What Is A Dutch Baby?
A Dutch baby, also known as a German pancake, is like a fusion of a crepe, pancake, and yorkshire pudding. Taking less than 5 minutes to whip up, a thin pancake-like batter goes into a buttered, sizzling hot skillet and then bakes quickly in a very hot oven. It emerges from the oven very dramatically, poofed up like a fluffy pillow with crispy edges and a steamy, custardy interior. Much like a popover, it will quickly deflate once out of the oven. And much like a crepe, it can be served savoury or sweet, topped with any fruit, or just a sprinkle of lemon and powdered sugar.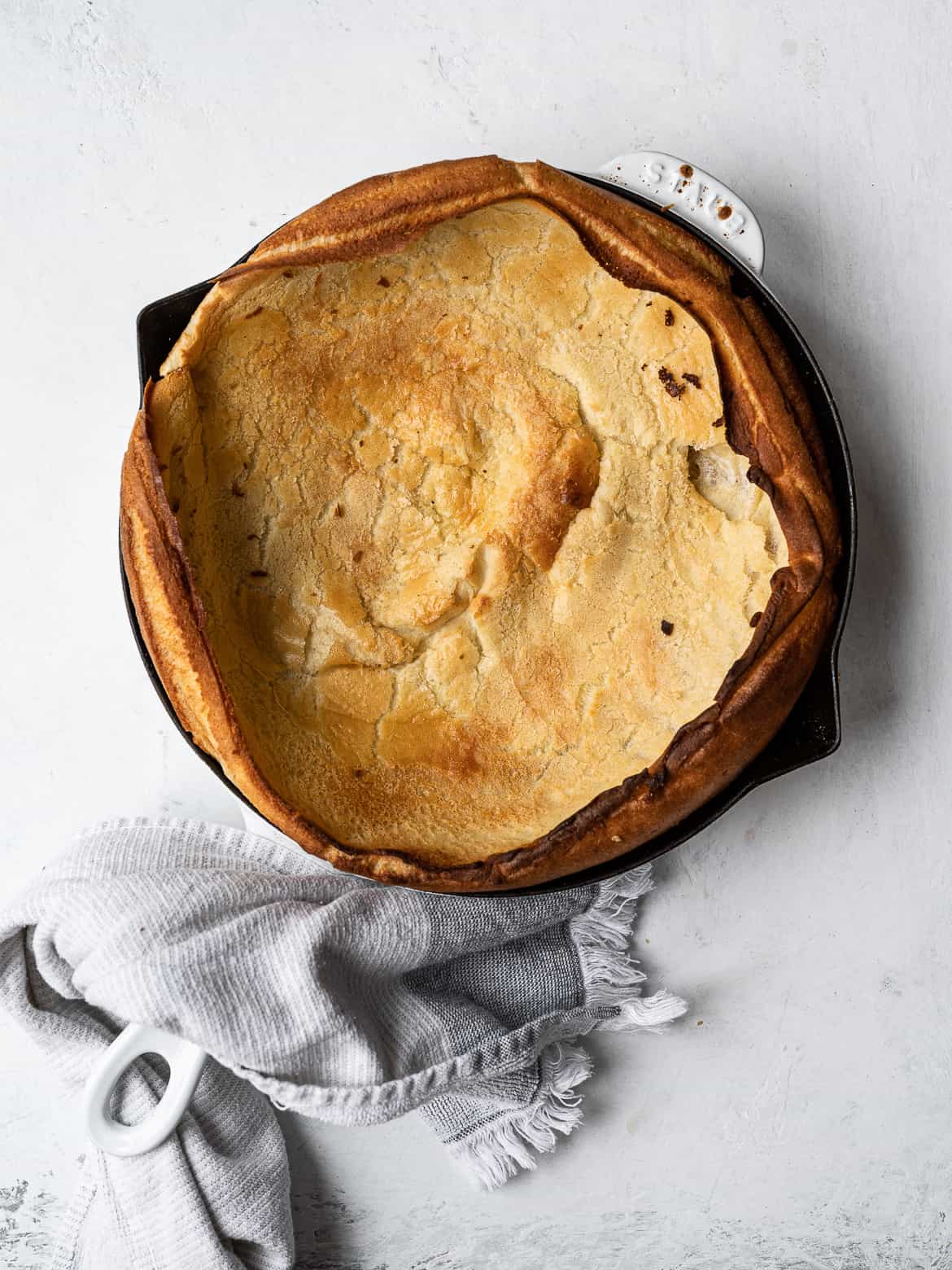 Ingredients You Will Need
There's something very appealing right now about recipes that require only flour, butter, milk, and eggs as a base. You will likely always have on hand everything you need to make a Dutch baby which makes it so easy to whip up any time the craving hits.
Eggs – 3 large eggs at room temperature.
Milk – I have used 2% and whole milk. Whole milk seems to make a slightly creamier and overall better batter, but either one works.
Flour – I have tested this Dutch baby replacing half of the all purpose flour with whole wheat flour and it works great. That said, all purpose flour makes a slightly more delicious pancake.
Vanilla Extract – For flavour, and because it helps ensure your batter doesn't taste too eggy. If you don't have vanilla, you can omit it or use a teaspoon of lemon juice.
Butter – Essential for flavour and to prevent sticking. Salted or unsalted will work here.
Kosher salt – All pancake-like batters benefit from a pinch of salt.
Fruit and toppings –  For the chillier season, I find Caramelized apples are a warming and delicious option to top a Dutch baby. If you use a sweet variety of apples they will only need a pinch of sugar added, which is how I like them. You can also caramelize pears, apricots, plums, or other similar fruit. Or skip the caramelizing and simply top with any fresh berries and a little drizzle of honey or maple syrup. So good.
Icing Sugar – To dust the Dutch baby once out of the oven. This is completely optional and I usually skip it unless I need the Dutch baby to look extra pretty.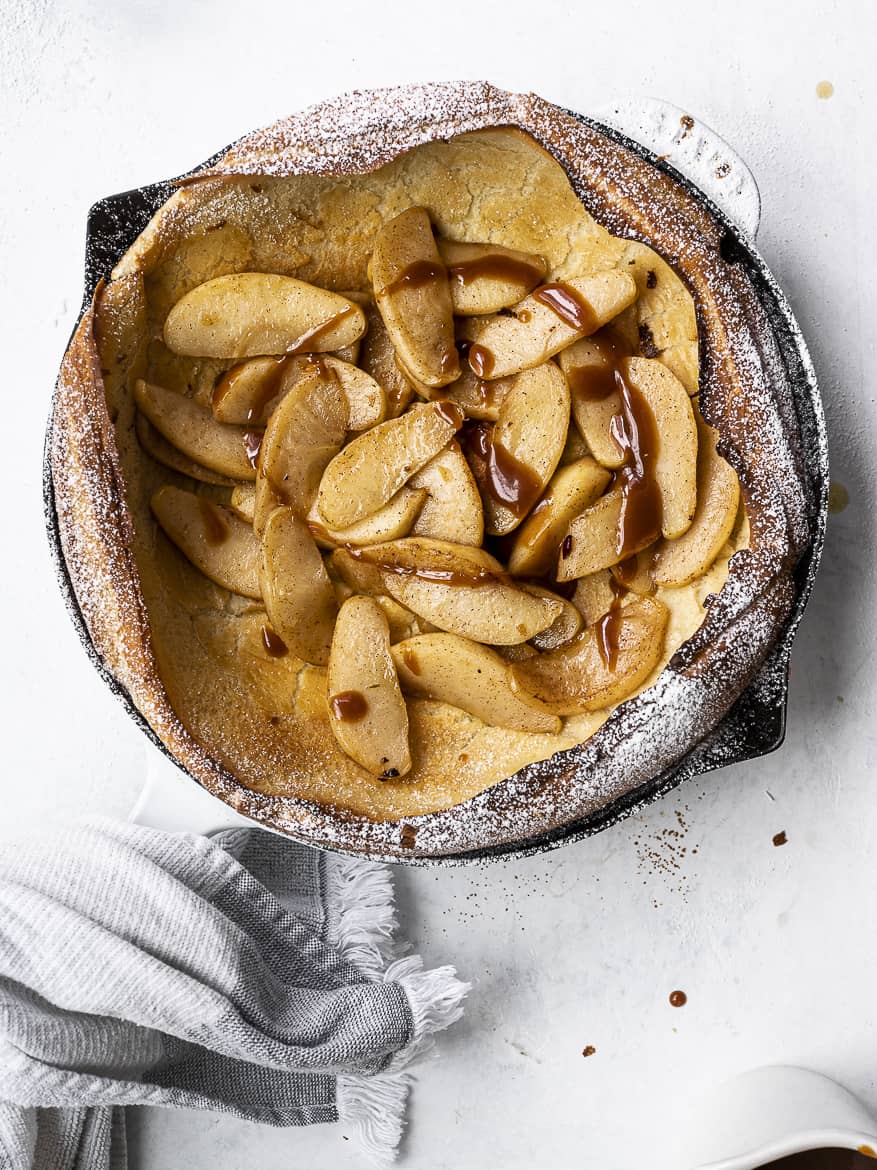 How to Make A Dutch Baby
You don't have to use a blender to mix the batter, but do so if you can. Not only is it less work, but the batter will be creamier and airier, resulting in a more tender, puffier Dutch baby.
Preheat the oven to 425°F and place a 9 or 10-inch skillet (or oven proof baking dish) in the oven.
Mix Batter; add milk, eggs, flour, salt, and vanilla to a blender and blend until smooth, about 1 minute. Leave the batter to rest in the blender while the oven preheats, for about 15 to 20 minutes.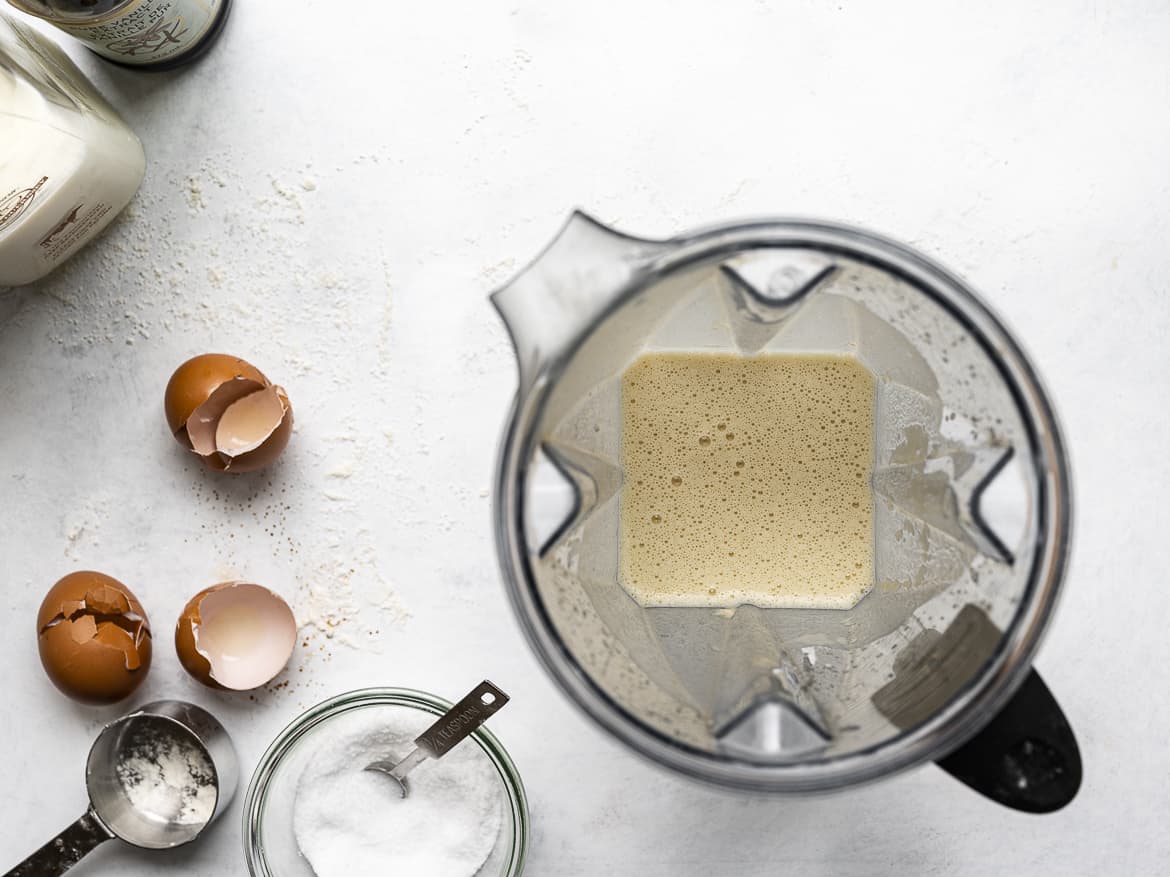 Melt the butter in the skillet. Once melted and bubbling, pour the batter into the centre of the skillet (do not stir). Bake until puffed and golden, 20-25 minutes. Tip:

Do not open the oven while the Dutch baby is baking or it may not rise properly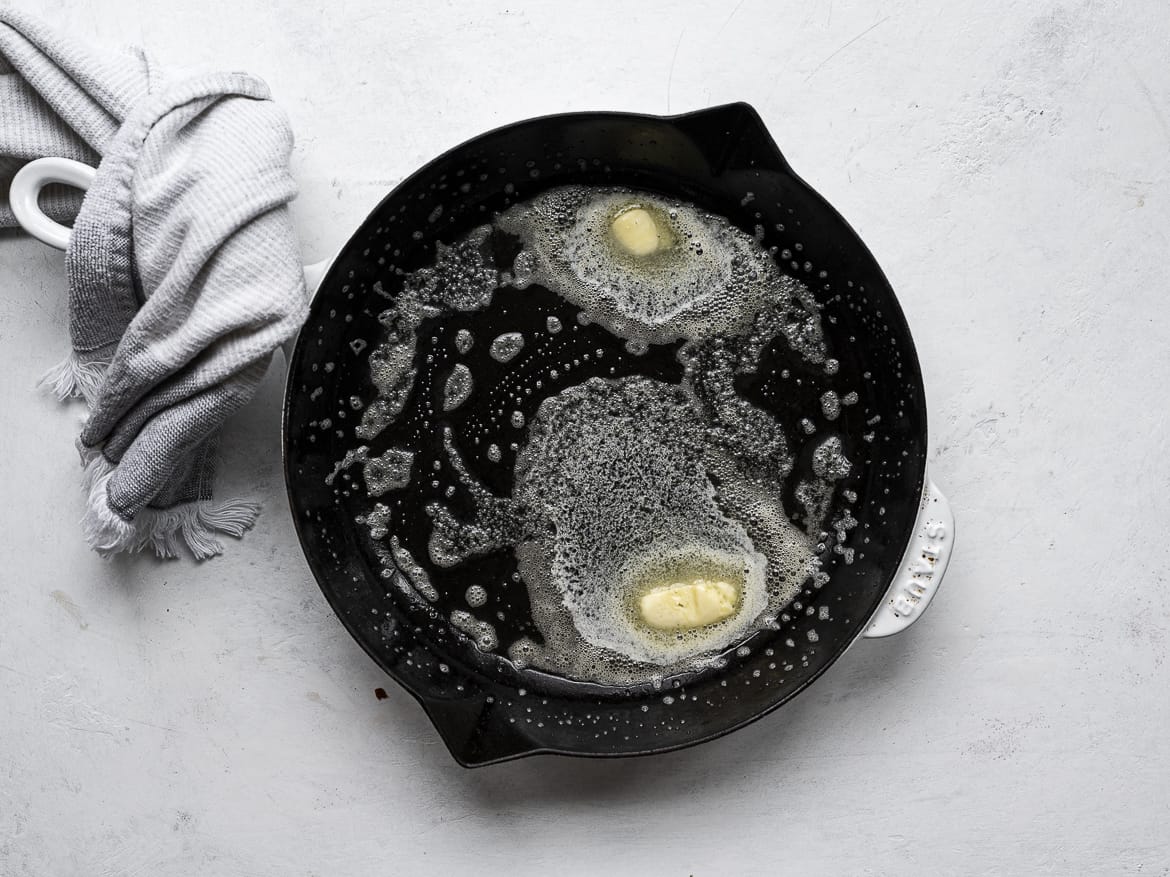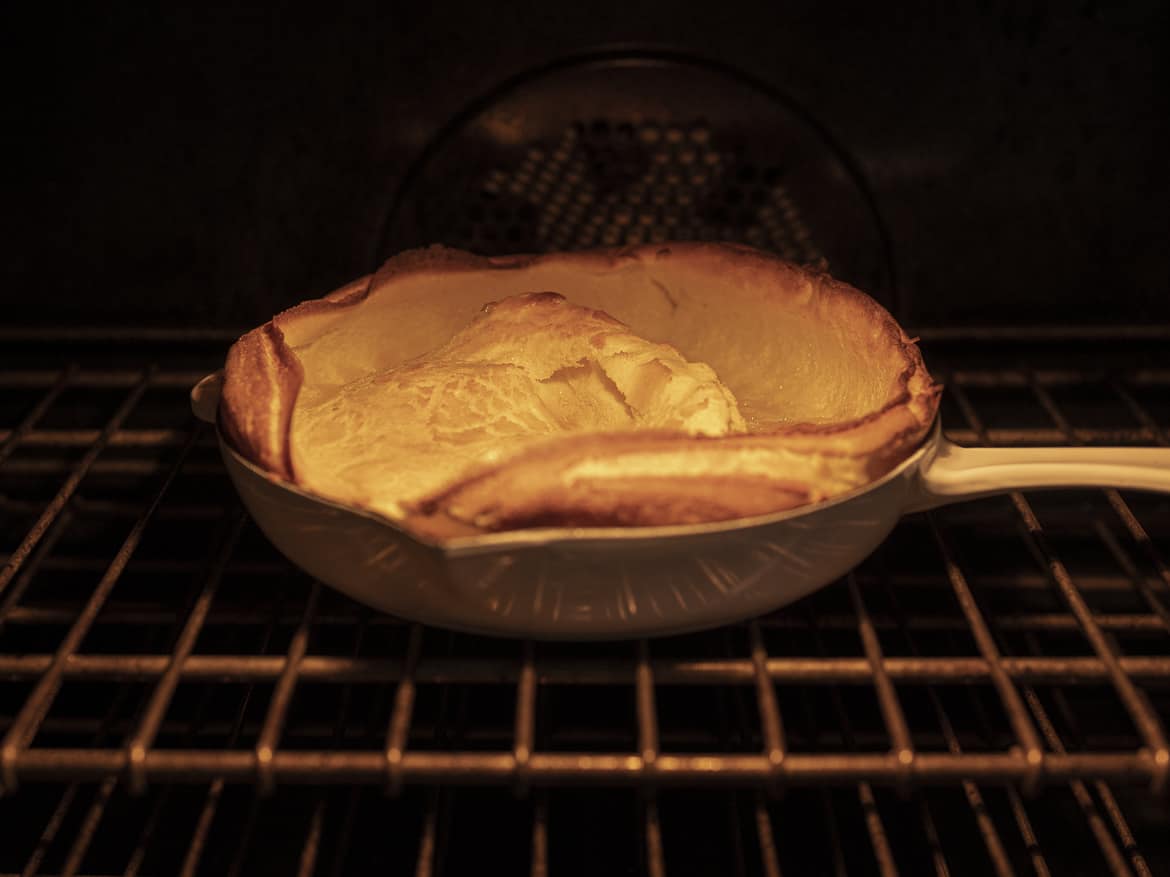 While the Dutch baby bakes, toss sliced apples in a skillet with a little butter, a pinch of sugar, and bit of cinnamon. Stir occasionally for about 10 minutes, or until apples have softened.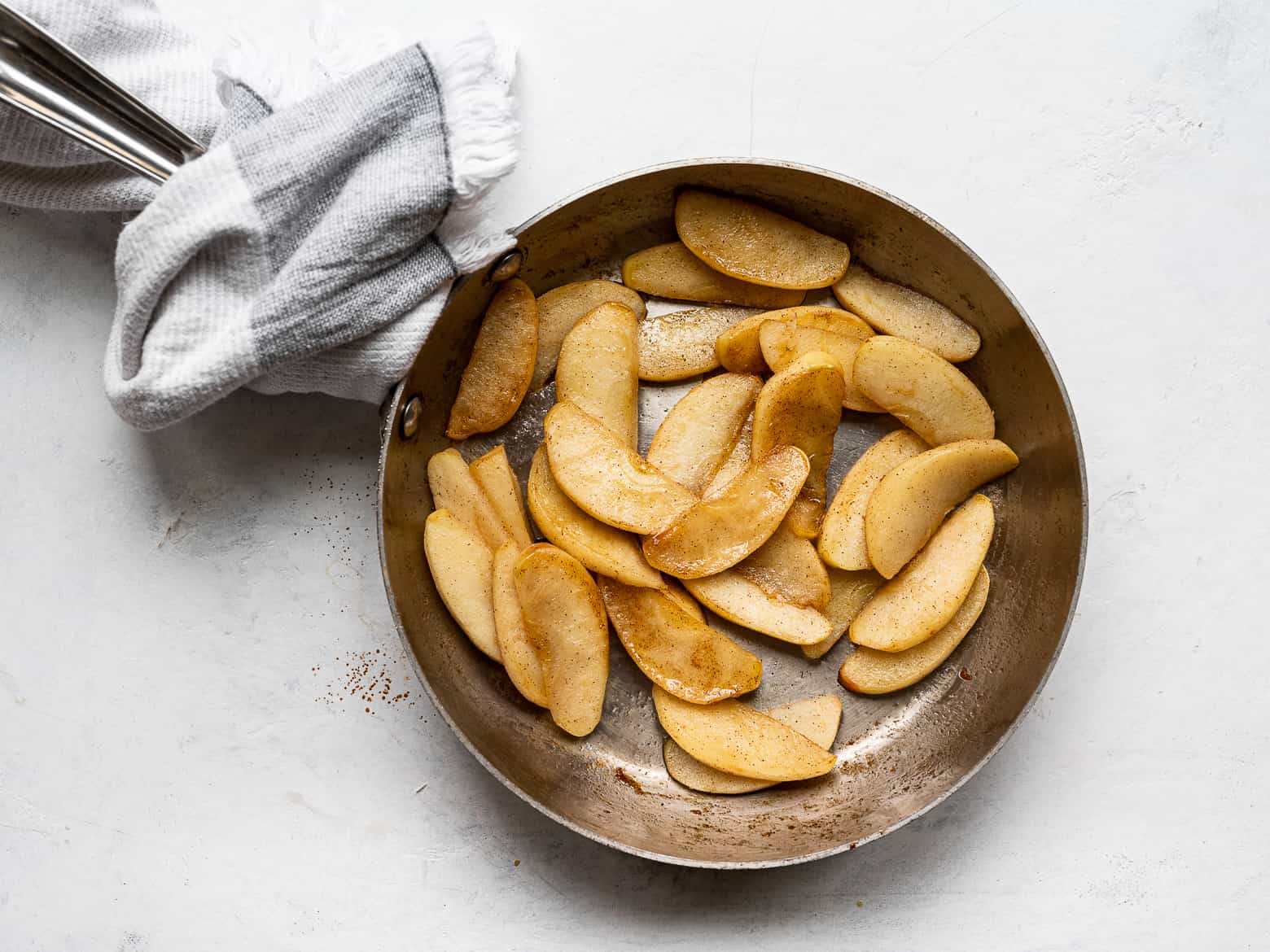 Remove the Dutch baby from the oven and top with caramelized apples.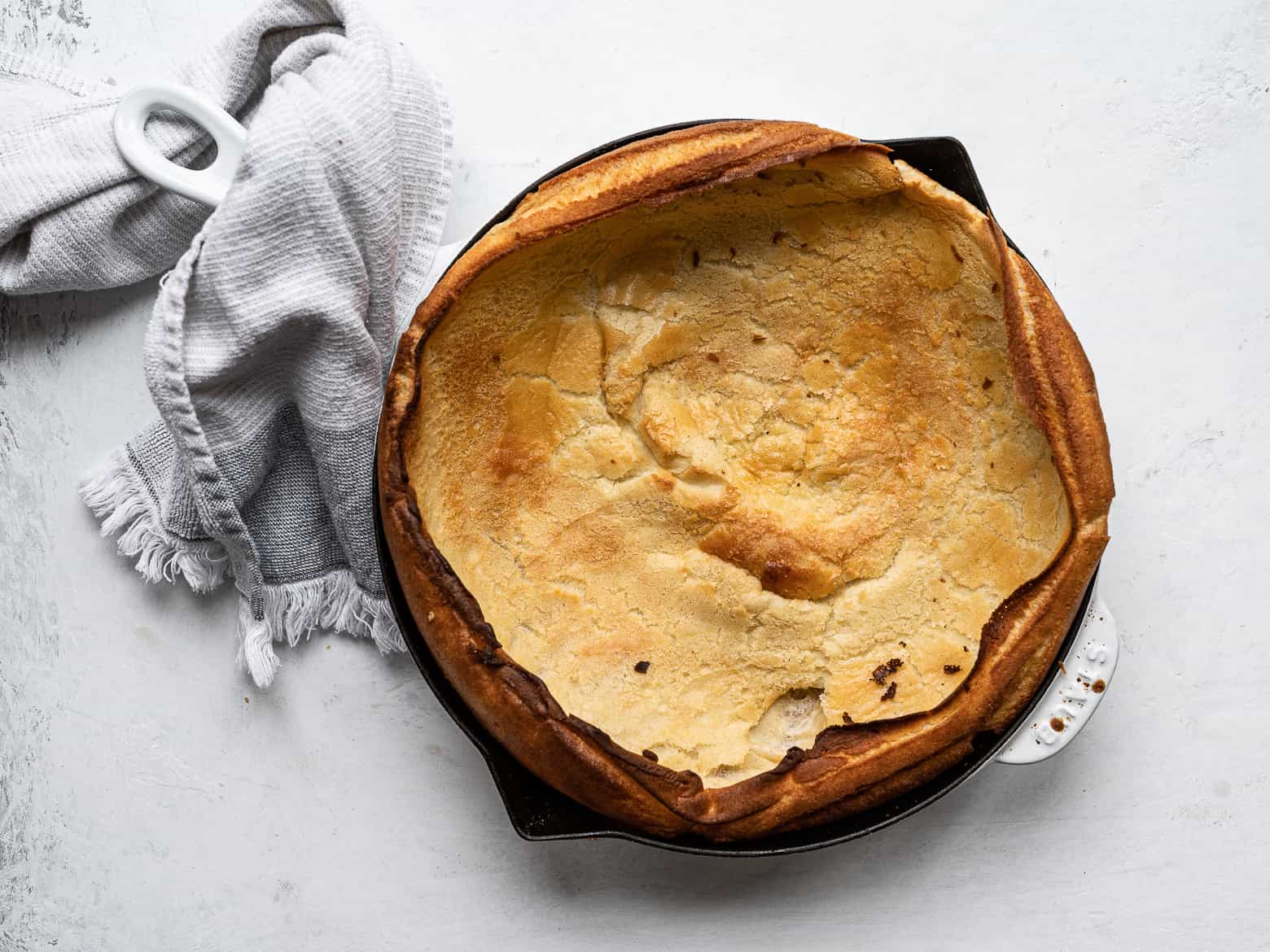 Dust with a little icing sugar and a drizzle of salted caramel, if desired.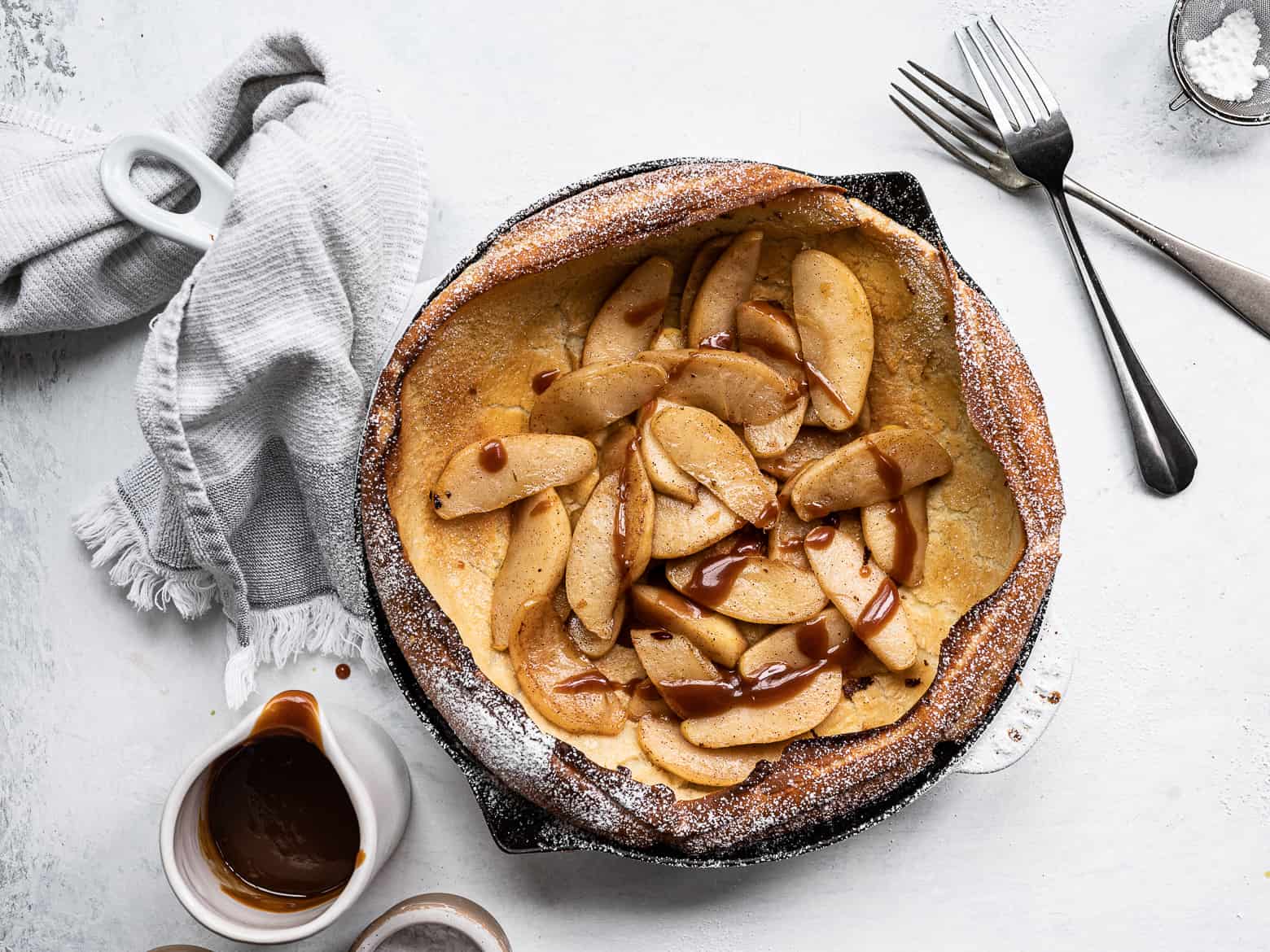 Other Toppings You Might Enjoy
Topping a Dutch baby is actually optional since it is quite delicious served as is with just a drizzle of maple syrup. The toppings, of course, are endlessly adaptable to what you have on hand. Here are other favourite toppings, both savoury or sweet, to serve your Dutch baby:
Yogurt with mixed berries
Creme fraiche with berries and a drizzle of honey
Dulce de leche (yum!)
Lemon juice with a sprinkle of powdered sugar
Parmesan cheese with sage or thyme (yes please)
Garlic Boursin cheese
A Few Tips
Allow the batter to rest. Not essential, but a 15 minute rest will allow the batter to set and thicken a bit.
Make sure the pan is hot! The skillet should be blazing hot when you pour in the batter. This will ensure your Dutch baby puffs up beautifully when baked.
Use a blender if possible. As previously mentioned, by blitzing the batter you introduce a lot of air bubbles which will make a puffier, lighter Dutch baby.
Make Ahead
For an even easier and quicker morning breakfast, make the batter the night before then refrigerate covered overnight. In the morning, all you have to do is pour it into a hot skillet and bake!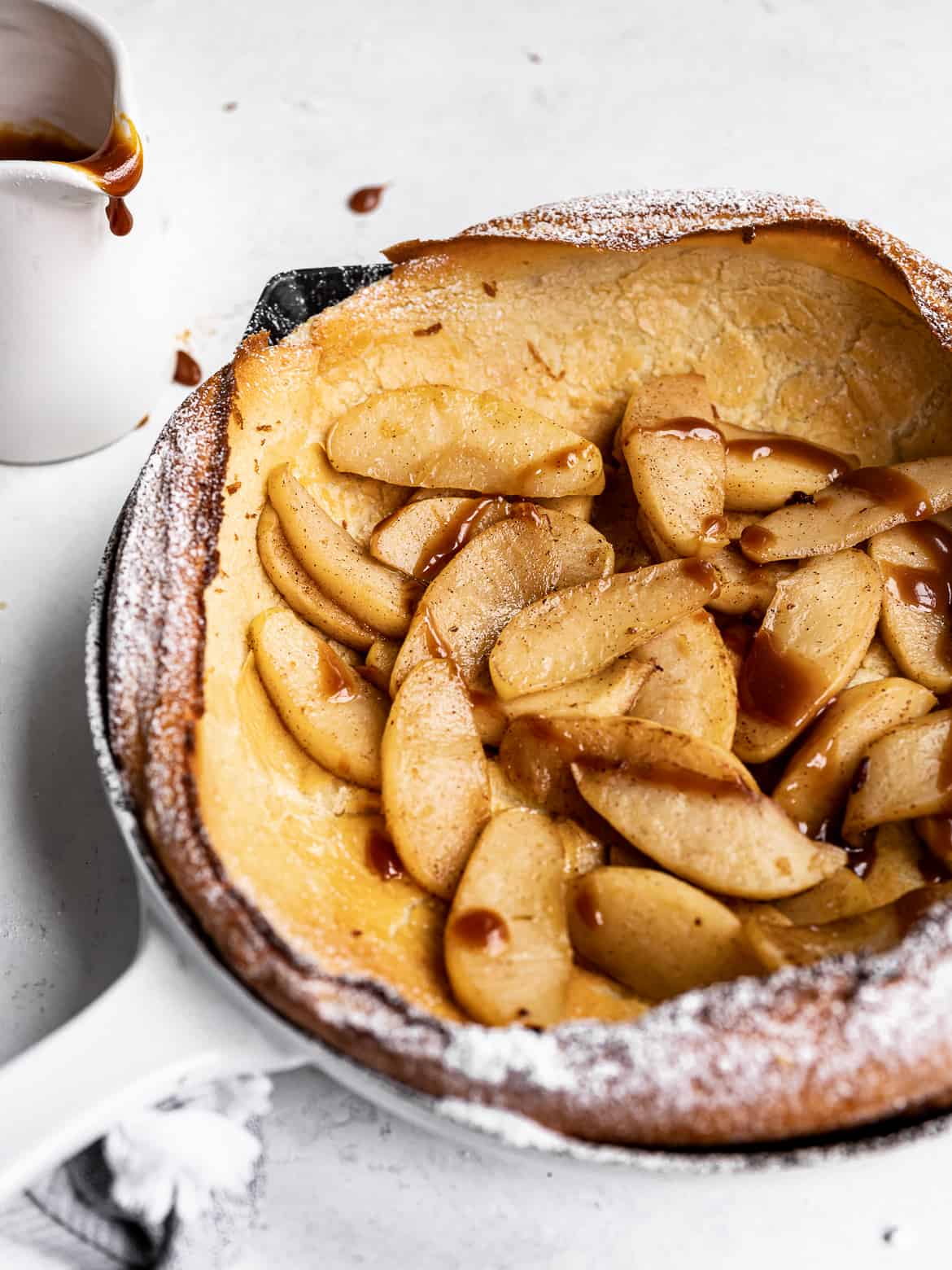 We appreciate and welcome all feedback so be sure to leave a comment and/or a star rating for this Dutch baby recipe below. Thank you!
And if you enjoyed this Dutch baby recipe, be sure to check out these Buckwheat Crepes with Dulce de Leche
Print Recipe
Pin Recipe
Dutch Baby with Caramelized Apples
Make this magnificent Dutch Baby with Caramelized Apples for a weekday morning treat, or on the weekend as a quick alternative to pancakes. It is also fabulous to whip up as a simple and delicious dessert. I like to leave the batter unsweetened which allows for the Dutch baby to go either savoury or sweet.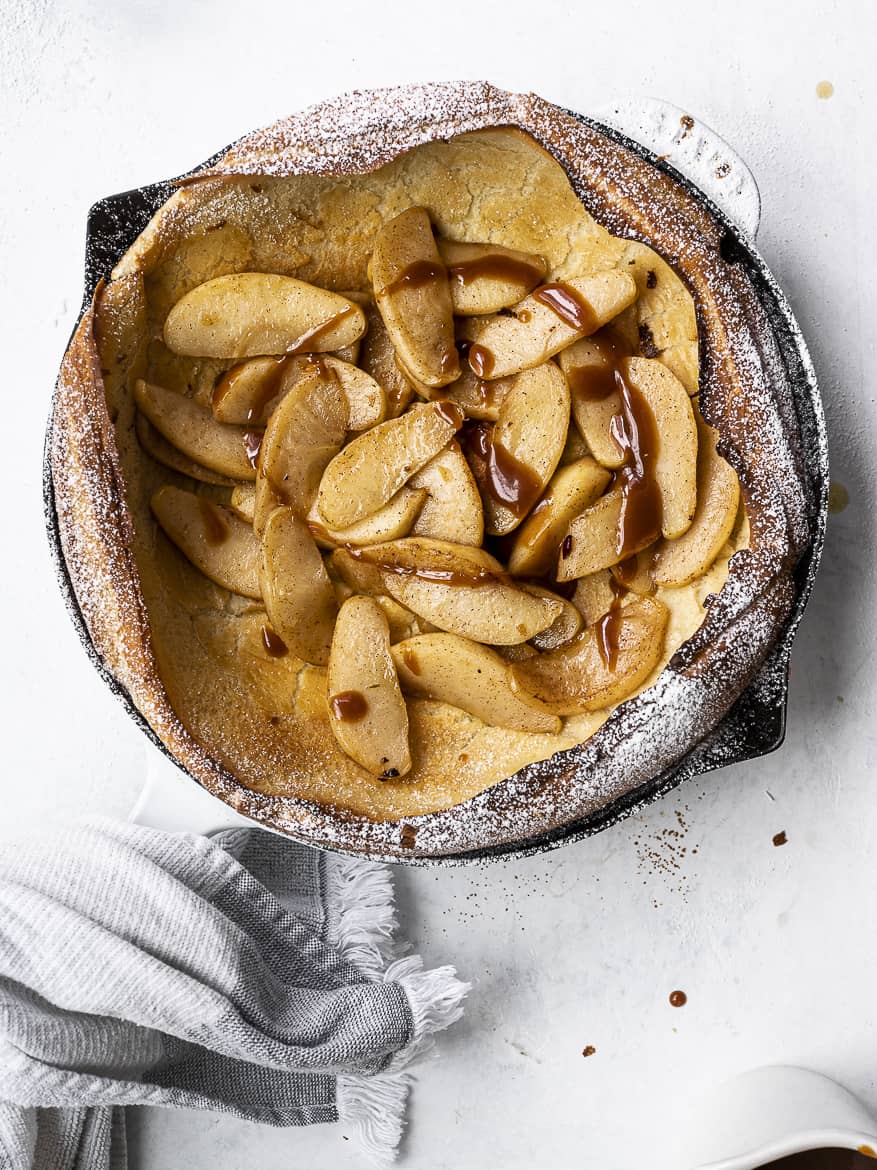 Ingredients
For Dutch baby
¾

cup

whole milk

at room temperature

3

large eggs

at room temperature

1

teaspoon

vanilla

3/4

cup

all purpose flour

¼

teaspoon

fine sea salt

2

Tablespoons

unsalted butter
For Caramelized Apples
1

Tablespoon

butter

2

sweet apples such as Honey crisp or Ambrosia

peeled, cored and sliced in wedges

1

teaspoon

sugar

I used cane sugar

1/2

teaspoon

cinnamon

salted caramel for drizzling

optional
Instructions
Place an 9 or 10-inch heavy skillet (preferably cast iron) in the oven and preheat the oven to 425°F. Alternatively, you can heat the skillet on the stovetop right before adding the batter, just make sure it is very hot.

Add milk, eggs, vanilla, flour, and salt to a blender and process until completely smooth, about 45 seconds. You may need to brush down the sides of the blender if some of the flour has stuck, then blend again a few more seconds. Allow the mixture to rest while the oven preheats, for at least 15 minutes.

Once the oven is heated, carefully remove the hot skillet from the oven (or heat the skillet until very hot on the stovetop). Add the butter to the hot skillet, swirling the melting butter to coat the pan on the bottom and up and around the edges.

Immediately pour the batter into the center of the buttered pan. It should sizzle and bubble. Transfer to the oven and bake for about 20 minutes, until puffed and golden. Tip: Do not open the oven while the Dutch baby is baking or it may not rise properly

Meanwhile, make the caramelized apples. Melt 1 tablespoon butter in a large skillet over medium heat. Add the apples, and sprinkle with 1 teaspoon sugar, and 1/2 teaspoon cinnamon. Sauté for about 10 minutes, stirring occasionally until apples have softened and become juicy.

Remove the Dutch baby from the oven, dust with icing sugar, if using, and top with caramelized apples. Serve warm, drizzled with a little salted caramel, if desired.
Notes
Leftovers keep well in the fridge, covered, for about 2 - 3 days. Reheat gently in the microwave, or in a 325ºF oven until warmed through.