Tender and luscious Buckwheat Crepes with Dulce de Leche are made with only 5 ingredients. This dessert is elegant, simple to make, and the perfect way to end your dinner.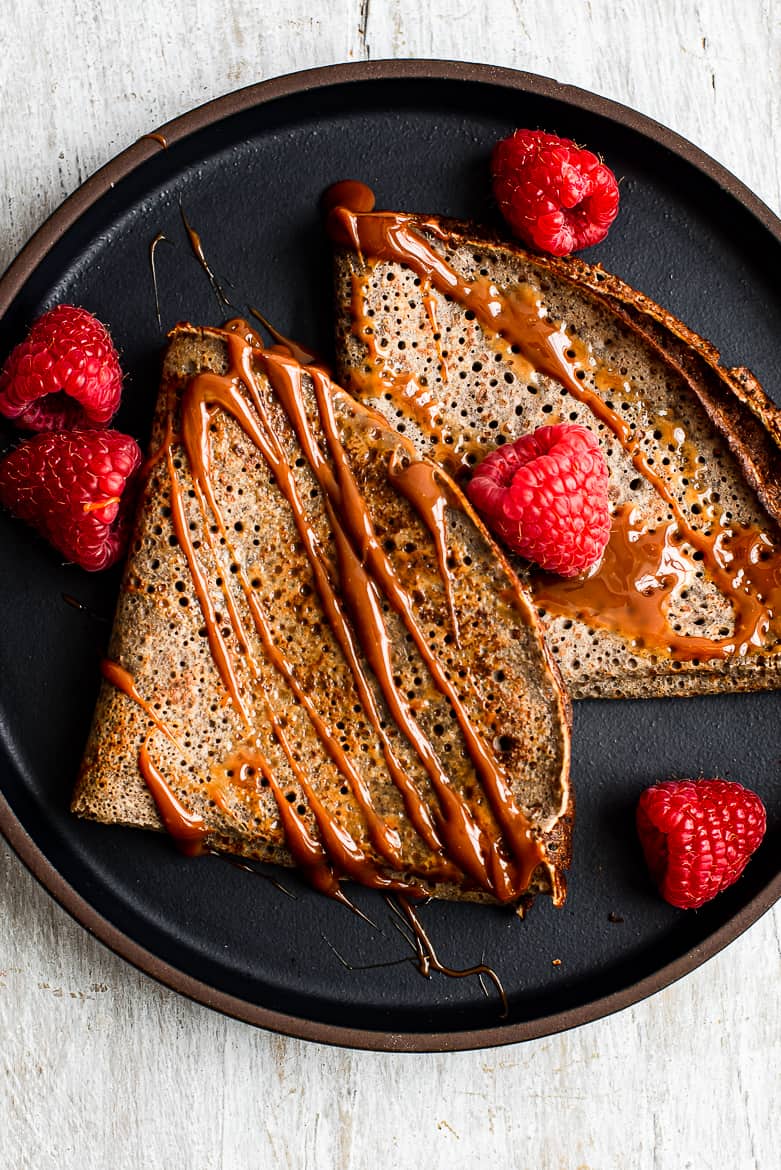 Let me start off by saying that this is a dessert that has always had tremendous success in wowing and wooing all who have tried it. Crepes in general will do that, they seem to be universally loved. Understandably so since they are a fantastic blank canvas to top and fill with endless combinations of flavours. If you have been following me for a while, you know that my weaknesses are always savoury — as in salty chips and cheesy things of all manners. But there are times that call for celebratory sweets. Valentine's day, of course, is really all about the sweets. So I couldn't let the date pass without sharing this stellar buckwheat crepe with dulce de leche recipe.
About Buckwheat Flour
Aside from being simple to make, these crepes have a lot going for them. Buckwheat flour is not, in fact, a type of wheat at all. It is a relative of rhubarb which makes it gluten-free and and it is crazy good for you. Buckwheat flour has four times as much fibre as whole wheat flour and it is also a very good source of manganese and a good source of magnesium. Buckwheat is also considered a complete protein, containing all nine essential amino acids. Aside from its nutritional value, however, it lends a nutty flavour and unique texture to the crepes that I absolutely love.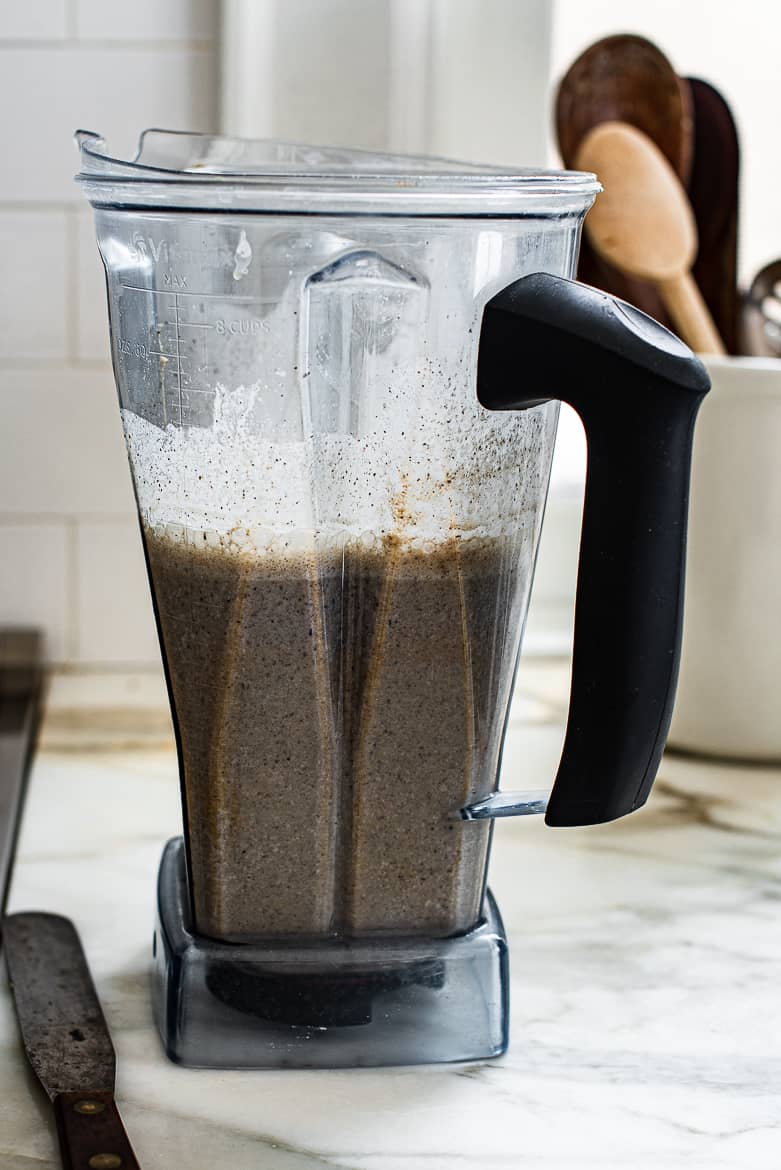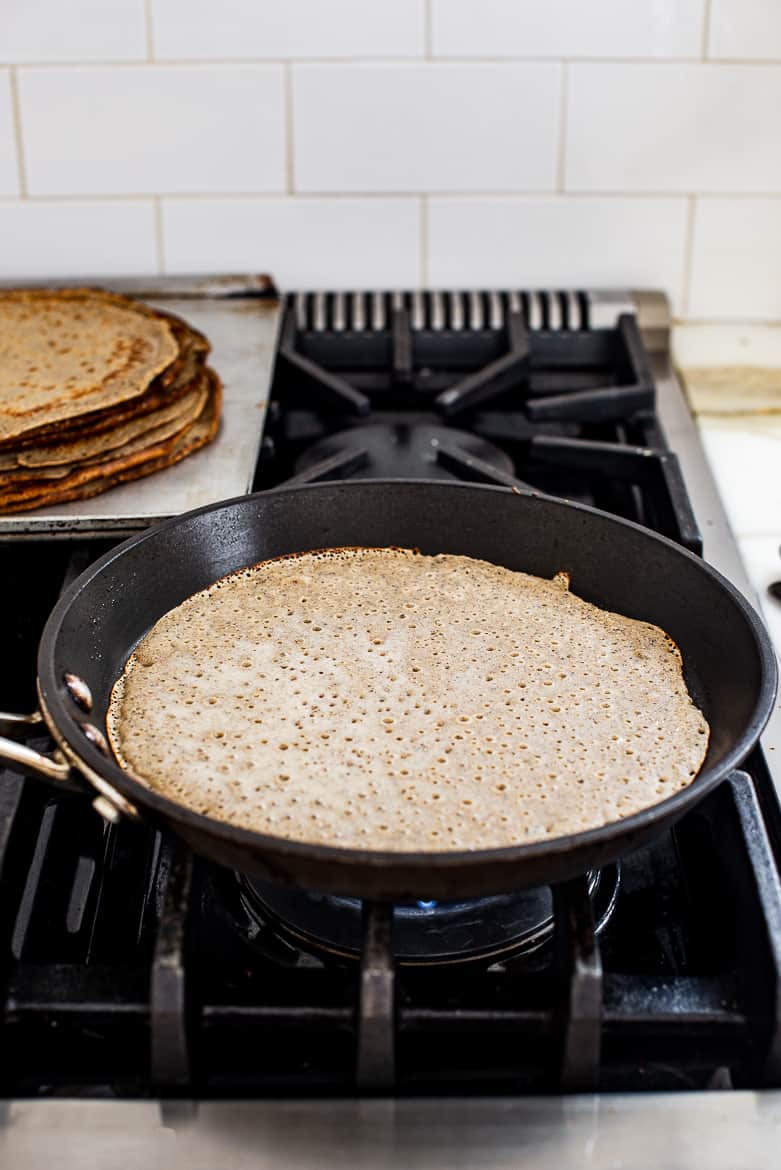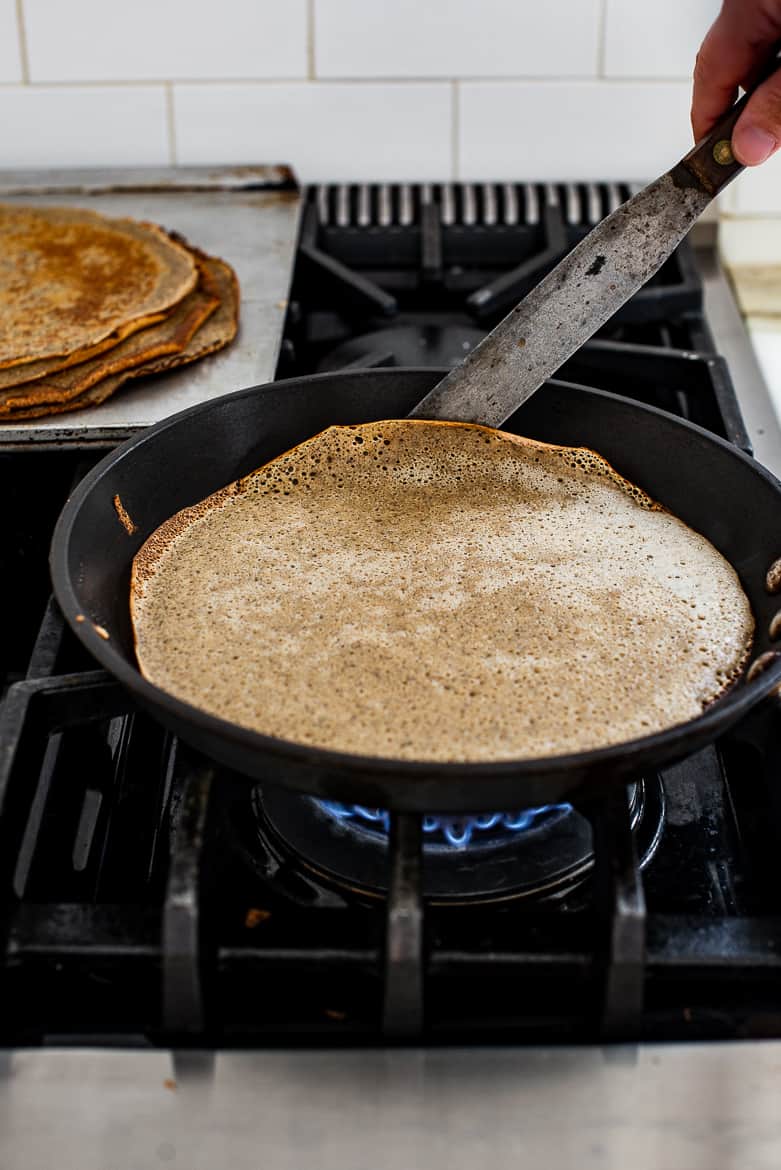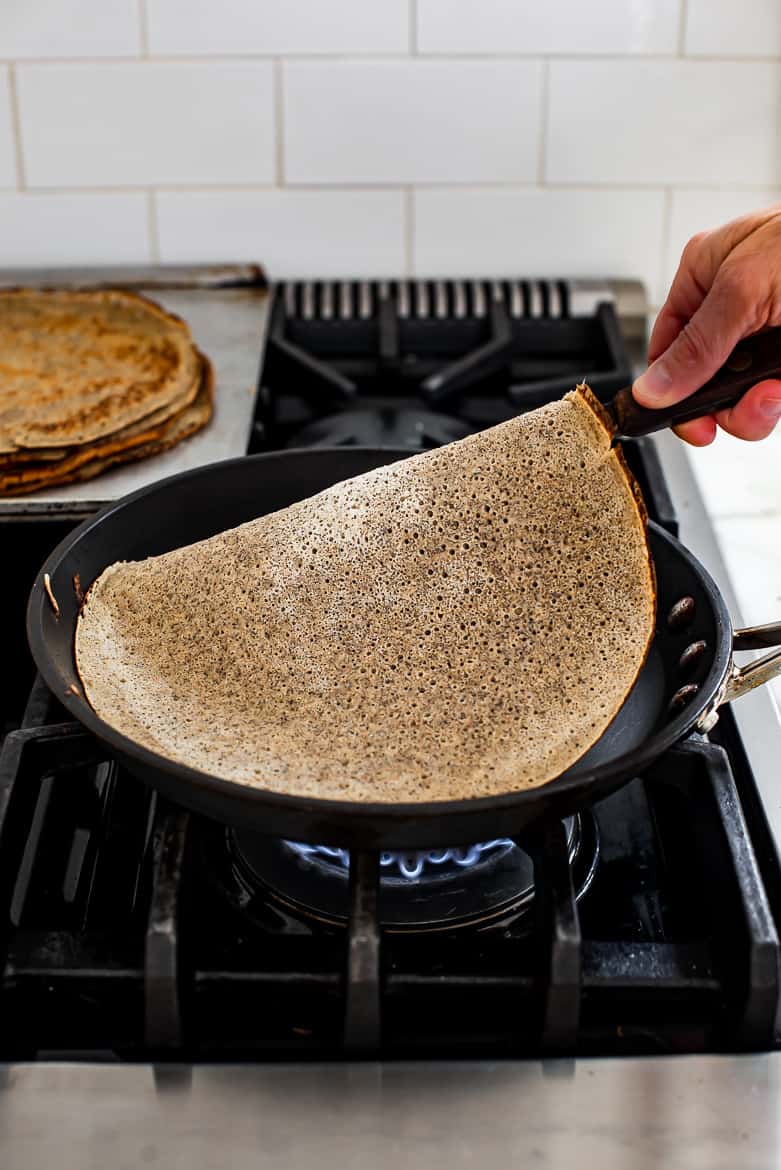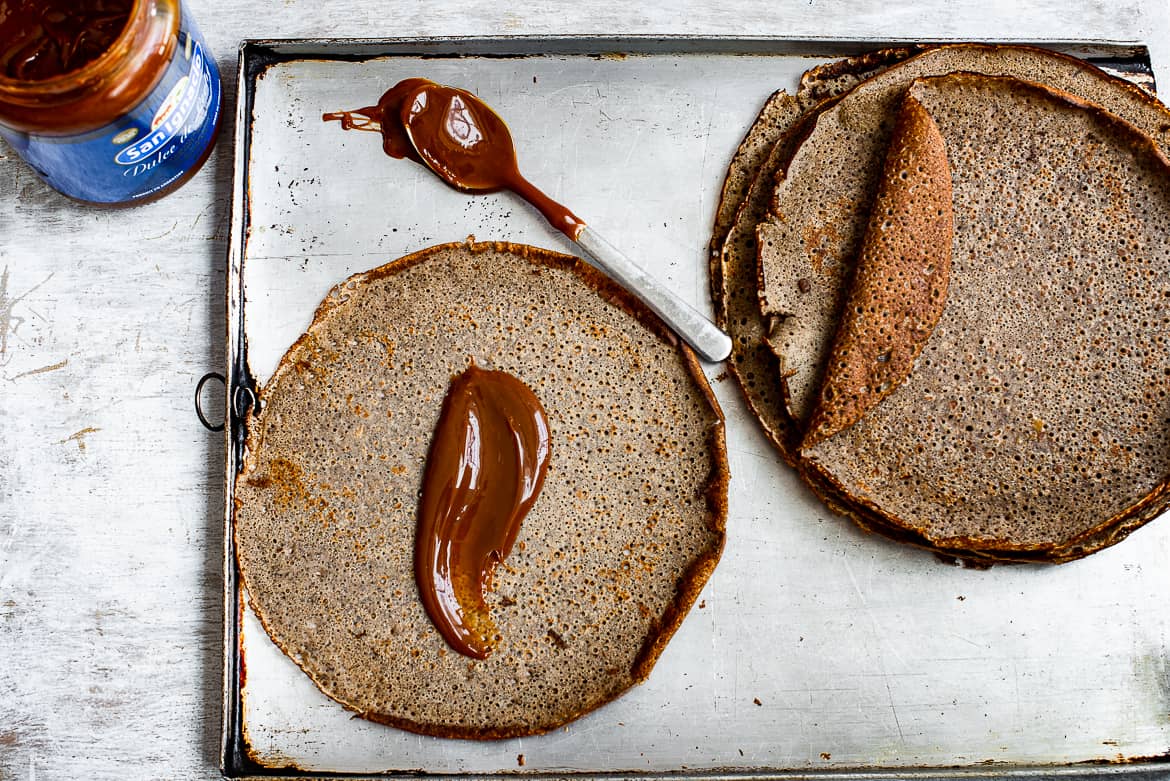 What is Dulce De Leche
The star of this dessert is the luscious and rich dulce de leche which makes a killer combination with the earthiness of the light and fluffy buckwheat crepe. When you eat this, it almost surprises you in its pleasurable intensity. We are talking lock the doors, not sharing, pure bliss.
Dulce de Leche is a caramel-y sauce that translates from Spanish to (roughly) mean "a sweet made from milk". While similar to caramel, dulce de leche gets its sweet and mellow flavour from heating sweetened milk until a chemical reaction occurs (Maillard) and the liquid turns thick and a golden-brown, almost butterscotch, colour. Needless to say, the flavour is sublime and the spread is fantastic on all kinds of desserts such as cheesecakes, ice cream, flans, and tres leche cake. And when no one is looking, with a spoon straight from the jar.
Making dulce de leche from scratch is not hard but very time consuming. It takes about 7 hours of gently cooking the sweetened the milk. Somewhat faster, but not always reliable, is making dulce de leche by simmering a whole can of condensed milk in water for about 3 hours. For this dessert we are taking a drastic shortcut and using store-bought dulce de leche in a jar.
Now, not all dulce de leches are created equal and crepes, though easy, can be a tad fiddly to get right. So read on to sort through all the details and tips which will spare you from any potential pitfalls.
What is the best store-bought dulce de leche
I have tried many jars of dulce de leche some of which I have a hard time understanding how they got away with labelling it as such. San Ignaico and La Havanna are two brands that, to me, come as close to the creamy, dreamy dulce de leche I remember from my childhood. Both are from Argentina and the ingredients, though not as clean as I'd like, are not something I would let trouble me. Especially for a special occasion.
In Canada, you can purchase La Havanna online here or here.  San Ignacio can be purchased online here. In the Kitchener-Waterloo area we are lucky enough to find both brands sold here , and San Ignacio brand here. Pro tip, get the large jar.
If you aren't able to find those brands, President's choice has a decent one or check specialty markets for other brands that are made in South America. I tried Bonne Mamman brand and though I enjoy their jams, I will not be buying their dulce de leche again. No bueno.
How to make buckwheat crepes
If you haven't made crepes before, I promise it's a lot easier than you think. This is a basic crepe recipe that calls for only 5 ingredients and uses buckwheat flour instead of all-purpose.
You simply combine eggs, milk, a sweetener, buckwheat flour, and a bit of butter or oil in a blender or by hand. After letting the batter rest for a bit, heat a small skillet, add a small amount of batter and cook for 1 minute a side or until the edges are crispy and the interior is dry.
This crepe recipe is very versatile and can be made with dairy-free milk, sweet or savoury, and even vegan by using flax meal.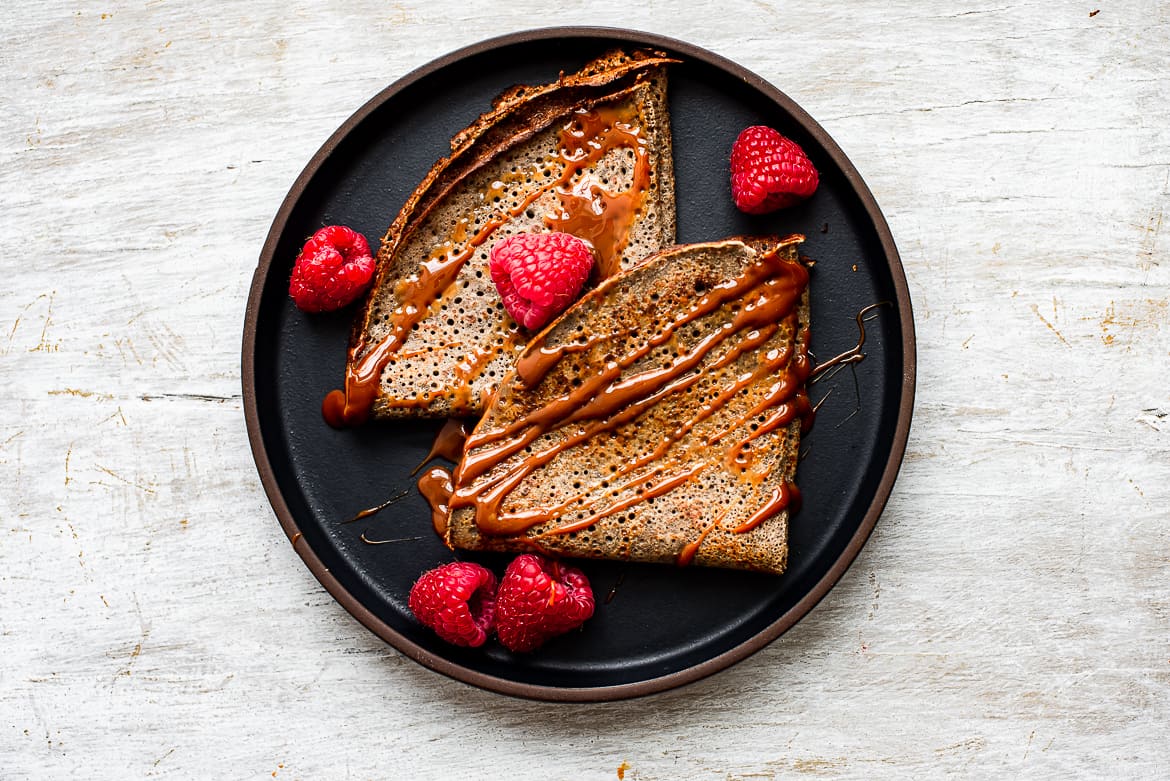 A few tips to make perfect buckwheat crepes
Let the batter rest: If you're really pressed for time you can skip this step but the batter really benefits from resting a few hours, or even overnight, to allow the flour to fully absorb the liquid.
The pan: Crepes are a little easier to make if you have a non-stick crepe pa. A well-seasoned cast iron will also work as  does a carbon steel pan.
Medium heat: Try and get your pan hot but not too hot; if the pan is not hot enough the crepe will stick, if it is too hot the batter will not spread evenly. I know, it sounds tricky but once you cook one or two, you will get the hang of it.
Greasing the pan: I like to use ghee to grease the pan. Ghee has a wonderful flavour and a high smoke point so it will not burn. If you don't have ghee you can use butter, coconut oil, or any other neutral oil. I find that the pan needs to be greased well for the first initial crepe but then I only grease the pan after every 3 or so crepes. This will vary depending on which pan you use. Again, you will quickly be able to gage this after cooking a few crepes.
The batter: If the batter seems a little too thick after resting, add a little water. The liquid should look like the consistency of cream, not like a pancake batter.
My absolute favourite way of eating these buckwheat crepes is of course smeared with dulce de leche sauce. But you could (and I often do) serve them with chocolate sauce. Throw in some raspberries for good measure and because they will look delightfully Valentine-ish next to the crepes. These crepes are a family fave and I just know you will love them too.
Update: Here is a link to my instagram stories for a visual guide to make these easy crepes. Enjoy!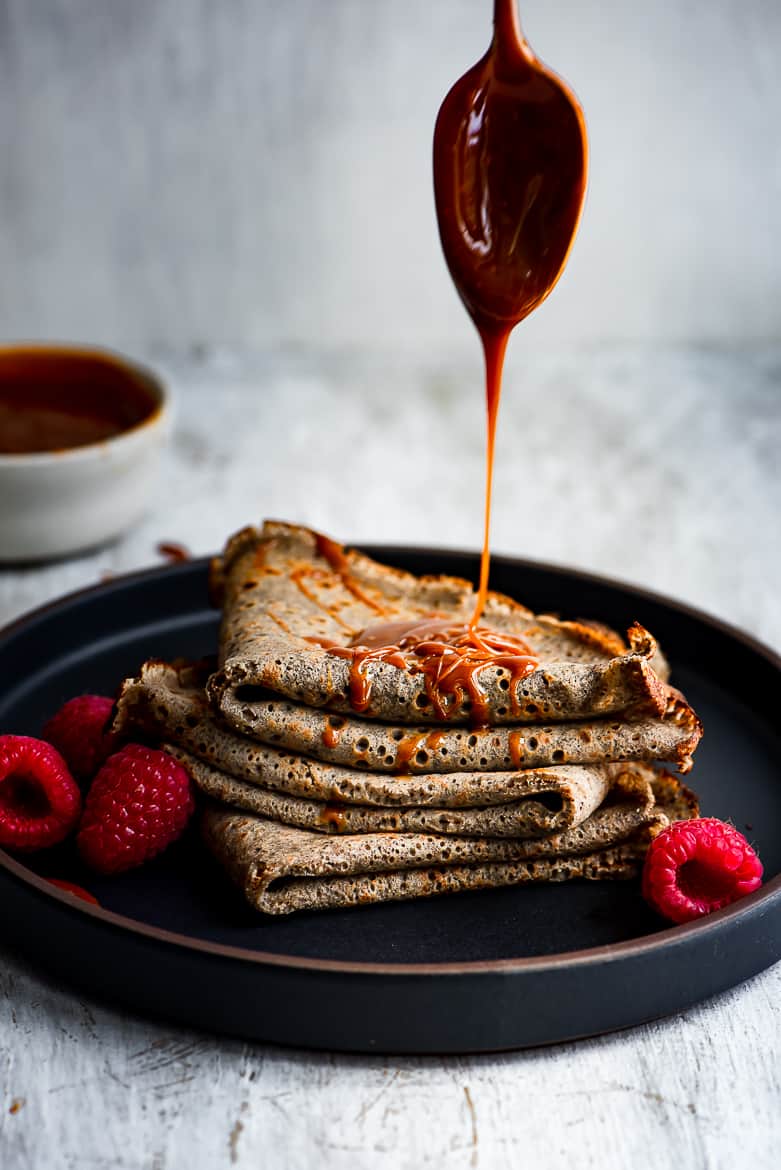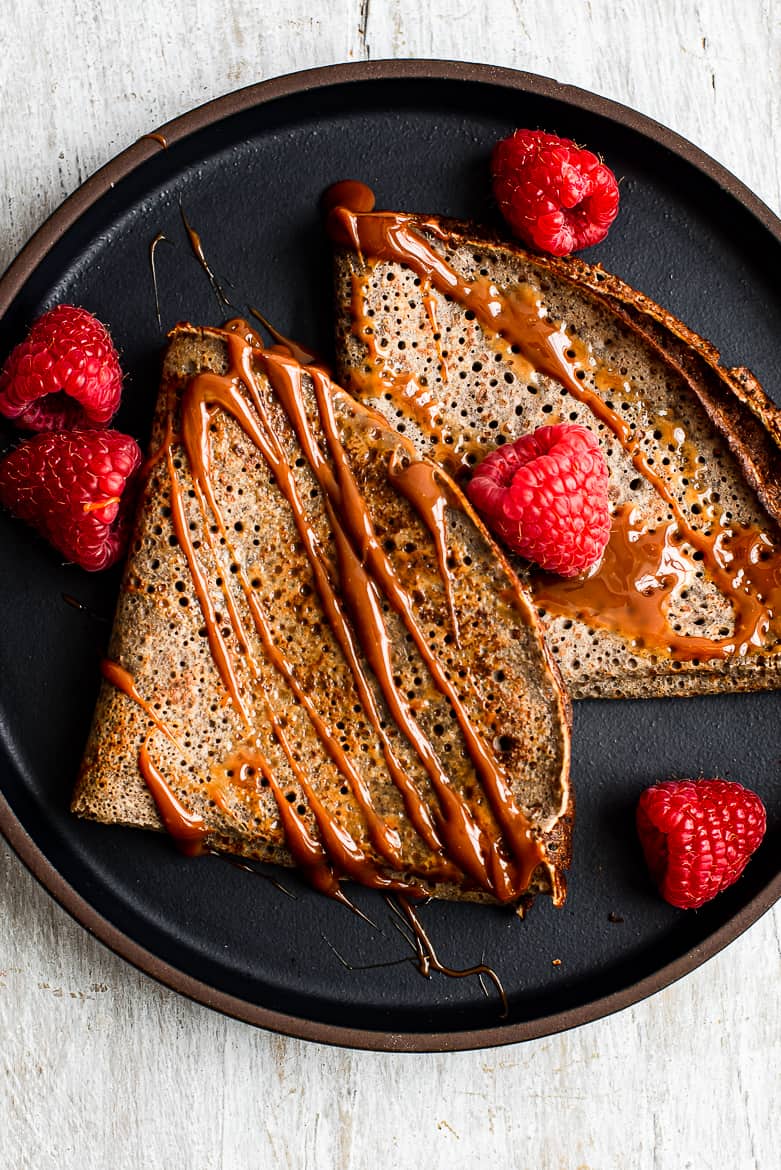 Ingredients
1

cup

buckwheat flour

2

large eggs

1

cup

milk

2% or whole

2

Tablespoons

melted unsalted butter

plus more for cooking the crepes

1

Tablespoon

maple syrup

or sweetener of choice

3/4

teaspoon

salt

1/4

water

if needed

Ghee

for cooking the crepes (or butter)

1/2

cup

Dulce de Leche

see notes
Instructions
Combine the buckwheat flour, eggs, milk, butter, maple syrup, and salt in a blender, and blend until smooth. Alternatively, blend by hand in a large bowl.

Cover the batter and let it rest in the refrigerator for at least 1-2 hours, or overnight.

When ready to make the crepes, stir the batter and thin it with water only if needed. It should be the consistency of cream.

Preheat a crepe pan or non-stick skillet over medium-high heat. Lightly grease the pan with ghee (or butter) then pour in enough batter to thinly coat the bottom of the pan; swirling the pan as you pour the batter to get an even coating.

Cook the crepe for 1 to 2 minutes on the first side, until it's golden and lifts from the pan easily. Using a metal spatula, or flat spatula, flip it over and cook for another 1 to 2 minutes on the other side. You may need to adjust the heat as you cook.

Transfer the cooked crepes to a plate, stacking them on top of one another; the crepes will not stick together. Place a towel over them to keep warm.

Fill each crepe with dulce de leche or any other filling as desired; serve warm.
Notes
Try and find a good-quality dulce de leche, preferably from Argentina. San Ignaicoand La Havanna are two brands that, to me, come as close to the creamy, dreamy dulce de leche I remember from my childhood.