Luxuriously creamy and silky, this Easy Tiramisu will serve a crowd and is the perfect make-ahead dessert for your next dinner party or holiday gathering.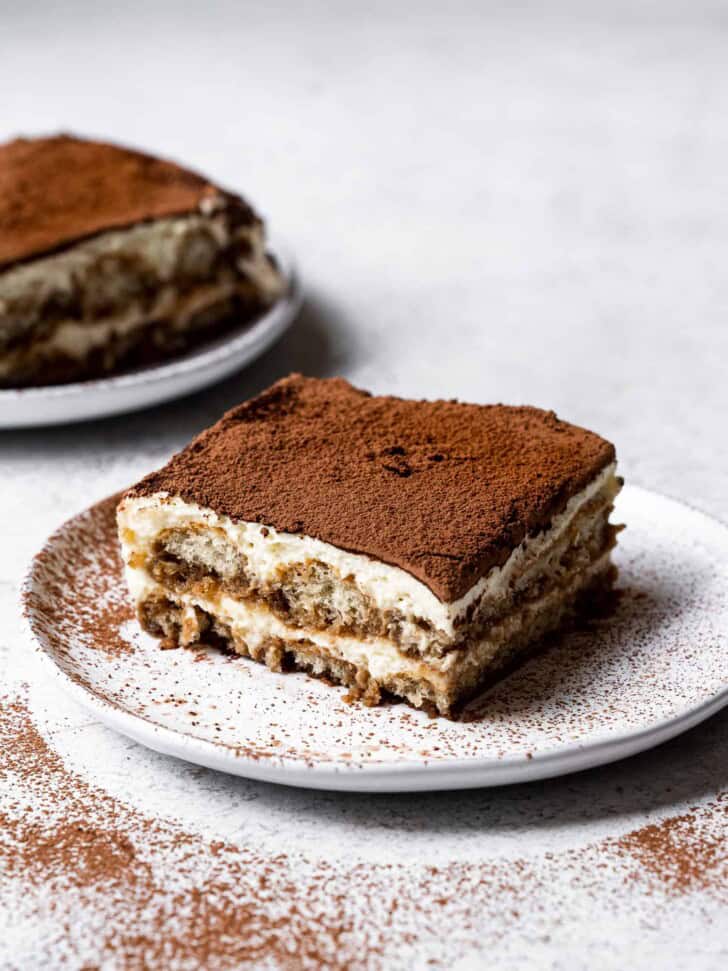 Remember way back when tiramisu was just about the only dessert ever served at a dinner party? Without a doubt, if you were coming over for dinner to my house, that is what you would have been served. Then I got sick of it, like the rest of the world, and it never made an appearance for years.
Well, now I've brought it back with a few tweaks that have made it even better and I'm obsessed with it all over again. So much so, if you come over for dinner chances are high this is the dessert you will be served. I think you'd be happy – it's mouth-watering delicious.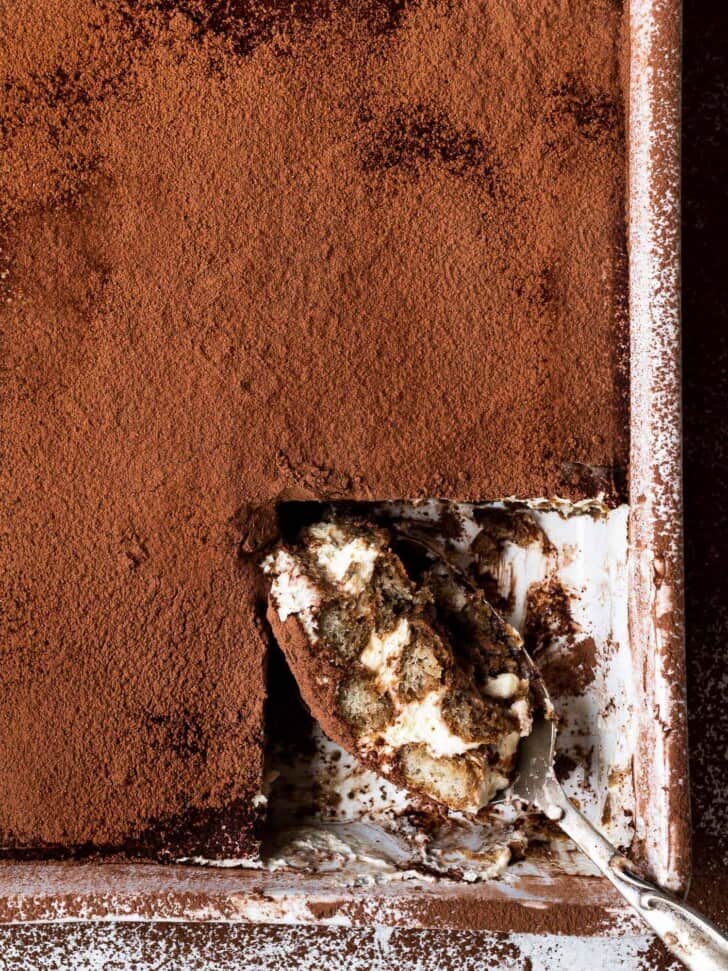 Easy Tiramisu Recipe
There are many variations for making tiramisu, one of the most popular and loved Italian desserts of all times. After a lot of research, I could not really determine what makes a classic tiramisu. Some omit the egg whites, some use a lot of cream or no cream at all. Purists refrain from adding any booze but if added, Marsala is traditionally the liquor of choice.
The tiramisu I share with you today is the version we absolutely love: No cream, beaten egg whites, a lot of good mascarpone cheese and just a little boozy. I've had tiramisu that has the firmness and texture of cake but I prefer mine leaning towards a pudding consistency. As for the alcohol, I prefer rum but use whatever is your preference or omit all together.
Your tiramisu is guaranteed to be successful if you use the proper biscuits which are ladyfingers (Savoiardi biscuits). Anything else and the tiramisù might turn out soggy. The ladyfingers should be soaked in the most legit espresso coffee you can come up with.
The best part about this dessert is that it is really easy to make and it can, and should, be made ahead. Tiramisu needs to be chilled in the fridge for at least 6 hours but preferably overnight. This allows the flavours to concentrate and the custard filling to set. Just before serving, a generous dusting of cocoa powder on top is essential for the dreamiest tiramisu you'll ever have.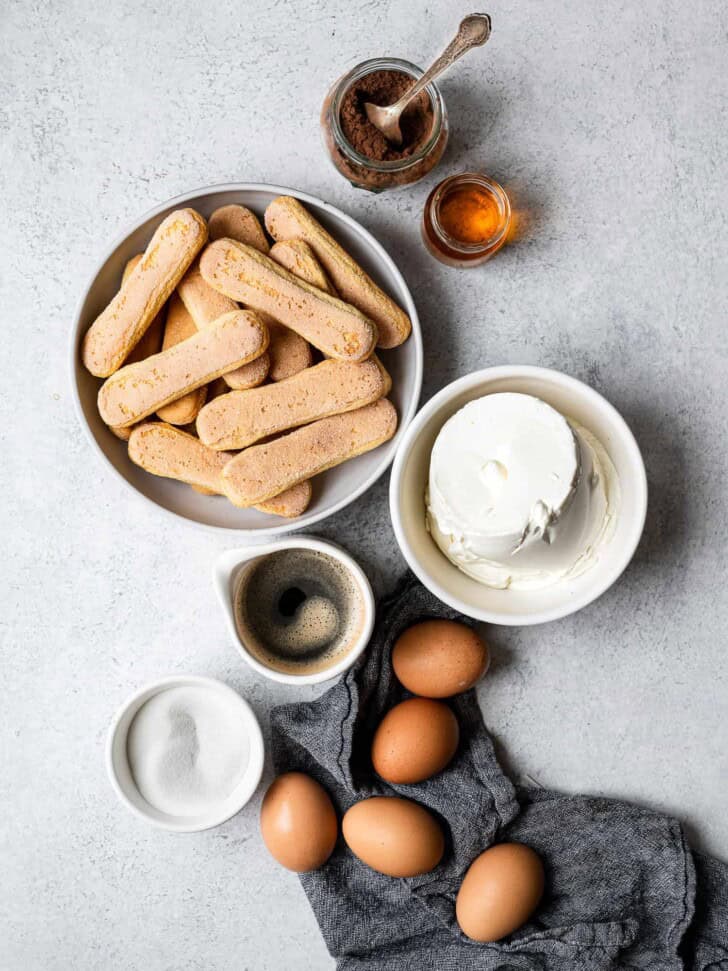 Ingredients And Notes
This easy tiramisu relies on the quality of the ingredients used. If you live near an Italian deli, you will likely find everything you need there. But you should also be able to find everything at a well-stocked grocery store.
ESPRESSO
Espresso coffee is pretty crucial in a tiramisu and instant, filtered, or drip coffee will simply not cut it. If you don't have an espresso machine, or a percolator to make it, you can grab some from a nearby coffee shop. A French press will work in a pinch.
MASCARPONE
Mascarpone is a rich and creamy cow's milk cheese that has a high percentage of butterfat. The spreadable cheese has a mildly sweet, almost nutty flavour. If at all possible, seek out a mascarpone cheese that has only milk, cream, and citric acid on the list of ingredients. Unfortunately, this is not easy to find so whichever mascarpone is available to you will have to do.
LADYFINGERS
Ladyfingers (Savoiardi biscuits) can be found in well-stocked supermarkets and at most Italian delis. I have never tried using other biscuits to make tiramisu but there are a lot of recipes online to make your own, if necessary. Just make sure you use hard ladyfingers or they won't hold up well once soaked.
EGGS
Many will say that a tiramisu without raw eggs is not tiramisu. I admit that I used to be "one of those" that was a bit squeamish about consuming raw eggs. Now I buy eggs from reputable sources that I know are really fresh and safe to use raw and I have never had a problem. That said, if I am serving the tiramisu to anyone that might have an issue with raw eggs (young children, pregnant women, the elderly, or someone immunocompromised), I pasteurize the eggs which takes only a few minutes to do.
Pasteurized eggs are still raw but are cooked just enough to kill any potential bacteria.
SUGAR
Tiramisu is not a very sweet dessert. And as with most of my desserts, I make it even a little less sweet using only 1/3 cup of sugar. I find the ladyfingers complete the amount of sweetness perfectly. If you like desserts on the sweeter side, feel free to use 1/2 cup of sugar.
ALCOHOL
As previously mentioned, purists do not add alcohol to tiramisu but we really enjoy it with rum, brandy, or marsala. You can also use your favourite liqueur.
COCOA
I use Dutch-processed unsweetened cocoa powder for dusting the tiramisu but any cocoa powder will work.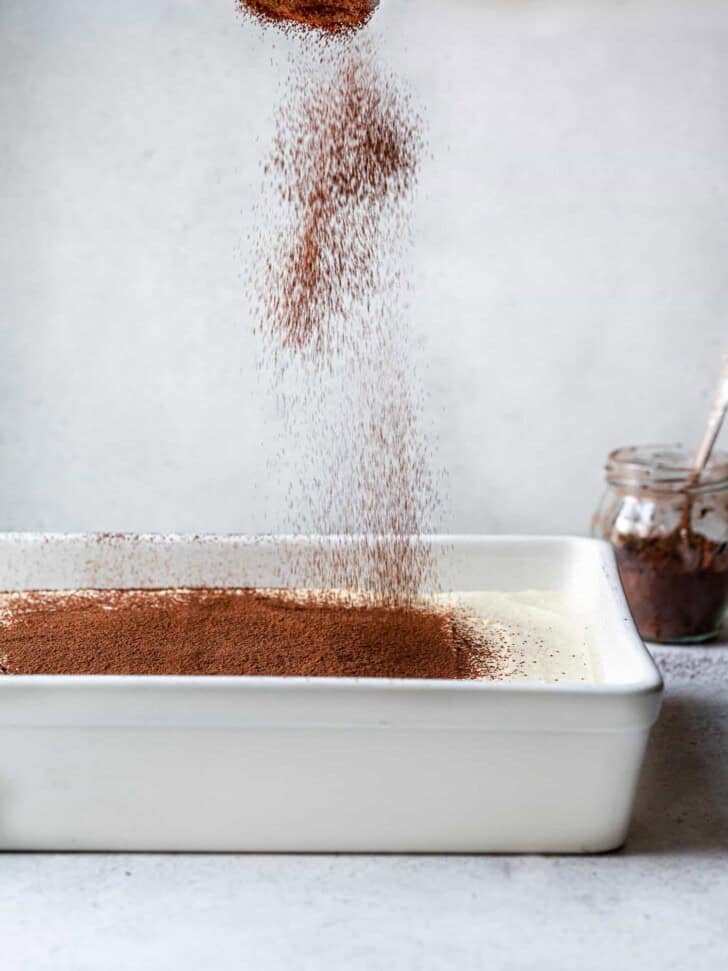 How To Make Tiramisu
Tiramisu is easy and quick to make and would be a fabulous dessert to bring to any celebratory table. This recipe makes a fairly large amount (serves 12) so I use a 9×13 dish. If you'd like to make a smaller batch tiramisu, see instructions in the recipe notes.
Make the filling. Use a hand-held mixer or a stand mixer to beat the sugar and egg yolks until pale yellow and creamy. Add the mascarpone cheese in a few increments, beating gently to combine. Some small lumps will remain, which is fine. In a clean bowl, beat the egg whites until fluffy and stiff peaks form. Fold the eggs whites through the mascarpone mixture with gentle circular motions.
Assemble the tiramisu. Very quickly dip (don't soak!) the lady fingers into the coffee, one at time, then cover the base of dish. Add half of the mascarpone mixture, spreading it evenly to create a smooth layer. Repeat with another layer of ladyfingers, then finish with remaining mascarpone mixture.
Chill. Cover the dish and refrigerate for at least 6 hours, preferably overnight.
Serve. When ready to serve, dust with cocoa powder, scoop onto plates and serve!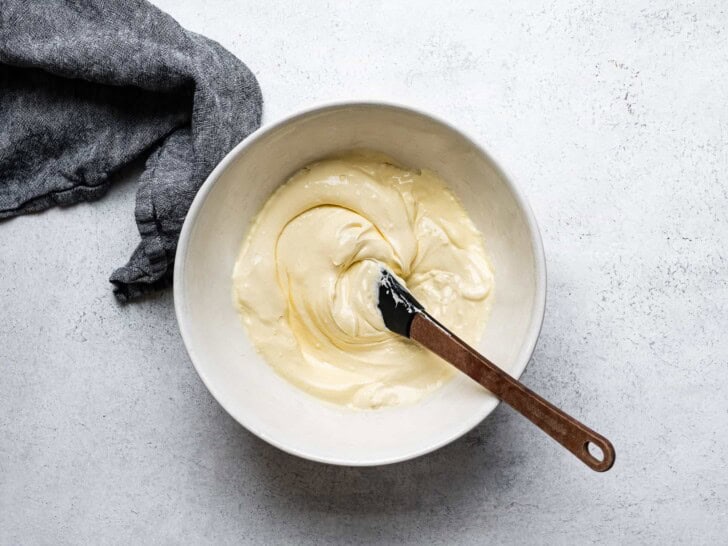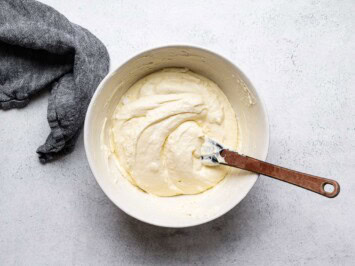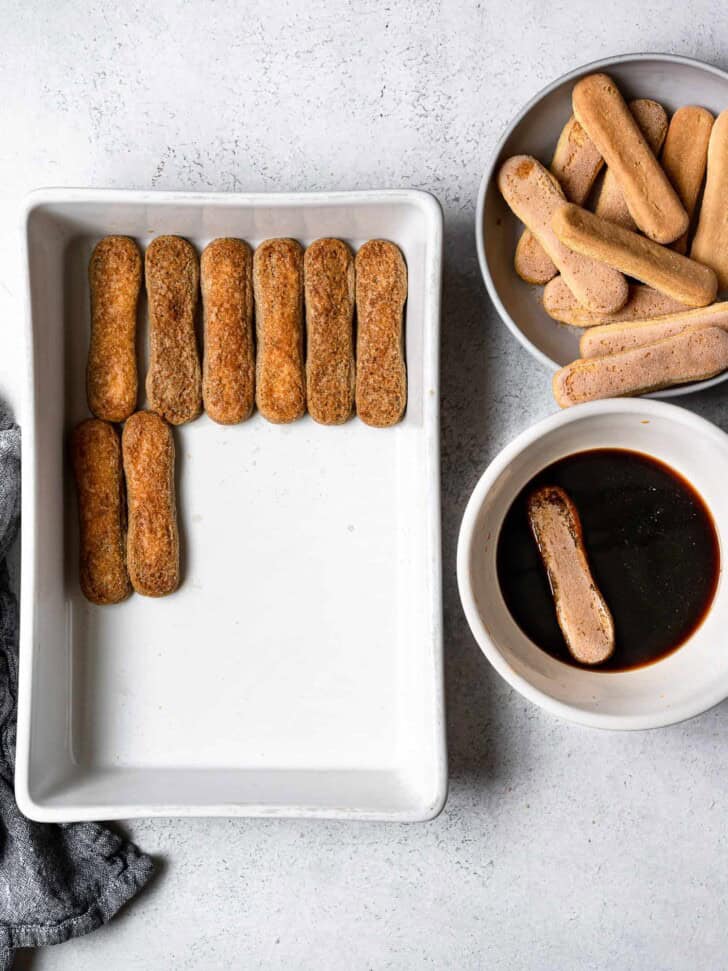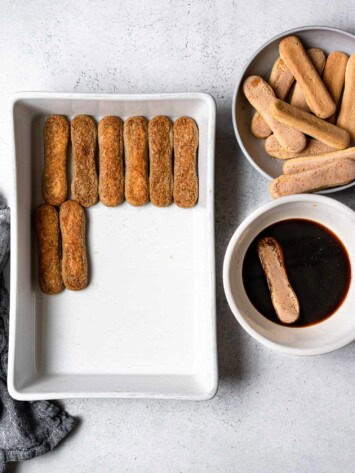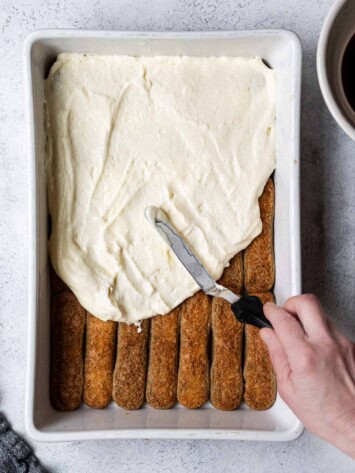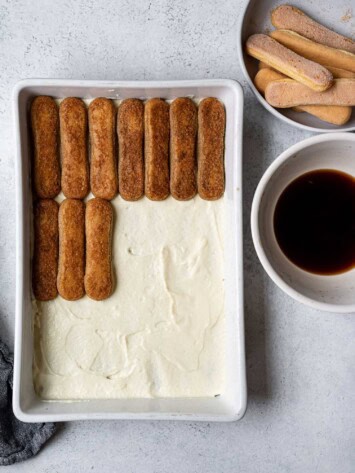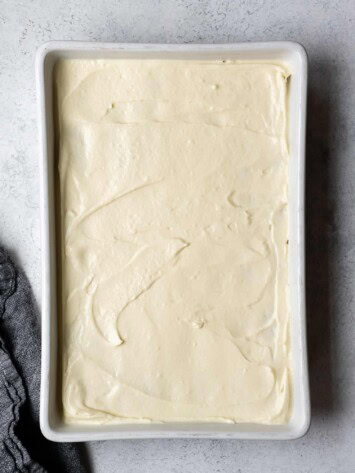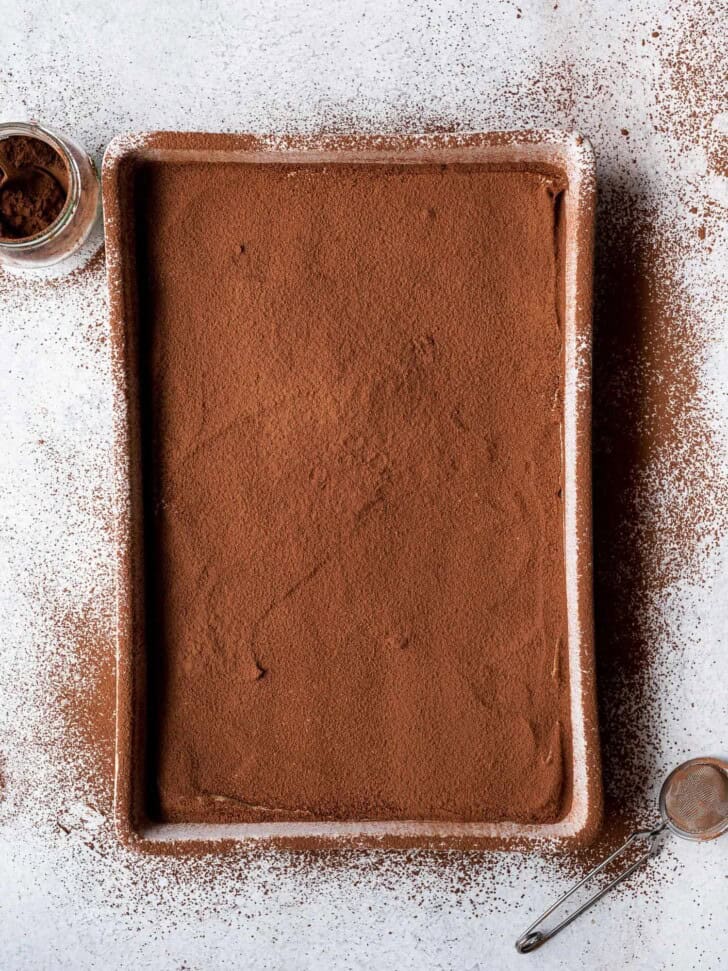 Tips
Dunk those ladyfingers quickly!
Ladyfingers are like sponges so when you dunk them in the coffee, make it a really quick dip! Otherwise, the biscuits will be soggy and fall apart and/or make the creamy filling watery. I dunk them in laying flat, give it only one quick flip and remove!
Use decaffeinated coffee if serving young children.
It may just be blasphemous to an Italian, but if you would like to serve this to young kids you can omit the alcohol and use decaffeinated coffee. In addition, to soften the coffee flavour, you can mix the hot coffee with a few tablespoons of cocoa powder.
Don't overheat the mascarpone mixture. Once you mix in the mascarpone cheese, the mixture will seem a bit lumpy. That's how it should be so don't continue beating to make it smooth or your mixture could separate and curdle. It will not look lumpy after it has chilled and is covered in powder.
Make ahead.
As mentioned, tiramisu is so much better the next day when the flavours have had a chance to mingle. It's even better the day after that so plan ahead and give it time to hang out in the fridge.
Make it gluten-free.
Ladyfinger biscuits are not gluten-free and I am not sure you could easily find a gluten-free version. The good news is that ladyfingers are easy to make at home, whether they are gluten-free or not. Though I haven't tried this recipe, it looks easy and delicious.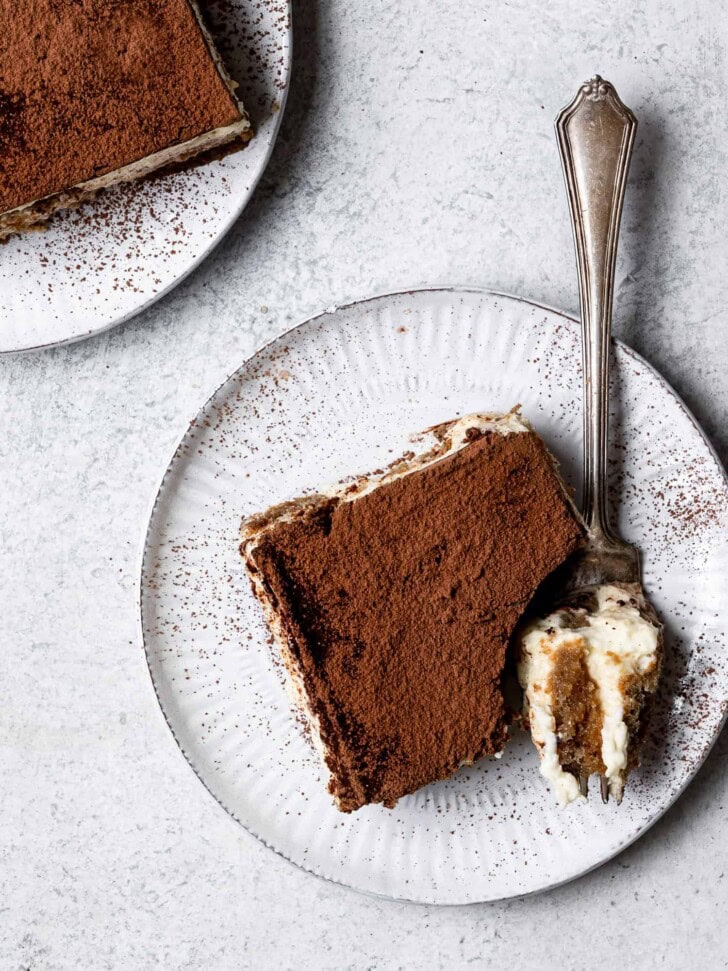 To Store
Leftovers keep well in the refrigerator, wrapped tightly, for up to 3 days.
To freeze: Assemble the tiramisu then lightly place a piece of plastic wrap directly on the surface (without any cocoa powder) to prevent it from forming a layer of dry skin. Wrap the dish tightly (tin foil works well) then transfer to the freezer and freeze for up to 3 months. Thaw in the fridge overnight or on the counter for about 1 hour. Dust with cocoa before serving.
More Desserts To Try
If you give this Easy Tiramisu recipe a try, please feel free to leave a comment and/or a star rating below. We appreciate and welcome all your feedback. Thank you!
Print Recipe
Pin Recipe
Easy Tiramisu
Luxuriously creamy and silky, this Easy Tiramisu will serve a crowd and is the perfect make-ahead dessert for your next dinner party or holiday gathering.  Note: This recipe serves 12, for a smaller batch tiramisu, see recipe notes.
Ingredients
2

cups

espresso coffee*

cooled to room temperature

4

Tablespoons

dark rum, Marsala, or brandy

optional

5

large eggs**

separated

1/3

cup

sugar

2

cups

(500g) full-fat mascarpone

cold

48

Ladyfingers (Savoiardi biscuits)***

1/4

cup

unsweetened cocoa powder

(I use Dutch processed)
Instructions
Make the coffee first so it has time to cool. Pour the coffee into a wide, medium-sized bowl and mix with rum, if using. Set aside.

In a stand mixer, or using a hand-held mixer, beat the egg yolks and sugar on medium-high speed until thick and creamy, 4 to 5 minutes.

Add the mascarpone in two or three increments, and beat until just combined and smooth (don't overhea – it is fine if some lumps will remain). Transfer mixture to a bowl, set aside.

In a clean bowl, use clean whisks to beat the egg whites starting on low and increasing speed once foamy. Beat until stiff peaks form, about 2 to 3 minutes.

Add 1/2 of the egg whites to the mascarpone mixture and gently fold through to incorporate. Repeat with remaining egg whites.

Quickly dip one ladyfinger at a time in the coffee and place on the bottom of a 9×13-inch dish (11×9 will also work). See photos in post for guidance on how to arrange the ladyfingers.

Cover the layer of ladyfingers with half of the mascarpone cream, spreading evenly. Top with another layer of coffee-dipped ladyfingers, then spread with remaining mascarpone cream.

Cover tightly, refrigerate for at least 6 hours, but preferably overnight. When ready to serve, dust with cocoa powder and serve chilled.
Notes
*You can get away with a bit less than 2 cups of coffee but I don't like to run out so I make extra. 
**PRECAUTION: This recipe uses raw eggs. Make sure the eggs you buy are really fresh with no cracks. Avoid serving raw eggs to young children, pregnant women, the elderly, or someone immunocompromised. You can also pasteurize the eggs which takes only a few minutes to do. Pasteurized eggs are still raw but are cooked just enough to kill any potential bacteria. 
***Ladyfingers typically come in 7-ounce packages which contain 24 biscuits. You will need two packages though you may not use them all. 
SMALLER BATCH TIRAMISU (SERVES 6-8)
1 1/2 cups espresso coffee
2 tablespoons rum
3 large eggs, separated
1/4 cup sugar
250g mascarpone cheese
24 ladyfingers (from one 7-ounce package)
2-3 tablespoons cocoa powder
Instructions: Use an 8×8 or 9×9-inch dish. Proceed with instructions in recipe card.
More Ideas