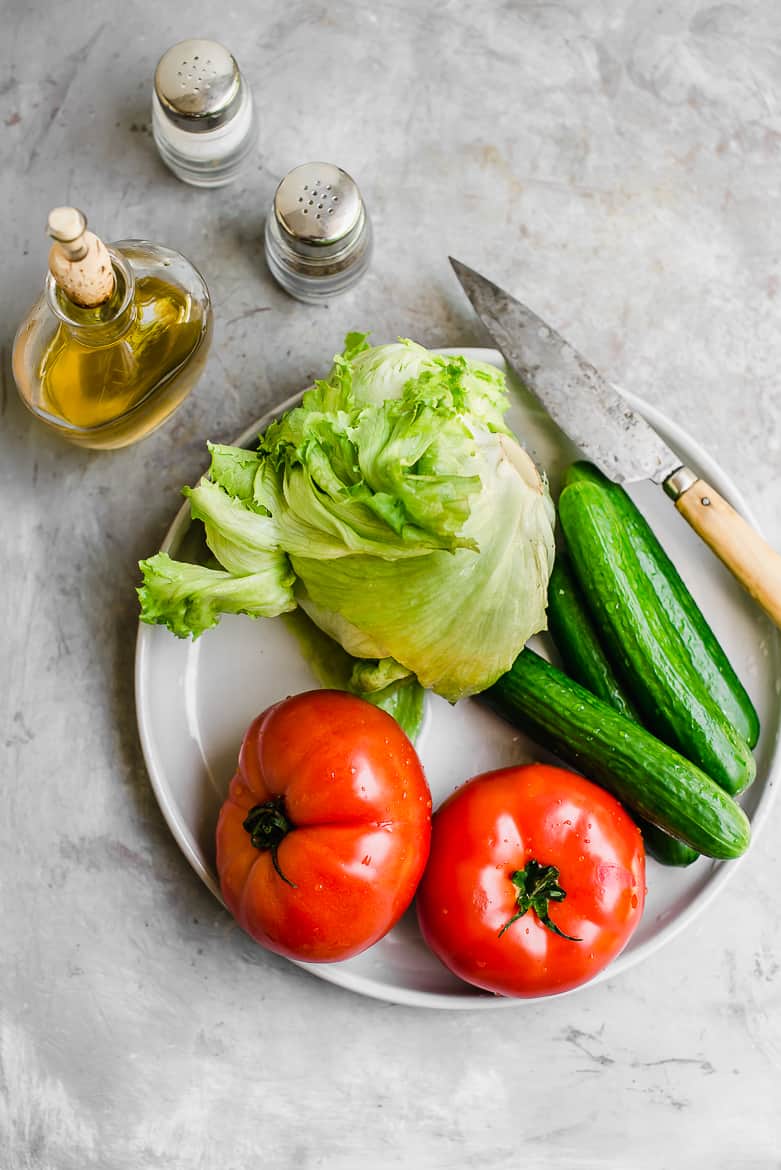 This is the salad of my youngest son's dreams; nothing is mixed, nothing is tossed, no weird herbs and definitely no fancy dressing. It is the salad I grew up eating, and it is rare to not find it accompanying every Dominican meal. Likewise, this is the salad my kids have enjoyed since they could chew. My other son, who has always loathed tomatoes, was happy to pile his plate with just lettuce and cucumbers with no fear of stumbling onto a hidden slice. The dressing, always served separately, is a bottle, or jar, of nothing more than vinegar, oil, salt and pepper. Heavy on the vinegar — where you almost choke a little — is how we have always loved it and because it is absent of any emulsifying ingredient, a good shake is required each and every time you are ready for a drizzle. Before bringing it to the table, give the tomatoes and cucumbers a generous shower of salt and pepper; the tomatoes, in particular, can take a lot of salt and although we are keeping this simple, we do not want it bland.
It was years before I ventured into making any tossed salads or dressings that required more than two ingredients. Though even my youngest will now enjoy a more complex salad, we all still adore the simplicity of this salad; it goes fantastic alongside this grilled chicken. Sometimes I add a few slices of red onion, and in some Dominican homes raw peppers are added. Add your favourites but keep it simple. Because you aren't dressing the salad ahead of time, you can prepare it ahead and let it sit covered in the fridge for a few hours until ready to eat. You have heard this all before, I know, but with such simple ingredients you really ought to seek out the best you can find. Tomatoes are aaaalmost here, iceberg lettuce heads at the markets are huge and not wrapped in plastic and sad looking, and local, freshly picked cucumbers should be coming out of your ears right about now. Buen provecho!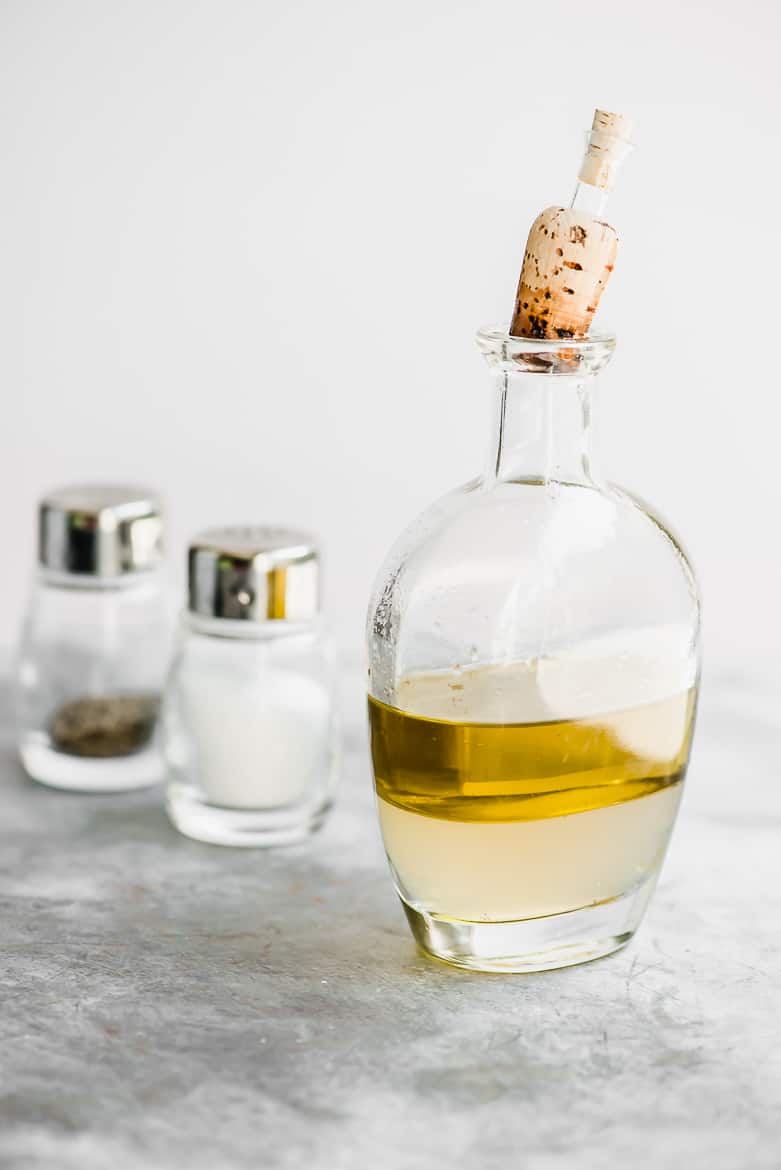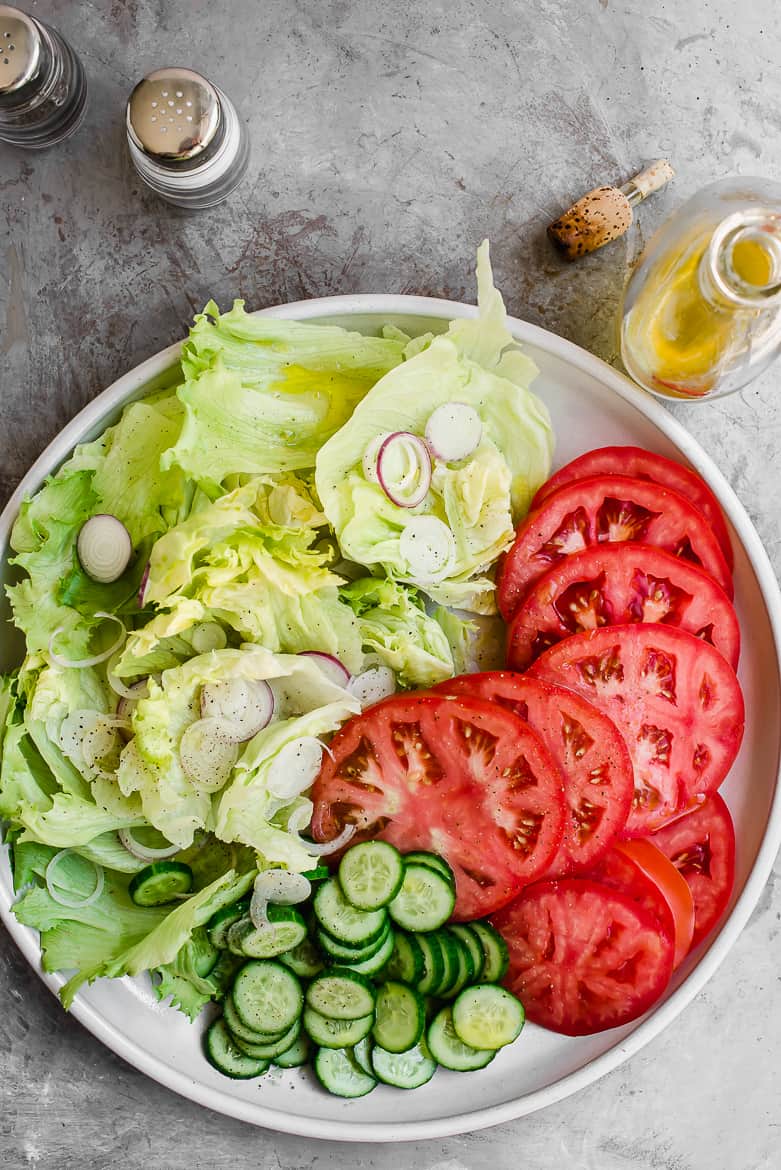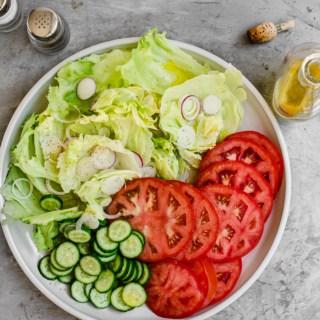 Ingredients
For the salad:

1

head iceberg lettuce

outer leaves and brown bits removed, roughly torn

3

small-medium tomatoes

sliced

3

Persian

or 1 English cucumber, sliced

1/2

small red onion

cut into thin slices (optional)

Kosher salt

to taste

Freshly ground black pepper

to taste

For the dressing:

1/4

cup

apple cider vinegar

1/3

cup

extra virgin olive oil

1/2

teaspoon

kosher or sea salt

1/2

teaspoon

freshly ground black pepper
Instructions
Wash and dry the lettuce then place on a large platter. Arrange the tomatoes and cucumbers alongside the lettuce. Sprinkle tomatoes and cucumbers with salt and pepper to taste.

Make the dressing; combine the olive oil, apple cider vinegar, salt and pepper in a bottle or jar. Cover the jar, and shake until emulsified.

Serve the salad with the dressing on the side. If there is left over dressing, you can cover and store in the refrigerator for up to a few weeks.