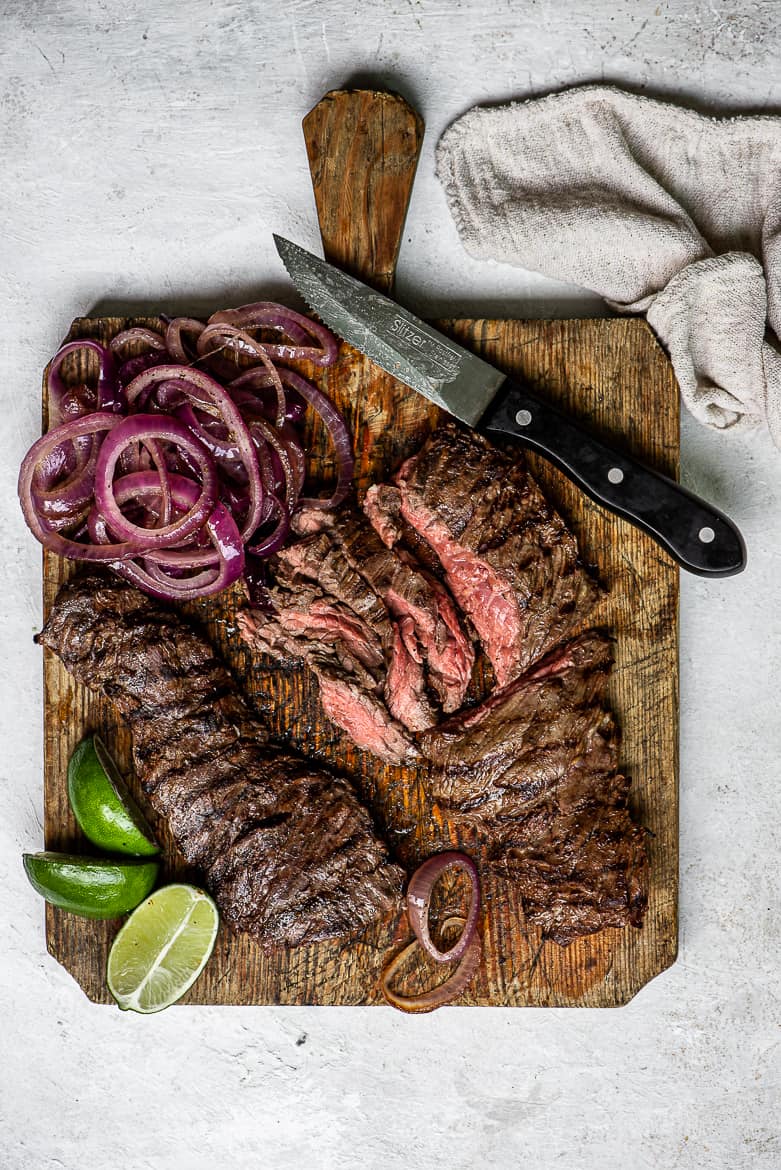 It is madness how quickly summer is flying by.  I mean how is it August already? I won't panic quite yet and trust that there are still plenty of sunny, long, breezy summer days ahead to enjoy. As the days are still searing hot, no one wants to spend time indoors fussing with pots and pans to make dinner. Though I typically take real pleasure in home cooking, the goal for now is to spend less time in the kitchen and more in a lounge chair. Simple and indulgent, this grilled skirt steak encebollado, which cooks in 6 minutes or less, allows you to do just that.
WHAT IS SKIRT STEAK ENCEBOLLADO
This recipe is inspired by the bistec encebollado (marinated beef with onions) I grew up eating and most Latin American countries have some version of it. The word Bistec in Spanish commonly refers to a beef filet or tenderloin. Encebollado means cooked, and topped, with onions. To make bistec encebollado, the meat is typically pounded thin, marinated with vinegar and spices, then quickly seared in a pan along with sliced onions. Other versions will stew the meat with the onions for about 1 hour. I adore every single version of bistec encebollado.
In this recipe, however, I like to use skirt steaks which are nice and thin and cook really fast. I also eliminate the step of marinating the meat, opting instead for aggressively seasoning it just prior to grilling it over very high heat. This method — grilling without marinating — likely leans more towards the Argentinian way of cooking skirt steak. I love it because it makes for a very quick and delightful dinner you can throw together in a flash. The steaks will still be extraordinarily tender and flavourful with the addition of the onions and punchy lime juice once the steaks are cooked.
A bit about the onions. The onions play a very important role in this recipe so do not leave them out. It is the onions that add a bold and fantastic flavour to the steaks once sliced. If you are cooking the steak in a pan, use the same pan to cook the onions while the steak rest. The onions will take only 6-7 minutes to cook, they should be soft but retain a bit of crispiness.
WHAT IS SKIRT STEAK
Skirt steak is a long, thin, flat steak that is relatively lean and deeply full-flavoured. This cut of beef is the most popular in Hispanic countries, especially in Argentina. It is also the classic cut of meat for fajitas at most restaurants.
Skirt steak is a relatively inexpensive cut and when cooked properly it is downright delicious. Unfortunately, it is not as readily available as flank steak so you have to seek it out a bit. A lot of butchers will keep it in the back so you have to ask for it. In my area I find really great skirt steak here. Most Whole Food Markets also stock it.
HOW TO COOK SKIRT STEAK
Skirt steak is best cooked fast and furious on a very hot grill or in a cast iron pan so it becomes flavour-sealed and crispy brown on the outside, but remains juicy and tender on the inside. Due to the thinness of a skirt steak, this should only take 2 to 3 minutes a side. Do not be tempted to cook them any longer, skirt steak is a lean, tougher cut of meat and it will not be tender if overcooked. You will know it is a perfect medium-rare doneness as soon as it develops a crispy brown crust.
Once the steaks have rested, cut them into thin strips against the grain. The easiest way to do this is to cut each long strip (if you haven't already) into 3 or 4-inch long pieces. Turn the pieces so you are cutting perpendicular to the grain. In other words, the grain should now be running vertically, and you will be slicing horizontally. In addition, slicing in a bit of an angle will also help soften the muscle.
WHAT TO SERVE WITH  GRILLED SKIRT STEAK ENCEBOLLADO
For me, serving this skirt steak and onions with nothing more than a side of white rice and perhaps a light green salad, means the most sublime comfort food from my childhood. However, mountainfulls of little waxy yellow potatoes that have been "just dug up" are weighing heavy on the farmer's market tables right now. Make a simple potato salad by boiling them gently then tossing with vinegar, olive oil and salt while they are still warm so they drink up the juices. Divine. After that, serve with or without crusty bread, quickly boiled cobs of corn, some gorgeous sliced tomatoes, and perhaps this delicious slaw.
The added perk of making this grilled skirt steak encebollado is that you can use it to make many other meals. Stay tuned because in the next few days I will posting two other recipes to make with skirt steak; cassava tortilla skirt steak tacos, and a spectacular skirt steak Mexican-ish salad.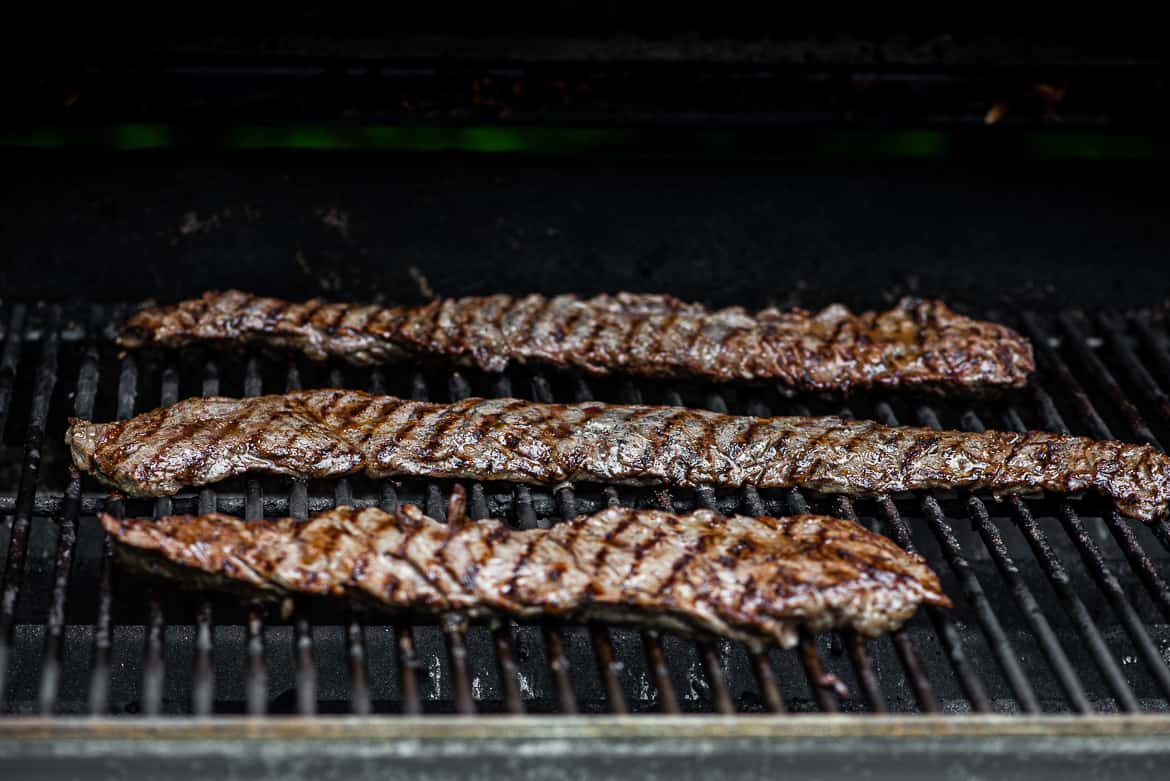 TIPS FOR COOKING SKIRT STEAK
Always let the skirt steak come to room temperature before cooking it. Because skirt steak is so thin this should only take about 15 to 20 minutes.
Pat the skirt steak dry with a paper towel, this allows the steak to nicely crisp and brown on the outside.
Oil the steaks, not the pan, to avoid excessive splatters and smoke.
As with any steak, once you lay it down on the grill or pan you do not want to disturb it so you get a nice sear.
Do not overcook the skirt steak or it will be too tough. I have never cooked a skirt steak longer than 3 minutes a side and it is perfect every time.
Let it rest 5-10 minutes before slicing so the juices have time to redistribute.
Skirt steaks are sold really long, as seen in the grilling photo above. Before cooking the steaks, feel free to cut them down to more manageable pieces, especially if pan-searing.
This recipe requires no expertise and will have you in and out of the kitchen in less than half an hour — perfect to embark on at the end of a long working day or for a weekend when that lounge chair is calling. Summer, and life in general, is too short to be fiddling with complicated recipes. With a long weekend ahead, I hope you grab some skirt steaks, cook only a little, lounge a lot, and stay safe my friends.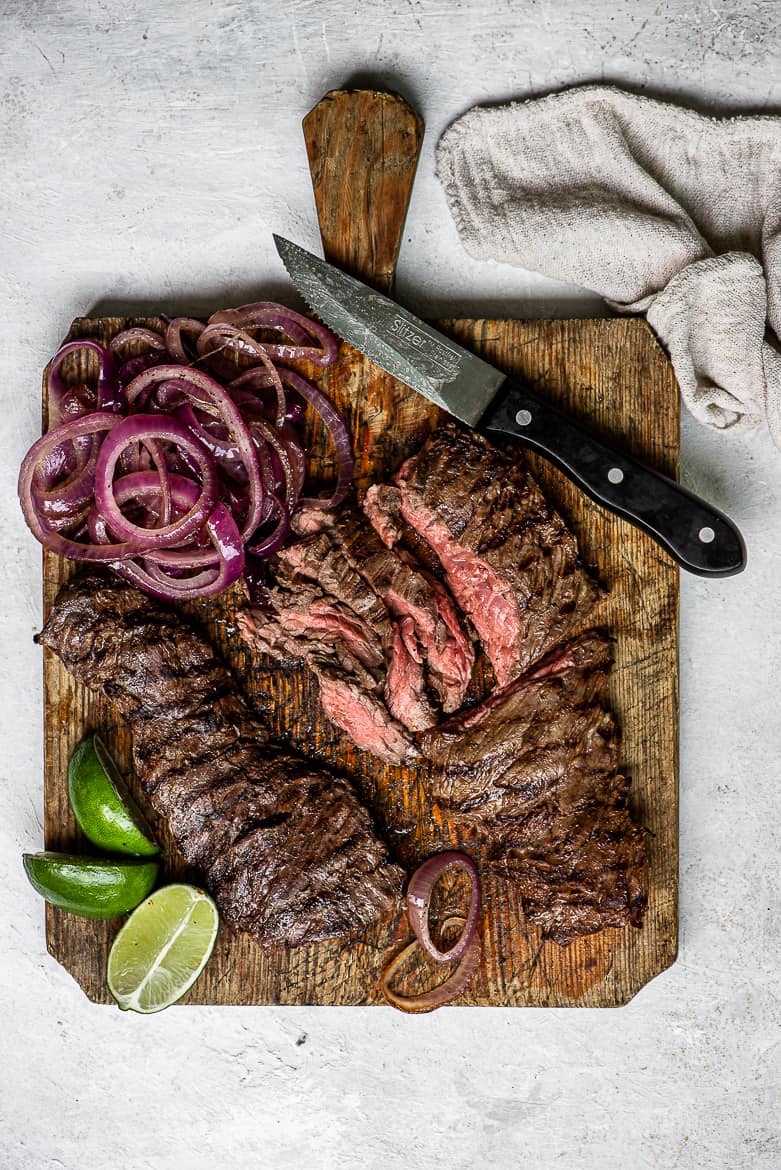 Ingredients
2

pounds

skirt steaks

cut into 3 equal pieces, if necessary*

2 - 3

Tablespoons

extra-virgin olive oil

1

teaspoon

kosher salt

or to taste

Freshly ground black pepper

to taste

1

large red onion

or white, cut into ¼-inch slices

2

Tablespoons

extra-virgin olive oil

1/2

teaspoon

Kosher salt

1/2

teaspoon

freshly ground black pepper

1

large lime

juiced
Instructions
Pat the steaks dry with paper towels and heat grill to high. Rub both sides of steaks with olive oil, and season generously with salt and pepper.

Place steaks on hot grill and leave undisturbed for 3 minutes. Flip steaks to other side and cook an additional 2-3 minutes for medium-rare. Remove steaks to cutting board and let rest for 10 minutes.

While steaks rest, place a large a skillet over medium-high heat. Drizzle onion slices with 2 tablespoons olive oil, and season with salt and pepper. Add the onions to the skillet turning occasionally until slightly softened and browned about 6-7 minutes. (See notes to cook onions on grill**).

Thinly slice meat across the grain and place on a large platter. Top the steak slices with onions and drizzle with lime juice over top. Serve immediately.
Notes
*Skirt steaks are sold really long. Before cooking the steaks, feel free to cut them down to more manageable pieces, especially if pan-searing.
**Alternatively, you can cook the onions on the grill; while the steaks rest, place onions on hot grill, until just slightly charred and softened, 2-3 minutes per side.