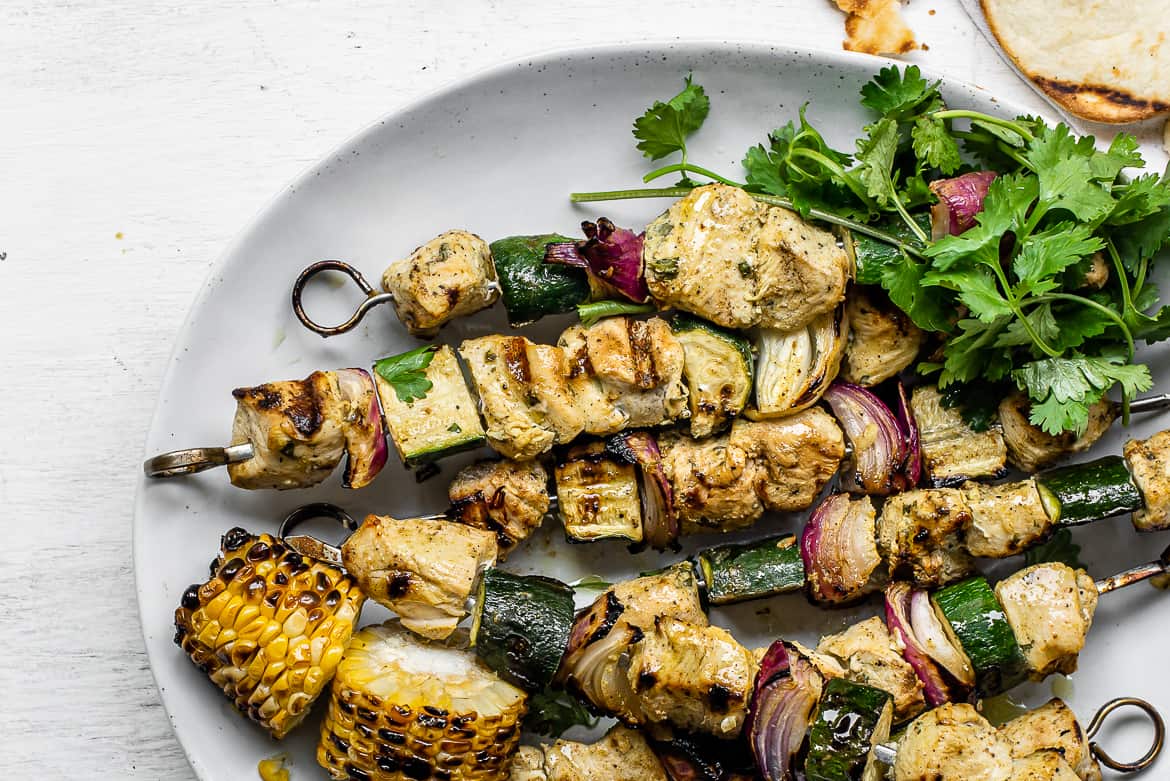 Hard to believe there was a time when I was afraid of grilling. Perhaps it was the incident when an old barbecue went up in flames melting the handles so I couldn't turn it off. I lived, but it was scary. Once I grew comfortable working with a barbecue again, I never looked back. For me, cooking any food over fire just tastes really good. Not to mention, the bonus of less pots and pans used.
One of my go-to things to grill for a quick dinner, or entertaining, are kebabs. Chicken thighs in particular, that are super tasty and never seem to dry out, are a huge favourite. These grilled moroccan chicken kebabs, however, use boneless chicken breast which when marinated in buttermilk become exceptionally tender and flavourful.
In the spirit of convenient short-cuts to a fresh, home-cooked meal, I have become a huge fan of high-quality, pre-mixed spice blends. The more exotic the better. Luckily, spices whose names were once too hard to even pronounce, such as ras el hanout, za'atar, baharat, etc, have become more mainstream and can now be found at most major supermarkets. Ras el hanout, a North African spice mixture, gives a delicious and aromatic Moroccan flavour to these grilled chicken kebabs.
If you have zucchini (or any other veggie) coming out of your ears, consider adding them to your kebabs. Grilled red onions are irresistible to me and perfect in these kebabs, but omit or add whatever you veggies you wish. It all works.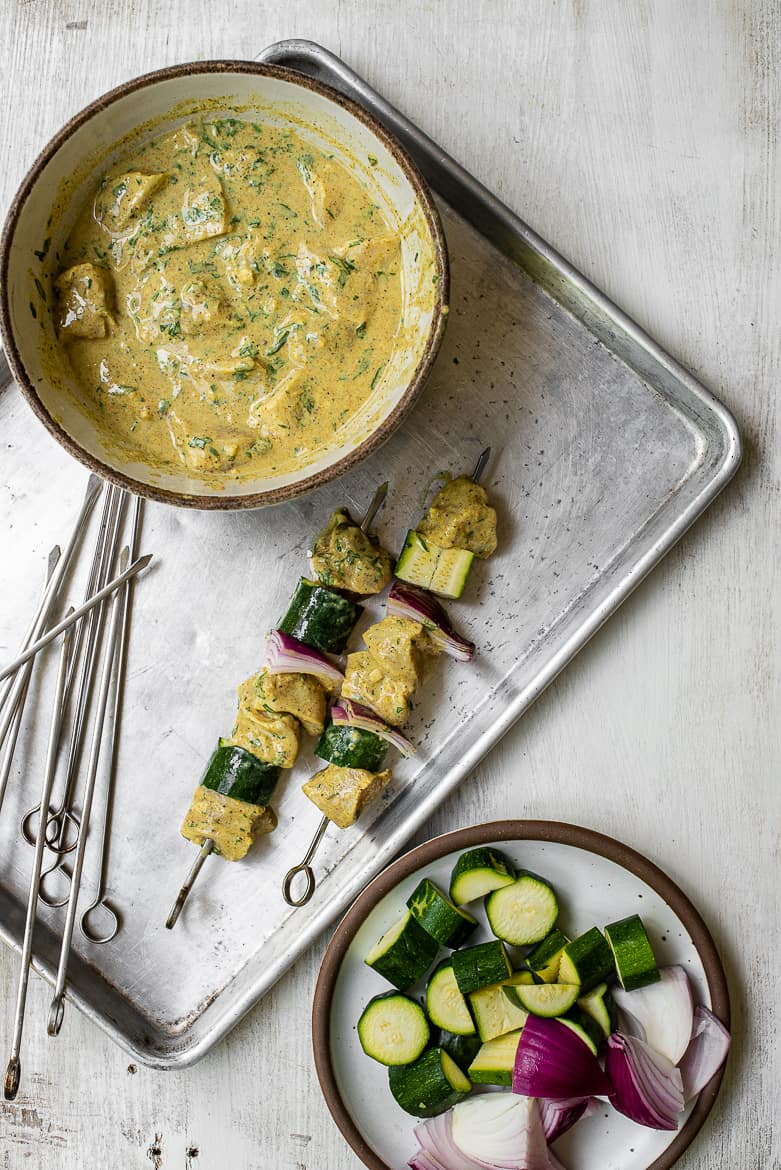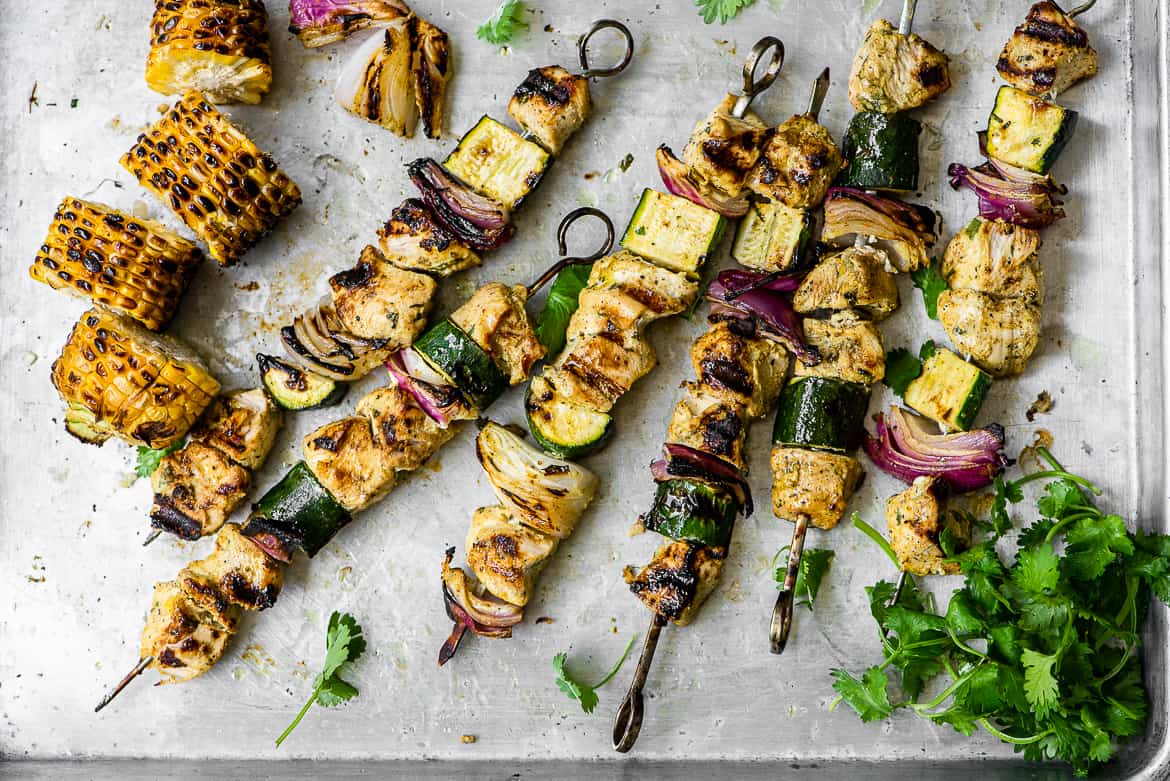 WHAT IS RAS EL HANOUT
Ras el hanout is one of the most commonly used spice blends in Moroccan cuisine. Ras el hanout translates to "top of the shop" implying the best spices the shop has to offer have been used. Ingredients vary a lot depending on the area or shop where you buy it from. Many families make their own using their favourite unique blend.
The most common blend of spices you will find in ras el hanout are cumin, coriander, turmeric, ginger, cardamom, cinnamon, and cloves. However, some blends might include more than 20 different spices.
Ras el hanout is incredibly versatile — try it in stews, roasted veggies, in marinades, or even as a rub for grilled fish and meat. As previously mentioned, you can now find ras el hanout in most major supermarkets or specialty markets. In my area you can find it here, here, and here.
WHY A BUTTERMILK MARINADE
A buttermilk marinade with salt works like a brine. The lactic acid in fermented dairy products, such as yogurt and buttermilk, reacts with the proteins in meat, tenderizing it and also adding a delicious tangy flavour. In addition, the natural sugars in buttermilk help caramelize the chicken as it cooks.
If you prefer, you can use full-fat yogurt in place of the buttermilk to marinate these moroccan chicken skewers.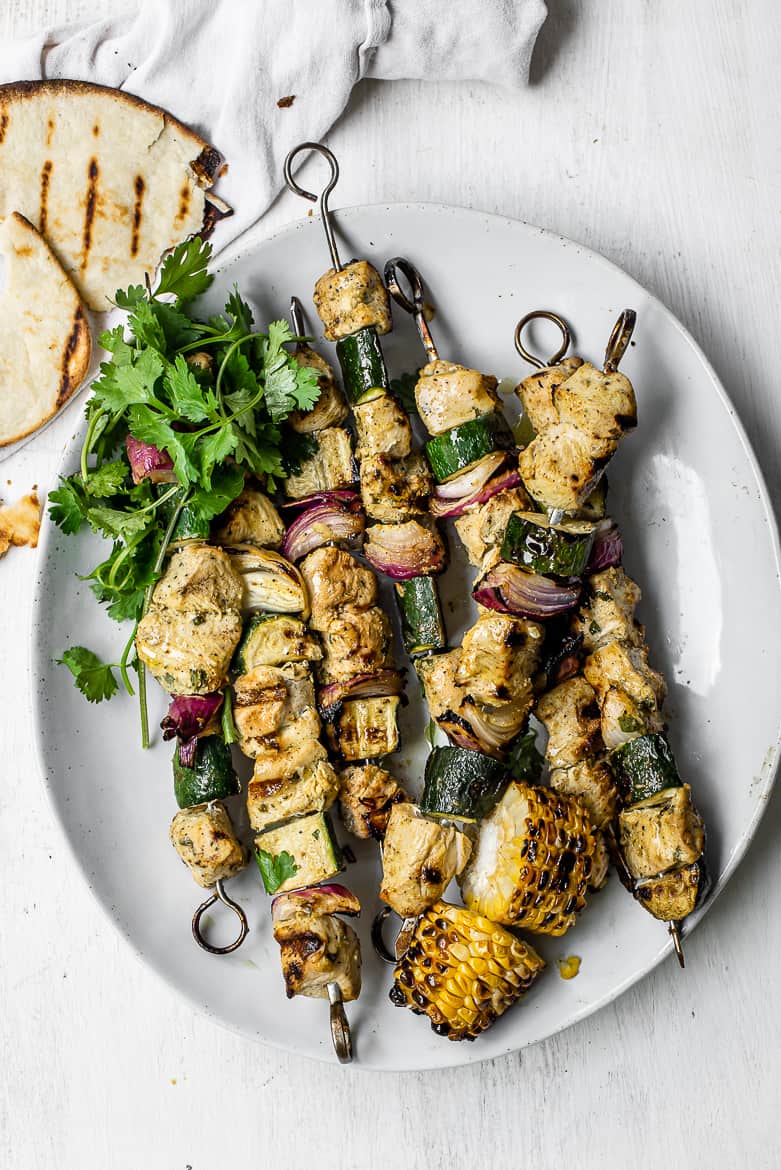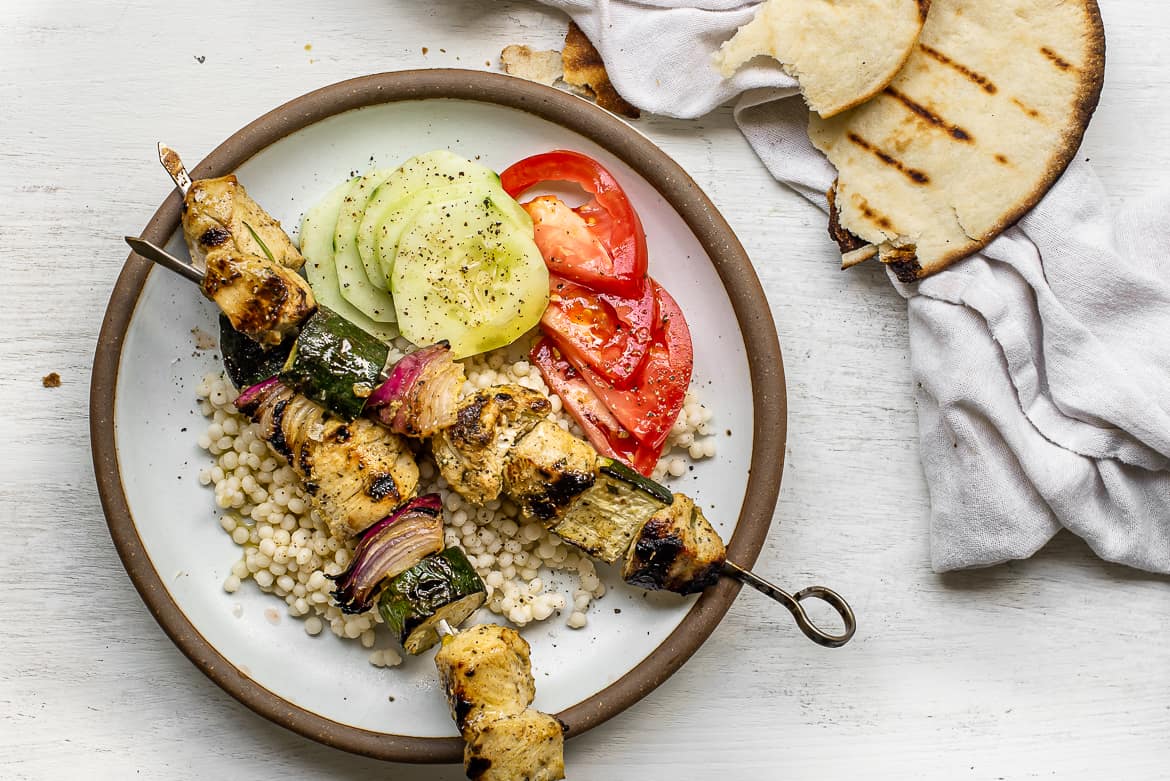 This is truly one of my favourite summer meals — tasty grilled kebabs, warm flat bread, a simple salad and/or couscous on the side. Bonus, it takes only a few minutes to prepare: marinate the chicken the night before or in the morning, skewer the chicken and veggies while the grill is heating, make a simple salad, couscous if you wish, and that's it. Another delicious, simple meal all sorted out.
OTHER CHICKEN SKEWER RECIPES:
Grilled Chicken Souvlaki with Tzatziki Sauce & Greek Salad Recipe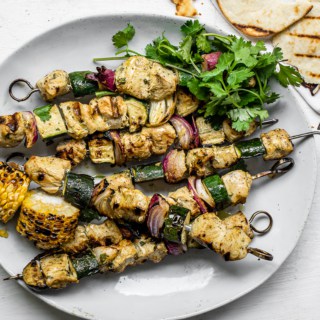 Ingredients
3/4

cup

buttermilk

4

Tablespoons

fresh lemon juice

4

garlic cloves

minced or grated on a microplane

1/4

cup

fresh cilantro

finely chopped, plus more for garnish

2

Tablepoons extra-virgin olive oil

plus more for the veggies

3

Tablespoons

ras el hanout*

plus more for the veggies

1

teaspoon

kosher salt

or more to taste

1

teaspoons

freshly ground black pepper

2

pounds

boneless

skinless chicken breast, or thighs**, cut into bite-sized pieces

2

small zucchini

cut into 1-inch rounds (optional)

1

medium red onion

cut into small wedges (optional)

8-10

metal or wooden skewers***

Drizzle the vegetables in some olive oil and half a tablespoon of spice mix - mix well
Instructions
In a large bowl, combine the buttermilk, lemon juice, garlic, cilantro, olive oil, ras el hanout, salt and pepper and stir to combine. Add the chicken pieces and turn to coat well with the marinade.

Cover the bowl with plastic and marinate in the fridge for at least 1 hour or overnight.

Preheat a well-greased**** barbecue to medium-high heat.

If using, place the zucchini and red onions in a medium bowl and drizzle the vegetables with some olive oil and half a teaspoon ras el hanout - mix well.

Thread the chicken onto skewers, alternating occasionally with the red onions and zucchini (if using). Make sure not to cram the chicken and veggies too close together.

Grill the chicken kebabs, turning occasionally, until golden brown and cooked through, about 8-10 minutes. Do not overcook or the chicken will become dry.

Transfer the skewers to a platter and serve with flat bread, a simple salad and/or couscous.
Notes
*In place of ras el hanout, use 1 tsp each of turmeric, ginger powder, ground cumin, and ground coriander.
**If using chicken thighs, trim any extra fat with kitchen shears
***If using bamboo skewers make sure to soak for 30 minutes to prevent burning
****To grease the grill, dip paper towels in vegetable oil and, using tongs, carefully rub over the grates several times until well coated.