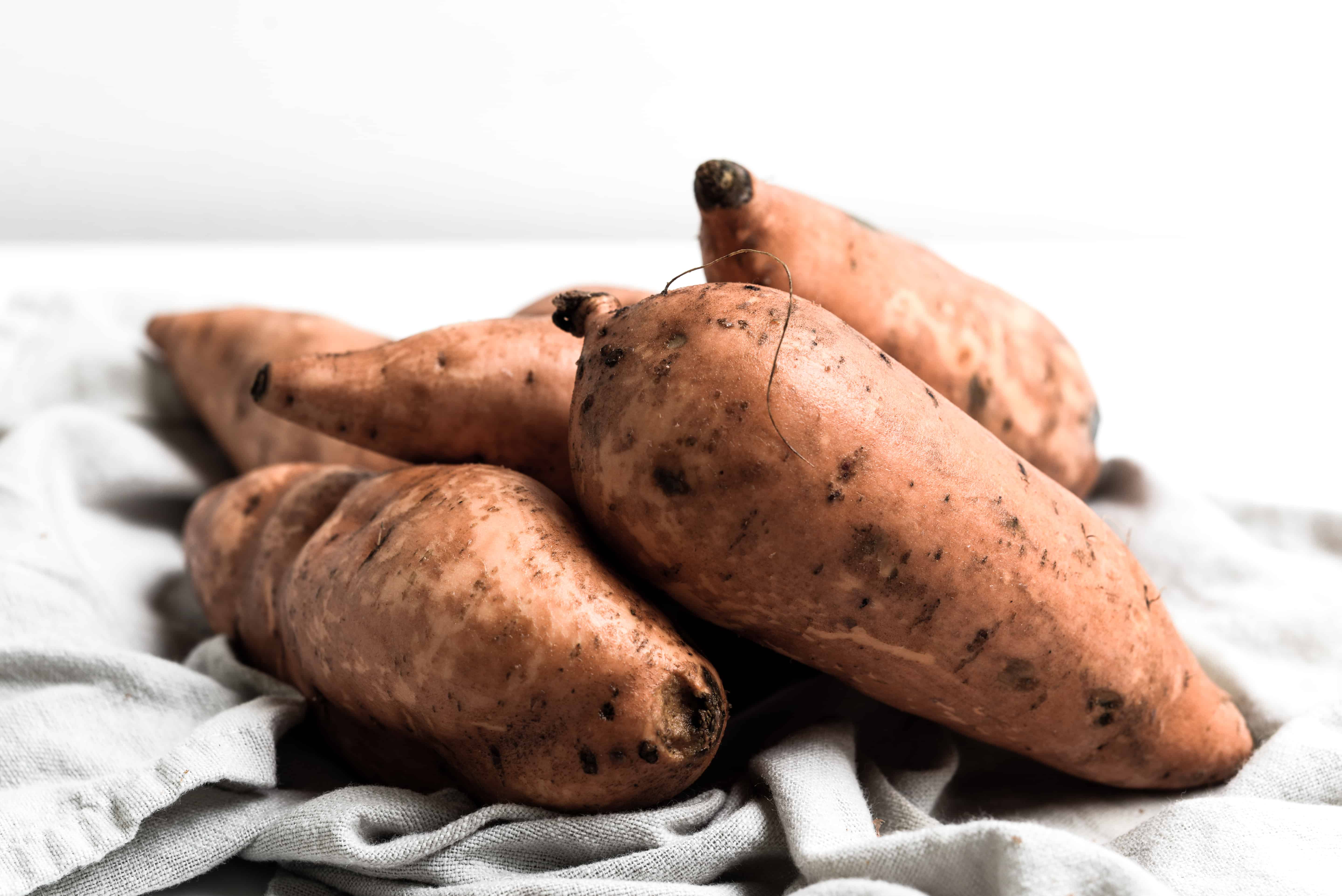 Recently, while visiting my sister at her cottage, I suggested making a pork roast for dinner. I have a great recipe that feeds a large crowd and is super easy to make. Everyone was on board with the roast and as I started thinking of what side to make with it my sister cheerfully volunteered to make some hasselback potatoes that she said she makes all the time. For some weird reason, I had never made hassleback potatoes — to me they seemed fussy — so her offering to make these shocked surprised me because although she's a super good cook, she will choose to remain on the deck watching the sunset, eating tapas, and guzzling sipping cava over cooking any day. So this could only mean two things: hasselback potatoes require minimal fuss, hasselback potatoes are delicious. Turns out, right on both. Simple to make, they're made by slicing the potatoes at regular intervals almost all the way through, then separating the ridges, adding a bit of butter or oil in between each ridge, some herbs and garlic if you wish, and baking them until they get crisp around the edges, and creamy and soft on the inside. They not only look awesome, but taste wonderful.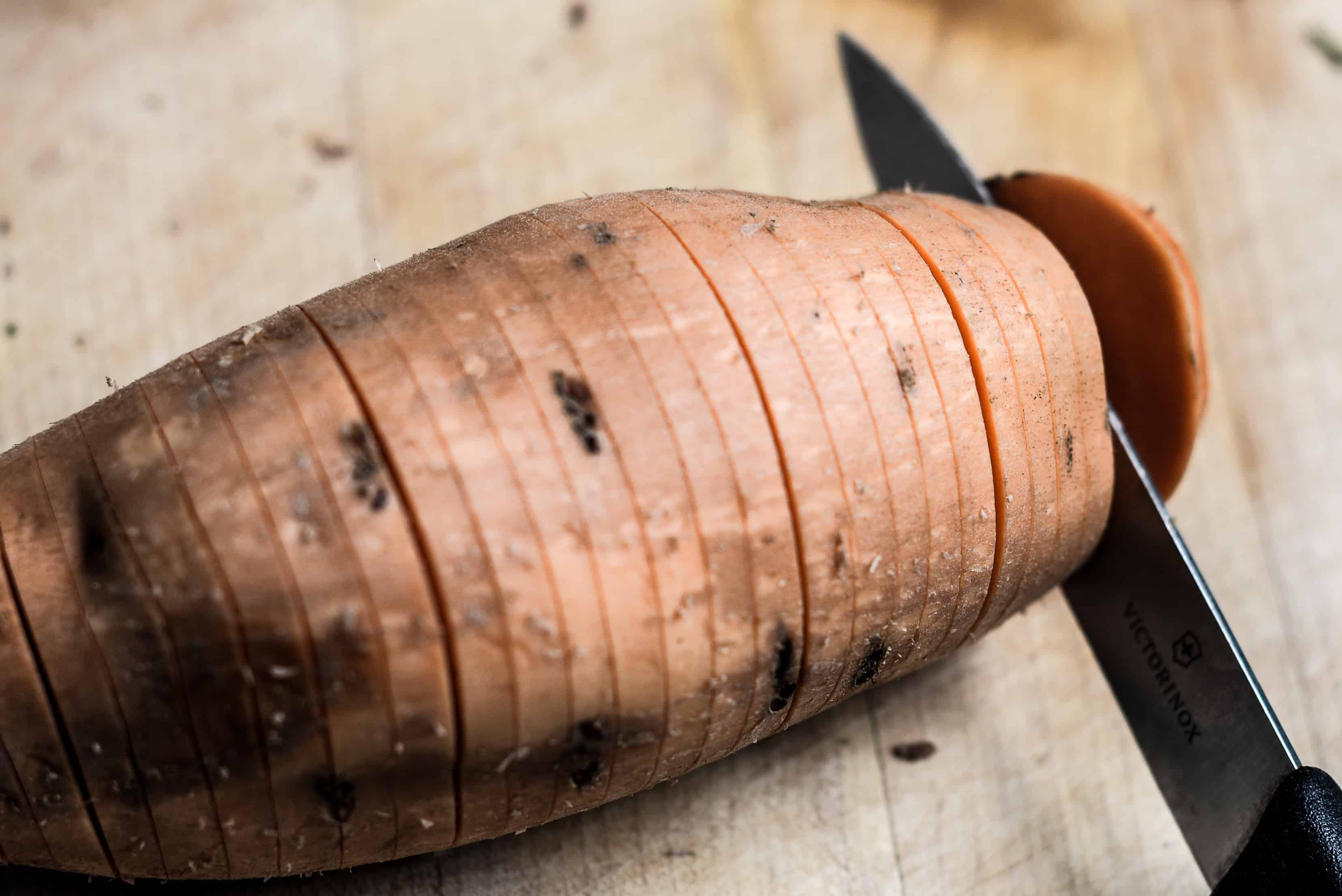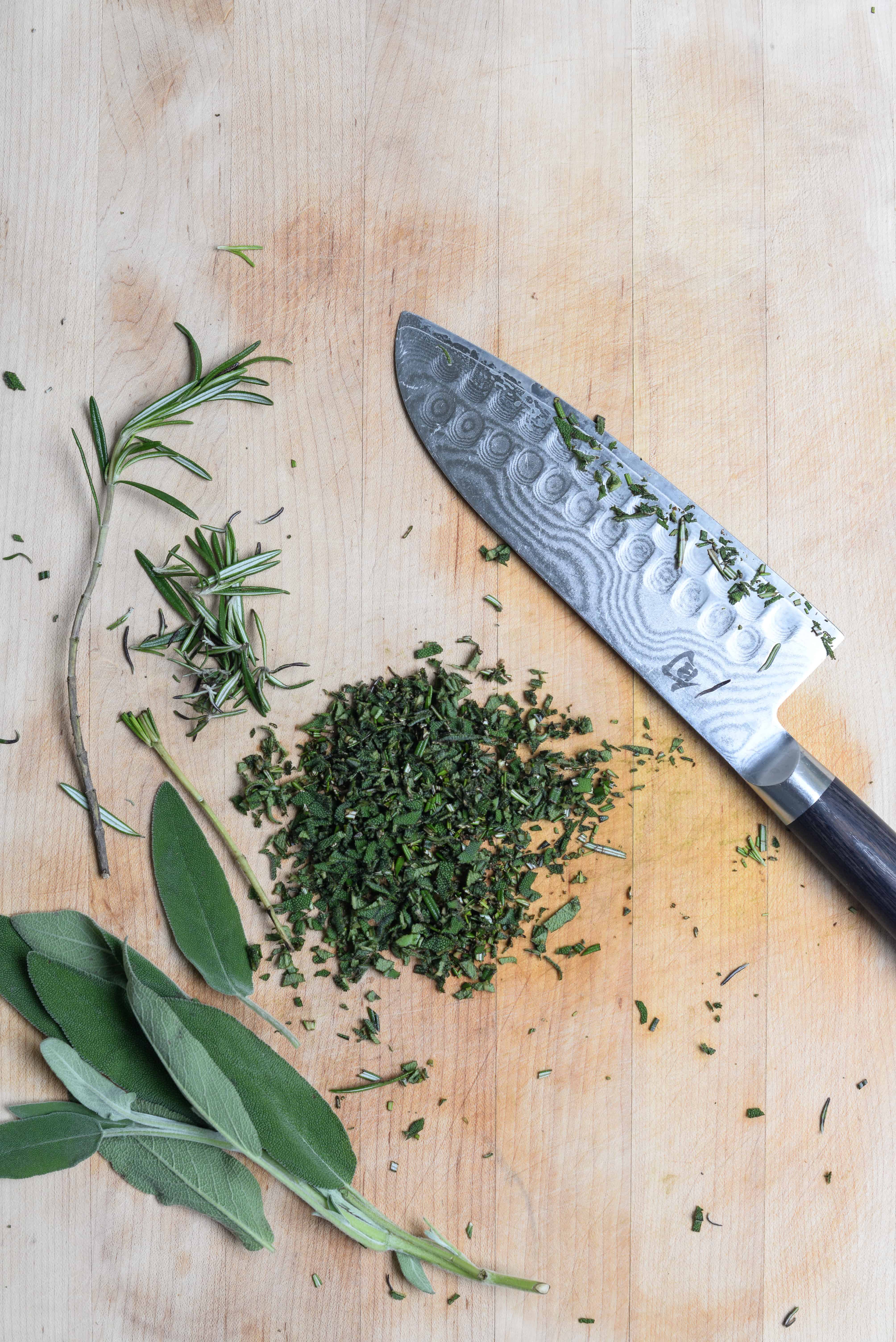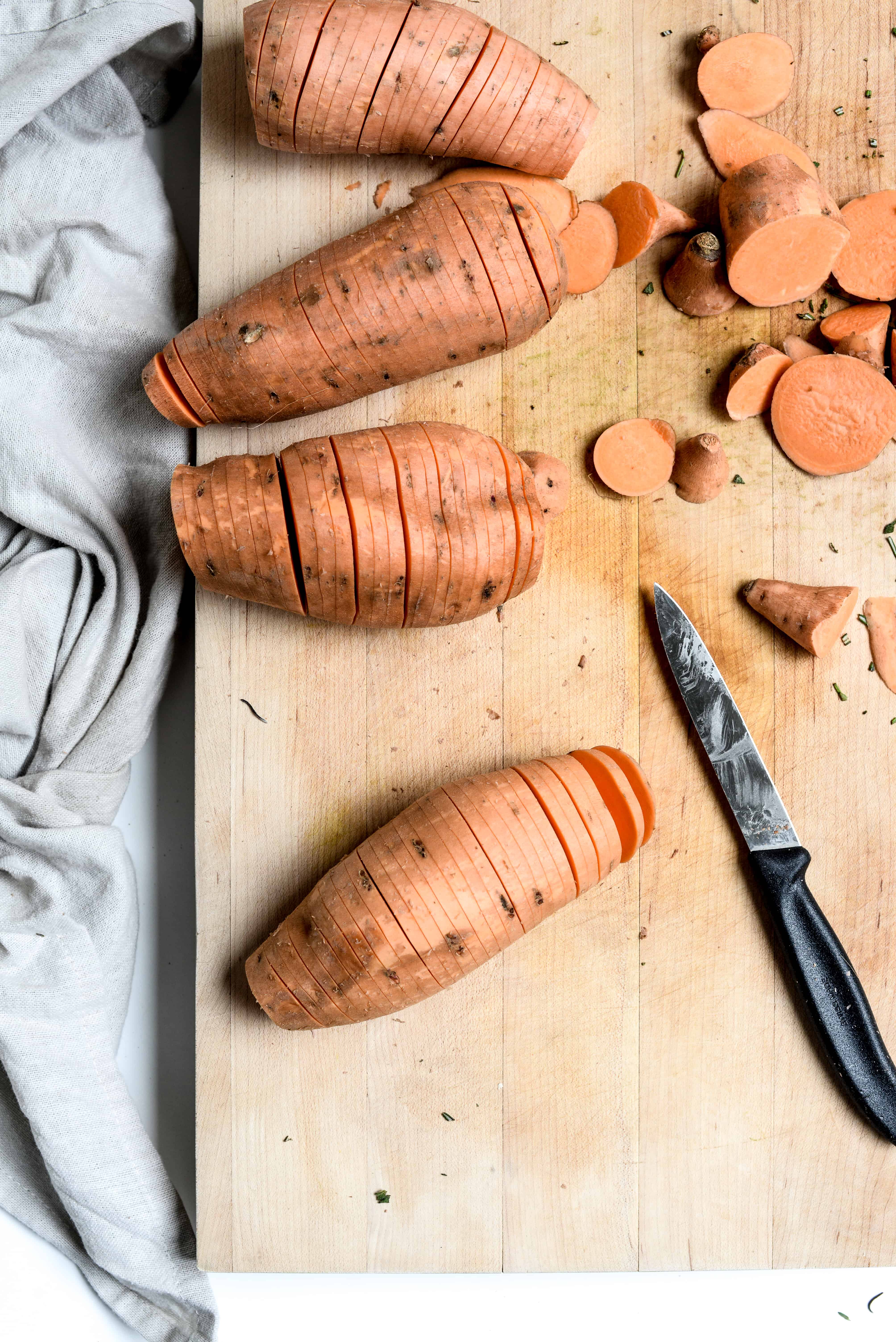 Now I have been hasselbacking all kinds of potatoes, even tiny, mini ones — super fun. But I find the colour, flavour, and satisfying texture of sweet potatoes pretty irresistible, especially in the fall when they are beautiful and abundant at the markets. Since the potatoes roast perfectly on a sheet pan, it was no-brainer to add a protein to the pan which results in a complete meal, perfect for an achieveable weeknight recipe. The success of any sheet pan dinner lies in the timing of the ingredients you use. For this dish, the potatoes and pork start out together but the potatoes take longer to cook. When the pork is done, the sweet potatoes continue to roast to get all soft and caramelized while the pork rests outside of the oven. At this point, the potatoes also benefit from a second brushing with oil and butter before going back in the oven.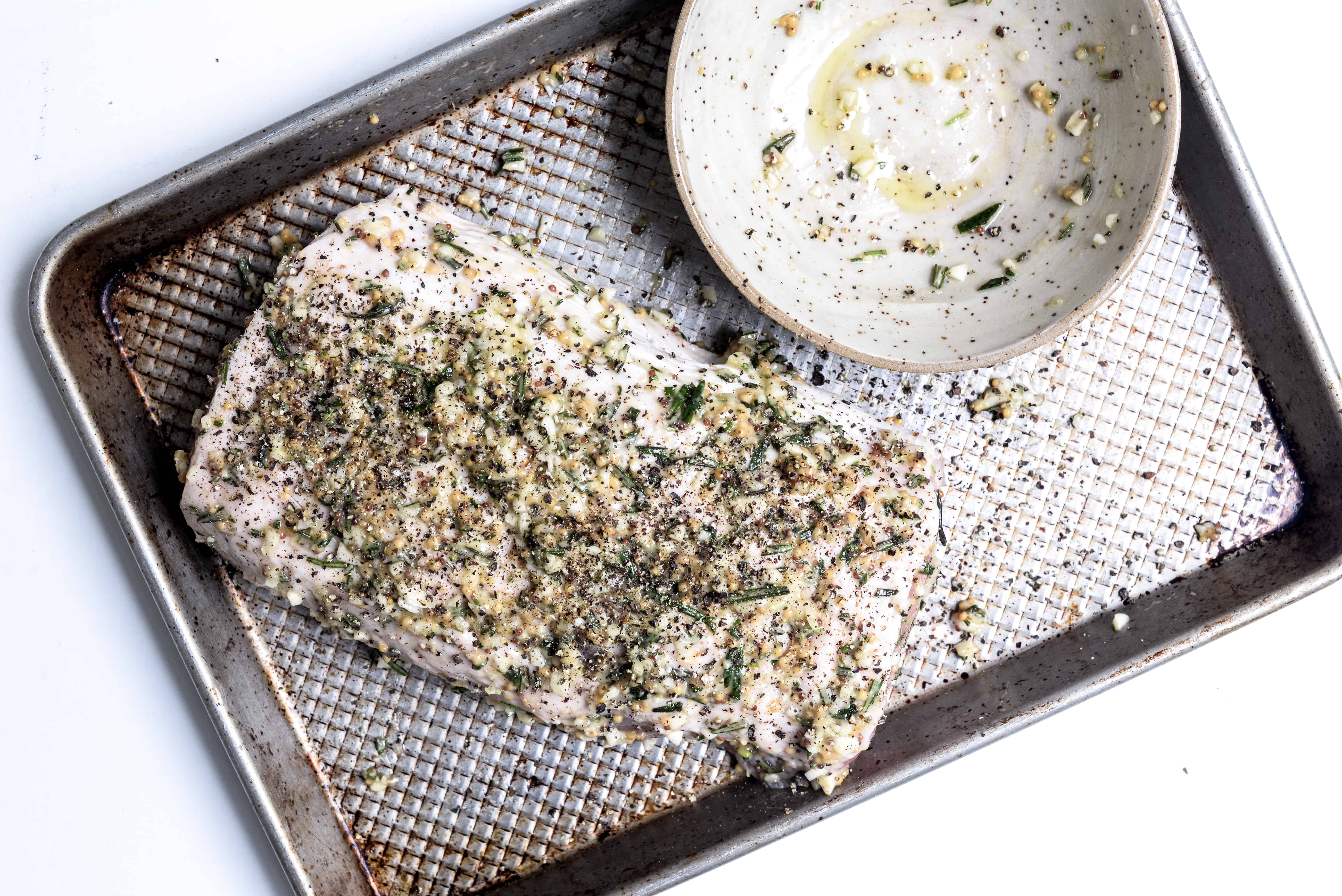 Variations are definitely welcome. Not into pork loin? Swap it for chicken thighs. Not into meat? Add some tangy green kale and you have a super healthy and tasty dish. Or top your potato with a fried egg, and you will have a perfect meal.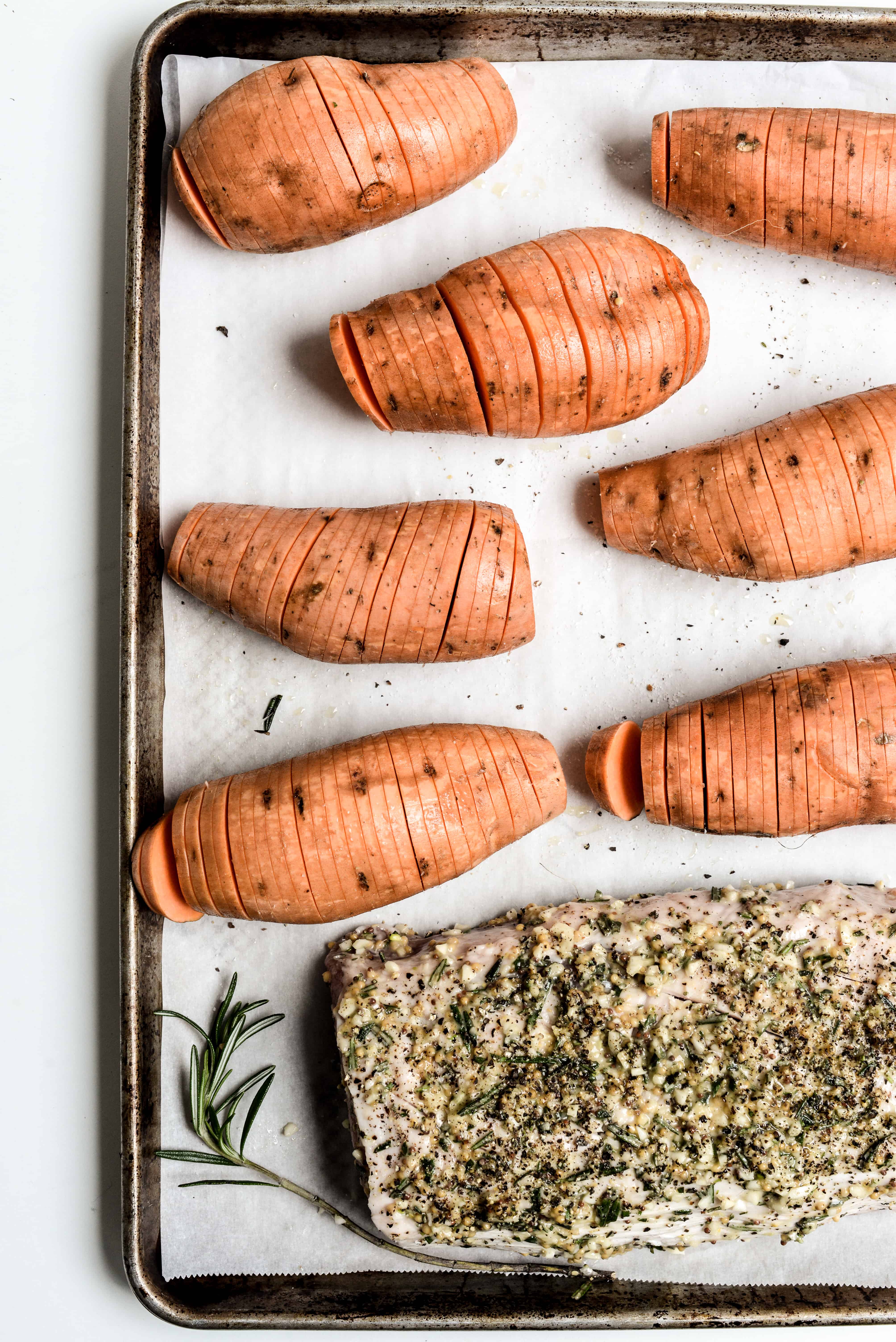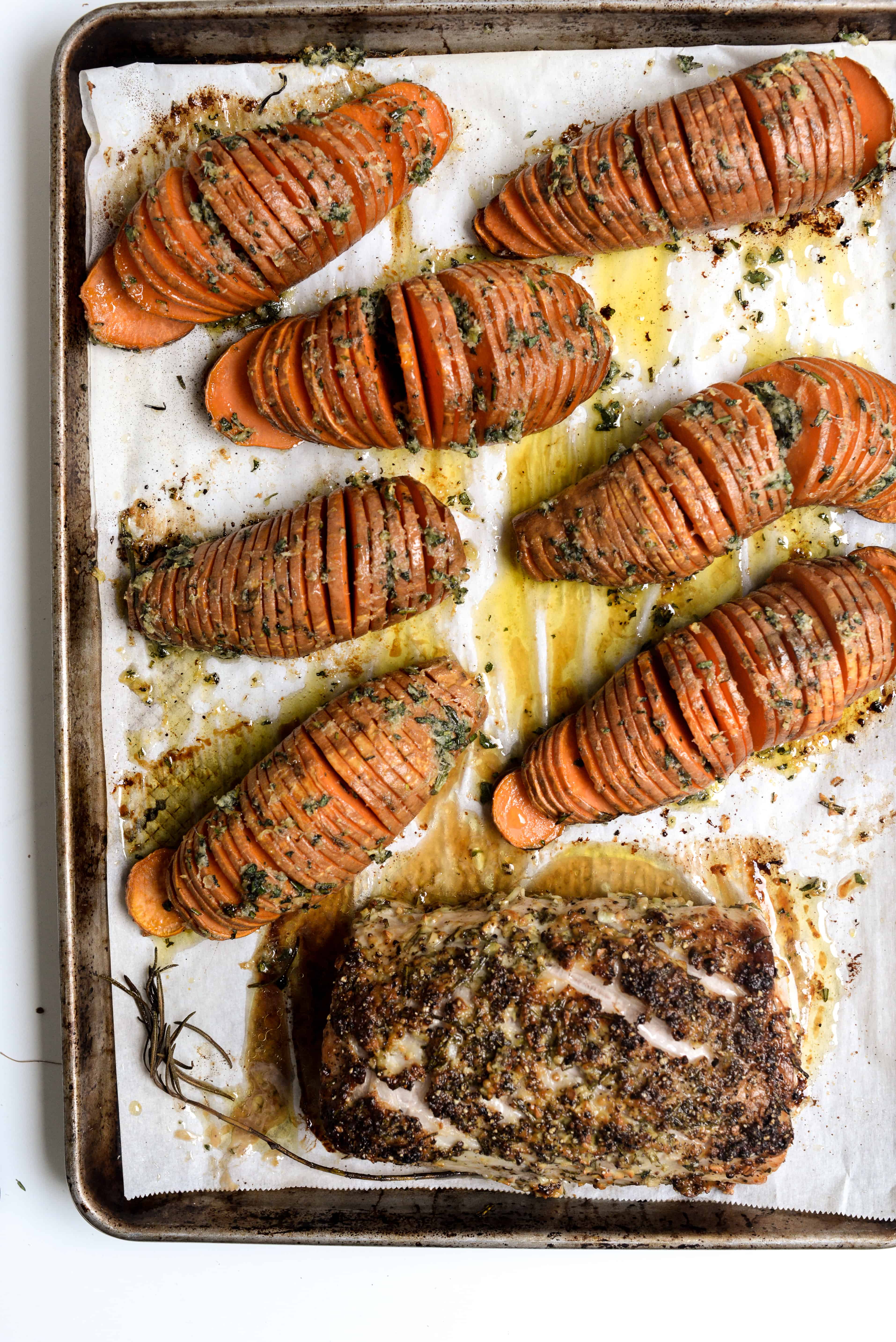 Do give this a try, there really is much to love: the basic preparation is easy, the fragrance of the pork and herbs as they cook fill the kitchen with wonderful aromas, and the fact that like all sheet pan dinners it allows for large quantity cooking with minimal mess. Serve it with some quickly blanched green beans or a simple salad if you desire. Enjoy!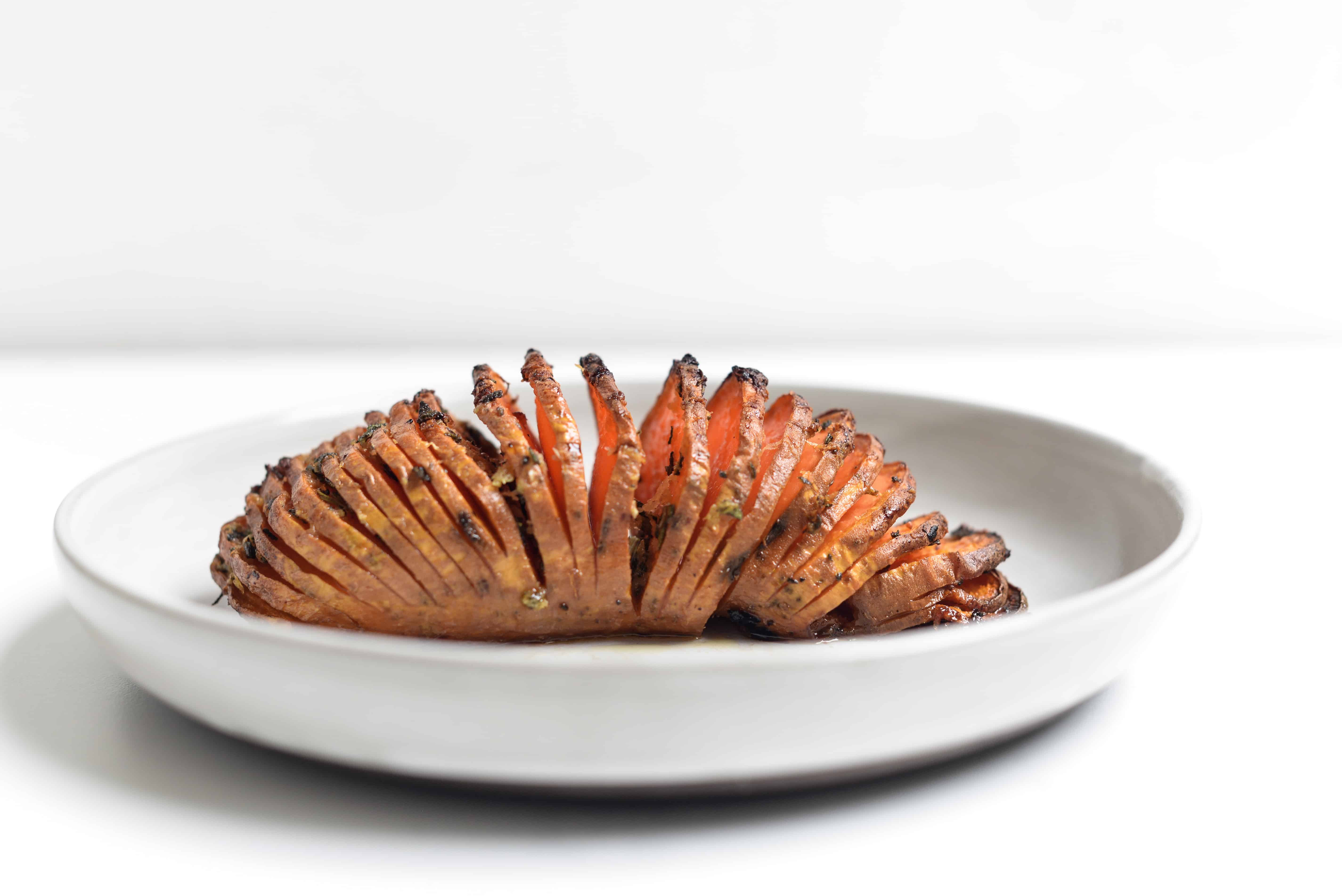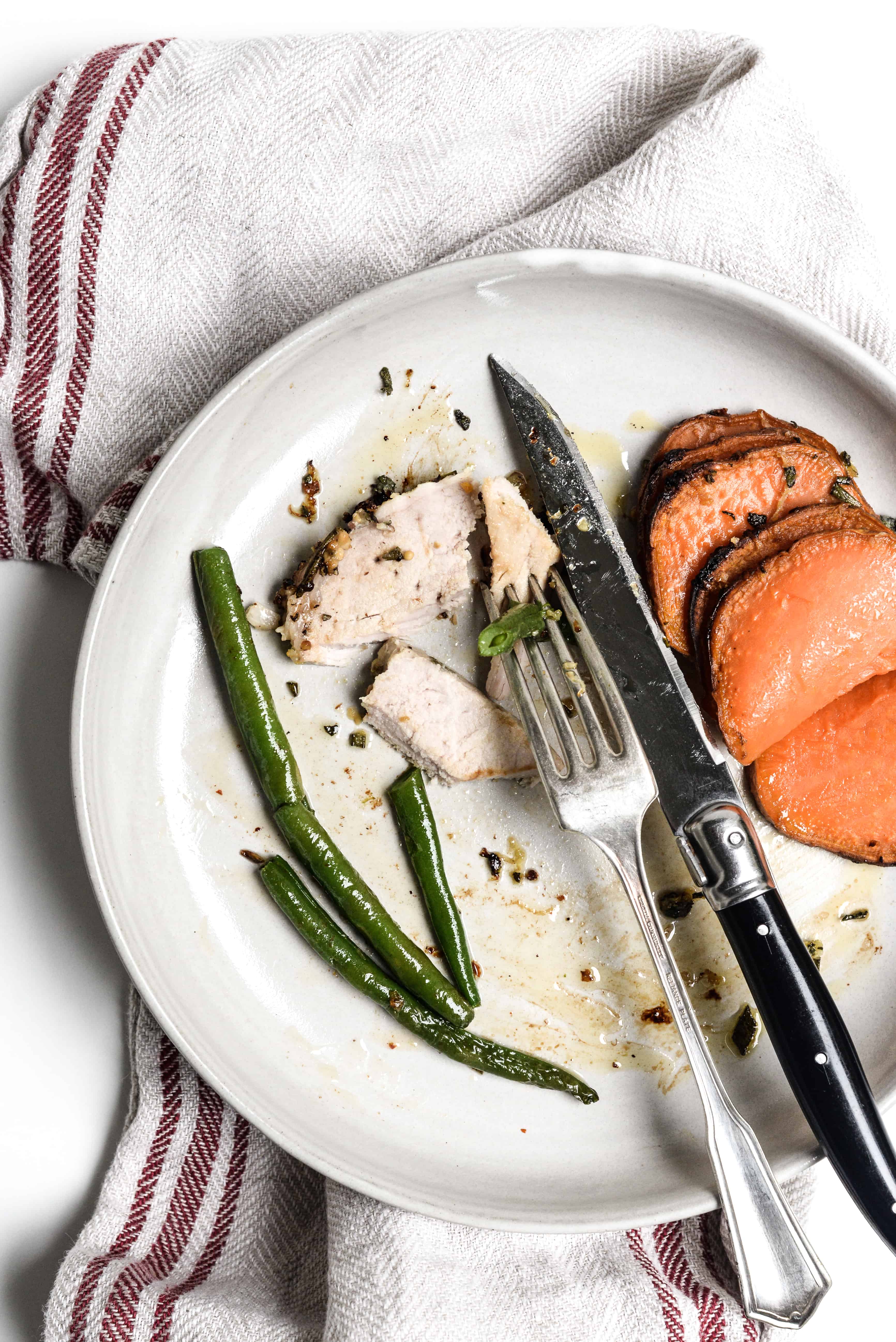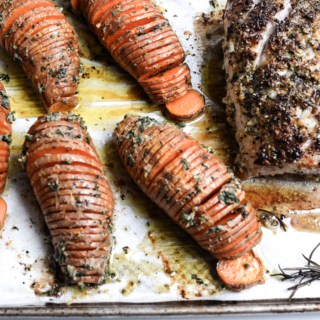 Ingredients
6

small-medium sweet potatoes

4

tablespoons

extra virgin olive oil or melted butter

or a mix

kosher salt

black pepper

3

cloves

garlic

minced*

2

tablespoons

fresh sage

minced

2

tablespoons

fresh rosemary

minced

4

lb

pork loin**

4

cloves

fresh garlic

minced

4

sprigs fresh rosemary

minced

1

tablespoon

grainy mustard

1

tablespoons

olive oil

1

teaspoon

Kosher salt

1

teaspoon

freshly cracked pepper
Instructions
Pre-heat the oven to 425 degree.

In a colander, scrub the potatoes well and set aside to dry a bit.

Pour the olive oil into a small bowl. Set aside.

With a small pairing knife (I love

this

one), cut small slits through each potato, stopping before you cut through the bottom. Space the cuts about ⅛ inch apart.

Arrange the potatoes on a baking sheet. Brush each potato with half of the olive oil. Sprinkle with salt and pepper.

To the same olive oil bowl, add the chopped garlic, rosemary and sage. Set aside.

Prepare the pork: In a small bowl, mix the garlic, rosemary, mustard, olive oil, salt and pepper.

Rub the mixture all over the pork and place the pork on the sheet pan with the sweet potatoes.

Bake the pork and potatoes for 45 minutes exactly. Remove the sheet pan from the oven.

Place the pork on a cutting board (leave potatoes the pan). Let pork rest for at least 20-30 minutes before slicing.

Brush each potato with the olive oil and herb mixture, getting as much as you can between the slices (they will have opened up a bit). This will make them crisp and delicious.

Return the baking sheet to the oven and continue to bake for another 15-20 minutes or until potatoes seem very soft and caramelized.

When done, garnish with a sprinkling of additional fresh chopped herbs, if you'd like.
Notes
*The loin is much thinner than a centre cut roast and it cooks much faster so don't be tempted to cook it longer than 45 minutes. I have made it repeatedly and this amount of time results in a perfectly cooked roast.
**For a quicker prep, chop all your garlic at once and all the rosemary. Then eyeball the quantities needed for the pork and potatoes and separate accordingly, it doesn't have to be precise.