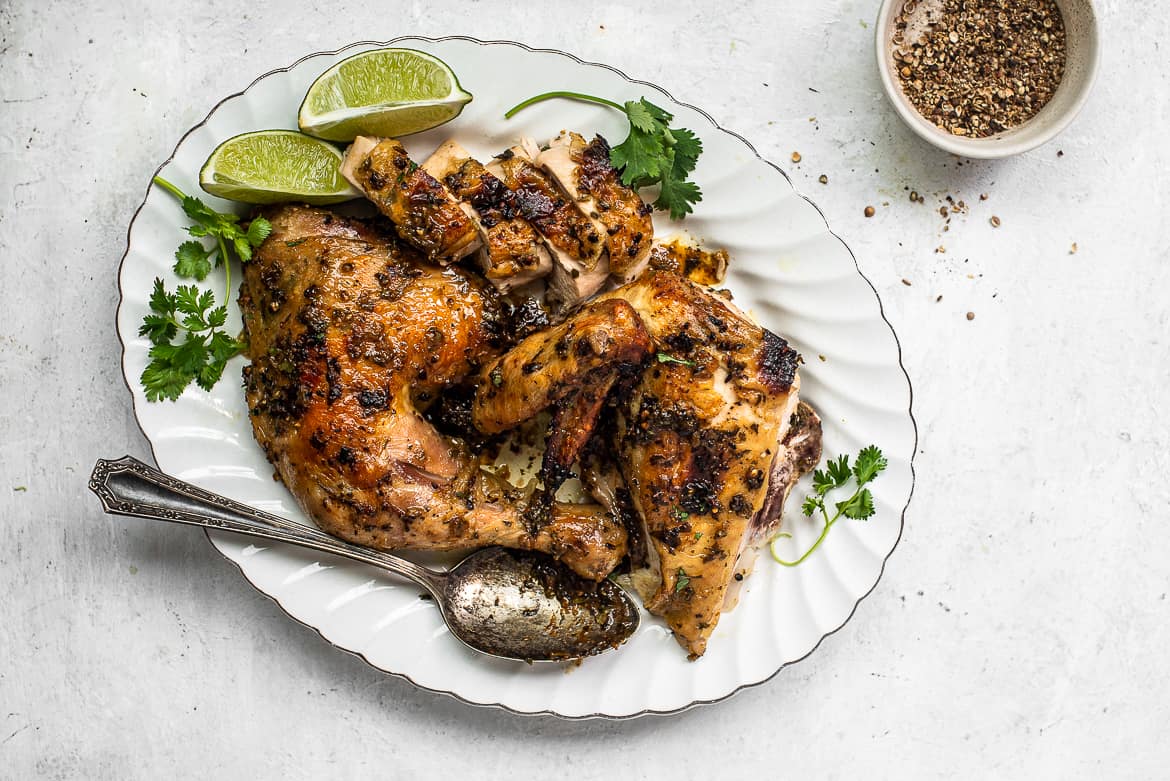 There are some foods that are really hard to photograph and I keep having to make the recipe over and over until the photos work (or semi-work, I'm never happy, but never mind that). This spatchcock chicken with cilantro and lime was one of them. The weather (too dark or too sunny) was just not cooperating. Luckily, it is a cinch to throw together and so delicious no one minded eating the same thing 3 nights in a row.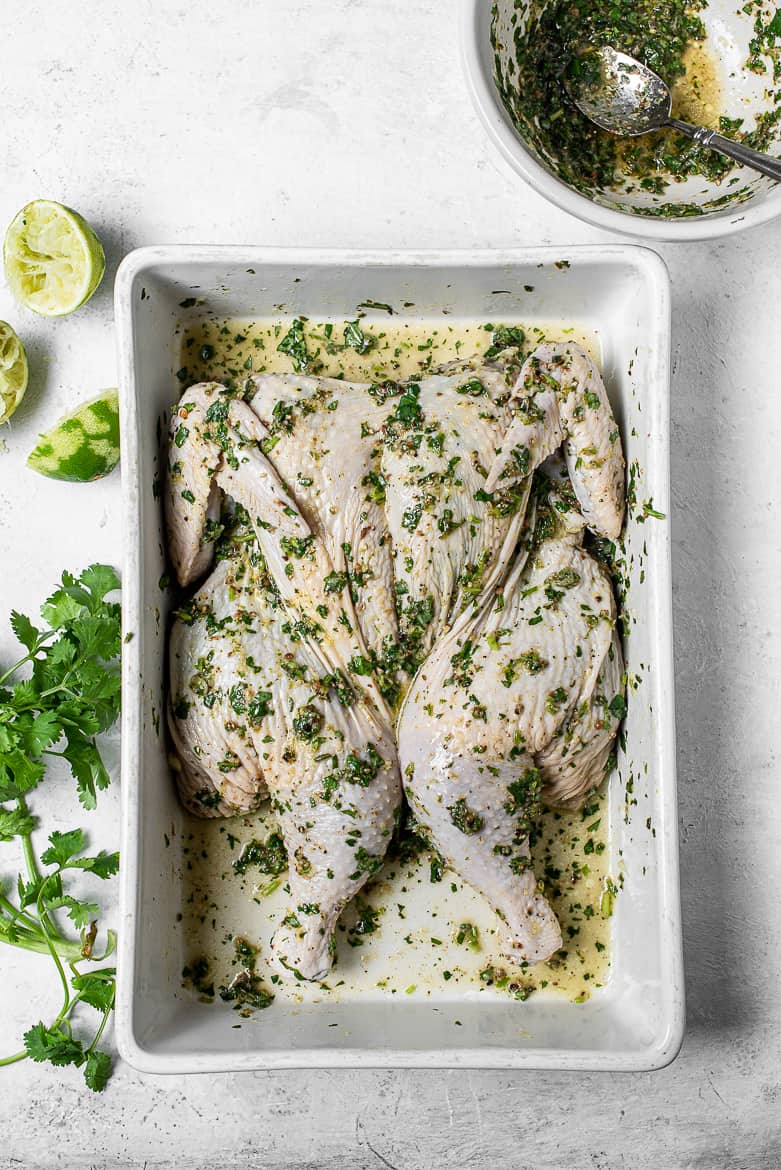 I like to start with a thoughtfully raised, locally sourced, whole chicken if possible — this almost always guarantees a premium quality, super tender and juicy chicken. From there, for this tangy and delicious marinade, you need a lot of cilantro, limes, loads of garlic, olive oil, kosher salt and freshly cracked black pepper. That is basically it — a truly effortless recipe.
However, if you are feeling up to it, there is an optional extra little step that adds a whole lot more deliciousness. I love adding crushed coriander and cumin seeds to the marinade which gives an almost floral fragrant aroma to the chicken — so good. Alternatively, you can use ground coriander and cumin if that is what you have on hand. Or omit the two spices altogether because though super delicious, the cilantro, garlic, and lime marinade is super bold and flavourful on its own. Also, you might question the amount of freshly cracked black pepper in this recipe but it is essential. I can't really explain it but I find the black pepper tones down the strong acidity from the limes and, I promise, you will not find it overpowering.
What are Coriander Seeds
I think by now everyone has cumin seeds in their spice drawer, so that's easy. Coriander seeds, though less common, are truly worth seeking out and adding to your spice collection. Coriander seeds are the dried fruits from the cilantro plant and can be used whole or ground. Unlike fresh cilantro, which is quite strong in flavour, coriander seeds have a sweet, mellow flavour with a touch of citrus. As with most spice seeds, a quick dry-toasting in a pan releases the oils and intensifies their rich complex flavours. I use a mortar and pestle to lightly crush the seeds after toasting them but a mini food processor or spice grinder would also be great.
Grilled or Roasted
This foolproof recipe for spatchcocked chicken with cilantro and lime is absolutely spectacular for a summer barbecue, but can also be cooked in the oven year-round. When grilled, the bird gets a lovely light char yet it will still be super juicy and tender. Because we have had a lot of rain lately I have been roasting the chicken in the oven, either method works wonderfully and I will include instructions for both.
How to Spatchcock a Chicken
To spatchcock a chicken, or butterfly it, is to remove the backbone, which allows it to be completely flattened. This will reduce the cooking time significantly and makes grilling it, or pan frying it, a lot easier.
Place chicken breast-side down. Using a pair of sharp kitchen sheers, and starting at the thigh end, cut along one side of the backbone.
Turn chicken around and cut along the other side of the backbone to remove it. Save the backbone for stock.
Flip the chicken over and press firmly on breastbone to flatten the chicken further.
You can use this brilliant cilantro and lime marinade for a lot of other dishes such as boneless chicken thighs, white fish, grilled chops, grilled veggies, or even tofu. Keep in mind the amount of lime juice in this marinade could alter the texture of the meat, especially if you are marinating fish, so don't marinate for too long.
I sound like a broken record but if you throw in a second chicken, the work is essentially the same, and the reward is huge — delicious lunch meat for days is a great win!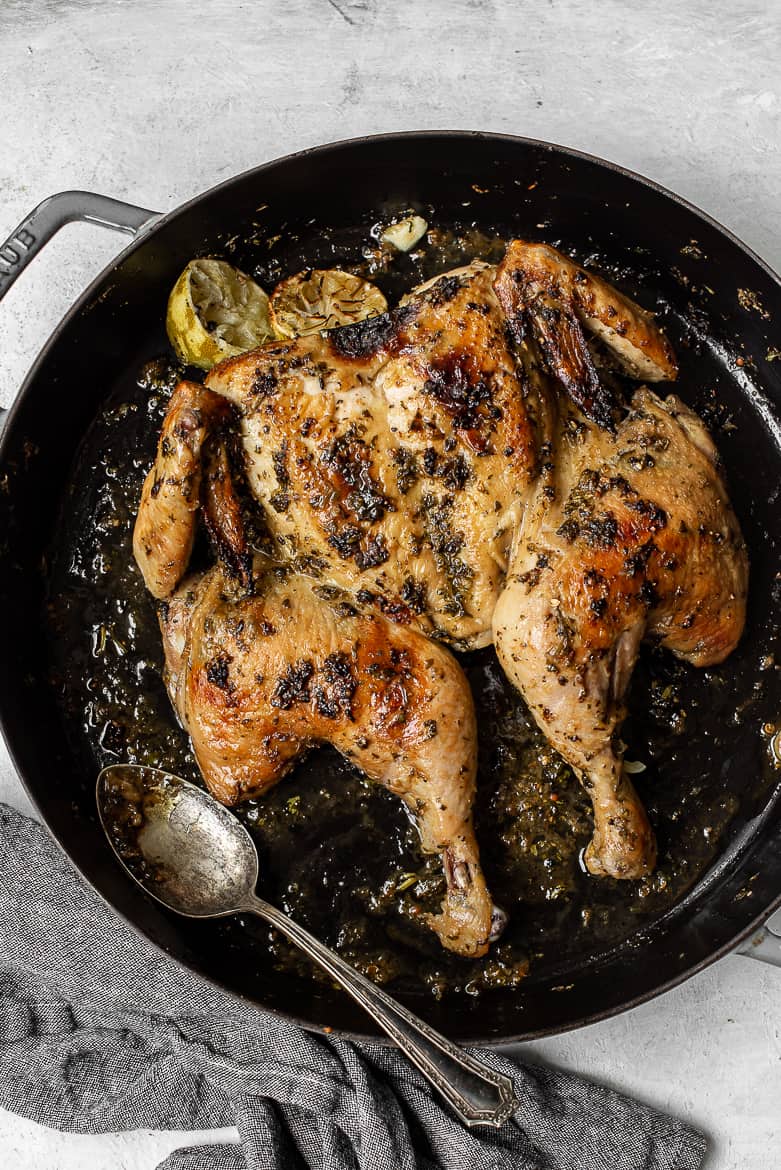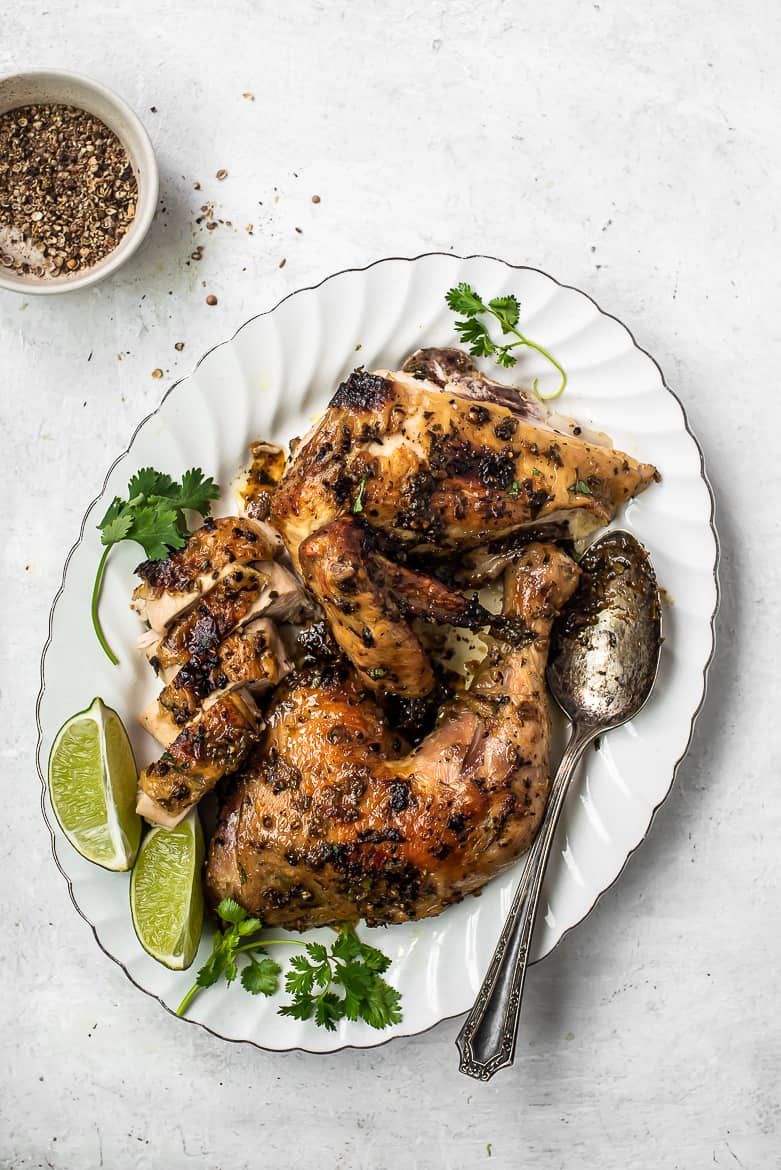 More Chicken Recipes You'll Love!
Ingredients
1

whole chicken

3-4 pound

6

garlic cloves

grated or minced

2

large limes

zested and juiced

1

bunch cilantro

tender stems and leaves, chopped finely (about 3/4 cup)

5

teaspoons

kosher salt

divided

2

Tablespoons

whole peppercorns

or 2 teaspoons freshly cracked pepper

1

Tablespoon

coriander seeds

or 1 teaspoon ground (optional)

1

teaspoon

cumin seeds

or 1/2 teaspoon ground (optional)
Instructions
Spatchcock the chicken: On a cutting surface place chicken breast-side down. Using a pair of sharp kitchen sheers, and starting at the thigh end, cut along one side of the backbone.Turn chicken around and cut along the other side of the backbone to remove it (save the backbone for stock). Flip the chicken over and press firmly on breastbone to flatten the chicken until it is lying completely flat.

Oven instructions: Center a rack in the oven and preheat it to 425 degrees.

Place chicken in a large bowl and pat dry with paper towels. Sprinkle with 3 teaspoons kosher salt -- make sure every crevice is covered. Set aside while you prepare marinade.

If using whole spices, heat a frying pan over medium heat. Add the peppercorns, coriander and cumin seeds; toast until the seeds start to pop, about 2 minutes. Grind them in a small blender, coffee grinder or mortar and pestle.

In a small bowl combine the garlic, lime zest and juice, cilantro, 2 teaspoons salt, and the toasted crushed seeds, or if using ground spices add those to the bowl.

Carefully loosen the skin from the breast and legs of the chicken and, using your clean hands, spread half of the marinade mixture underneath. Rub the remaining mixture all over the outside of the chicken. Place chicken in a large rimmed baking sheet, or skillet, skin side up, and set aside while oven or grill heats up, at least 20 minutes.

Transfer chicken to the oven and cook for 30 minutes. Baste quickly and cook for another 15 minutes or until golden brown and an instant read thermometer registers 165ºF—the time will vary based on the size of your chicken. Transfer to a carving board to rest for at least 10 minutes before cutting.

Grill instructions: Heat grill to medium-high, or set up for indirect heat. Grill chicken, breast-side up for 30 minutes. Flip; cook 15 minutes more. Flip again; grill until internal temperature reaches 165 degrees in thickest part of breast, 5 minutes more. Let rest 10 minutes before carving .

Like ovens, all grills are different and cooking times may vary, so adjust as needed.