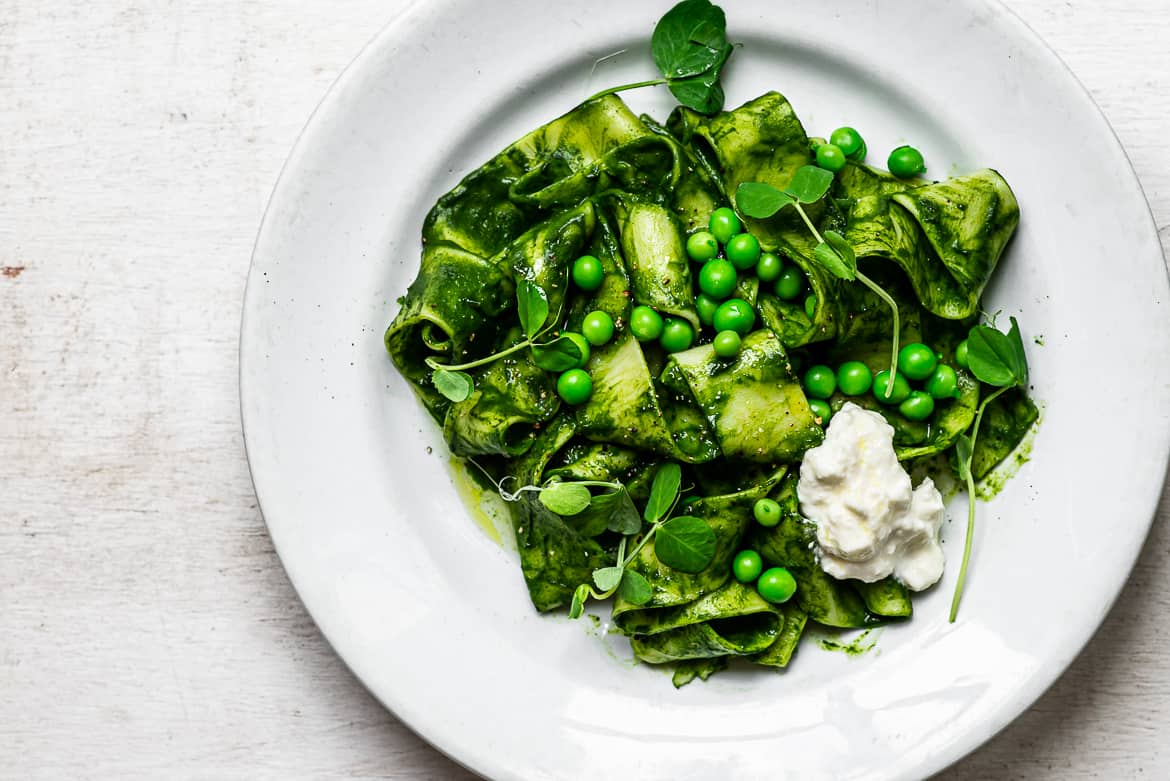 I have been cooking from Joshua McFadden's Six Seasons cookbook for a while now. I cannot even begin to tell you how inspiring and delicious his recipes are. The premise, as you can surmise from the title, is to encourage us to cook with vegetables within the seasons they grow. In his intro, McFadden explains we are of course allowed to cook any of the recipes in the book whenever we want, yet he humbly implores us to "jump on the joyful ride of eating with the seasons".
His recipes are full of flavourful twists — who among us would think to broil some winter greens topped with grated cheese? — yet simple enough for the home cook. Others I have tried and loved; Cauliflower Steak with Provolone and Pickled Peppers, Butter Lettuce with New Potatoes, Eggs, and Pancetta Vinaigrette, The Kale Salad that Started it All (yes, it was him).
The latest recipe from the cookbook that I have been loving is this Kale Sauce Pasta which is in the "Fall" category of the book. I had it bookmarked for a while but spotting it in the NYTimes, and reading the great reviews, is what prompted me to make it immediately. It has since become one of our favourite weeknight meals.
Cooking with the seasons makes a lot of sense and I try my best to adhere to it. However, some of the recipes would be fine, if not better, to make during other seasons. Kale, for example, is indeed wonderful in the Fall, but at the farmers market in Ontario, you can find gynormous bunches of it right now. I have tried this recipe with both the curly kale and the lacinto (also known as dinosaur or black kale). Any kale works, but lacinto is softer and sweeter and always my first choice.
McFadden suggests "rigatoni, pappardelle, or any noodle" – we love pappardelle but have also enjoyed it with penne which catches the sauce inside its tubular shape.
Though a spectacular pasta recipe as written, I did adapt it somewhat. I find most non-tomato based pasta sauces benefit from the addition of lemon zest and lemon juice to brighten the flavours. Crunchy sweet peas are everywhere right now so I add them to everything I can, this dish included. The burrata is an indulgence, I know. But oh my, the extra creaminess it adds to this pasta is spectacular — I say do it.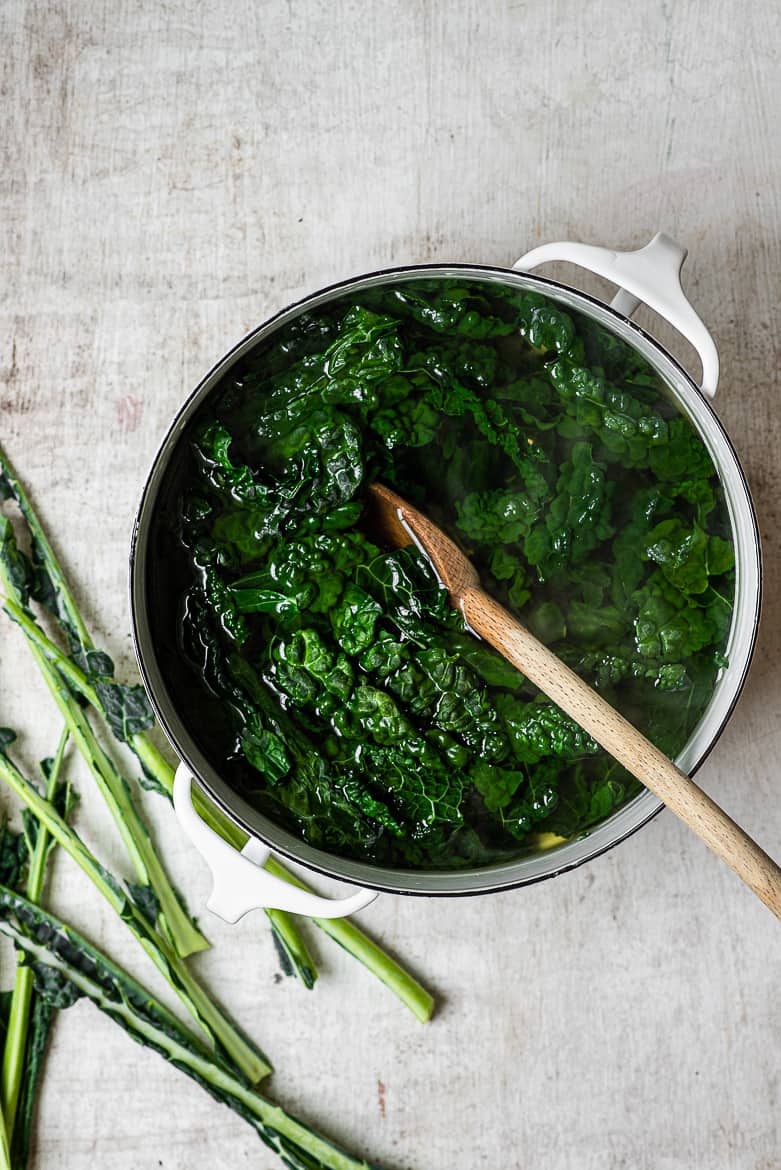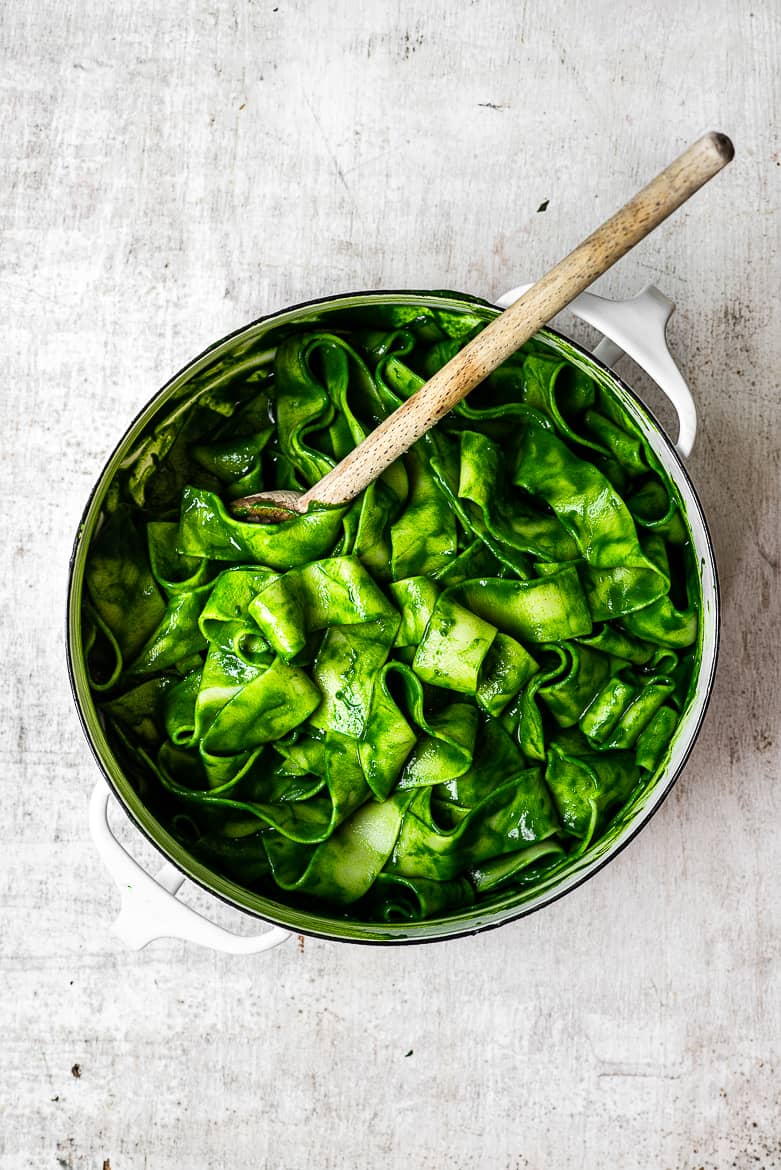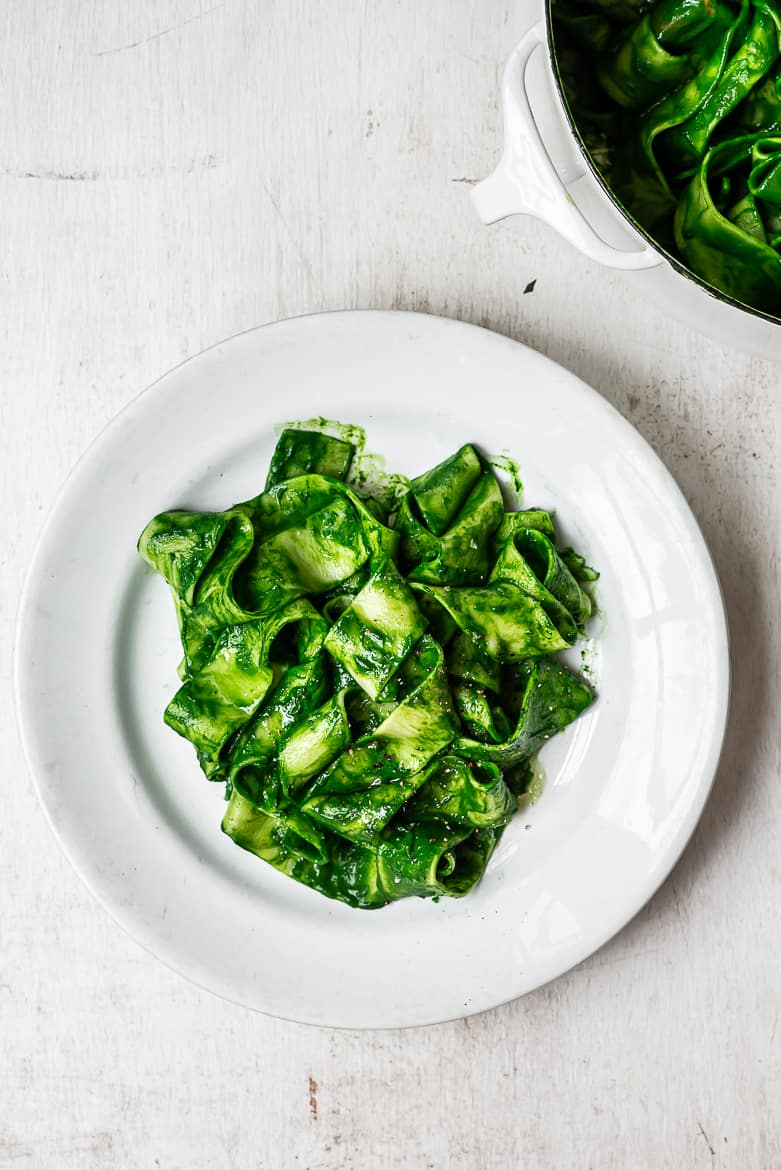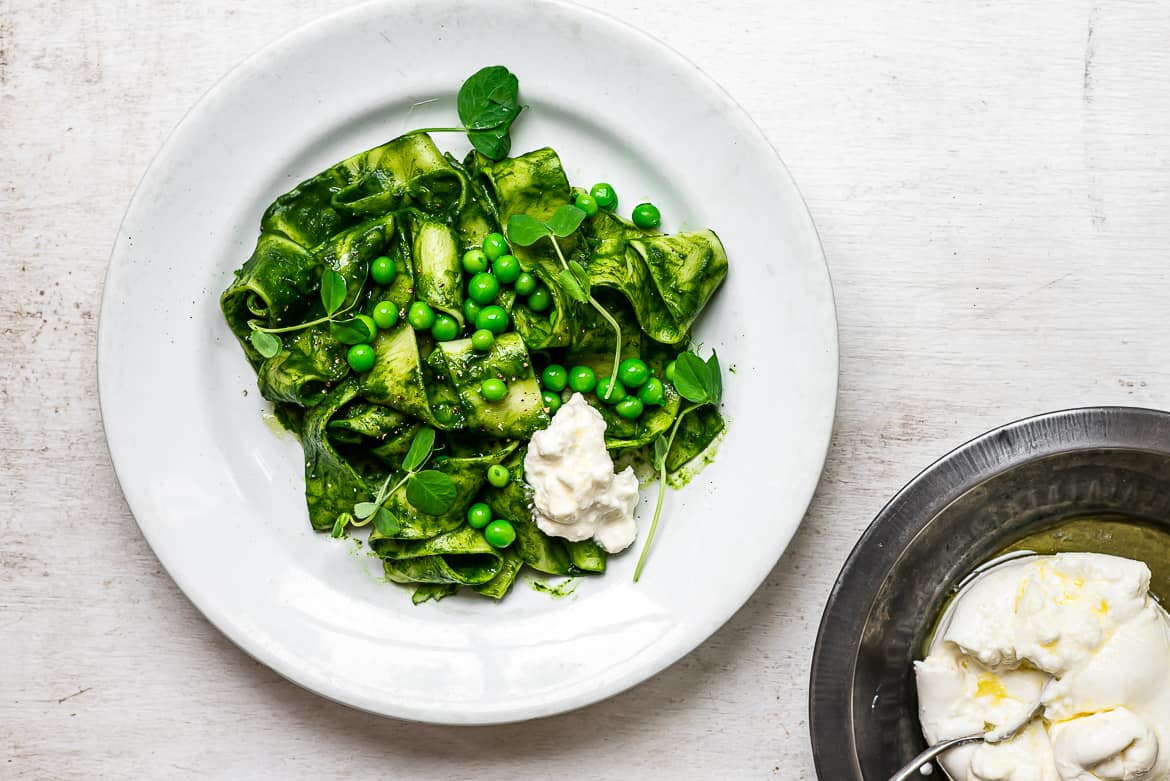 How To Make Kale Sauce Pasta with Peas and Burrata
This pasta is as delicious as it is beautiful. I mean could it get any cooler than tie-dye pasta? And best of all, it comes together ridiculously fast:
toast garlic cloves in olive oil
blanch kale leaves in boiling water – keeping the green-tinted water for the pasta
cook pasta
blitz the blanched kale leaves with olive oil, garlic, lemon, and parmesan
add sauce to cooked pasta
top with fresh peas and burrata, if desired
don't forget the glass of rosé
Variations
Make it Vegan by omitting the parmesan and burrata and add 1/4 cup of your favourite vegan parm.
Can't stand kale? Use 6 cups spinach instead – I haven't tried it but should be good.
Add a few slices of shaved fresh prosciutto.
There are so many other recipes from this cookbook that I can't wait to make and share with you, but for now, give this kale sauce pasta with peas and burrata a try. I think you will love it as much as I do.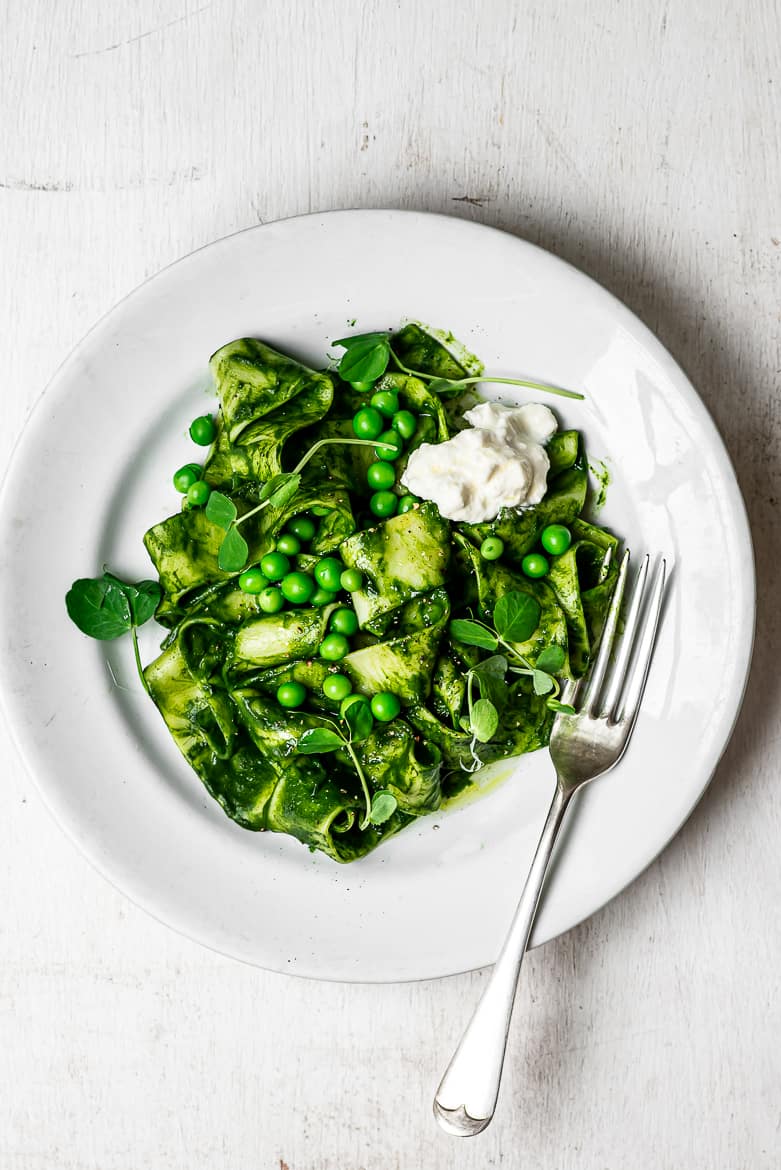 Other Pasta Recipes You'll Love
Ingredients
Kosher salt to taste

¼

cup

extra-virgin olive oil

plus more for drizzling

4

garlic cloves

smashed flat and peeled

1

large bunch lacinato kale

thick ribs removed (or curly kale)

1

lemon

zested

2

Tablespoons

lemon juice

Freshly ground black pepper

to taste

1

pound

pasta

such as pappardelle or rigatoni

¾

cup

freshly grated Parmigiano-Reggiano

1/2

pound

fresh shelled spring peas

1 8-

ounce

ball Burrata cheese

drained and torn
Instructions
Fill a large pot with water, salt generously, and bring to a rolling boil over high heat.

Place oil and garlic in a small saucepan on medium heat and cook until garlic begins to turn golden brown, 1-2 minutes. Reduce heat to low and cook another 2 minutes until garlic is soft. Remove from heat and set aside.

Add kale leaves to the boiling water and cook until just tender, about 3-5 minutes. Once kale is cooked, lower the heat but do not drain the water. Use tongs to transfer the dripping kale leaves directly into a blender.

Bring the water back to a boil, add the pasta and cook according to instructions. Reserve 1 cup of the cooking water, then drain. Return pasta to the pot.

To the blender, add the oil with garlic, lemon zest, lemon juice, 1 teaspoon kosher salt, freshly ground black pepper to taste, and about a 1/4 cup of the reserved pasta water. Blend into a smooth, thick green purée. Taste, adjust seasoning with salt and pepper if needed, then blend again until very creamy.

Pour the kale purée over the pasta along with half of the grated parmesan cheese. Toss well, adding a few more splashes of pasta water, until the sauce is silky and creamy and clings to the pasta.

To serve, top pasta with fresh peas and burrata, drizzle with olive oil and remaining parmesan cheese.