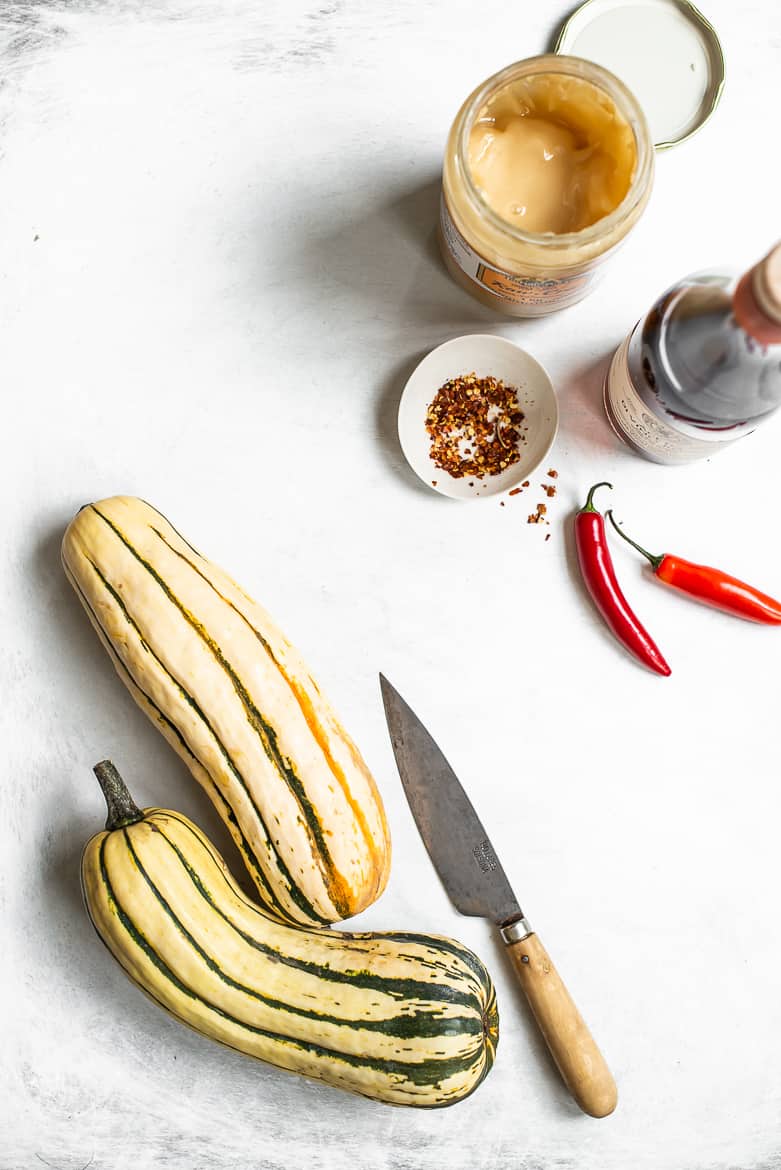 There is no denying now that it's time to say adiós to all the summer produce — the markets are simply drowning in squash and pumpkins. I suppose it's a good thing since Canadian Thanksgiving is only a few days away and this year, more than ever before, with kids leaving home for longer stints, and with the future constantly being plagued by uncertainty, I am really looking forward to a comforting holiday meal and the pleasure of gathering around the table with family and friends.
Our Thanksgiving meal is always simple and predictable. I have come to accept that for my gang, tradition is not to be messed with. They want nostalgia and childhood memories that soothe and comfort and that is what they will get.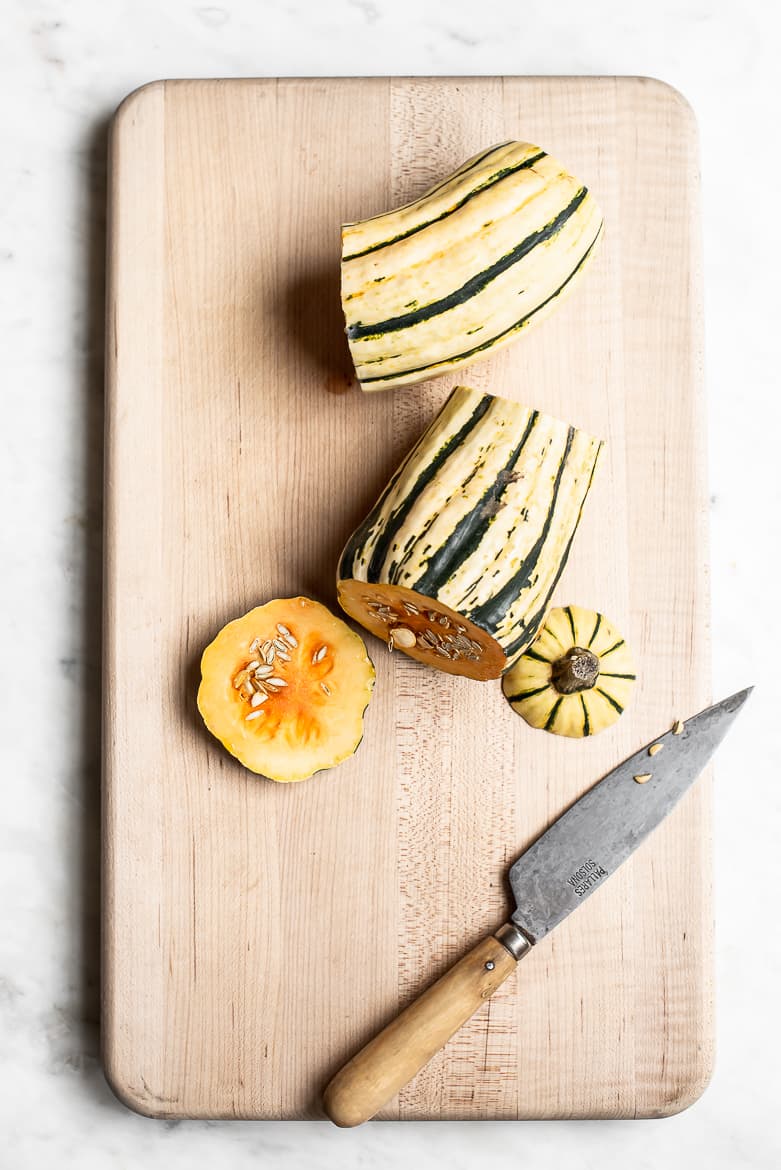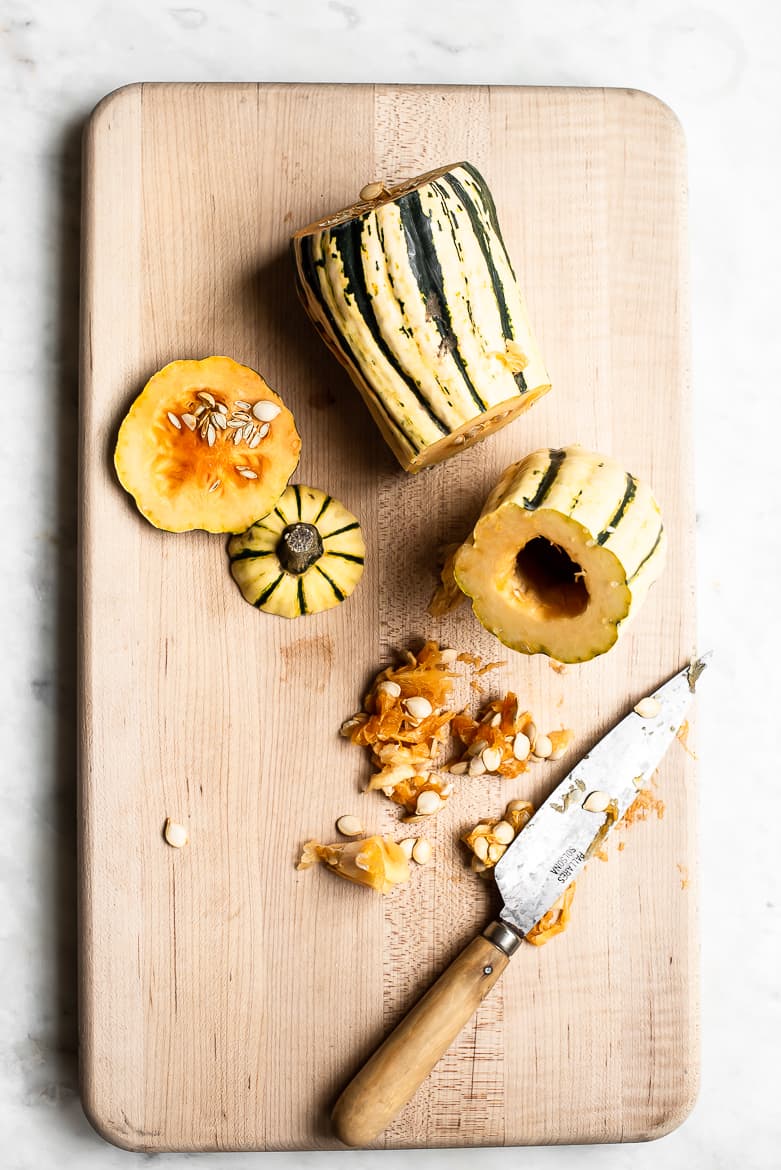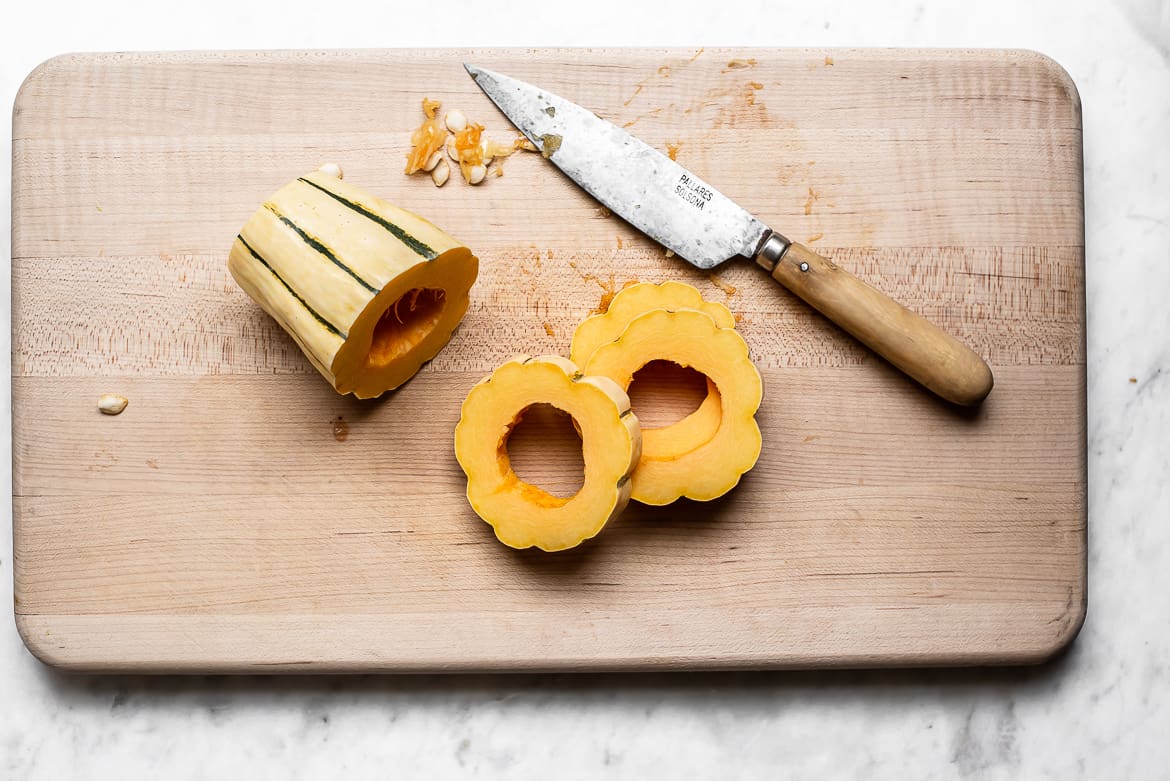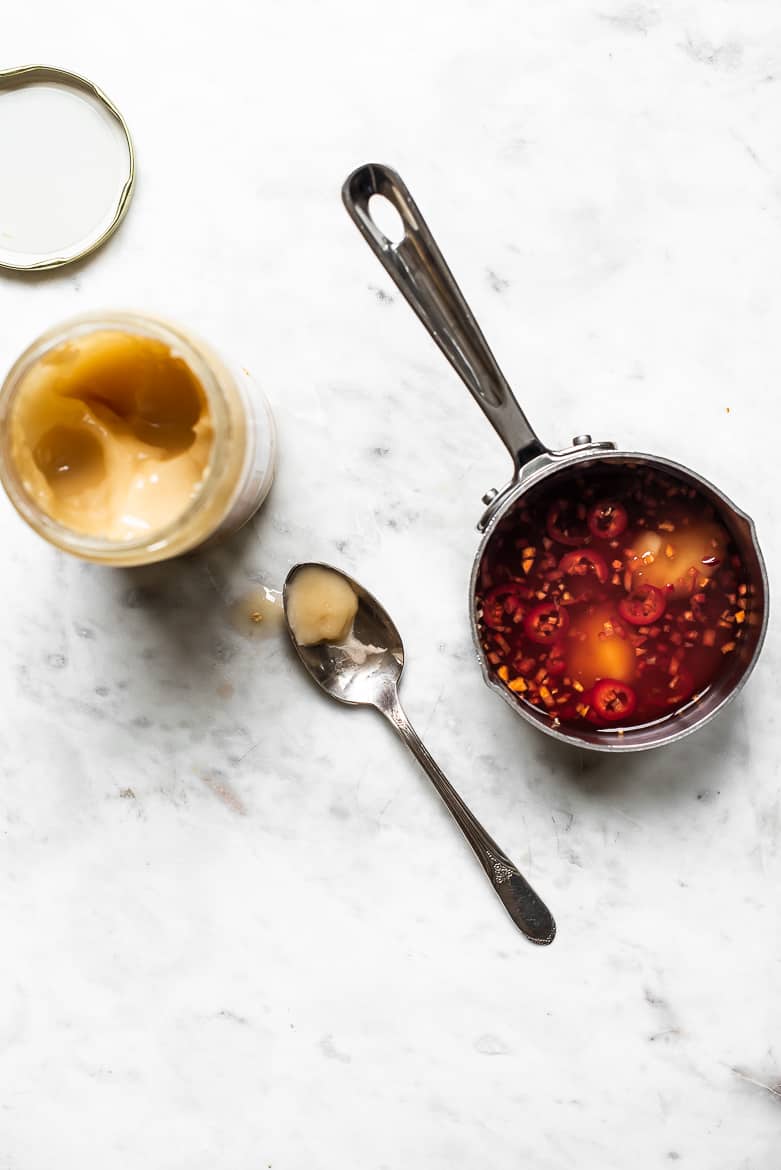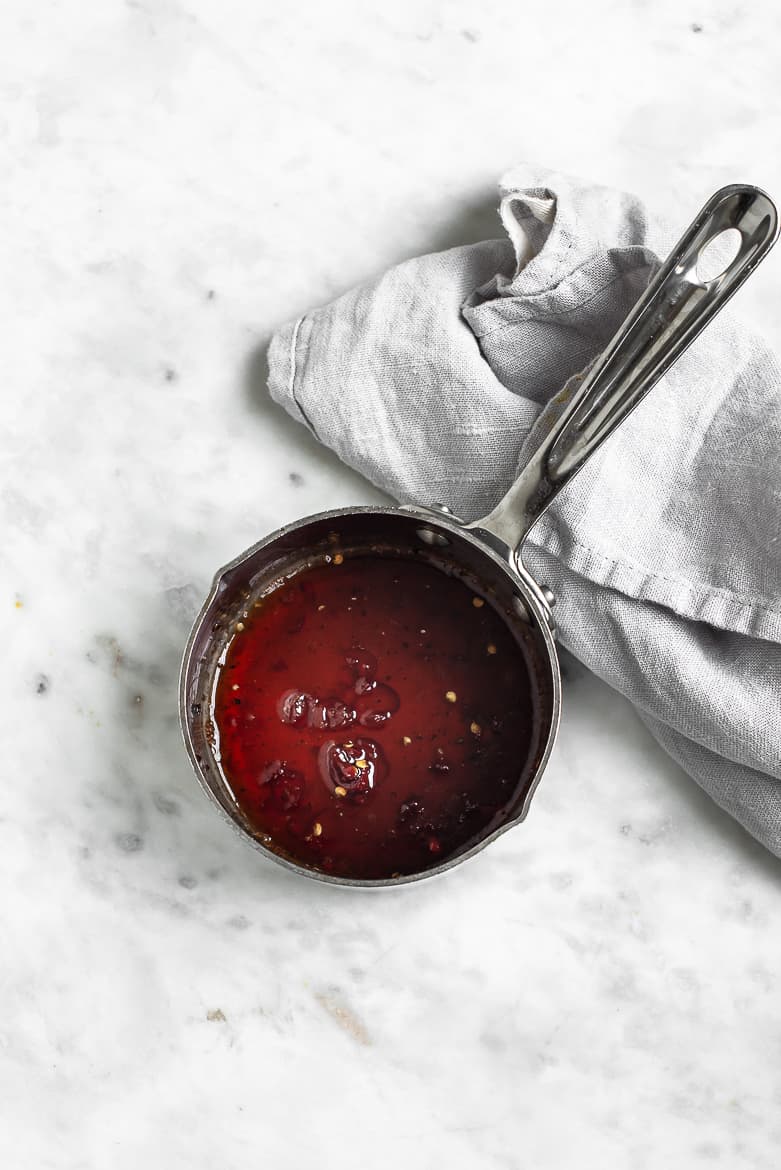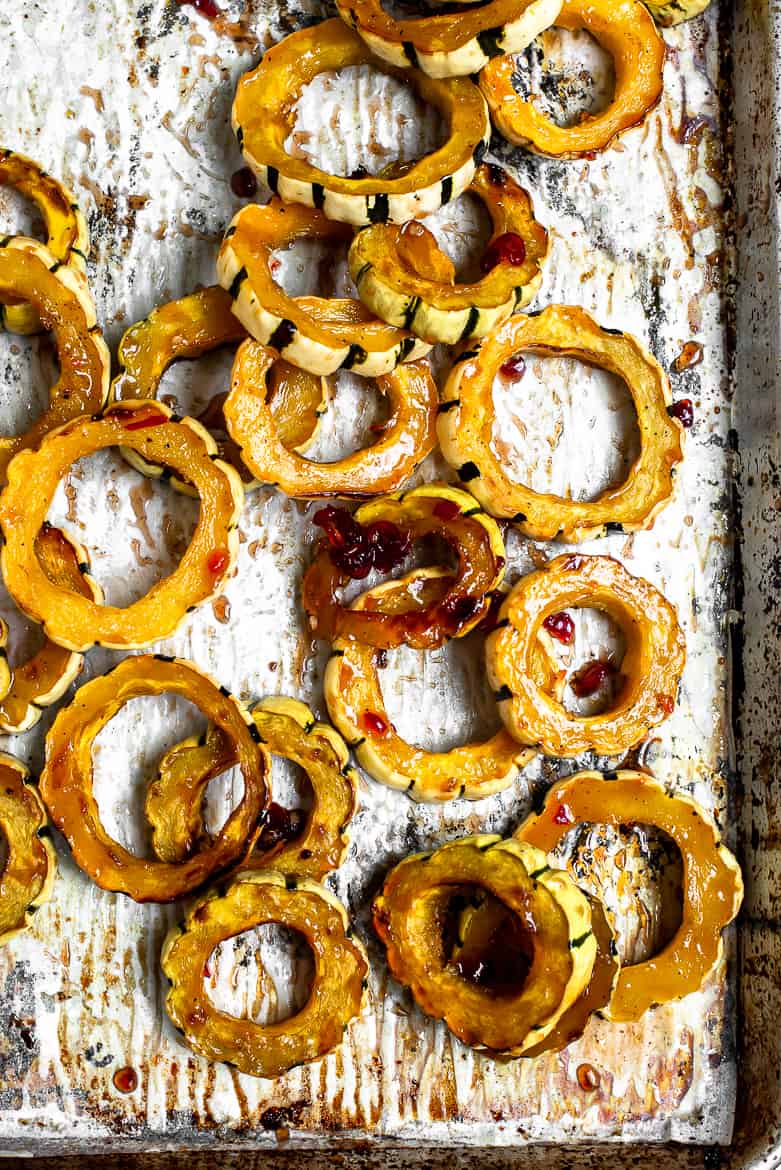 Having said that, for this Thanksgiving, I can't resist throwing in this roasted delicata squash with agrodolce sauce. Aside from looking stunning on a platter, delicata squash are seasonal, don't need to be peeled, and taste amazing!
Where to buy delicata squash
You can find this squash pretty much everywhere right now (the farmers markets have tons) though often it is labeled sweet potato squash.  Roasted delicata squash needs very little to taste delicious but when drizzled with this sticky agrodolce sauce, they become irresistible.
Agrodolce sauce
Agrodolce is an Italian sweet and sour sauce which combines vinegar and sugar (or other sweetener) and is then reduced until syrupy.  Sometimes garlic or shallots get added but I love the spicy addition of a fresh chile or two. I found the recipe a few years back on Bon Appetit and it is just spectacular with any and all winter squash. However, the sauce makes everything it goes on more delicious in a rich, tangy, spicy way — try it with grilled chicken, fish and pretty much any roasted vegetable. I even use it to dip veggie rice wraps — insanely delicious.
If you prefer it without the heat, simply leave the chiles out or use a lot less. The vinegars I like to use are red wine, white wine, or sherry — use your favourite, or a mix.
I know your Thanksgiving groceries are probably done, but if you come across these adorable gourds, grab a few and give this a try — you can never have too many sides for a Holiday meal and this one might just become your new favourite.  If you are celebrating Thanksgiving, I hope there will be lots of good food and plenty of family and friends to share it with.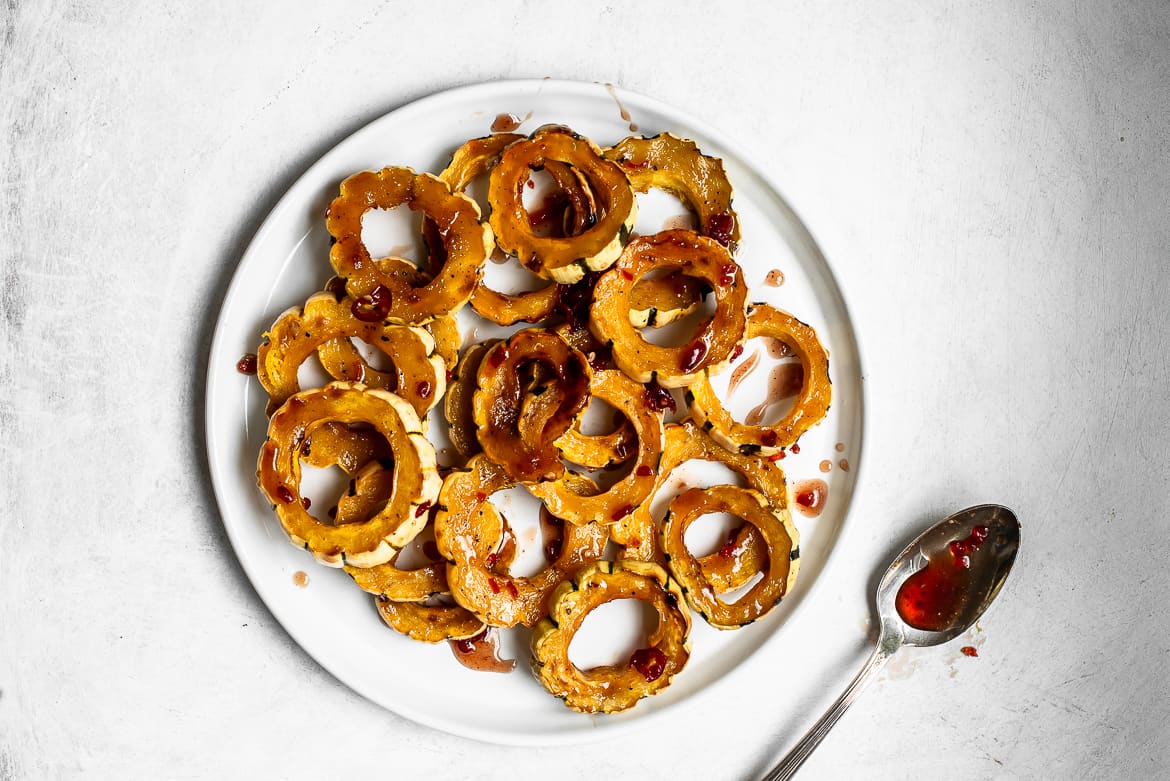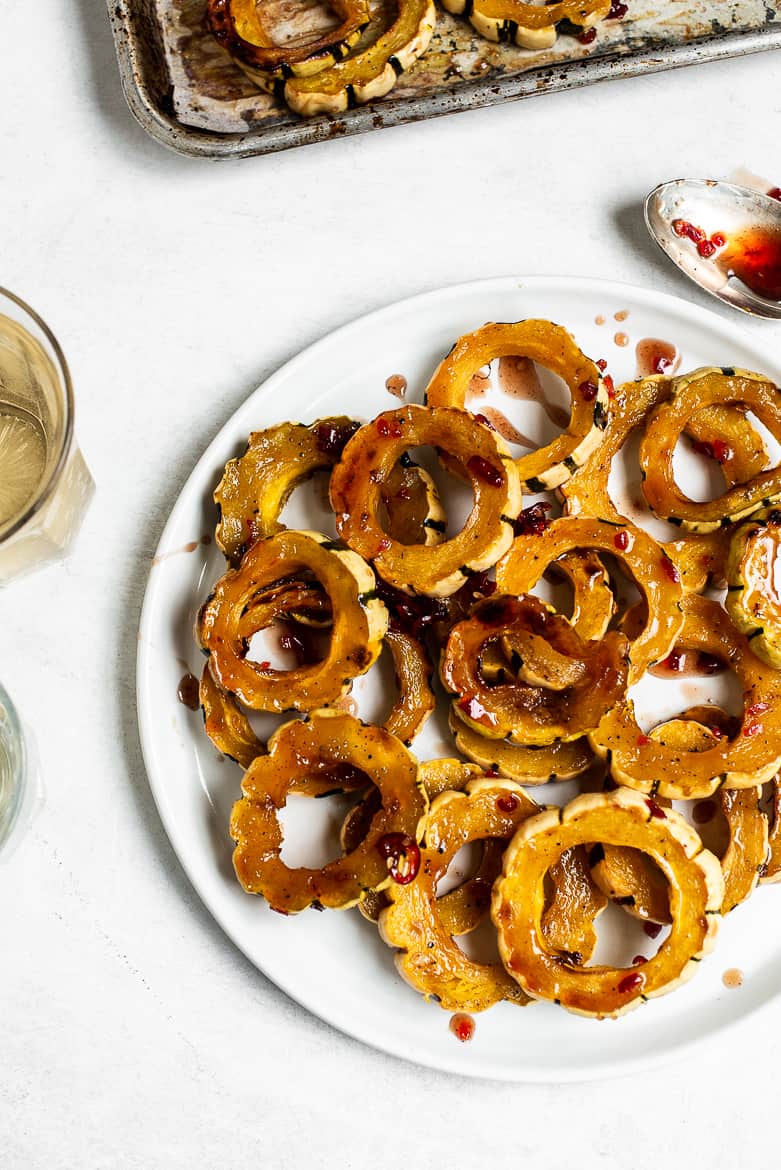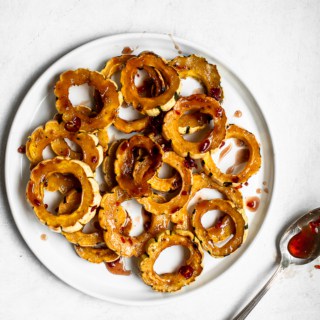 Ingredients
2

delicata squash

washed but not peeled, cut in half crosswise, seeds removed with knife or spoon, and cut into ½-inch slices (see notes for alternate, easier method to slice squash)

2

tablespoons

olive oil

4

Tablespoons

honey

divided

Kosher salt

freshly ground pepper

1/2

cup

red wine vinegar

or white wine vinegar, or sherry vinegar

2

Fresno chiles

thinly sliced, or a pinch of crushed red pepper flakes (optional or to taste)
Instructions
Preheat oven to 425°. Place delicata squash on a large rimmed baking sheets (use two baking sheets if doubling).

Drizzle with oil and 2 tablespoons honey, season with salt and pepper and toss to evenly coat.

Spread the squash slices in an even layer. Roast, flipping once, until squash is golden brown and tender, 20-–30 minutes. Remove squash from oven and let cool slightly.

Meanwhile, bring vinegar, remaining 2 tablespoons honey, chiles (or red pepper flakes) and a pinch of salt to a boil in a small saucepan over medium heat. Reduce the heat and simmer until syrupy, 8–10 minutes.

At this point you can either spoon all the agrodolce over squash and serve immediately. Or, once cooled, wrap squash and let sit at room temperature for up to 3 hours. When ready to serve, reheat agrodolce, adding a splash of water if needed to loosen, and spoon over squash.
Notes
Easier method to seed and slice squash:
Cut the squash in half lengthwise, remove the seeds, then cut the squash into 1/2-inch (half-moons) slices.