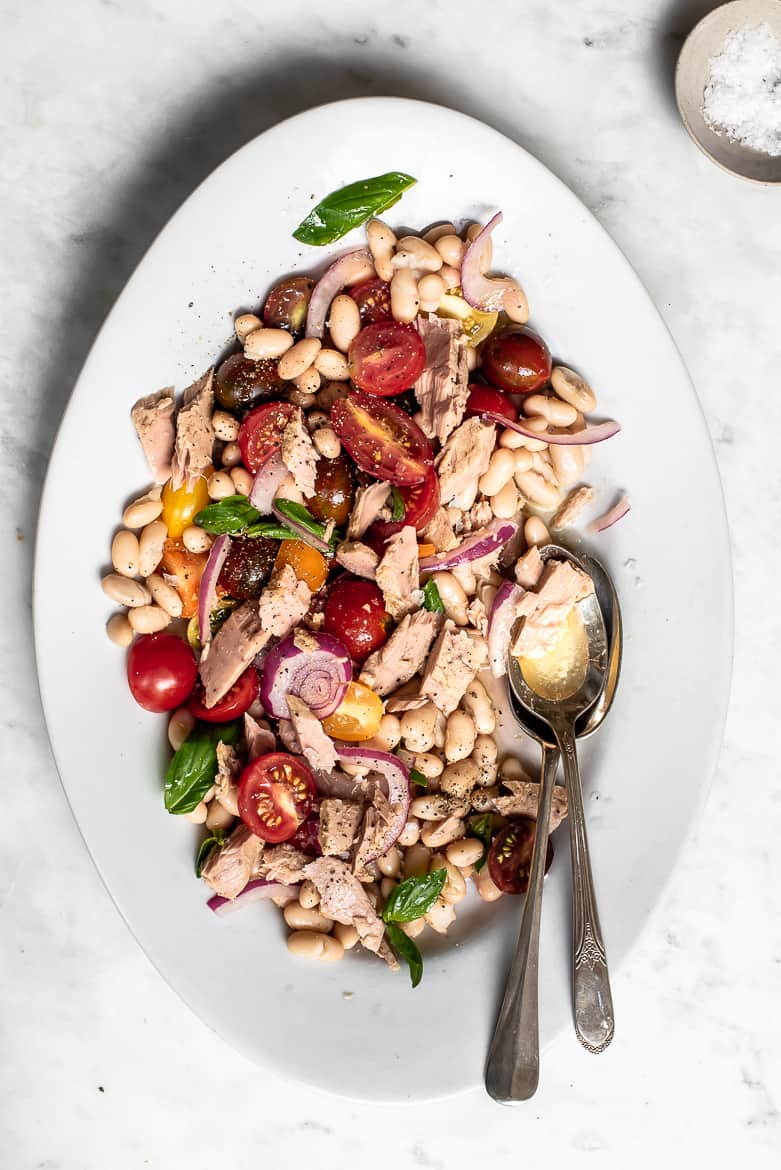 This no-measuring, no-cooking dish, with tuna fillets big enough to pick up with your hands — along with perfectly ripe cherry tomatoes, creamy white beans and quick pickled onions — is the late summer meal I crave on busy weeknights. Now that tomato season is nearing its end, I have been adding sun-kissed cherry tomatoes to almost everything I make. You can omit them from this tuna and white bean salad once they are all gone for another year, but unlike regular tomatoes I find pretty decent ones are available all year round.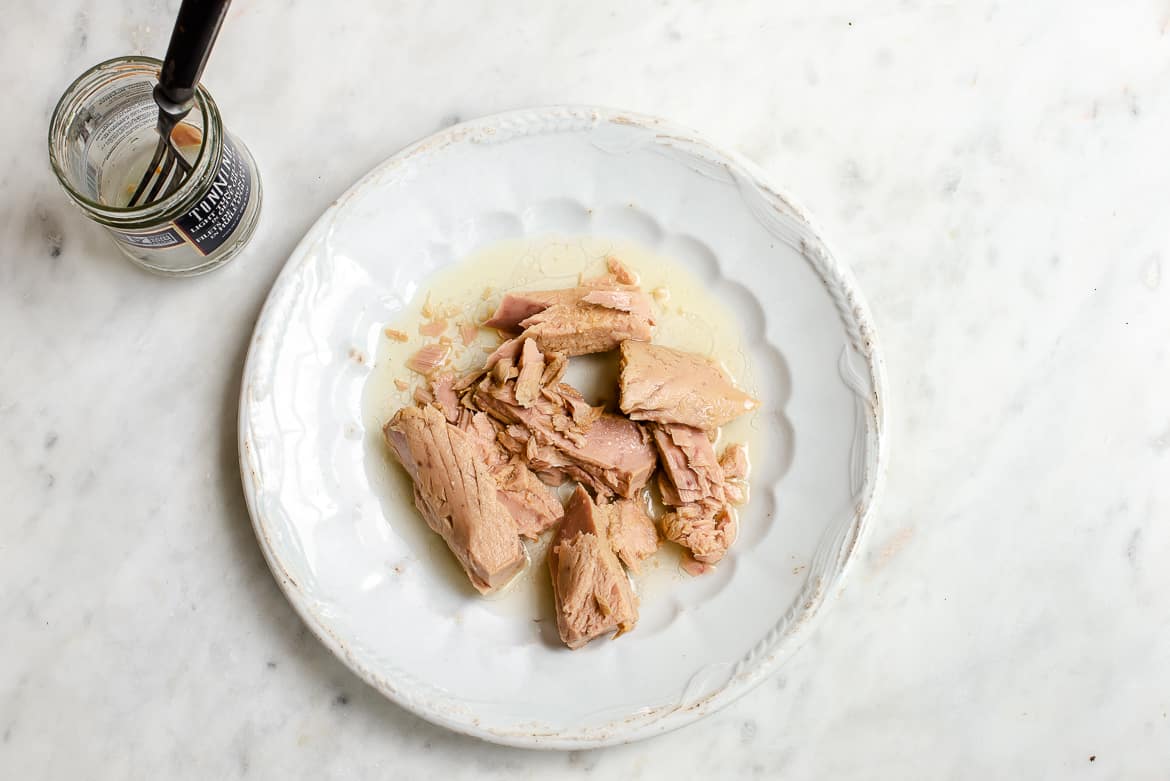 In this household, we are a little tuna crazy. We could have a tuna salad sandwich every single day without getting sick of it. Of course we don't, due to health and environmental reasons, but I always have cans of tuna in my pantry to use in salads, sandwiches, and to add to pasta.
However, for this tuna and white bean salad, whenever possible, I leave the cans behind and use the ultra-luxurious, jarred by hand, Tonnino tuna. This tuna is a splurge, for sure, but let me explain why you won't mind the occasional splurge. Wild-caught, socially and environmentally responsible, each lovely jar is dolphin safe, and only small sized, yellowfin tuna with very low levels of mercury is used. Soaked in the purest olive oil, or spring water, the texture is tender, the flavour mild and light.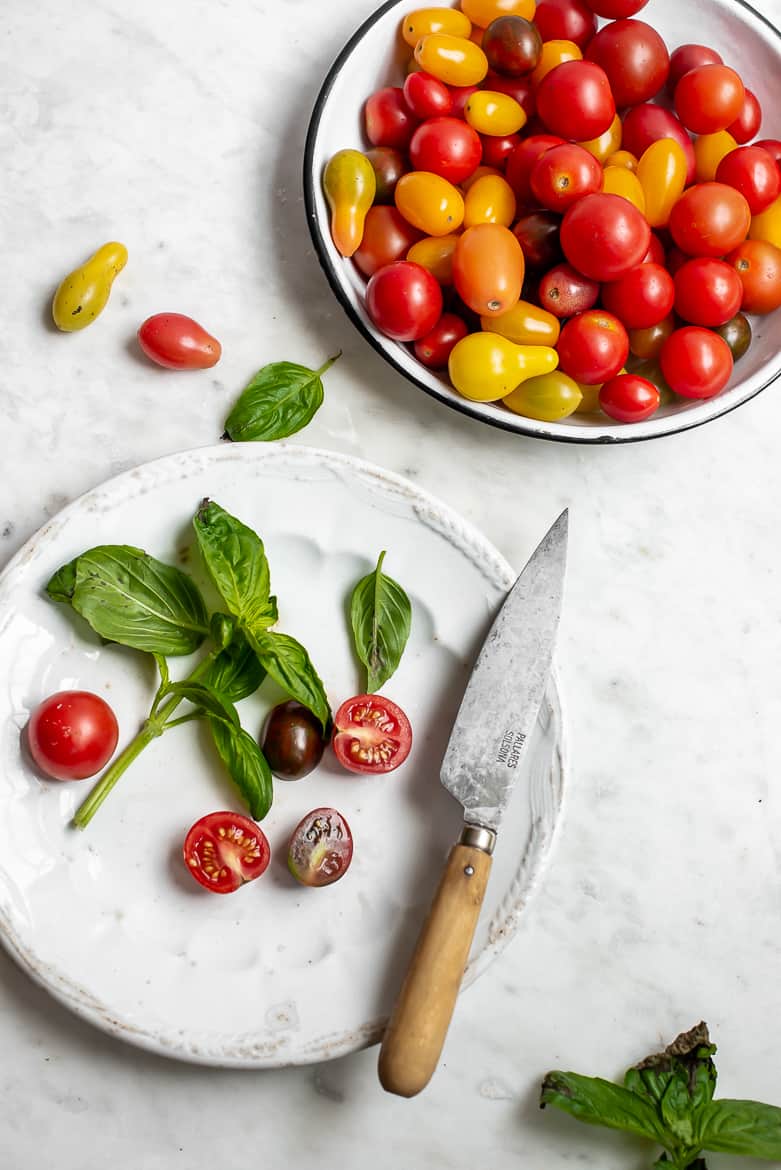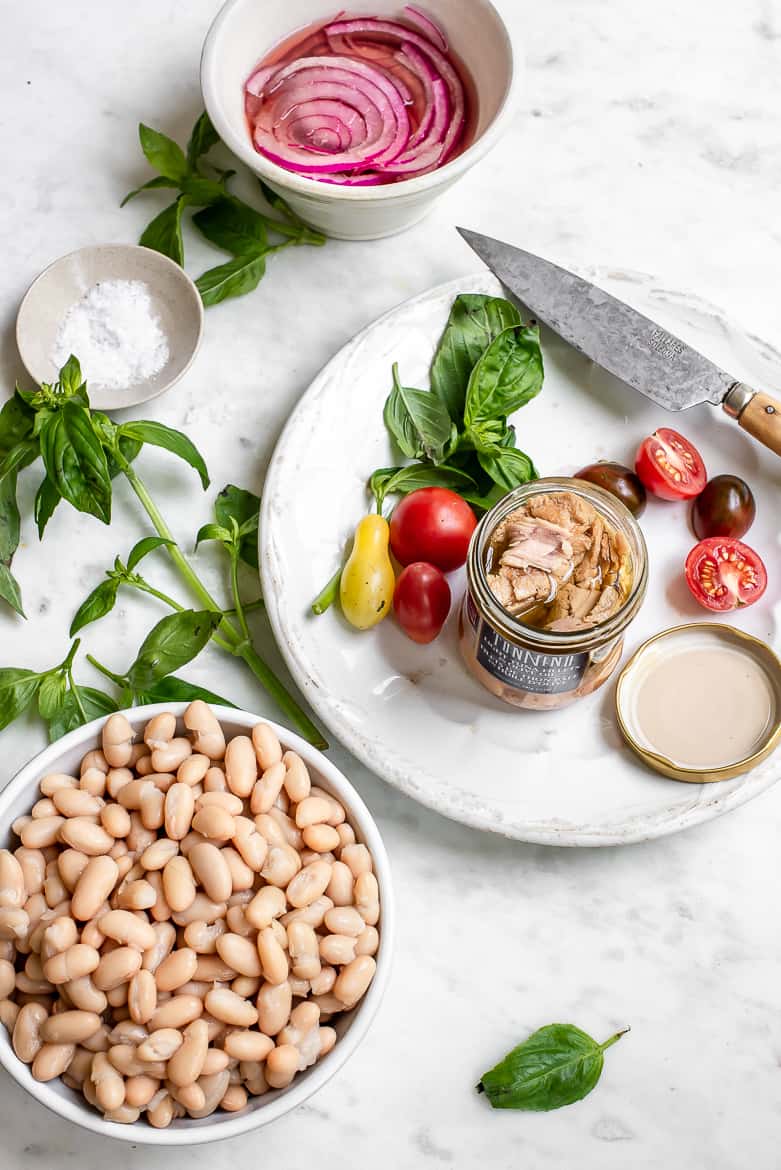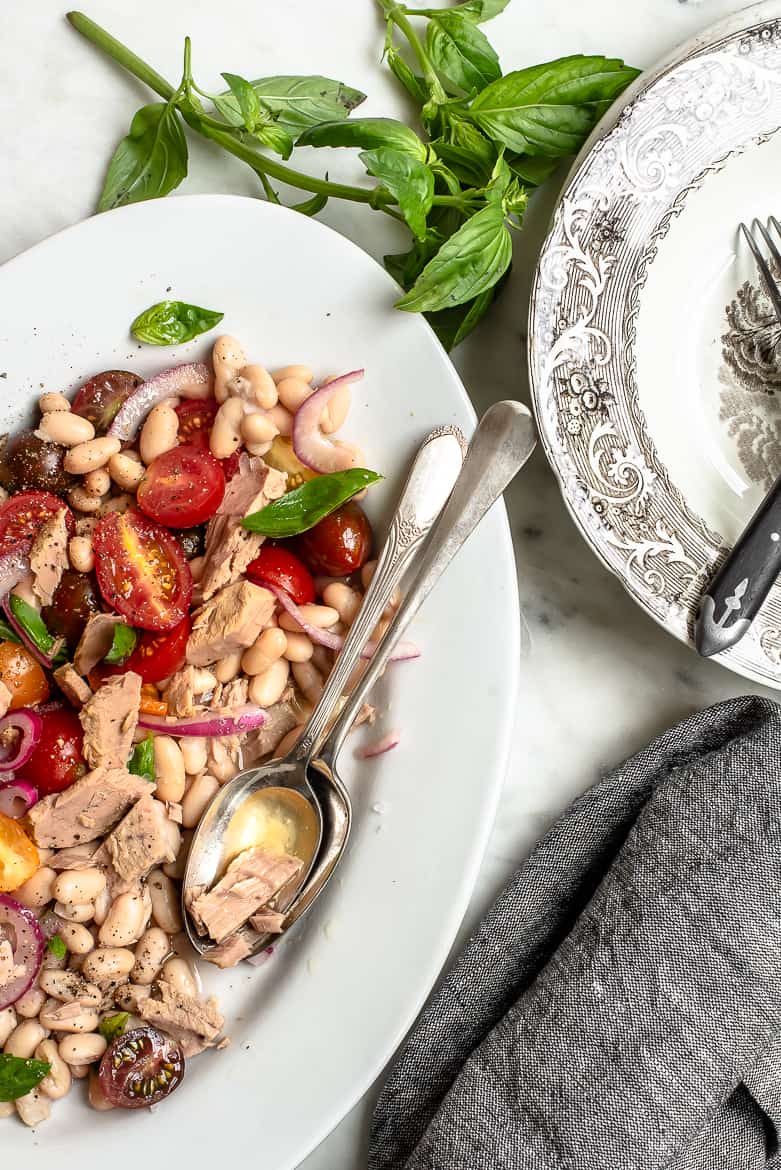 Aside from the plain olive oil-packed one I used here, Tonnino tuna is available in a variety of different flavours — lemon & pepper, oregano, jalapeño, garlic — all delicious and irresistible. I have not tried Ventresca, which is the belly of the tuna, but rumour has it that its buttery, complex flavour is the créme de la créme. The jars are deceivingly small – I find there is quite a bit of tuna packed into them. One jar easily makes a good sized portion of this dish for two as a main, or 4 as a side. In Kitchener-Waterloo, you can buy Tonnino tuna here, or look for it at well-stocked supermarkets in your area.
Of course, you can use regular canned tuna and it will still be delicious. Just drizzle a bit of olive oil over the tuna for more flavour. Don't be tempted to skip the pickled onions, even my onion-loathing son loves splashing the briny juice all over his dish. I pickle the largest red onion I can find because the extras only get better as they continue to pickle in the fridge for days.
Though fall is in the air, we seem to be experiencing a very lovely and warm September. Fine by me. Until the chill sends me running indoors, you will find me outside, feasting on this dish, and dipping crusty bread into the leftover juices. I truly hope you do the same.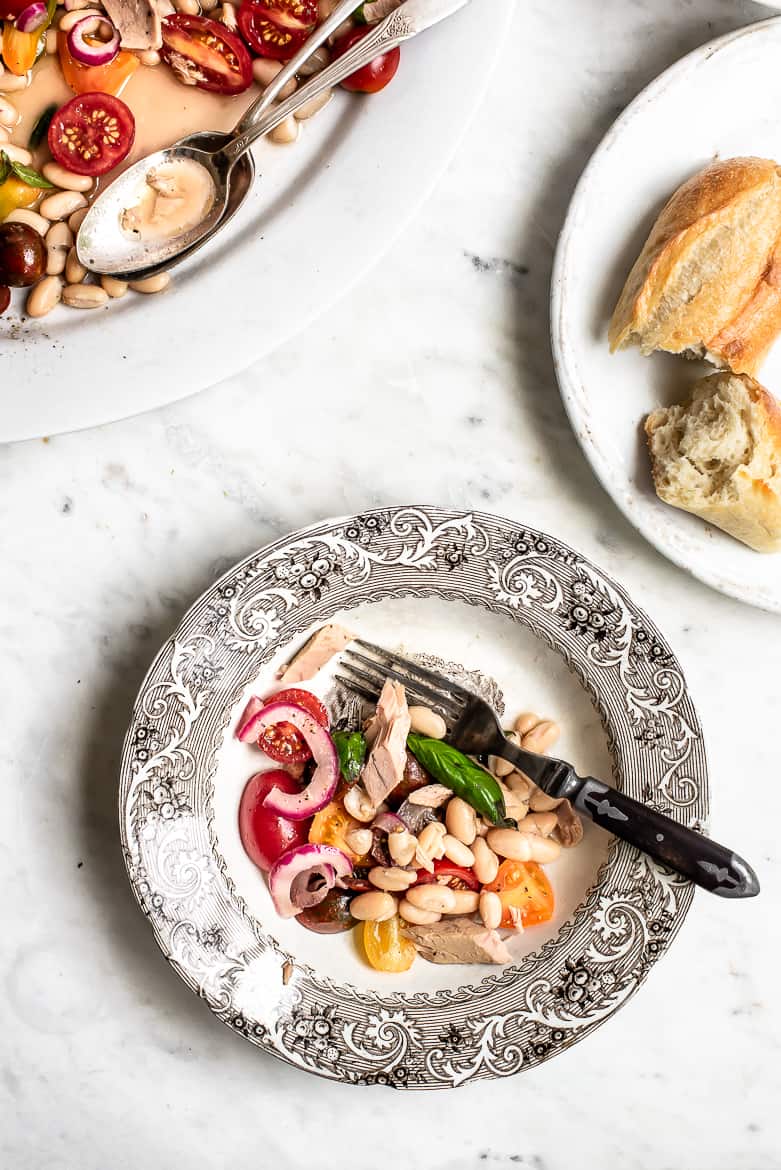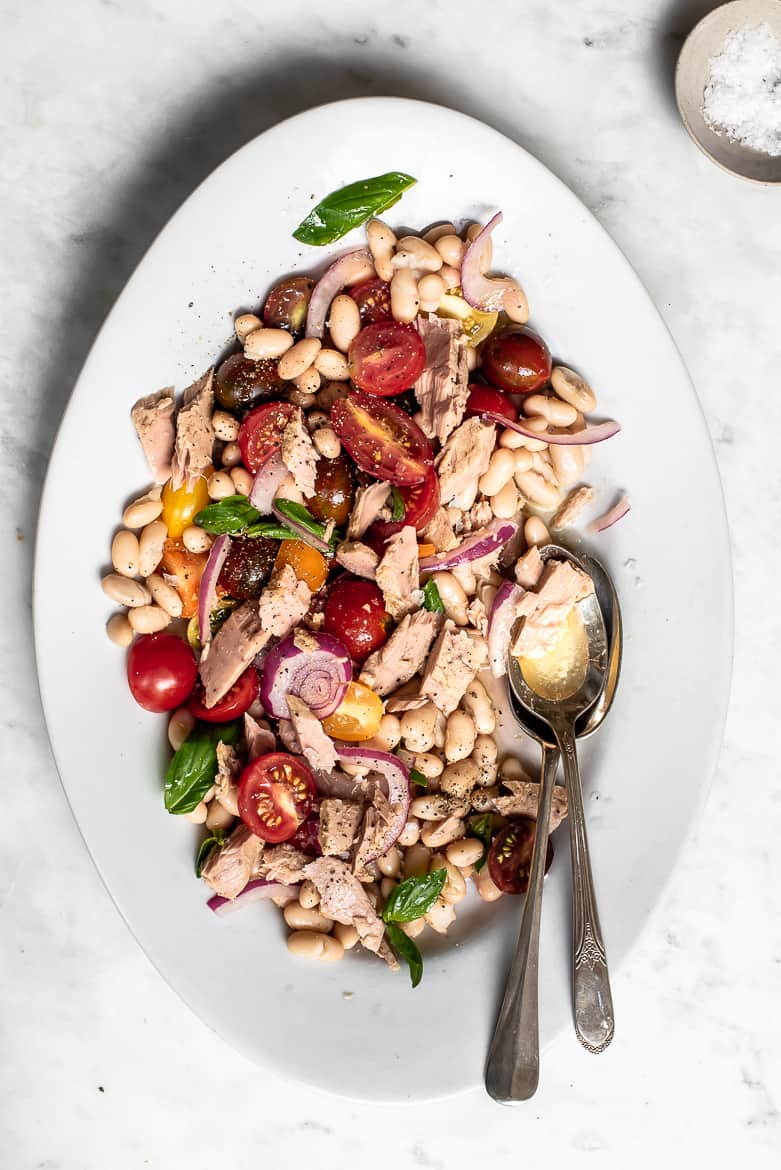 Ingredients
½

cup

red wine vinegar

or vinegar of your choice

1

Tablespoon

cane sugar

or white

1/2

teaspoon

kosher salt

1

red onion

peeled, halved and thinly sliced

2

15-ounce cans cannellini beans (or white kidney beans), rinsed and drained

¾

pound

cherry tomatoes

halved

1-2

6-7 ounce cans high-quality tuna, preferably packed in olive oil, drained (I like thisone)

½

teaspoon

or more, flaky salt, such as Maldon

Freshly ground black pepper

to taste

Large handful fresh basil leaves

roughly chopped

3

tablespoons

extra-virgin olive oil

or more to taste

Crusty bread for serving

optional
Instructions
To a medium bowl, add vinegar, sugar, salt and 2 Tablespoons hot water. Whisk until sugar and salt dissolve. Add sliced onion to the vinegar mixture. Let sit at room temperature for 1 hour (less is fine) or make ahead, transfer to a jar, and keep in the fridge for up to a week.

To a deep serving platter or a wide bowl, add the drained beans and cherry tomatoes.

Spoon the tuna out of the oil, and break it gently with a fork into bite-size pieces. Add 1/4 cup of pickled red onion, or to taste, and 3 tablespoon of pickling liquid, and mix gently.

Sprinkle flaky salt and black pepper to taste. Add torn basil, and generously drizzle everything with olive oil and more pickling liquid to taste. Serve immediately with crusty bread, if desired.