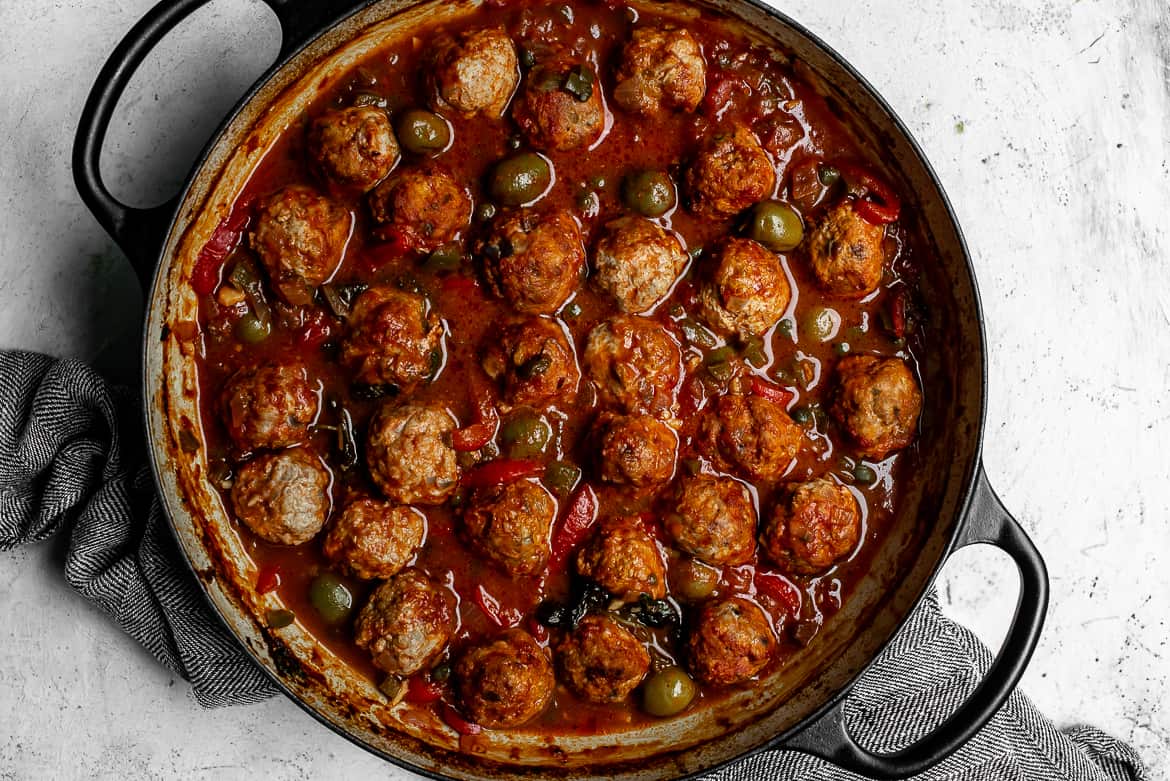 Like the rest of the world, I am extremely fond of the Italian-American classic meatballs in rich tomato sauce that are almost always served with spaghetti. The meatball's global charm however, is that it will absorb whatever you give it (think curry sauce!) offering a million possibilities to explore within the basic formula and every culture seems to have their own take as well as the usual contradictions; which meat to use, whether to fry or bake, or if bread and eggs get included. This recipe for albóndigas guisadas — meatballs stewed in a sofrito-laced sauce — is the version I grew up eating.
Granted, meatballs are always a little fastidious to make but if you plan ahead you can make it in stages. The sauce can be made ahead and refrigerated or frozen. Likewise, the meatballs can be formed and frozen for later use. To me, these meatballs are so nostalgic and always worth the effort.
How To Make Albóndigas Guisadas
Different than your classic Nonna's meatball sauce, these albóndigas cook in a rich sofrito sauce; a sautéed mixture of peppers, onion, garlic and tomatoes along with a few herbs and spices. The sauce does not need a long cook time so it becomes only slightly thick but not too pulpy — more like the consistency of a salsa sauce. I love adding capers and/or olives for the unique flavour they add, but if you wish to leave them out add a splash of apple cider vinegar, or red wine vinegar, a few minutes before the sauce is ready.
The albóndigas I remember eating were made exclusively with ground beef or a blend of beef and pork. To make them a tad healthier I use lean ground turkey and to me, it's hard to notice any difference but use whichever ground meat you wish, it all works. I skip the browning — too messy and not really necessary — and instead let them sort of poach in the sauce where they become very tender and flavourful. There is nothing fancy about the ingredients for these stewed meatballs, yet the flavours are un-deniably delicious and like all braises or stews, it gets even better the next day.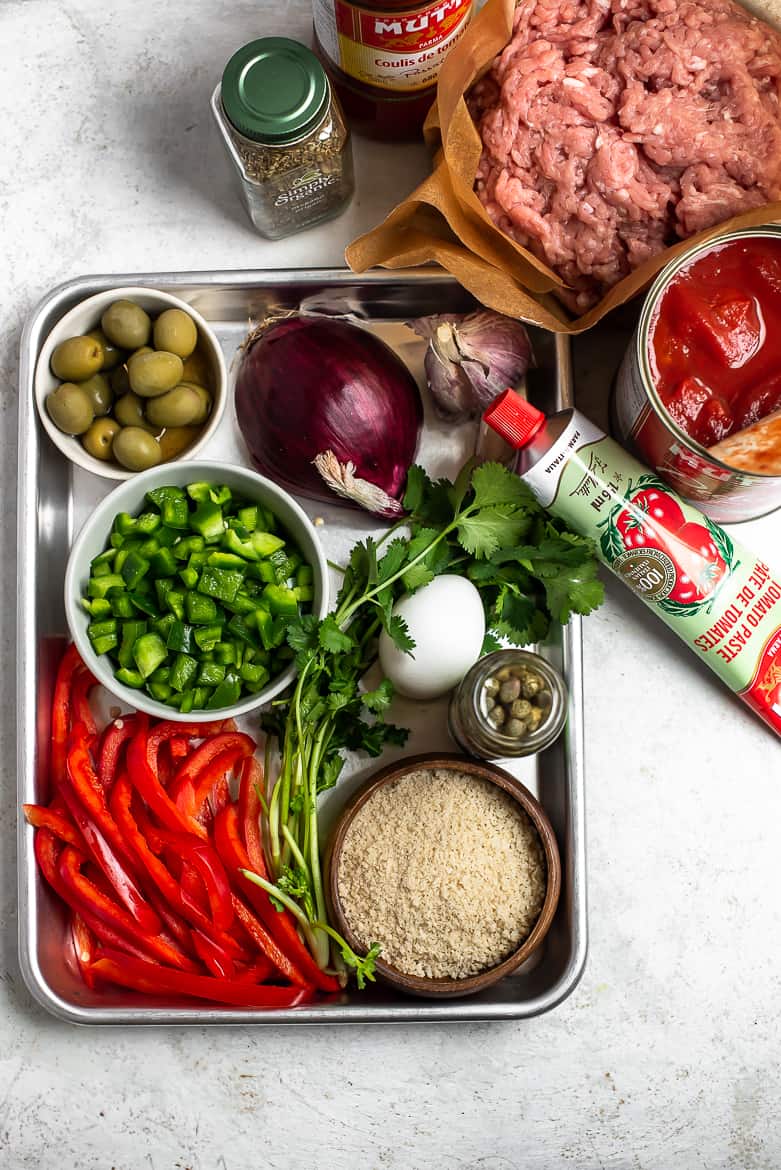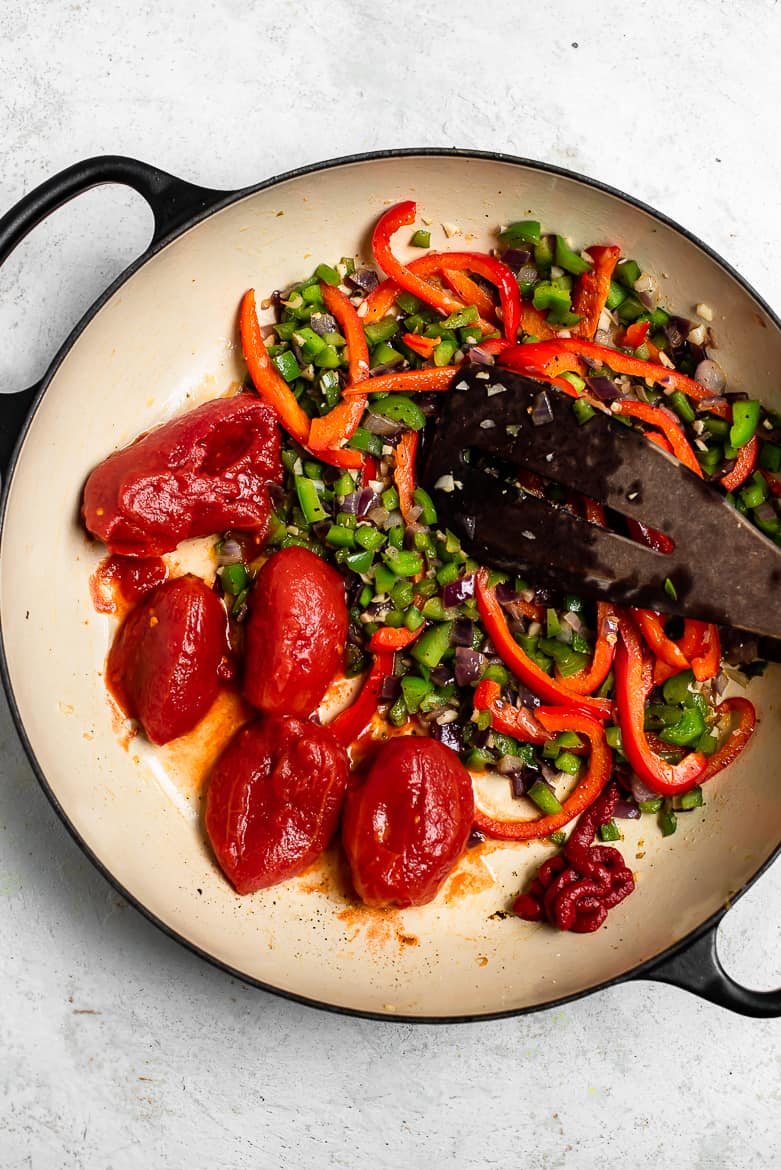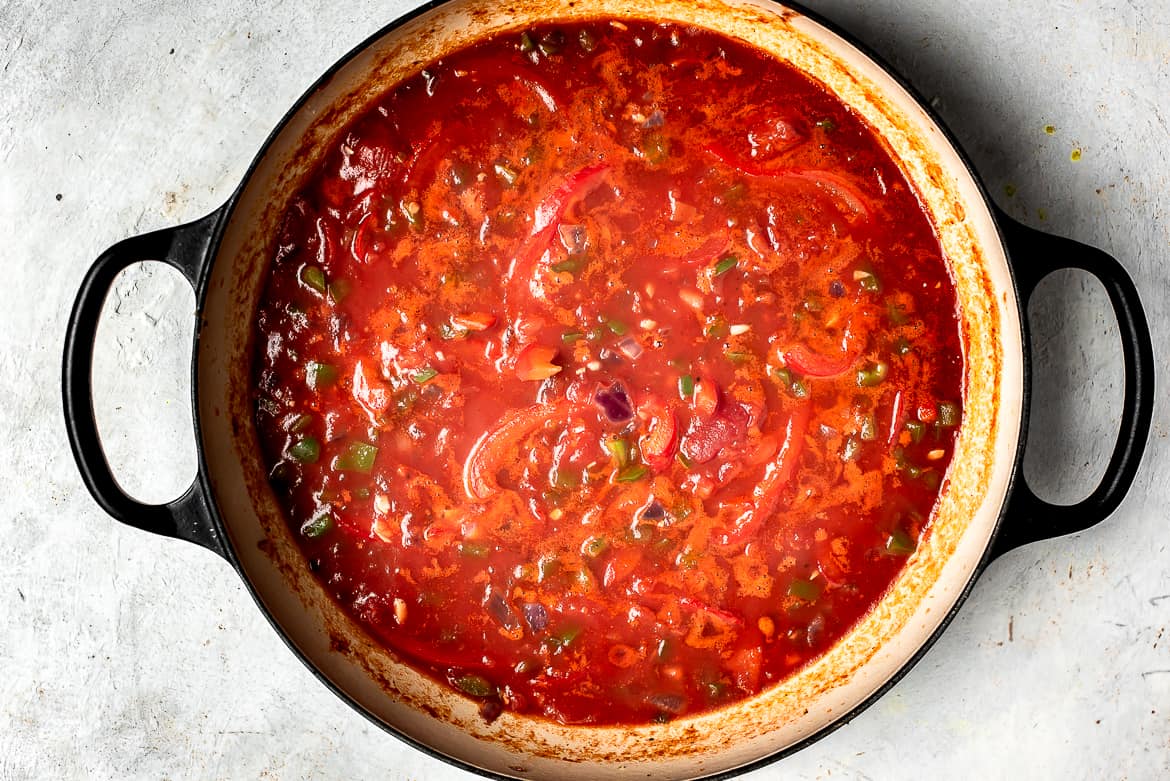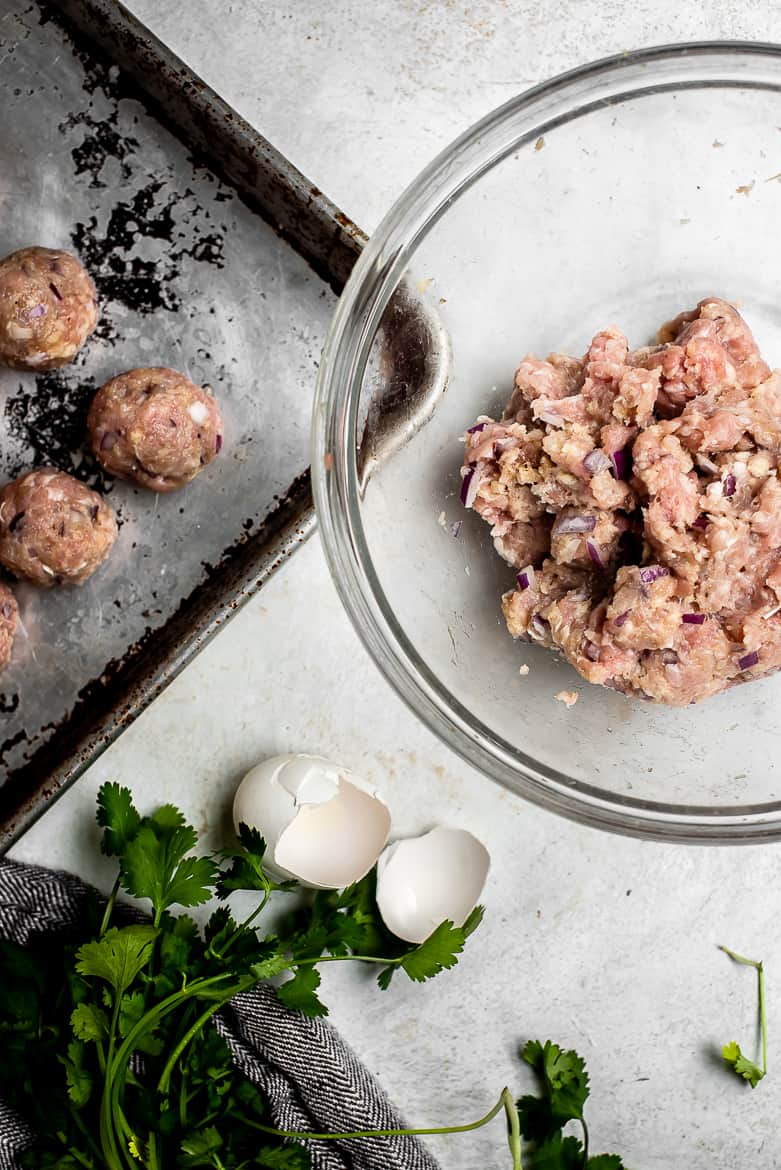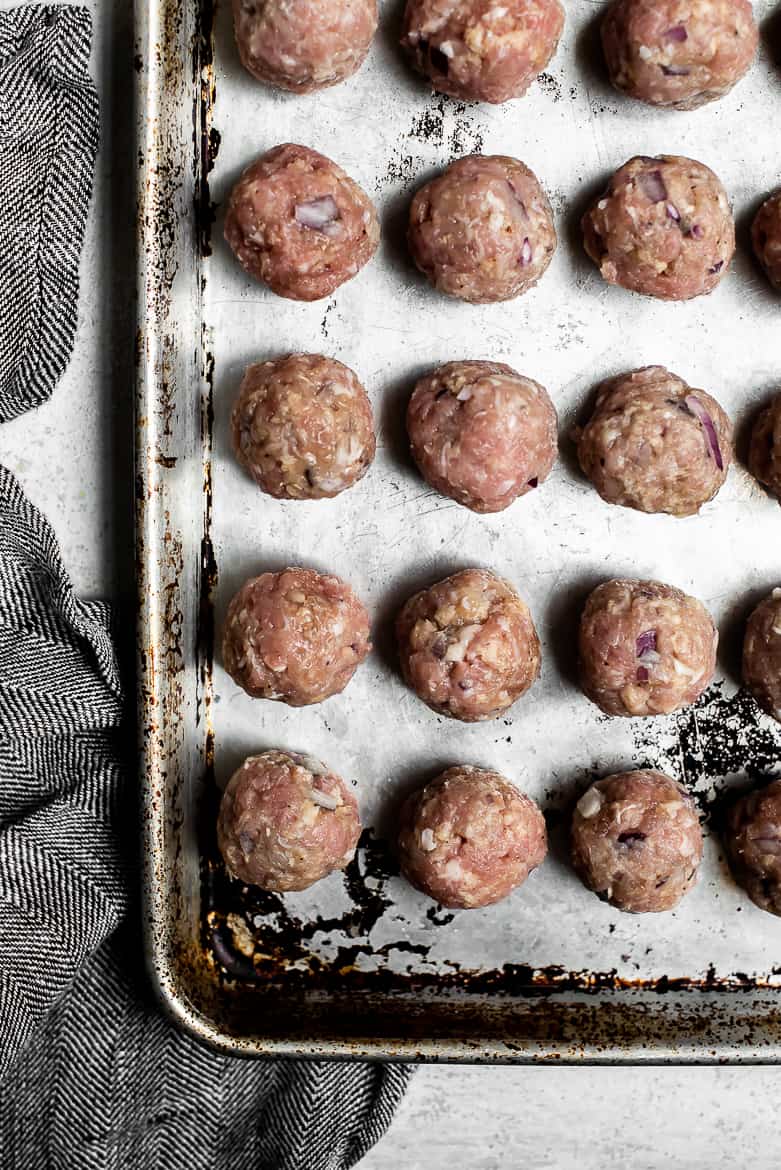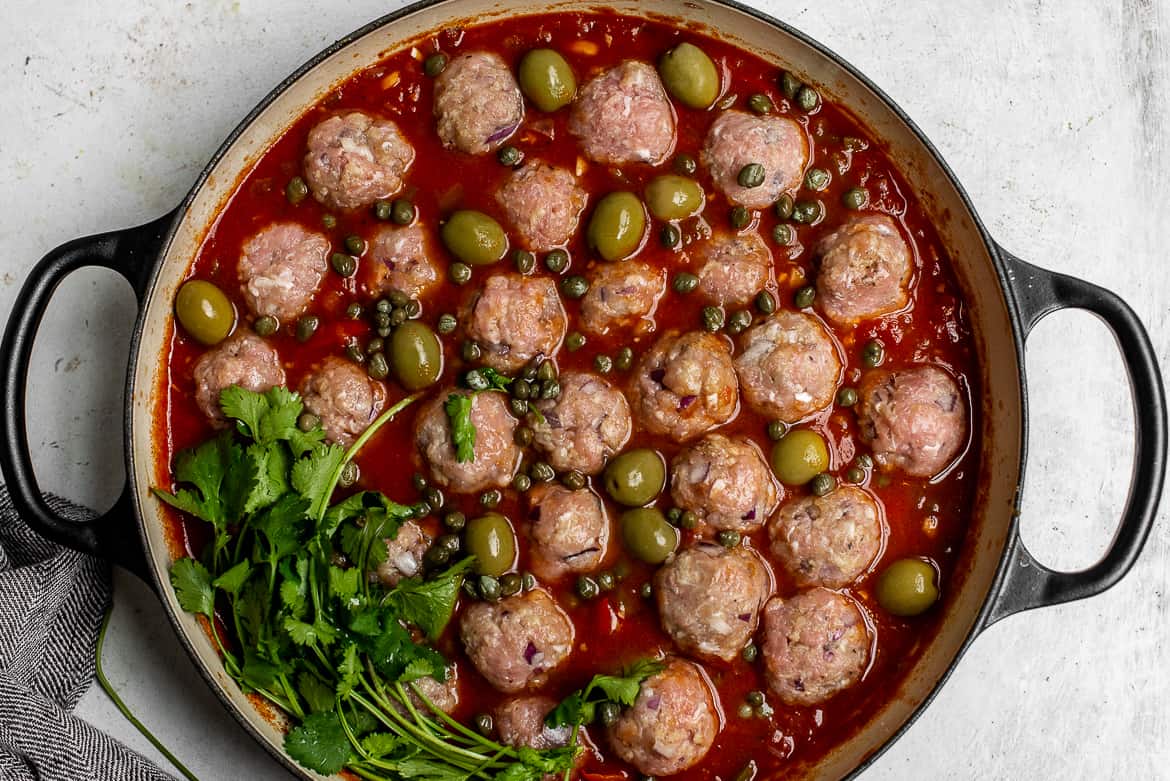 How to Serve Albóndigas
These ridiculously delicious albóndigas guisadas can be served with toothpicks for a fun tapas-style appetizer. Naturally, I also love to serve the meatballs as a meal with rice and beans and a crunchy green salad, but I can't imagine anyone would scoff if you served them Italian-style over some buttery egg noodles. Enjoy!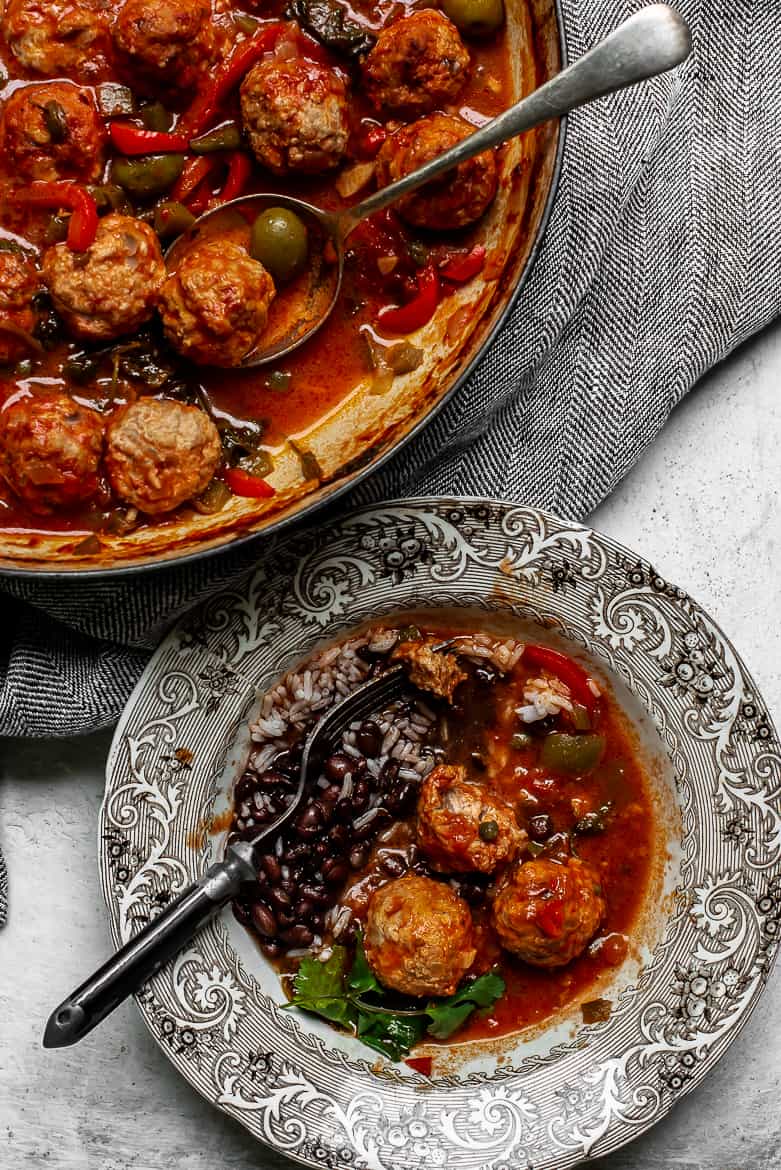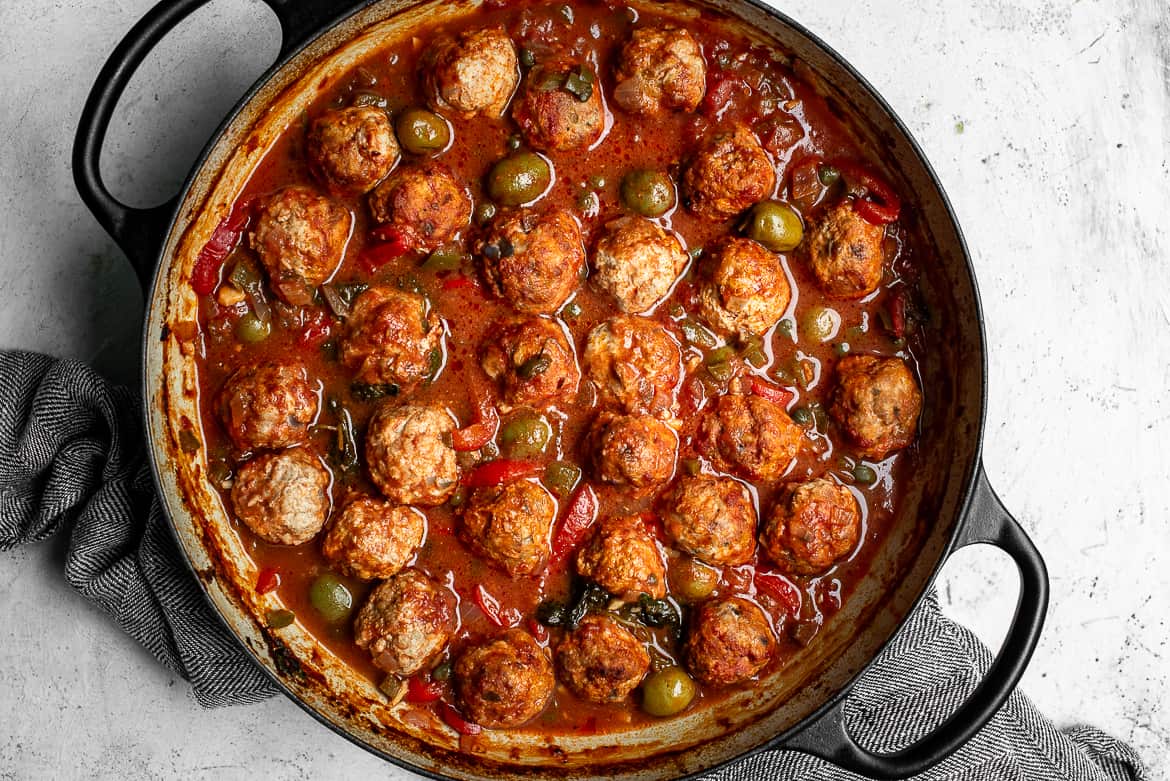 Ingredients
For the sauce

2

Tablespoons

extra-virgin olive oil

1

small red or yellow onion

diced

2

garlic cloves

minced

1

green bell pepper

diced

1

red sweet pepper

sliced thinly or diced

4

medium tomatoes

chopped or 1 can whole tomatoes, drained

1

Tablespoon

tomato paste

1 1/2

cup

of tomato sauce

use only 1 cup if using canned tomatoes

1

teaspoon

dry oregano

1

teaspoon

kosher salt

or to taste

Freshly ground black pepper to taste

1 1/2

cup

of water

a handful cilantro sprigs plus more for garnish

2

tablespoons

of capers

optional

1/4

cup

green olives

optional

For the meatballs

2

pounds

lean ground turkey

1

egg

lightly beaten

1

cup

breadcrumbs

I used panko

1

small red or yellow onion

finely diced

2

garlic cloves

grated or minced

1

teaspoon

kosher salt

Freshly ground black pepper to taste
Instructions
In a large lidded sauce pan, heat olive oil over medium heat. Add onion and peppers and sauté until soft, about 5-7 minutes. Add garlic and sauté 1 more minute. Add tomatoes, tomato paste, tomato sauce, oregano, salt, and pepper. If using canned tomatoes, crush with a wooden spoon, add the water and cilantro sprigs and lat come to a gentle boil. Reduce heat to low, cover and let simmer for 5-10 minutes.

Meanwhile, in a large bowl, combine ground turkey, egg, breadcrumbs, onion, garlic, salt and pepper. Using wet hands, mix all the ingredients well until everything is combined. Form meatballs, wetting hands as needed, to about the size of a golfball.

Carefully add the meatballs to the sauce and cook, covered, about 15 minutes. Uncover and add the capers and olives if using. Cook uncovered another 10 minutes. Taste and adjust seasoning. Serve with white rice and beans, if desired.