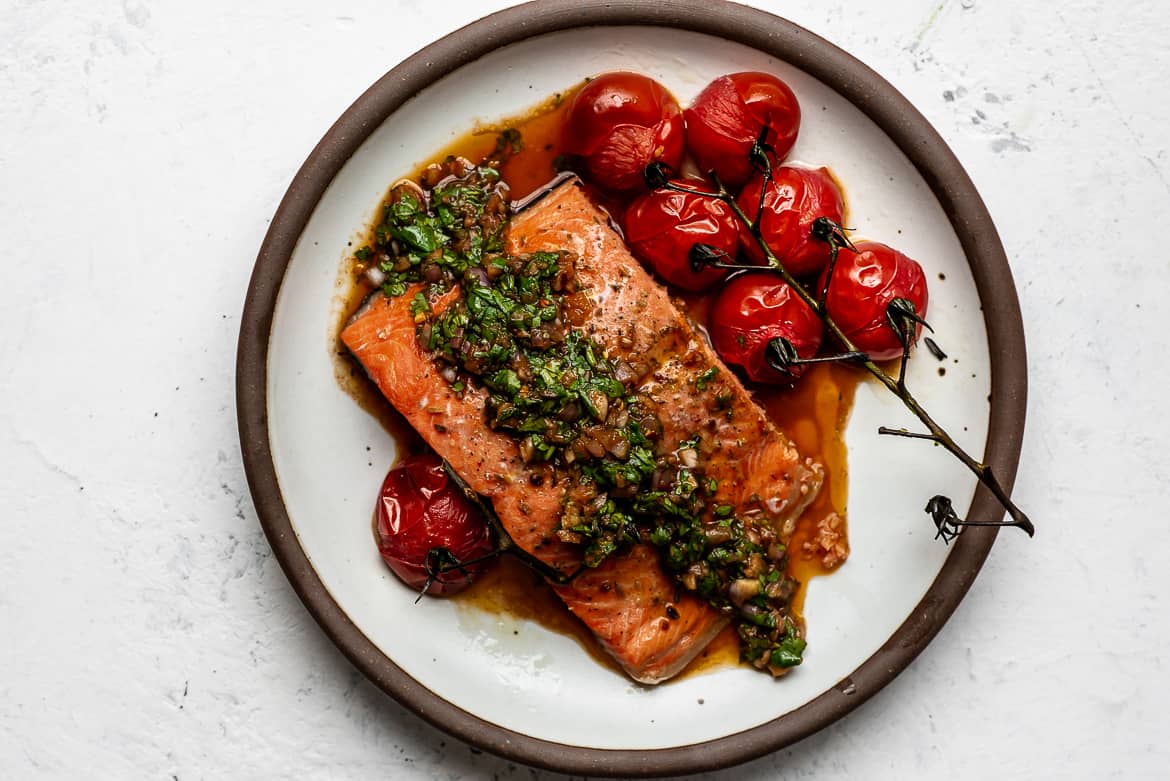 I have a deep love for chimichurri — the ultra versatile Argentinian sauce traditionally served with grilled steak or grilled fish and chicken, but also excellent with roasted or grilled vegetables. The rustic, punchy flavour of chimichurri is achieved by hand-chopping fresh parsley (or cilantro – my preference), fresh oregano, garlic, and shallots and then adding a good dose of tangy vinegar and olive oil. It is one of my favourite condiments to have on hand, especially during summer.
To switch things up a bit I thought I would finally try the red version of Argentinian chimichurri that I had been eyeing in the La Gran Cocina Latina cookbook for a while. The award winning cookbook is written by Maricel E. Precilla and focuses on the cuisines of Latin America. But it is so much more than a book with recipes. It is a history book on Latin food that is also filled with captivating stories of the Latin American people. For years now I reference it often for inspiration in my own kitchen and it always takes me back to the familiar tastes and ingredients I grew up with. If you have a passion for eating or cooking Latin food, this one should be on your list.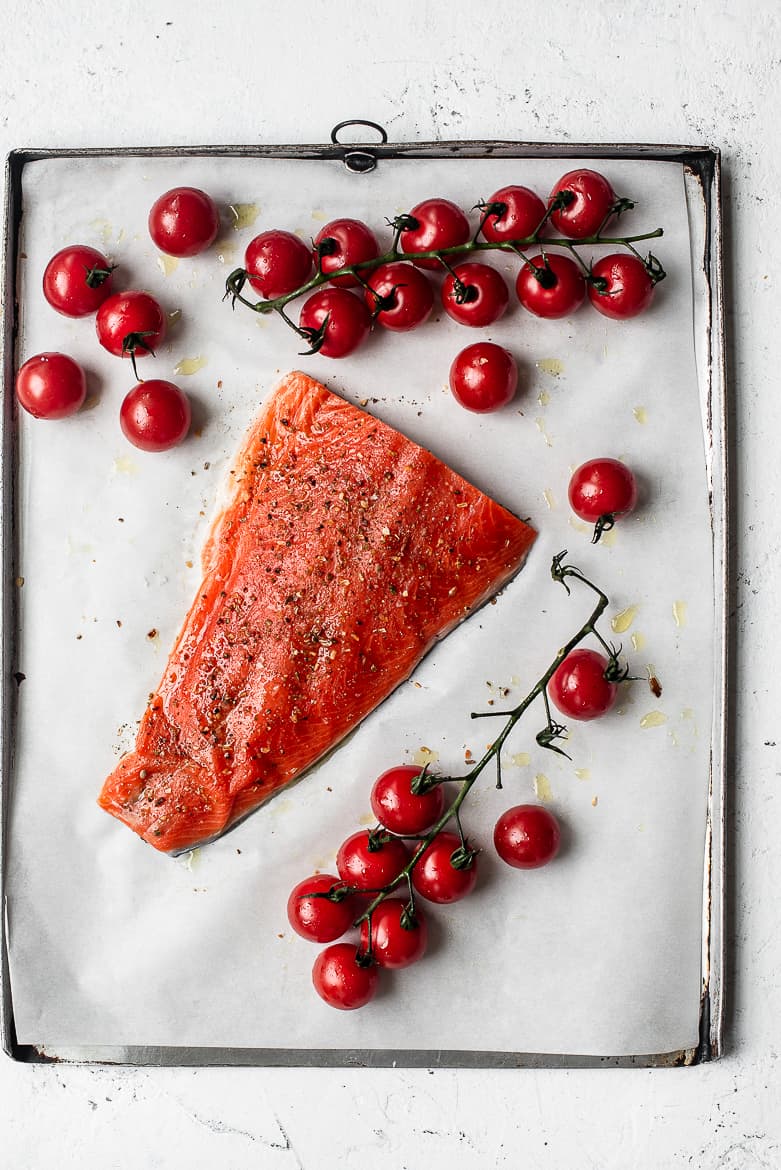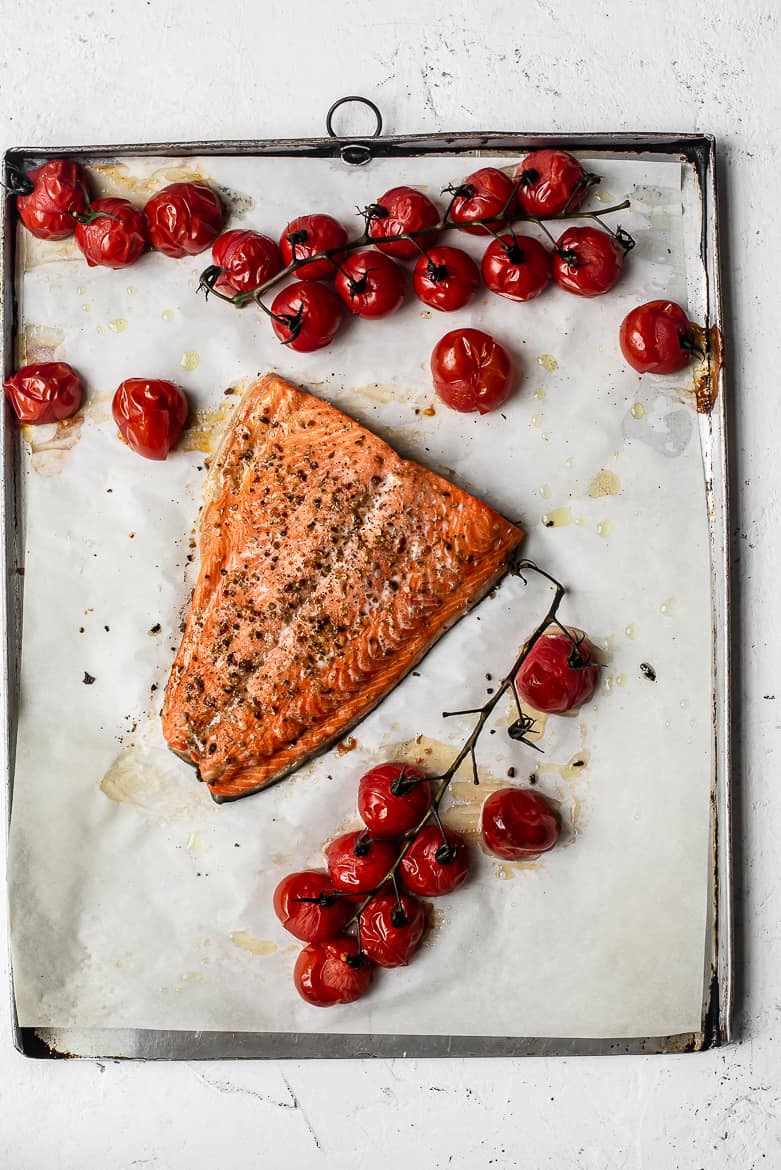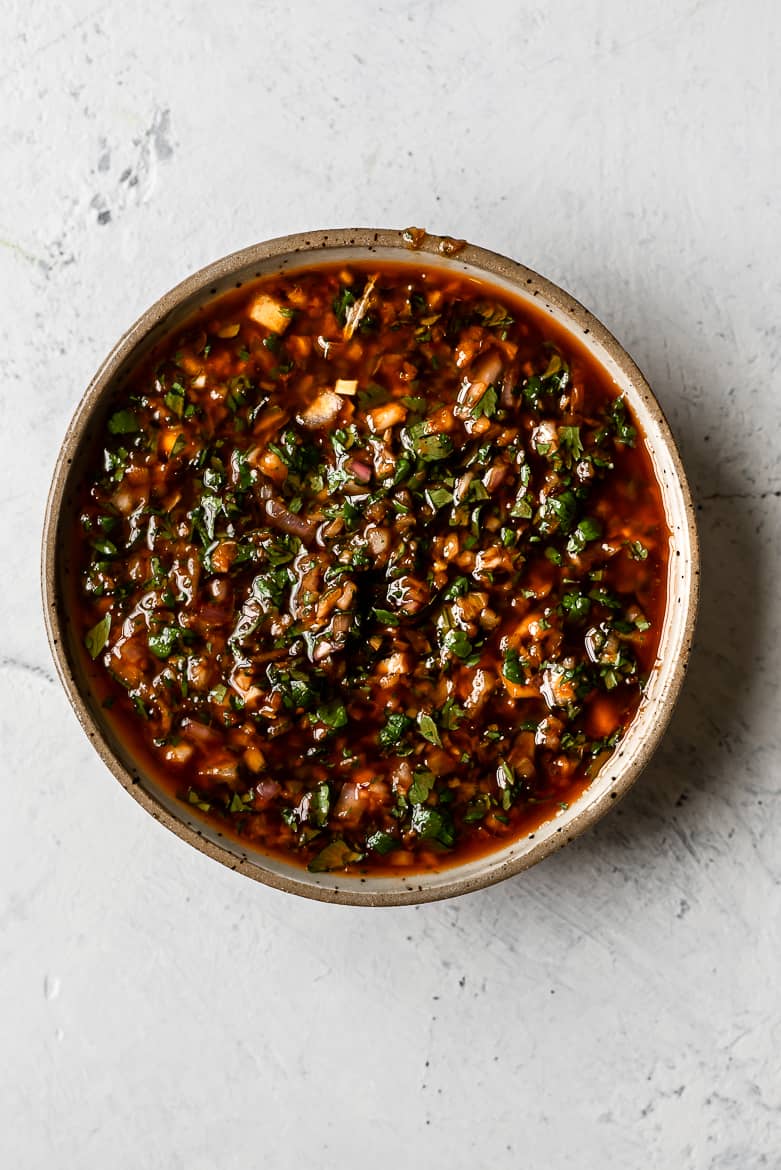 Let me tell you that if you like the traditional green chimichurri you will for sure like this red chimichurri sauce. It is just as vibrant and delicious with an irresistible smoky-taste thanks to the smoked paprika and pepper flakes. The amount of garlic (a whole head!) sounds scary, but trust, the other bold ingredients in the recipe can handle it and the result is nothing short of divine. I recently drizzled it over a simple baked salmon and it was such a knockout I had to share.
I sort of miss the days when I was not aware of all the concerns regarding sustainability, industrial chemicals, mercury and toxins in our water. These days, however, I am unfortunately (or fortunately) acutely aware, and concerned, about where my food comes from, especially seafood. Below I mention a few important things to consider when purchasing salmon, including what salmon you should buy and what you should avoid.
The Healthiest Salmon To Buy
Salmon is loaded with heart-healthy, brain-boosting omega-3 fats and is an excellent source of potassium. Furthermore, salmon contains astaxathin, a  powerful antioxidant that makes it the ultimate anti-inflammatory food. All great reasons to include salmon in your diet. There are quite a few varieties of salmon to choose from and different species will vary in colour, flavour, and price, but if you buy wild-caught, they are all healthy choices. King or chinook, prized for it's high fat content, is rich in omega-3s and has a lovely buttery texture. It is also the most expensive, and not as easy to find. Sockeye has a deeper red colour, is a little oilier with a stronger flavour and is great for grilling and pan frying. Coho salmon has a mild flavour and is also lighter in colour. If you see the label "Alaskan" on salmon, it is always wild-caught.
What Salmon To Avoid
When salmon is labeled "Atlantic" it ways means it is farmed-raised and best to avoid. Aside from the detrimental impact that fish farms have on the environment, farmed fish are usually raised in pens where they are fed soy and food colouring and often become infected with parasites. In efforts to improve the heaIth of farmed fish they get treated with pesticides and antibiotics which are then transferred to us if consumed.
For all these reasons, groups like seafoodwatch.org have put nearly all farmed salmon on their "red" or "avoid" list. Also important to note, there is no such thing as "organic" farmed salmon. The USDA has not officially regulated salmon so don't pay more for salmon that is labeled "organic".
Is Fresh Better Than Frozen?
Because wild-caught salmon is only in season a relatively short time, from May – October, a lot of it is flash-frozen when caught to preserve it for shipping or to sell at a later date. This makes frozen salmon a great option to buy when not in season and it is what I used in this recipe for the salmon with red chimichurri sauce.
How To Thaw Frozen Salmon  
The best way to defrost a piece of vacuum-sealed, frozen salmon or fish, is to place it in the fridge overnight or for about 6 hours. This will be the best method to preserve the flavour and texture of the fish. If you are in a hurry, place it in a pot of cold water for about 20-30 minutes.
Salmon Cooking Tips
Salmon is incredibly easy to cook and needs nothing more than a little drizzle of oil, salt and pepper to taste wonderful. Though the recipe I am sharing today is for a baked salmon, there are many other ways you can cook salmon such as pan-searing, broiling, grilling, and even slow roasting. However, because wild-caught salmon is not inexpensive here are a few tips to ensure your salmon stays moist and flavourful regardless of what cooking method you choose.
Do not overcook your salmon. It is best to undercook it by a few minutes because it will continue to cook once off the heat.
Wild-caught salmon is thinner than farmed so try and buy the thickest piece you can so it will hold up a little longer during cooking.
If possible, leave the skin on which protects it from drying out. You can always remove the skin when serving if you wish.
If baking salmon, broil it for 1 minute towards the end to give it a light crispiness.
What To Serve With Baked Salmon
With spring produce popping up everywhere, the sides to serve with this salmon are truly endless. Baked cherry tomatoes are always irresistible and the bonus is you can bake them in the same tray as the salmon since they will cook in the same amount of time. Ditto for in-season asparagus which are almost almost here. Keep it easy and serve it with a simple green salad such as this one. If making this salmon during chillier months, roasted sweet potatoes, or baby potatoes, or this cauliflower purée, would be really nice.
Regardless of the season, when you make this recipe be sure to always have some crusty bread to dunk into the leftover addictive red chimichurri sauce. Enjoy!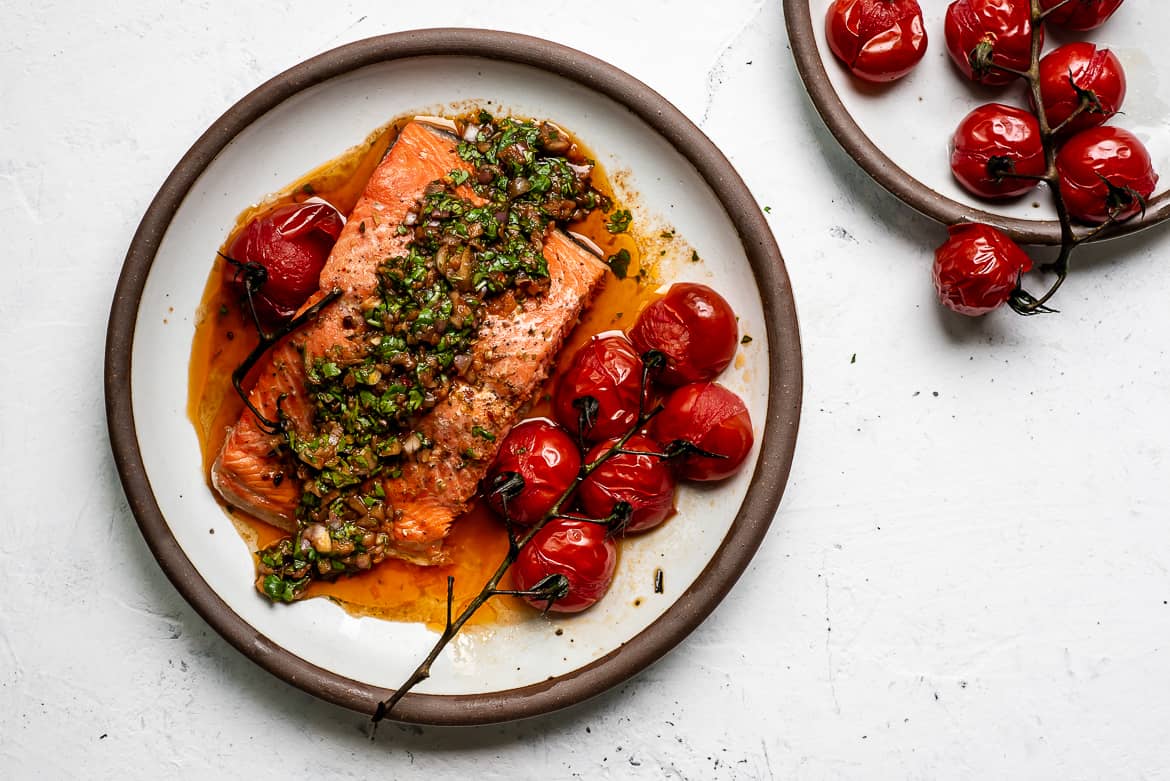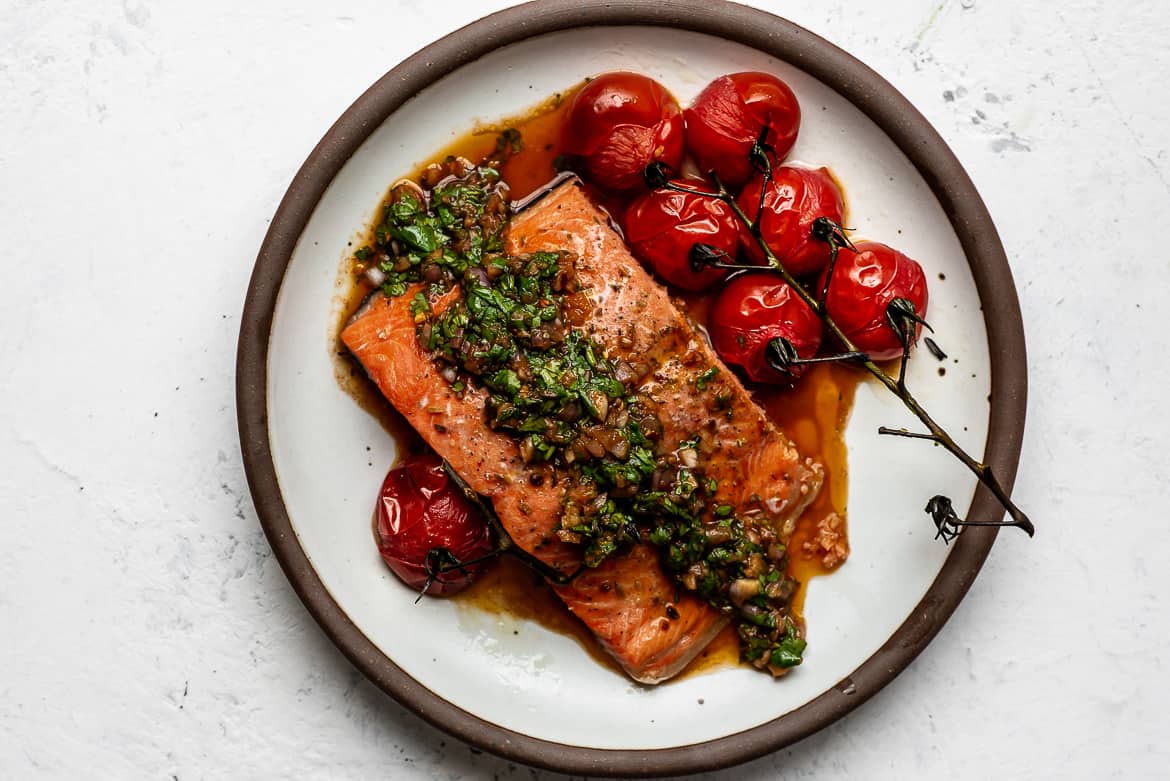 Ingredients
For the Red Chimichurri Sauce:

3/4

cup

fresh cilantro

finely chopped

1

large head garlic

about 10 cloves peeled and minced

2

large shallots

finely chopped

1/4

cup

fresh oregano

finely chopped (or 2 teaspoons dried)

1

Tablespoon

Spanish smoked paprika

hot or sweet

1

Tablespoon

crushed hot red pepper flakes

or less to taste

1/2

cup

red wine vinegar

1/2

cup

extra virgin olive oil

1

tsp

freshly ground black pepper

salt to taste

For the Baked Salmon:

1 12-16

ounce

filet of wild salmon

frozen is fine

1

teaspoon

extra virgin olive oil

Salt and pepper to taste
Instructions
Preheat oven to 425°F and line a rimmed baking sheet with parchment paper.

To prepare sauce: In a medium bowl, whisk together all the red chimichurri ingredients until well-blended. Leave at room temperature for 1 hour or refrigerate, in a well-sealed container, for 2 to 3 weeks.

To prepare salmon: Pat salmon dry with paper towels. Place salmon skin-side down on the prepared baking sheet. Rub with the olive oil and sprinkle with salt and pepper. Bake until it flakes easily with a fork in the thickest part, 8 to 10 minutes per inch of thickness. To serve, spoon the red chimichurri sauce over top of the salmon and serve immediately with extra sauce on the side.