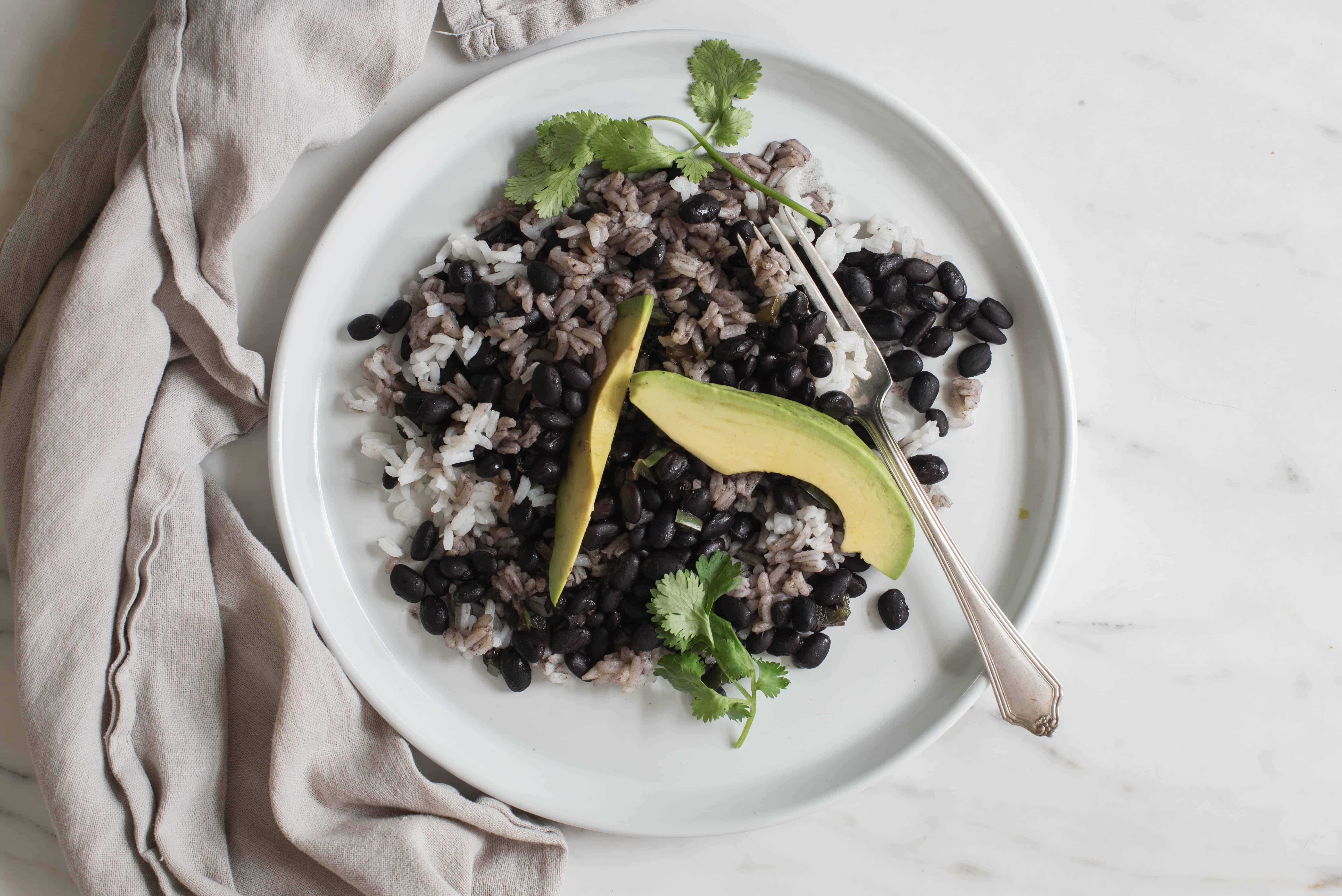 There is probably nothing else in the world that gives me more comfort than a pot of beans slowly simmering away on the stove for hours. The preparation is easy, the end result hugely rewarding. On a slow morning or afternoon, I will pour out a bag of dried beans into a bowl, quickly pick through them to search for small stones and then rinse them before dumping them into a large pot and covering them with water. Sometimes they sit like this for a few hours, sometimes I start to cook them right away. I don't think the beans mind which method I choose, they are always delicious. Once they come to a boil, I skim off the foam and lower the heat. I toss in a bay leaf and nothing more. Then I let them be as they simmer away slowly.  Soon the house smells like heaven, kids start coming around asking what's for dinner. Most of the time I'm not even sure. The possibilities are endless. Would you like tacos, I ask, or perhaps chili, but really I'm always hoping the vote will be for rice and beans, my favourite.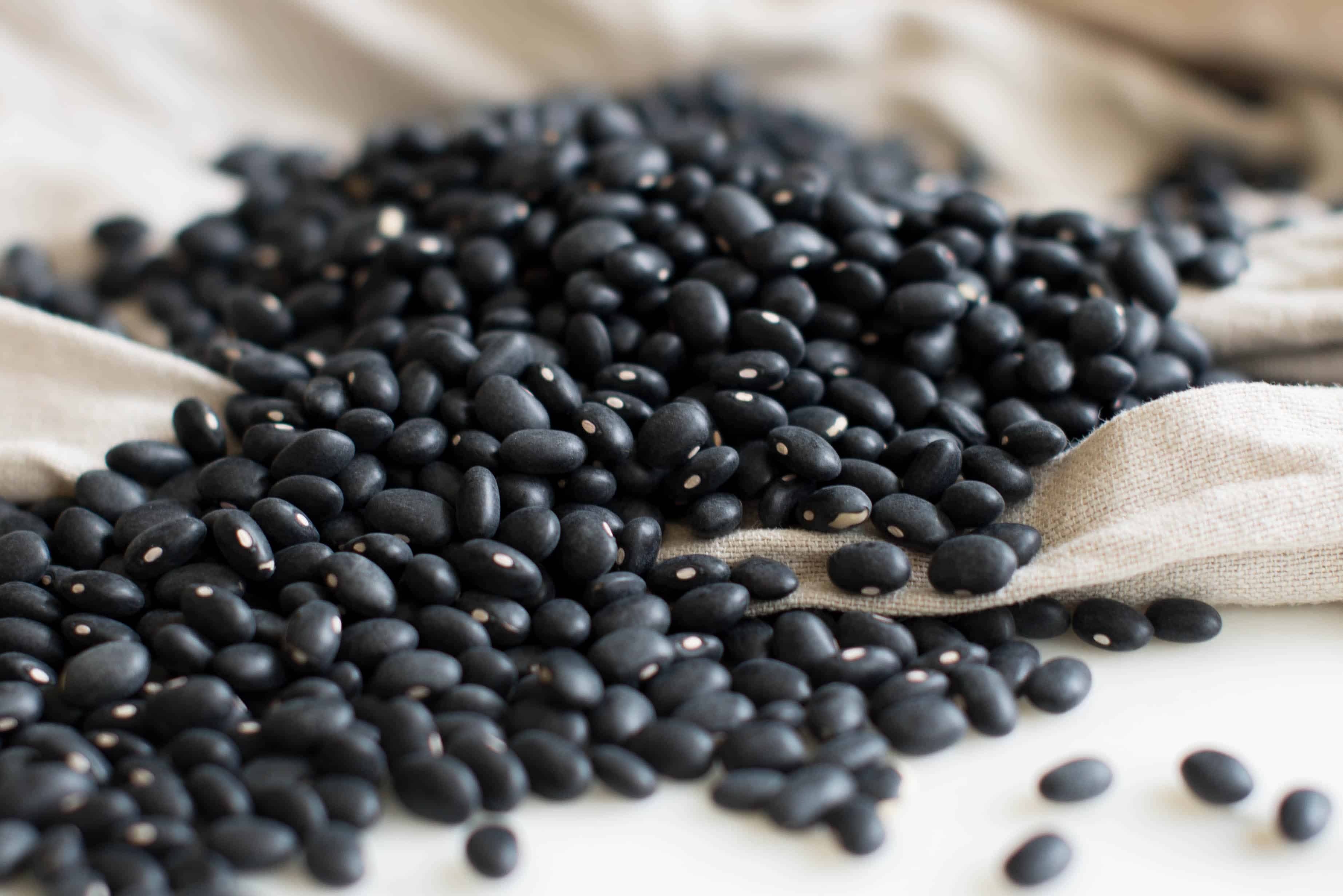 When I moved to Canada from The Dominican Republic many, many years ago, I missed everything I left behind. Used to a culture and cuisine so different from Canada's, at times the nostalgia seemed unbearable.  It took a few years, but I slowly started to teach myself to cook recipes that were once a part of my everyday. Rice and beans was one of them. I was a very picky eater in my youth and my mom swears that it was my almost daily consumption of rice and beans that kept me healthy, perhaps even alive (she exaggerates, I think).  I experimented a lot, using only beans from a can since I was too intimidated to try the dry ones. "My Beans" were good and they made me happy. But they were far from great.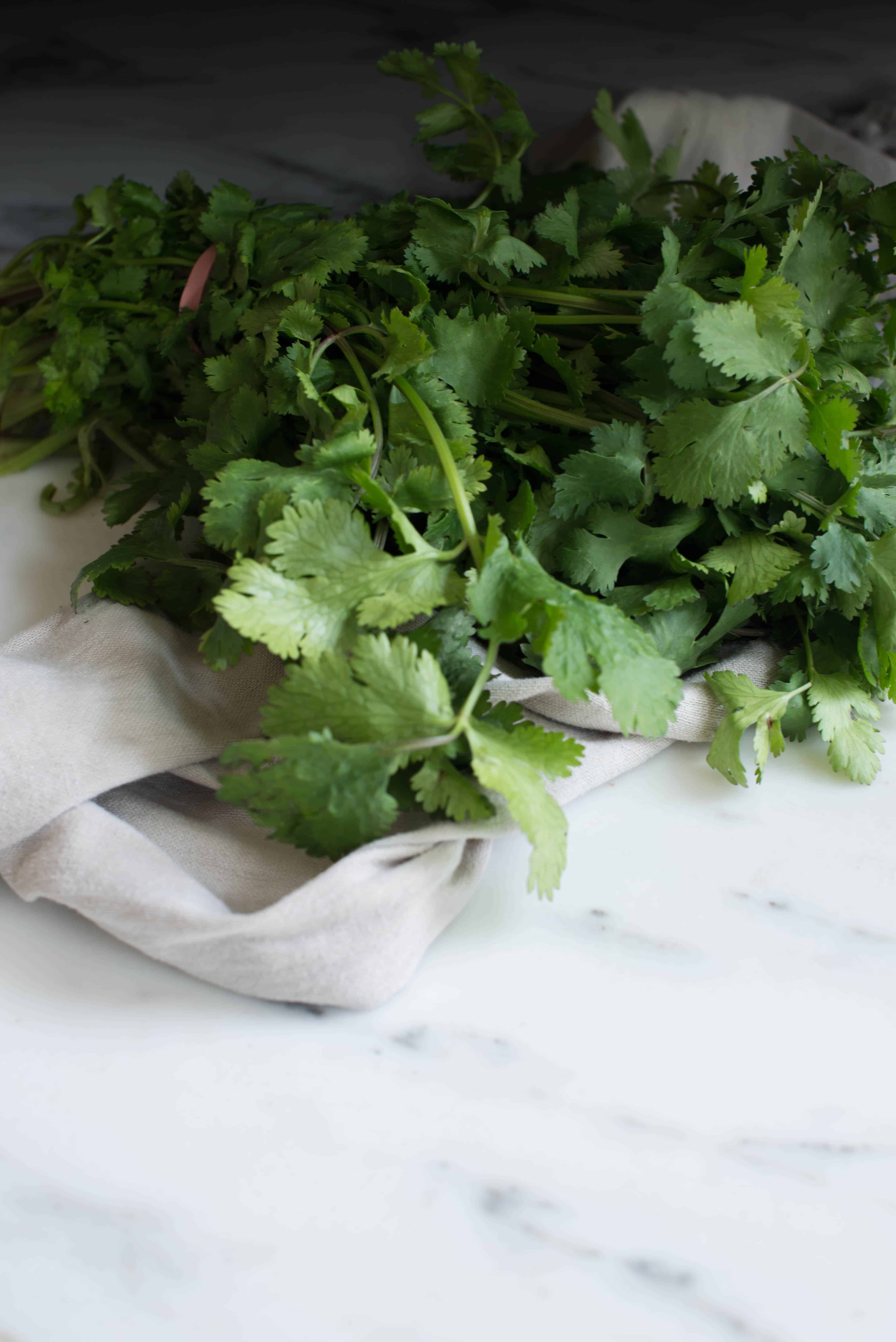 My mom finally explained I was missing the sazón. An intensely pungent and greenish uncooked seasoning made from sweet Caribbean peppers, culantro leaves, and wild Dominican oregano. Once this sazón is sautéed, it becomes the sofrito. She told me stories of how some of her friends traveled with homemade jars of pureed sazón to bring to relatives that lived abroad. Apparently, this concentration of flavours could not be re-created anywhere else. What I would have given for one of those jars. She also informed me that if I wanted my beans to actually taste like something, I had to start using fresh beans. So I did, and along the way I started to make my own sazón, I learned to adjust this and that, I found acceptable ingredients to substitute, and soon enough, my version of "rice and beans" became more than good enough, it became really good.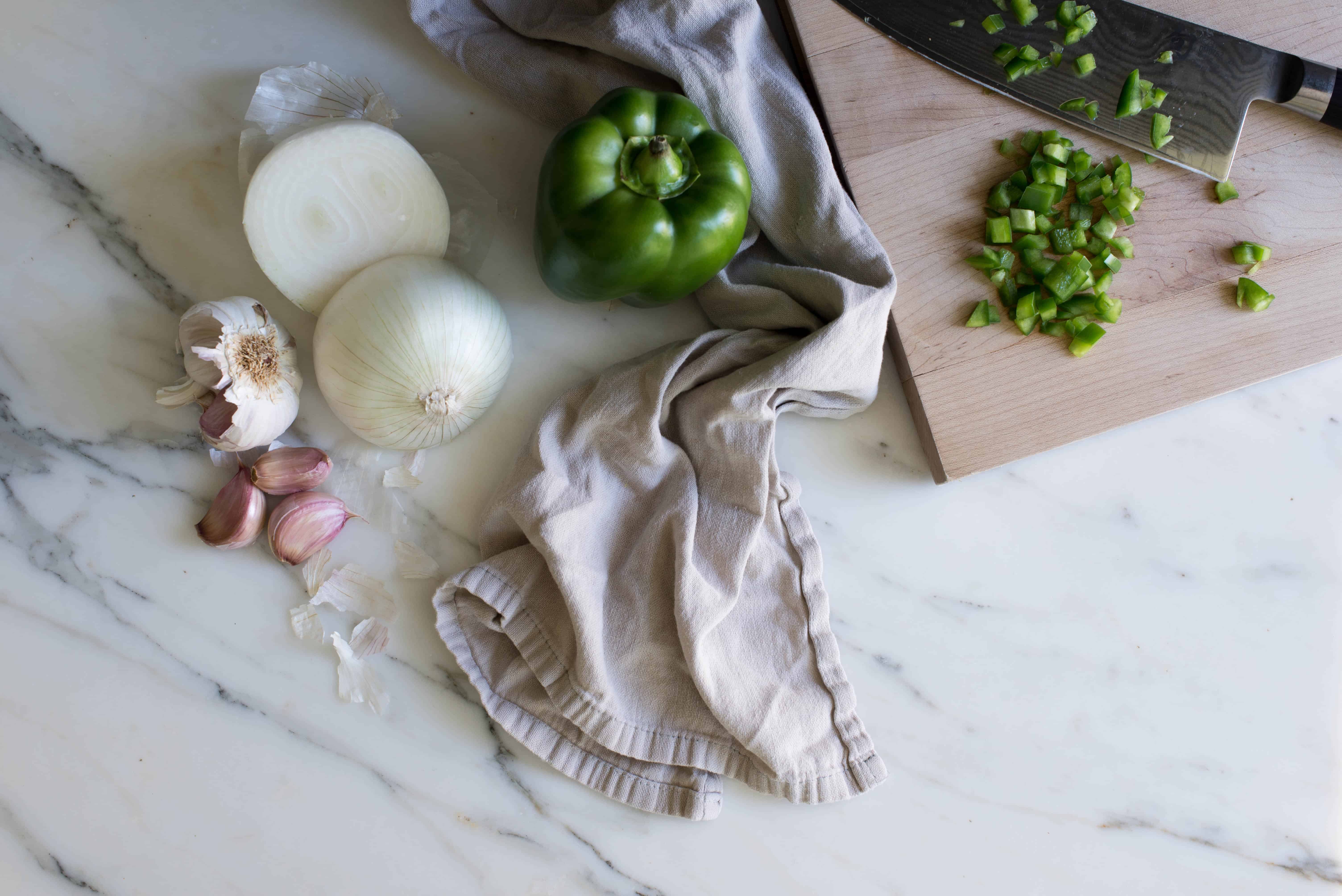 Canned beans are great. I always have canned beans, especially black ones, in my pantry since they are great for the quick weeknight dinner. We all love and need the easy go-to tin of beans and I have added a quick recipe in the notes below. But if you haven't yet, try your hand at dried beans. They are easy to make, very inexpensive, and a lot more flavourful and nutritious than canned. You will be able to taste their earthiness, their silky and creamy texture, and they will surprise you with their plump meatiness as they still hold their shape. With very little effort, you will have beans that reward you in so many ways. Nutritionally, it is important to note that black beans in particular have an exceptionally high fiber content and offer more antioxidants than any other type of bean. They are a great way to boost your intake of calcium, iron and folic acid, as well as a very low-fat source of protein that boosts energy levels without raising your blood sugar. In short, if you aren't cooking with them, you are missing out.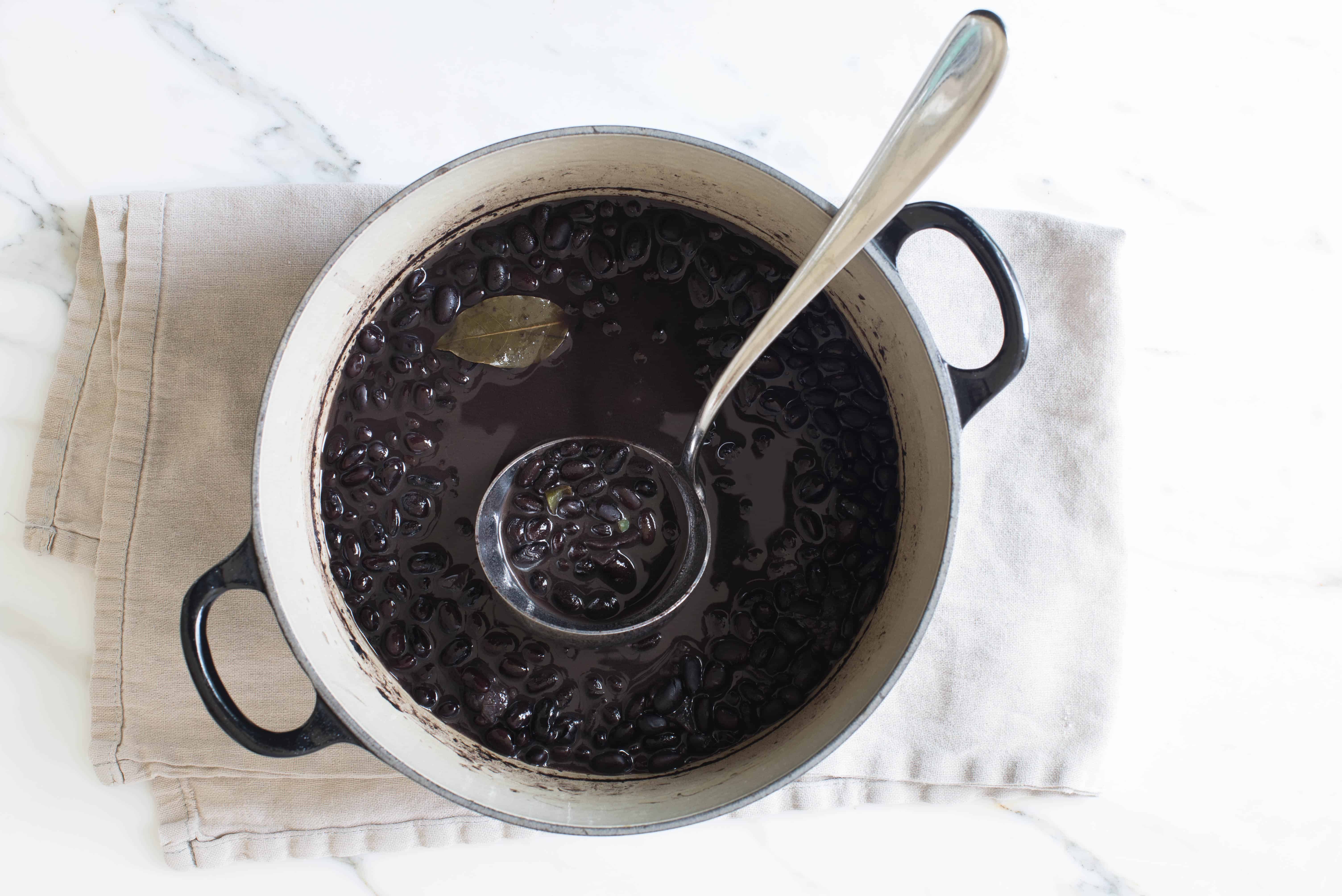 There is a lot of controversy on whether to soak or not soak dried beans. Many reputable chefs, including Mexican cooking authority Diana Kennedy, vouch for the non-soaking method. If your beans are fresh, less than a few months old, soaking is not really necessary. If they are older than that, and hopefully not much older, they might benefit from a 4-6 hour soak. I now almost never soak for longer than a few hours, or not at all. I find the beans stay darker, more uniform, and have more flavour and the difference in cooking time is not that significant.  Soak or don't soak, that can truly be your call, and the jury seems to be still be out on that one. However, if you soak, use the soaking water for the cooking as well. According to Steve Sando, the bean guru and owner of Rancho Gordo which produces one of the finest heirloom beans in the world, believes "vitamins and flavour can leech out of the beans into the cooking water you are pouring down the sink." He also believes you shouldn't wait until the beans are done cooking to salt them, he likes the results of salting them half-way. I do the same.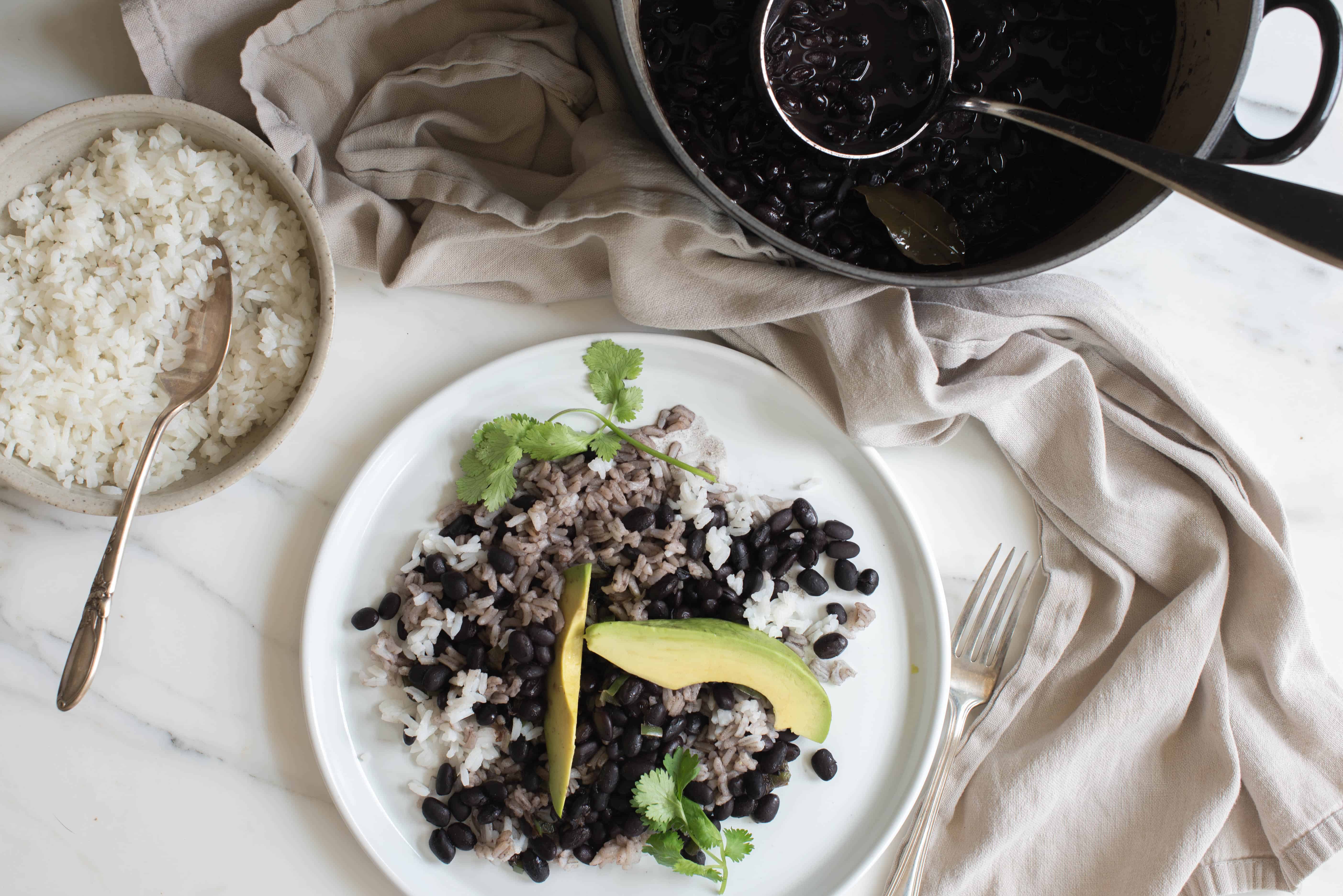 I have cooked beans in the oven, on the stovetop, with salt, without salt, covered, uncovered, soaked and not soaked, you name it, I have tried it. And I still do not feel like I have mastered a technique. Beans are unpredictable, and there doesn't seem to be an exact science for any particular method, but they are very hard to mess up, and correcting mistakes is easy; add more water if they seem dry, blitz them into a creamy soup if you overcooked them and they turned to mush, add more spices if they seem bland. I promise you, these little beans are very forgiving.
The following tips apply to cooking all dried beans from scratch:
To ensure you are buying the freshest beans, buy them from a store with a high turnover.
If you have old-ish beans, then do soak them for 4-6 hours or overnight.
Sort through your beans to make sure there are no small stones or twigs.
Season with a generous amount of salt towards the end, but not the very end.
Cook covered at a very low simmer.
Start tasting for doneness after 1 hour and taste every 20 minutes after that.
To quickly thicken a bean sauce; once beans are cooked and tender, remove about 2 cups of the beans and liquid and place in a medium bowl. Mash the beans with the back of a spoon and then add back to the pot of beans.
Store leftovers for up to 5 days in the fridge or freeze for up to 6 months.
Beans that have been cooking in a pot for hours are so delicious and earthy that you don't need anything more than salt to serve them. However, adding a sofrito of sautéed onions, chopped green peppers, and garlic once they are tender, will give your beans more dimension. I prefer cumin seeds, toasted lightly and roughly crushed, to the powdered cumin, but whichever you have on hand will do. Typically, I always serve black beans with a side of fluffy white rice. However, for the sake of healthier eating, you can serve them with brown rice or farro (a delicious new favourite!).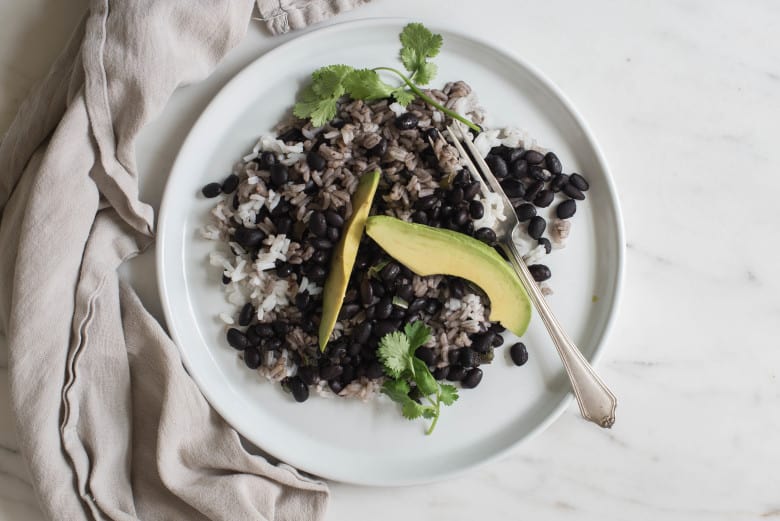 Ingredients
Beans

1

pound

dried black beans

rinsed and sorted through for stones or any small debris

1

bay leaf

2

teaspoons

salt

Sofrito

3

tablespoons

extra-virgin olive oil

1

large onion

diced

1

large green bell pepper

cubanelle, or poblano, cored, seeded and diced

4

garlic cloves

minced

1

teaspoon

cumin

1

teaspoon

dried oregano

1

teaspoon

salt

2

tablespoons

red wine vinegar

optional

Rice

1

cup

long grain white rice or Jasmine rice

rinsed under cold water until it runs clear

1 3/4

cups

water

1

teaspoon

kosher salt
Instructions
Place the rinsed beans and bay leaf in a large heavy-bottomed pot and add enough cold water to cover by 3 inches. Bring to a boil, skimming off any foam that rises to the top. Cover and cook for 1 1/2 hours or a bit longer until beans are tender but not mushy.

When the beans have been cooking for about 1 hour, add the salt.

Meanwhile, make the sofrito. Heat the olive oil in a heavy-bottomed medium skillet over medium heat.

Add the onion, green pepper and garlic, stirring often until onions are translucent, about 10 minutes. Add the cumin, oregano, and salt. Set aside.

Once the beans are tender, add the sofrito mixture to the beans.

Simmer uncovered for 30 minutes until the sauce has thickened.

If using, add the red wine vinegar during the last 10 minutes of cooking.

Taste and adjust seasoning (I almost always find they need a bit more salt).

While the beans are cooking make the rice. In a heavy saucepan add the water and salt and bring to a boil. Add rice and lower to a simmer stirring it well for about 1 minute. Cover and cook undisturbed about 20-25 minutes.

Remove from heat and let stand covered about 5-10 minutes. Fluff rice with a fork and serve.
Notes
Quick Black Beans:
1 Tablespoon extra virgin olive oil
1/2 small onion or shallot, finely chopped
1 garlic clove, finely chopped
1/2 jalapeño, finely chopped (optional)
1 teaspoon dried oregano
1/2 teaspoon ground cumin (optional)
2 15 ounce cans black beans
salt and pepper to taste
Heat oil in a medium saucepan over medium heat. Add olive oil, onion, garlic, jalapeño (if using) and cook for a few minutes until fragrant and soft. Add oregano, cumin (if using) salt and pepper, and beans with their liquid. With one of the empty cans, add 1/2 cup water. Bring to a quick boil then reduce to a simmer. Simmer uncovered for 20-25 minutes. If the sauce needs thickening, mash some of the beans in the pot with a large spoon and cook for a few more minutes then serve.
Accompaniments: white or brown rice, chopped cilantro, sliced avocado