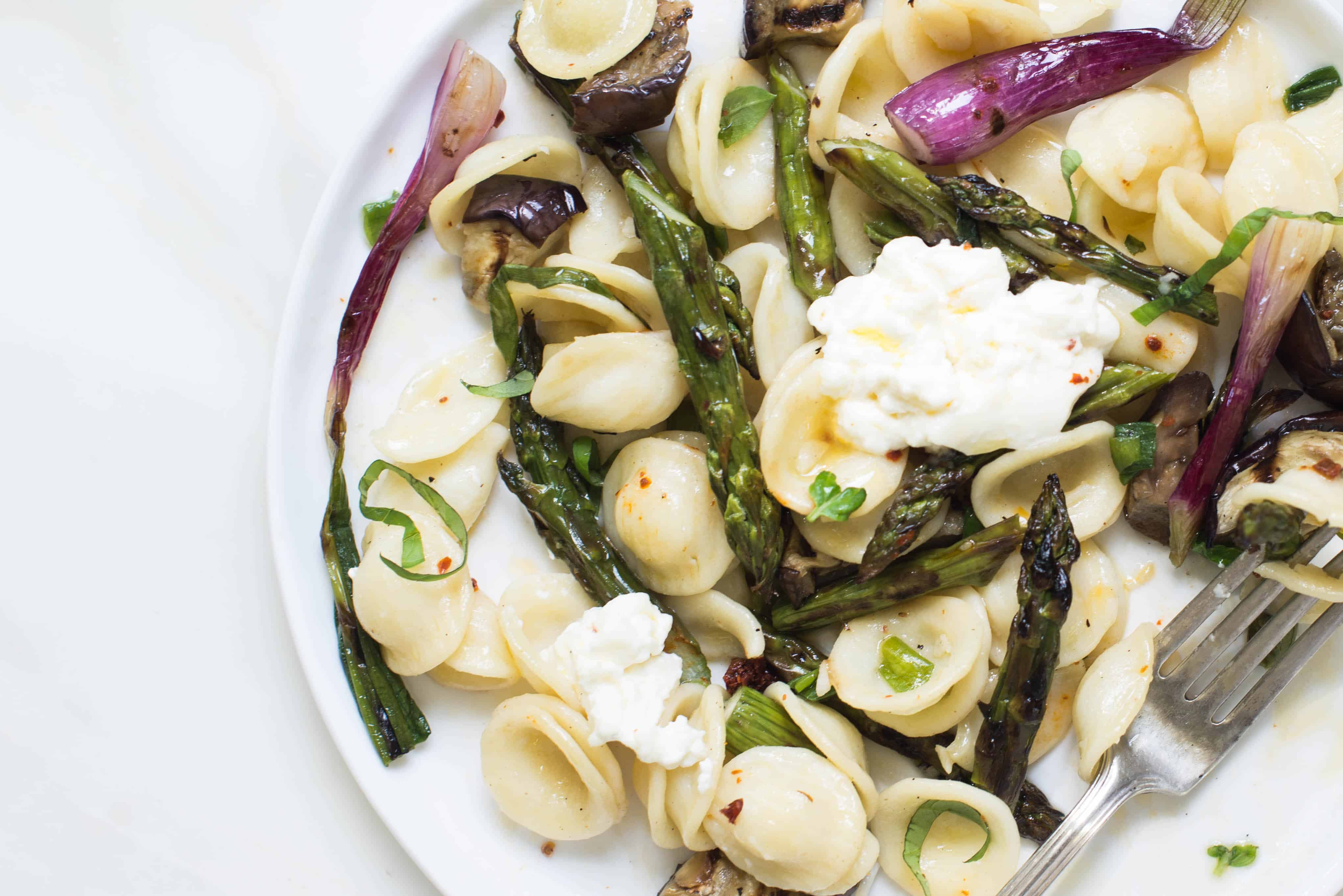 Though all of the asparagus at the farmers market were looking beautiful and irresistible, I was taking my time finding the "perfect" ones. Abundant and freshly picked, asparagus were everywhere, you can be selective this time of year. I came to a stand where a girl was breaking off the woody ends and filling buckets and buckets of just the tips. I almost plunked down my other bags and offered to help her for the rest of the day. Breaking the woody ends off crispy, just picked asparagus seemed very therapeutic to me, but instead I just bought a bucket. I later regretted not buying two.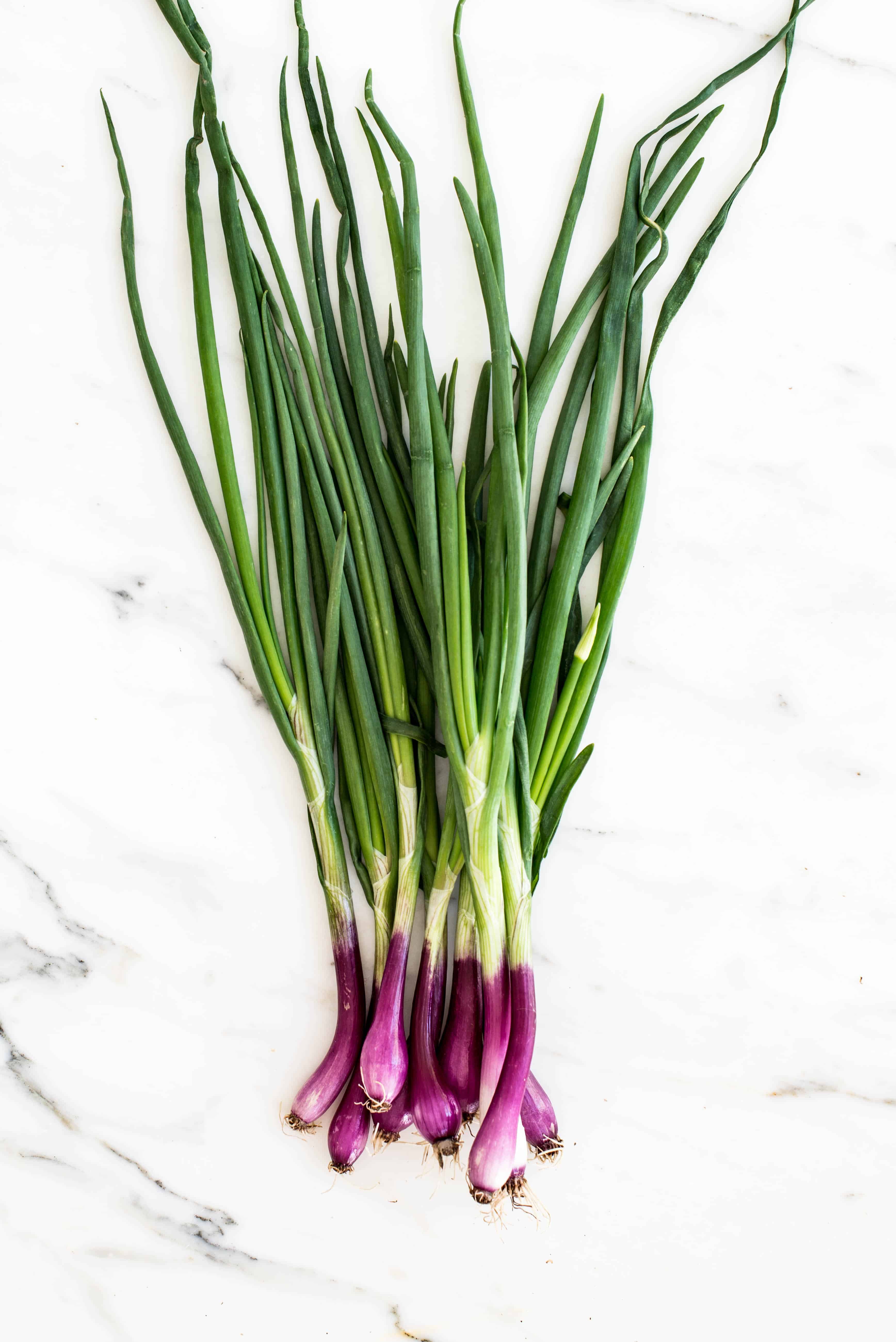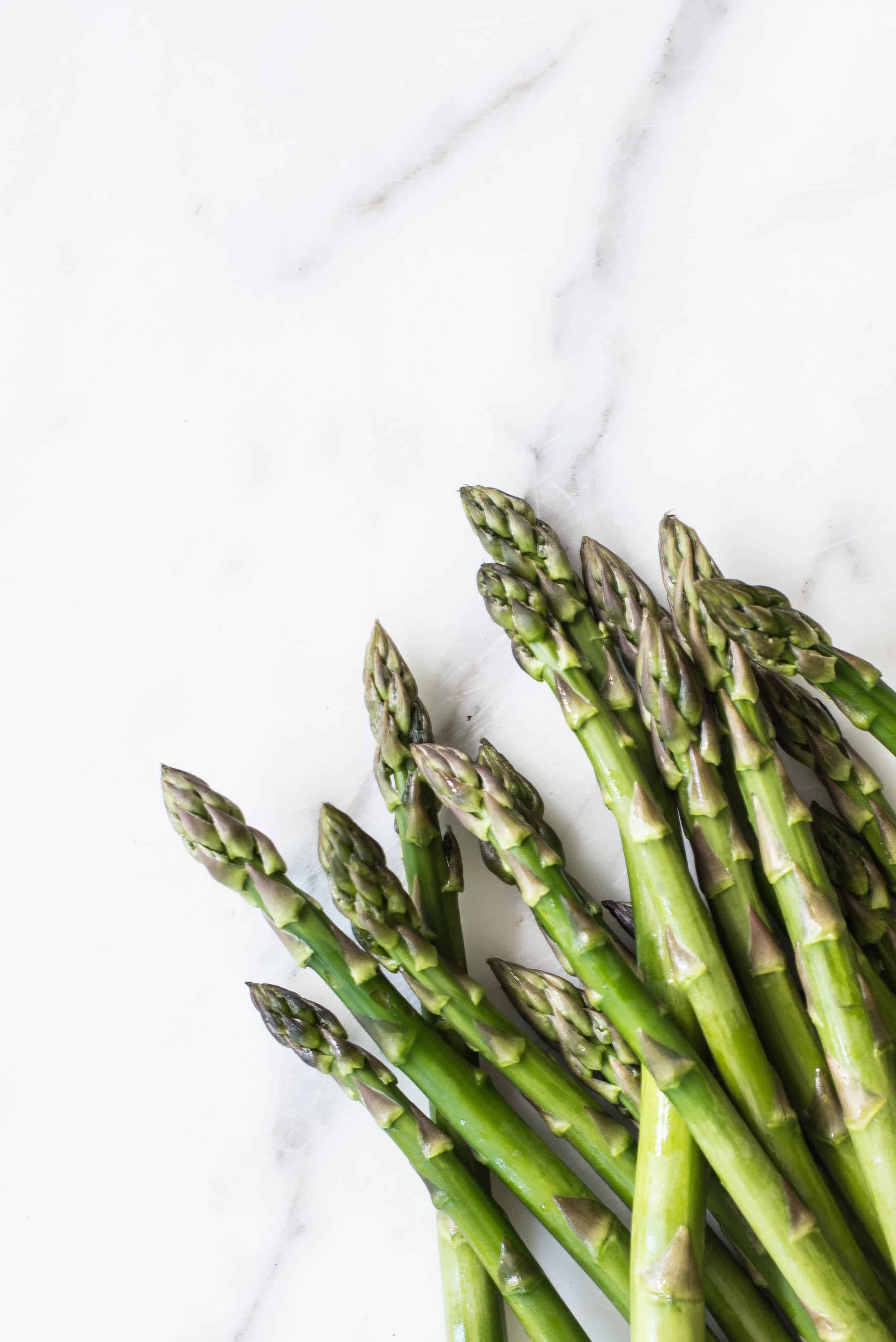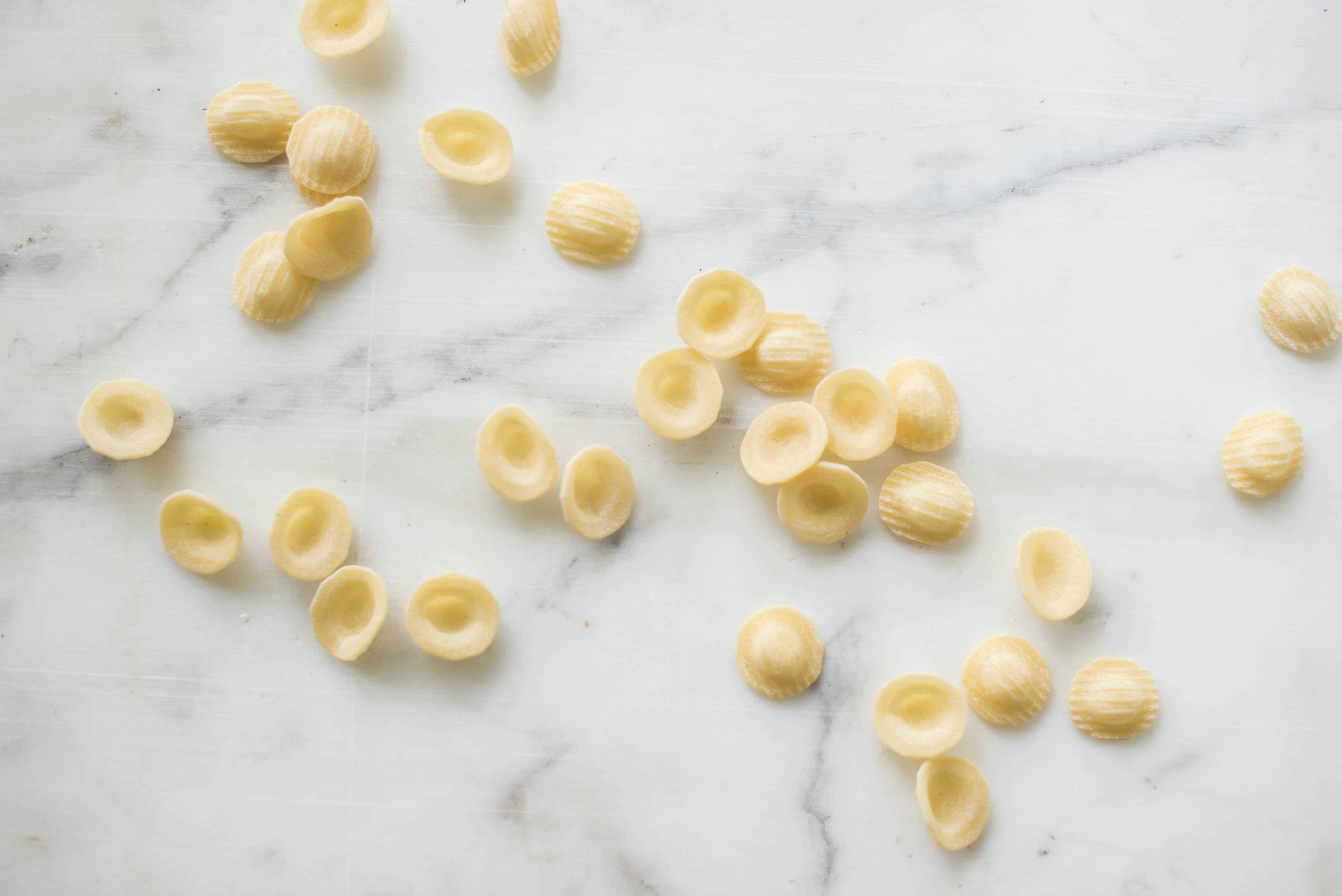 When I stumbled across beautiful purple scallions, I immediately knew what dinner would be. I blame it on Francis Mallman's episode from the Netflix series "Chef's Table", but as soon as it's time for outdoor grilling, I want to char everything. Charring the season's most crispiest and freshest asparagus may seem like a sin, but trust, it is worth it. Something special happens to the flavour of asparagus when you grill them, and it is what made my kids fall in love with them.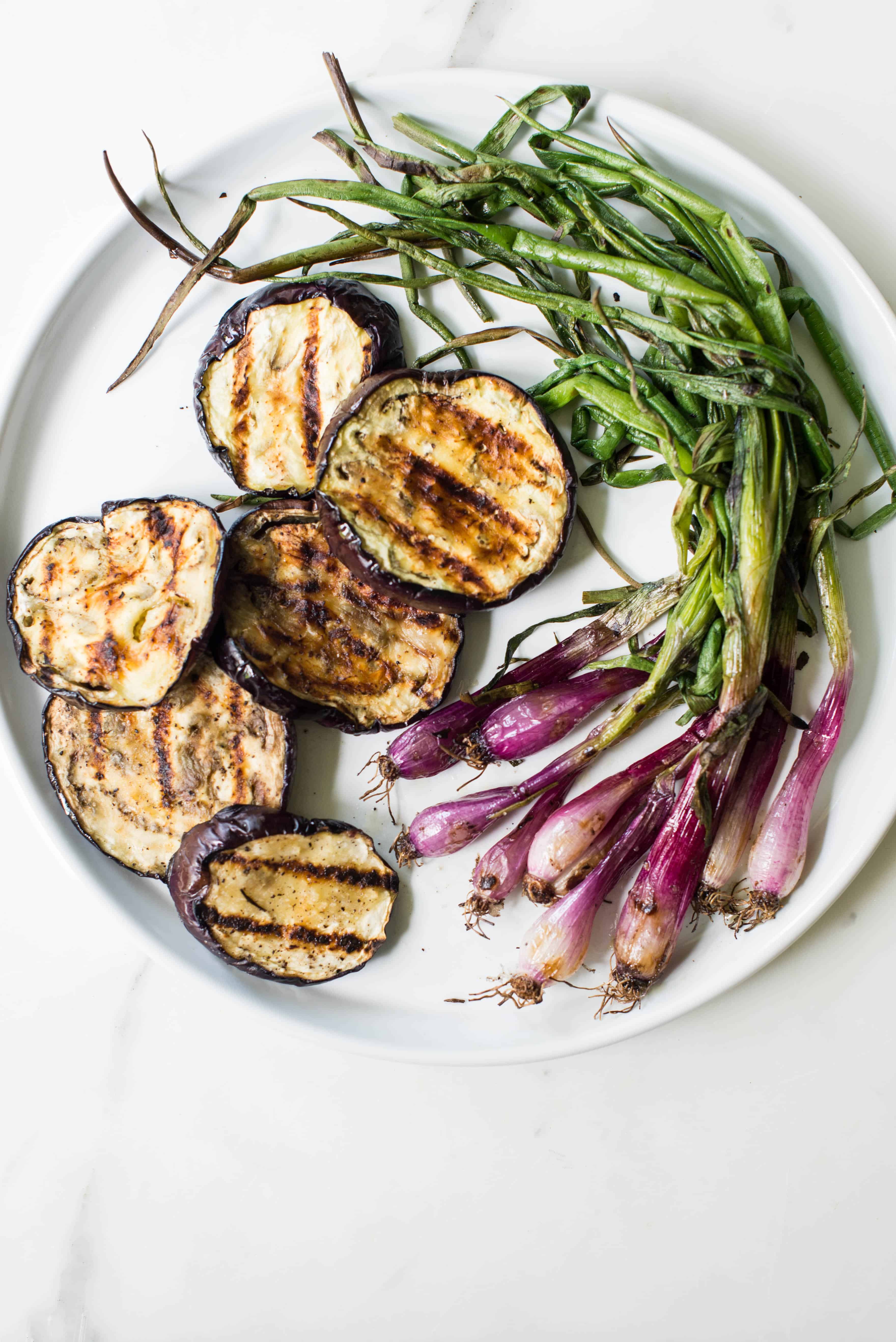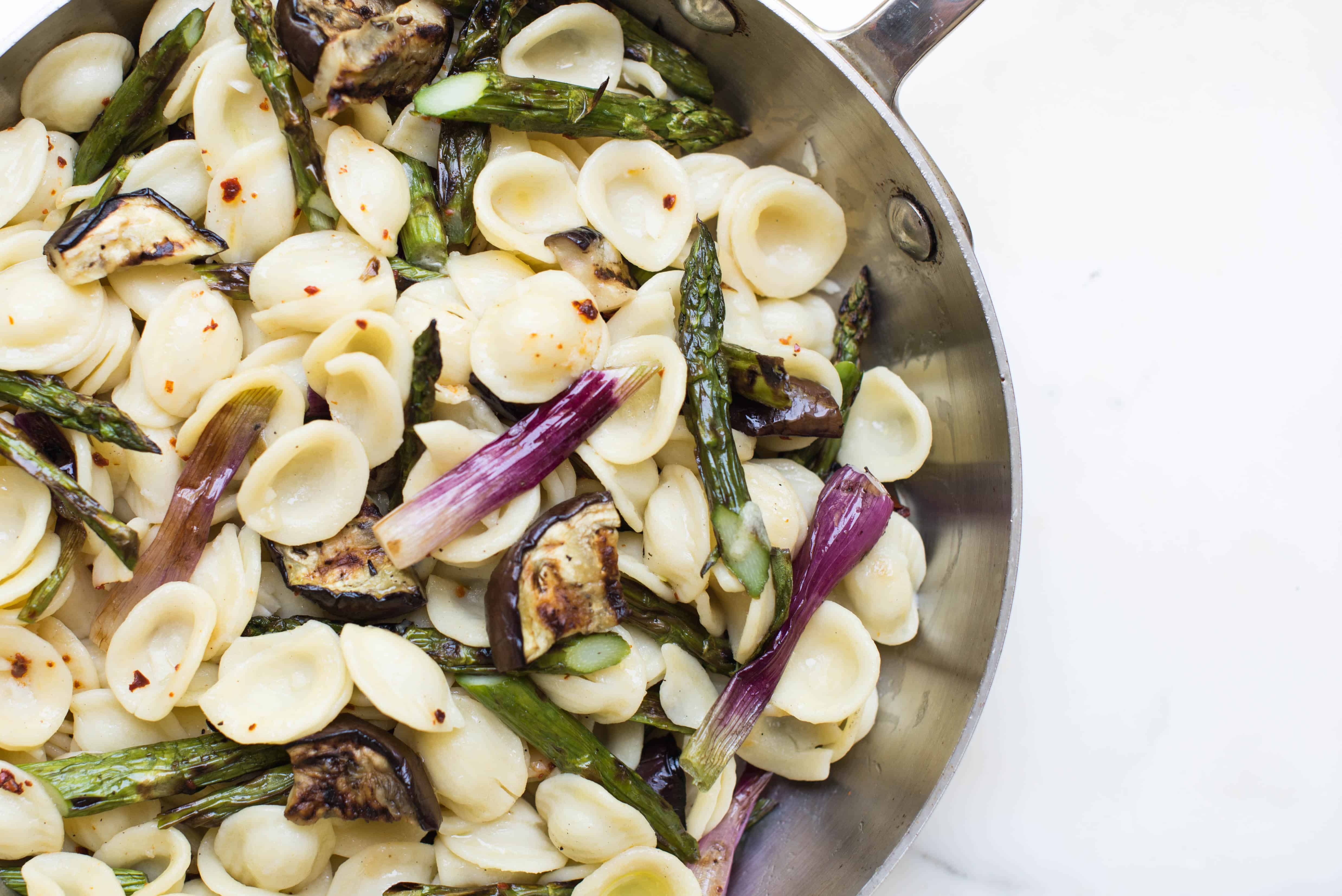 This orecchiette dish is super easy and fresh. Not so much a recipe but more of an inspiration, it is perfect for spring and for outdoor cooking on your grill. The mild flavoured scallions become sweet and juicy when grilled, I have been chopping them into everything. Eggplants made an early appearance at the market, and inspired by this recipe from Food and Wine, I just had to include them. Burrata, of course, makes everything better and though admittedly decadent, you won't need a lot, a few dots on each plate will suffice. The lemon juice and zest are not essential but sure do a great job of adding a brightness to the flavour of this dish. We ate the leftovers the next day cold from the fridge, it was like eating a pasta salad only a lot more fantastic – I hope you enjoy it as much as we did!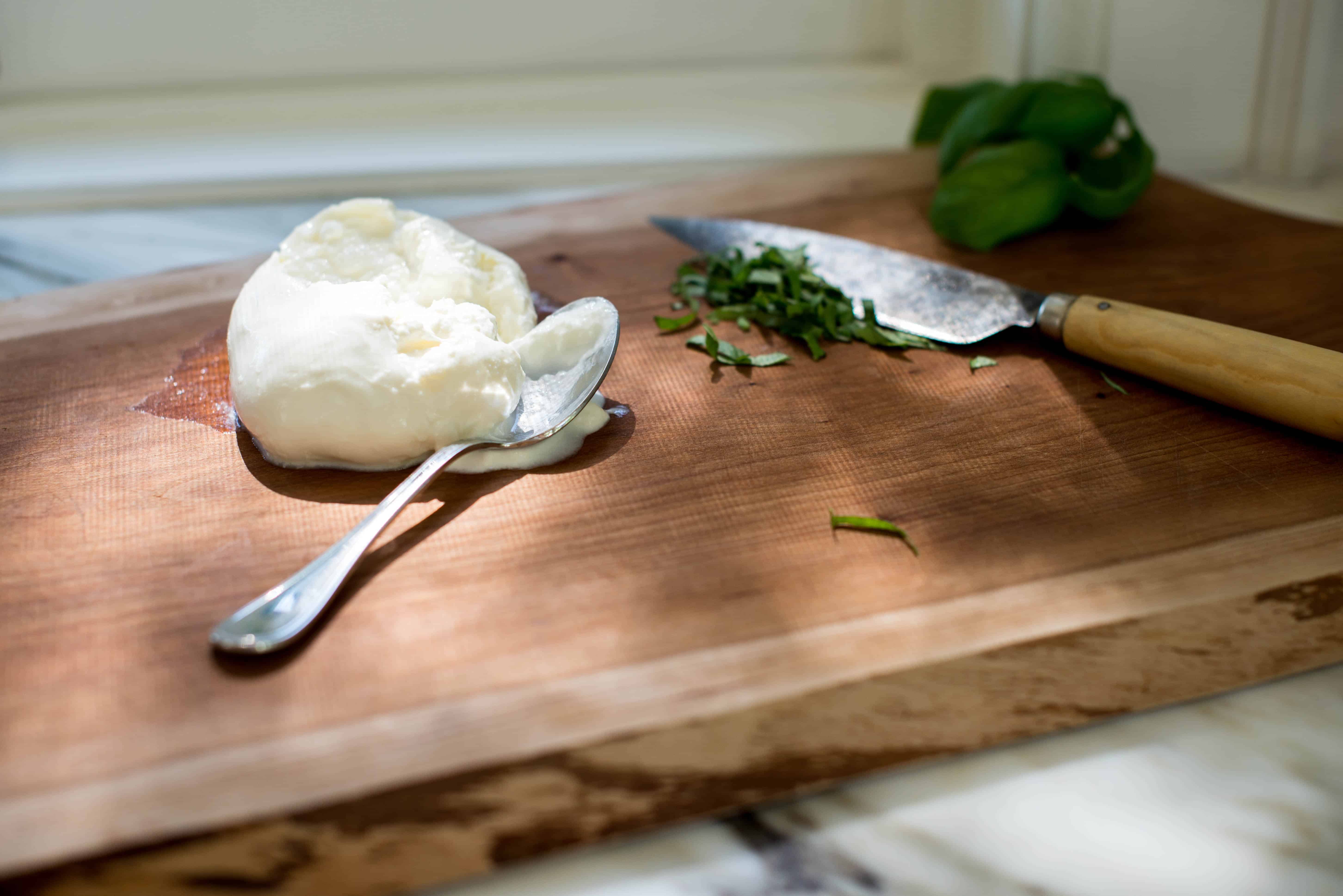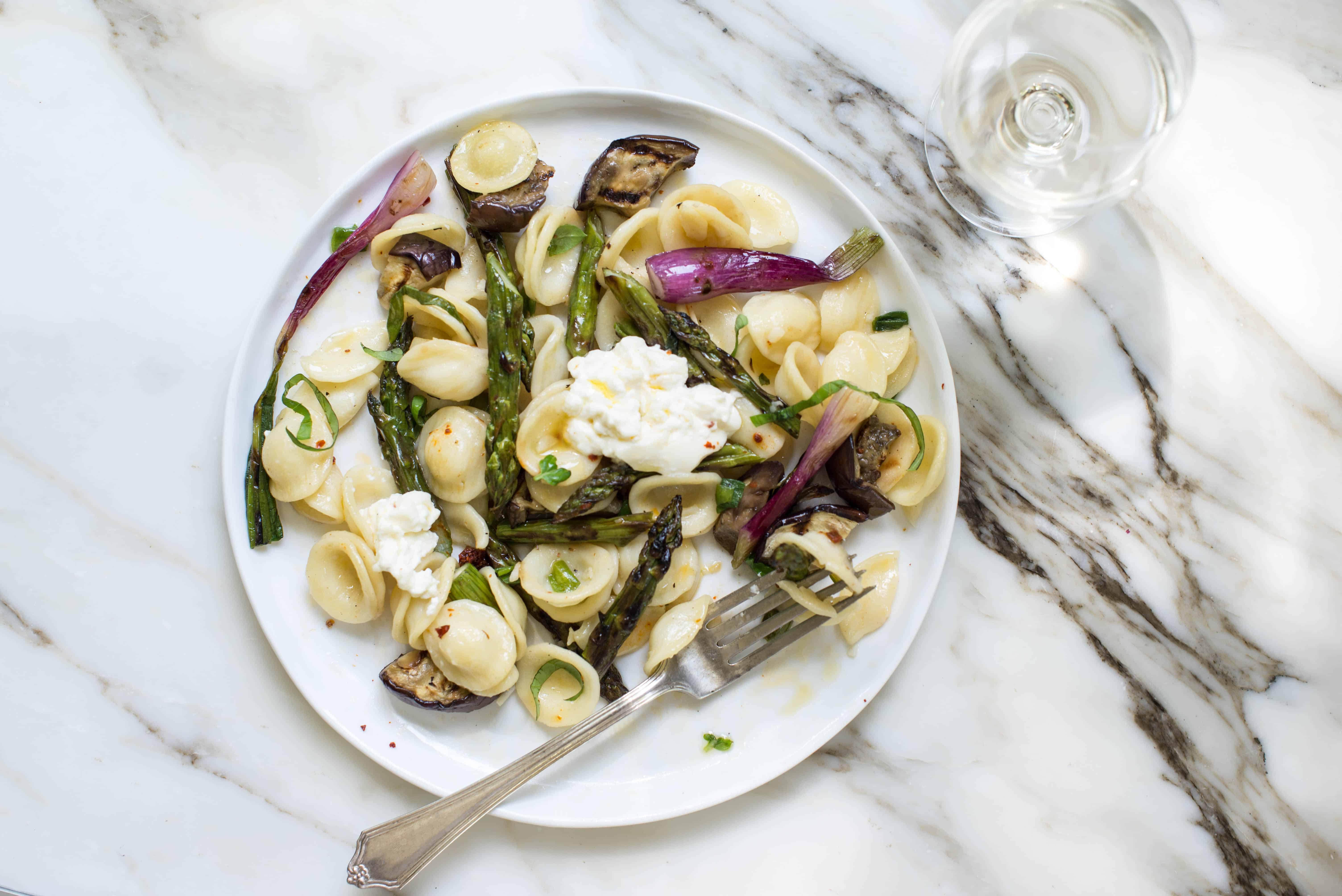 Print Recipe
Pin Recipe
Orecchiette with Charred Asparagus, Red Scallions, Eggplant, and Burrata
Adapted from Food and Wine
Ingredients
1

bunch asparagus

about 3/4 pound, tough ends trimmed

1

bunch red

or green scallions, left whole

1

medium or large eggplant

trimmed and sliced crosswise about 1 inch thick

1/4

cup

extra virgin olive oil

divided

kosher salt and pepper

1

pound

orecchiette pasta

kosher salt for pasta water

3

cloves

garlic

minced

1

teaspoon

crushed red pepper flakes

Zest of 1 lemon

Juice of 1 lemon

1/2

cup

freshly grated Romano or Parmesan cheese

4-6

ounces

burrata

optional but so delicious

chopped basil or parsley for garnish

optional
Instructions
Preheat a grill over high heat or heat a grill pan.

Lightly brush the asparagus, eggplant and scallions with 2 tablespoons of the olive oil. Sprinkle with salt and pepper to taste.

Grill the vegetables for 4 minutes a side or until lightly charred.

Transfer to a cutting board and allow to cool slightly. Cut into bite-sized chunks and set aside.

Bring a large pot of water to a boil and add 2 tablespoons kosher salt. Cook the orecchiette until al dente. Remove 2-3 cups of the pasta water and set aside. Drain pasta.

Bring a large skillet to medium heat and add the rest of the olive oil. Add the garlic and red pepper flakes and cook until fragrant, about 1 minute. Add the pasta, lemon zest, lemon juice and 1 cup pasta water and stir well to combine. Stir in Romano or Parmesan cheese, and taste for seasoning. Toss in additional pasta water slowly until the pasta becomes saucy. Remove from heat.

Add the grilled vegetables tossing carefully and serve. Top with a few dollops of burrata cheese and garnish with chopped basil or parsley.