These easy and flavourful Roasted Cabbage Steaks with Walnut Caper Salsa are a fantastic low-carb side dish to add to your weeknight meals. Omit the salsa for an even quicker side ~ the "steaks" will still be insanely delicious!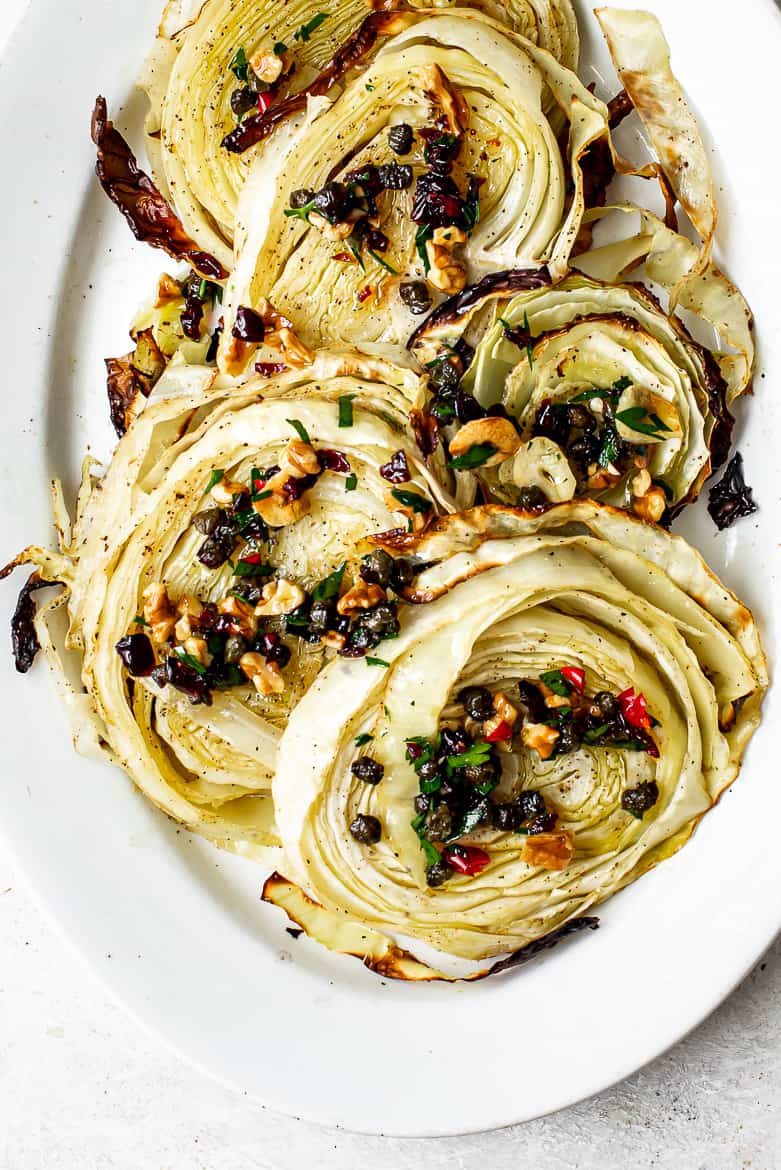 The recipe I am sharing with you today is a riff on Ottolenghi's cauliflower steaks with walnut caper salsa. Cauliflower steaks are delicious but kind of a nuisance to make since you only get about 2 steaks per cauliflower. Have you roasted cabbage before? Much like cauliflower and broccoli, when you roast cabbage it becomes sweet and nutty with lovely caramelized edges and a soft and tender interior. I can't get enough of it.
Roasted cabbage is fantastic with a simple drizzle of oil, salt and pepper and nothing more. But to make it a little more exciting, you can top it with dozens of different combinations once it is out of the oven. This walnut-caper salsa is one of my favourites and you can prepare it in minutes. The capers get fried in olive oil, then mixed in with toasted walnuts, red chillis, parsley, and sherry vinegar. When you drizzle the zingy, crunchy, and salty salsa over the roasted cabbage, every mouthful is a little explosion texture and flavour. Soooo good.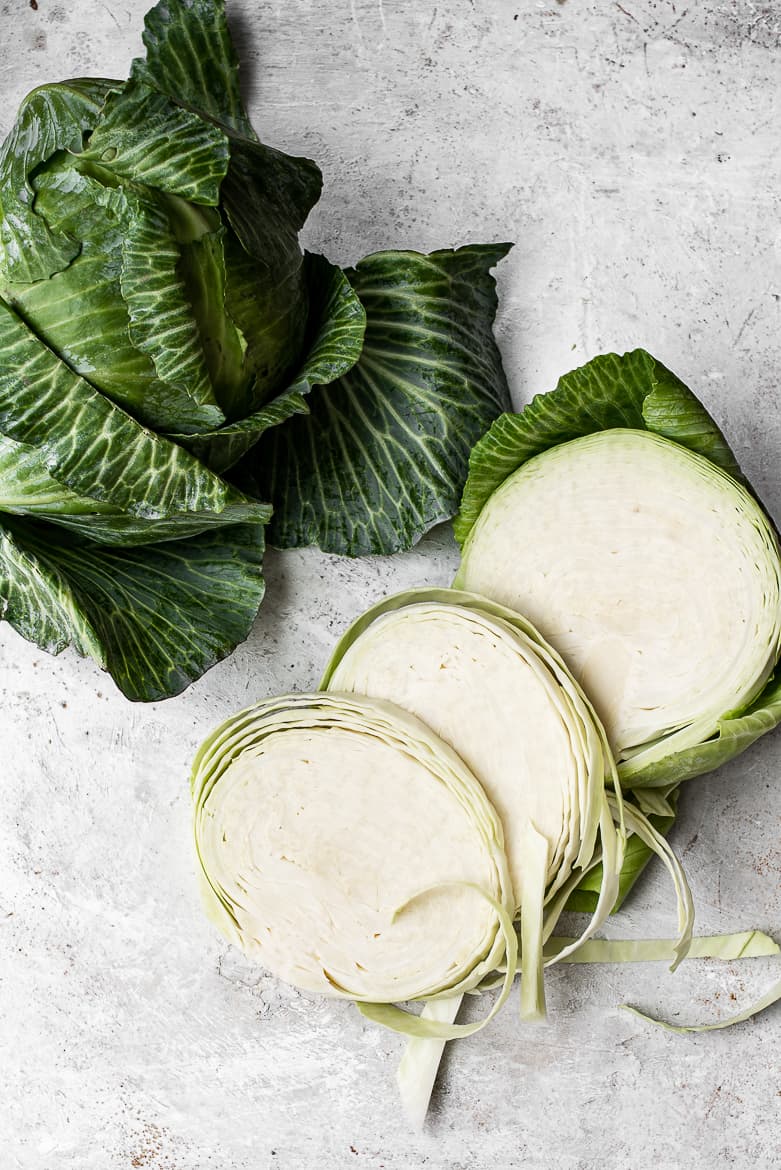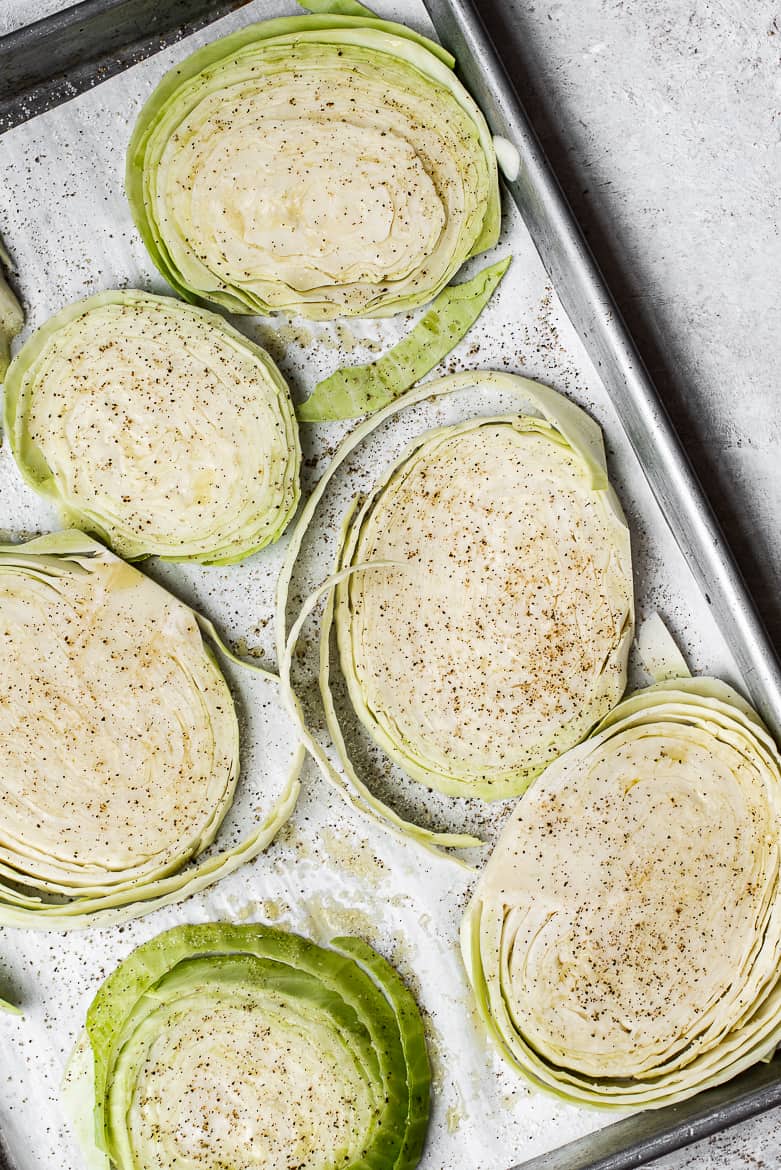 How to roast cabbage steaks
Cut the whole cabbage head through the core into 1/2-inch thick slices.
Place on baking sheet and brush with olive oil on both sides. Season with salt and pepper, then roast for 30 minutes, flipping once, in a 450ºF preheated oven.
Meanwhile, fry the capers in a little olive oil. I love crispy garlic so I added a few sliced cloves to fry along with the capers. This is of course an optional extra step for the salsa which you can leave out.
Combine the rest of the salsa ingredients in small bowl. Then add the crispy capers and garlic, if using, along with the oil and mix well.
Drizzle the salsa over the roasted, hot cabbage steaks and serve immediately.
A few tips
Choose the right size cabbage: Try and buy the smallest cabbage head possible. It will be easier to cut the "steaks" into the right size. If you can only find large ones, cut the cabbage into wedges instead.
Cut the cabbage top to bottom: The cabbage steaks will hold together better if you slice the rounds from the top of the cabbage to the bottom. The slices without any core may fall apart a little and that's ok.
Cook at high temperature: To achieve proper caramelization, most vegetables should be roasted at a high temperature. Cabbage is no exception. This will produce a tender cabbage with crispy crunchy layers that are arguably the best part.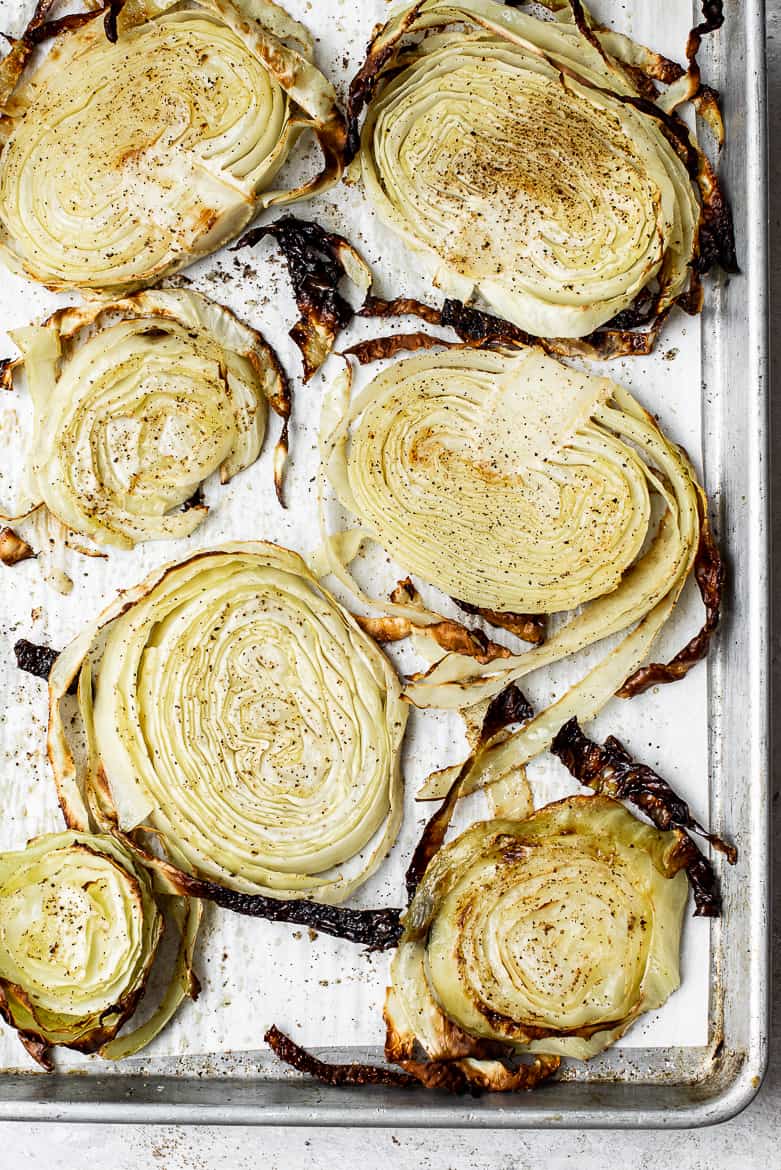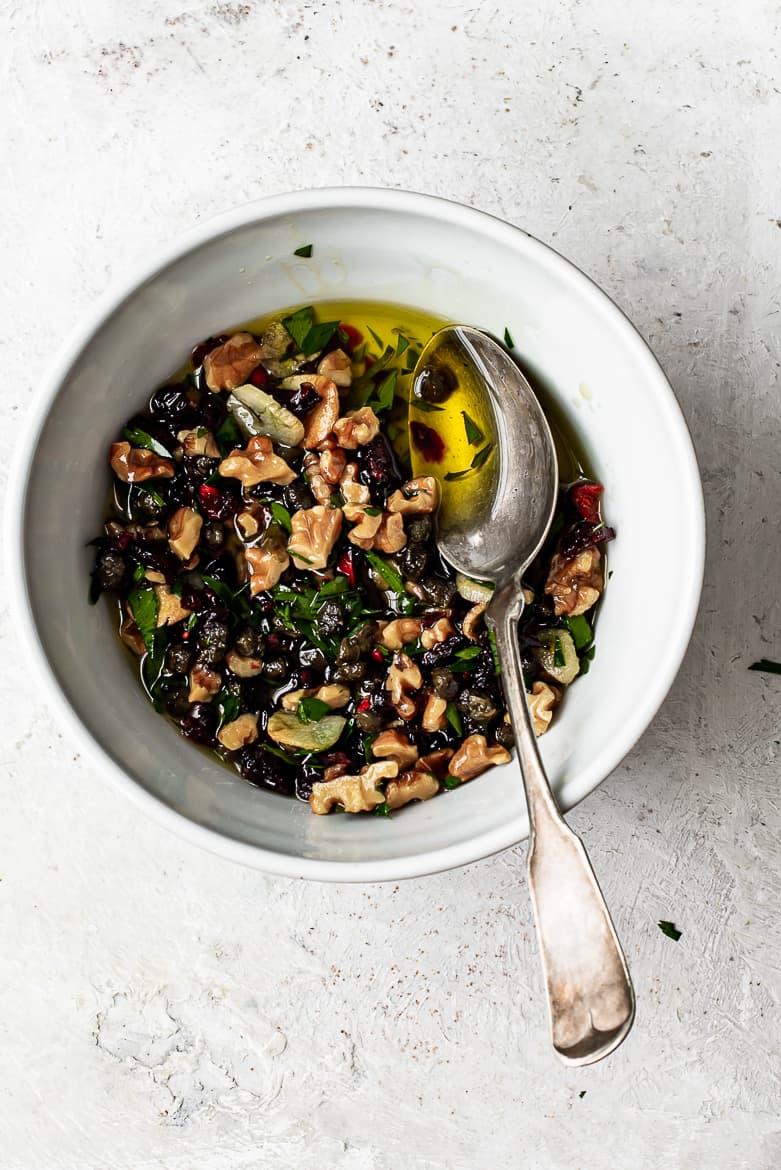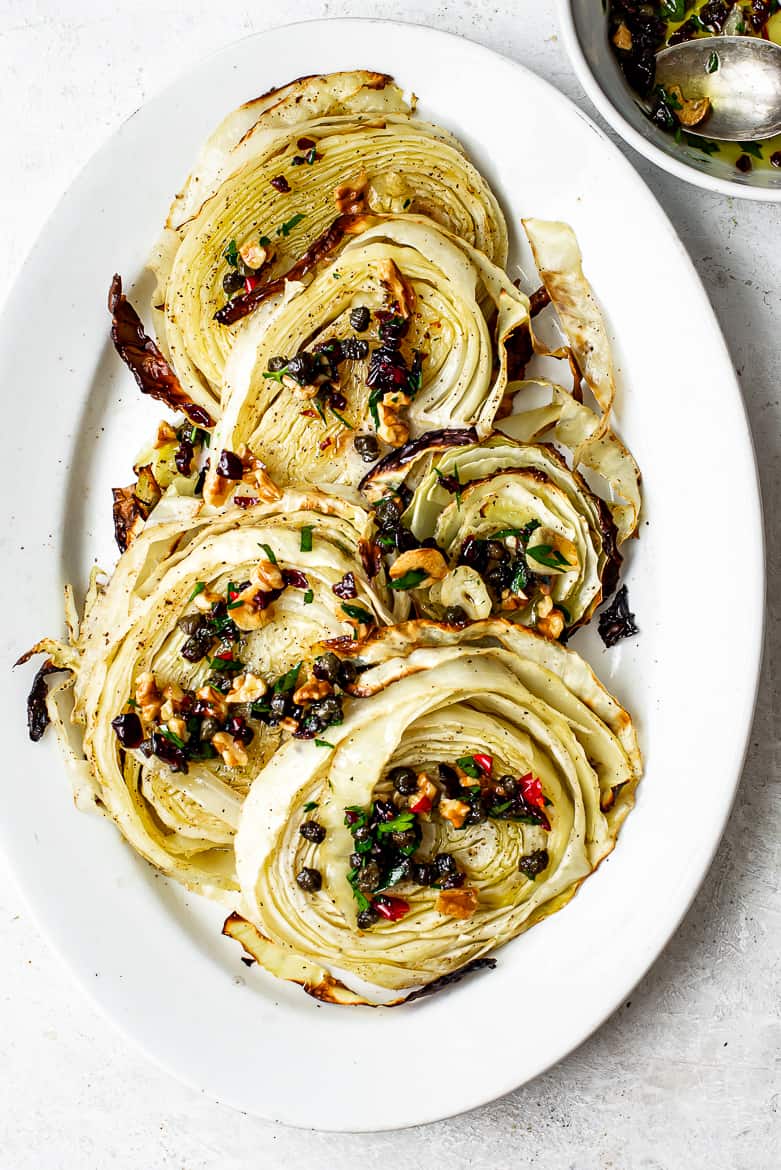 Variations
Use red cabbage, or savoy instead of green. Savoy is sometimes my first choice — it is a softer cabbage so will cook faster and is easier to slice.
Once the roasted cabbage is out of the oven feel free to top with other combinations of sauces and salsas; a blue cheese sauce (omg delish), a favourite vinaigrette, or a sprinkle of lemon juice and parmesan cheese (my second favourite) would all be fantastic.
What to serve with roasted cabbage steaks
Vegetarian & vegan options: Serve the cabbage steaks alongside hearty grains such as beans or lentils for a complete plant-based and delicious meal. With fried rice, risotto, a medley of other roasted veggies, or with this farrotto in lieu of the cauliflower, would also be so, so good.
Non-plant-based options: These roasted cabbage steaks with walnut-caper salsa are delicious served alongside any roasted meat such as this simple roasted chicken  or this turkey meatloaf. The cabbage steaks are also great with chili, grilled meat, or fish.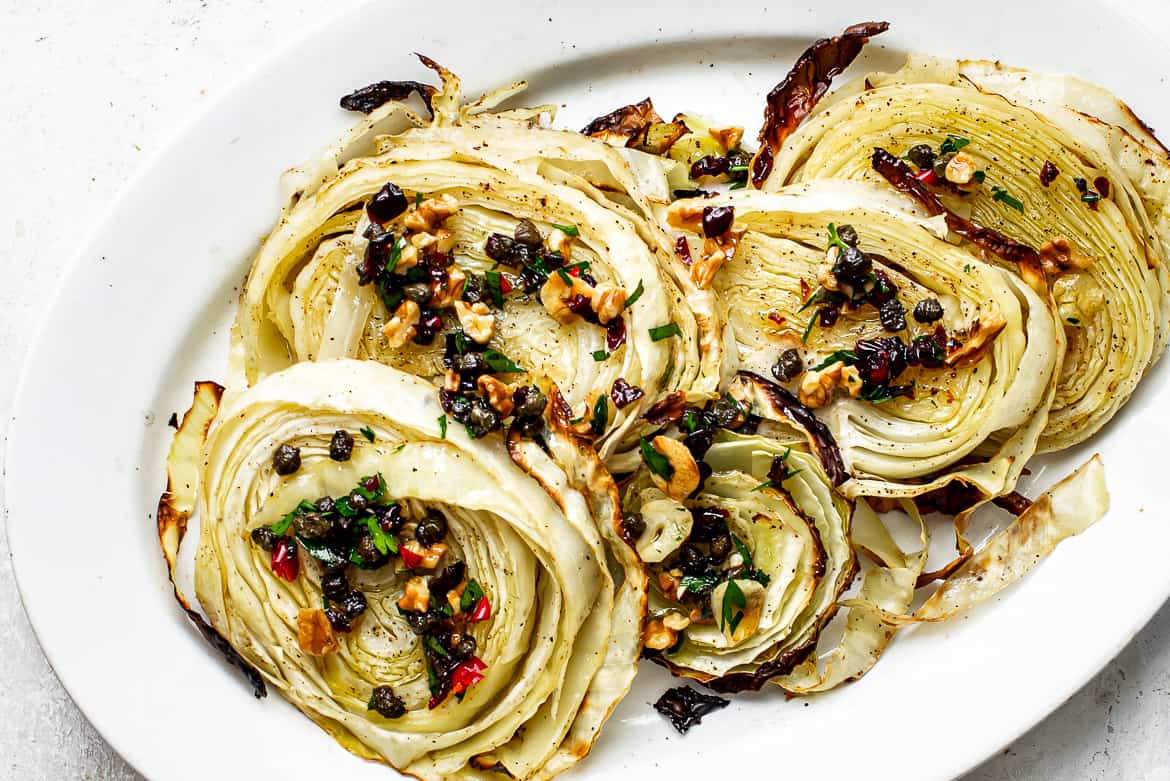 With little expense or effort this powerfully nutritious vegetable makes the perfect side dish that is hearty, healthy and satisfying. The walnut-caper salsa makes it sweet, salty, and rich with flavour and texture. If you haven't yet tried roasting cabbage, I hope you give this recipe a try. I know you will love it as much as I do.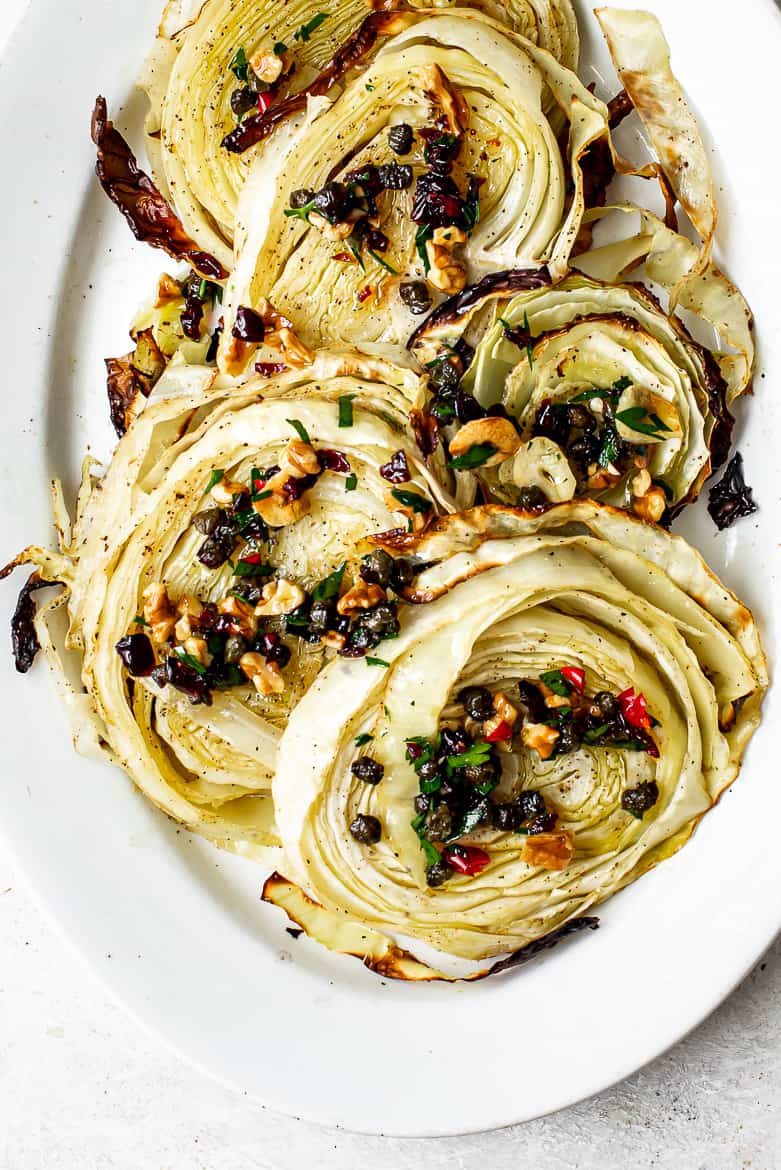 Ingredients
1

small head green cabbage

or red or savoy

2

Tablespoons

olive oil

divided

Kosher salt and freshly cracked black pepper to taste

For the Salsa

3

tablespoons

drained capers

patted dry

2

garlic clove

thinly sliced (optional)

¼

cup

olive oil

1/2

cup

walnuts

1

red chile

seeds removed, finely chopped (optional)

1/4

cup

coarsely chopped parsley

2

Tablespoons

dried cherries

or cranberries, finely chopped

1

Tablespoon

sherry vinegar or red wine vinegar

Zest of 1 lemon

finely grated

1

Tablespoon

lemon juice

Kosher salt
Instructions
Preheat oven to 350°F. Place walnuts in a single layer on a small sheet pan. Roast for 6-8 minutes until golden. Once cooled, coarsely chop into smaller pieces. Set aside.

Increase oven temperature to 450 degree. Line a baking sheet with parchment paper.

Remove outer leaves of cabbage, rinse and dry well. Cut off the very end of the stem.

With stem side down, cut 1-inch slices of cabbage from the top down.

Place slices on prepared baking sheet and brush each side with remaining tablespoon of olive oil. Season with salt and pepper to taste.

Roast for 15 minutes. Flip and roast another 15 minutes or until cabbage is tender and slightly charred around the edges.

Meanwhile, make the salsa. Place the capers, sliced garlic (if using) and olive oil in a small saucepan over medium heat. Cook until capers are sizzling and bursting, about 5-6 minutes. Remove from heat, pour into a small bowl, and let cool slightly. Once cooled, add the toasted walnuts, chile (if using), parsley, dried cherries, vinegar, lemon zest, lemon juice, and a pinch of salt. Mix well.

Pour the salsa over the warm cabbage steaks and serve immediately.