This Catalan Style Spinach is a fabulously tasty Spanish side dish that is healthy, easy to make, and comes together in less than 10 minutes. Flavoured with, garlic, shallots, pine nuts, raisins, and sherry vinegar, it will be your new favourite way to eat spinach.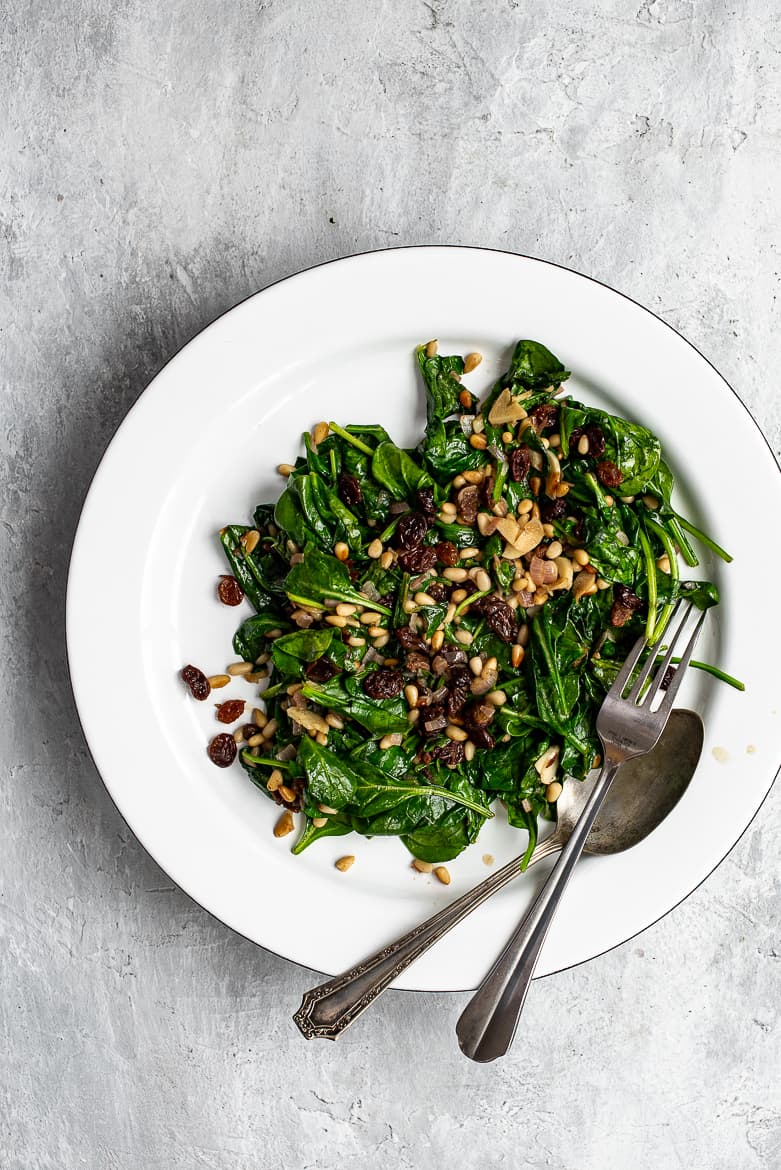 The last few months have felt like a rollercoaster of news and emotions. Occasionally feeling paralyzed from impending doom, then quickly snapping out of it reminding myself that cooler heads will always prevail. And yet, I admit, yesterday I succumbed to the panic-inducing news and rushed to grab just one more bag of toilet paper. Good thing, because I had to give a lot of it away to my kids that could not find any near them. Aside from that madness, I am also focusing on saner practices; cooking healthier than ever and nourishing loved ones as best I can. So far, it seems to do be doing a much better job at calming my racing heart than the ridiculous amount of TP now sitting in my garage.
An immune-friendly recipe we have been enjoying immensely is this fabulous Catalan-style spinach side dish. The base of this dish is garlic and shallots sautéd in good olive oil which flavour a pile of lightly heated iron-rich spinach beautifully. Plump sweet-raisins and nubbly pine nuts add a crunchy chew. A splash of sherry vinegar is optional, but I love the sweet-tangy flavour it lends to the dish. With flavours so fresh, sharp and delicious, this quick healthy spinach dish is quite often a mood changer.
What is Catalan-style
Catalonia is a region in Northeastern Spain that has a lot of Moorish culinary influence. Almonds, dried fruits, and spices such as nutmeg, saffron and black pepper were some of the ingredients introduced by the Moors. This spinach dish, which combines savoury and sweet flavours by way of dried fruits, is a classic Morrish-influneced, Catalonian dish.
The ingredients for Catalan style spinach
This recipe has very few ingredients so seeking out the best quality ingredients will result in a much tastier dish.
Spinach: I like to use organic baby spinach for convenience. If you buy the bunches of spinach, make sure you trim and clean them well. You will need at least 8-10 cups of spinach for this recipe since spinach magically reduces in minutes.
Shallots and garlic: I love the extra flavour shallots add to the dish. If you wish, you can omit the shallots and use a little more garlic.
Raisins: Unfortunately, if you don't like raisins, this may not be the dish for you. Raisins really give this dish it's unique, divine flavour. You can use golden raisins or regular. A quick soak in hot water really helps tenderize and plump the raisins.
Pine nuts: I know pine nuts are expensive, but I can't imagine this dish without them. If you must use another nut, sliced almonds would be the only other way to go.
Sherry vinegar: Though I strongly urge you not to, this may be the only ingredient you can omit. Or use a dry sherry instead.
Extra-Virgin olive oil: Buy the best you can afford. Used to sauté and drizzle at the end, a good olive oil really makes this dish exceptional.
How to make Catalan-style spinach
As previously mentioned this recipe comes together in a flash.
Here is the step-by-step:
Place the raisins in hot water for 5-10 minutes. Drain and set aside.
Rinse the spinach well, then drain leaving a little bit of water on the leaves (not too much).
In a large dry skillet, toast the pine nuts for about 1 minute then set aside. Add the olive oil, shallots and garlic and sauté until soft. Season with salt and pepper.
Add the spinach, raisins and pine nuts and toss just until the spinach starts to collapse, about 1-2 minutes. The spinach will continue to wilt with the residual heat so do not overcook.
Serve immediately, or reheat gently over low heat.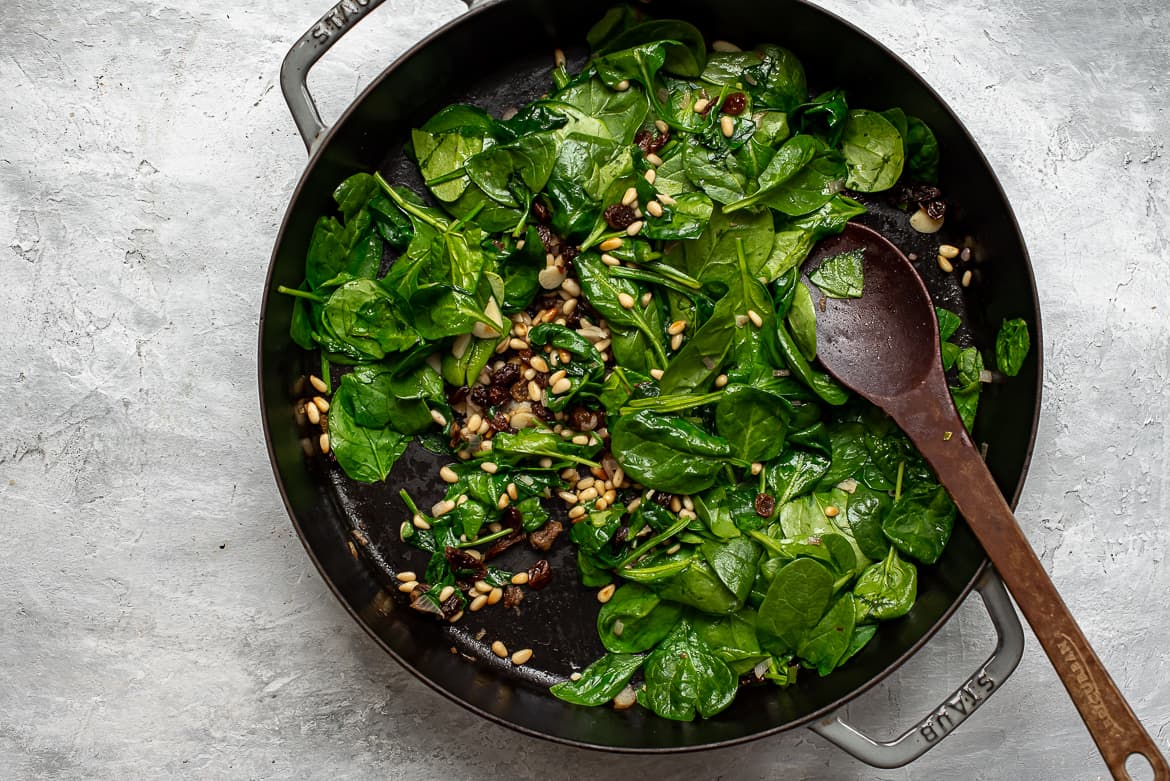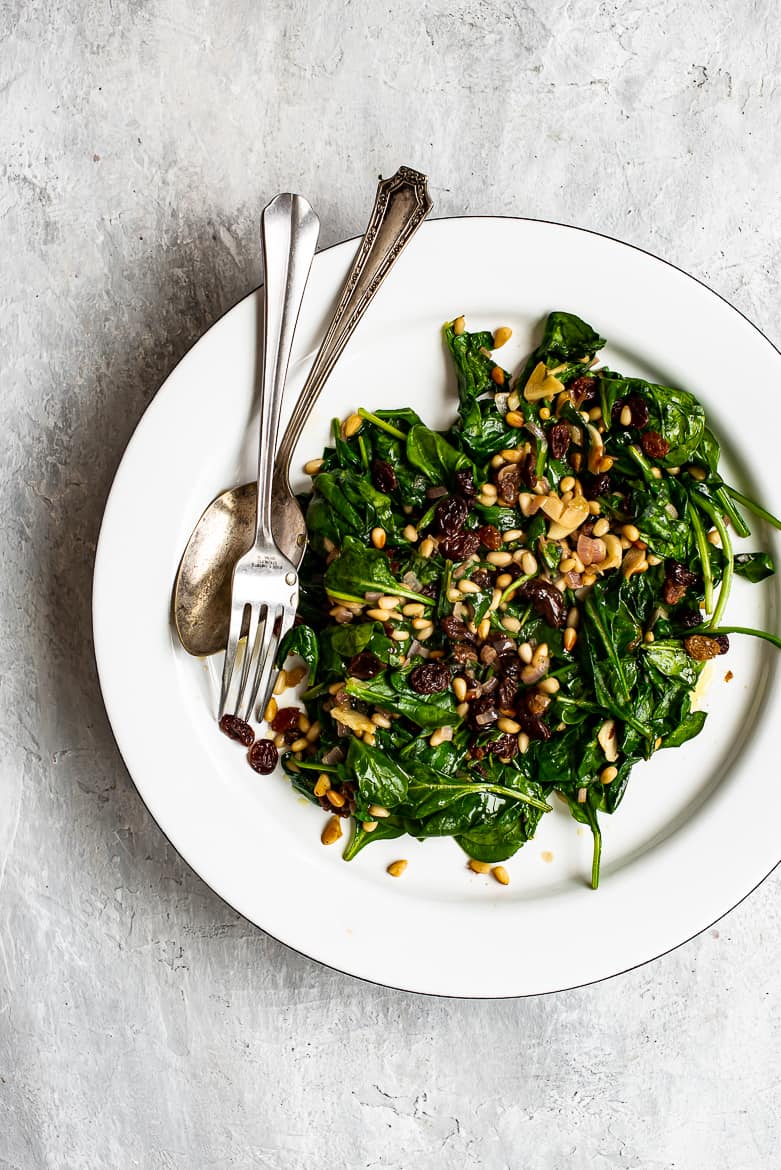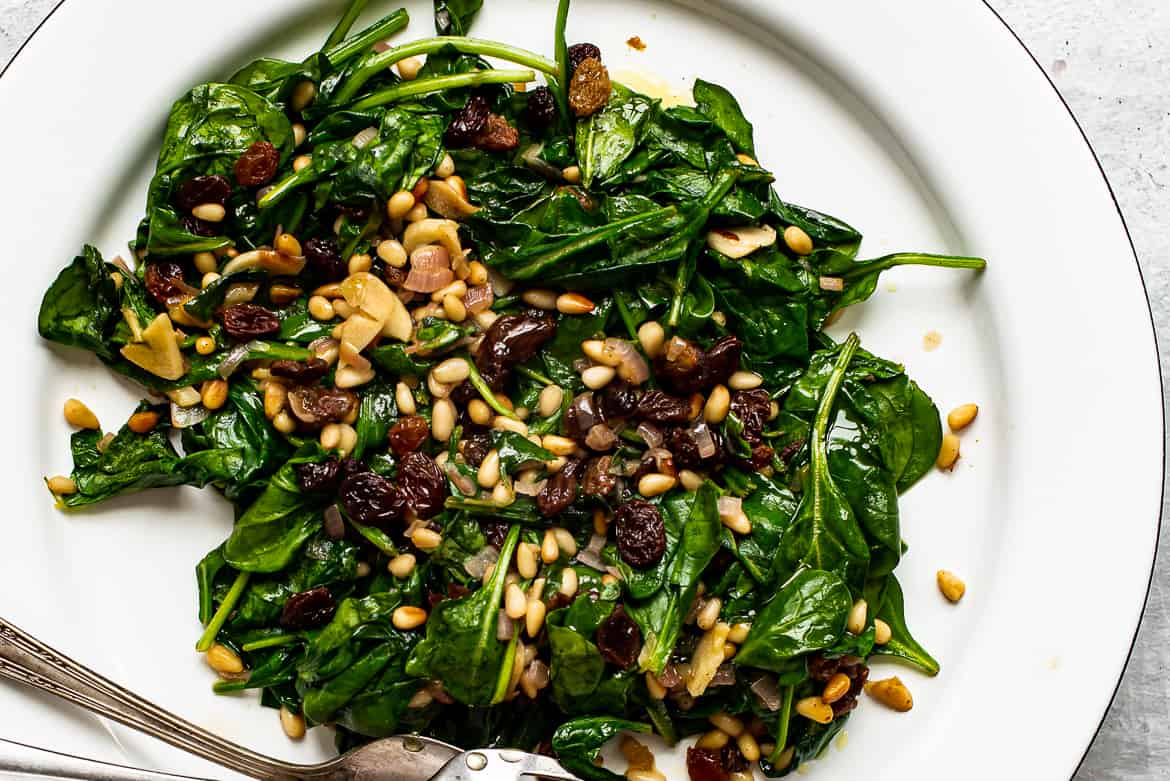 How to serve Catalan-Style spinach
In Barcelona, this Catalan-style spinach is often served as a tapas dish with bread on the side. I enjoy it served as a side dish with fish, meat or even pasta. For a vegan dinner, it would be delicious alongside boiled or roasted potatoes or topped on a cauliflower mash — divine.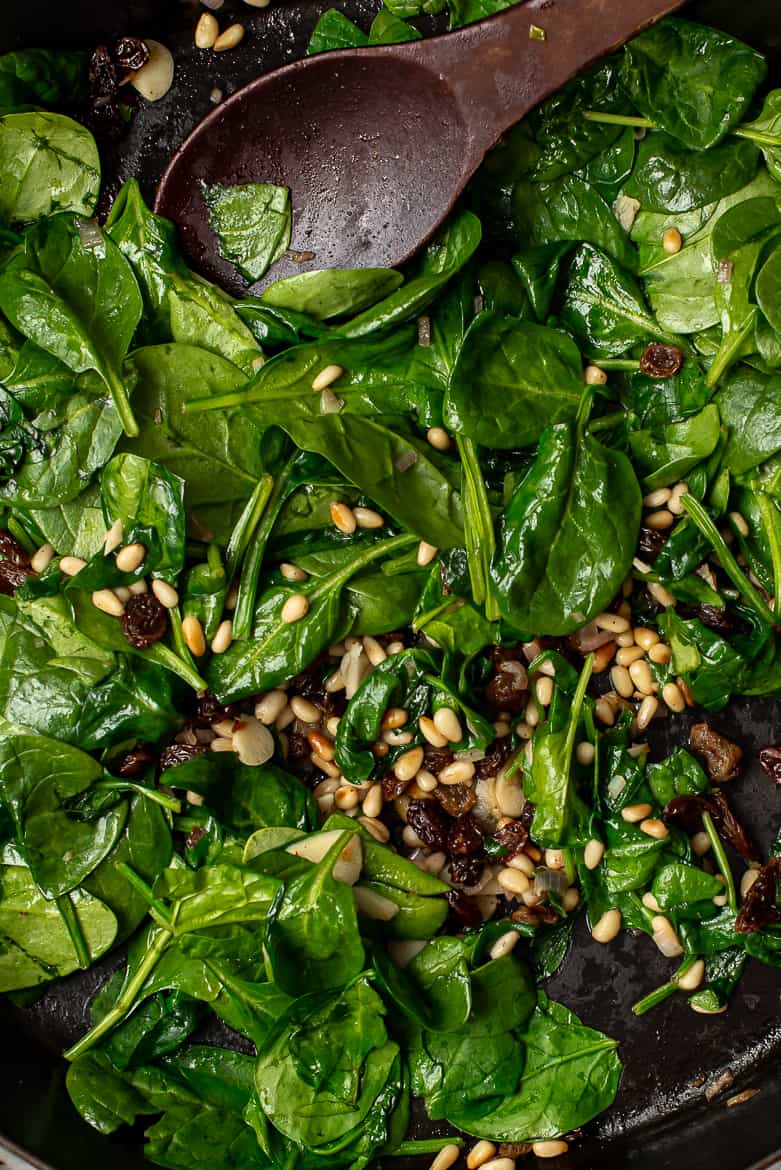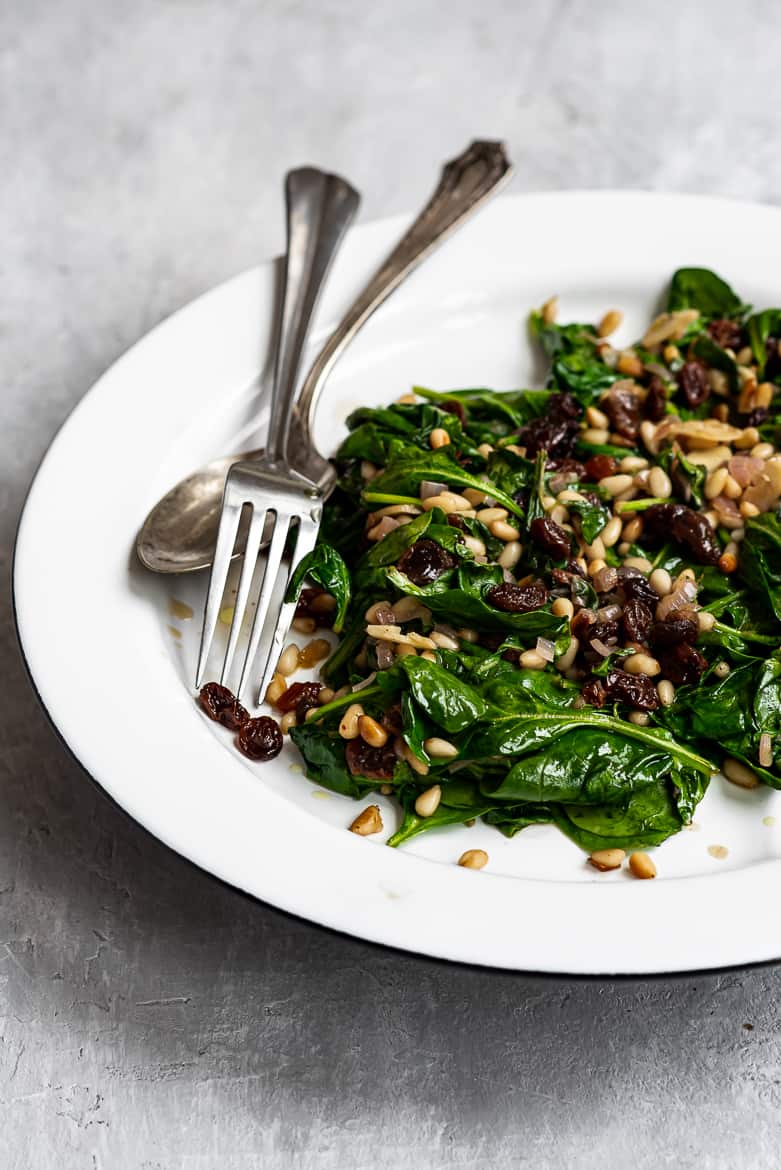 If you give this tasty recipe a try, please let me know if you loved it by leaving a comment or rating. Thank you!
Similar recipes you may enjoy:
Roasted Fingerling Potatoes with Romesco Sauce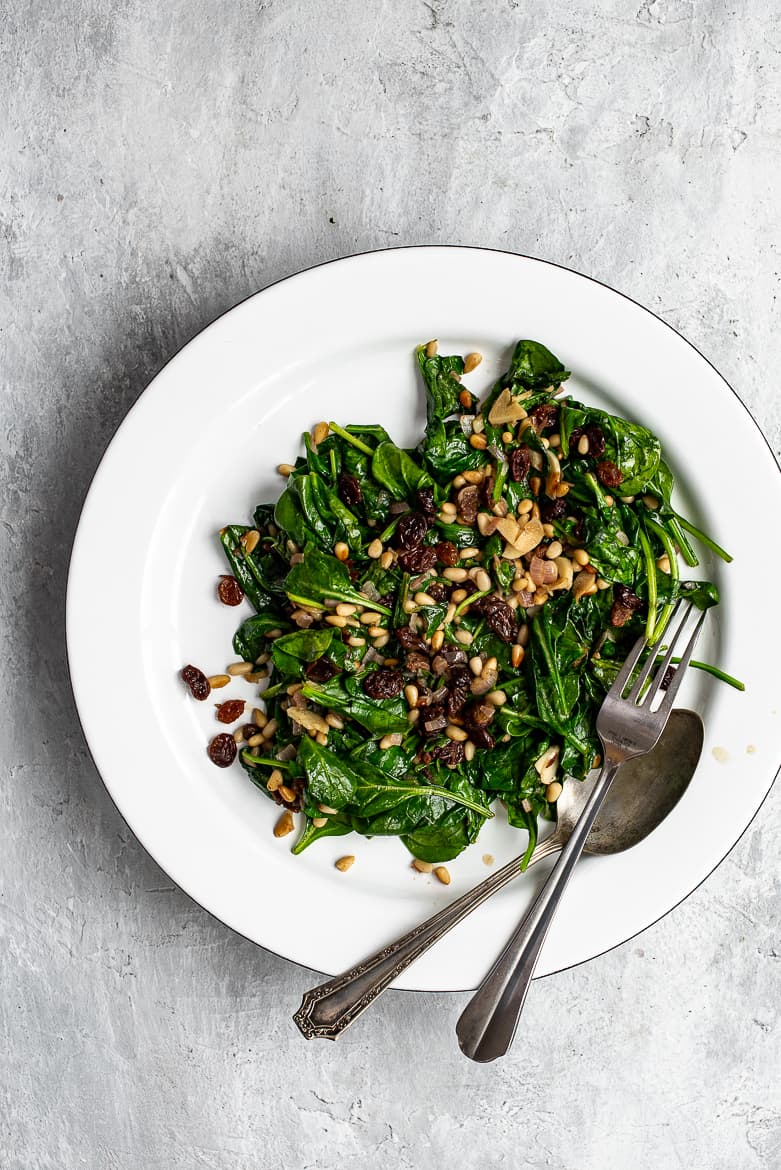 Ingredients
1/3

cup

sultana raisins

or regular raisins

8-10

cups

spinach

rinsed and dried with a little water still clinging to the leaves

1/4

cup

pine nuts

1

Tablespoon

extra-virgin olive oil

plus extra for drizzling

1

medium shallot

diced

2

cloves

garlic

thinly sliced

1/2

teaspoon

kosher salt

plus more to taste

freshly cracked pepper

to taste

2

Tablespoons

sherry vinegar

or dry sherry (optional)
Instructions
In a small bowl, cover the raisins with hot water and let stand until plumped, about 10 minutes. Drain and set aside. Meanwhile, in a large skillet, toast the pine nuts over medium heat, tossing, until lightly browned, about 2 minutes. Transfer to a small bowl.

To the warm skillet, add 1 tablespoon olive oil and stir in the shallots. Cook until soft about 2 minutes. Add the garlic and cook for 30 seconds more. Season with 1/2 teaspoon salt and a few cracks of fresh pepper. Place all of the spinach in the pan and toss until just starting to collapse, 1-2 minutes.

Stir in the sherry vinegar, drained raisins, and pine nuts and remove from heat. The spinach will continue to wilt so do not overcook. Serve immediately or reheat in a warm skillet when ready to serve.