Romesco is a bold, rich, and smoky sauce puréed and thickened with toasted nuts and peppers. These Roasted Fingerling Potatoes with Romesco Sauce are a delicious and healthy snack or side dish — perfect for game day!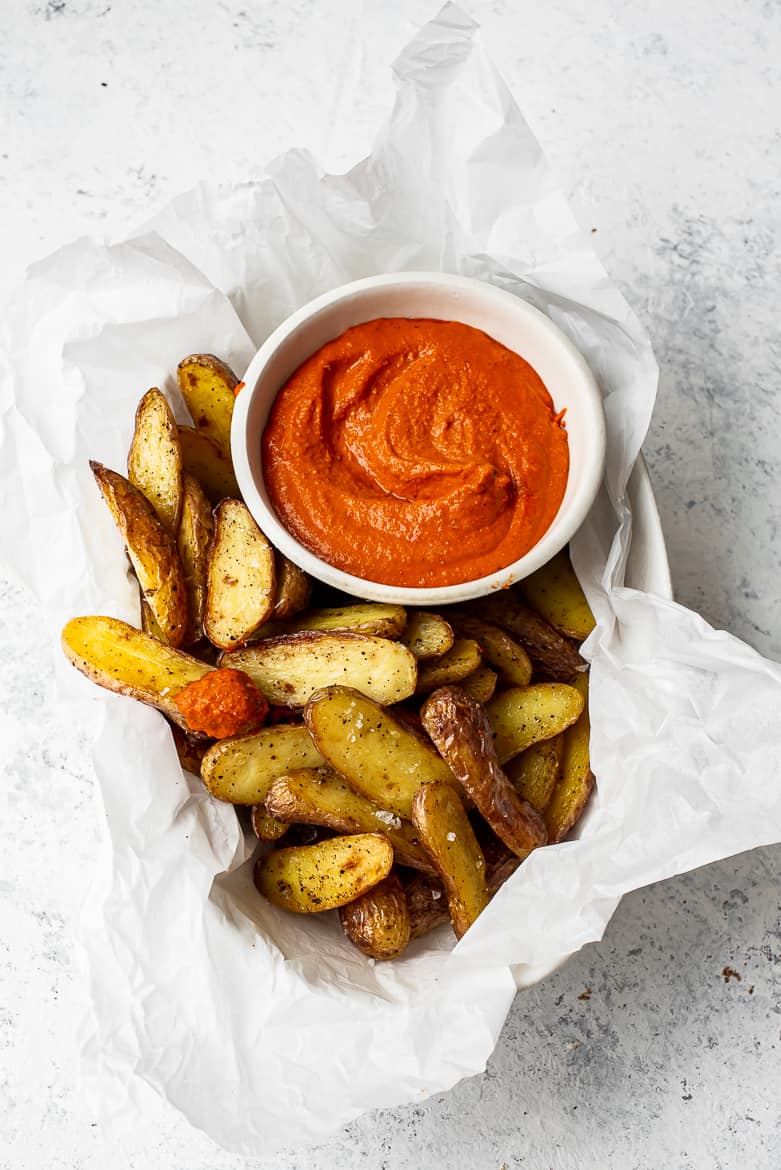 Cataloninas, please look the other way. This is not an authentic romesco sauce. Problem is, if I were to post a truly authentic recipe for romesco sauce, not many of you would make it. Traditional romesco sauce is made with dried ñora peppers that are very hard to find. Roasting whole tomatoes, onions and garlic for 45 minutes might also turn you off, it does me. So, I am giving you a simplified version that is not as authentic but super delicious nonetheless.
What is romesco sauce
Romesco is a thick and rich Spanish sauce originating from the Catalonia region. The base of romesco sauce is roasted tomatoes, onions, and garlic, that get puréed along with toasted almonds, bread, raw garlic, sherry vinegar, and dried chili peppers. Though I like to use them in my romesco sauce, the inclusion of roasted red peppers and smoked paprika is still up for debate. The smoky pungent sauce has been traditionally served as a condiment for fish, or meat and is just as delicious as a dip, or spread, with roasted vegetables. Smeared on toasted bread, is a really good idea.
To a Spaniard, ñora peppers are pretty crucial to the unique taste of romesco sauce. The peppers are sold dried and then soaked before using, much like a Mexican pepper such as guajillo. However, unlike Mexican dried chilis that are now sold nearly everywhere, ñora peppers are not easily found outside of Spain. In North America, most recipes for romesco leave them out and substitute with smoked paprika, and/or roasted red peppers. For this recipe, I do the same.
How to make easy romesco sauce
For my recipe, instead of roasting whole tomatoes which take a while to char in the oven, I broil cherry tomatoes along with half an onion and a few cloves of garlic. In a fraction of the time, the vegetables become soft, slightly charred and smoky. I always have jarred roasted peppers on hand and they are much more convenient than roasting your own. To replace the ñora peppers, I use ancho chili powder and smoked paprika which lend a mild smokiness without being too chili-powderish.
Toasted almonds, or hazelnuts, are the nuts most commonly used to make romesco sauce. I prefer to use only almonds for convenience but any would work. I find the nuts thicken the sauce sufficiently so I leave out the toasted bread.
To finish the romesco sauce, the broiled tomatoes, onions, and garlic, and the rest of the ingredients, get blitzed in a food processor. Taste and adjust to your taste by adding more vinegar, salt, or a pinch of cayenne for some heat.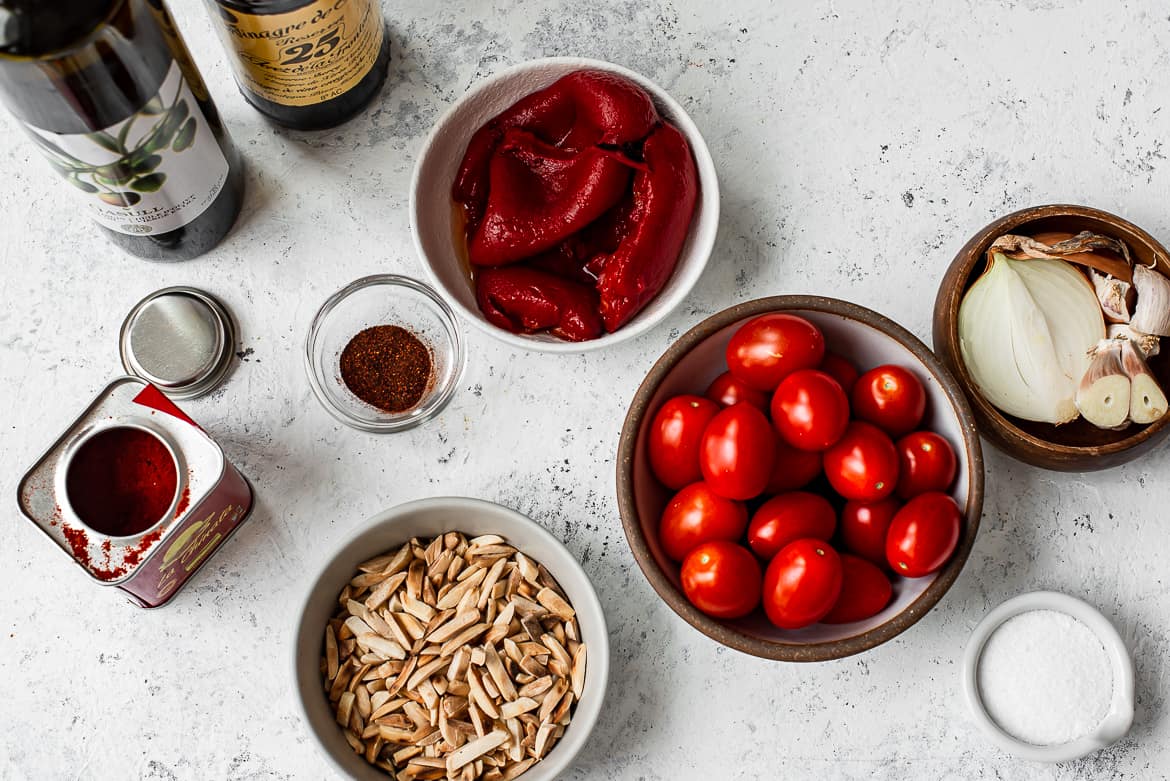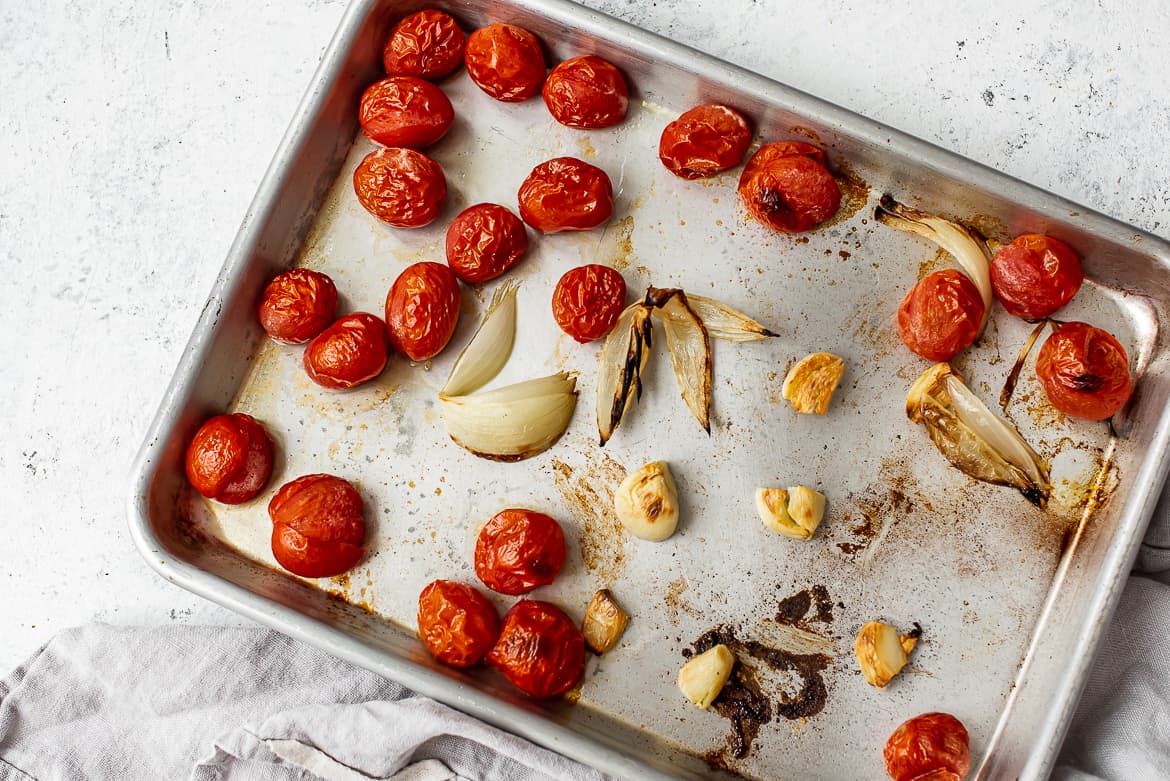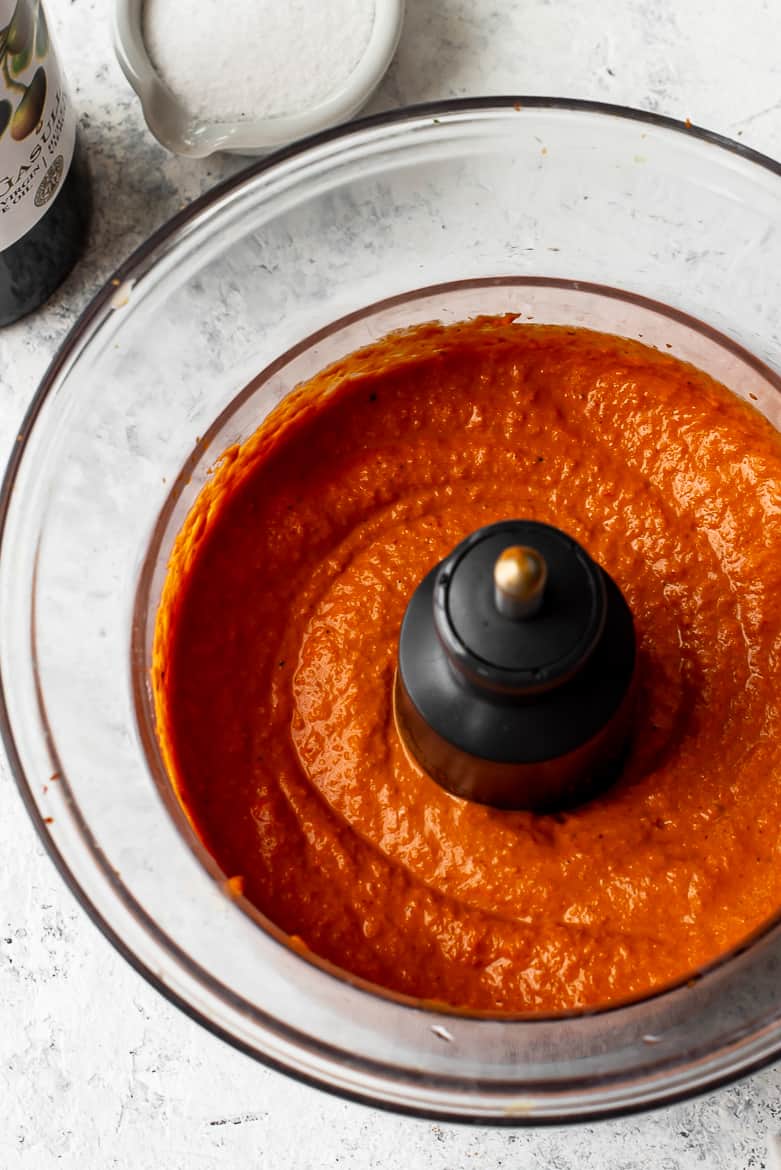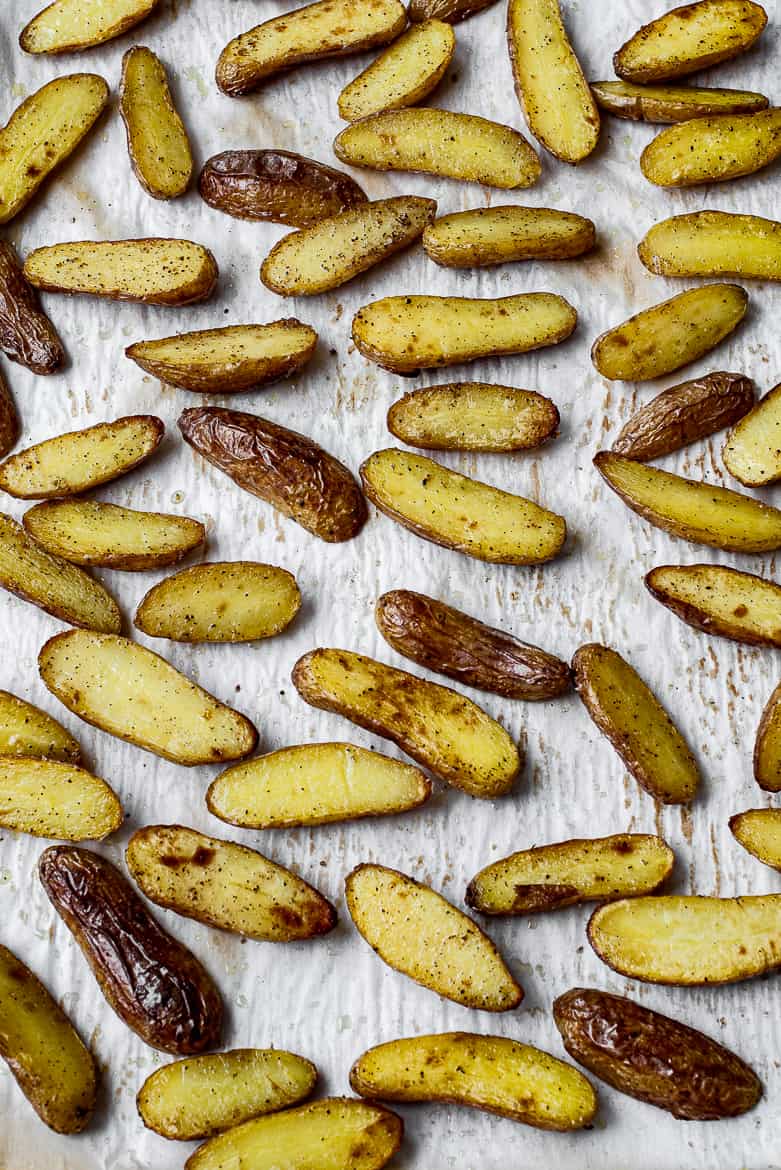 What to serve with romesco sauce
You can think of romesco sauce as a "Spanish Ketchup" — it truly goes with everything. Use romesco as a condiment in salad dressings, as a sauce for seafood, to serve alongside grilled vegetables and meat, or as a dip. I haven't tried it, but tossed with pasta sounds pretty delicious.
I absolutely love roasted fingerling potatoes with romesco sauce but charred broccoli or cauliflower are also irresistible. Feel free to use any other variety of potato — baby potatoes, red potatoes, and russet potatoes all work.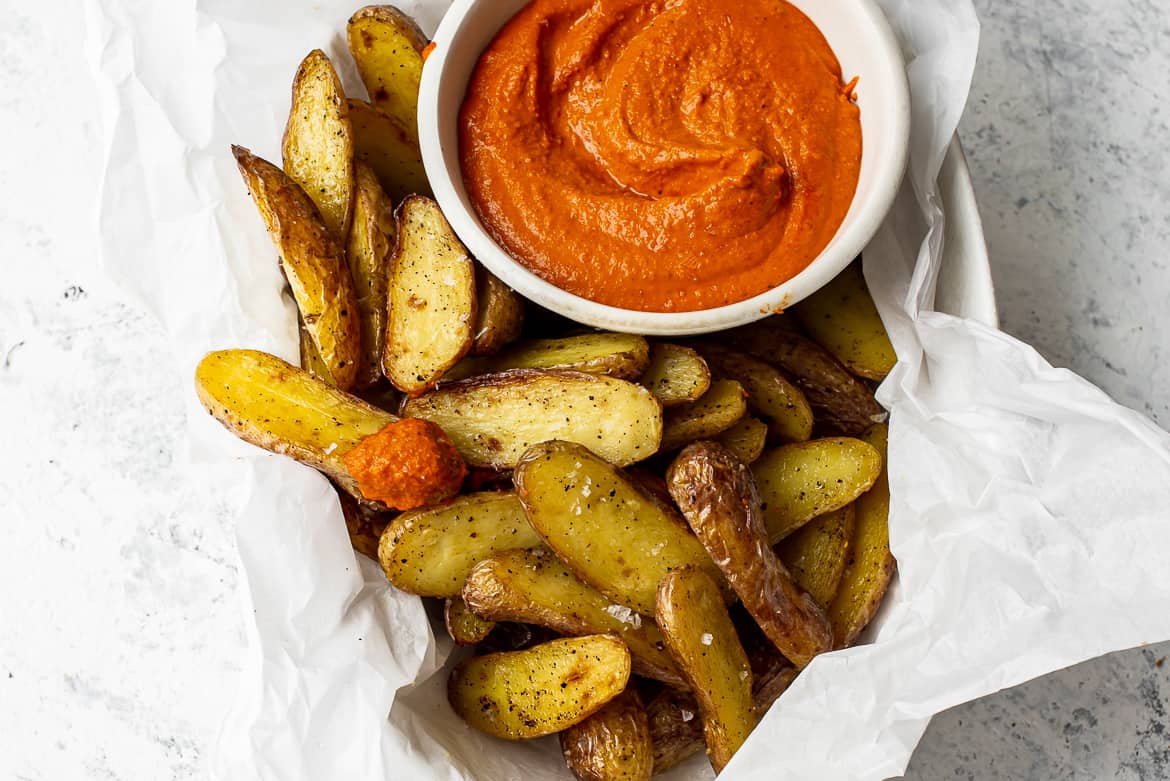 It is game day tomorrow and I will be there for the food, of course. I have been convinced to make chicken wings by certain others, something I make very rarely. So rarely that I had to google a recipe for baked wings (can't stomach the frying) and I settled on this recipe which seems easy and interesting. But while the rest will be enjoying their wings (lovely NYT never lets us down right?), I will be happy as a clam with a platter of these crispy roasted fingerlings with romesco sauce. It is so, so good and I am obsessed with it. I know you will love it too. Happy game day, friends!
Other game day recipes you may enjoy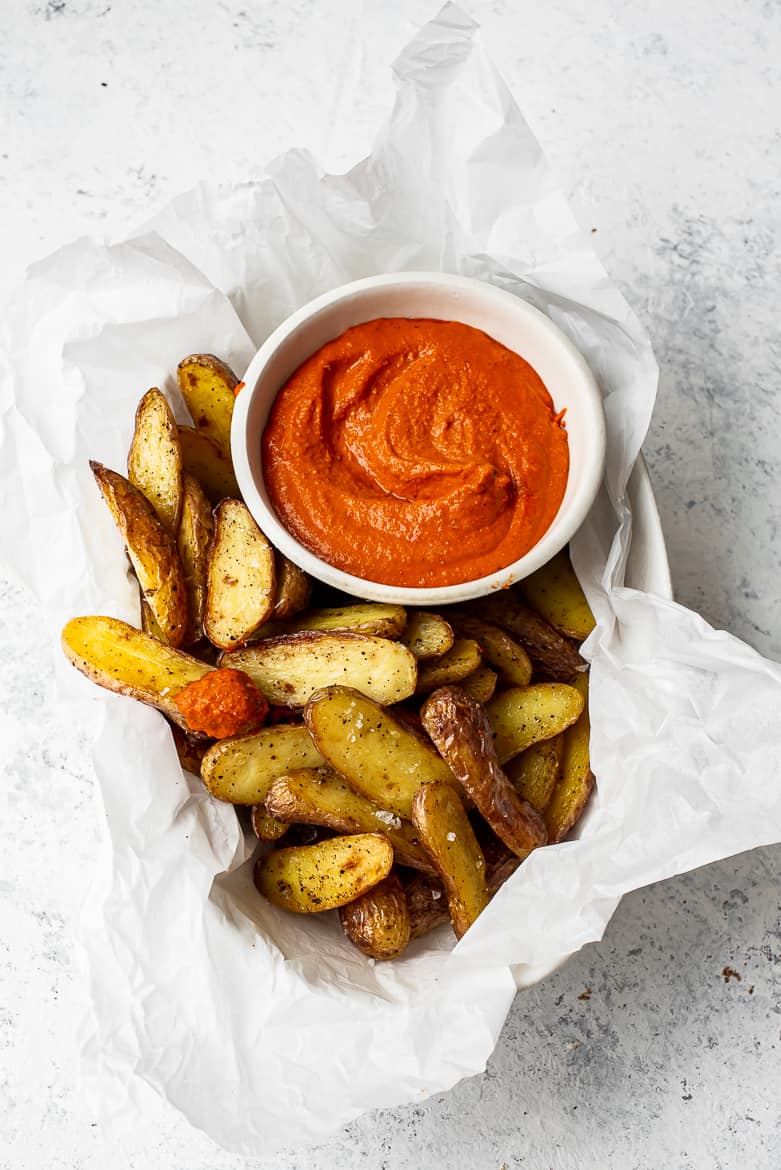 Ingredients
For the Potatoes:
1 ½

pounds

fingerling potatoes

or sub little reds or multi-colored

1

tablespoon

olive oil

Ksosher alt and freshly cracked black pepper

to taste
For the Romesco Sauce:
1

cup

cherry tomatoes

1/2

yellow onion

sliced into 3 wedges

5

garlic cloves

gently smashed and peeled, divided

1

cup

blanched almonds

or hazelnuts, or a mix

12

ounce

jar roasted red peppers

drained

1

teaspoon

ancho chili powder

optional

1

tsp

sweet smoked paprika

pimentón

1

tsp

kosher salt

1/4

tsp

cayenne or red chili flakes

optional

2

tbsp

Sherry vinegar

or red wine vinegar

1/2

cup

extra virgin olive oil

plus 1 tablespoon, divided
Instructions
Adjust the oven rack to the second position inches from the top (about 6-8 inches from the flame) and preheat the broiler on high. Spread the cherry tomatoes, onion and garlic on a small sheet pan and drizzle with 1 tablespoon olive oil. Place the sheet pan in the oven and broil until the vegetables achieve a subtle char, about 7-9 minutes. Every broiler is slightly different, so keep an eye on them and turn the baking sheet as needed. Remove from oven and set aside to cool slightly.

Preheat oven to 425 degree F and prepare a large sheet pan with parchment paper.

Slice potatoes in half lengthwise (or leave whole if using small baby potatoes).

Place on prepared sheet pan, drizzle with 1 tablespoon olive oil and toss to coat. Spread in a single layer and sprinkle with salt and pepper to taste. Roast in the preheated oven 25-30 minutes or until fork-tender and crsipy-golden.

Meanwhile make Romesco Sauce: Place the roasted tomatoes, onion, and garlic, along with all the other romesco ingredients in a food processor. Pulse until well combined.Taste and adjust salt and spiciness.

Place potatoes on a platter and serve immediately alongside romesco sauce.