In this recipe for The Most Exquisite Bolognese Sauce — a richly flavoured Italian meat ragù — you will find some of the best techniques and tricks to ensure the most classic, meltingly-tender Bolognese.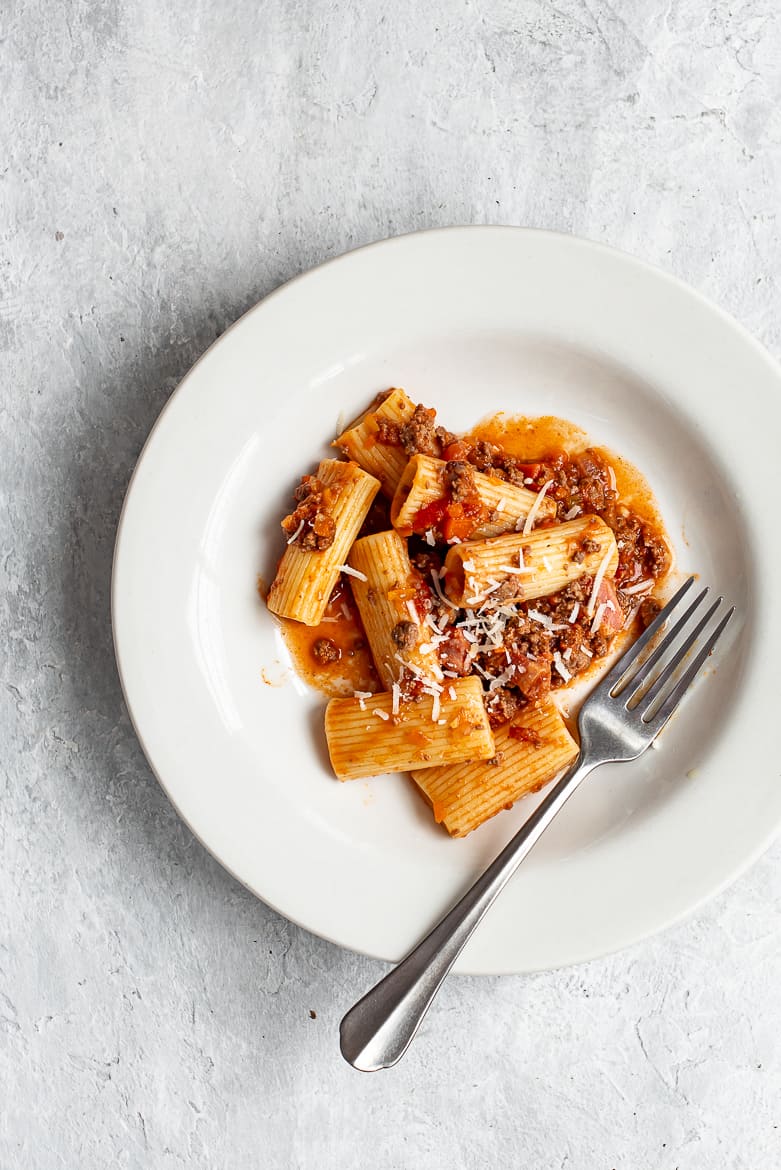 Hi all, how is everyone holding up? Myself, my family, my friends, we are all shaken and rattled, but OK. I sincerely hope you are as well. While we weather this unprecedented crisis, I thought I'd share this Bolognese recipe to help you use all that dried pasta you stocked up on. Using mostly pantry staples, it is the perfect dish to feed a crowd or to stretch for a couple of days worth of meals.
What is bolognese
Bolognese is a rich, meaty tomato ragù that is a signature dish from Bologna, Italy. In the capital city of Emilia-Romagna, bolognese is typically served over egg tagliatelle noodles, or other thick noodles (but never spaghetti). More meaty than saucy, it is the trait that distinguishes this ragù from a spaghetti meat sauce.
Not surprisingly, there are now many variations of Bolognese. And not surprisingly, these variations are the cause of much heated debate; garlic or no garlic, the proportion of tomato sauce, white or red wine, did the ragù really originate in Bologna, etc, etc. The fundamentals of a good Bolognese, however, mostly stay the same.
How to make bolognese sauce
Bolognese is not a complicated recipe and my version does not stray far from the classic preparation. It always begins with onions, celery, carrots, and sometimes garlic, cooked in butter or drippings from pancetta or bacon. Traditionally, it is made with ground beef, sometimes with the addition of pork or chicken liver as well. I stick to just beef which is further flavoured with white wine (or red), tomatoes, tomato paste, and stock. Milk is also a key ingredient which sounds a little weird but does a lovely job of softening the tomato flavour and giving the Bolognese its distinct creamy texture. From here, the meat sauce, also referred to as ragú in Italy, is left to simmer looooong and slow until the sauce thickens and becomes lusciously rich and very delicious.

A genius trick to make the most exquisite bolognese
Now here is the thing, if I'm going to share a classic recipe with you that already has millions (and millions) of versions floating all over the internet, I will do so for two reasons. One, as a reminder that yes in fact, it is a great dish you should be making and enjoying. Two, some older recipes, no matter how delicious, popular, or famous, can sometimes benefit from a few updated tweaks. Here, I have applied a "genius trick" to the ground beef that cuts the long cooking time required for a Bolognese in half.
Let me explain. You may have noticed that ground meats often become tough and rubbery when seared or browned — a key step to enhance flavour — no matter how long it subsequently simmers. It has always been a pet peeve of mine. Some Dominican cooks will even simmer ground beef in a lot of water to tenderize it before using it in a recipe. Not sure if that really works, but even if it does, it sounds fastidious and not something that you would want to do to beef if you were using it to make burgers.
Recently, I read about a genius trick on the Food52 website that takes a little planning but could not be simpler and actually works. The ground meat is soaked in a few tablespoons of cream or yogurt for a few hours or overnight. That's it. It works the same way as tenderizing chicken in yogurt before cooking it and it is truly genius. The trick was inspired by none other than James Beard who adds heavy cream to his burgers before cooking them. Jenn de la Vega took this trick a little further and used it to soak her ground meat for a few hours. The meat breaks down becoming softer, and more tender before it gets browned in the pan. With less cooking time, the meat becomes buttery-soft and ultra tender.
Though fascinating to me, I won't get into the science behind how or why it works on this post. If you would like to learn more about it, read the full article here. Just know that applying this trick to a Bolognese sauce not only reduces the cooking time significantly (from 3-4 hours to maybe 1 1/2 – 2), but also results in the silkiest-tender, most exquisite ragú you've ever had. Yes you have to allot the time for the ground meat to marinate in the cream. But a good Bolognese is more of a weekend dish anyway which should give you plenty of time to plan for it.

Bolognese sauce ingredients
It may seem like a long list of ingredients, but note that most of them are staples in your pantry. Make it with what you got, if you have the basics, it will still be delicious.
The meat: I use only ground beef to make my Bolognese. If you prefer, you can use a mix of beef and pork or sausage. Like all small businesses currently suffering from this crisis, try and support your local butchers by buying a better-quality meat than at the supermarkets, if at all possible.
Heavy cream: I recommend you marinate the ground beef with a few tablespoons of cream. This both helps tenderize the meat and enable a shorter cooking time.
Butter & olive oil: For my Bolognese, I use only a good-quality olive to sauté the vegetables. To finish the sauce, however, just a tablespoon of butter will add a little extra silkiness and wonderful flavour to the sauce.
Pancetta: A good Bolognese sauce benefits from the saltiness and smokiness of a cured meat such as pancetta or bacon. I prefer to use pancetta but use bacon if that is easier for you to come by or if it is what you have on hand.
Garlic: As with many Italian dishes, the addition of garlic can cause quite the rufus. I love garlic, and garlic is good for you, it's going in my Bolognese. Leave it out if you wish to earn brownie points from a Northern Italian.
Onions, carrots and celery: Also known as the sofritto, these three ingredients are non-negotiable in a Bolognese. I like to pulse the veggies in a food processor to save a little time on the chopping.
Tomato sauce: Bolognese is not heavy on the tomatoes. In fact, some traditional recipes omit it altogether relying solely on tomato paste. I prefer my bolognese sauce with 1 can tomatoes. If we weren't all trying to avoid supermarkets right now, I would insist you use only San Marzano tomatoes. But given the circumstances, use the best you can find or whatever you have on hand.
Tomato paste: The concentrated paste adds nuance and body to the sauce. To intensify the flavour of the paste, I like to brown it a little in the pan before adding the liquids. This sort of caramelizes and sweetens the paste which adds more flavour to the sauce. Freeze any leftover paste in tablespoon-sized servings for later use.
Chicken stock: Not all recipes include stock in a bolognese. I feel like the ragú benefits from the liquid to keep it from drying out so I always include. Homemade is always best, but again, given the circumstances, store-bought is fine.
Wine: Dry white wine is traditionally used in a bolognese sauce. Go ahead and use red if that is what you have.
Milk: In Bologna, dairy is used to round out the acidity of the tomatoes in the Bolognese sauce. If avoiding dairy, you can leave it out but the sauce will not be as silky.
Nutmeg: As with milk, nutmeg is used to tone down the acidity of the tomatoes in the ragú.
Parmesan: A good Parmesan from the Reggiano region is no longer hard to track down no matter where you live. It probably goes without saying, but please refrain from using the green bottle stuff which will ruin your beautiful Bolognese. I like to add a little parmesan to the sauce once it is done cooking. More to serve with the pasta, is always a good idea.
The pasta: The consensus seems to be "use any pasta except spaghetti for Bolognese". I'm not arguing that one. I love it with a tubular-shaped pasta that catches the meat sauce, or a noodle that is thick enough to stand up to the thick sauce such as tagliatelle or pappardelle.
What to serve with the bolognese
I like to serve my Bolognese pasta with a simple leafy green salad. If I have time to make it, this Catalan-Style Spinach is divine alongside this exquisite Bolognese.
Oven or Stovetop
I prefer to cook stews in a low-heat oven. The oven offers better heat distribution and it also requires less babysitting. In the recipe notes I include stovetop instructions as well, in case it is the method you prefer.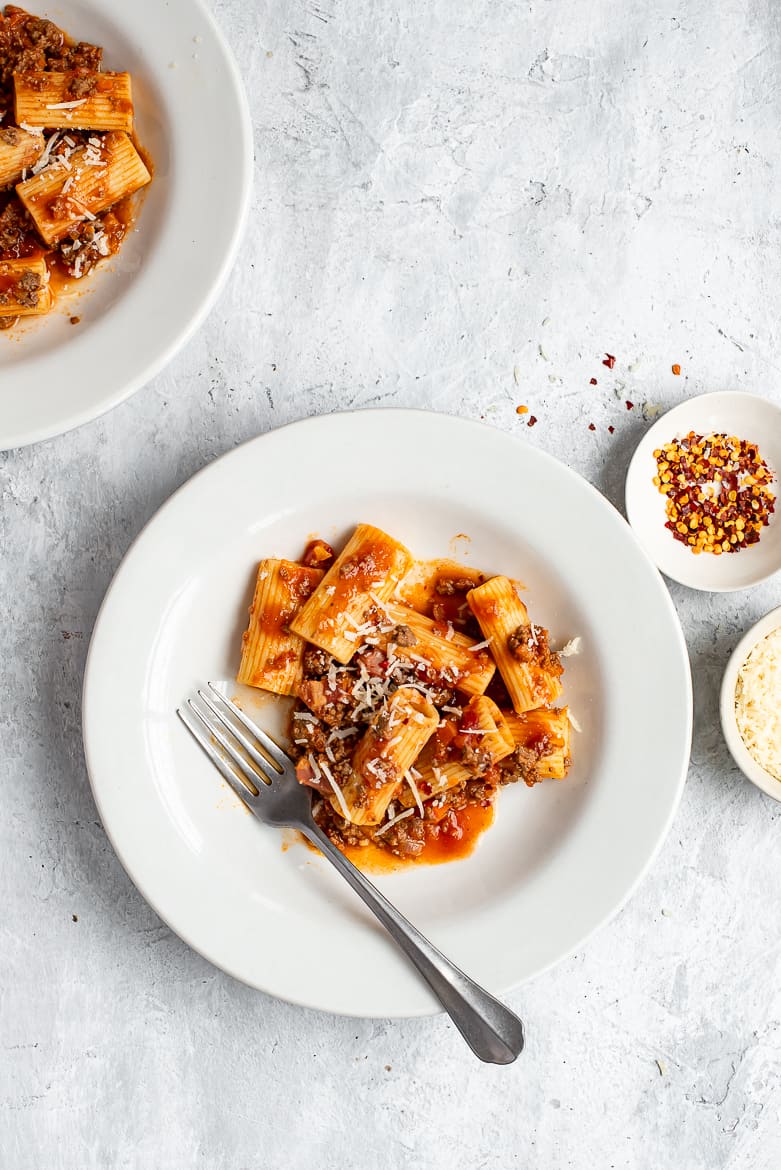 To be sure, a good Bolognese sauce is a labour of love. But if you have most of the ingredients on hand, and find yourself with a little extra time right now, it is truly a simple sauce to make and the pay-off is huge. Stay safe, stay calm, stay in and cook a little. We will get through this, dear friends.
Print Recipe
Pin Recipe
The Most Exquisite Bolognese
For this Bolognese ragù, I have you marinade the ground beef in a bit of heavy cream. This both tenderizes the beef and shortens the overall cooking time of the ragù. If you prefer to skip this step, add another hour of cooking time but do note that the meat sauce will not be as silky-teneder.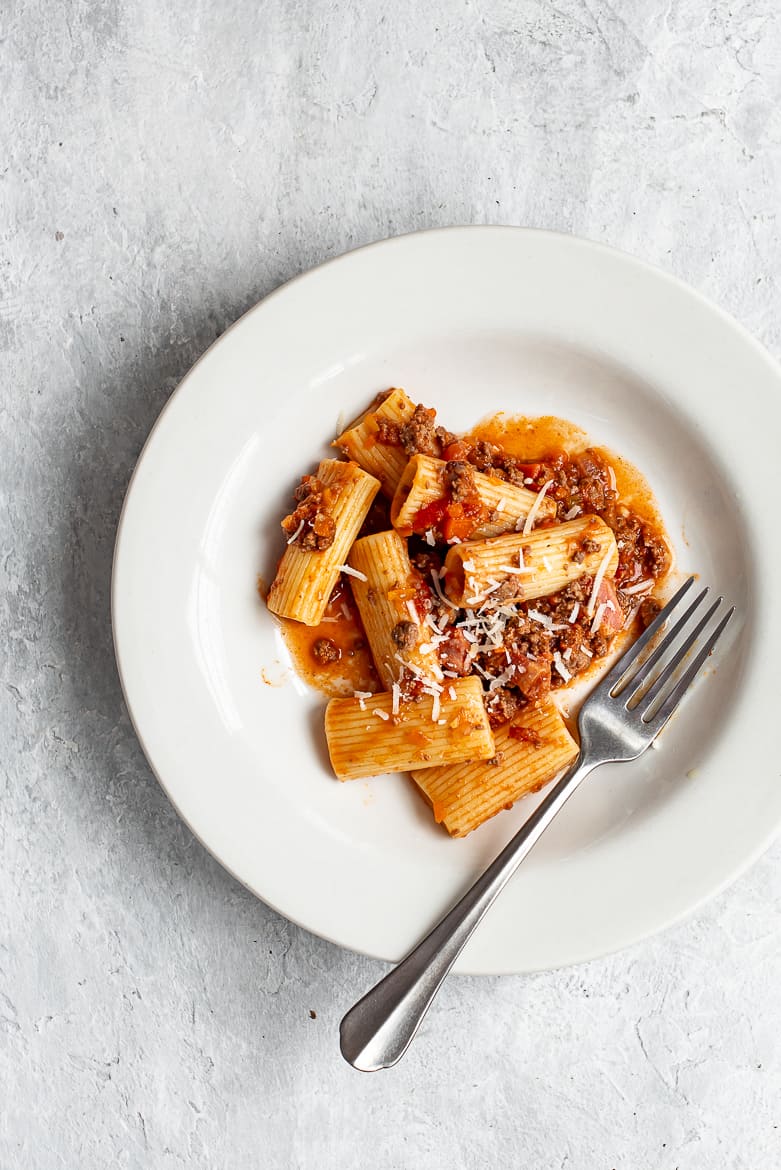 Ingredients
1 1/2

pounds

lean ground beef

3

Tablespoons

heavy cream

3-4

ounces

pancetta, or bacon

finely chopped

1

large onion

finely diced

2

celery stalks

finely diced

1

medium carrot

peeled, finely diced

3

garlic cloves

minced

3

Tablespoons

extra-virgin olive oil

Kosher salt

freshly cracked pepper

1

cup

dry white wine

1/4

cup

tomato paste

1

28-oz

can good-quality whole tomatoes

hand crushed

Pinch

of finely grated nutmeg

2

cups

low-sodium chicken broth

1

cup

whole milk

1

Tablespoon

butter

optional

1

pound

pasta

such as rigatoni, tagliatelle, papparedelle

1/4

cup

finely grated Parmesan

plus more for serving

1/2

teaspoon

red pepper flakes

optional
Instructions
Mix ground beef with 3 tablespoons heavy cream. Cover and place in fridge for 2-4 hours, or overnight. Note, if you skip this step, add another hour to the overall cooking time of the meat sauce.

Pre-heat oven to 325 degree F.

Heat a large pan or Dutch oven, over medium high heat. Once hot, add 1 tablspoon olive oil. Add the pancetta and sauté until golden brown, about 4-5 minutes. Stir in the onion, carrots, and celery, and sauté until softened, 5 to 8 minutes. Add garlic and sauté for another minute. Stir in the tomato paste and sauté until it starts to darken and caramelize, about 1-2 minutes. Remove the mixture to a plate and reserve.

Add the remaining 2 tablespoons olive oil to the hot pan followed by the ground beef. Season with 1 teaspoon salt and freshly cracked pepper to taste. Cook, breaking lumps with a wooden spoon until browned, about 10 - 15 minutes.

Return the reserved pancetta and onion mixture to the pot. Add the white wine and cook until the wine is mostly evaporated, about 2 to 3 minutes. Stir in the crushed tomatoes, nutmeg, milk, and chicken stock. Season with 1 teaspoon salt and frseshly cracked pepper to taste.

Bring to a gentle boil then place the pan, uncovered, in the preheated oven. Cook, stirring occasionally, for 1 1/2 to 2 hours or until the sauce is reduced and thick. If the liquid reduces too qucikly, add an extra ½ cup stock and continue cooking.

Stir in the butter, if using, and 1/4 cup parmesan cheese. Taste and a season with more salt, if necessary. 

Cook the pasta:

Bring a large pot of water to a boil. When the water is boiling, salt it with plenty of coarse salt and add the pasta. Cook a few minutes less than package instructions suggest.

When the pasta is cooked, reserve 1 cup of the pasta water (you likely won't use it all), then drain in a colander.

Add 1/4 cup pasta water to the meat sauce and stir.

If you wish, and if you have the space, transfer the pasta to the saucepan, and toss to combine. Let the pasta cook in the sauce for a 1-2 minutes, adding a few more splashes of pasta water only if it seems a little dry. Alternatively, serve the pasta in bowls and top with the sauce.

Serve with the extra parmesan cheese on the side and red pepper flakes, if desired.
Notes
Cook on the stovetop: Alternatively, reduce heat to the lowest setting and cook, uncovered and stirring occasionally, until sauce is thickened and meat is tender, 1 1/2 - 2 hours. If the liquid reduces before the meat is completely tender, add an extra ½ cup stock and continue cooking. Taste and a season with more salt, if necessary.