A magnificent Lasagna with Chicken Sausage and Spinach that is rich and decadent and won't take all day to prepare. This lasagna is made with layers of sausage-tomato sauce, spinach, and a trio of cheeses: ricotta, mozzarella, and parmesan. Comfort food at its finest.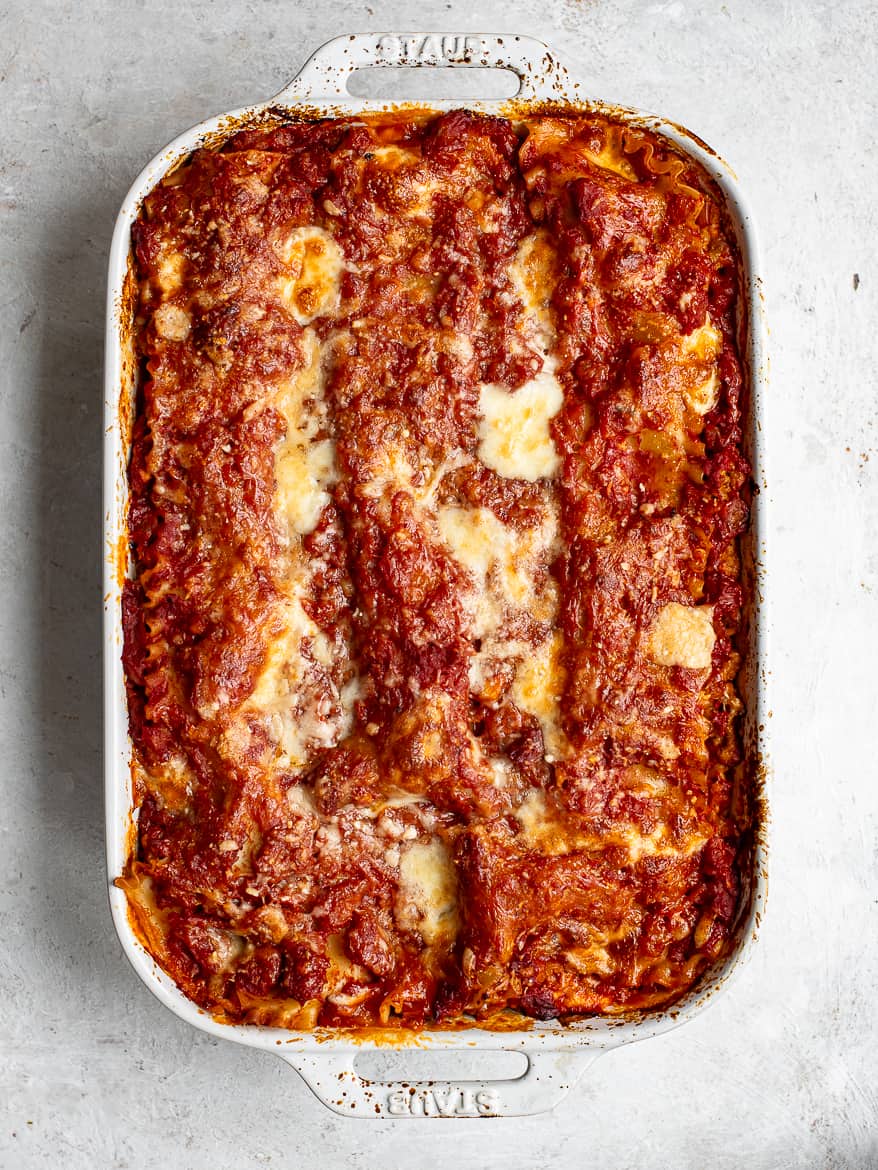 Let me start by saying that if the world were back to normal and you were working outside the home all day or shlepping kids to activities, you would not want to be making this lasagna during the week. A really great lasgana, no matter how many shortcuts you take, is still a labour of love. That said, they are always worth the effort and this lasagna with chicken sausage and spinach I share with you today rewards you tenfold.
Some shortcuts are made here, however, starting by eliminating the béchamel sauce. Béchamel sauces, though lovely, take long to make right and are the reason I often forgo making a lasagna. So for this lasagna, a good amount of ricotta cheese, whisked with an egg until really creamy and smooth, makes a quick luscious substitute.
Secondly, using sausage which is already intensely seasoned and flavoured, instead of ground meat, does away with the need for a long braising sauce. And though this homemade marinara sauce is quick to make, if you have a favourite jarred sauce, you can cut corners there as well.
Ingredients And Notes
For the noodles: If you find fresh ones, go ahead and use those. Unless it is all you can find, I would not bother with the fastidious step of boiling noodles to make a lasagna. Oven-ready noodles work great and are almost always what I use to make lasagnas.
Chicken sausage: I like using chicken sausage because it has very little fat but is still super tasty. If you prefer, or if you can't find chicken, use any other sausage that is available. A pork Italian sausage, or even a plant based sausage would be wonderful. But, if at all possible, use a really good quality sausage for this lasagna. Seek out a local butcher, or find a brand that has no weird additives, it truly makes all the difference in the world. In my area you can find great frozen or fresh sausages here.
The marinara sauce: This recipe calls for a quick, but really delicious, marinara sauce but you can also go the route of a jarred sauce. Note, however, that this makes a large lasagna so if you only have one jar, stretch it by adding a can of whole tomatoes.
Ricotta, parmesan, and mozzarella cheese: As much as I occasionally enjoy cheese-bomb lasagnas, I do not enjoy how I feel afterwards. This recipe goes very light on the mozzarella cheese and heavier on the ricotta and parmesan which add loads of flavour without the extreme heaviness.
Spinach: Something green to balance the richness of a lasagna is always a must. Use frozen or fresh just be sure to drain any excess liquid so you don't have a soggy lasagna.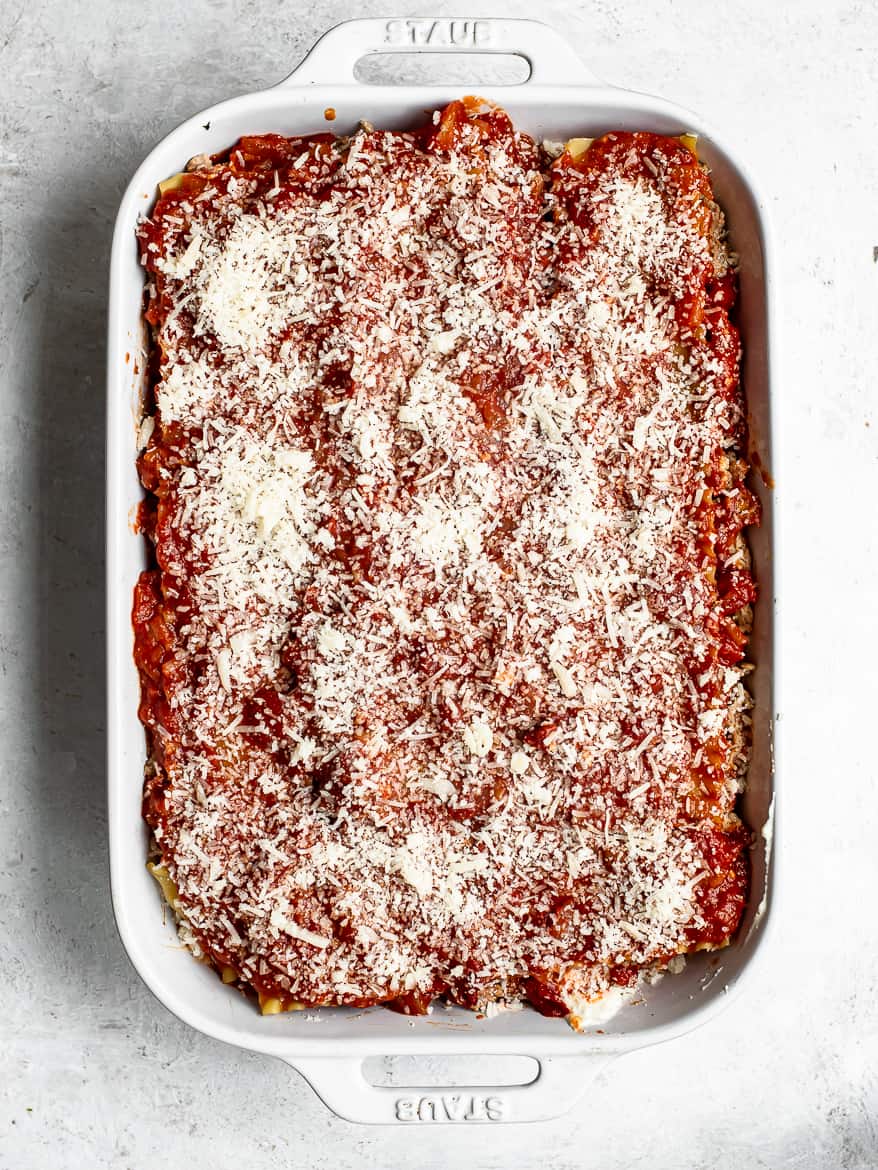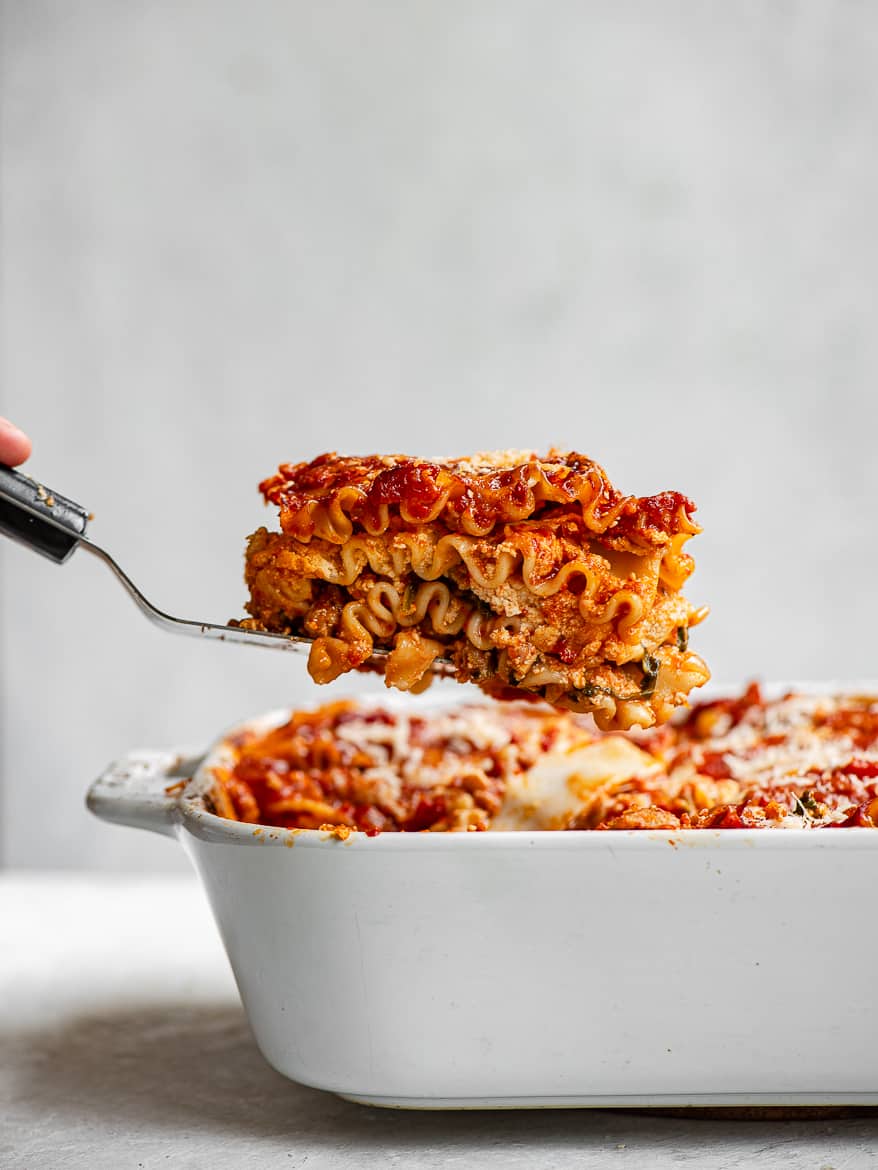 Delicious variations
Any sausage works to make this lasagna, including a plant-based sausage. If you prefer to use ground meat, simply add it to the sauce once browned and let it braise for at least 20 minutes.
If you don't love ricotta cheese in your lasagna, simply eliminate it (and the egg) and double or triple the mozzarella cheese mixed with a little cream.
Adding more vegetables to the sauce, such as carrots, celery, and/or zucchinis, especially if making a plant based lasagna, is always a great idea. Make it entirely vegan by using egg-free noodles.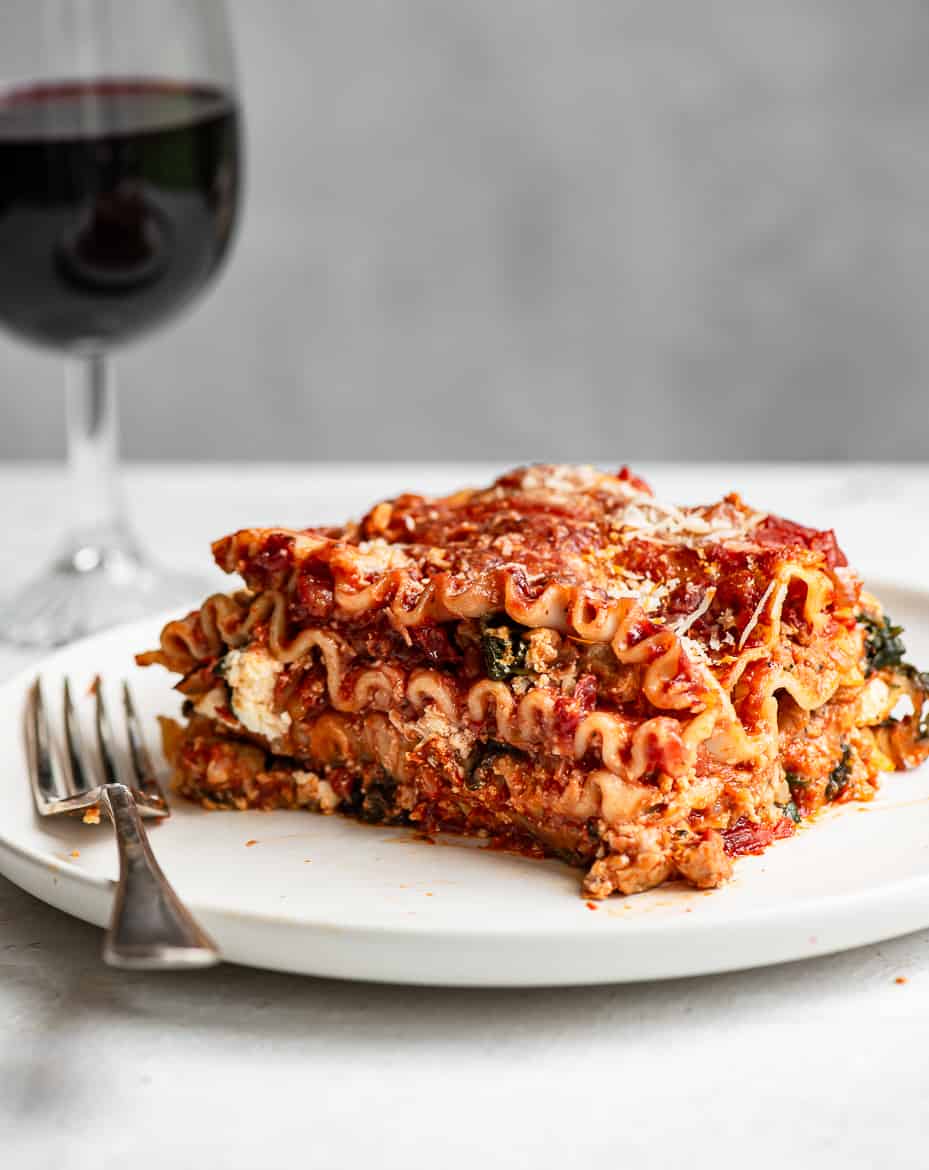 This is the kind of comforting meal you want to make right now. You can feast on it for days or stash some away in your freezer. Or, if you wish, make two smaller ones and deliver one to a friend or neighbour in need. Lasagnas require some effort and time but I promise, this is one dish you will not regret making. And remember, lasagna always tastes better the next day.
Other comfort-food recipes you might enjoy:
The Most Exquisite Bolognese Sauce
Print Recipe
Pin Recipe
Lasagna with Chicken Sausage and Spinach
This lasagna is very easy to adapt to your liking. The recipe calls for chicken sausage but any sausage, including a plant-based, can be used. I like to use fresh or oven-ready noodles which seem to hold up better than boiled noodles. If you prefer a cheesier lasagna, add another 1-2 cups mozzarella cheese.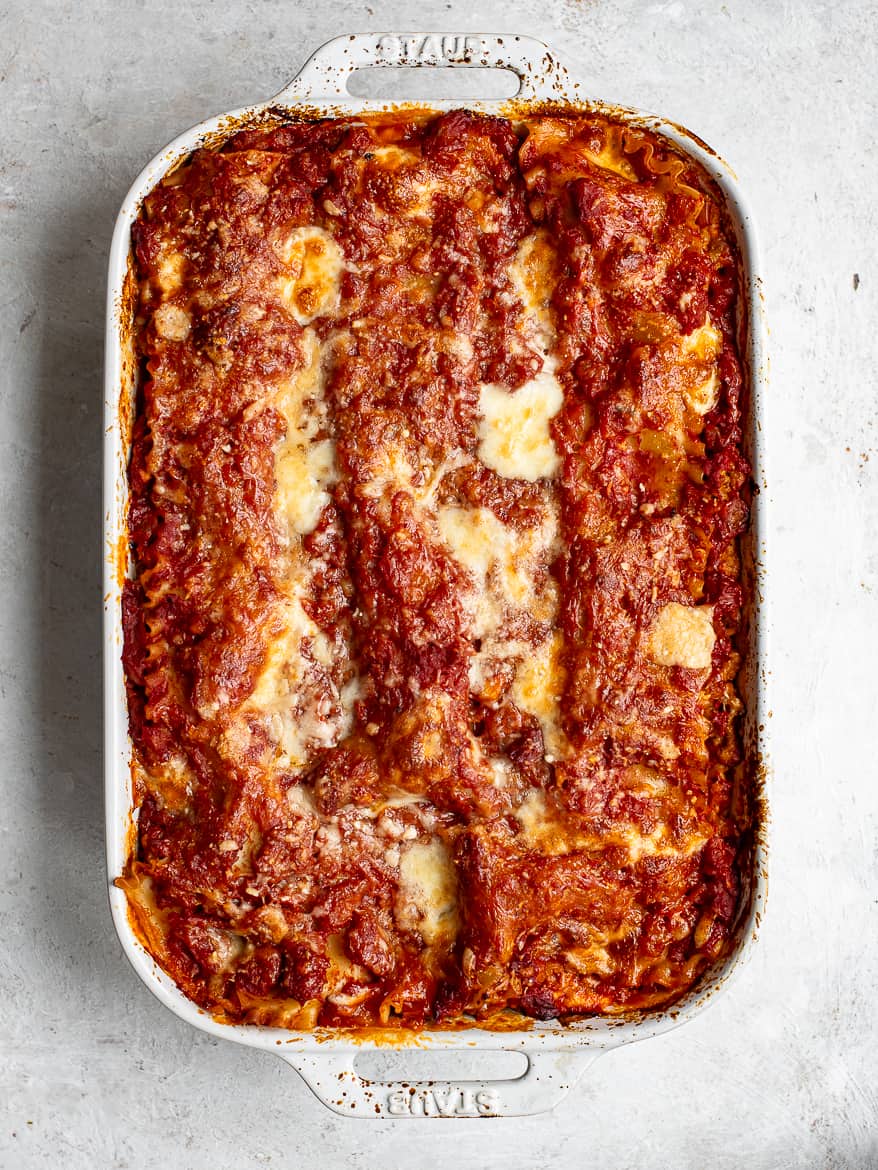 Ingredients
6 - 8

cups

baby spinach

washed and dried with just a bit of residual water left on the leaves

1

tablespoon

extra-virgin olive oil

1

pound

chicken Italian sausage

casings removed (or use your favourite sausage)

1

medium onion

finely diced

4

garlic cloves

minced

1/2

teaspoon

red-pepper flakes

plus more to taste

2

teaspoons

dried oregano

kosher salt

freshly ground black pepper to taste

1/4

cup

tomato paste

2

28-ounce

cans whole tomatoes

or jarred sauce (see recipe notes)

1/2

cup

chicken stock or water

plus more if sauce is too thick

2

15-ounce

tubs ricotta cheese

1

large egg

1

cup

mozzarella cheese, coarsley grated

1 1/2

cups

Parmesan cheese, finely grated

plus more to serve

16

oven-ready (no boil) lasagna noodles

(One box should have 16 noodles, if not use 3 noodles per layer)
Instructions
Heat a large saucepan or Dutch oven over medium-low heat.

Add the spinach and toss until wilted, about 2-3 minutes. Squeeze the spinach in a paper towel or clean tea towel to remove excess liquid. Set aside.

Turn the heat up to medium and add the oil to the pot followed by the sausage. Cook breaking up the sausage until no longer pink, about 5 minutes.

Add the onion, garlic, red pepper flakes, oregano, 1 teaspoon kosher salt and freshly cracked pepper to taste. Cook for about 5 minutes, until the onion is soft and translucent.

Stir in the tomato paste and cook for about 3 minutes more. Add the whole tomatoes breaking them up really well with a wooden spoon. Pour in the chicken stock, or water, and bring to a boil. Reduce to a simmer and cook for 15 minutes, stirring occasionally.

Preheat the oven to 375°F.

Meanwhile, combine the ricotta, egg, and 1 teaspoon salt in a mixing bowl whisking, vigurously until smooth.

At this point, if the sauce has thickened too much, add another 1/3 cup chicken stock or water. Taste the sauce and season with additional salt and pepper, if needed.

Coat the bottom of a 9" x 13" baking pan with butter or oil and spread the bottom with 1 1/2 cups of the sausage mixture. Top with a layer of 4 noodles, then 1 1/2 cup ricotta mixture, and 1/3 of the spinach. Sprinkle with all the mozarella. Top with 4 noodles and repeat the pattern two more times, without the mozzarella, for the remaining layers but making sure to reserve 1 cup of sauce and 1/2 cup parmesan.

For the last layer, place 4 more noodles topped by the remaining sauce. Sprinkle with remaining parmesan cheese.

Cover with aluminum foil and bake for 35-40 minutes. Remove the foil and continue baking for about 10-15 minutes, until the top of the lasagna is nicely browned and bubbly.

Allow lasagna to rest at least 15 minutes before serving. Serve with additional parmesan cheese, if desired.
Notes
If you are using jarred sauce, add a can of whole tomatoes, along with the cup of water or chicken stock or you will not have enough sauce. Alternatively, use two jars of sauce. 
If you don't have enough spinach for all 3 layers, just use the spinach for two layers total.