With its luscious filling and comforting warmth, this Turkey Shepherd's Pie with creamy mashed potatoes is just as rich and delectable as the classic lamb or beef. Hearty and filling it is a dish the entire family will love.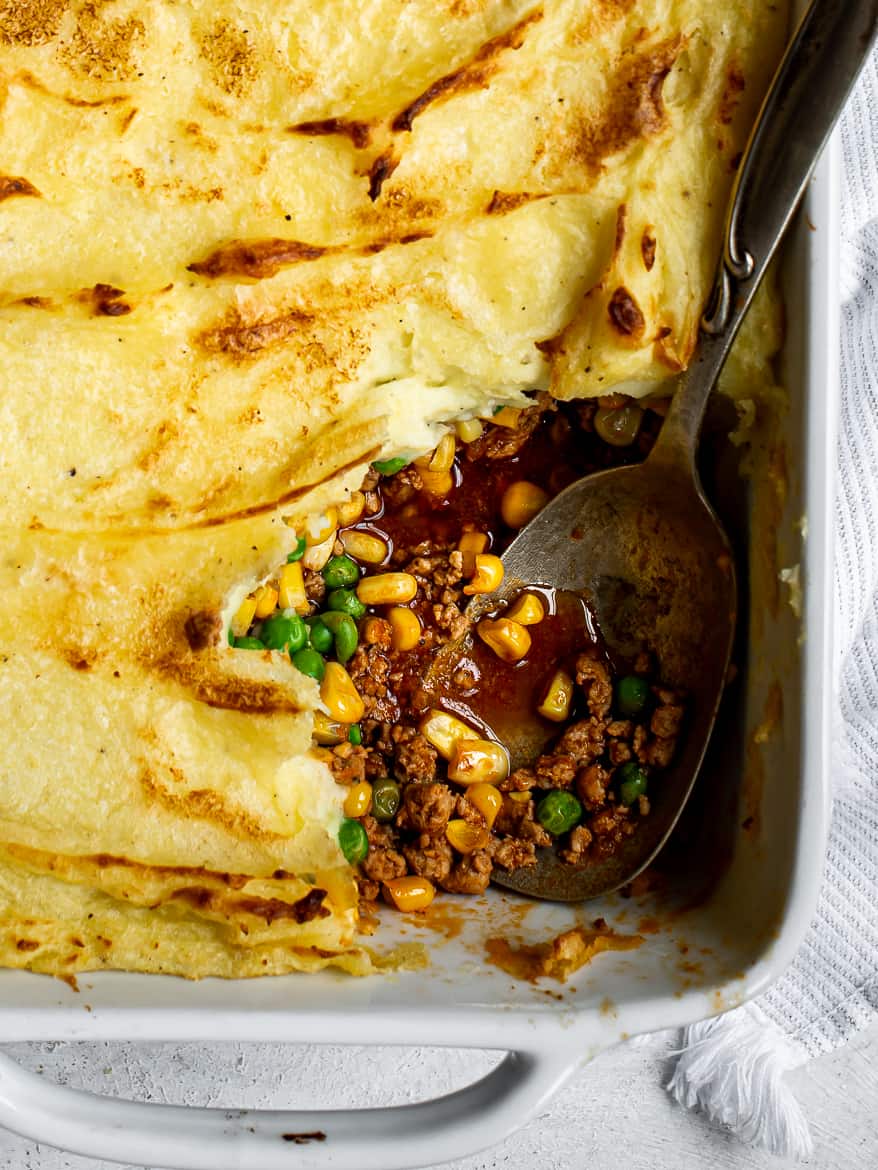 Yesterday was a ridiculous weather day here in Southwestern Ontario. Hail, then sun, more hail, and blistering winds to blow your head off. I had already planned on making a Shepherd's pie which is a dish I make a lot at home, especially when needing a comforting meal. The chilly weather, of course, made this cozy pie-to-be all the more appealing.
To make this shepherd's pie I don't go the classic route which is using lamb, but the results are lush and tasty nonetheless. The turkey filling gets a depth and complexity of flavour with ingredients that add a rich umami-ness; worcestershire sauce, red wine, chicken stock, and a good amount of tomato paste.
Light and airy mashed potatoes that become crispy and golden around the edges when baked, complete this spectacular turkey shepherd's pie.
  Variations for turkey shepherd's pie
I love shepherd's pie for how endlessly adaptable it can be. Use this turkey shepherd's pie recipe as a base and jumping off point and adapt it to what your preferences are or to what you have on hand.
For different fillings
The filling for lamb and beef are of course the more classic versions but chicken and turkey, as I use here, can be just as rich and flavourful and perhaps a little healthier. The red wine flavour to the filling but use all stock as the liquid if that is easier. If you are avoiding sugar, omit the ketchup though some good-quality organic ketchups do use less sugar.
For this recipe, I skipped the the diced carrots — less chopping, didn't have any– but frozen peas and corn will always be layered in my shepherd's pie. Parsnips, beets, green beans, or butternut squash would also be delicious. Note: do not add frozen vegetables such as peas and corn to the meat filling until the very end. In fact, I prefer to layer them in the pie so that they don't get too mushy and maintain just the slightest crunch. The heartier vegetables, however, will have to cook with the meat in order to soften.
For a veg-friendly version, omit the meat and use cooked lentils and/or mushrooms. Give it a curry vibe by adding some Indian spices. So good.
For different toppings
If I didn't have sweet potato-averse humans in this house, it would always be my topping of choice. Love, love, love shepherd's pie with sweet potatoes. For a lighter, but not less delicious, topping, try it with this cauliflower purée. A parsnip mash, or a mix of potato and parsnip, will give your pie a little sophisticated flair.
For a dairy-free turkey shepherd's pie, omit the dairy to make the topping and use olive oil, or coconut oil, instead.
To make ahead and reheat
To make the turkey shepherd's pie ahead of time, assemble the whole casserole as per recipe, ensuring you leave the peas and corn in their frozen state. Cover the dish, and keep it in the refrigerator for up to 8 hours. Take it out of the refrigerator for at least 20 minutes before you need to bake.
Any leftovers will keep for up to 3-4 days in the refrigerator. Reheat, covered with foil, in a preheated 350 degree F oven for 15-20 minutes or until warmed through.
To serve
A simple mixed salad is all you need to go alongside this delicious turkey shepherd's pie. But if you're feeling adventurous try it with sweet plantains, divine.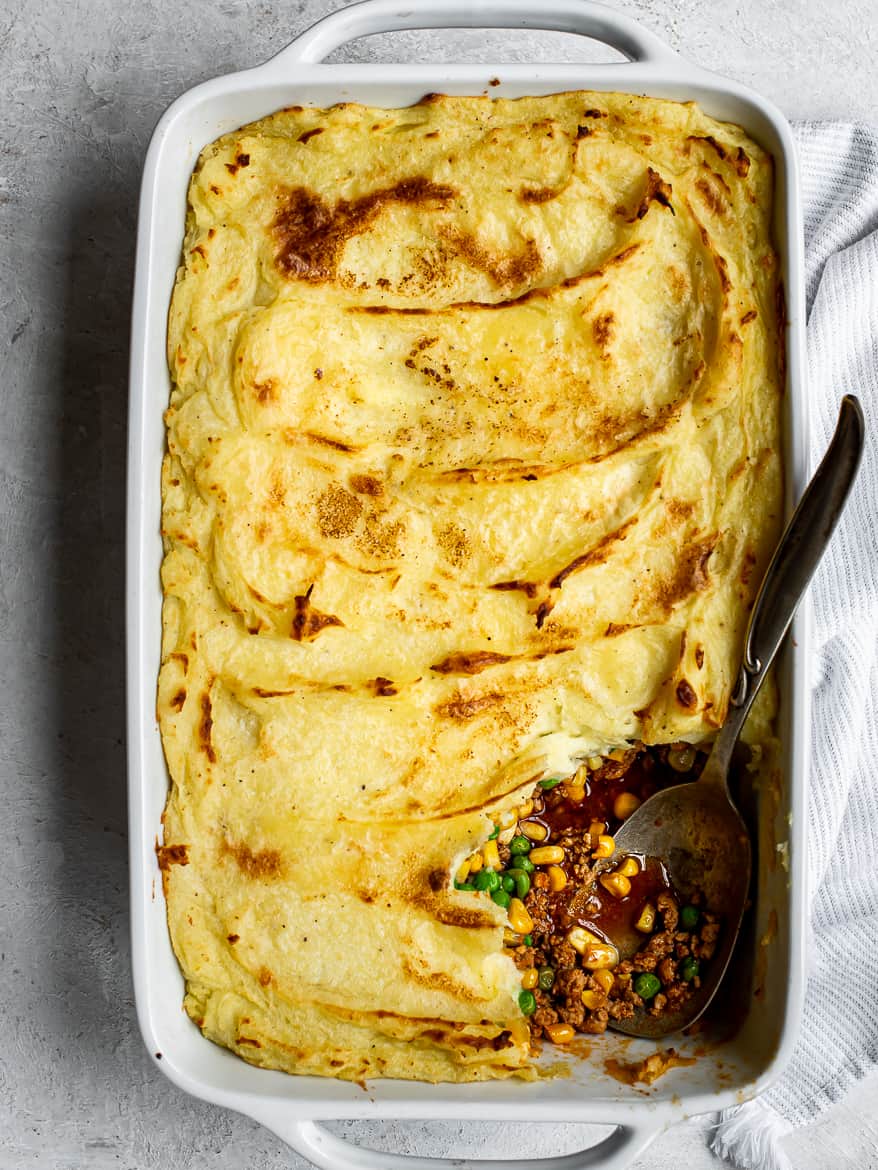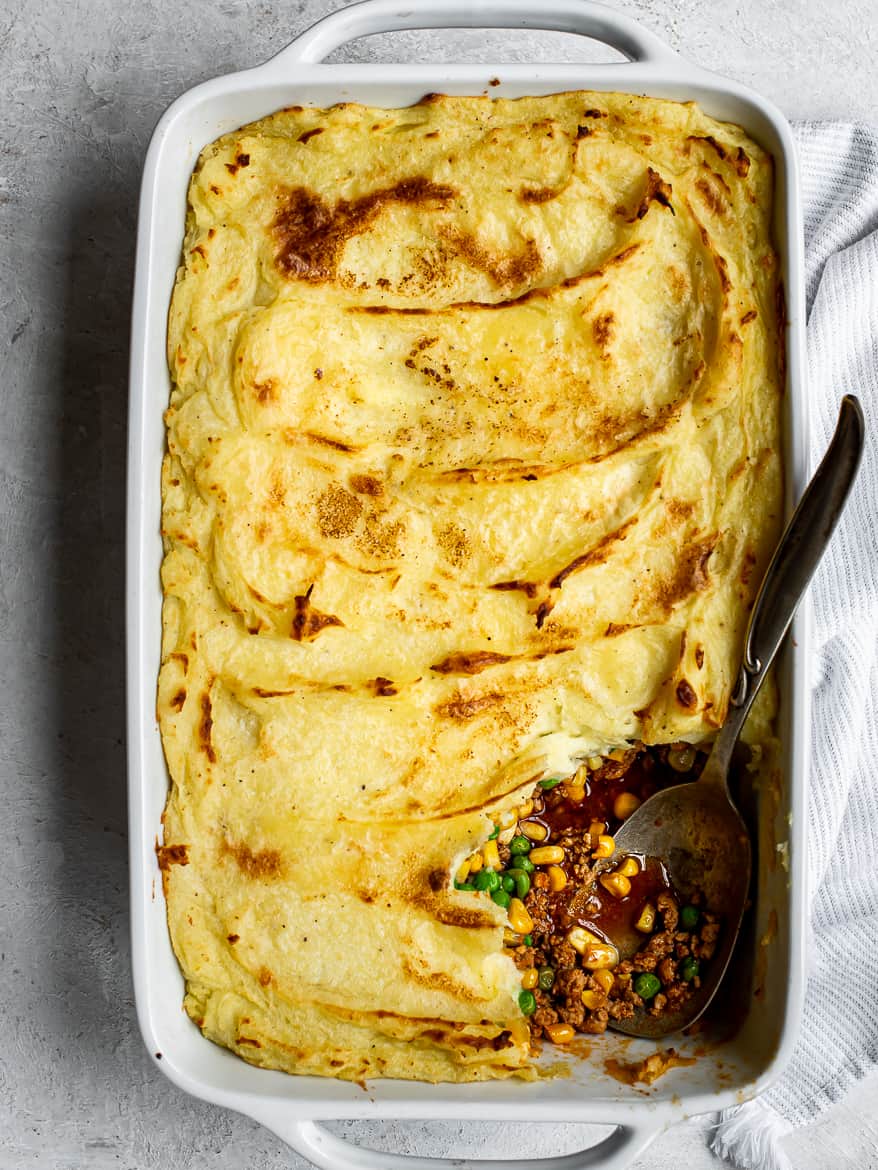 Ingredients
3

tablespoons

olive oil

divided

1 1/2 - 2

pounds

ground turkey

1

medium red yellow onion

diced

3

large garlic cloves

minced

1/3

cup

tomato paste

3

sprigs thyme

or a few dashes of dried

salt and pepper

1

cup

chicken stock

4

tablespoons

worcestershire sauce, plus more to taste

use gluten-free if necessary

1/2

cup

red wine

*optional

1

cup

frozen peas

1

cup

frozen corn
For the topping
3

pounds

Yukon gold or russet potatoes

peeled and cut into 2-inch chunks

4

tablespoons

butter

divided

3/4

cup

2% milk

or a mix of half and half and milk

kosher salt

freshly cracked pepper to taste
Instructions
Heat a large dutch oven or heavy-bottomed pot over high heat. When the pot is hot, add 1 tablespoon olive oil and the ground turkey. Season generously with salt and pepper and cook, breaking up the meat with a flat wooden spoon, until very well browned, about 5-7 minutes. Remove the meat from the pot and place in a bowl. If using ground beef or lamb, make sure to drain any excess oil.

In the same pot, heat the remaining 2 tablespoons olive oil over medium heat. Add onion (and any other diced fresh, but not frozen, vegetables you are using) and cook until softened about 5 minutes. Stir in the garlic and cook 30 more seconds.

Add the tomato paste and thyme sprigs and cook, stirring often, until the tomato paste starts to slightly caramelize about 2-3 minutes. Be careful not to let it brown or burn.

Place the turkey back in the pot and add the chicken stock, worcestershire sauce, and red wine, if using. Bring the mixture up to a boil then reduce the heat and simmer gently for 20-25 minutes, stirring occasionally.

Preheat the oven to 400°F.

While the meat mixture simmers, place the potatoes pieces in a medium saucepan and cover with cold water by at least 2 inches. Add a very generous pinch of salt and bring to a boil. Once it reaches a boil, reduce to a steady simmer and cook for 12-15 minutes or until the potatoes are very tender but not falling apart.

In a small saucepan, heat the milk and 3 tablespoons of butter until the butter is melted. Alternatively, heat the milk and butter in the microwave.

Drain the water from the potatoes completely and place the saucepan with the potatoes over a low heat burner for 1 minute to cook off any residual water. Turn off the heat and mash the mixture very well with a potato masher or ricer. Pour in the warm milk and melted butter and season to taste with salt and pepper.

Taste the meat mixture and adjust seasoning if necessary by adding more salt and pepper or worcestercshire sauce. Pour the turkey mixture into a 9x9 (or 7x11 or 2-3 quart) baking dish and spread it out into an even layer. Place the frozen peas and corn in an even layer over the meat mixture.

Spoon the mashed potatoes on top carefully spreading it into an even layer. Once the top surface has been covered, use a spoon or fork to create texture so that there are peaks that will brown nicely. Dollop small pieces of the remaining 1 tablespoon of butter over the potatoes.

Bake uncovered for 25-30 minutes, or until the filling is bubbling. If the topping needs more browning, turn on the broiler and cook for 3-5 minutes, watching it carefully so it doesn't burn. Cool for 15 minutes before serving.
Notes
*If omitting the wine, add an extra 1/2 cup chicken broth to the meat mixture.