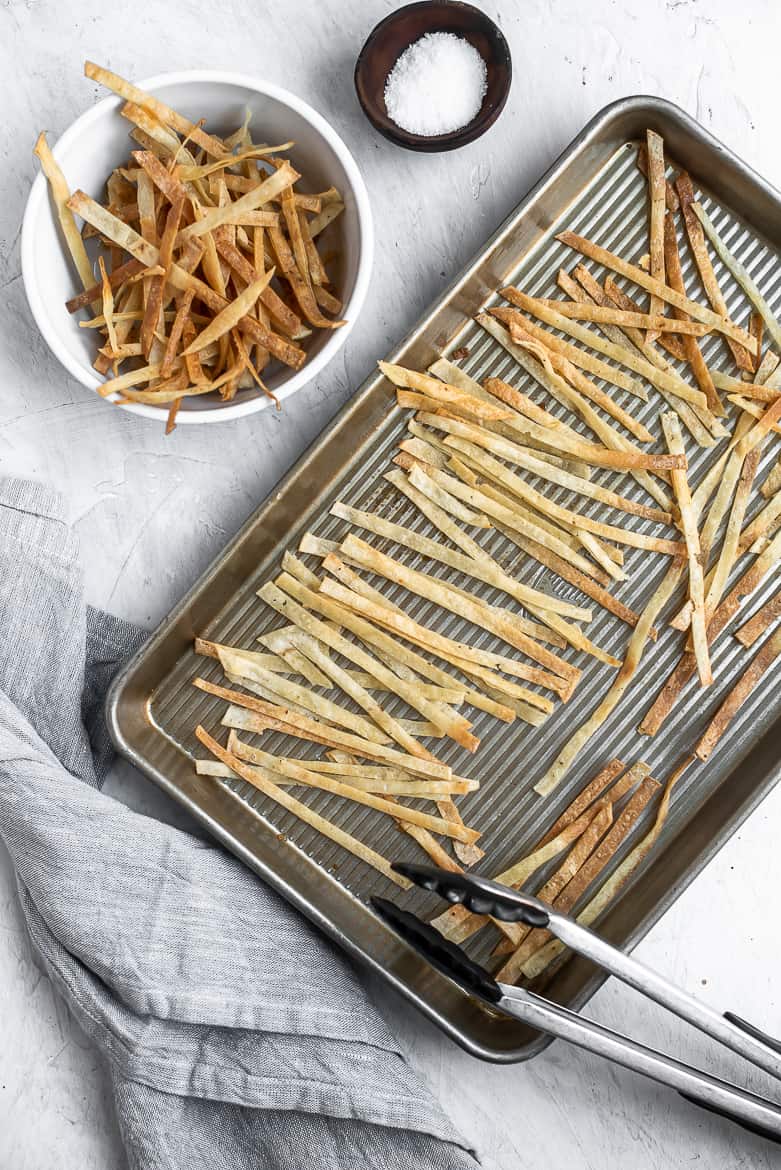 As far as soups go, you can't find one more fun or attractive than this chicken tortilla soup. A super fast, one dish meal, topped with baked crispy tortilla strips, creamy avocados, crunchy jalapeños – and a plethora of other optional ingredients – I am always astounded at how tasty and delicious this soup is every time I make it.
In my version of corn tortilla soup, I do a few things differently than most recipes out there. A lot of the recipes I tried use chipotle peppers in adobo or strong chile powders which I found too over-powering. I find a small amount of ancho chile powder adds just the right amount of smokiness to the soup without being too strong or spicy. Ancho chile powder can be a bit harder to find than chipotle so in my recipe notes I list a few places where I have found it. In addition, my version of tortilla soup has (un-baked) corn tortillas pureed into the broth as well as baked (or fried) strips of corn tortillas for topping – blending corn tortillas in the soup not only thickens the broth but gives it a lovely creamy texture and flavour. An immersion blender works great for this but if you don't have one use a blender, or simply chop the corn tortillas very small – this will still help to thicken the soup.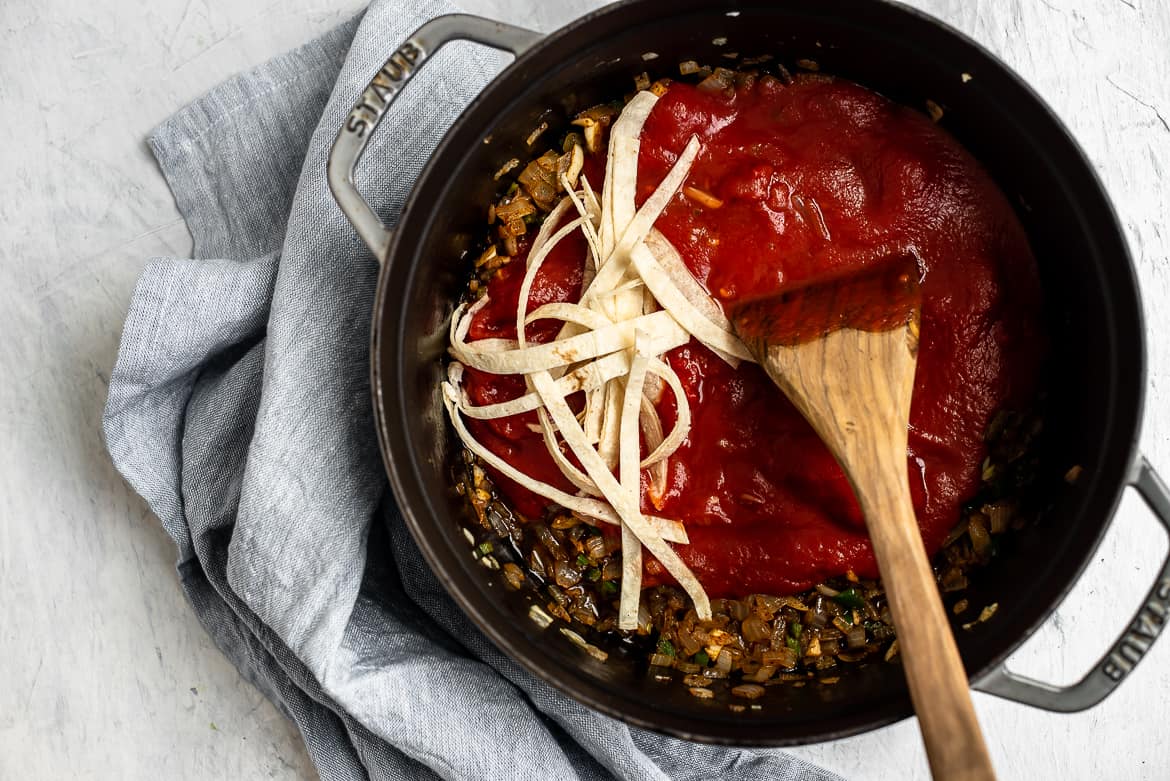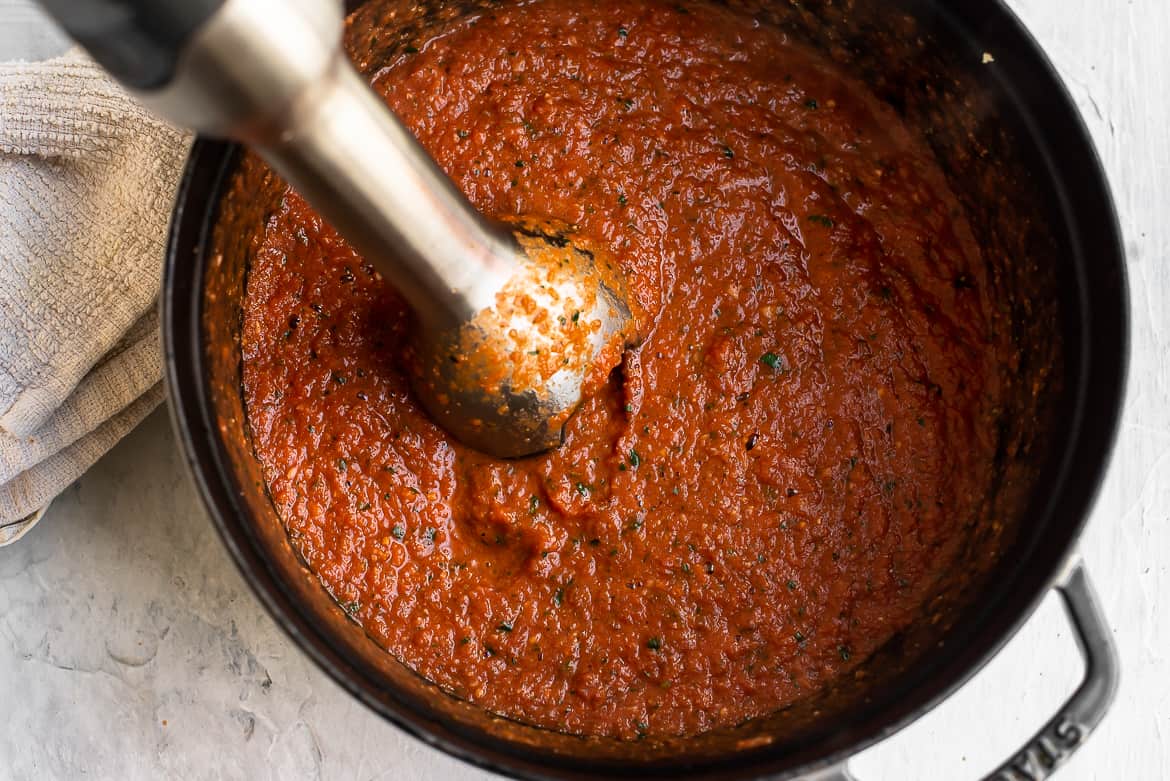 I doubt I would ever bother using fresh tomatoes for this soup, but especially now, when tomatoes are not in season, good-quality canned tomatoes are definitely the way to go. Likewise, though adding raw chicken requires minimal effort, you can definitely go the rotisserie chicken/store bought route or with any leftover chicken. Homemade chicken stock is always healthy and lovely but we are going for fast here so go ahead and grab a few of these to use for this soup and to keep in your pantry – it's a pretty good one when it comes to store-bought. I haven't had much luck finding any good quality, store-bought, tortilla strips so I make my own baked ones which is super easy and fast and I have included the recipe.
The additions and toppings for this soup are endless and everyone can customize it according to their personal preferences. If you would like to top your soup with cheese (not crucial but so good), try it with queso fresco which is a lovely mild and creamy cheese that is becoming more readily available in grocery stores. In the Kitchener-Waterloo area you can find it here, here, and here. If you can't find it, feta is also delicious with this soup. Easily made vegetarian or vegan (check my notes), this is a healthy and simple soup that takes less than 30 minutes to put together and the leftovers are perfect for lunch the next day.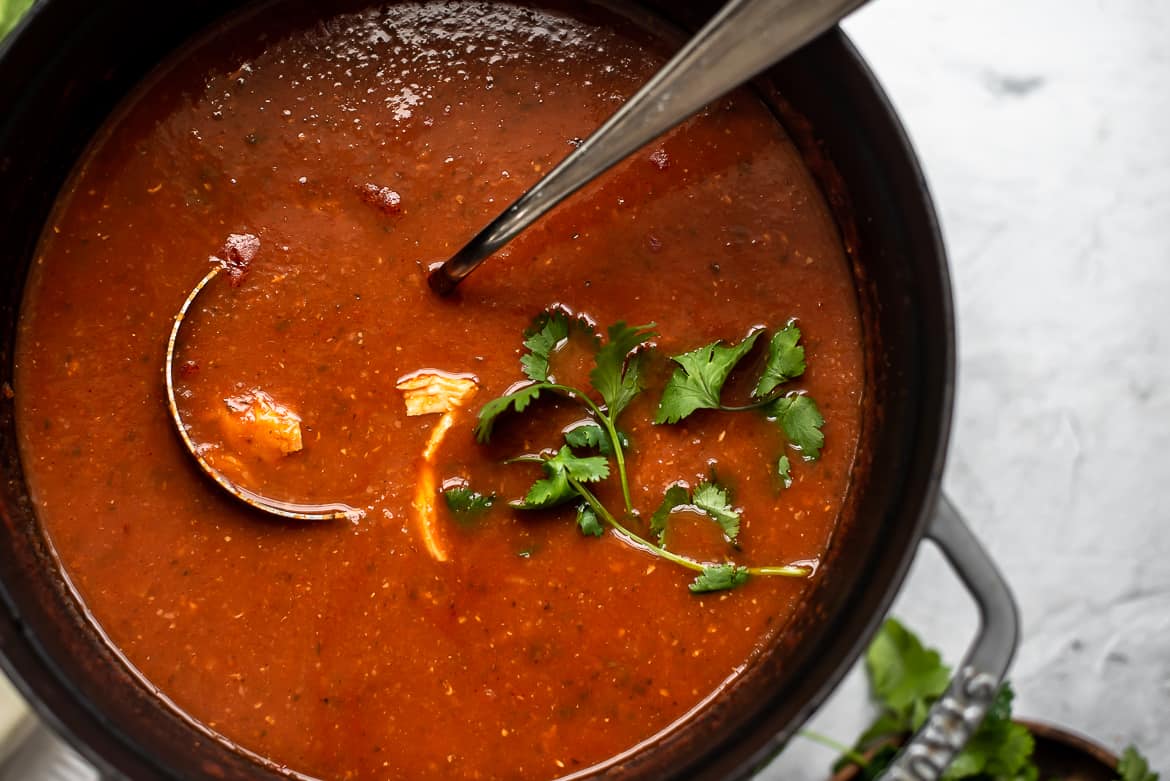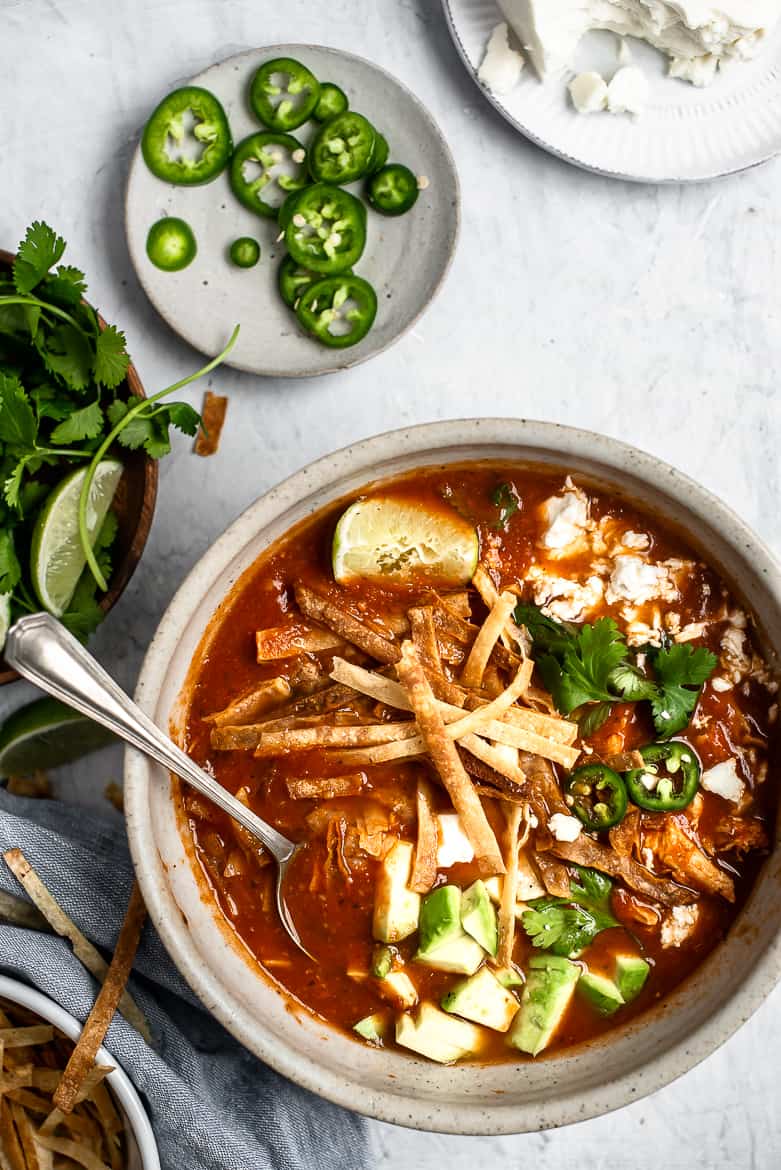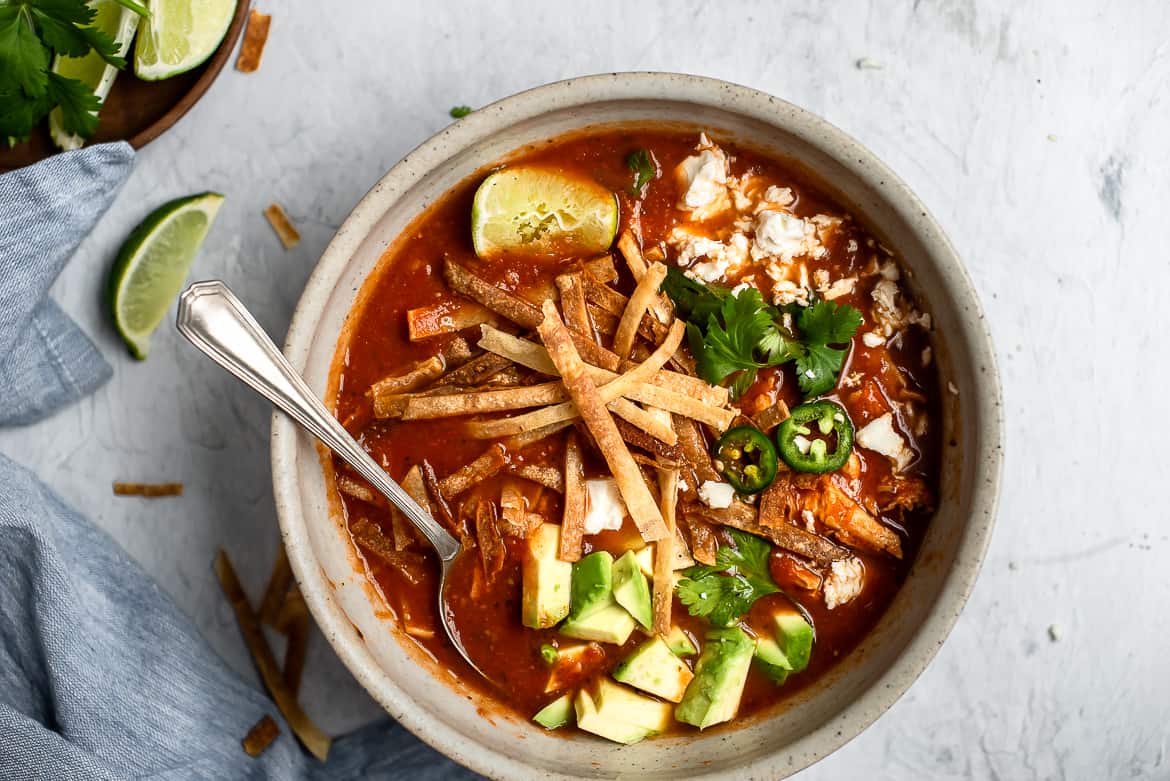 Ingredients
For the baked tortilla strips:

6

corn tortillas

2

Tablespoons

extra virgin olive oil

1/2

teaspoon

kosher salt

For the tortilla soup:

2

Tablespoons

extra virgin olive oil

2

onions

chopped

3

cloves

garlic

finely chopped

2

teaspoons

ground cumin

2

teaspoons

ground ancho chile powder*

1

teaspoon

dried oregano

2

teaspoons

sea salt

½

teaspoon

freshly ground black pepper

⅓

cup

tomato paste

1 28-

ounce

can whole tomatoes

2

corn tortillas

sliced in strips or roughly chopped

6

cups

low sodium chicken stock

I like this one

2

boneless

skinless chicken breast, cut into small cubes or strips

Juice of 2 limes

plus another lime cut into wedges

Optional toppings:

Chopped fresh cilantro

queso fresco, cubed avocado, sliced jalapeños, lime wedges
Instructions
Heat oven to 425°F.

Make the tortillas strips; Brush both sides of the 6 tortillas with 2 tablespoons of olive oil. Stack the tortillas and cut into 1/4-inch strips. Place in single layer on cookie sheets. Bake 8 to 10 minutes until strips begin to brown. Sprinkle with salt and set aside to cool; strips will become crisp when cooled.

Make the tortilla soup; Heat 2 tablespoons olive oil in a heavy stockpot over medium heat. Add the onions and garlic and sauté for 5 minutes or until tender and translucent. Add the cumin, ancho chile powder, oregano, salt, pepper and tomato paste and sauté 1 minute longer.

Stir in the tomatoes with juice, the 2 chopped tortillas, and bring to a boil. Lower the heat and simmer, partially covered for 5 minutes. Remove from heat, add one cup of the stock and puree with a hand blender (or puree in a traditional blender) until smooth. Add the chicken and remaining 5 cups of stock. Bring the soup back up to a simmer and cook for another 15 minutes or until chicken is cooked through. Add lime juice and season to taste with salt and pepper, if needed.

Ladle the soup into bowls and garnish with desired toppings.
Notes
*You can find ancho chile powder at most Bulk Barns, Latin grocery stores, or if you live in the Kitchener-Waterloo area you can also find it here.
To make this soup vegan or vegetarian, replace the chicken stock with vegetable stock or water, omit the chicken and replace with 1 can black beans, drained and rinsed.