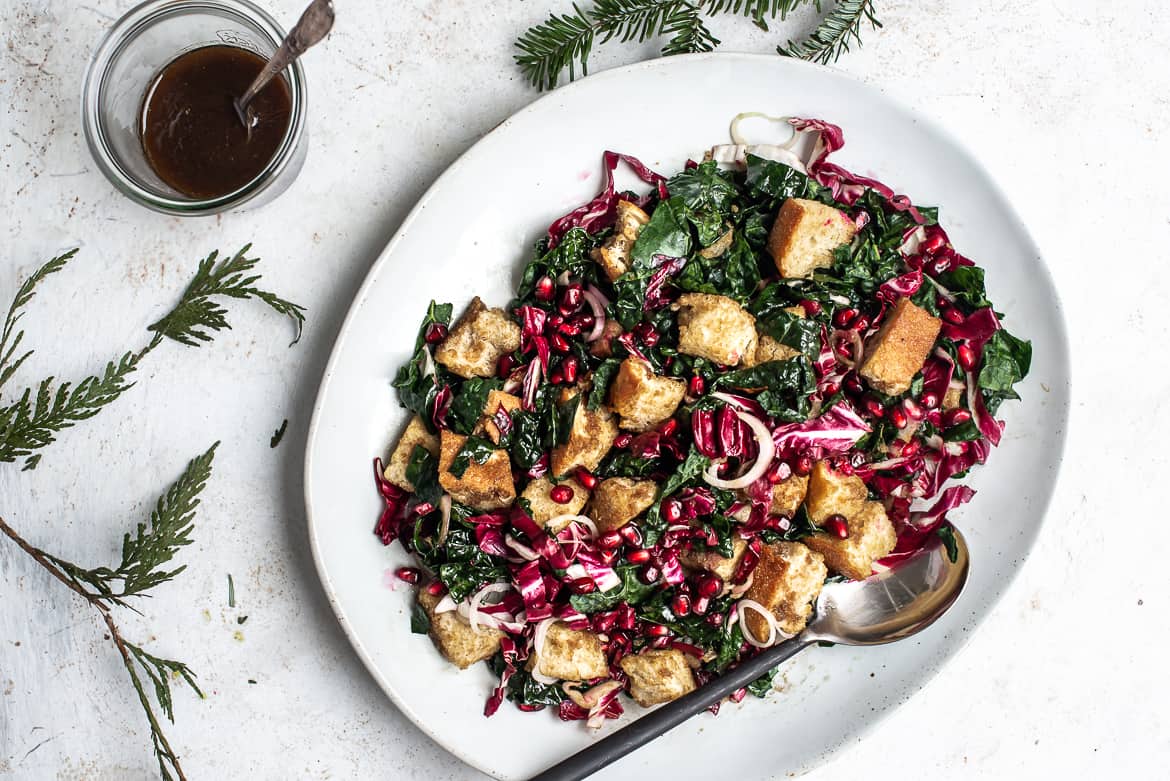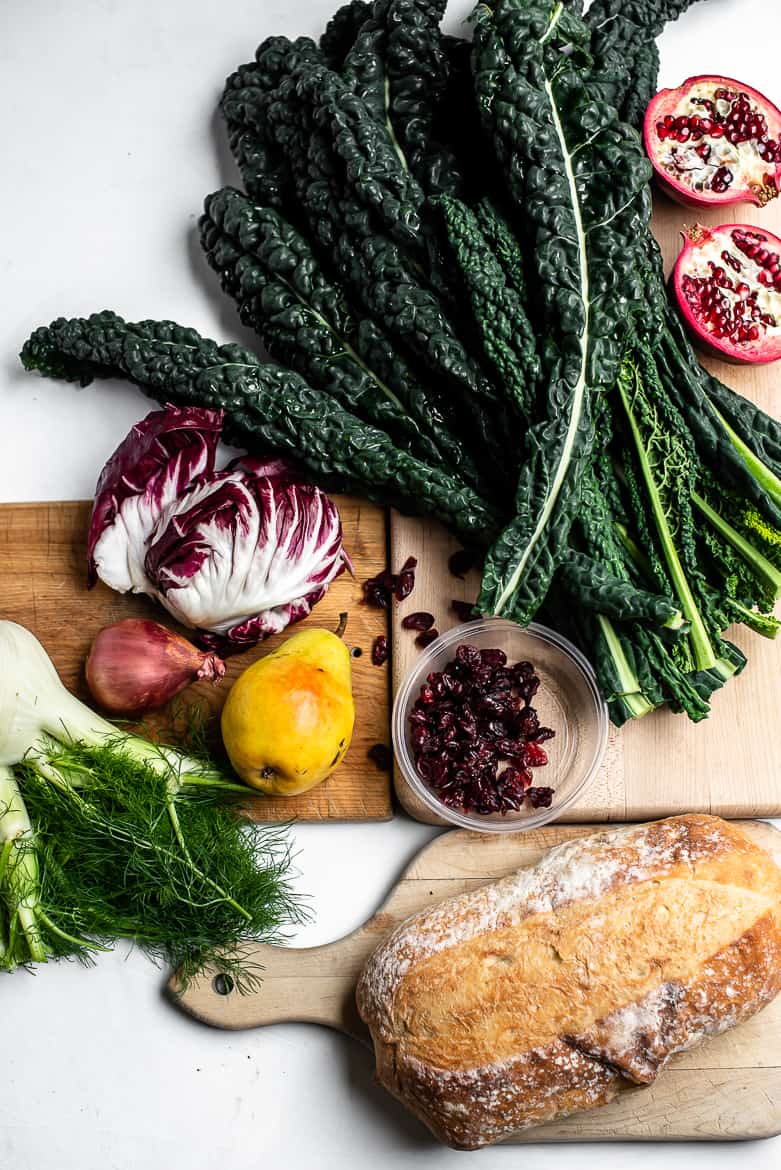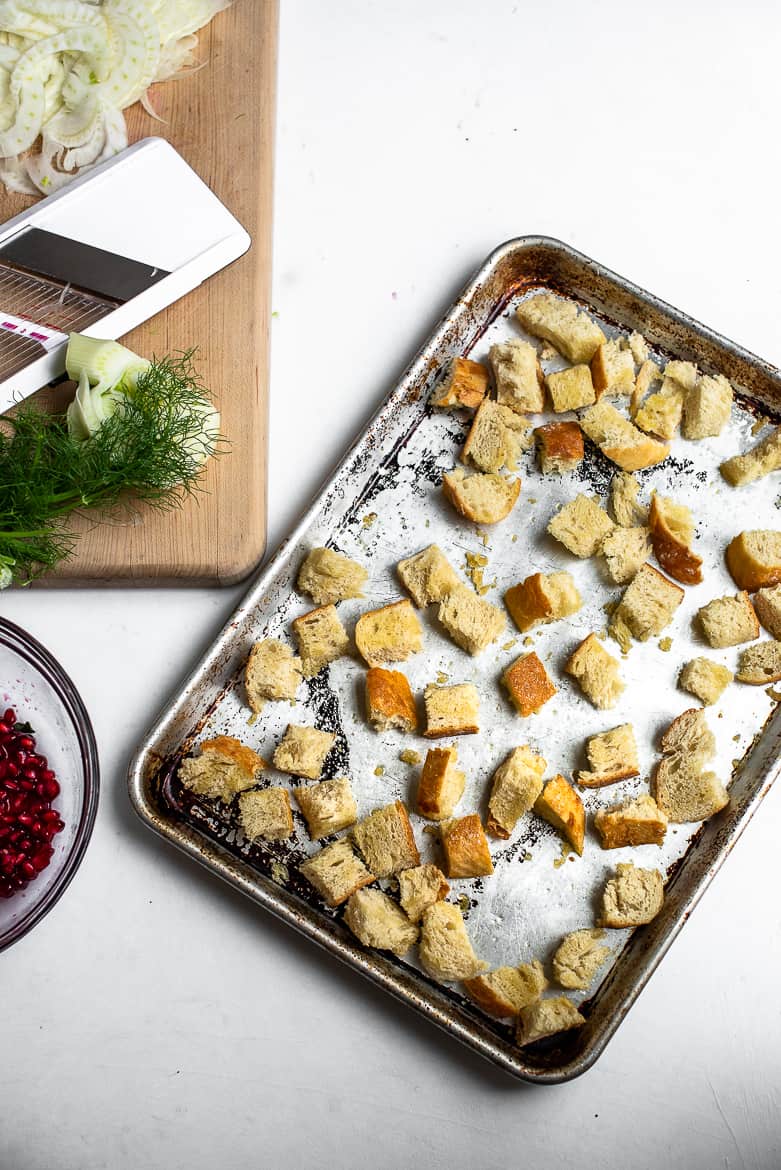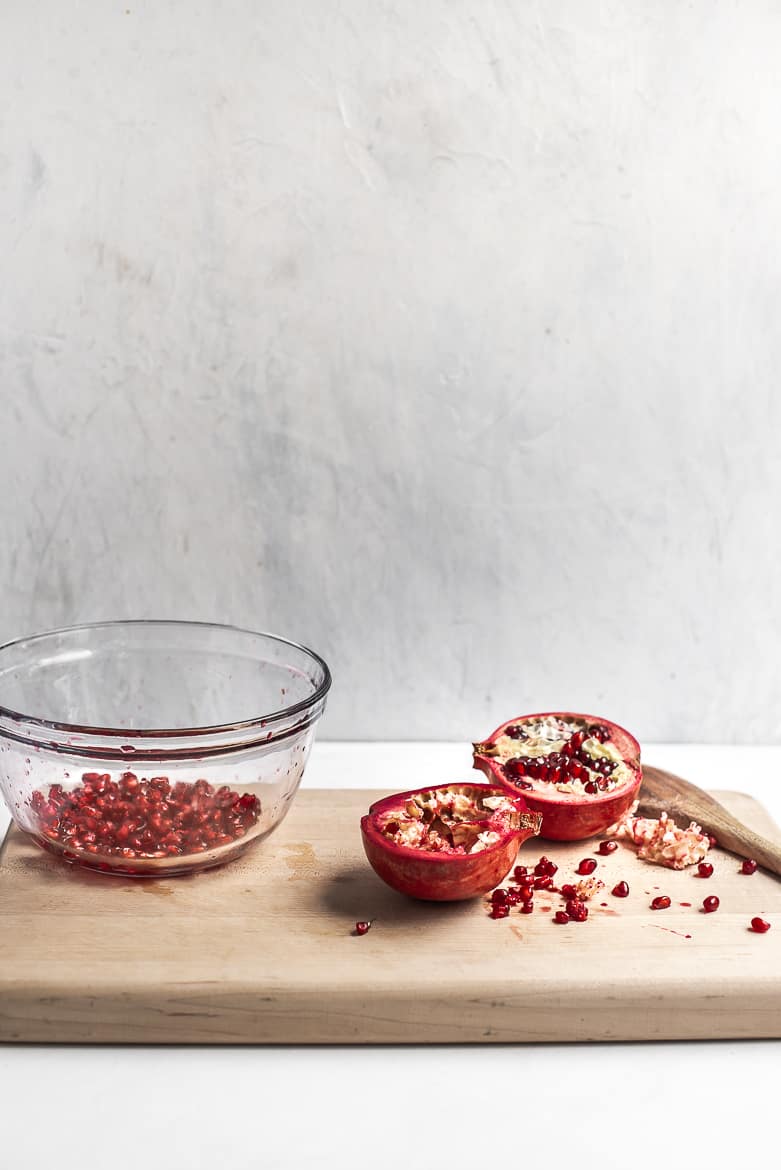 You likely have a lot going on right now with only minutes left until Christmas day and all, so chances are this winter panzanella salad will not make it to your holiday table. But once things calm down, you really should give it a try. I sometimes get lazy with kale — stripping, massaging — it requires a little more effort than I usually like to spend on my salad. But during the romaine lettuce recall, and with very slim pickings in the lettuce department, I kept reaching for kale and made this salad again and again. It is healthy, filling, vegan, and most importantly, ridiculously good. 
Panzanella is a classic Italian bread and tomato salad, most commonly enjoyed during hot summer days and when tomatoes are in season. Variations of this salad are of course endless but the important thing to keep in mind is that a panzanella salad is first and foremost a bread salad and it must be all about the bread, and there must be plenty of it. Some recipes call for stale bread which I never seem to have nor do I particularly enjoy. A good rustic loaf, that is dried out for not very long in the oven, is what I find to be ideal. Thankfully, wonderful artisan bread is now available everywhere. If you live in my area this bakery has the most beautiful bread.
For my winter panzanella, I combine a hearty kale (lacinto is my favourite) with other winter vegetables like fennel and radicchio, and for festive fruit additions you can't go wrong with pear and pomegranates. Feel free to use others such as endive, beets and apples. The amount of bread and assertive greens in this salad calls for a strong dressing and I Iike to go heavy with the acid. I make extra because the bread and kale can take it — add some dressing to the salad, toss it, let it hang out a while, add some more dressing, then serve. Divine. `
I leave you with this very festive salad recipe, which I am sure you will enjoy, and with the warmest wishes for a very merry and the happiest of new years.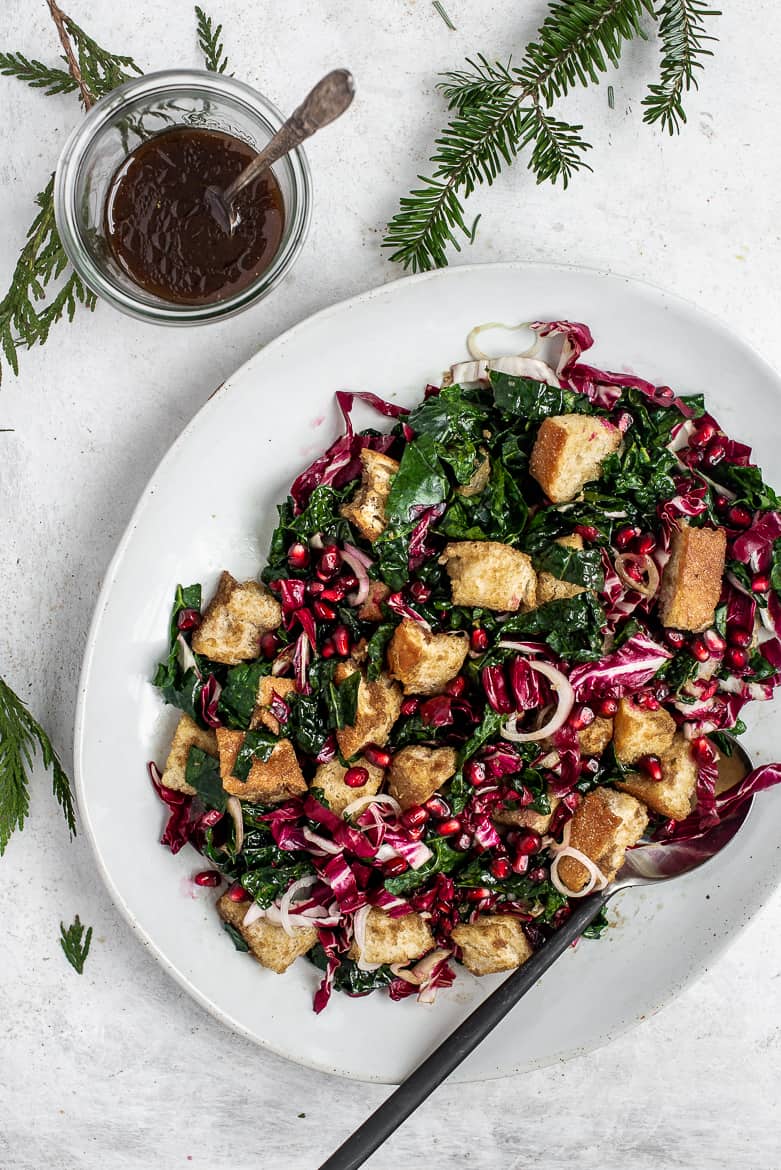 Ingredients
For the dressing:

3

Tablespoon

balsamic vinegar

1

garlic clove

minced

2

teaspoon

pure maple syrup

1

teaspoon

Dijon mustard

1/4

cup

extra-virgin olive oil

Generous pinch of fine sea salt

Freshly ground black pepper

to taste

For the salad:

4

cups

cubed crusty bread

about 1/2 a loaf

2

Tablespoons

extra virgin olive oil

2

cups

stemmed and sliced lacinato

Tuscan kale

1

small head radicchio

torn into bite-size pieces

1

small fennel bulb

thinly sliced (about 1/2 cup)

1

pear

peeled and cubed

1/3

cup

pomegranate seeds

1/4

cup

dried cranberries

optional

1

shallot

thinly sliced
Instructions
To prepare the dressing: Whisk together all of the ingredients until emulsified. Set aside.

Preheat oven to 350 degrees.

Prepare the croutons: Slice or tear the bread into 1-inch pieces until you have 4 cups and place on a sheet pan. Toss bread with the 2 tablespoons of olive oil. Arrange in a single layer so the pieces of bread are not on top of one another and toast in the oven for no longer than 15 minutes. They should be crispy on the outside, but still slightly soft inside. Set aside to cool.

To prepare the kale: Transfer the chopped kale to a big salad bowl. Sprinkle a small pinch of sea salt over the kale and massage the leaves with your hands by lightly scrunching big handfuls at a time, until the leaves are darker in colour and fragrant, about 30 seconds.

Final assembly: Add the radicchio, fennel, pear, pomegranate seeds, dried cranberries, shallot, and the bread cubes to the kale and mix all ingredients evenly. Drizzle enough dressing into the bowl to lightly coat the leaves (you might not need all of it), then toss well. Drizzle in extra dressing if the salad seems like it needs it. For best flavour, let the salad rest for 10-20 minutes before serving.