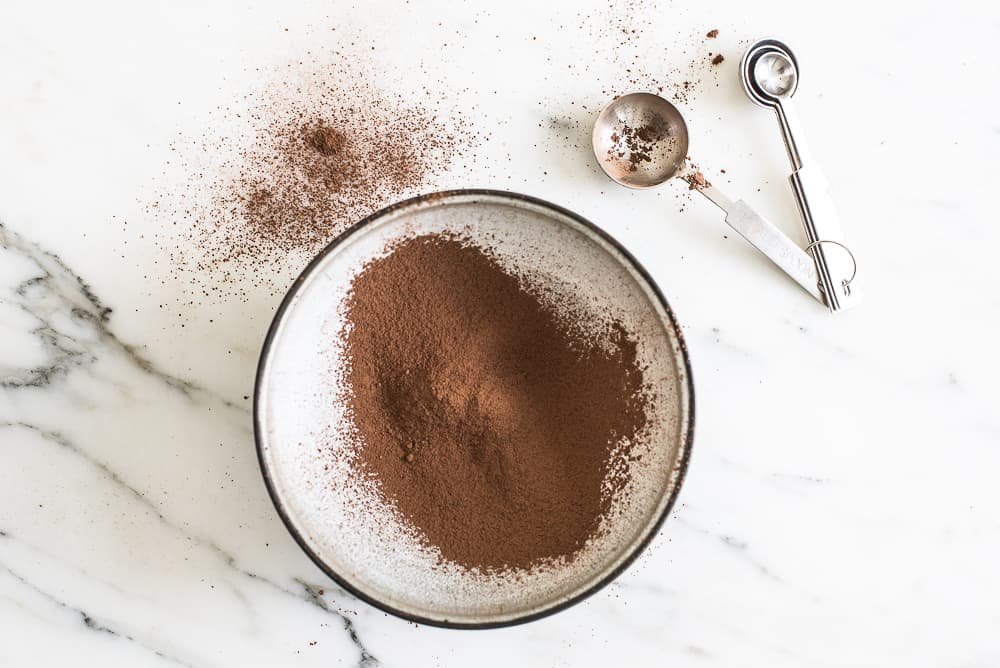 I do not have a sweet tooth and I will always reach for a salty, savoury snack over a sweet one. Not so for the others in this household. In fact, quite the opposite. I preach to them relentlessly about the evils of sugar, only to get told by the smart-alecky ones that the chips and cheese I indulge in way too often are not any better. Fair.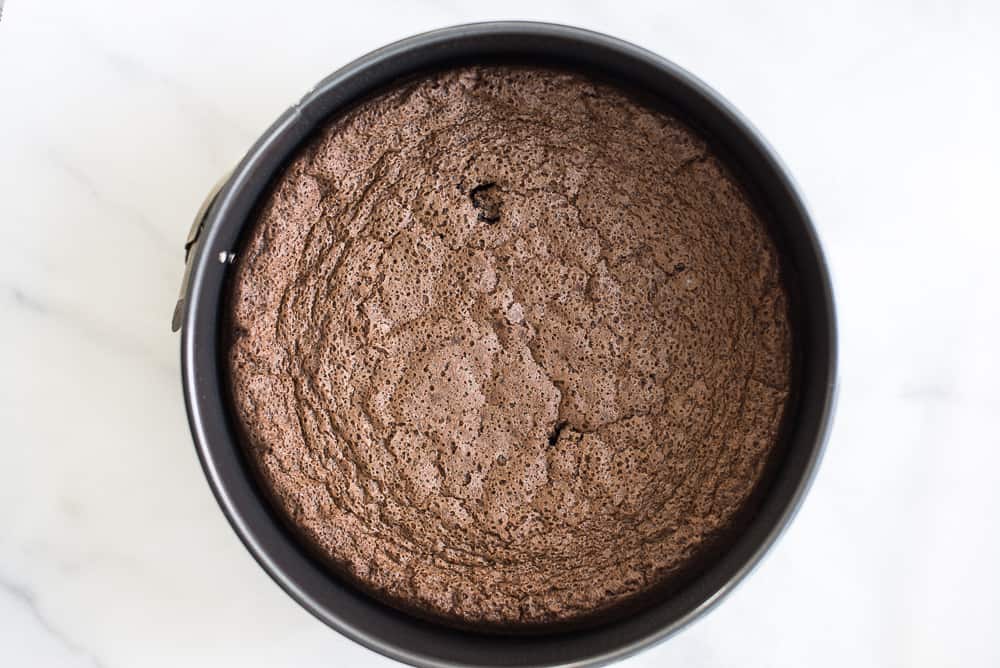 So every so often, in the spirit of fairness, I make them something they all love. Chocolate cake. Lately, I have been making Nigella Lawson's gluten-free chocolate cake whenever I have company or whenever a quick dessert needs to be whipped up. Nothing fancy, or complicated, it is the perfect amount of sweet and rich from the cocoa, while the olive oil adds an aromatic and crispy topping to the cake. The fact that it is gluten and dairy-free is great for those avoiding it, but even if you are not, you will love the dark, fudgy consistency achieved by using almond meal. All purpose flour, or wheat flour, works great as well, the result will be more cake-y and less fudgy, but equally delicious. This also has the added bonus of becoming a nut-free snack for school. Whenever I can, I swap white sugar for raw cane sugar, and here it adds a nice caramely sweetness that works really well.
The cake already has a lot of chocolate deliciousness going on. But if I am feeling generous in the treat department, or if the occasion calls for it, I will take it up a notch and top it with a quick chocolate ganache. If you have to stay in the dairy-free camp, stick with coconut milk to make the ganache. For flavour contrast, and to really finish this off with a bang, you might appreciate some whipped cream or ice cream with this dessert. At this point, even I'm all in.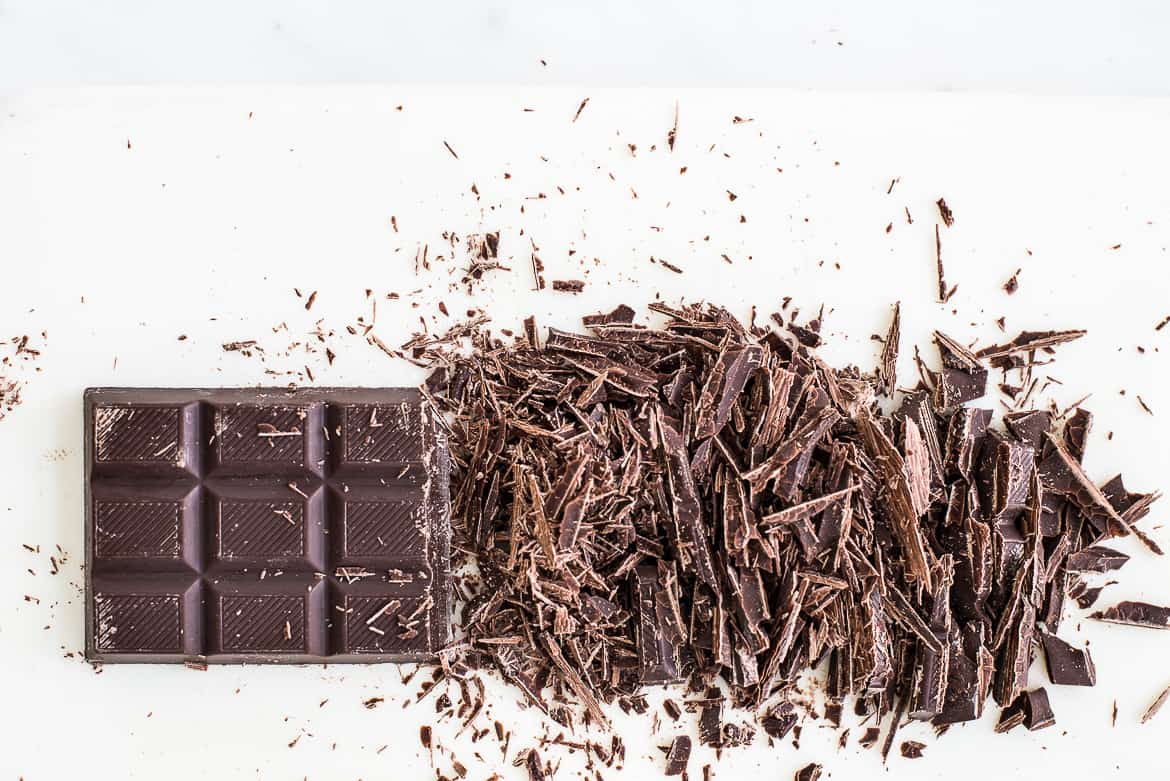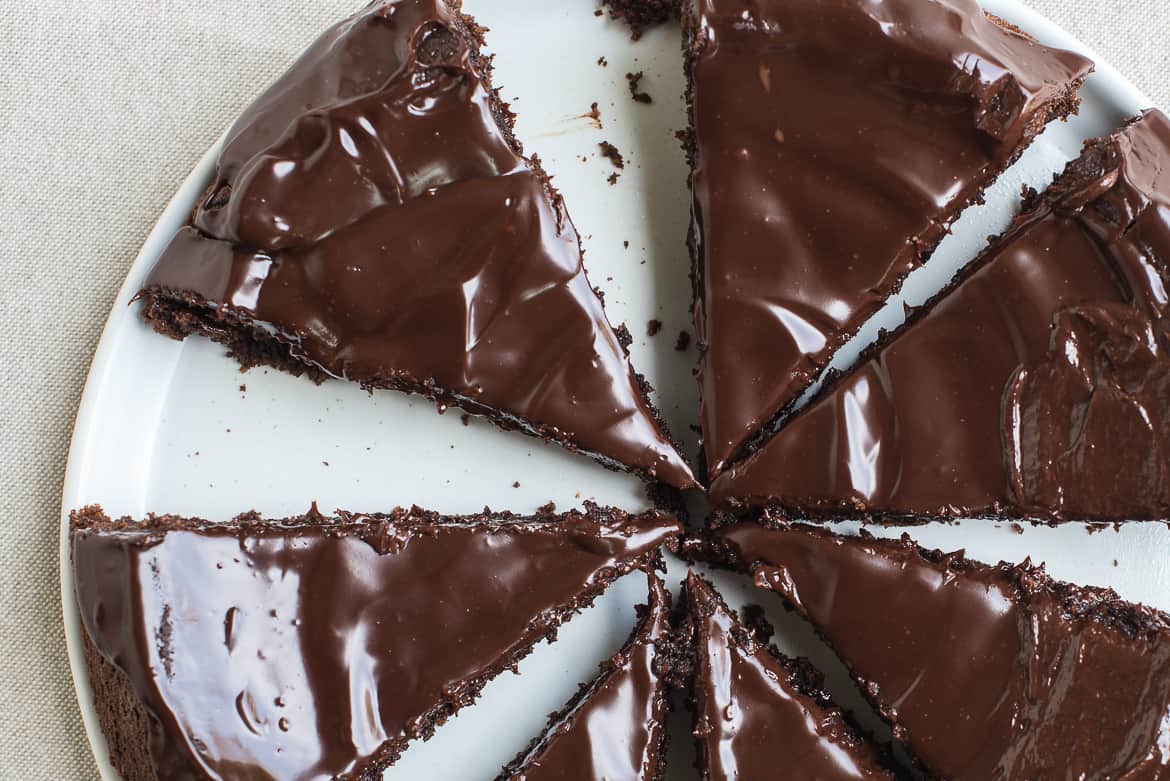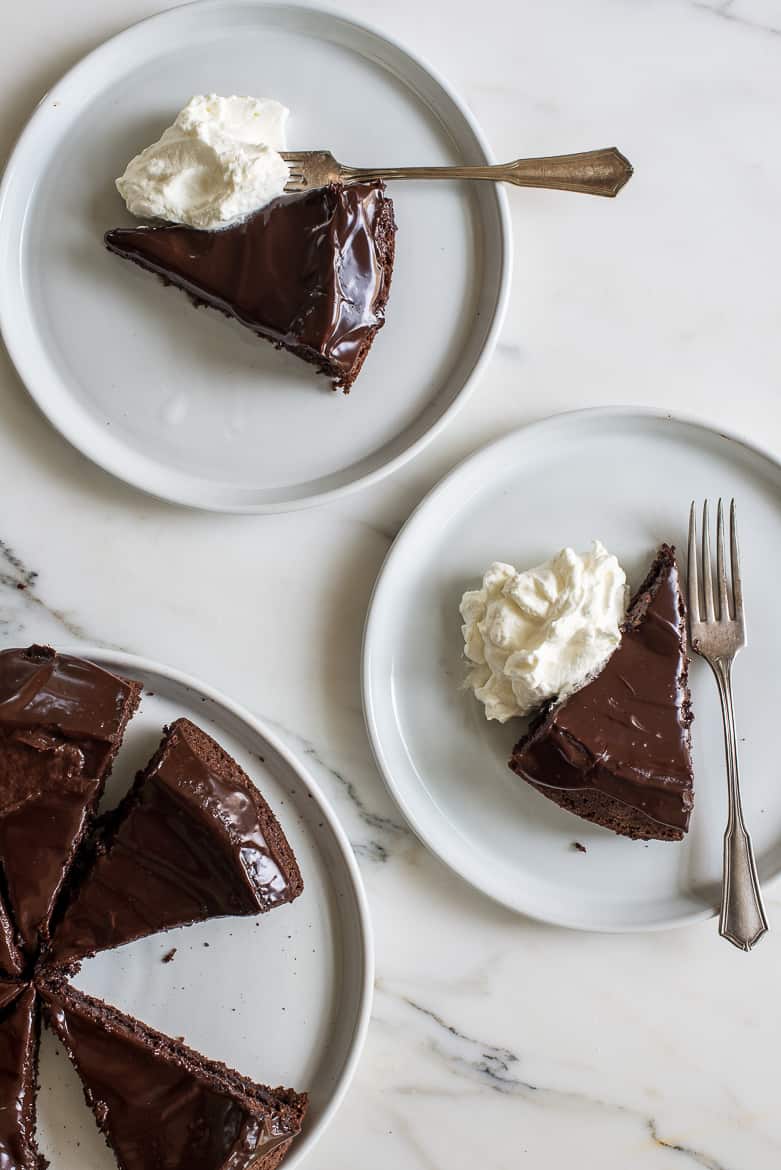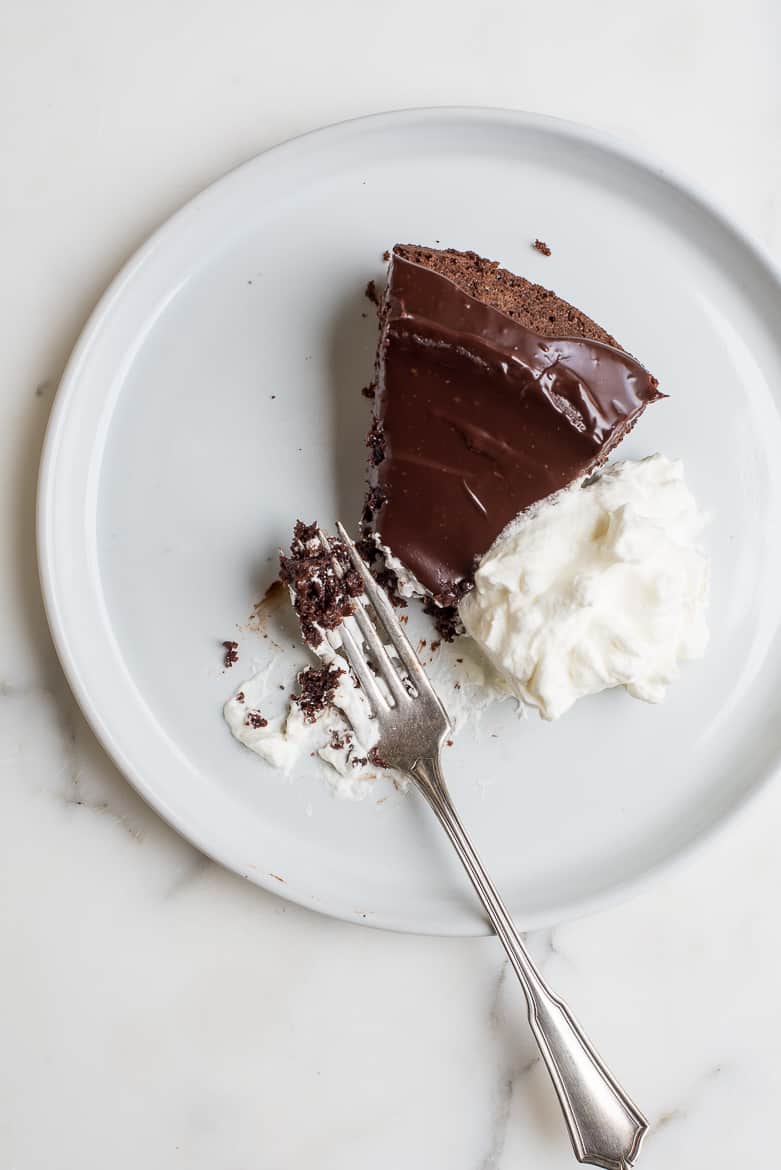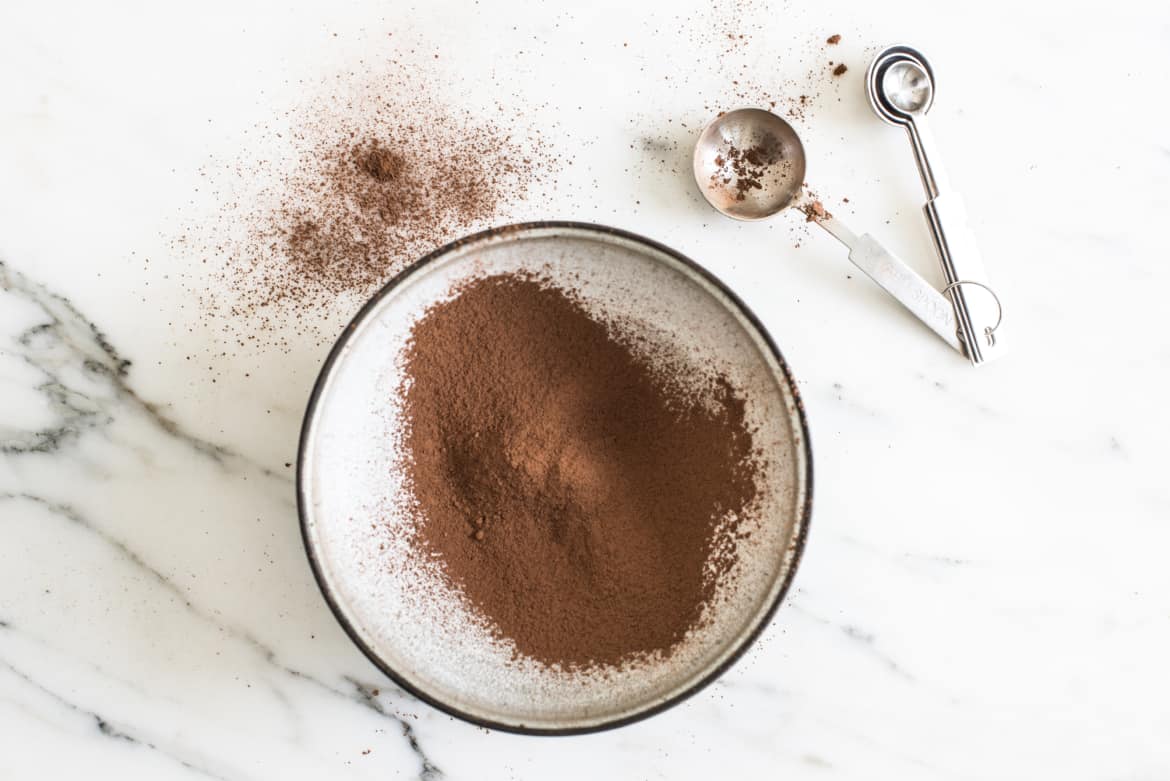 Ingredients
For the cake:

6

tablespoons

natural

unsweetened cocoa powder (not Dutch-processed)

1/2

cup

boiling water

2

teaspoons

pure vanilla extract

1

cup

*raw cane sugar

turbinado or fine white sugar

2/3

cups

good quality extra-virgin olive oil

3

large eggs

room temperature

1/2

teaspoon

baking soda

1 3/4

cup

almond meal or flour

or 3/4 cup plus 1 tablespoon all purpose flour

For the ganache:

8

ounces

fine-quality semisweet chocolate

chips are fine, too

½

cup

full fat coconut milk

or whipping cream

1

tablespoon

sugar

a pinch of sea salt

optional
Instructions
Prepare the cake:
Preheat the oven to 325F. Line the bottom of a 9-inch springform pan with parchment paper and grease the sides, set aside.

Sift the cocoa powder into a small bowl. Whisk in the boiling water, then mix in the vanilla. Set aside to cool slightly.

In a medium bowl, combine the almond meal (or flour) with the baking soda and pinch of salt.

In the bowl of a stand mixer with paddle attachment (a handheld mixer works fine) combine the eggs, sugar and olive oil. Beat on high for 3-4 minutes, until thickened and creamy.

Add the cocoa mixture and mix well, then add in the almond flour mixture and combine, scraping down the sides as needed.

Pour the batter into the prepared pan and bake for 40-45 minutes, until the sides look set and a toothpick inserted into the center has a few moist crumbs attached when removed.

Cool for 10 minutes on a wire rack then remove the springform sides and eat while still warm or continue to cool completely if adding ganache.
Make the ganache:
Finely chop chocolate. In a small saucepan bring coconut milk (or cream) and sugar to a low simmer over moderately low heat, whisking until sugar is dissolved.

Remove pan from heat and add chocolate, whisking until chocolate is melted. Add sea salt to taste, if desired.
To assemble:
Top the cake with the ganache, and with an off-set spatula, spread it all over the sides.
Notes
*For a smoother cake, if using raw cane sugar, place it in a food processor and process on high for 1 minute, until most of the granules have been reduced to a fine powder.
Because this cake is dense and with a lot of moisture, it will sink a bit in the middle.