This stunningly beautiful Whole Roasted Cauliflower with Tahini Sauce is a celebration of exquisite flavours. Best of all, it takes less than 15 minutes to prepare and is so delicious, you may just eat the whole thing yourself.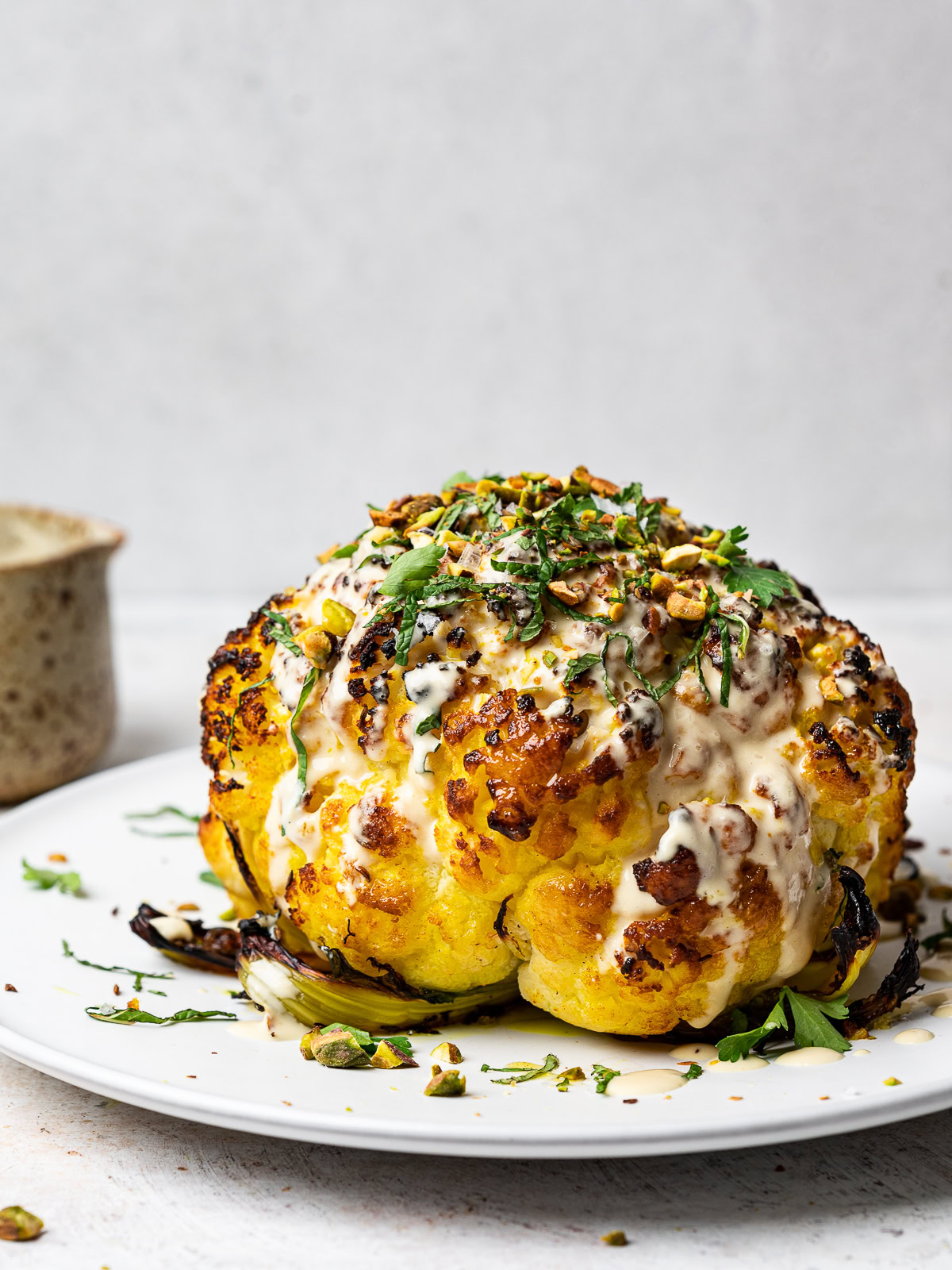 A whole roasted cauliflower, if you haven't tried it, is a pure delight. It will take a little more time than roasting florets but it makes an unbeatable visual impression, and is almost absurdly easy to make.
For a little extra drama, I like to dress it and carve it at the table, then pass around more of the lemon tahini sauce for drizzling. This is an exquisite low carb side dish for anything roasted, but it also makes a gorgeous vegetarian main course. No matter how you serve it, this is an easy and delicious way to turn the humble cauliflower into something luscious and delectable.
Whole Roasted Cauliflower Recipe
The fascinating and popular method of roasting a whole cauliflower was made famous years ago by Eyal Shani, the chef at his Tel Aviv restaurant, Miznon. The dish was quickly imitated by chefs around the world, though they played with different flavours and textures to make it their own.
Chef Eyal's original recipe parboils the whole head in salted water, then drains it and allows it to cool before rubbing it with a generous amount of olive oil and flaky salt. The cauliflower is then roasted in a hot oven for what seems like too long, but isn't, and emerges golden and caramelized on the outside while the inside remains silky and tender.
At his restaurants, chef Eyal serves the slightly charred whole roasted cauliflower head with only a drizzle of olive oil and another sprinkle of flaky salt. Having made it exactly this way many times, I can attest you don't need to mess with a good thing. The minimally seasoned, and undressed cauliflower is sublime. But eventually, I couldn't resist adding a few more ingredients for a little more flavour and interest.
In this recipe, we sprinkle the parboiled cauliflower with a little ground turmeric which gives it a lovely golden hue and cumin seeds for some warm, earthy flavour. We then finish it with a lemony-garlicky tahini sauce, some chopped fresh mint, parsley and crushed pistachios nuts. Not going to say it's better, but it is unquestionably one of my favourite dishes to date. I love it so much, I could eat the entire head all by myself.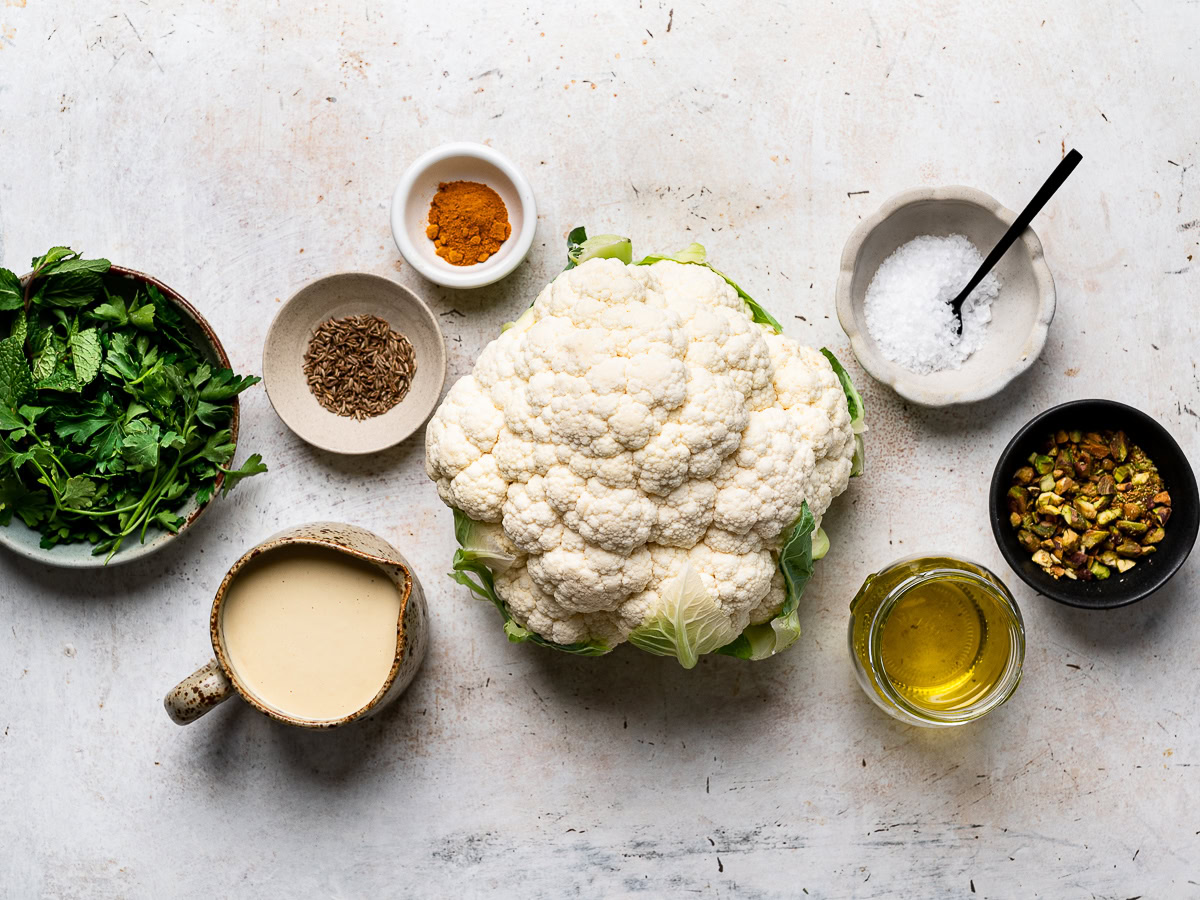 Ingredients And Notes
Cauliflower – We will be using a whole cauliflower head for this recipe. Though at its peak in the fall, cauliflower is available, and delicious, all year round. The size of your cauliflower will not matter too much but I typically look for a medium, compact whole head of cauliflower that weighs about 2 pounds.
Extra-virgin olive oil – For coating the cauliflower before and after it roasts.
Flaky salt, or sea salt – The crunchy pieces of salt are a great contrast to the subtly sweet cauliflower.
Turmeric and cumin seeds – A sprinkle of ground turmeric gives the cauliflower a lovely golden colour while the cumin seeds add warm earthy flavours.
Tahini sauce – A simple creamy tahini sauce is drizzled over top of the cauliflower once it is baked. This is optional but so easy to make and so delicious. The sauce is made with tahini, garlic cloves, fresh lemon juice, olive oil, ice water and salt.
Pistachios – I love pistachios with this dish but walnuts, hazelnuts, pine nuts, or sliced almonds will also work beautifully.
Fresh herbs – Some chopped fresh mint and/or fresh parsley adds a pop of colour and brightens all the flavours. Feel free to replace with other herbs such as dill.
Variations
Add a little lemon zest: The tahini sauce is delicious as is but I often zest the lemon before juicing it and add it to the sauce for a littl more flavour and brightness.
Parmesan cheese: If you're in a hurry, you can even skip the tahini sauce (but please don't) and sprinkle the baked cauliflower with parmesan cheese.
Add different/more spices: Use any Middle Eastern spice mix you enjoy; crushed coriander seeds, sumac, za'atar, smoked paprika, and even fennel seeds would all be wonderful.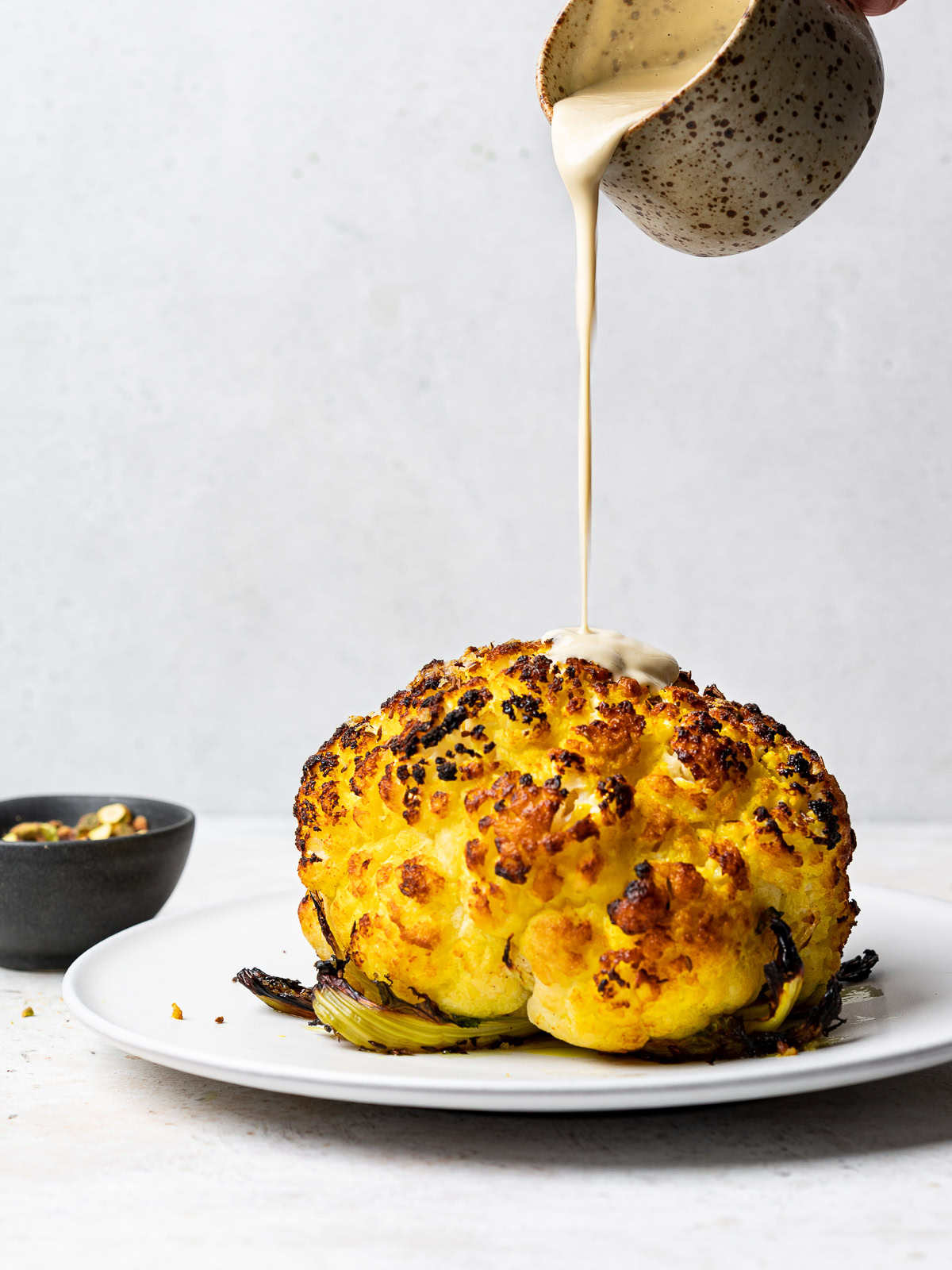 How To Make Whole Roasted Cauliflower
Some recipes omit the initial steaming/boiling step but I find it to be a more foolproof, and quicker, way to achieve a superlatively tender cauliflower that will melt in your mouth. Here is a short version of the steps involved. *Full instruction can be found in recipe card below.
Cut some of the bottom of the cauliflower off so it can stand straight up. Trim off any tough outer leaves but leave some of the bottom ones attached.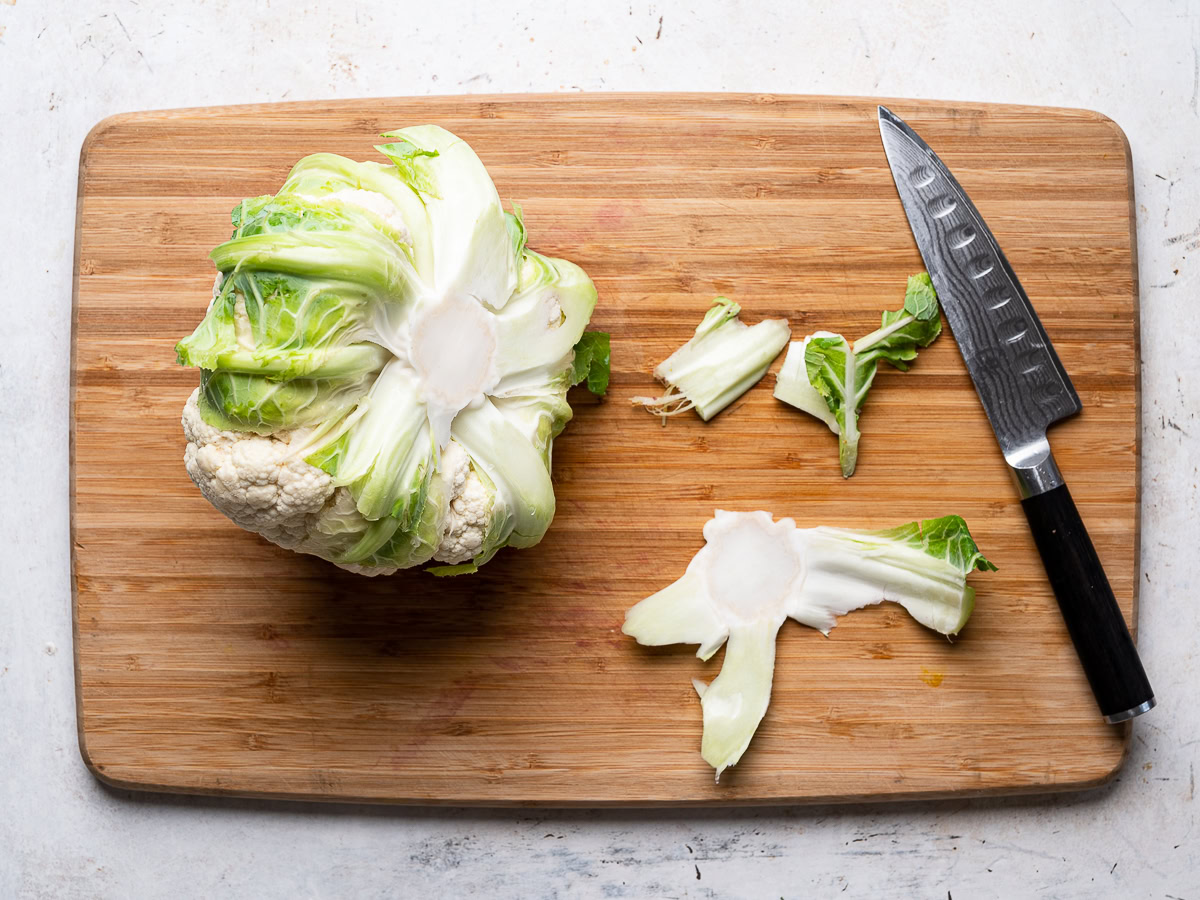 Steam the cauliflower in a large pot of boiling water for about 8 minutes. Remove from pot and allow to drain and cool. Rub with a generous amount of olive oil and sprinkle with spices and salt.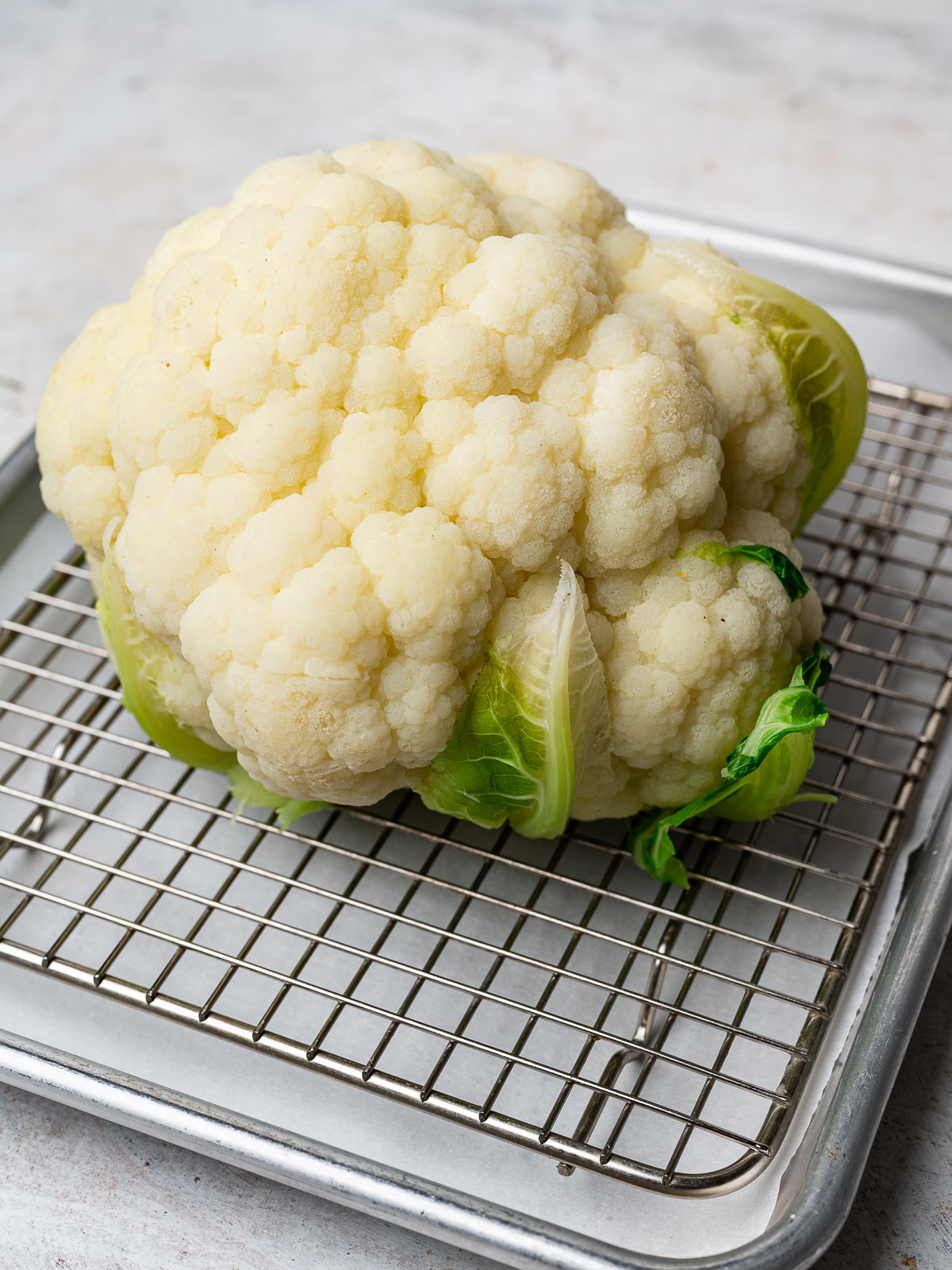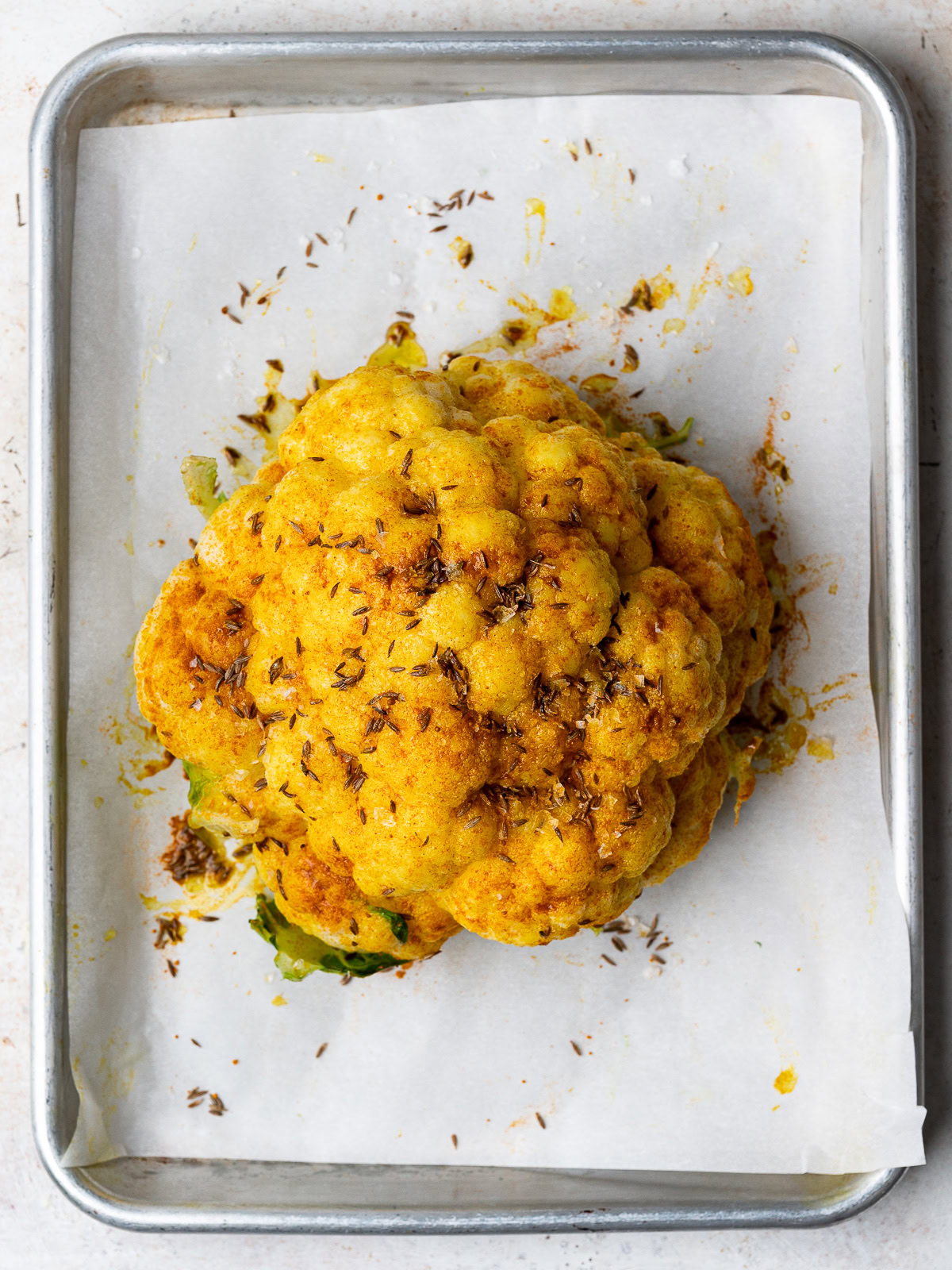 Place the entire head of cauliflower on a baking sheet, or large cast iron skillet. Roast in a preheated oven (450ºF) for about 45 minutes or until it has a lovely golden brown colour, is slightly charred in spots, and is completely fork tender.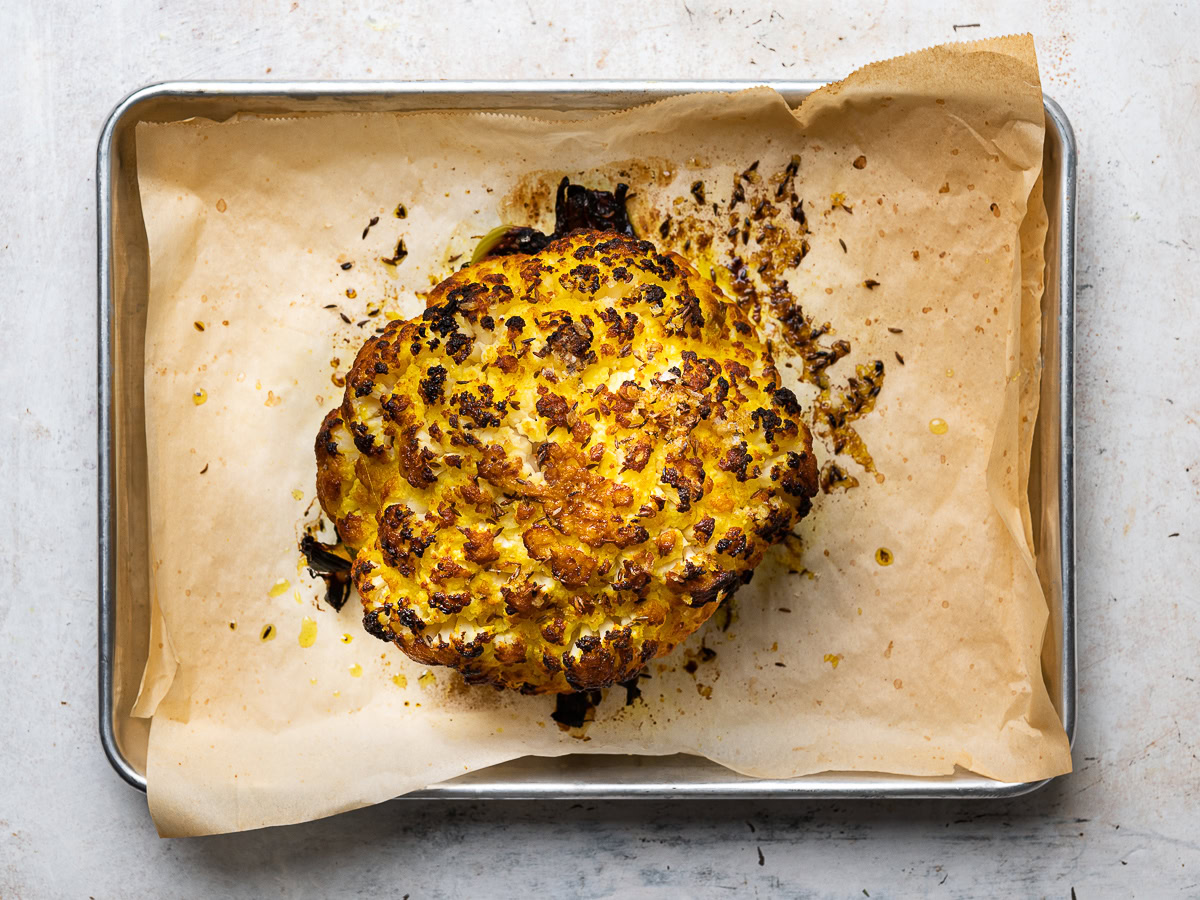 While the cauliflower is roasting, mix together the tahini sauce and chop the fresh herbs and pistachios. Serve the cauliflower warm drizzled with tahini sauce and garnished with herbs and nuts. Yum!!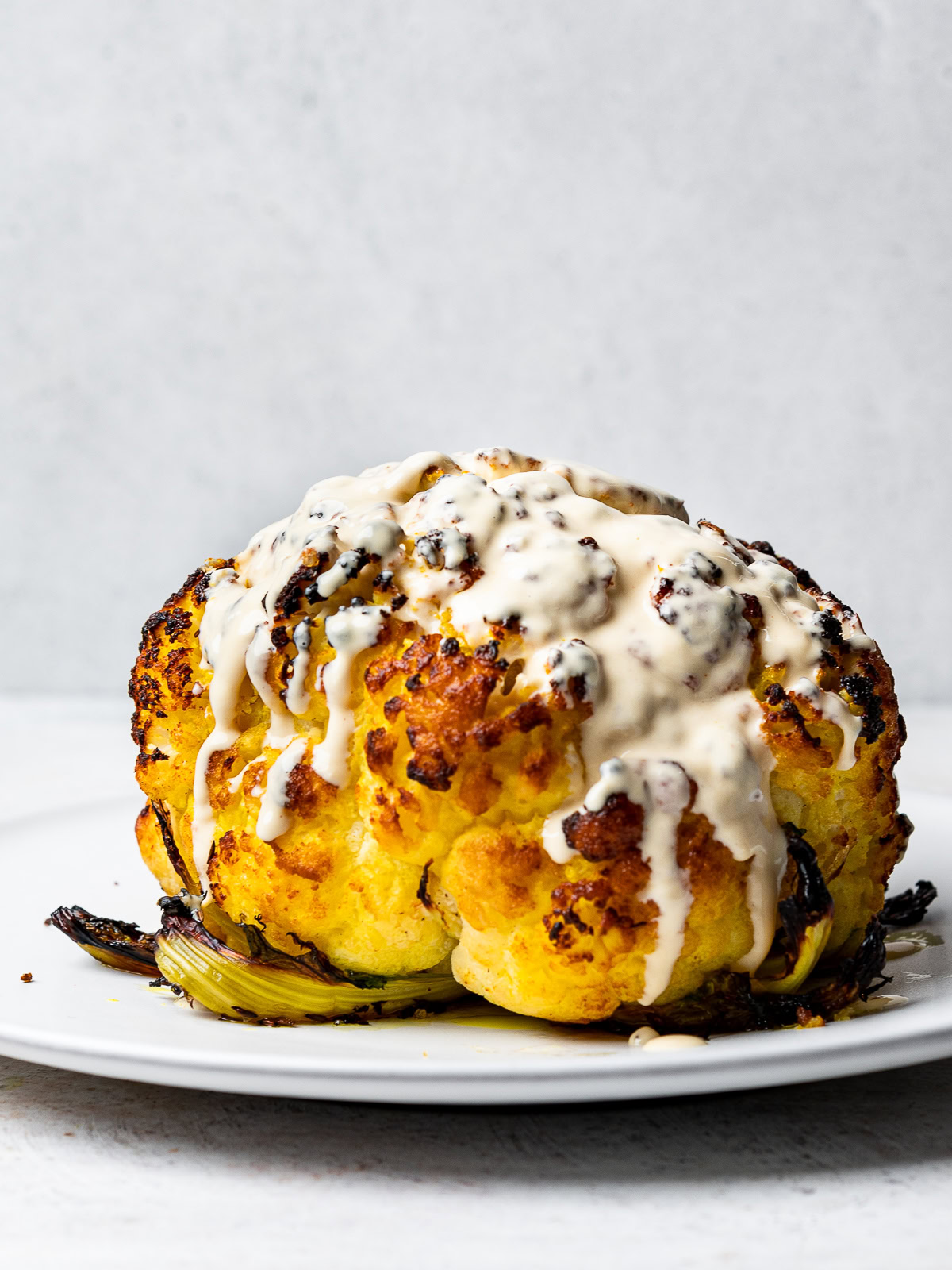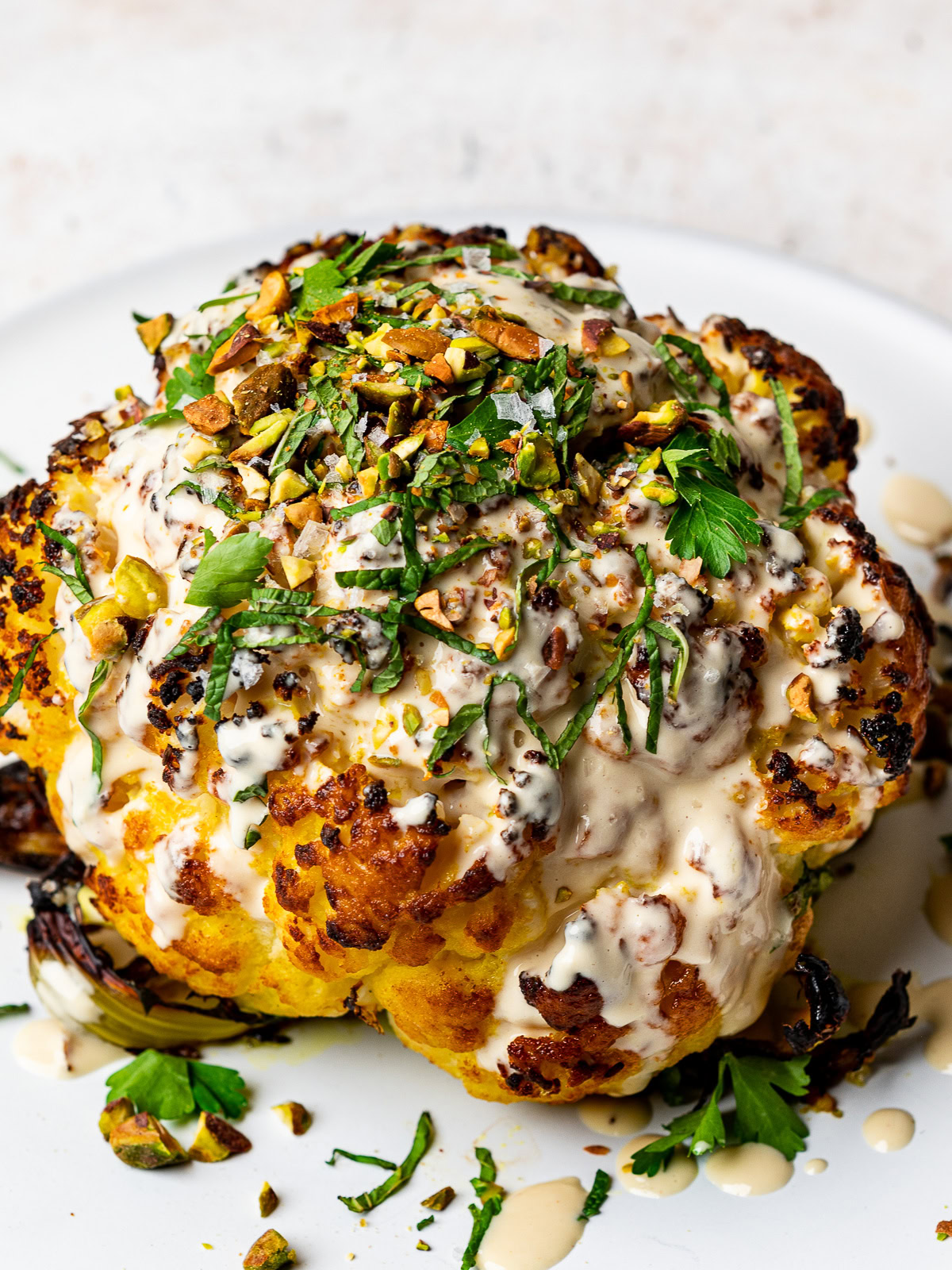 Pro Tip
Set a timer so you don't over-steam the cauliflower. You want the end result to be a tender, but not mushy, texture.
Tahini Sauce
The slightly tart tahini sauce pairs perfectly with the warm, earthy roasted cauliflower. You can certainly use this tahini dressing for the cauliflower but here I give you one that is almost the same, just with a few less ingredients. Use whichever you like—both are easy to whip up and they are both insanely delicious.
As for which tahini to use, try and buy a good quality, preferably runny, tahini that is made with sesame seeds that have been sourced from the Middle East. Soom is a great one.
Note that when you are mixing up the tahini sauce it will seem to seize up on you. Don't worry, once you add the ice water it will turn into a perfect, pourable consistency.
To save a bit of time, you can make the sauce up to a week in advance then thin it out with a little more water before using. If you have leftovers, you can drizzle into grain bowls, salads or any other roasted veggies. So good!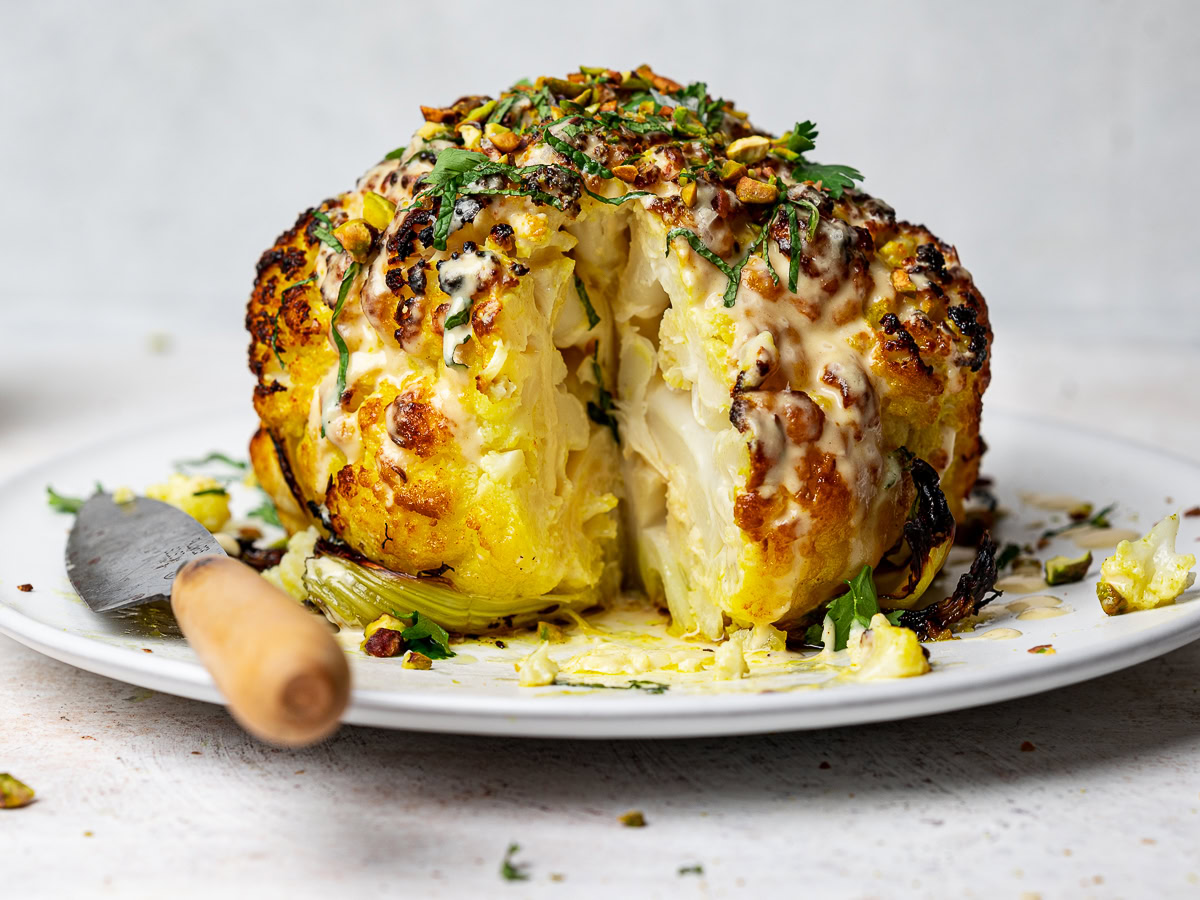 Can I Prepare The Cauliflower Ahead Of Time?
It is best to serve the cauliflower as soon as it comes out of the oven. But if you need to get some of the preparation done ahead of time, par-boil the cauliflower up to two hours ahead. It can then sit at room temperature until you are ready to roast it.
Serving Suggestions
This whole roasted cauliflower would be fabulous for dinner parties as part of a vegetarian main course or alongside any roasted meat protein.
Here's a few suggestions for some vegetarian sides:
Non-vegetarian sides: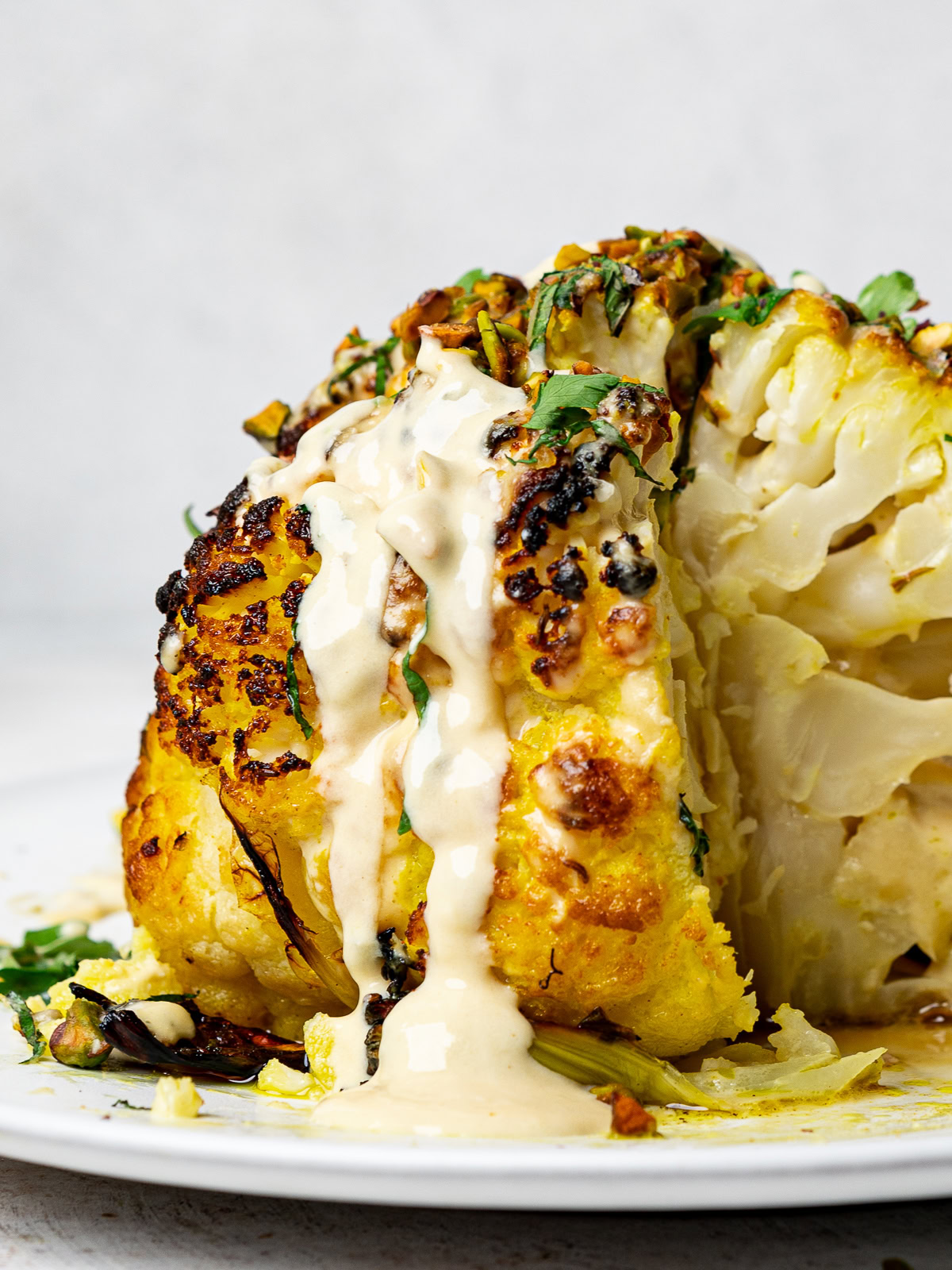 Storing Suggestions
Once chilled, the texture of the cauliflower will change, becoming a little softer. That said, I still enjoy the leftovers immensely for days to come.
Store: Place leftovers in an airtight container in the fridge up to 4 days.
Reheat: Reheat on the stovetop, in a small saucepan or skillet, over medium-low heat, until warmed through. Alternatively, gently heat the leftover cauliflower in the microwave.
If you give this Whole Roasted Cauliflower with Tahini Sauce recipe a try, please feel free to leave a comment and/or a star rating below. We appreciate and welcome all your feedback. Thank you!
More Roasted Vegetables To Try
Print Recipe
Pin Recipe
Whole Roasted Cauliflower with Tahini Sauce
This stunningly beautiful Whole Roasted Cauliflower with Tahini Sauce is a celebration of exquisite flavours. Best of all, it takes less than 15 minutes to prepare and is so delicious, you may just eat the whole thing yourself.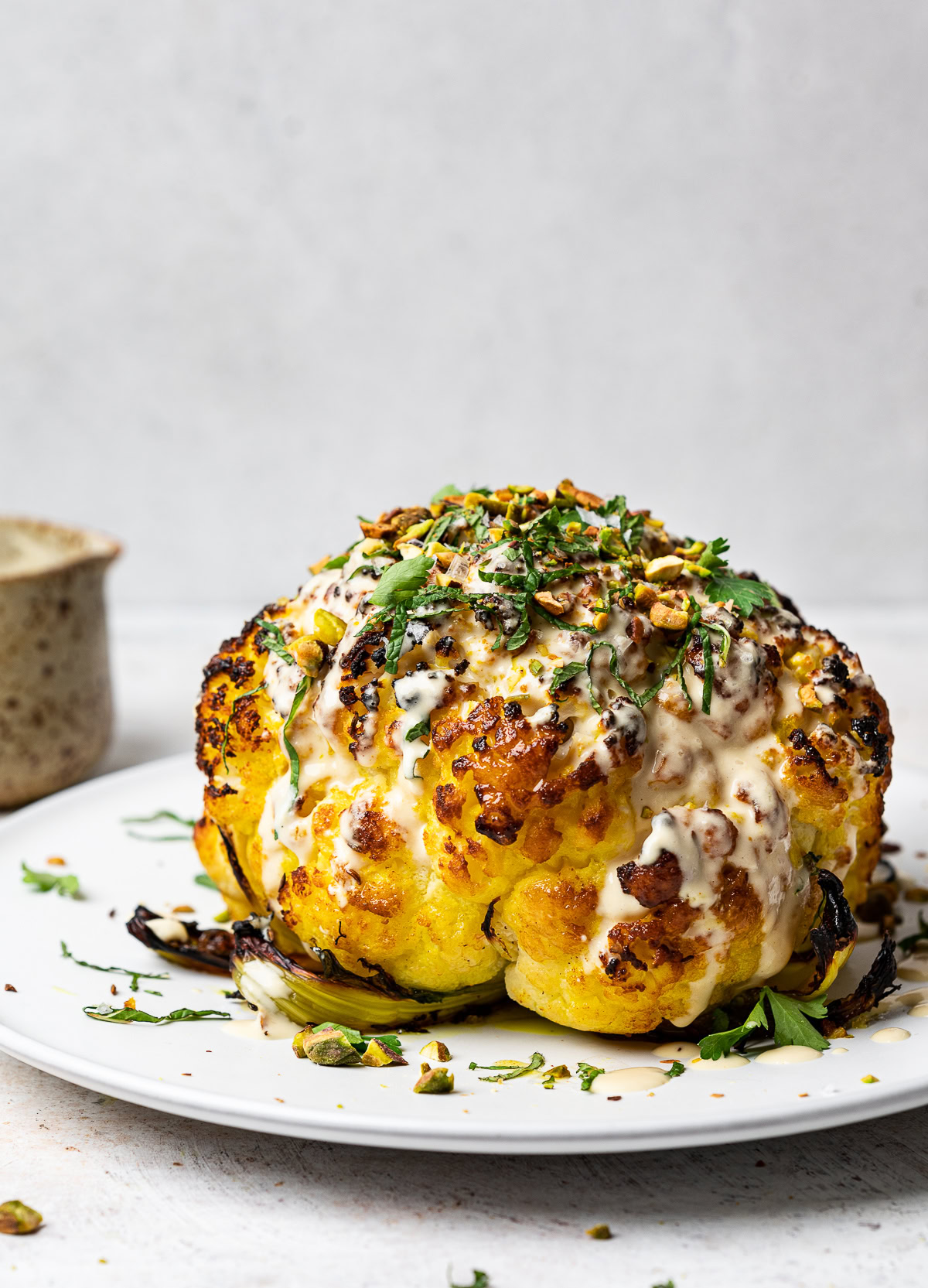 Ingredients
1

medium head of cauliflower (about 2 pounds)

2

Tablespoons

of olive oil,

plus more for drizzling

1

teaspoon

turmeric

1 1/2

teaspoon

cumin seeds

1

teaspoon

sea salt (I use Maldon flaky salt)

divided
For the tahini Sauce
1/3

cup

tahini,

stirred well

3

Tablespoons

freshly squeezed lemon juice

1

clove

garlic,

grated (or minced)

2

Tablespoons

olive oil

pinch of kosher salt

1/4

cup

ice cold water,

plus more as needed
Optional garnish
¼

cup

shelled pistachios,

roughly chopped

1/4

cup

chopped fresh mint leaves

1/4

cup

fresh flat-leaf parsley leaves

flaky salt (I use Maldon)
Instructions
Preheat the oven to 450ºF and line a small baking sheet with parchment paper. Top the parchment paper with a wire rack. Alternatively, place a few paper towels on top of the parchment paper. (This is to drain the cauliflower.)

Rinse the cauliflower well. Leaving the main core intact, slice the bottom of the core off the cauliflower so that it sits evenly on the baking sheet. If the cauliflower has a lot of leaves covering the top, trim them down so that most of the top and sides of the cauliflower are exposed. You don't have to trim all the leaves off the cauliflower since once roasted, they are super delicious to eat.

Fill a large pot with 3 inches of water and bring the water to a boil. Carefully place the cauliflower in the pot, head-side up, cover and simmer over medium heat for 8 minutes.

Using a large slotted spoon, or a spider, gently lift cauliflower from water and place on prepared baking sheet, stem side down. Let stand until cauliflower has cooled slightly and is dry to the touch, about 15 minutes. This can be done up two hours ahead.

Remove the rack and place the cauliflower back on the parchment-lined baking sheet. Drizzle the cauliflower with 2 tablespoons of olive oil and use your hands to coat it well. Sprinkle all over with turmeric, salt and cumin seeds. Drizzle again with a little more olive oil (don't rub this time) and transfer to the oven.

Roast in the oven until tender and golden brown, about 40 to 45 minutes. The exact time will depend on how hot your oven is and the size of your cauliflower so keep an eye on it. Remove it from the oven when it looks sufficiently golden-brown to you with a bit of char in some places.

While the cauliflower roasts, make the tahini sauce. In a medium bowl combine the tahini, lemon juice, garlic, olive oil and salt. Add the ice water and whisk until smooth and lighter in colour, adding a little more if it needs to be a little looser.

Once the cauliflower is roasted, let sit for 5 minutes then transfer to a serving platter. Drizzle the top of the cauliflower with tahini sauce and garnish with the fresh herbs, pistachios, and a pinch or two more flaky salt. Pass the extra tahini sauce around the table for everyone to drizzle a little more.
Notes
Store: Place leftovers in a covered container in the fridge up to 4 days.
Reheat: Reheat on the stovetop, in a small saucepan or skillet, over medium-low heat, until warmed through. Alternatively, gently heat the leftover cauliflower in the microwave.