These Chorizo and Black Bean Nachos, made with layers of tortilla chips, smoky chorizo and black beans, melty cheese, sour cream crema, homemade salsa, and loads of toppings, are truly irresistible. Perfect to snack on but filling and satisfying enough to call it dinner.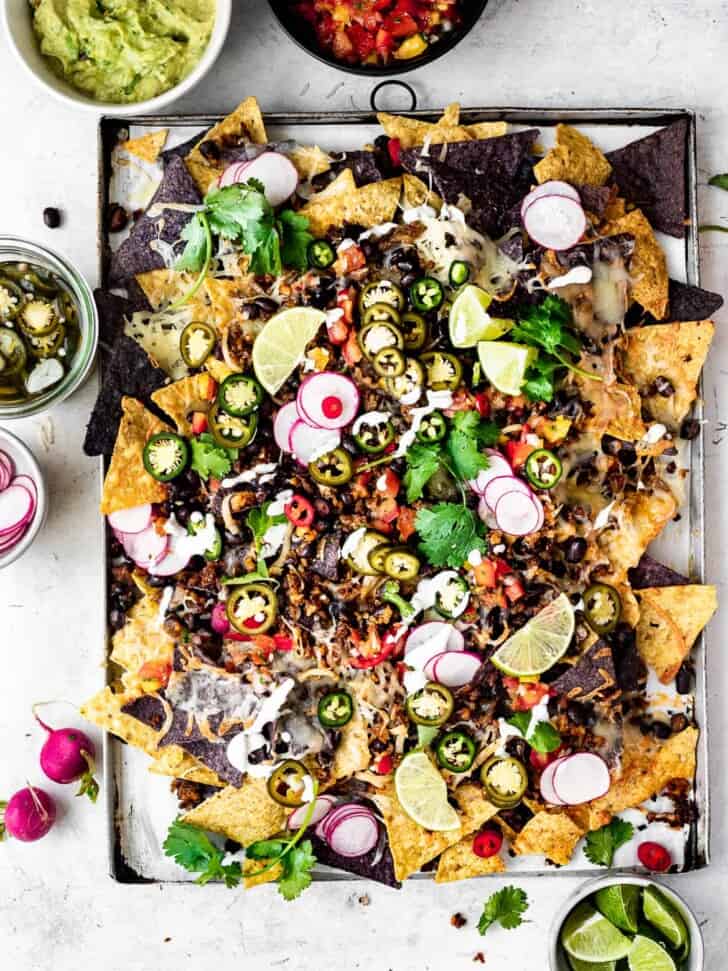 Let's do nachos for game day. I know it's cliché, apparently it's how I roll lately. But that's ok because given the level of stress we are all under, it's nice not to overthink things right now. Or to reinvent the wheel, you know? I mean, everyone loves nachos and these chorizo and black bean nachos might just become your new favourite.
I wouldn't dare say these nachos are healthy, but they aren't your classic cheese bomb, meat loaded nachos either. Piled high with a delicious smoky chorizo and black bean mixture, pickled jalapeños, crunchy onions, and radishes, the cheese is almost inconsequential. A guac on the side is obligatory, as is the sour cream crema, squirts of lime juice, and a homemade pico de gallo-esque salsa for a finishing layer of freshness. Pinky swear, these will be the best nachos you've ever had. Ever.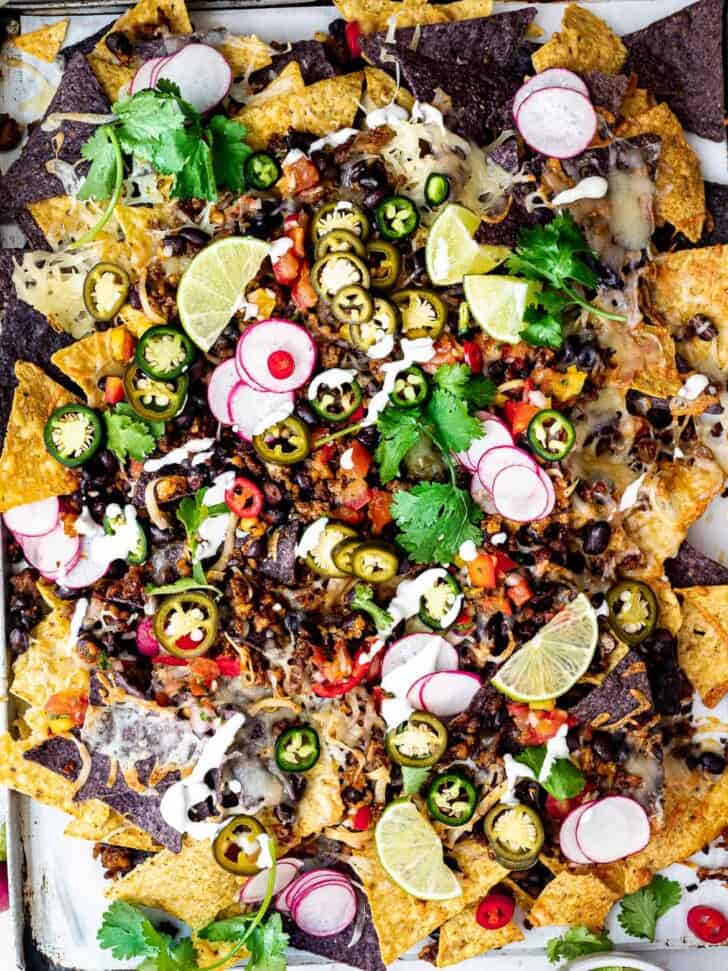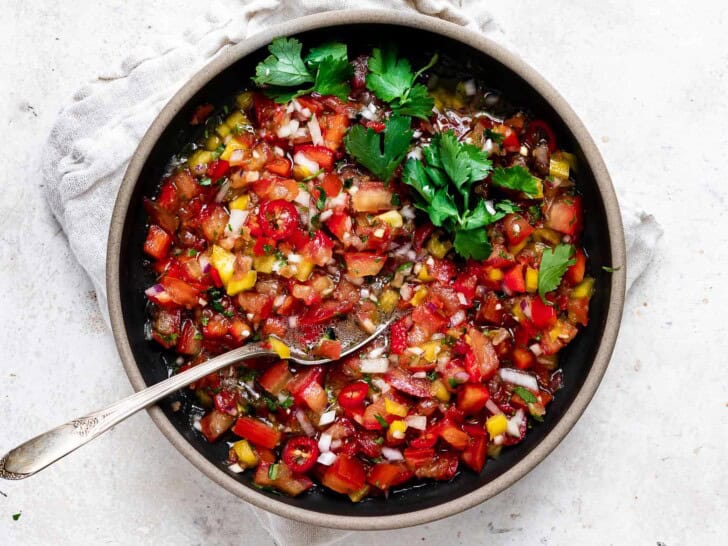 Chorizo and Black Bean Nachos Recipe
There are a few components to this recipe for chorizo black bean nachos. All easy and all pretty much essential to achieve nacho nirvana.
#1 CHORIZO AND BLACK BEAN MIXTURE
Fun fact, the chorizo and black bean mixture for this recipe is made with a mix of chorizo sausage and crumbled tempeh. It is delicious. Tempeh is a fermented soy product that I really like and have been using quite a bit lately when making plant-based meals. Tempeh is made by fermenting cooked soybeans and then pressing the mixture into firm slabs. It tastes a little nuttier than tofu and is also more nutritious. Tempeh holds its shape very well when it's cooked, and absorbs flavours beautifully making it a great substitute for ground meat.
An all chorizo mixture, or all tempeh mixture is equally delicious to make these tacos. To eat a little less animal protein, but keep the big flavour in the mixture, I like to use both for these nachos. Not that you should need to hide it, but the tempeh is barely noticeable when mixed with the chorizo and black beans. If you don't mention it, no one will even know it's there. If you prefer an all tempeh mixture, I provide adjustments in the vegan version below.
The chorizo-tempeh mixture is simple and fast to make. You sauté onions with the chorizo sausage until the sausage is crumbled and crispy-brown. Next you add the crumbled tempeh and black beans along with a generous amount of smoked paprika, cumin and coriander. Give it all a few minutes to combine, and that's it. Now you're ready for the fun part: assembling the nachos.
#2 THE CORN CHIPS
Many nacho recipes recommend you make your own. Done that, not doing it again. It's fastidious. Just buy a bag of good quality, non-gmo, not heavily salted corn chips and call it a day. I love blue corn tortillas and in these photos I used a combination of blue and yellow. Yum.
#2 THE TOPPINGS
There are no rules what to top your nachos with. I would likely never decline nachos that are smothered in cheese sauce but that's just not what I like to put in my body anymore. The amount of cheese in these nachos adds just enough cheesy, salty kick, without making you feel too guilty. I love raw crunchy jalapeños as much as I love them pickled. Here, I use both. You can buy jarred pickled jalapeños, but it's so easy to make your own. I use this recipe. Radishes, if you love them, make a brilliant topping for nachos. Ditto for any other crunchy things such as red chilis, white onions, etc. Have fun and top your nachos with as many ingredients as your heart desires.
#3 THE SIDES
Guacamole: I think we can all agree you gotta have some guacamole with your nachos. I don't mean to be bossy, but unless you are willing to dish out $8.00 for a very small container of Mad Mexican guacamole, you need to make your own. All other store-bought guacamoles are pretty nasty, IMHO. In mere minutes you can make your own guacamole at home and it will be so, so delicious. This is my simple go to guacamole recipe. Guac glory.
Salsa: Okay, so here I concede you can get some pretty awesome ready-made salsas. The problem is, this pico de gallo-style salsa is soooo delicious, I really encourage you to make it for the ultimate nacho experience. There's just a bit of chopping but so worth it. Make a big batch and watch it fly.
Sour cream crema: Something creamy drizzled over nachos is not only delicious, it is essential. This sour cream crema is only 3 ingredients (plus salt) and once you try it, you will be pouring it on everything.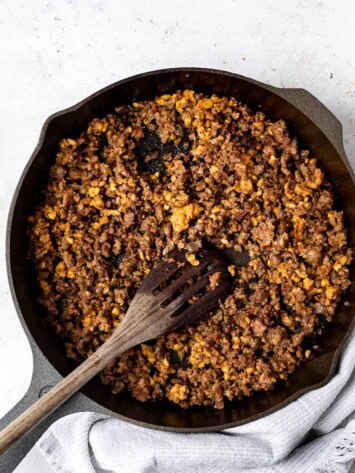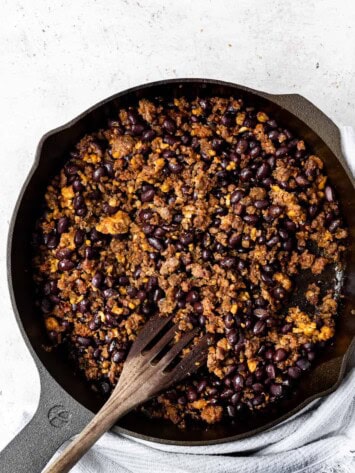 A Few Tips
Don't crowd the pan: If making a large batch, use two baking sheets. This ensures you don't get too many naked chips without any cheese or toppings.
Don't over bake: Bake your nachos only until the cheese melts and has started to bubble. The cheese, chips, and other toppings will burn and dry out if you bake them too long.
Use fresh sausage: I use raw Spanish chorizo sausage for my nachos but you can also use Mexican. Just be sure you aren't buying dry-cured which would be good but does not really work for this recipe.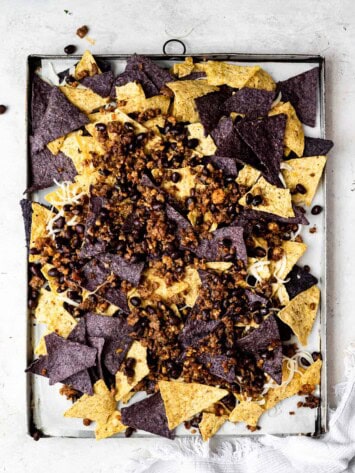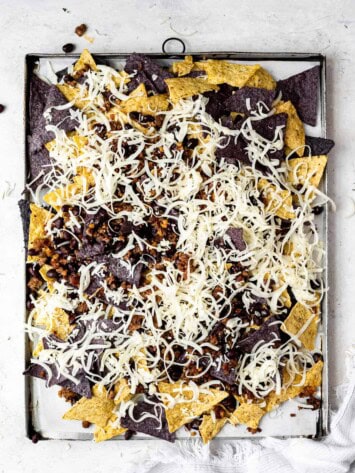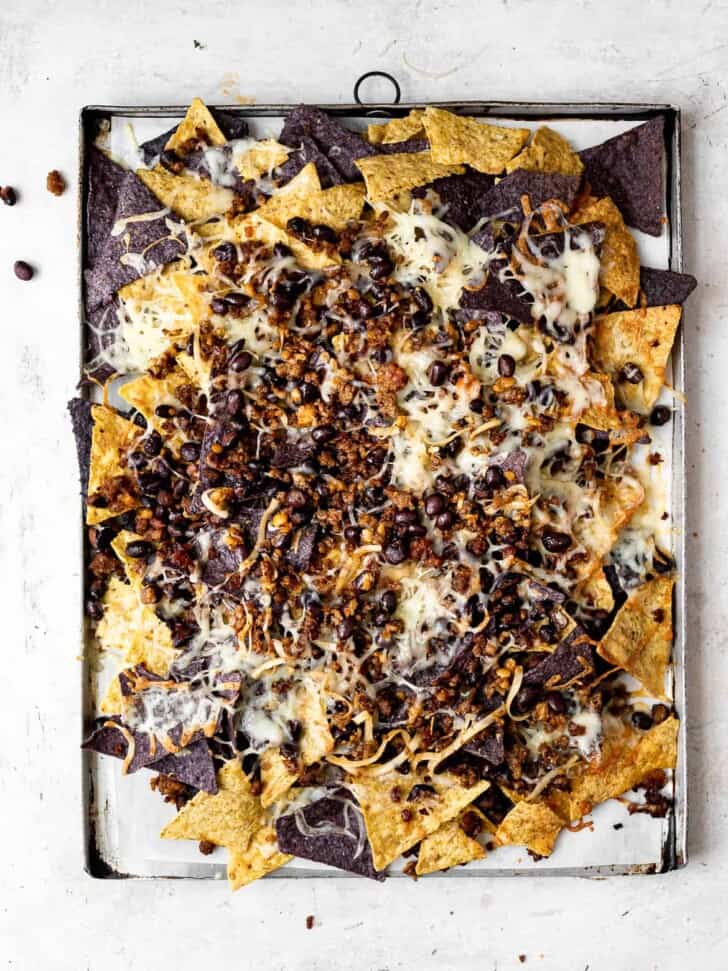 Vegan Black Bean Chorizo Nachos
For a no-less satiating vegan version of these chorizo and black bean nachos, replace the chorizo sausage with a plant-based sausage. Alternatively, use all tempeh and simply add a few minced garlic cloves, and a few more generous dashes of the spices to up the flavours.
Replace the cheese with your favourite vegan cheddar cheese, or make a vegan queso. This one is super easy and yummy.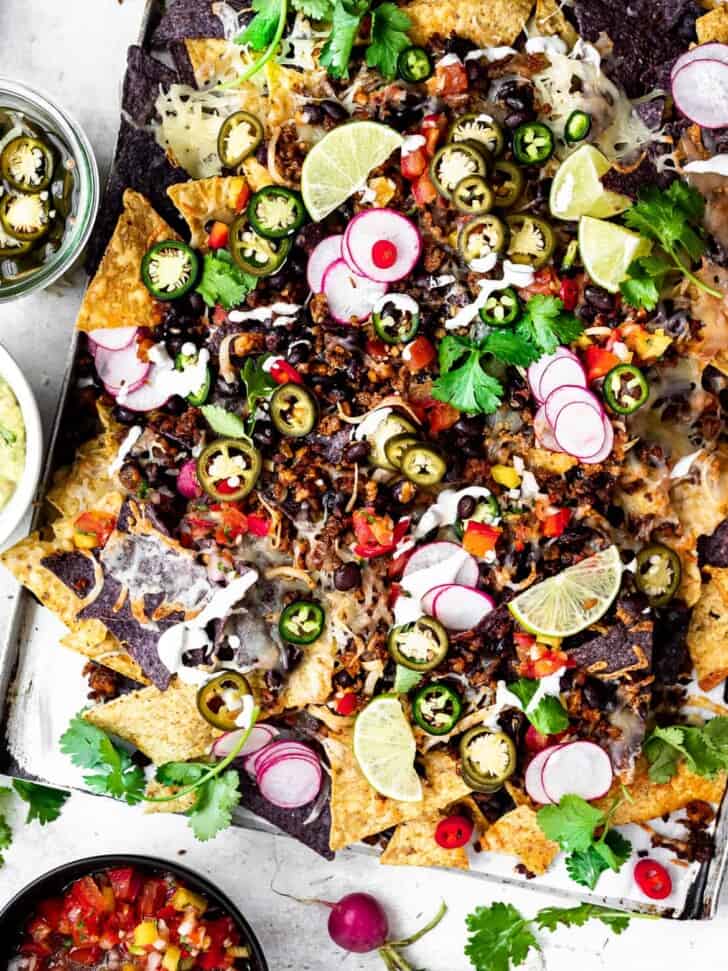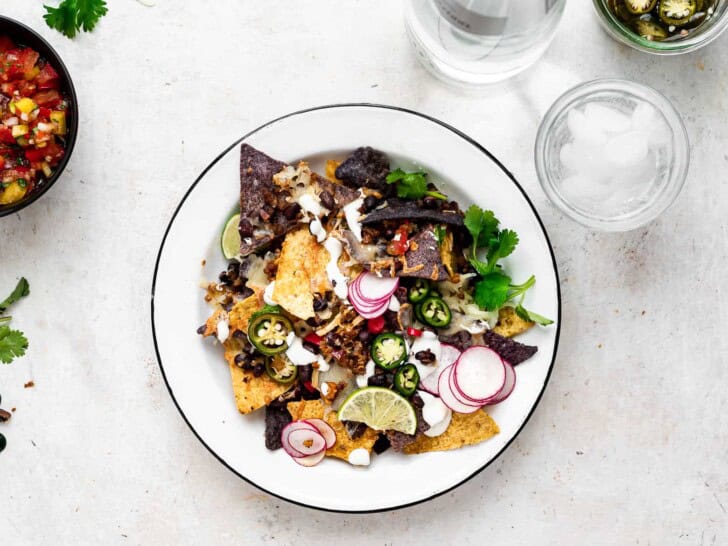 More Game Day Recipes To Enjoy
Print Recipe
Pin Recipe
Chorizo and Black Bean Nachos
These Chorizo and Black Bean Nachos, made with layers of tortilla chips, smoky chorizo and black beans, melty cheese, sour cream crema, homemade salsa, and loads of toppings, are truly irresistible. Perfect to snack on but filling and satisfying enough to call it dinner.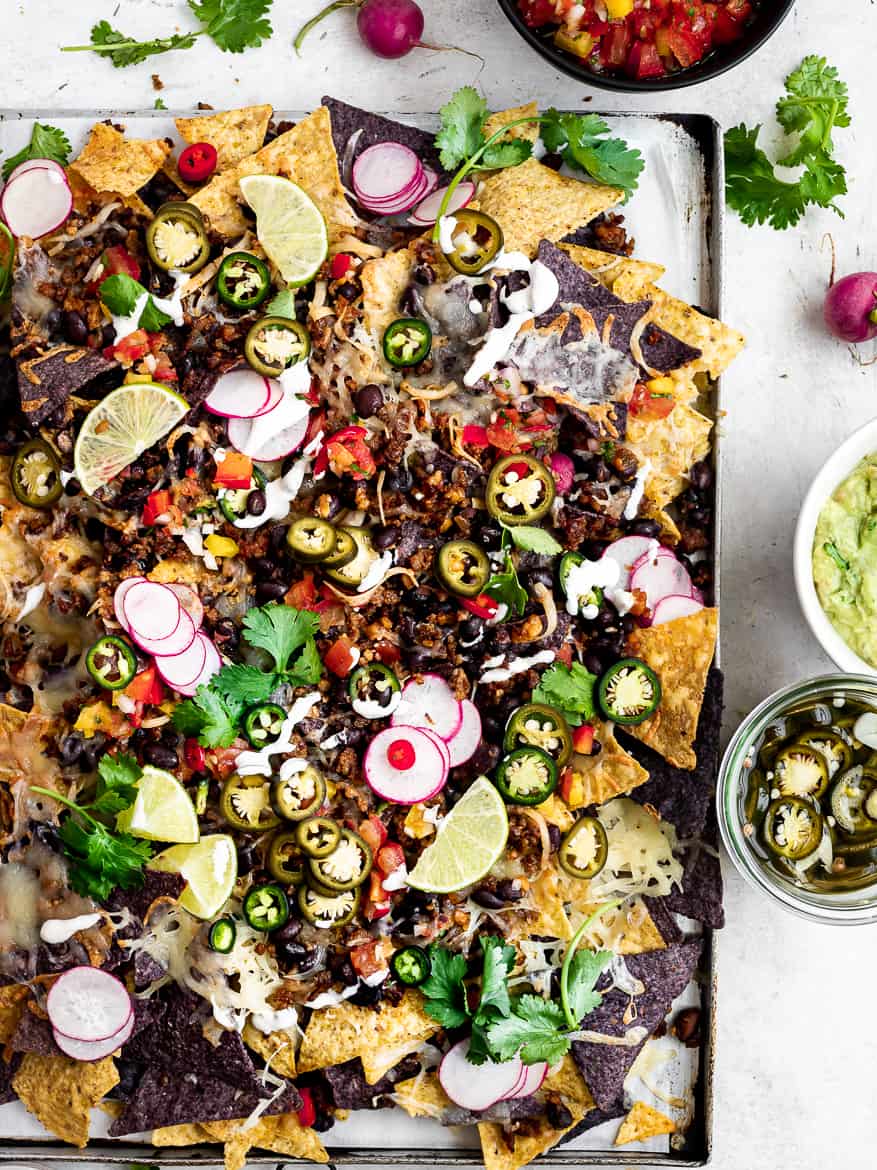 Ingredients
For the Salsa
3

small vine-ripe tomatoes

seeded and diced

1/2

small red bell pepper

finely chopped

1/2

small yellow bell pepper

finely chopped (or use 1 whole small red pepper)

1/2

small white onion

finely chopped

2

small garlic cloves

minced

1 - 2

jalapeños

seeded and finely chopped

1/2

bunch cilantro

finely chopped

lime, juiced

salt and fresh ground black pepper
For the sour cream crema
1

cup

sour cream

1

garlic clove

grated or minced

zest of 1 lime

1

tablespoon

lime juice

1/2

teaspoon

kosher salt
For the Chorizo and Black Bean Mixture
1

tablespoon

olive oil

1

small yellow onion, diced

2

links

Spanish or Mexican Chorizo, casings removed

6 - 8

ounces

crumbled tempeh*

Use your hands to crumble the tempeh. It will crumble easily.

1

19 ounce

can black beans

drained and rinsed

1

teaspoon

smoked paprika (sweet ot hot)

1

teaspoon

ground cumin

1

teaspoon

ground corinader

optional

1

teaspoon

Kosher salt

freshly ground black pepper
For the Nachos
2

200g

bags salted tortilla chips 

(I used a mixture of blue and yellow chips)

2

cups

shredded Monterey Jack cheese, or sharp cheddar
Optional toppings and sides
guacamole

pickled jalapeños

fresh jalapeños, sliced

fresh red chilis, sliced

red onion, finly chopped

3-4

radishes, thinly sliced

cilantro leaves
Instructions
Preheat oven to 400 degrees F.

Make the salsa: Combine all the ingredients together in a large bowl. Season with salt and pepper to taste. Let sit for 15 minutes to allow flavours to meld.

Make the sour cream crema: In a small bowl, combine all the ingredients. Cover and refrigerate until ready to use.

In a large skillet over medium-high heat, heat the olive oil and saute the onions until slightly softened, about 2 minutes. Add the chorizo sausage and cook for another 5-7 minutes, or until the chorizo is fully cooked, breaking up the meat with a wooden spoon as it cooks.

Add the crumbled tempeh, smoked paprika, groun cumin, ground coriander, salt and pepper. Cook for another 3 to 4 minutes, stirring well to combine. Set aside.

Spread your tortilla chips into an even layer on a large rimmed baking sheet, or an oven-safe skillet. You may need to use two baking sheets. Spoon half the chorizo mixture over the tortilla chips, and top generously with half the grated cheese. Repeat another layer.

Switch the oven from bake to broil, and place the nachos on the middle or lower rack. Remove from the oven as soon as the cheese is bubbly and browned in places, and the edges of the chips have started to darken. Keep an eye on them, this will only take 2 to 3 minutes on broil.

Top with your favourite toppings, drizzle with sour cream crema, and serve immediately with salsa and guacamole on the side. Enjoy!
Notes
*Omit the tempeh and use more chorizo sausage,  if you wish. Alternatively, for a plant based version, omit the chorizo and use all tempeh. In this case, add some minced garlic to the mixture and a few more extra dashes of the spices.