This is The Best Guacamole recipe that is simple to make, a huge crowd pleaser, and turns out perfect every time! Made with ripe avocados, onion, lime juice, jalapeños, chopped tomatoes, lime juice, and salt, it's bursting with fresh, addictive flavours. Enjoy it as a dip with your favourite tortilla chips, or as a condiment to tacos, quesadillas, burritos, enchiladas and even rice and beans. So good!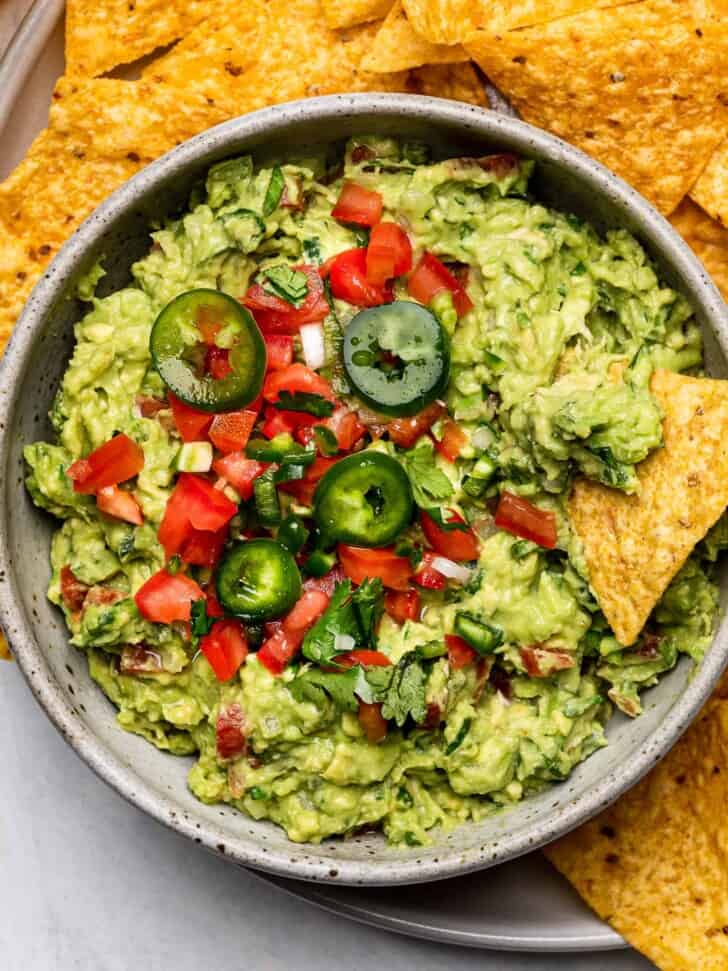 There is something so alluring about the extravagantly creamy, satiny-smooth avocado. In our home, we consume one (or two) almost daily as a side vegetable seasoned simply with lime juice, salt, and a few thin slices of red onion. We also love to top our soups and stews with avocado slices, and of course we also love it mashed on a piece of toast.
However, when I bring a bowl of my guacamole to the table, everyone suddenly turns into piranhas devouring it with unbridled ferocity. Can't say that I blame them. This guacamole is superb and – to my family at least – boasts the title of "best ever".
If you have a ripe avocado, you can make a really good guacamole with only a few tablespoons of chopped onion, a squirt of lime juice, and a generous sprinkle of salt. But if you want a really great guacamole, you may want to add just a few more ingredients and most importantly, pay attention to the details.
The Best Guacamole Recipe
I'm sure we've all been there; dipped a chip into what looked like a bowl of promising guacamole only to have it taste watery, bland, and way too creamy. No bueno.
The key for making the perfect guacamole? Start with a perfect avocado. Easier said than done, I know, but it really is key. From there, you need to create the perfect texture and flavour combo. That is, it shouldn't be too chunky, and it shouldn't be too smooth. It needs to be fresh and vibrant from using the best ingredients possible.
Onion seems to be the most widely accepted ingredient in guacamole. Whether red or white, or even green onions, does not seem to matter much. Just don't leave them out. I like the less acrid flavour of white onions in my guacamole but if red is all I have I just add a little less.
Likewise, the addition of some modest heat via green serrano, or jalapeño, chiles is rarely disputed amongst the guacamole militants. Not so for tomatoes, garlic, lime juice, and cilantro which are without a doubt the most divisive ingredients in guacamole.
I do add tomatoes – but only flesh and no juice – which I find adds wonderful texture, colour, and dimension to my guacamole. The tomato's acid fruitiness also helps with preserving the vibrant green colour in the guacamole. I leave the garlic out, but given I am a lover of garlic I would have no qualms should a small clove find its way into yours.
Diana Kennedy, the legendary authority on Mexican cooking, despises the notion of lime juice in guacamole. I trust her recipes, I love her writing, but I can't have guacamole without lime juice. Done right, in other words without copious amounts, the lime juice adds wonderful zing and brightness that I miss terribly if it is left out.
As for the cilantro, I will leave that up to you. But let's just say if you are camp cilantro-hater, you would not enjoy my guacamole. I happen to love the burst of herbaceous freshness which plays well with all the other ingredients.
Lastly, every guacamole "expert" will tell you that undersalting will result in bland guacamole. This is indeed a very accurate statement as avocados are notorious for being able to handle big doses of salt. Depending on the avocado (some being less flavourful than others) you will need more or less salt, so taste as you go.
Now, grab some chips, por favor, and let's make the best guacamole, ever.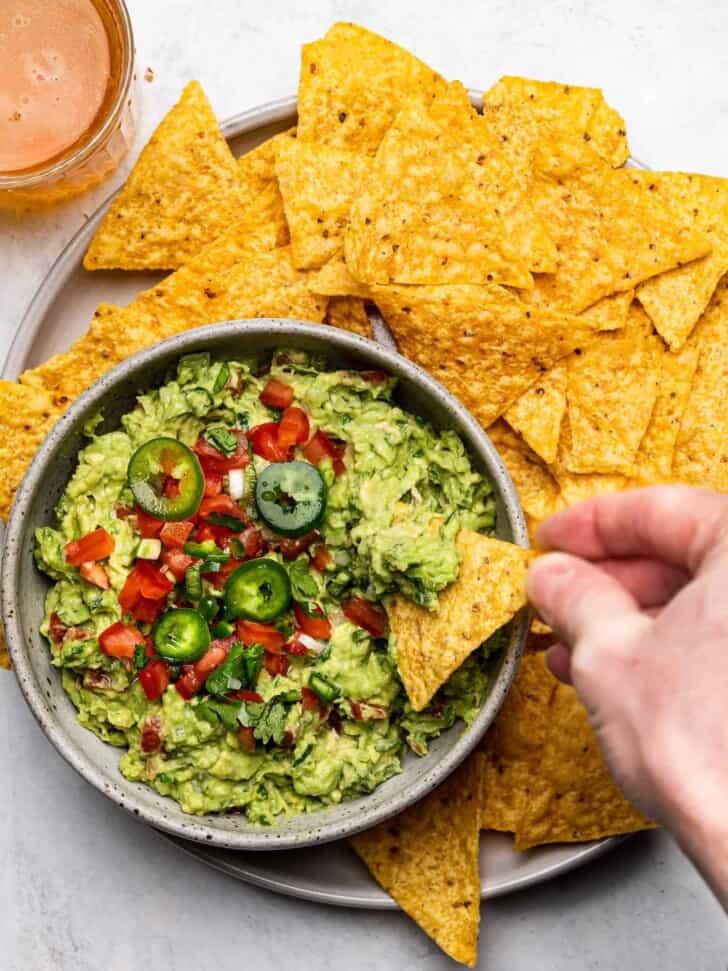 Ingredients And Notes
Avocados: This recipe calls for 4 avocados which serves around 4 people as a dip. Guacamole doesn't keep well for too long so adjust the quantities accordingly. There are tips on choosing the best avocados below.
Onion: I like using a white onion for my guacamole which is a little milder than red. Sometimes white onions are hard to find so if using red, use a little less than the recipe calls for.
Tomatoes: Don't worry if tomatoes are not in season. Even flavourless tomatoes are a nice addition to guacamole. I like to use Roma tomatoes which are less juicy. Just be sure to deseed them and use only the flesh.
Jalapeño: A bit of heat is really nice in guacamole. Serrano peppers are a good choice but I can't find them in my area so I use jalapeños. Adjust the heat by removing the seeds for less spice, or leaving them in if you like heat.
Fresh lime juice: I don't enjoy guacamole that is saturated in lime juice but a moderate amount is, in my opinion, pretty essential.
Cilantro: For some herbaceous goodness. If you don't enjoy cilantro, feel free to omit it. I'm not sure parsley would work well in guacamole but you can give it a try if you wish.
Salt: Be generous. Avocados can be bland if not properly salted.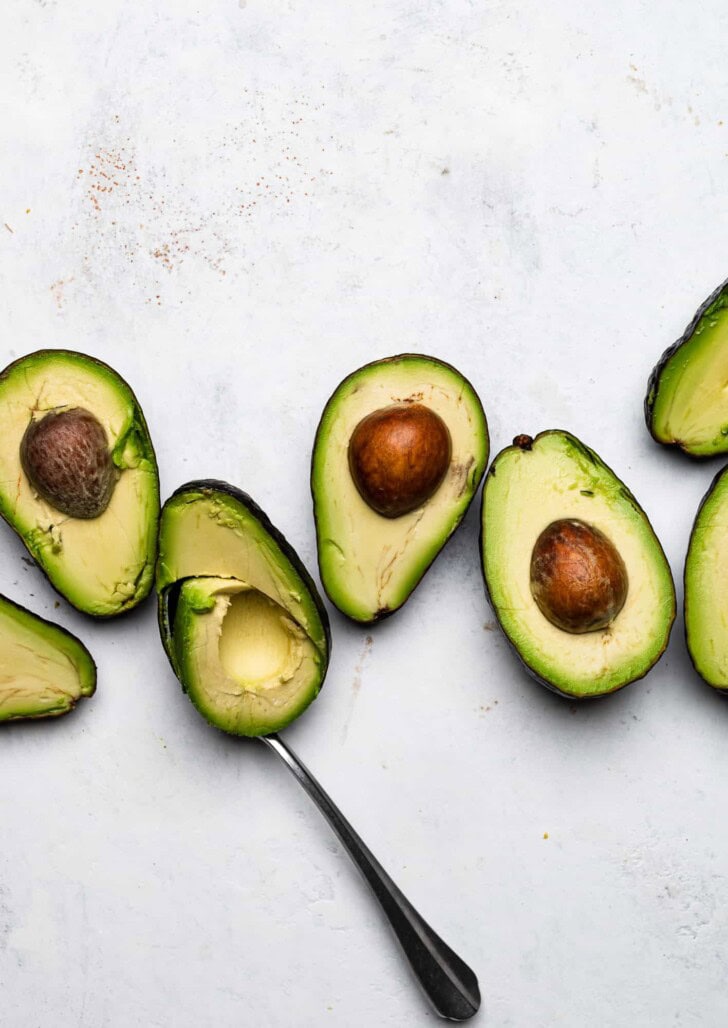 How To Select Avocados For the Best Guacamole
Your guacamole will be as good as the avocados you pick. Here is how to select unripe, and ripe avocados:
Selecting unripe avocados: Unfortunately, most grocery stores sell avocados that are hard as rock. If that is all you can find, look for ones that feel heavy for their size and are free of blemishes or deep scratches. Let them stand at room temperature until they feel slightly soft when you give them a very gentle squeeze. Depending on where you live, a very hard avocado can take up to 3 to 4 days to be perfectly ripe.
If they have ripened before you need to use them, place in the refrigerator for 2 to 3 days.
Selecting ripe avocados:
I can spot a ripe avocado a mile away because it will look a lot darker in colour than unripe ones. When you gently squeeze it in the palm of your hand, the flesh should give just a little. If it gives too much, or if and there are any sunken spots, it is too ripe.
Also, check that the avocado still has the stem attached which means the avocado flesh is less likely to have brown spots.
To ripen an avocado quickly:
To help an avocado ripen faster, store it in a paper bag with a fruit that emits ethylene gas such as a ripe banana, or apple.
Tip: Don't refrigerate an avocado until it is perfectly ripe.
How To Peel Avocados
Cut the avocado lengthwise in half, working all the way around the pit. Gently twist the two halves to separate them. If the avocado is ripe, the pit will stay stuck to one of the halves. To remove the pit, place a folded kitchen towel in the palm of your hand. Place the avocado on the folded kitchen towel and whack the pit with a sharp knife. Gently twist the knife to dislodge and remove the pit.
If making guacamole, I then simply scoop out the flesh with a spoon and place it in a large bowl.
If I need the avocado for a nicer presentation, I place each avocado half on a cutting board and slice lengthwise into two wedges. Then, I peel each wedge by hand.
How To Make The Best Guacamole
This easy guacamole recipe is ready in ten minutes and is perfect for a game-day snack or for using as a condiment in sandwiches, tacos, burritos, etc.
Scoop the avocados into a mixing bowl. Use a fork to roughly mash them, leaving some big chunks, for now.
Add the onions, tomatoes, cilantro, jalapeño pepper, lime juice, and salt and mash everything together to your desired level of chunkiness or smoothness. Mine leans more towards the smoother side, but never completely uniform.
Garnish with a bit of extra tomatoes, onions, jalapeños and cilantro, if you wish. Serve with your favourite tortillas and enjoy!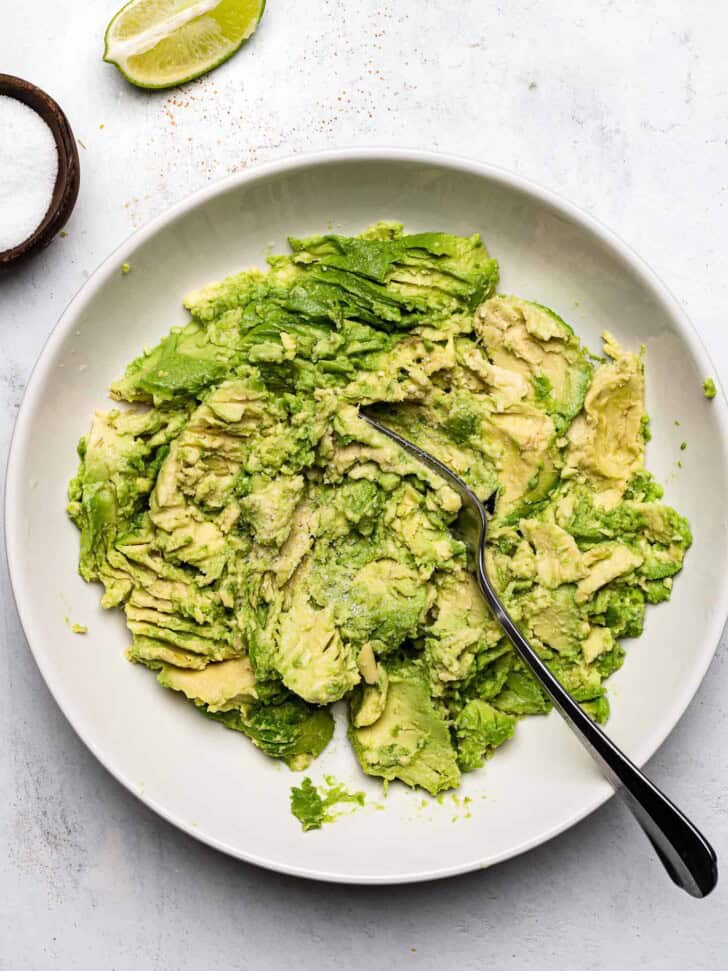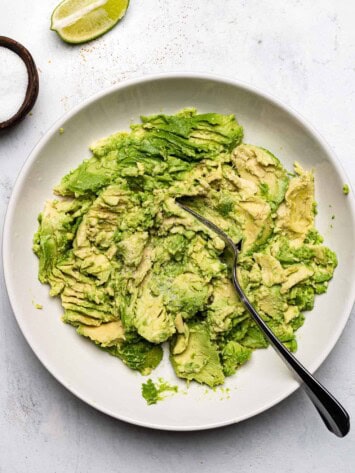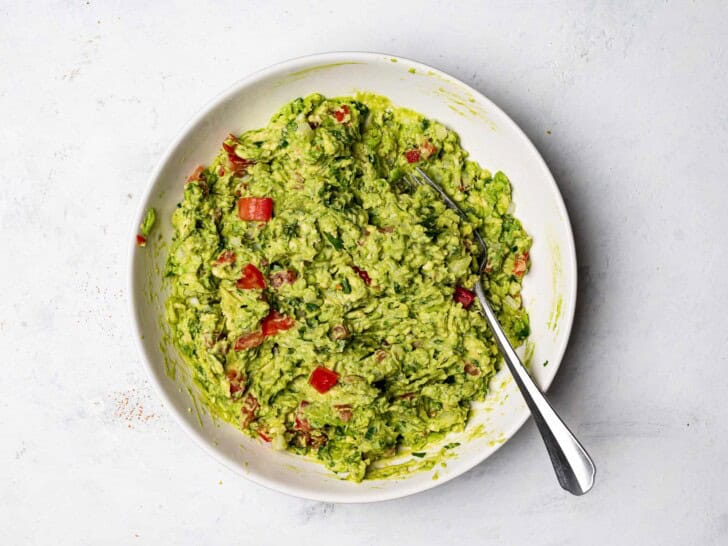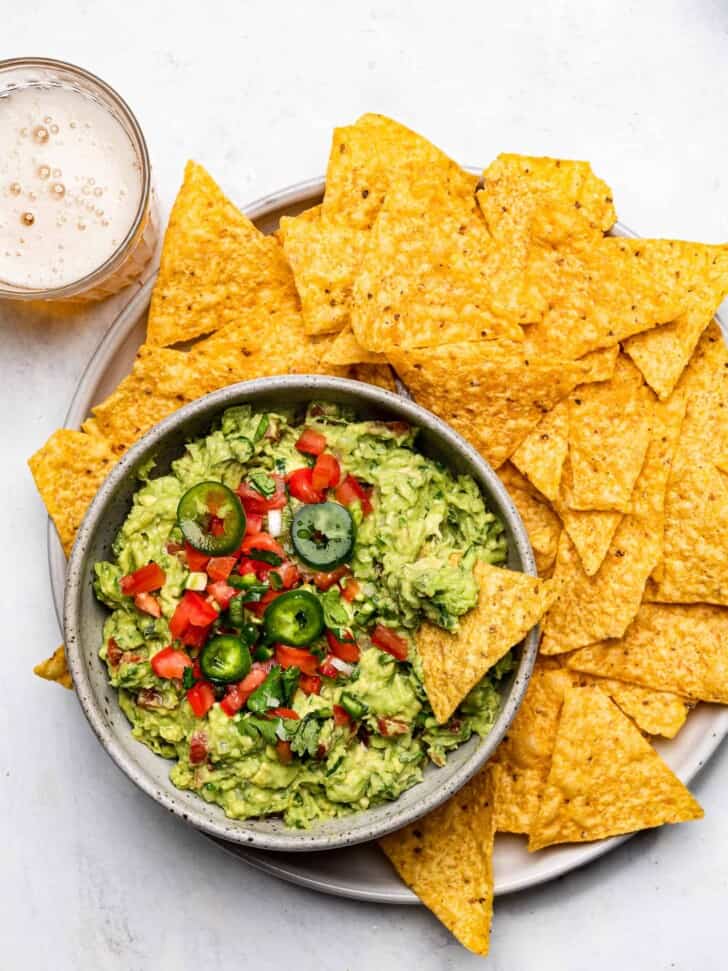 How To Prevent Guacamole From Browning
Avocados, and therefore guacamole, will oxidize and turn brown really quickly when exposed to air. Lime juice will help a little but not enough if you want to make the guacamole in advance. Ditto for leaving in the pit – it doesn't really work.
So is there a way to prevent the guacamole from turning brown? Yes there is, and it's a game changer. Here's how to do it:
Place the guacamole in a storage container leaving at least 3 inches of space on the top.
Use a spoon to completely level and smooth out the top so it is very flat.
Pour about 1/2 inch of cold (preferable filtered) water on top. Cover with a tight fitting lid and refrigerate for up to 2 days.
When ready to use, tip the container to drain all the water off. Stir it well, and dig in!
I haven't tried leaving the guacamole beyond 2 days but I know some have had success for up to 3 days. If you try it, please let me know if it worked for you!
Tips for making the best guacamole
Use ripe, but not too ripe avocados. I know I'm sounding repetitive, but a great guacamole must be made with perfectly ripe avocados. Similarly, be cautious not to use overripe avocados which will make a less than desirable guacamole.
Soak the onions. If your onions are a little too pungent, soak them in cold water for 10 minutes or so. Drain before using.
Use room temperature avocados. If your avocados have been hanging out in the fridge, make sure to take them out a few hours before you are going to use them. Cold avocados do not peel or mash as well as room temperature ones.
Do not use frozen avocados. Save frozen avocado chunks for smoothies. The frozen pulp becomes too watery for guacamole.
Serve immediately. Sure, there are a few hacks to keep your guacamole from going unpleasantly brown. But nothing beats a freshly made guacamole.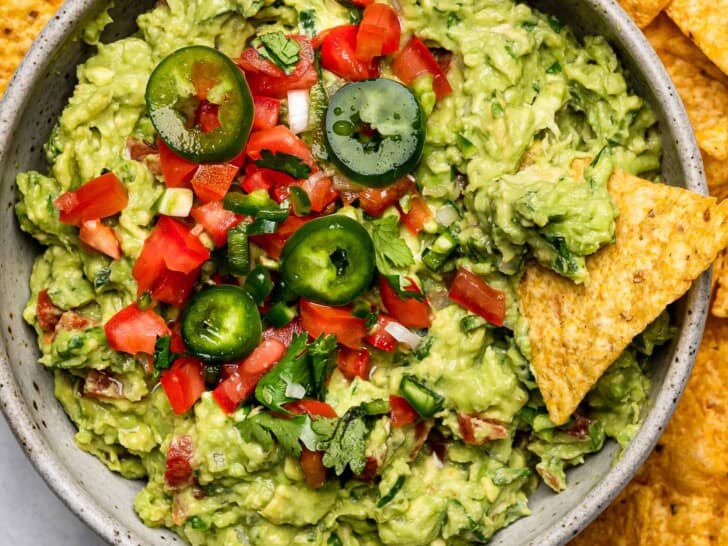 Ways To Use Guacamole
There are so many ways to enjoy the best guacamole, here a few ideas:
As a dip: Guacamole is one our favourite dips to eat with tortilla chips and/or raw veggies like cucumbers, carrots, or jicama wedges.
With tacos: I can't think of a taco that wouldn't be tastier with spoonfuls of this guacamole. Try it with these Chicken Tinga Tacos, Mushroom Tostadas, or this turkey taco salad.
With nachos: You could say that a tray of nachos would not be complete without a few heaps of guacamole on top. Top these cheesy, loaded nachos with guacamole and watch the whole tray disappear in minutes.
With other Mexican food:  Enchiladas, quesadillas, chili, and pretty much any Mexican meal is a lot more fabulous with a bowl a bowl of guacamole.
On toast: Guacamole on my toast topped with a fried egg? Dinner is done – yum!
With eggs: Guacamole with a side of scrambled eggs, or a frittata is my idea of a heavenly lunch or light dinner.
On burgers: Tuck this fresh and delicious guacamole into sandwiches or burgers.
With rice and beans: My kids have always loved rice and beans with a side of guacamole. A very respectable, easy, and delicious complete meal.
Other Dips You Might Enjoy
If  you give The best Guacamole recipe a try, please feel free to leave a comment and/or a star rating below. We appreciate and welcome all your feedback. Thank you!
Print Recipe
Pin Recipe
The Best Guacamole Recipe
This is The Best Guacamole recipe that keeps everything simple and turns out perfect every time! Made with ripe avocados, onion, lime juice, jalapeños, chopped tomatoes, lime juice, and salt, it's bursting with fresh, addictive flavours. Enjoy it as a dip with your favourite tortilla chips, or as a condiment to tacos, quesadillas, burritos, enchiladas and even rice and beans. So good!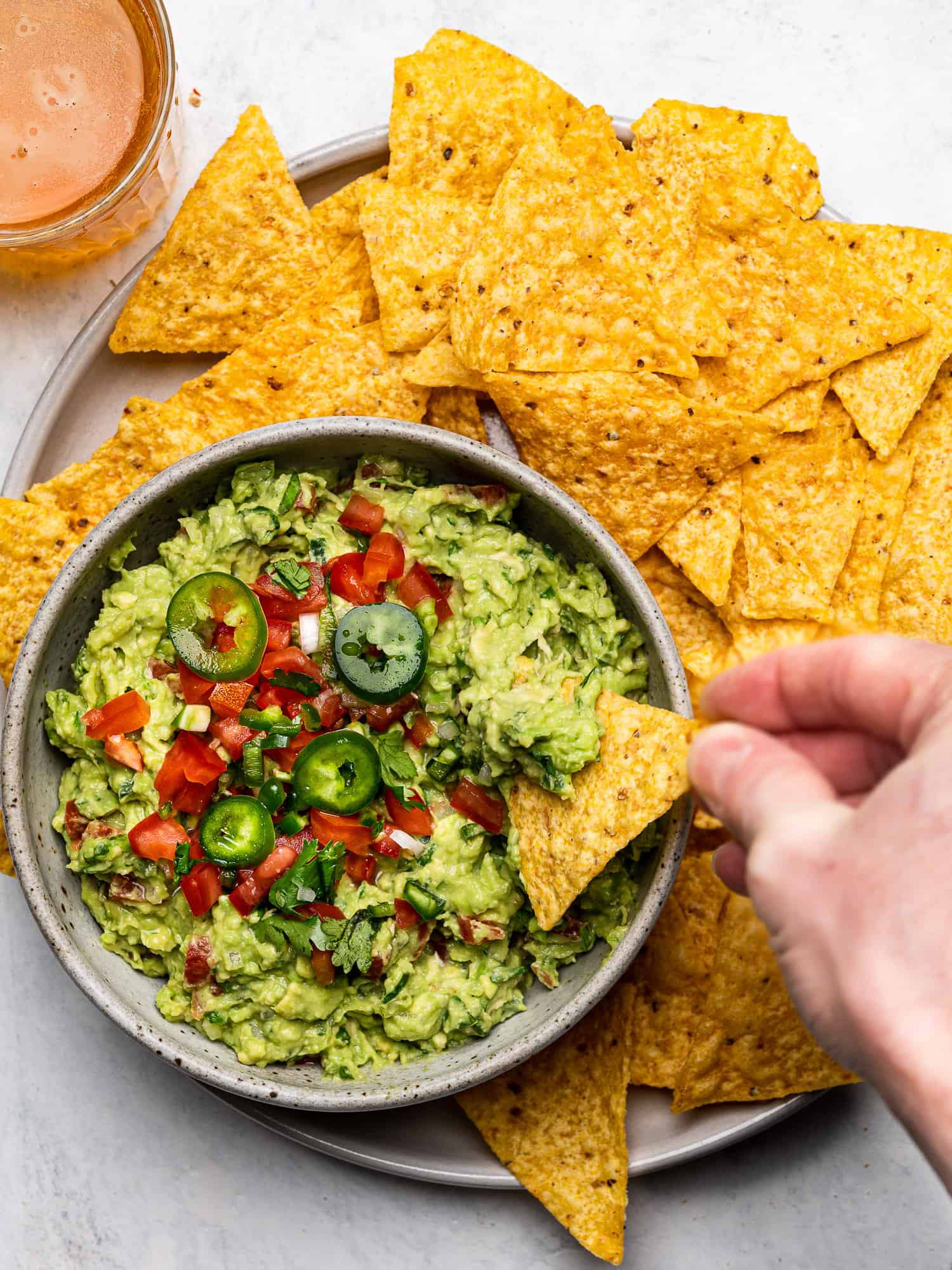 Ingredients
4

medium-sized, ripe avocados

1/2

lime

juiced

1/2

white (or red) onion

finely diced (about 1/3 cup)

2

Roma tomatoes

seeded and diced

1

jalapeño pepper

seeds removed and finely diced (or leave seeds in for more heat)

1/4

cup

finely chopped fresh cilantro

3/4

teaspoon

kosher or sea salt

plus more to taste
Instructions
Slice the avocados in half, remove the pit, and use a spoon to scoop the flesh into a medium bowl. Drizzle with the lime juice, then roughly mash the avocados with a fork, leaving some large chunks for now.

Add the onions, tomatoes, jalapeños, cilantro, and salt and mash everything together to your desired level of chunkiness or smoothness. Taste and add a little more salt, and/or lime juice, if needed.

Enjoy immediately with tortilla chips, or toasted pita wedges!
Notes
See blog post for the following tips:
How to select perfect avocados
How to cut and peel avocados
How to keep guacamole from turning brown