Deeply comforting and flavourful, Coq Au Vin with White Wine is one of the most spectacular braises you will ever encounter. Elegant enough for entertaining, it is also cozy and wonderful for a family meal.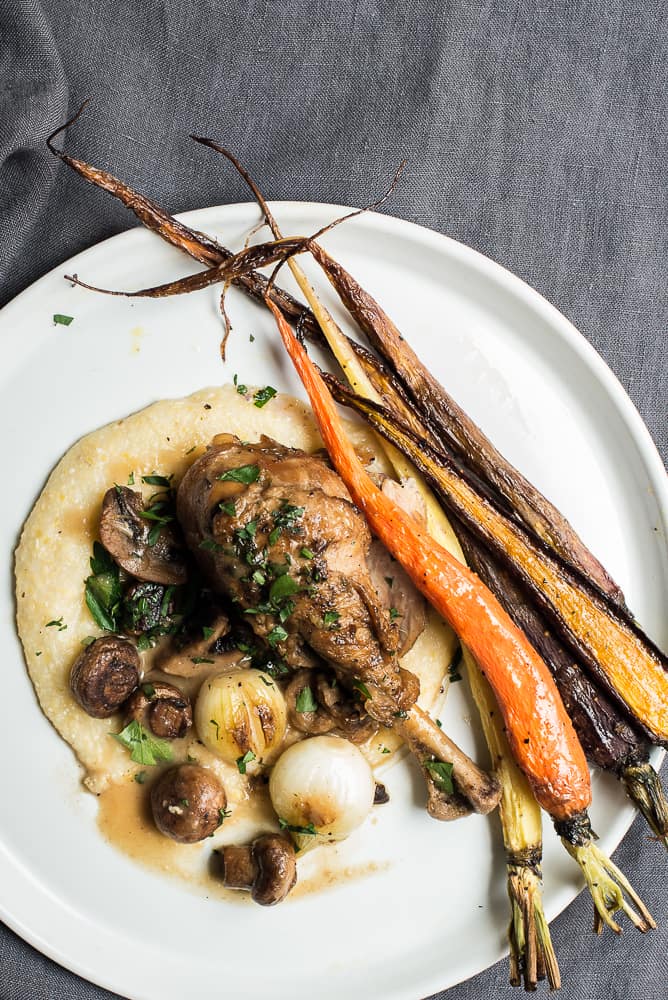 For me, cooking is consoling and comforting. Eating together with my loved ones, so much more so. A few days ago, I raked and filled at least 20 bags of leaves. Before heading out to tackle said task, I spent a little while preparing this coq au vin with white wine. I peeled the dreaded but oh-so-good pearl onions, sautéd bacon strips, browned chicken pieces, browned onions, garlic and mushrooms, added a fresh thyme and bay leaves, then deglazed it all with a glorious bottle of Riesling. Then the easy part, I threw the pot in the oven for a low and slow braise that resulted in something beautiful. The chicken falls off the bone, the sauce turns rich and flavourful, the earthy mushrooms and sweet pearled onions a delightful chew in every bite, making it worth the pain of peeling those persnickety little pearls.
The day I was making this coq au vin, I was merely hoping it would bring some cheer after a long and chilly, hard-working day outside. I knew there would be nothing better than coming back inside, exhausted and cold, to tuck into this long-simmered, deeply comforting dish. Stretched to two or even three days, like most braises, this dish is even better the next day, which is of course one of the best reasons to make it. Turns out my timing was perfect, because when I was making this dish, I hadn't a clue the following day the world would implode with the most devastating and unprecedented political storm, I at least, have ever lived through. It didn't fix things in the world, but the leftovers sure soothed the chill in our hearts and melted away some anxiety. If only briefly.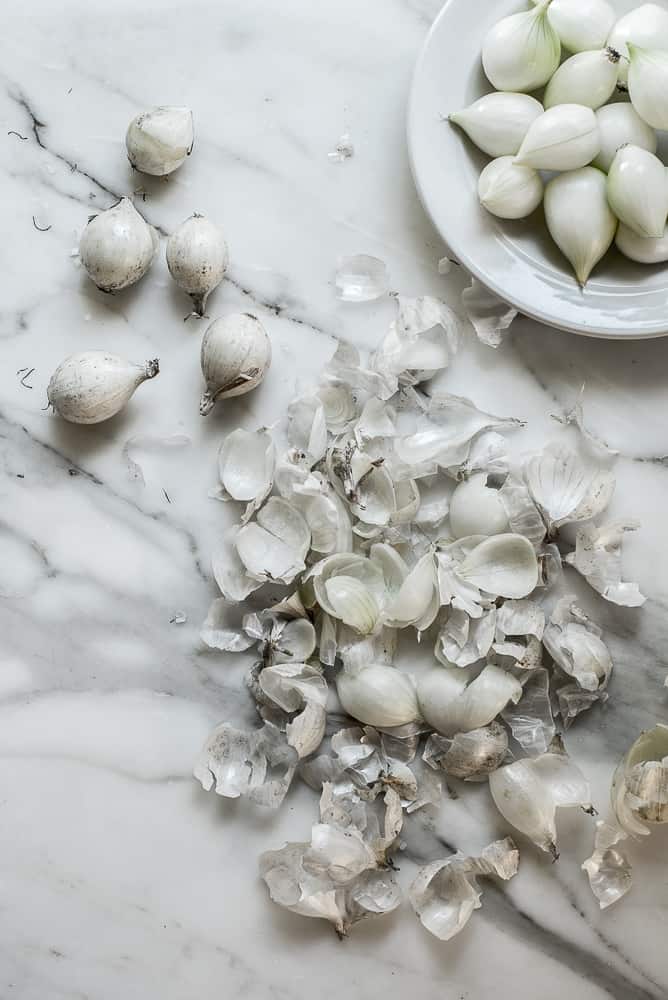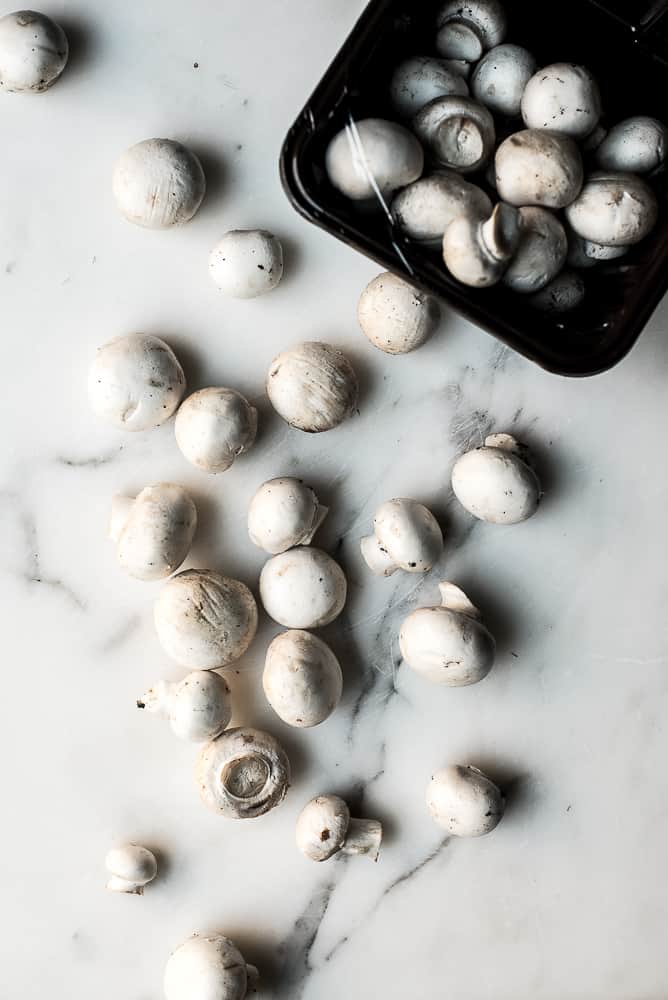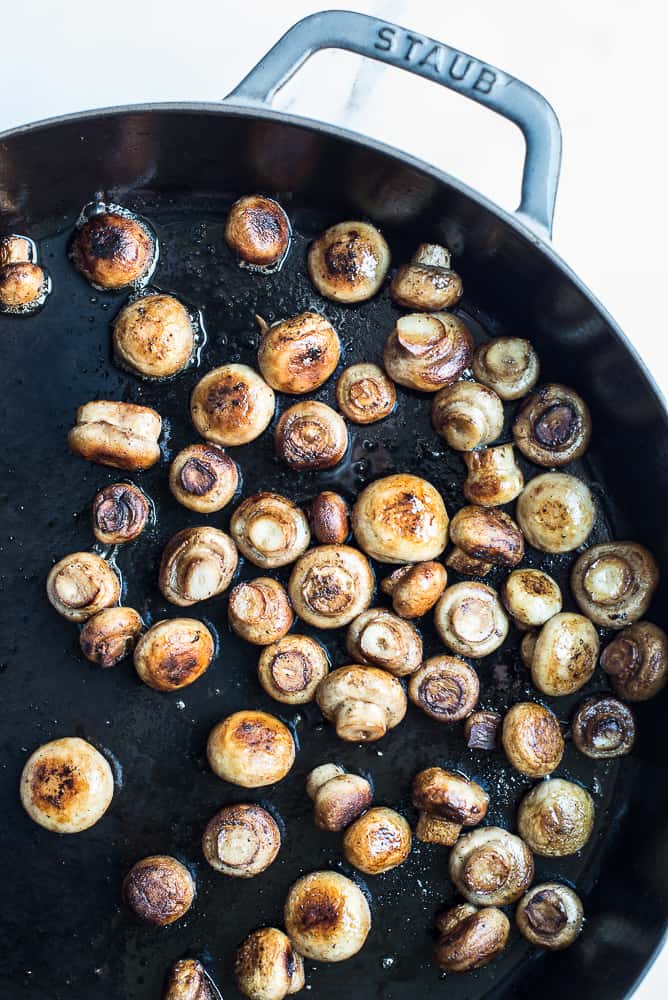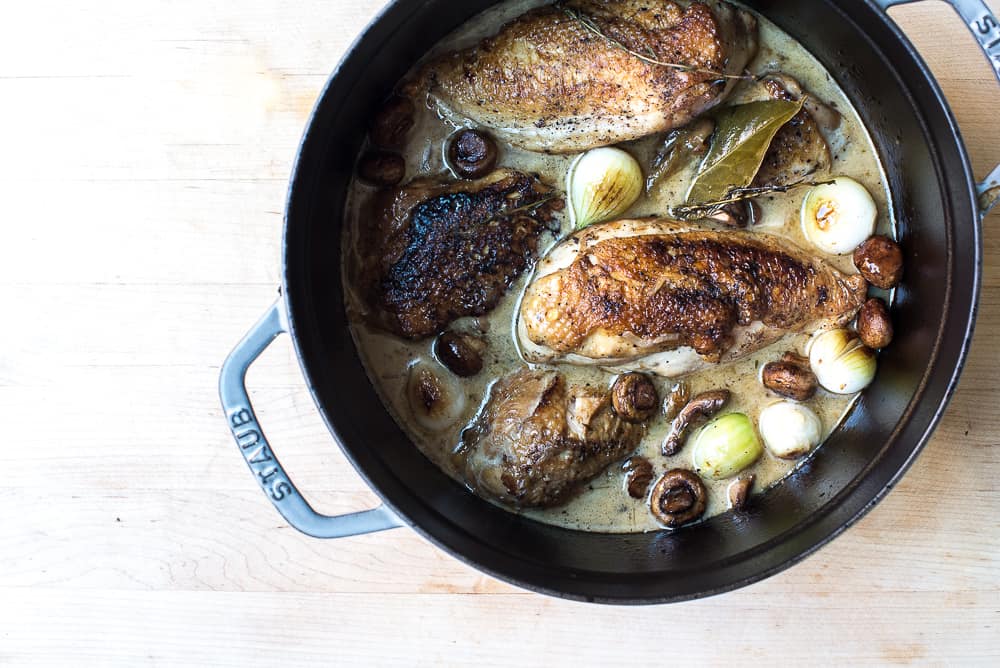 ABOUT COQ AU VIN WITH WHITE WINE
I am often asked from where I pull inspiration for my recipes. The seasons of course will always be a major factor dictating how most of us cook. I also find a lot inspiration from all the great food heroes; Julia Childs, Yotam Ottolenghi, Ina Garten, Jamie Oliver, etc. This coq au vin recipe, was of course inspired by Julia Childs' coq au vin which is traditionally made with red wine.
Coq au vin is a slow-cooking chicken braise layered with crispy bacon, sweet pearl onions, and earthy mushrooms. It creates one of the most nourishing and comforting dishes of all time. The dish originated in France's Burgundy region long before Julia Child's version of coq au vin become so popular. For this recipe, I have used white wine which I find results in a dish that is brighter in flavour and doesn't change the colour of the chicken.
A FEW TIPS TO MAKE THE BEST COQ AU VIN WITH WHITE WINE
The chicken: Traditionally coq au vin is made with pieces from a whole chicken. If you prefer to use all dark meat pieces, that is also fine.
Don't braise for too long: Unlike beef or fatty pork, chicken will become tough if braised for too long, especially the breast.
Buy frozen pearl onions: Fresh pearl onions can be very time consuming to peel. I can't seem to find the frozen, pre-peeled, ones very often but if you can find them, it makes sense to go that route.
Wine: I like to use Riesling but as long as you avoid cooking wines, any dry white wine will work here.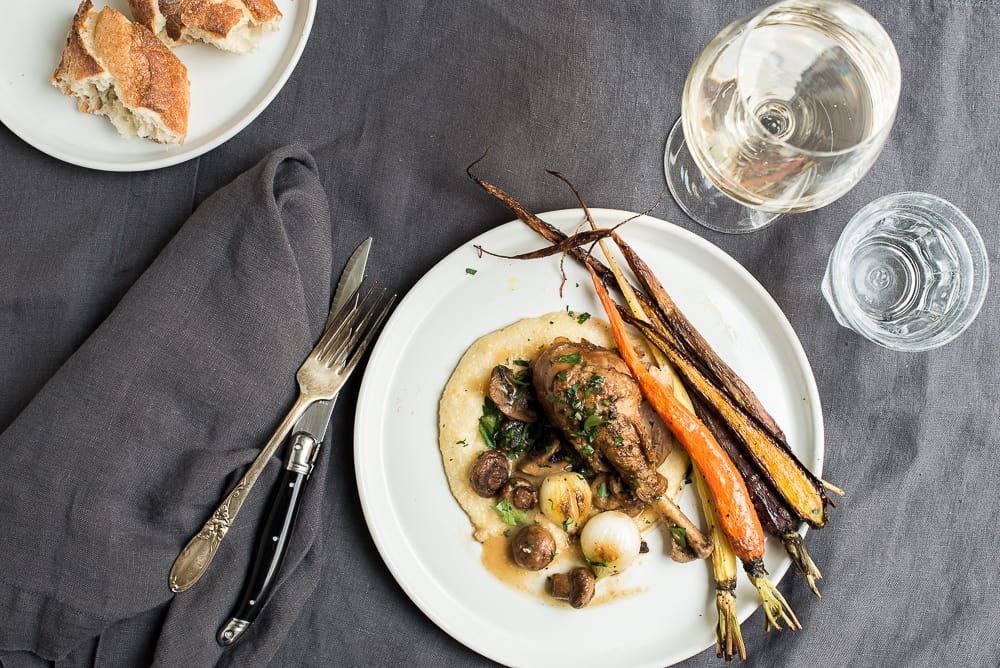 HOW TO SERVE COQ AU VIN WITH WHITE WINE
Serve this saucy dish alongside roasted vegetables, with buttery baby potatoes, egg noodles, creamy polenta, mashed potatoes or mashed cauliflower.  Most importantly, serve it with a French crusty baguette to dunk in the sauce – sublime.
This coq au vin with white wine may not be a quick weeknight meal but make it on a Sunday to enjoy for a few days during the hectic week. So worth it.
SIMILAR RECIPES YOU MIGHT ENJOY:
Print Recipe
Pin Recipe
Coq Au Vin with White Wine
Perfect for a crowd and to make ahead, this is an absolutely comforting meal, but also elegant enough for entertaining.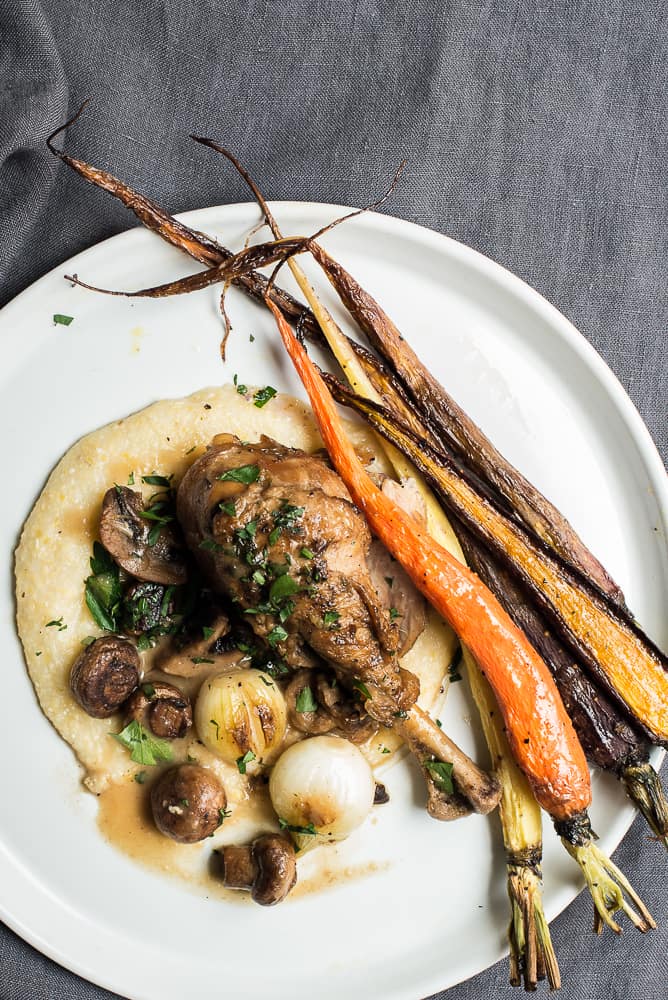 Ingredients
1 5-6

pound

chicken

cut into pieces

Kosher salt and freshly ground black pepper

6

slices

of bacon

diced

2

tablespoons

unsalted butter

1½

pounds

white button mushrooms

large ones quartered

15-20

pearl onions

peeled

1

large onion

finely sliced

6

cloves

garlic

minced

Several sprigs of thyme

2

fresh bay leaves

2

cups

dry white wine

2½

cups

chicken stock

Juice from one lemon

Several sprigs of Parsley for garnish
Instructions
Preheat oven to 350 degrees.

Pat chicken dry with paper towels and season generously with salt and pepper.

In a large, heavy bottomed Dutch oven, cook bacon over medium high heat for 8 - 10 minutes, until lightly browned, then remove and set aside.

In batches, sear the chicken in the bacon fat in a single layer, turning to brown evenly. Remove chicken and set aside. Discard excess fat from pan.

Add 2 tablespoons butter to the pan and over medium high heat, stir in the mushrooms. Cook for 10-12 minutes, without stirring much. Stir in the pearl onions and sauté for about 5 minutes, until lightly browned. Remove mushrooms and pearl onions from pan and set aside.

Stir in the sliced onions. Sauté for about 5 minutes. Add the garlic, thyme, and bay leaves and stir to mix.

Add the white wine and chicken stock and bring to a light boil.

Place the chicken back in the pot in a single layer, the liquid should not cover the chicken. Sprinkle bacon over chicken, cover and transfer to the oven for 30 minutes.

Remove pot from the oven and add the mushrooms, pearl onions, and lemon juice and return to the oven, covered, for 1 to 1 1/2 hours, or until chicken seems very tender.

Remove the pot from the oven and place on stove top. Remove the chicken pieces to a platter and bring the pot to a boil. Continue to cook until the mixture reduces by three-fourths and becomes fairly thick and saucy. Lower the heat, and return chicken to the pot to heat through. Taste and adjust the seasoning if necessary.

Garnish with parsley and serve over a bed of creamy polenta, or mashed potatoes, or roasted baby potatoes.
Notes
To make ahead, prepare dish all the way without adding the lemon juice and parsley.
Can be made up to two days. Reheat in a 300 degree oven for 30 minutes or on stove top, over low heat, until heated through.