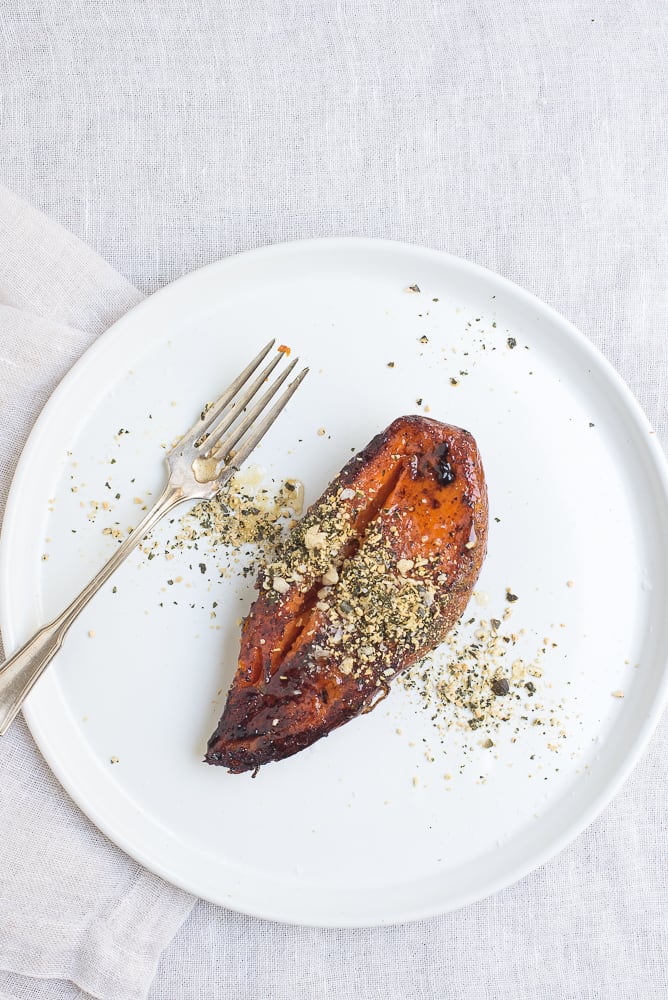 There are many culinary experiences I'm determined to cross off my long list someday — dining at Hartwood in Tulum Mexico is one of them. The restaurant is located off a jungle road along the seaside with a magical, beach-y setting under the stars, where all the food is cooked over a wood-fired grill and in a wood-burning oven. I adapted this recipe for Honey Roasted Sweet Potatoes With Hazelnuts from their beautiful cookbook.
The cookbook is filled with breathtaking photographs, that will teach you how to roast chicken with poblano chilis and tomatillos, offer tips on cooking with wood fires, how to build flavours with chiles, fruits and herbs, and how to play with ingredients that are filled with flavours of the Yucatan. It is simply breathtaking.
Most recipes in the book, however, are a little difficult to execute due to ingredients not easily found outside of tropical Caribbean markets. Recipes such as Avocado Leaf Short Ribs with Serrano-Chile Cream Corn and Ceviche de Aguja with Ginger and Mezcal, are probably best left in the experienced hands of chef and owner Eric Werner. Others, like the Roasted Camotes with Chamomile, Honey, and Pepitas, which is the recipe I have adapted here, sound unapproachable but are in fact easily re-created at home with ingredients you already have.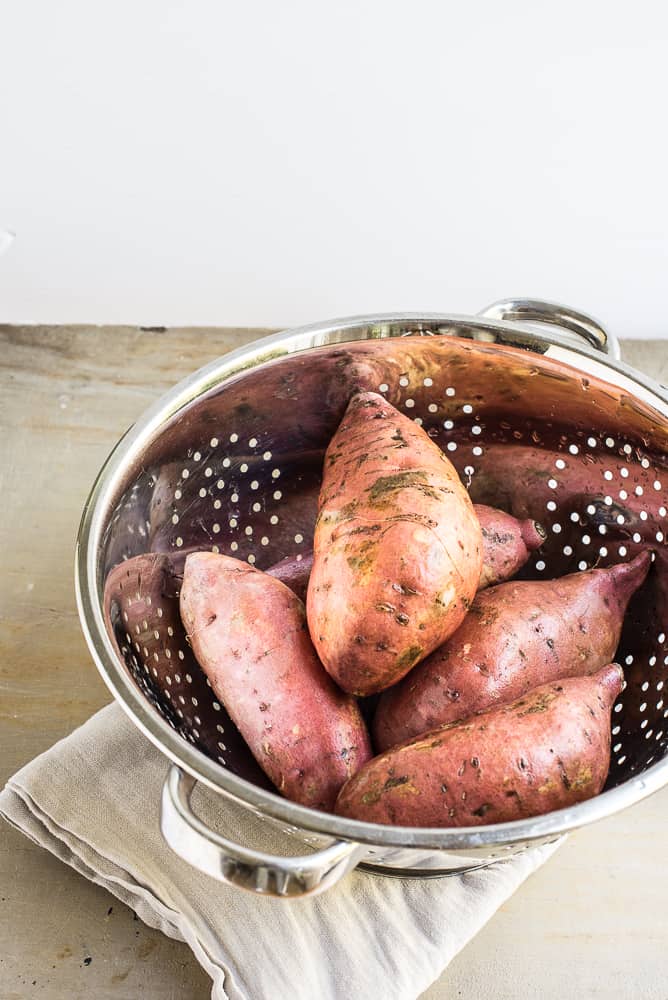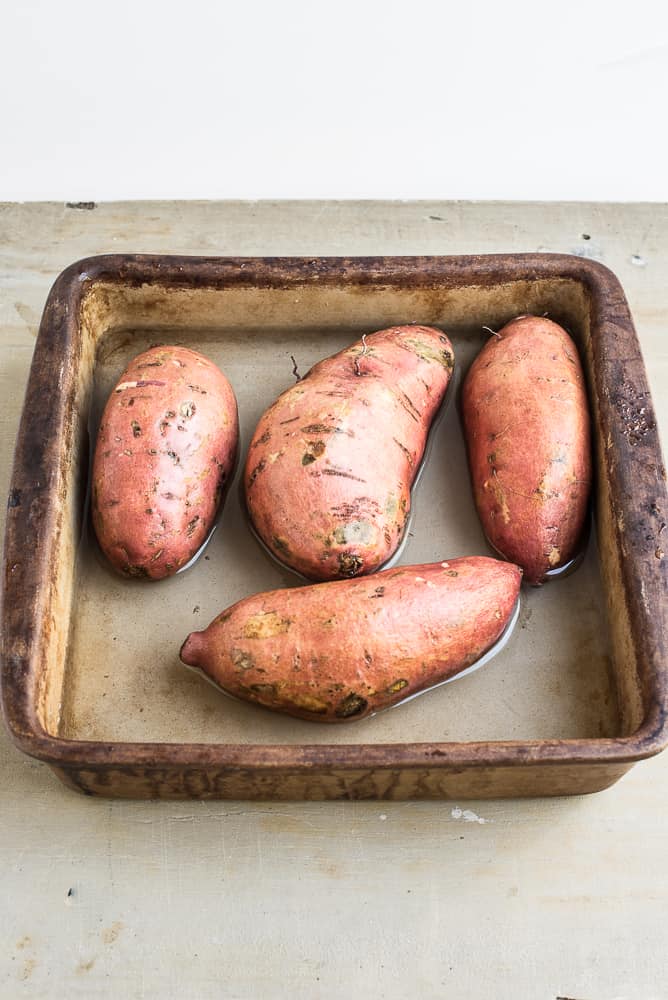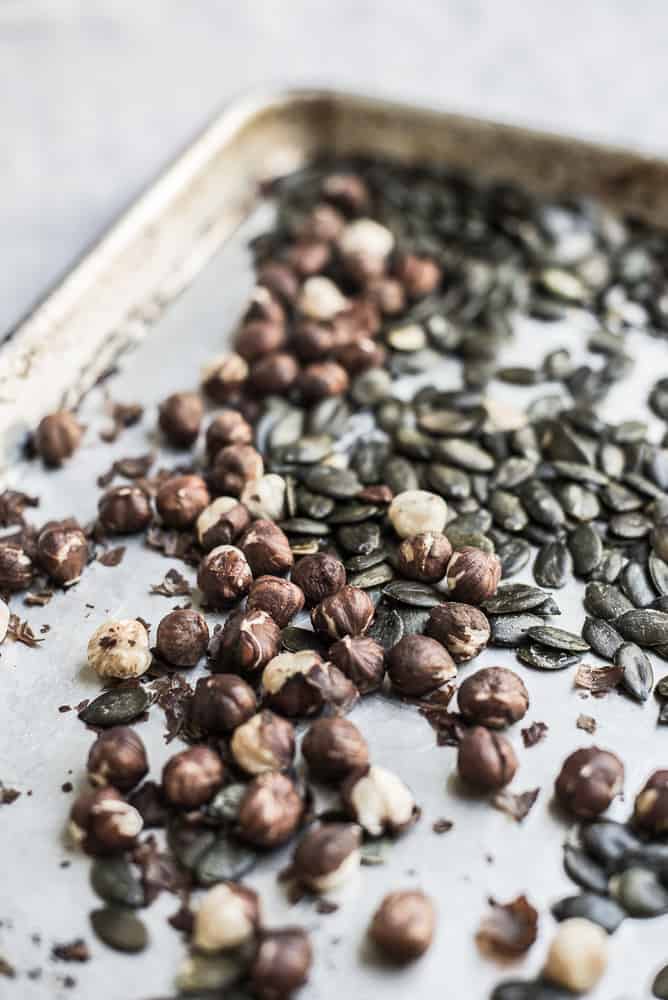 Camotes are sweet potatoes and if you are looking for a way to elevate straight roasted sweet potatoes, you will love this recipe that takes it beyond the basic. I did make a few tweaks to the original recipe to make it more weeknight, and pantry friendly.
In Hartwood, the recipe will have you roasting the sweet potatoes in chamomile tea. However, few of us have bunches of dried Chamomile in our pantry, so I omitted this ingredient altogether with wonderful results. I'm not a huge fan of super sweet vegetables so I reduced the amount of honey by half. You likely won't miss the smaller amount of butter I use, but eyeball it and add more if you wish it to be more, um, butter-y. I didn't have many pepitas (pumpkin seeds) when making this so I added hazelnuts I had laying around. They add a wonderful flavour and crunchy texture, but you can play around and use any combination of nuts or seeds you have on hand.
What makes this recipe special is that it uses a clever technique to char and caramelize the sweet potatoes to achieve a lovely deeper roast. I can imagine many different versions of toppings to adapt to what you have on hand, but even a simple sprinkle of flaky salt would be super delicious. Next time, I might sauté a few chopped serrano chiles with the butter for a bit of a bite.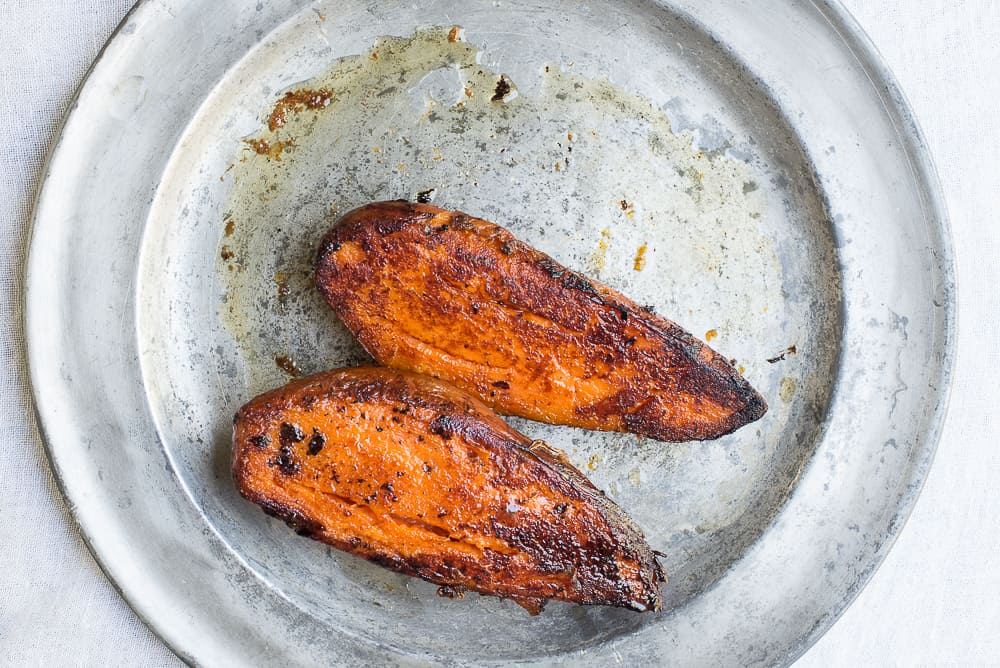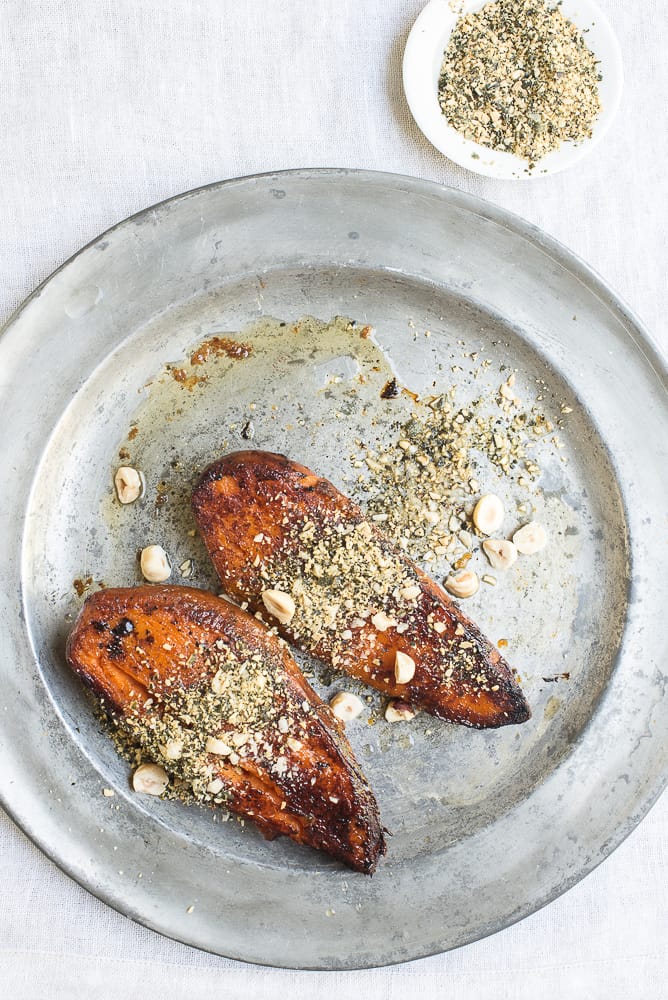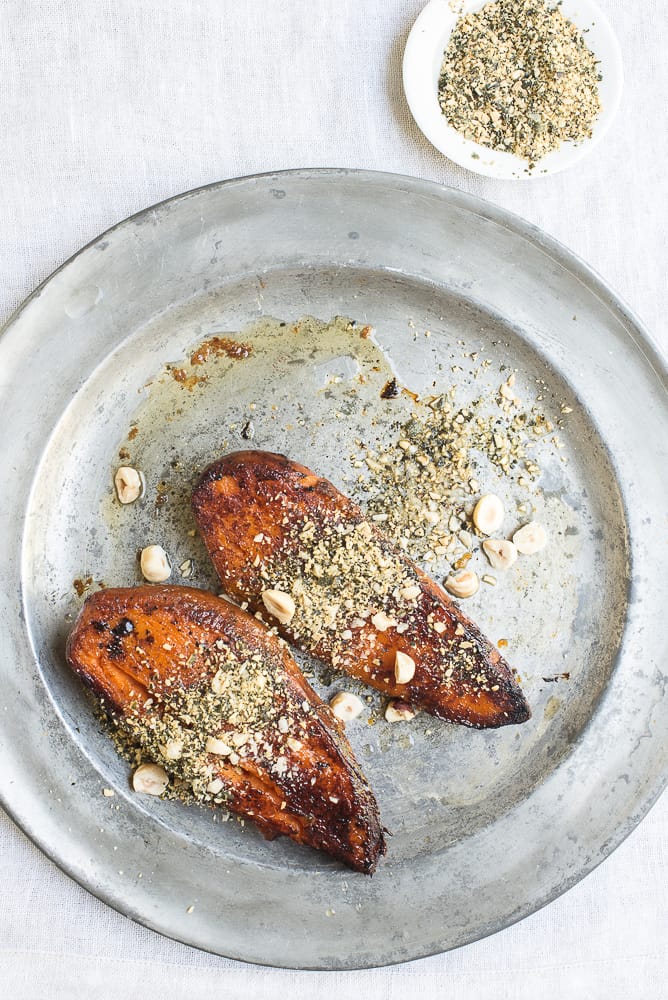 Ingredients
4

medium sweet potatoes

scrubbed

2

tablespoons

unsalted butter

diced

1/4

cup

honey

1/4

cup

pepitas

pumpkin seeds, toasted until lightly browned and coarsely ground

1/4

cup

hazelnuts

toasted until lightly browned and coarsely ground
Instructions
Preheat oven to 375 degrees F.

In a 9″x13″ baking dish, arrange the sweet potatoes in a single layer. Fill the baking dish 1/3rd with water. Cover with aluminum foil and bake in preheated oven until the sweet potatoes are tender, about 1 hour.

Remove the baking dish from the oven once the sweet potatoes are tender all the way through.

Using tongs, place sweet potatoes on a cutting board and carefully cut the cooked sweet potatoes in half lengthwise.

Increase oven temperature to 400 degrees.

Place a large skillet (cast iron works best) on the stove top on high heat. Once the skillet is very hot carefully add the butter. Once butter starts to brown place the sweet potatoes on the skillet cut side down.

Drizzle with honey and bake in the oven for 5 minutes.

Baste the sweet potatoes with the sauce in the pan and continue to roast until crisp around the edges, 8-10 minutes. Baste an additional time before removing to serving plates.

Serve hot topped with ground toasted hazelnuts and pepitas.