Sweet, tart, salty and spicy, these crispy Brussels sprouts with agrodolce sauce will become your new go-to holiday staple.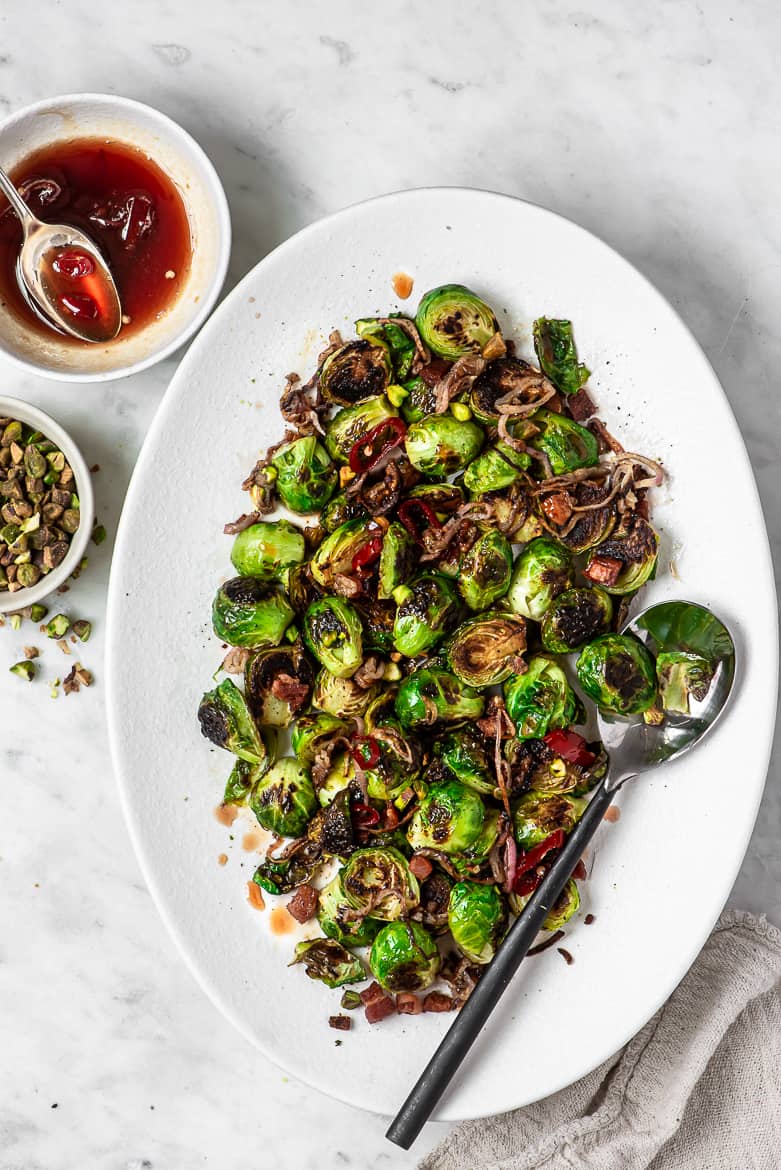 I love this agrodolce sauce so much that I have been trying it out on all sorts of other vegetables. My favourite so far? Brussels sprouts. Here, the sprouts are quickly pan fried over very high heat, then tossed with crispy pancetta, shallots, and a good drizzle of agrodolce sauce. To finish, grated lemon zest and crushed pistachio nuts sprinkled over top, add brightness and texture respectively.
If you are in a bit of a rut with your standard bacon and balsamic vinegar brussels sprouts, it is time to move on to something different and give this a try.
WHAT IS AGRODOLCE SAUCE
Agrodolce is Italian for sweet and sour. To make an agrodolce sauce, vinegar, with sugar or honey, is boiled down into a glaze. Sweet and tangy the sauce is irresistible as is, or add some red chiles if you like a bit of heat (we do). The agrodolce sauce in this recipe adds a delicious tang and sweetness to the sprouts that I guarantee will make converts out of brussels-sprouts-loathers.
Agrodolce sauce is also delicious drizzled over roasted cauliflower, butternut squash, parsnips (amazing!), and pretty much any other vegetable you can think of.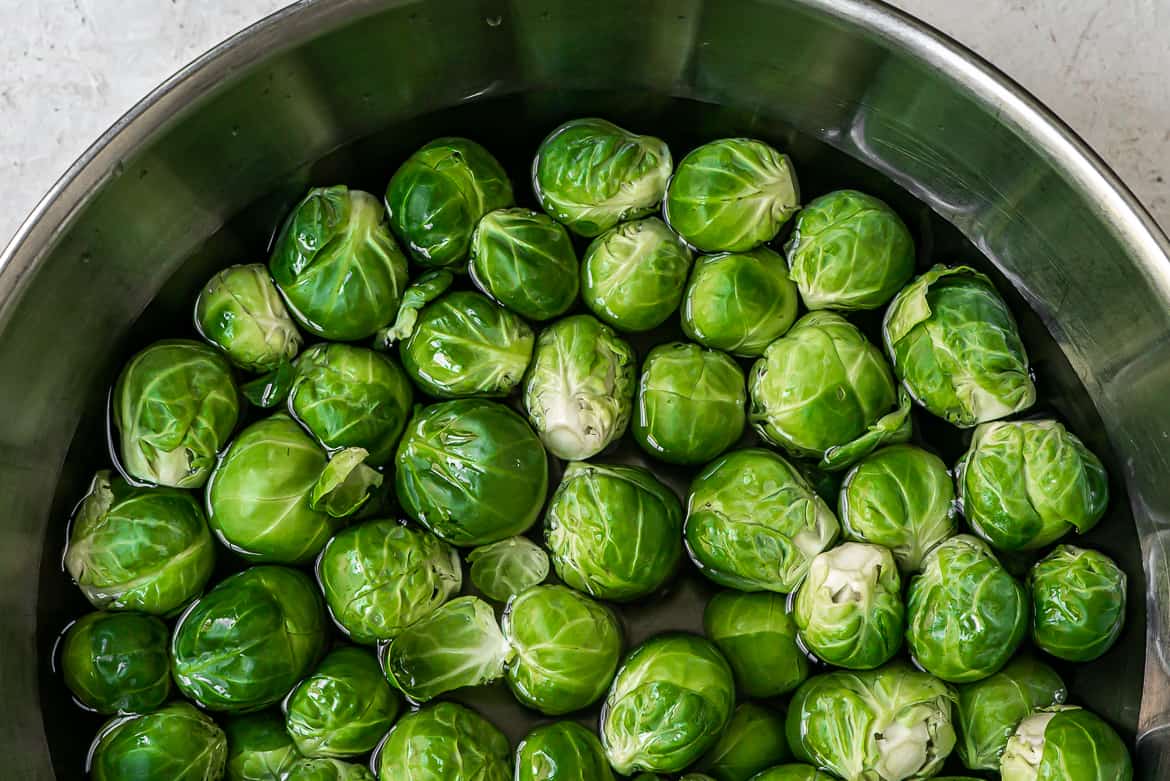 PAN-FRY, OR ROAST THE BRUSSELS SPROUTS
Roasting, or pan-frying, brussels sprouts, gives them a lovely char and intensifies their natural sweetness. I like both methods equally but when the oven is in high-demand, pan-frying the sprouts is definitely the way to go. Another advantage of pan-frying the sprouts is that they cook, and caramelize, a lot faster when they are seared. Charred, sweet and nutty, the flavour of seared Brussels sprouts is insanely addictive.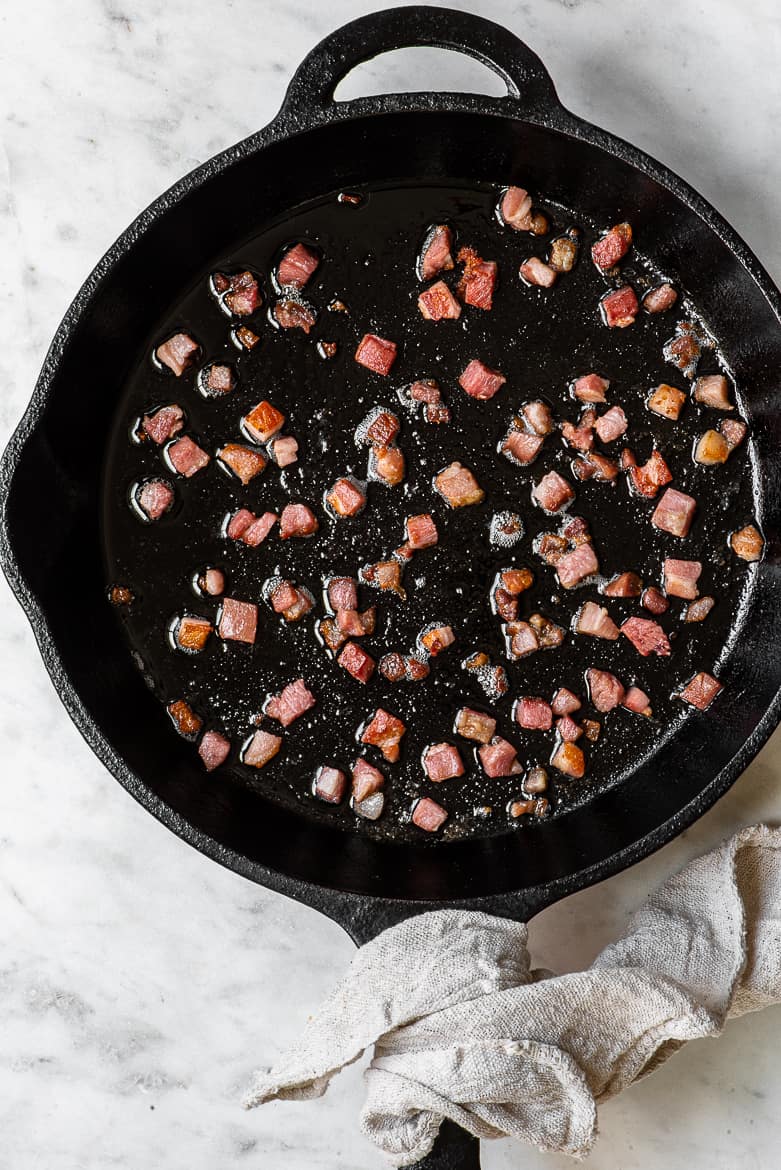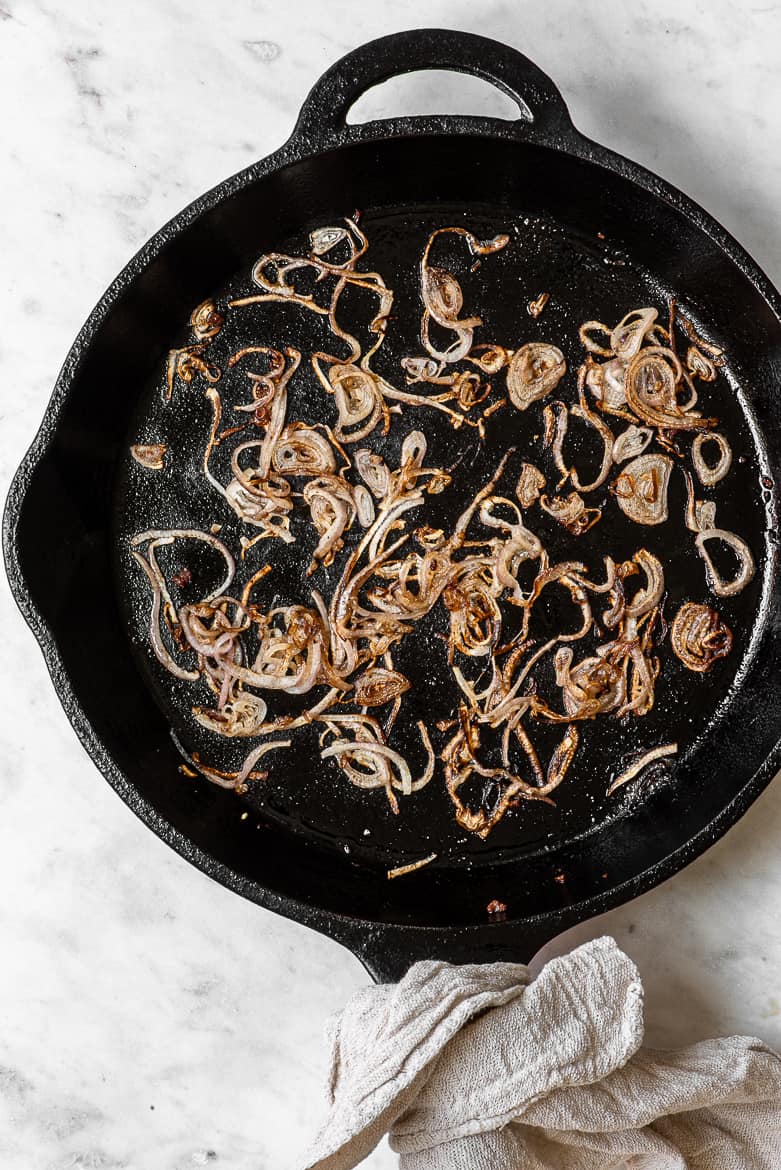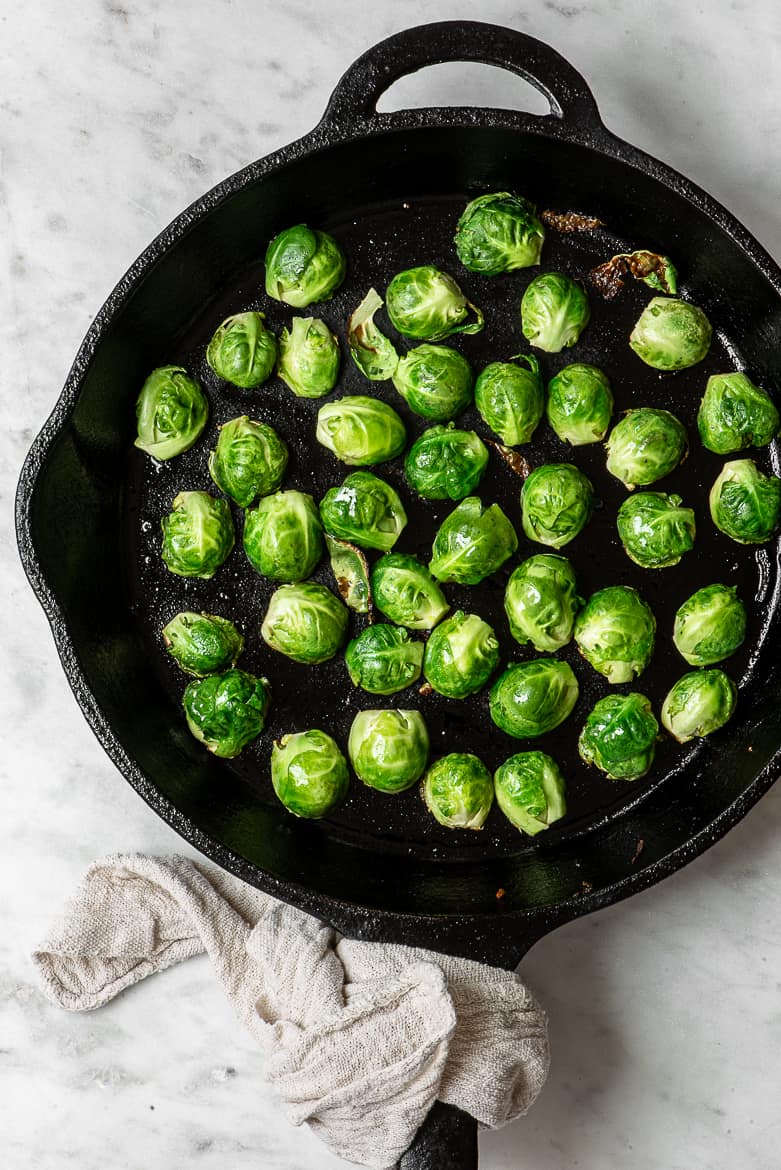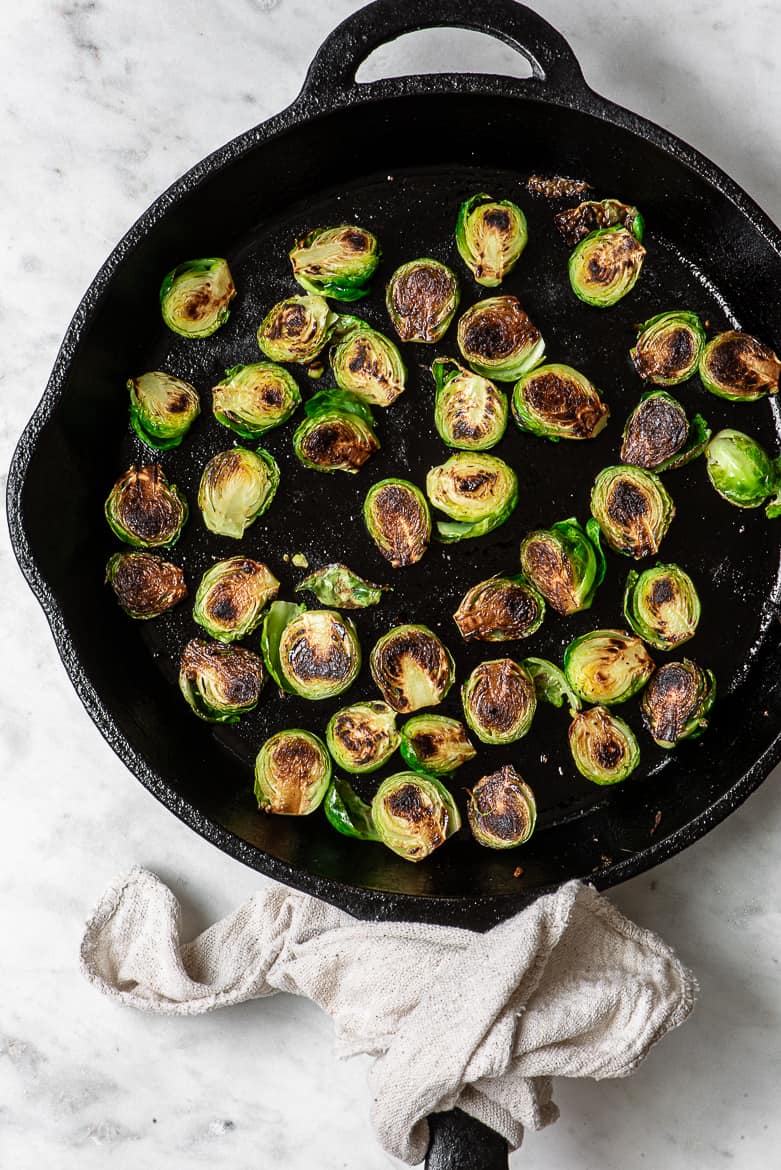 TIPS TO MAKE THE CRISPIEST, TASTIEST BRUSSELS SPROUTS
Buy small sprouts: Small, tight brussels sprouts are tastier and will cook faster than large ones. If you can't find small ones, cut the sprouts into quarters, instead of halves. In my area Sobey's and Real Canadian Superstore had perfect small ones.
Do not overcook: Even pan-frying or roasting them can result in mushy sprouts if overcooked. Err on the side of caution and remove them from the heat just when starting to soften. They continue to soften as they cool down.
Dry the brussels sprouts well: After washing brussels sprouts, make sure to dry them well. Wet brussels sprouts will not get crispy. I wash the sprouts before cutting them so they absorb less water.
Do  not overcrowd: If pan-frying brussels sprouts, a cast iron skillet will work best to caramelize the sprouts. Whether roasting or pan-frying, it is important not to overcrowd the sprouts. The pan or oven should be very hot, with plenty of space for the sprouts to caramelize. If cooking a big batch, use two sheet pans, or two skillets for the stove top.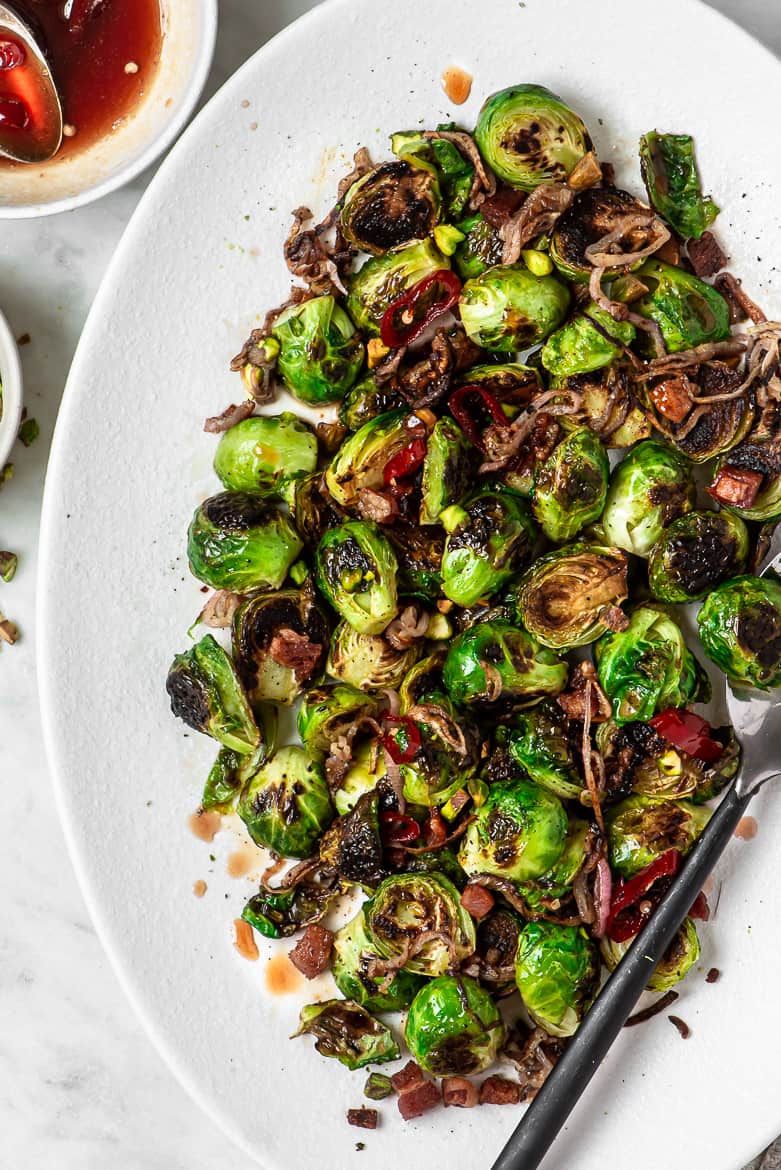 VARIATIONS
Brussels sprouts have an affinity with salty, fatty flavours which is why they so often get paired with bacon or pancetta. However, I only add pancetta when serving this dish on special occasions. Needless to say, you can also replace the pancetta with bacon if that is easier for you to come by. If you prefer the dish to be vegetarian or vegan, simply eliminate the pancetta altogether and use maple syrup instead of honey.
This time of year, I love using pistachios. To me, they add a festive flair to dishes but omit them if they aren't your thing or use pecans, pine nuts, or walnuts if you wish.
To take this dish from a side to an entrée, serve the sprouts over quinoa, farro or roasted potatoes — hearty, healthy and delicious!
These crispy brussels sprouts with agrodolce sauce are perfect for the holiday season. It is a festive, complex, and layered dish that everyone will love, yet demands very little effort. Dear US readers, it's a great one to add to your Thanksgiving table. Enjoy!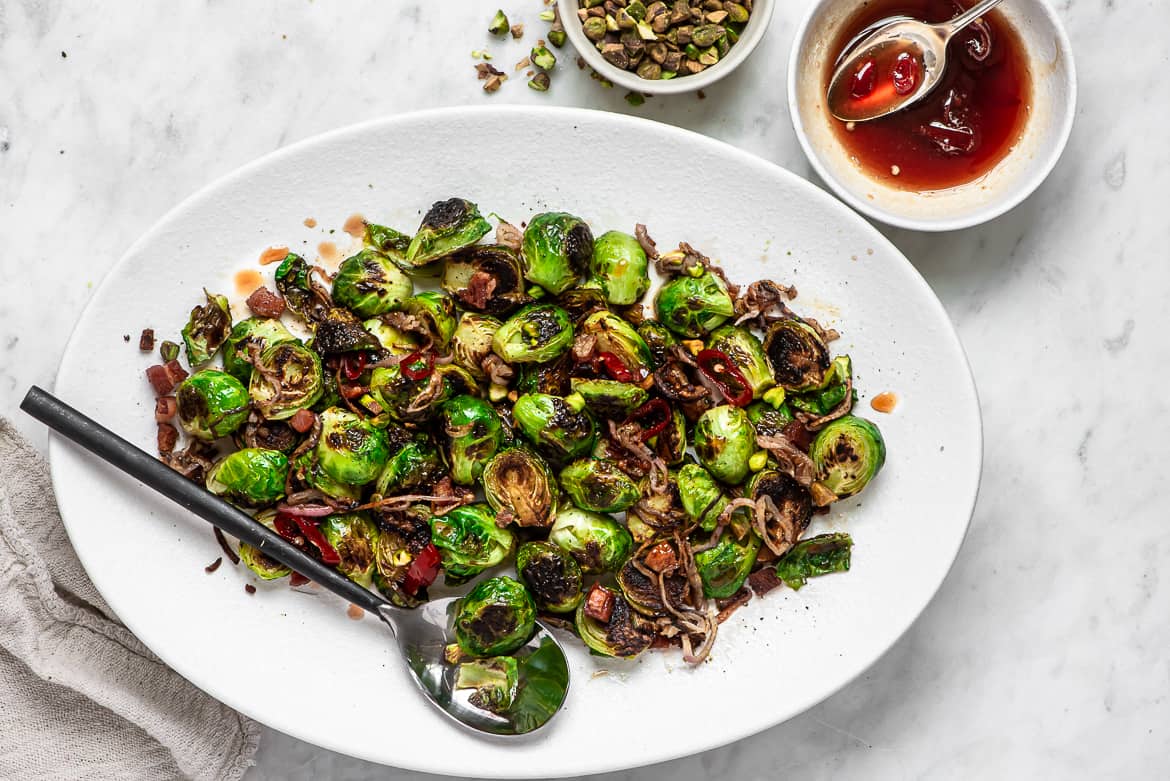 Ingredients
For the agrodolce sauce:

1/2

cup

red wine vinegar

3

Tablespoons

honey

or maple syrup

1

fresno chile

thinly sliced (optional)

For the brussels sprouts:

4

ounces

Italian pancetta

diced

2

large shallots

thinly sliced

2

Tablespoons

extra virgin olive oil

plus more as needed

1 ½

pounds

medium Brussels sprouts

ends trimmed and halved

1/2

teaspoon

Kosher salt

1/2

freshly ground black pepper

zest of 1 lemon

1/4

cup

pistachios

roughly chopped
Instructions
Make the agrodolce sauce: In a small saucepan, bring red wine vinegar, honey and chile to a boil over medium heat. Reduce the heat and simmer until syrupy 8-10 minutes. It will continue to thicken as it cools. Set aside.

Heat a large, heavy-bottomed skillet over medium heat (preferably cast iron) and add the pancetta. Sauté until fat melts and pancetta becomes crispy and golden, about 5 minutes. Transfer the pancetta with a slotted spoon to paper towels.

Next, add the shallots to the pan and sautée until crispy and golden about 5 minutes and transfer to plate with the pancetta.

Add the 2 tablespoons oil to the pan. Once oil is hot but not smoking, add sprouts in one layer, flat-side down. If cooking a larger batch, use 2 skillets, or cook the sprouts in 2 batches, adding oil between batches as needed. Do not add too much oil, you want a thin layer of oil or the sprouts will not get crispy. Sprinkle with 1/2 teaspoon salt and 1/2 teaspoon freshly ground black pepper.

Allow the sprouts to turn golden-brown without burning and then flip to lightly brown on the other side. Cook, until crispy on both sides, for a total of about 8-10 minutes. Taste a sprout for doneness and for seasoning. If you prefer it a little more tender, cook for another few minutes. Add pinch more salt if necessary but keep in mind the pancetta is salty.

Place the pancetta and shallots back in the pan and add the lemon zest. Toss gently.

Transfer to serving bowl or platter and scatter the pistachios over top. Drizzle with the agrodolce sauce and serve immediately.