With absolutely no fuss, this roasted chicken with grapes is a simple, yet elegant and flavourful one-pan dish that is perfect for weeknights or entertaining friends!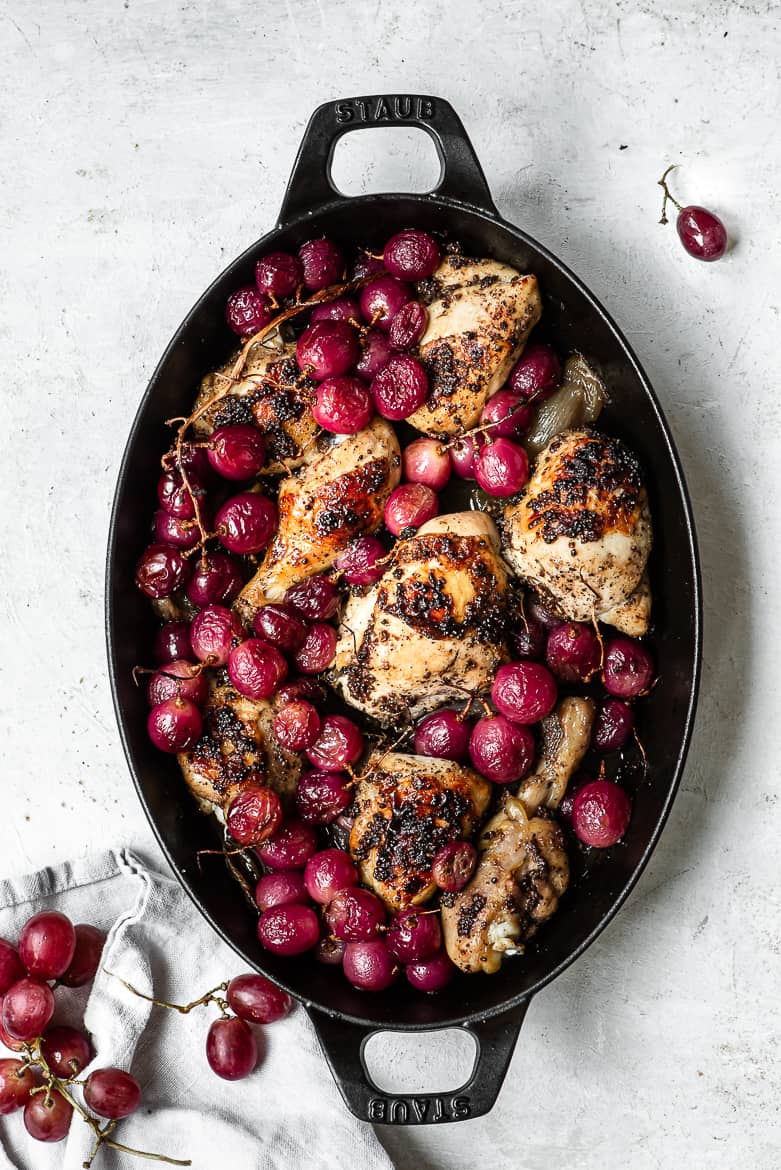 In this household, an all-time favourite chicken dinner is Ina Garten's Lemon Chicken Breasts. It couldn't be simpler; In a pan, sautée garlic in olive oil, add lemon zest and lemon juice, a little wine to deglaze, add bone-in chicken breasts, roast for 30-40 minutes, and done. No browning required might be my favourite thing about the recipe. The chicken is super tasty, juicy, and browns perfectly with one baste throughout the cooking period, or with a quick flash under the broiler.
Recently, I was out of lemons but had a huge bag of grapes in the fridge. Applying the same technique, I sautéed shallots instead of garlic, added a little grainy mustard to the chicken, and nestled grapes instead of lemon slices around the chicken. Have you had roasted grapes before? Delectable. The flavour of the grapes cooks down and concentrates and the little gems become juicy, sweet, succulent surprises when you chew them. There are few things better topped on a cheesy crostini, or a longtime favourite, drizzled with balsamic and served alongside creamy burrata. In this dish, the sweetness of the roasted grapes is balanced beautifully with the savouriness of the chicken, shallots and grainy mustard. Visually, and flavour-wise, the roasted grapes truly transform the everyday chicken into something special.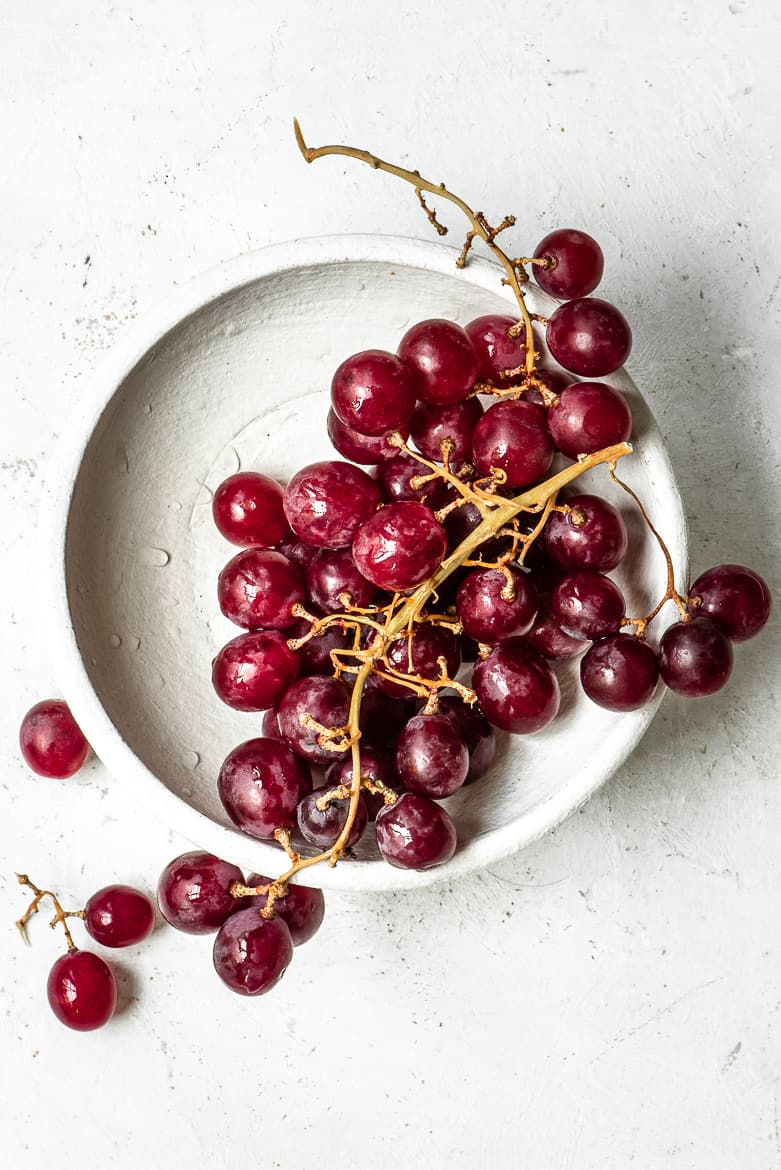 TIPS FOR THE BEST ROASTED CHICKEN WITH GRAPES
The grapes: Any variety of grapes will work here. Stick to seedless for obvious reasons — no one wants to be spitting out seeds throughout dinner. Leave the grapes in clusters, still attached to the vines, or separate the grapes. To be sure, they look prettier in clusters still attached to the vine, but likely easier to eat if separated – up to you :))
The chicken pieces: Boneless chicken pieces will cook too fast to give the grapes enough time to roast properly. In addition, bone-in chicken will stay juicer when roasted. Here, I used a whole chicken that I cut up but bone-in, skin-on chicken thighs, or drumsticks, would also be perfect.
Add the grapes after the chicken has cooked for a while: If you add the grapes to the chicken at the beginning, they will cook down and blister a little too much. I like to add the grapes after the chicken has been cooking approximately 20 minutes. This way, they retain their shape, but still have plenty of time to caramelize and meld with the chicken juices.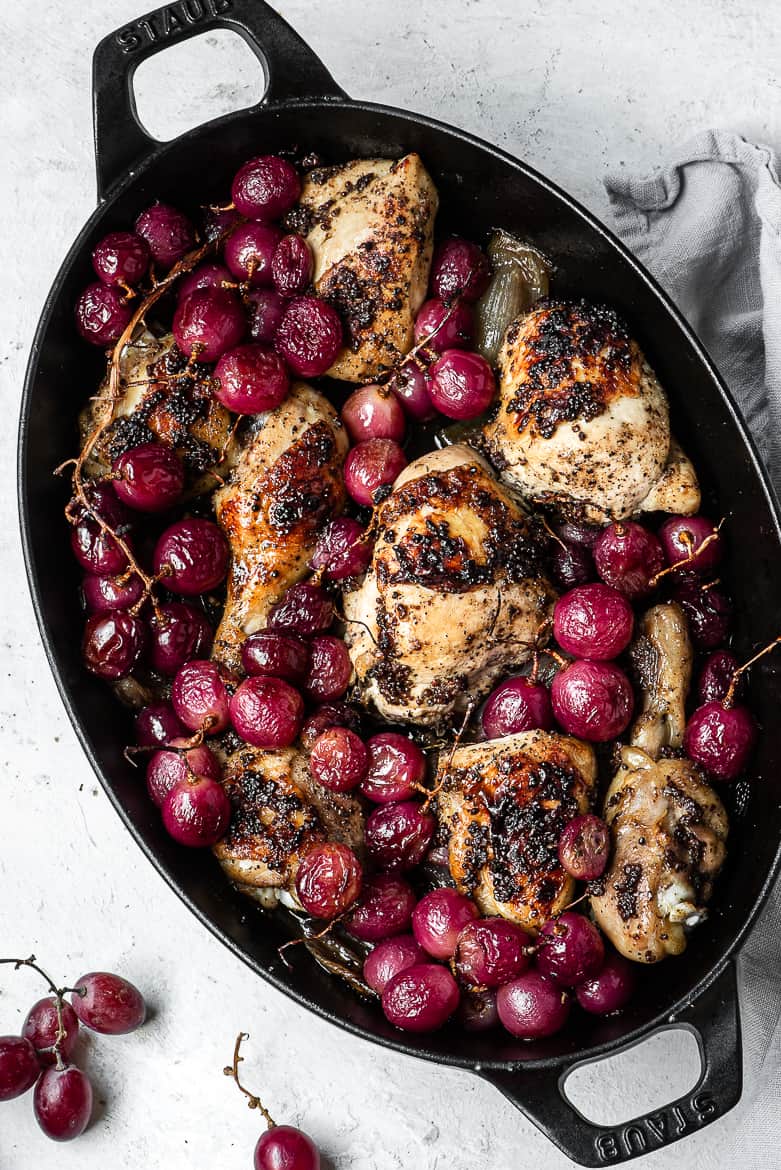 To serve, I love this roasted chicken with grapes alongside a simple salad, a barley pilaf, or little potatoes that have been roasted in the oven.
Simple, yet super flavourful, I know you are going to love this one-pan dinner. If you have leftovers, you are lucky. This dish is even better the next day, reheated gently in a 350 degree oven for about 20 minutes. Enjoy!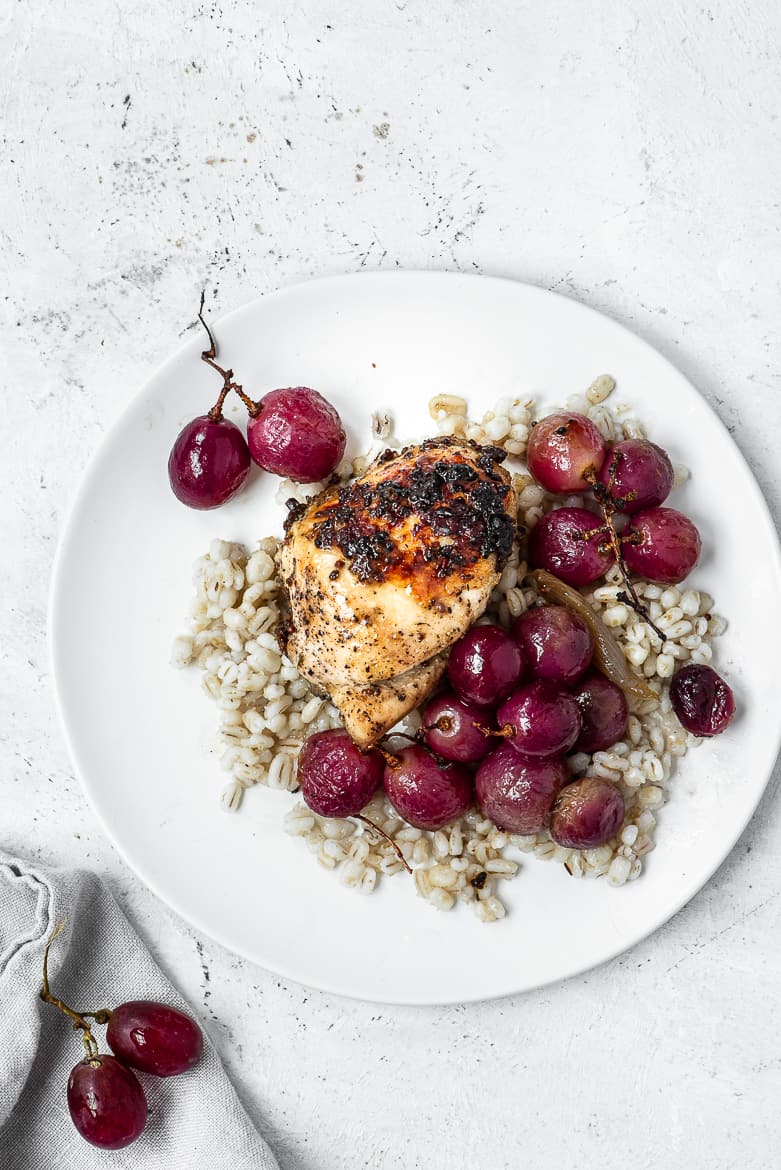 Other delicious chicken recipes you may enjoy:
Print Recipe
Pin Recipe
Roasted Chicken with Grapes
I love flavouring the chicken with grainy mustard but if you don't have any, you can use regular dijon. If you don't have either, omit it. It will still be delicious.
Ingredients
3

pounds

bone-in, skin-on, chicken pieces (thighs, drumsticks, and/or breasts*)

2

tablespoons

extra-virgin olive oil

divided

3

Tablespoons

grainy mustard

optional

1

teaspoon

kosher salt

or more to taste

Freshly ground black pepper

4

shallots

peeled and halved

1/4

cup

dry white wine

1/2

cup

chicken broth

2

cups

seedless grapes

any red or black variety**

4-6

sprigs thyme

optional
Instructions
Preheat oven to 425 degrees. Pat chicken dry. In a small bowl, mix the grainy mustard with 1 tablespoon olive oil and rub the mixture all over the chicken pieces. Season chicken generously with salt and freshly ground black pepper.

Heat the remaining tablespoon of olive oil in an ovenproof 12-inch heavy skillet (preferably cast-iron) and sautée shallots until slightly caramelized and softened, about 5 minutes.

Add the wine and chicken broth. Place the chicken pieces in the pan, skin side up. Top with thyme sprigs. Roast the chicken for about 15 - 20 minutes. Add the grapes to the pan and quickly baste the chicken pieces. Roast for 15 - 20 more minutes, until the grapes seem slightly blistered and cooked down.

Serve immediately with crusty bread, or desired side.
Notes
*In order to avoid an excessively fatty sauce, I like to trim as much fat off the chicken pieces as possible, leaving only the top skin intact. Kitchen shears work well for this job.
**Avoid green grapes which will not get as sweet as the red varieties when roasted