Vibrant, good-for-you vegetables mix perfectly with eggs to make the most Epic Summer Frittata. Make this nutritious frittata for a delicious brunch with friends or for a quick weeknight meal.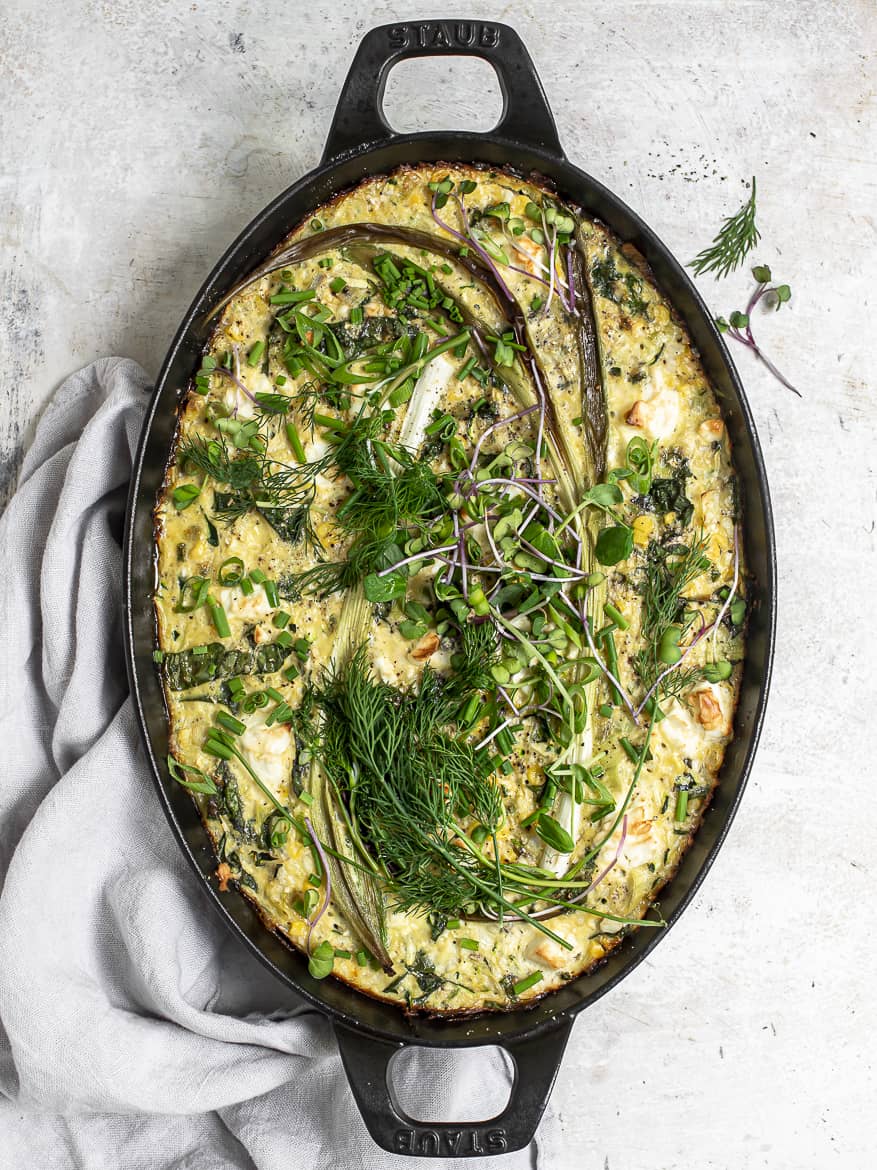 What you see here is a frittata that champions so many beautiful summer vegetables it barely makes room for the eggs. Frittatas, with endless varieties and possibilities, are a regular for us at home when we need a super quick weeknight dinner. But we especially enjoy them as a weekend brunch or lunch when I just pull whatever is at the bottom of the fridge and toss it all together with eggs.
This particular summer frittata recipe came about from a need to use up some cauliflower florets, market zucchinis I bought way too many of, and corn that isn't quite ready to eat as cobs yet but I couldn't resist buying. And as if all those vegetables weren't enough, some lovely chard adds more nutritional boost to this frittata. I go with chopped leeks and green onions, which are plentiful and gorgeous at the market, but you could easily swap in onions or shallots. Vibrant fresh herbs boost the flavour of the frittata and complement the veggies beautifully. Moistened with creamy feta and milk, the frittata is baked until lightly golden and puffy on the outside, and the inside custardy, light, and fluffy. So, so delicious, I hope you give it a try.
Epic summer frittata ingredients
As mentioned above, frittatas are endlessly versatile. I love this one which piles in a huge amount of lovely summer produce from the farmers market but manages to stay true to the simplicity of the dish. Do feel free to use this ingredient list as a guide and make it your own with whatever vegetables you may have on hand.
Eggs – A standard-sized frittata that feeds 4 will need about 6-8 eggs. Adjust the amount to serve a larger crowd.
Leeks and green onions – I love the flavours of vegetal and earthy leeks and green onions in a frittata. Regular onions, shallots or just garlic will also work.
Vegetables – Cauliflower, zucchini, and corn make a fabulous combo in this frittata. Omit what you don't have or sub for any other you may prefer. Broccoli, peas, green or yellow beans, etc, are all great choices.
Swiss chard – As much as possible, I add chard to everything I can. It is quick to cook, tastes good, and incredibly healthful. Spinach would also be fantastic here.
Feta cheese – Frittatas are soooo much better with cheese. Use as little or as much as you'd like or swap out for any other cheese of your preference. I can't think of any that shouldn't be included in a frittata.
Whole milk – Not all frittatas need milk or cream but they do make for a lighter, softer, puffier frittata. In a pinch you could use 2% milk but whole milk or heavy cream give a better texture and consistency to the frittata.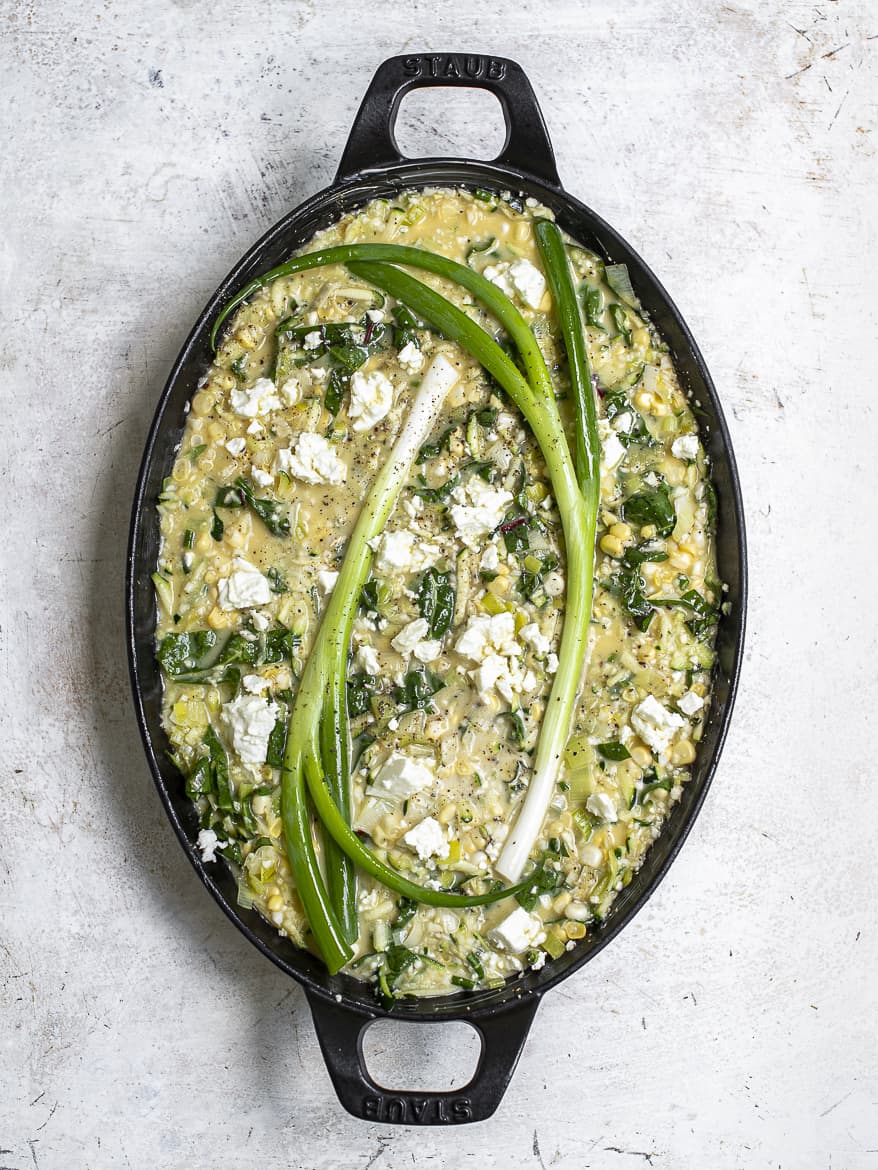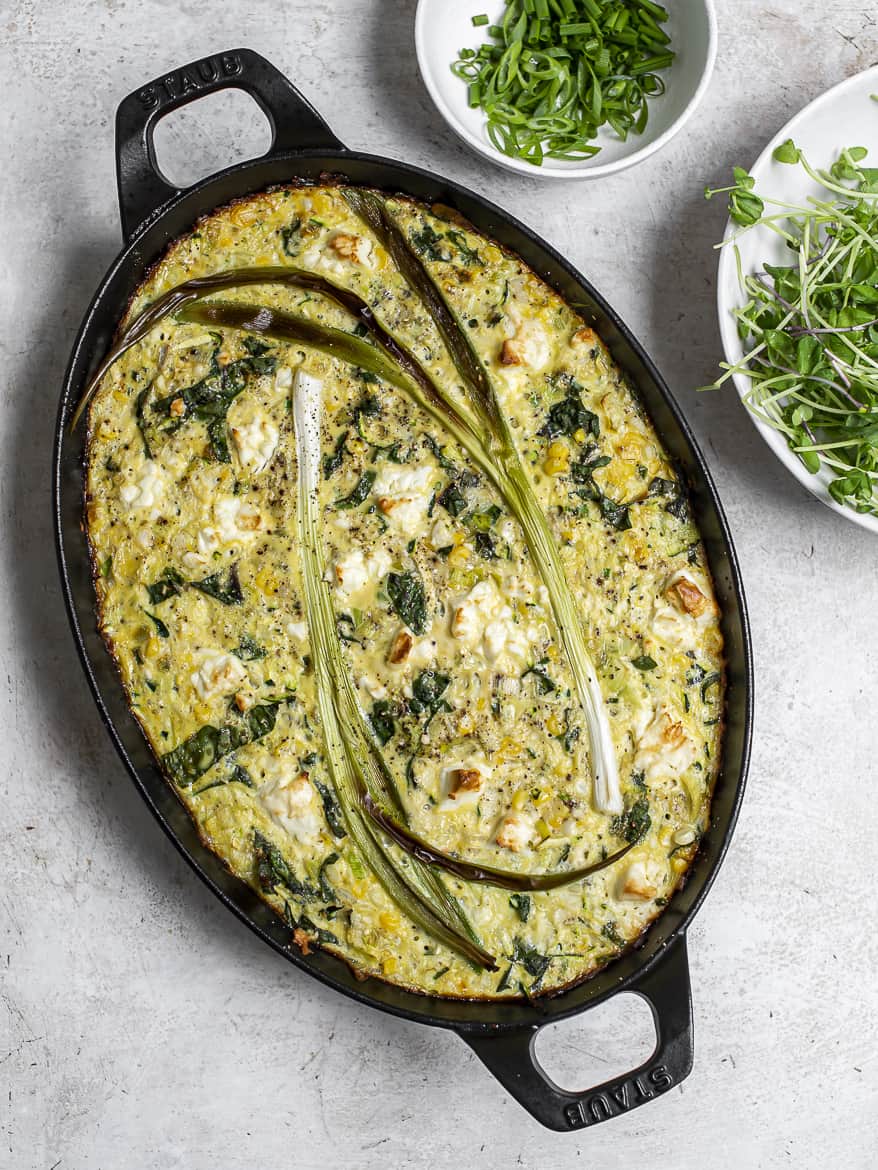 How to make an epic summer frittata
Frittatas are practically foolproof and there is a technique to making them that is pretty much always the same no matter what filling you choose; beat the eggs, add a little cream or milk, salt and pepper, mix with a filling and bake in a large skillet until set. So easy, delicious, and completely satisfying.
Here are the simple steps to making this epic summer frittata:
Preheat oven to 400°F and grease a baking dish.
Prepare the vegetables: If using cauliflower, you can rice it in a food processor, or chop it into small pieces with a knife. Frozen riced cauliflower is also perfect to use here. Grate the zucchini, and cut the kernels off the corn.
Cook the alliums: In a large skillet, sauté whichever alliums you choose until softened.
Cook the vegetables: This step is optional (see tips below) then transfer to a greased baking dish.
Make the custard: Lightly beat the eggs then add the milk or cream, salt and pepper and mix well.
Pour the egg mixture into the baking dish: Alternatively, if you have a very large, oven proof skillet, you can leave the vegetables in the skillet and pour the egg mixture into the skillet. Dot with cheese then transfer to oven.
Bake for 25 minutes: Or until just turning golden and puffy and no longer jiggly in the middle. Allow the frittata to rest briefly before slicing.
Garnish: If you wish, garnish the frittata with extra fresh herbs such as chives, thyme, basil, or dill.
A few tips:
Squeeze the moisture from the zucchini. Grated zucchini will quickly release all its moisture. To avoid a soggy frittata it is best to squeeze out as much moisture as possible with a tea towel or paper towels. Alternatively, sauté the grated zucchini until browned and no longer watery.
Gaging cooking time: Let the filling of your frittata determine the cooking time. A frittata with few vegetables, or pre-cooked vegetables, will need less time to cook. Similarly, uncooked vegetables will need more time to cook or the frittata will be too wet. If the center is set and not wiggly when shaken, and the edges browned and caramelized, the frittata is done.
Make ahead: This frittata can be baked up to 5 hours in advance then warmed in a hot oven for 5-10 minutes before serving.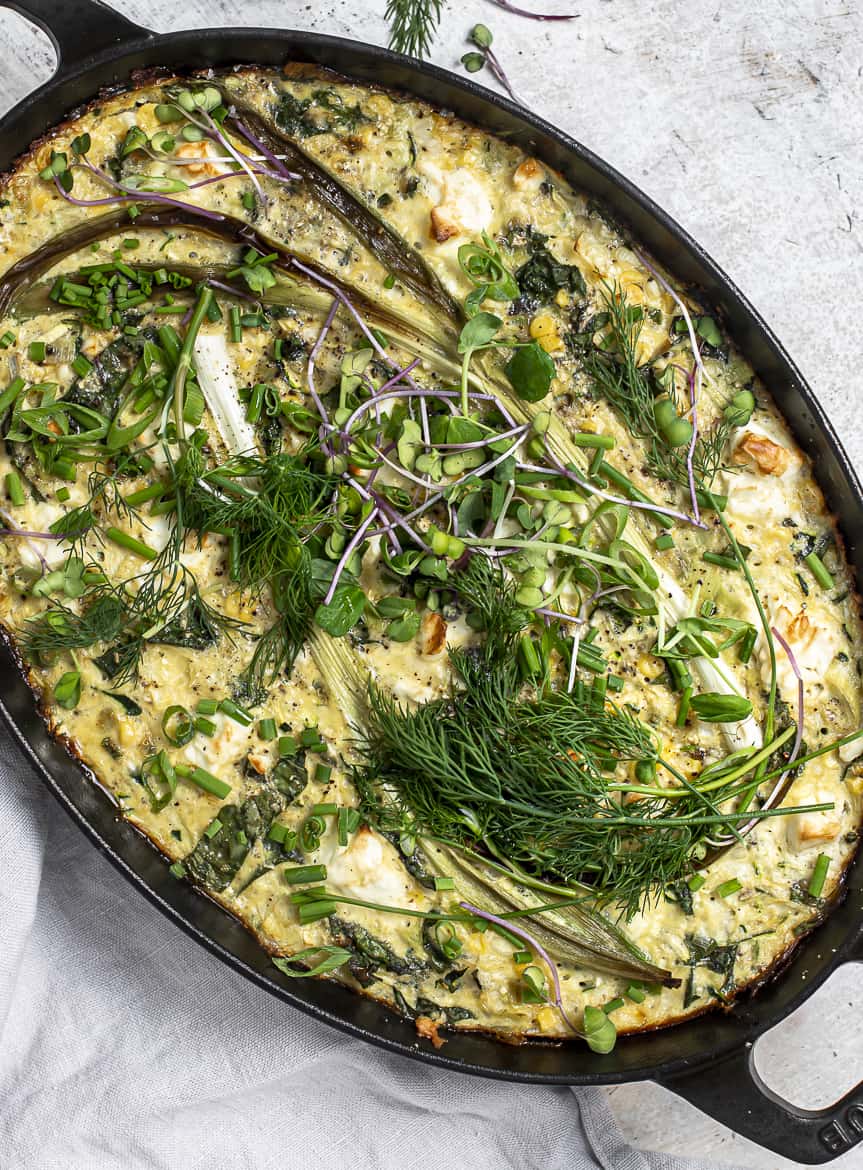 To Serve
This epic summer frittata is completely satisfying on its own but even better if served with a crispy green salad, crunchy microgreens or avocado slices. Served alongside a simple tomato soup sounds pretty delicious to me.
To Store Leftovers
They say a light fluffy frittata like this one is best eaten the same day but I have been eating the cold leftovers with zero complaints. I don't, however, recommend freezing it so just store the leftovers in a fridge-safe, tight-lid container for 2-3 days.
Here is another frittata recipe you might enjoy: Frittata with Potato and Boursain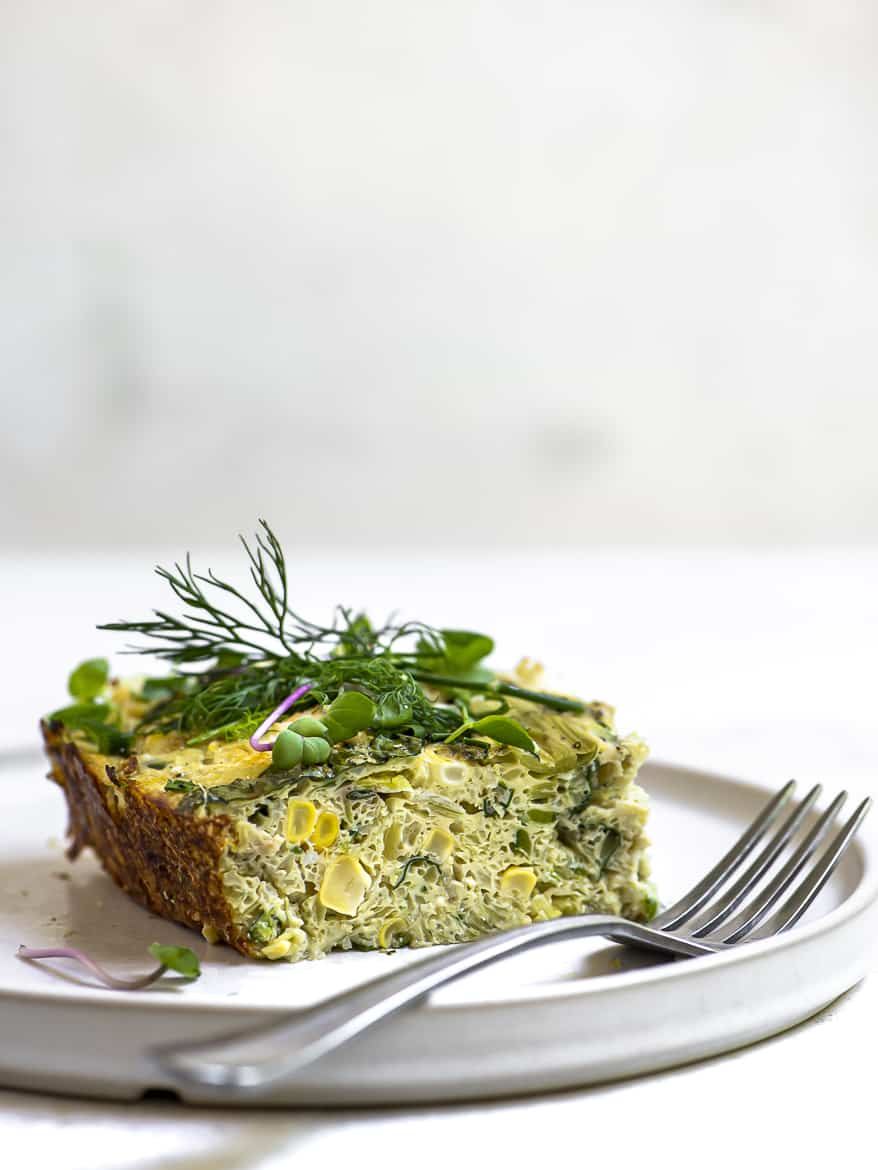 Print Recipe
Pin Recipe
Epic Summer Frittata Recipe
Vibrant, good-for-you vegetables mix perfectly with eggs to make the most Epic Summer Frittata. Make this nutritious frittata for a delicious brunch with friends or for a quick weeknight meal.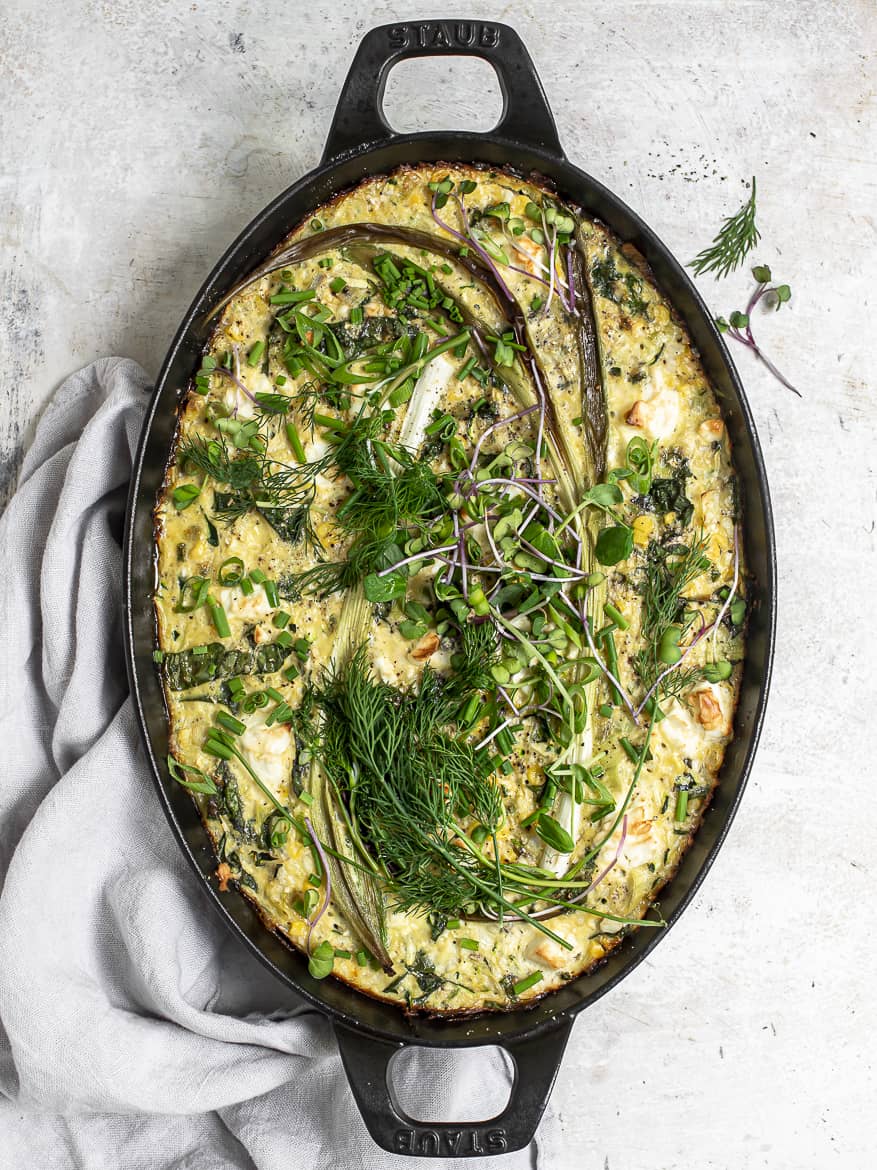 Ingredients
2

tablespoons

extra virgin olive oil

2

medium leeks

halved, rinsed well, and sliced thinly

3

green onions

thinly sliced, plus 2 more for garnish (optional)

salt and freshly ground black pepper

2

medium zucchini**

grated with large grate side

2

cups

riced cauliflower or tiny florets

1

cup

corn kernels (from about 2 small ears)

8

large eggs

1/2

cup

whole milk

2

cups

swiss chard, center rib removed, and chopped

4

ounces

feta cheese

1/4

cup

chopped fresh herbs such as basil, parsley,chives, or dill
Instructions
Preheat the oven to 400° F. *Generously grease the bottom and sides of a 9x11 baking dish, or oven proof large skillet, with olive oil or butter.

Heat 2 tablespoons olive oil in a large skillet over medium high heat. Add the leeks and sauté for about 5 minutes until tender and soft. Stir in the zucchini and sauté for 2-3 minutes or until most of the moisture is gone.

Add the cauliflower, green onions, and corn, and season with 1/2 teaspoon salt and 1/2 teaspoon pepper. Cook for another few minutes stirring well to combine then transfer the mixture to the prepared baking dish, spreading evenly over the bottom.

Put the eggs and milk in a large bowl, season with 1/2 teaspoon salt and whisk gently to combine. Add the swiss chard and herbs to the egg mixture then pour over the vegetables.

Crumble the feta over the mixture and place two green onions over top for garnish, if desired. Bake for 25-30 minutes until cooked through and the top is lightly golden and puffed.

Serve warm, garnished with chopped herbs, if desired.
Notes
*If you have a deep, large, oven proof skillet you don't need to use a separate baking dish. You can simply leave the sautéed vegetables in the skillet, then pour the egg mixture over it and bake as per recipe. Just be sure the skillet is well oiled before adding the egg mixture. 
**If the grated zucchini seems very wet, drain it over a colander for a few minutes, or squeeze it dry using a tea towel or paper towels before adding it to the skillet.