A hearty and robustly flavoured easy pantry tomato soup that is made without any cream or dairy. It gets its silky-smooth creaminess with a humble ingredient – rice! Serve this velvety-rich soup with a grilled cheese sandwich for a nostalgic and satisfying meal.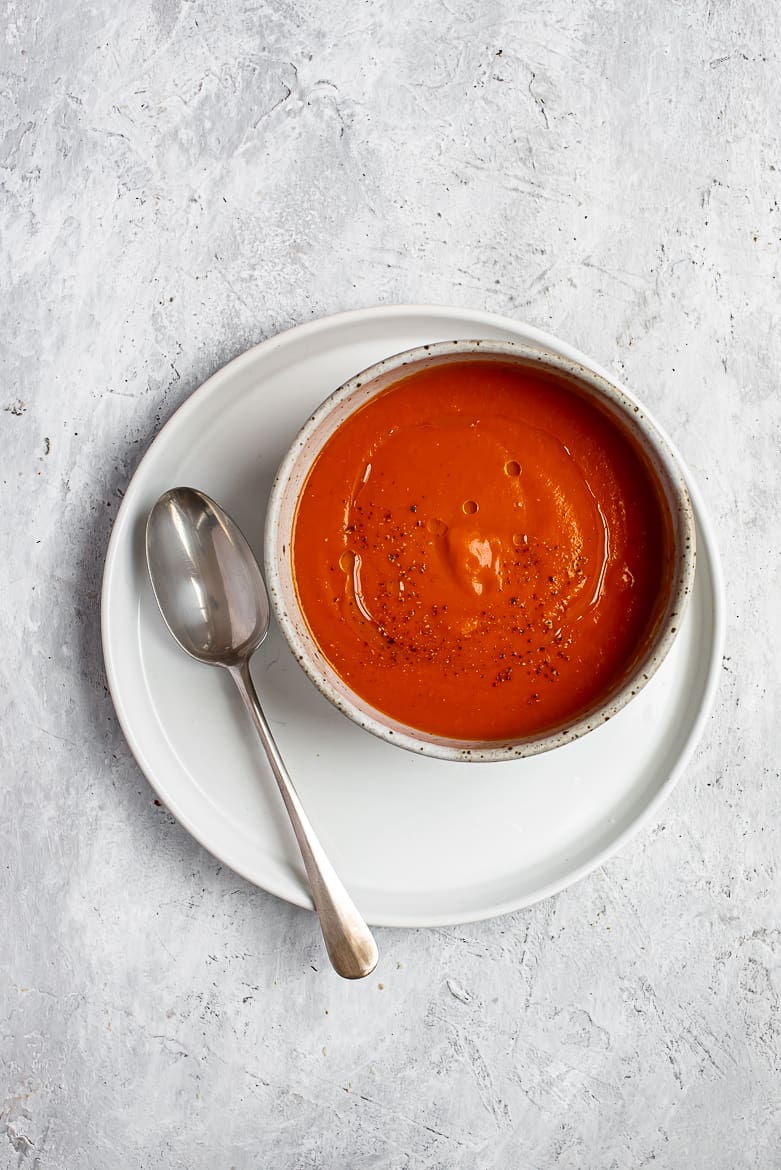 I assure you I am taking the stay-at-home plea very seriously, but yesterday I ventured out carefully for just a few things at my near-by deli. Walking around the store, wearing pink plastic gloves my dog's vet had given me a while ago to apply a medication, I was comforted to see there was a lot of food on the shelves. Dear readers, as long as the grocers can stay open, rest assured we will not go hungry.
I grabbed a few more cans of whole tomatoes and chickpeas — separately, or together, those two ingredients can create some pretty simple, yet amazing dinners. I will be sharing quite a few of them here in the next few days. This easy pantry tomato soup, which also happens to be vegan, being one of them. And if you are able to serve it the classic way, with a grilled cheese sandwich, then you will be deeply delighted. Nostalgic and warming, it is a comfort to the body and soul.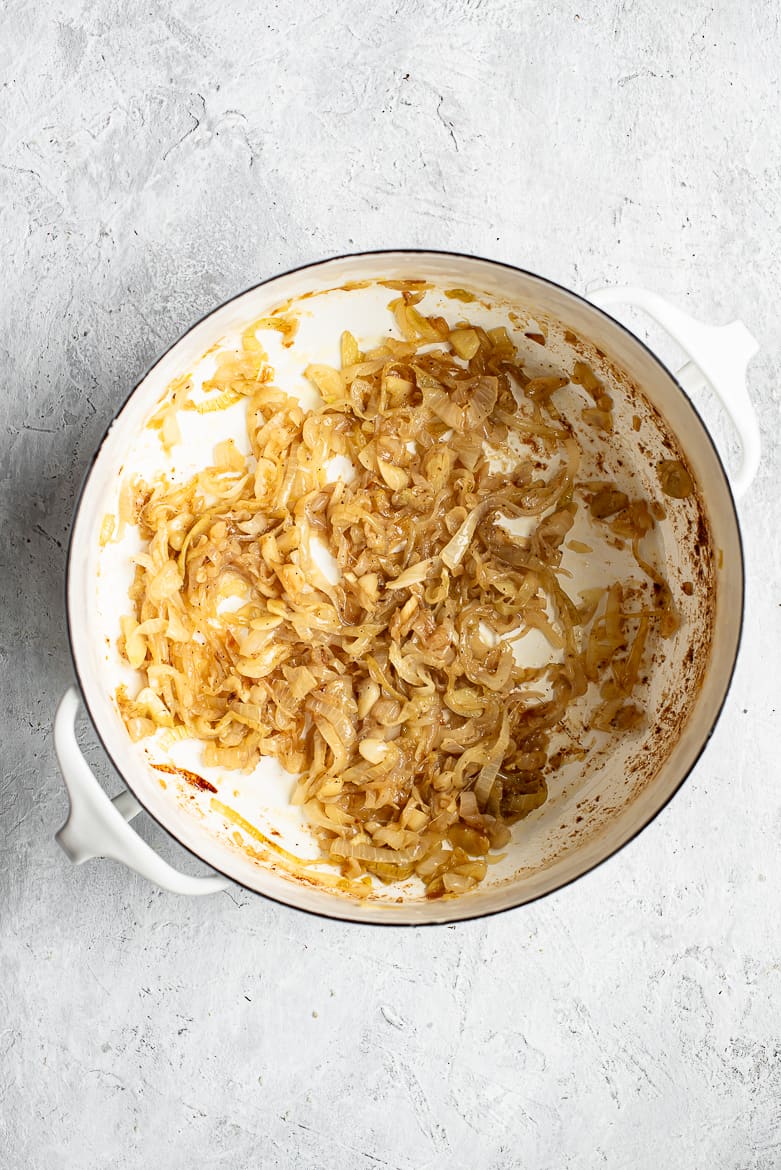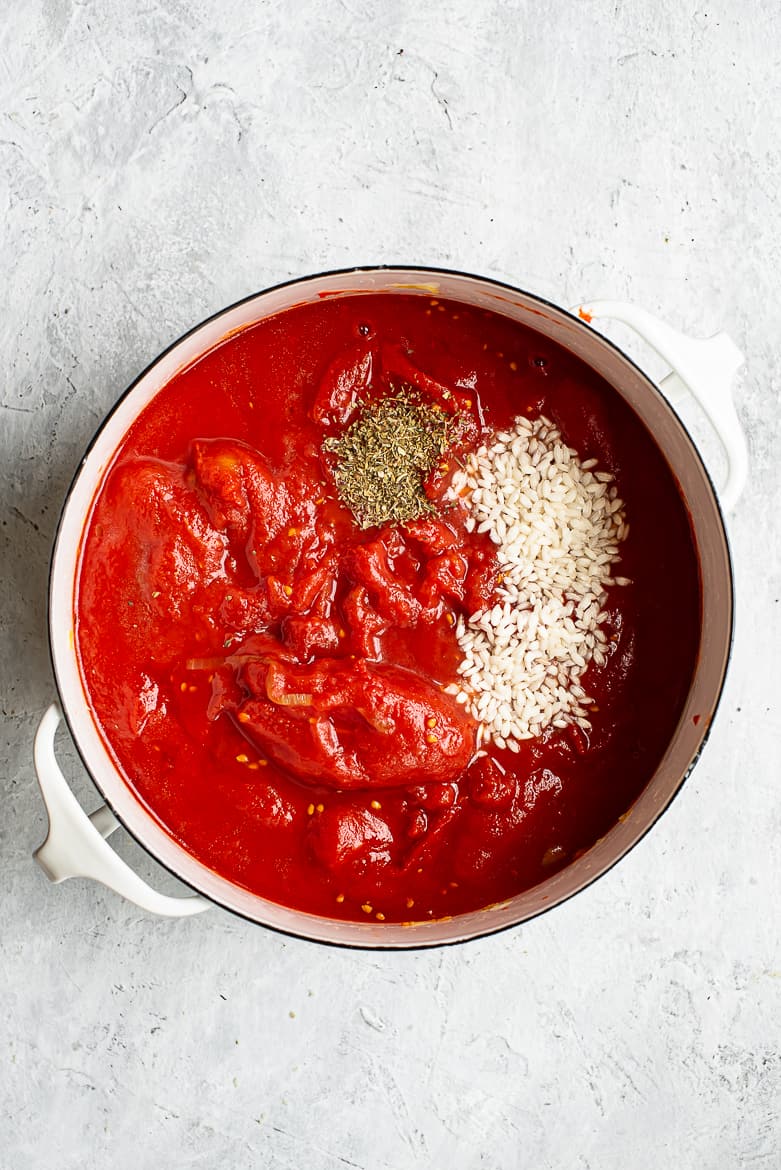 Fresh tomatoes or canned
Truth be told, I have never made a tomato soup with fresh tomatoes. Like anything made with fresh ingredients, I imagine it would be off-the-charts. But tomato soup is something I think of making only when I am in need of a quick meal and fresh tomatoes would defeat that purpose. Canned tomatoes, I assure you, make a fine tomato soup.
I can be quite a snob (sorry) when it comes to canned tomatoes, insisting suggesting that you should always use San Marzano. Not the time to be picky, I purposely did not use the more expensive, harder to find, San Marzano when testing this recipe. Surprisingly, the soup was just as delicious as the others I have made using San Marzano.
Creamy no-cream tomato soup
I love pretty much any soup you put in front me. But for me, a tomato soup needs to be vibrant and silky-smooth with some heft and thickness. To achieve this, many recipes rely on heavy cream which I wanted to avoid. Instead, the addition of a few tablespoons of uncooked white rice does the trick beautifully. As it cooks in the soup, the rice releases it's high-starch content, thickening the soup. When blended, the soup becomes luxuriously thick and creamy. You can use this trick with pretty much any blended soup which also makes it more filling and satisfying.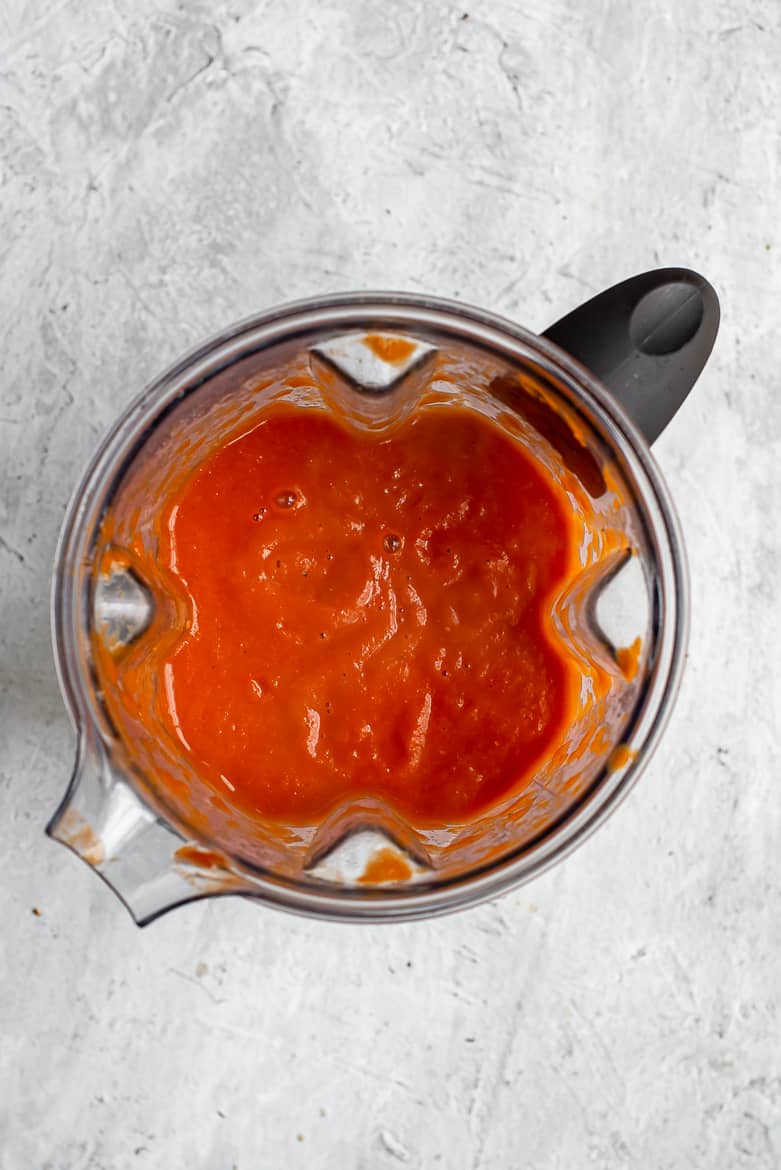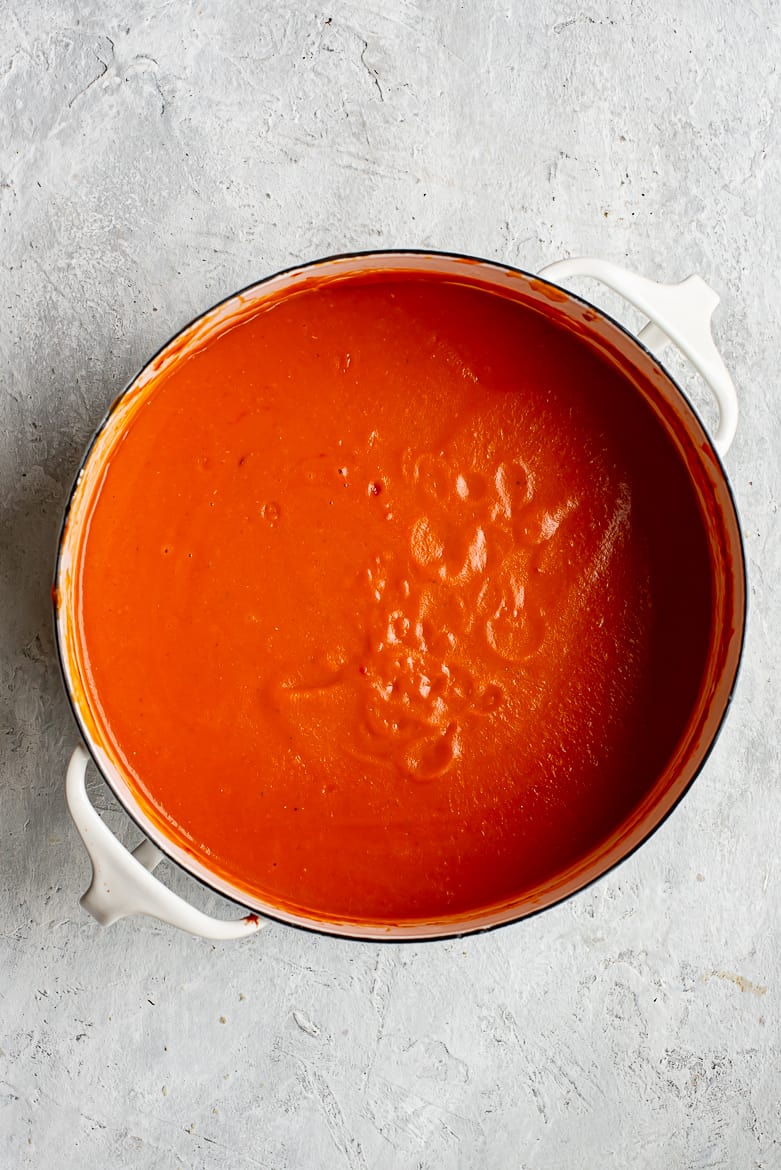 How to make the best easy pantry tomato soup
It makes no sense how this very simple, few ingredients, unassuming tomato soup is so delicious. Somehow it truly is. Here is what you do:
First, start by building depth of flavour with a good amount of sweet caramelized onions and sliced garlic. The  onions will not only contribute intense flavour, but also texture to the soup. If you don't have the time to caramelize the onions, just sauté them for as long as you can before adding the rest of the ingredients.
Next, add the canned tomatoes, water, dried oregano, and white uncooked rice. Season with a generous amount of salt and pepper and simmer for 20-30 minutes.
To finish, add a few tablespoons of olive oil to the soup then blend until silky-smooth. A high-speed blender will work best, but you can also use an immersion blender. Always taste and adjust seasoning — tomatoes like a lot of salt — and a good drizzle of olive oil before serving. Divine.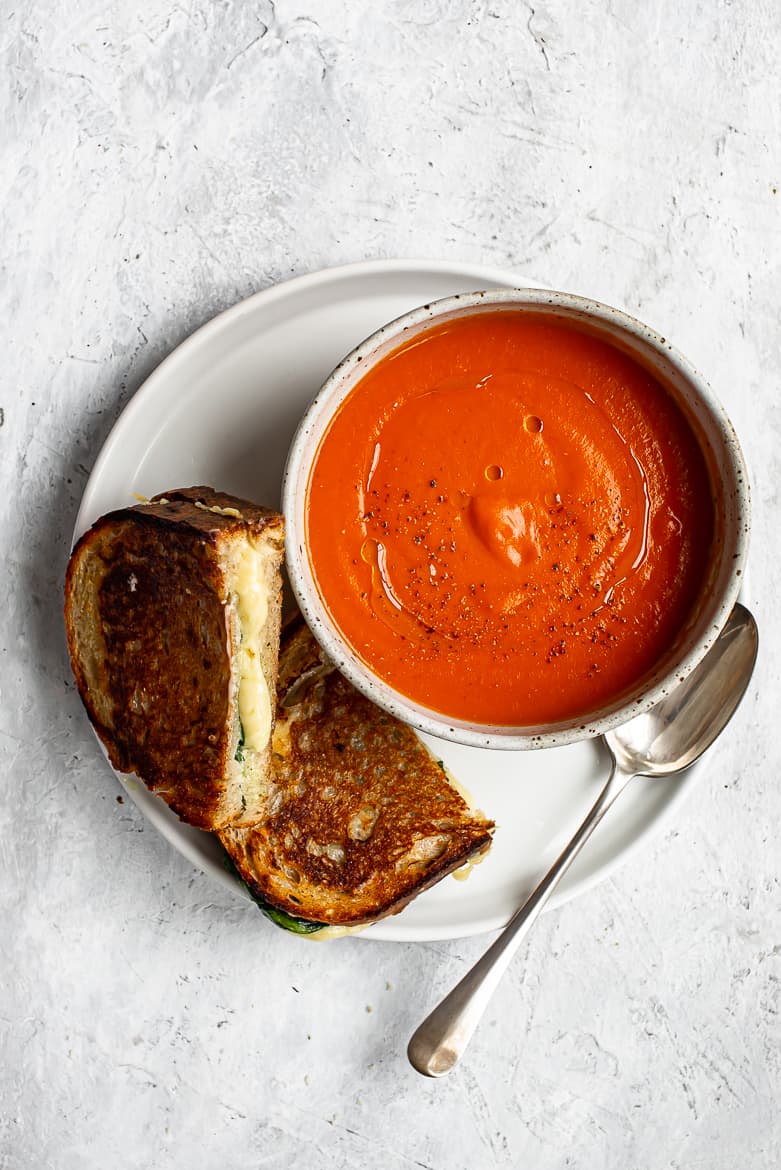 Serve with a really good grilled cheese sandwich
I am assuming none of you need a recipe for a grilled cheese sandwich. But in case you're wondering how I make mine, I will tell you. I go for a good melty cheese such as gruyere, fontina, manchego, or an old cheddar. Thinly sliced rye or sourdough bread is my preference, but right now any bread will have to do. And my secret that takes it over the top? I spread the inside of the bread slices with a garlic aioli. Don't be fooled, the aioli is nothing fancy. Simply mix some mayo (I use vegenaise) with 1 or 2 grated garlic cloves (must be grated or very finely minced) with a pinch of salt. That's it. The garlic flavour is subtle but will make you think you are eating a garlick-y cheese bread. So, so good. For the outside of the bread, I like to brush olive oil, but butter, of course, would also be great.
Though my younger son claims this ruins it, I like to layer in a bit of greens, usually spinach or arugula.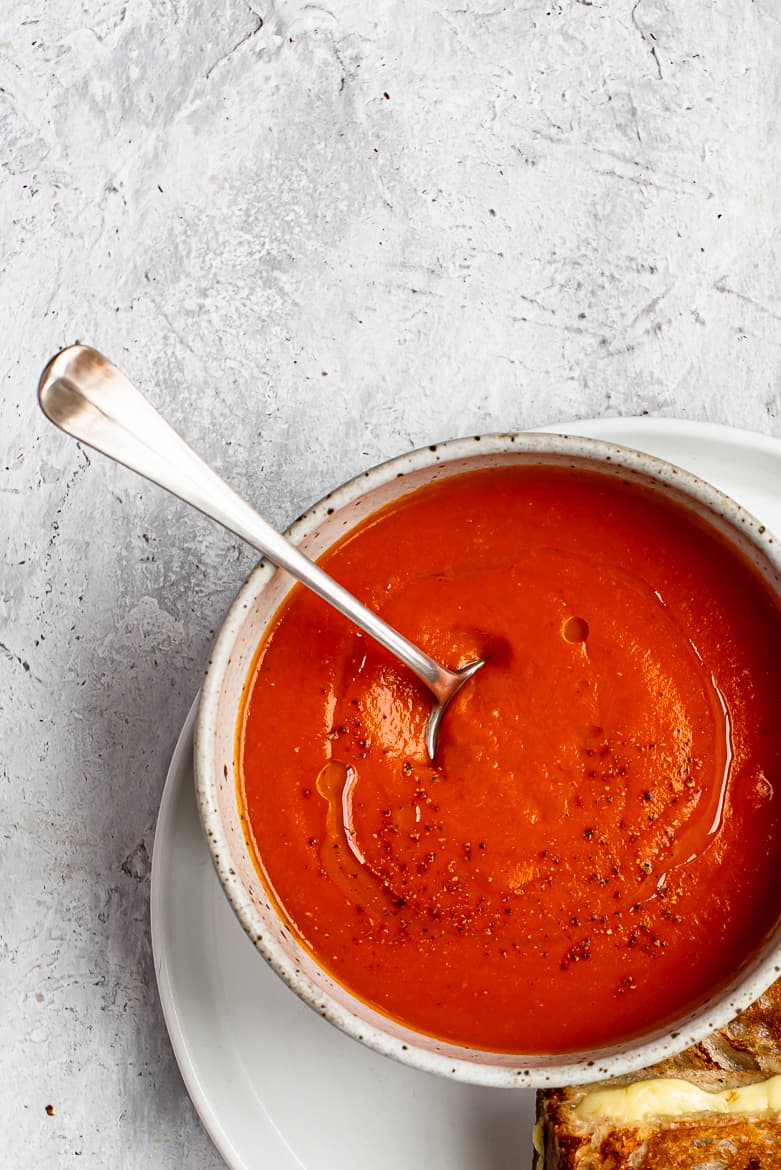 This tomato soup is the simplest of meals that comes together in no time. It is nutritious and even better the next day. Indulge a little and serve it alongside a delicious grilled cheese sandwich for a little comfort and joy. Stay well, dear friends.
Other soup recipes you might enjoy
Immune-boosting Super Green Soup
Instant Pot Barley Minestrone Soup 
Print Recipe
Pin Recipe
Easy Pantry Tomato Soup
I like to serve this tomato soup with grilled cheese sandwiches on the side. In the recipe I included a "recipe" for my favourite grilled sandwich, in case you're interested.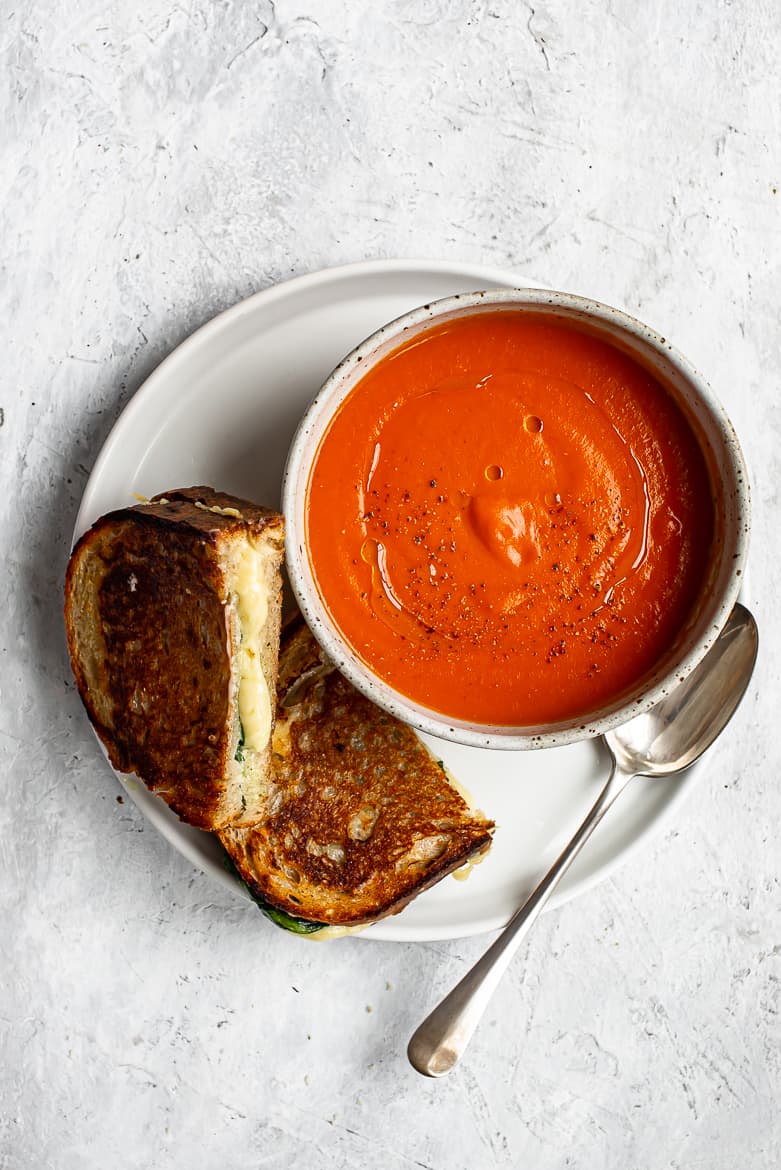 Ingredients
4

Tablespoons

extra-virgin olive oil

2

medium yellow (or red) onion

thinly sliced

Kosher salt and freshly ground pepper

4

garlic cloves

thinly sliced

2

28-oz

can whole tomatoes

hand crushed

2

Tablespoons

uncooked white rice

such as arborio, jasmine, or long grain

1

teaspoon

dried oregano

2

cups

water
Instructions
Place a large dutch oven or pot over medium-high heat. Once hot, add 2 tablespoons olive oil. Stir in onions and 1 teaspoon salt. Cook, stirring often, until onion starts to soften about 5 minutes. Reduce heat to medium-low and continue to cook for about 10 more minutes, or until slightly golden, stirring every few minutes to prevent them from sticiking.

Stir in garlic and cook for 1 minute. Add the tomatoes, rice, oregano, water, a few more pinches of salt, and black pepper to taste. Bring to a boil then lower heat and simmer 10-15 minutes.

Transfer half of soup to the jar of a blender along with 2 tablespoons olive oil. Working in batches, carefully transfer soup to a blender and blend until smooth, about 1 minute. Alternatively, blend with an immersion blender.

Return pureed soup to pot and reheat if necessary over low heat. Taste and adjust seasoning with salt and pepper, if necessary. Serve, drizzling individual bowls with a drizzle of olive oil and grilled cheese sandwiches or bread on the side.