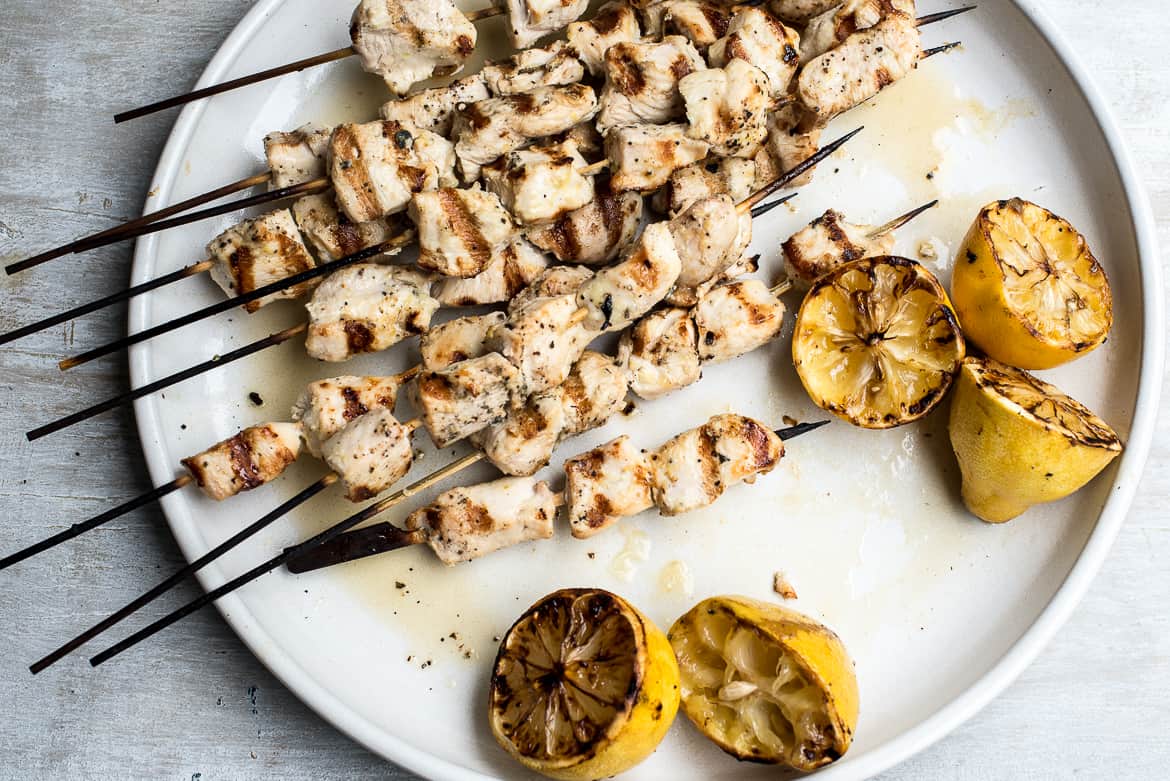 When I make chicken souvlaki, we treat it the same as a taco dinner. Served meze-style, and without structure, everyone can add or omit ingredients as they desire. Similarly, souvlaki dinners demand nothing fancy in the way of techniques or ingredients and are just as fun and delicious to eat.
That said, the success of a near-perfect souvlaki does depend on some good quality ingredients, and a little bit of patience. That's because the best thing you can do for the chicken is let it sit smothered in a pool of good olive oil, lemon juice, oregano and crushed garlic for at least an hour, overnight would be ideal. Equally important, tzatziki—souvlaki's delicious side-kick—requires strained whole milk yogurt, and strained grated cucumbers. This is the only way to achieve the richest and creamiest sauce that will have you wondering how you will ever be able to take a short-cut again with the bland, store-bought, kind.
There are only two, maybe three, recipes that I like to cook using chicken breast. The rest I will almost always sub in thighs or legs since I find they taste juicier and are almost impossible to overcook. Here I opted for breast because they are easier to cube and skewer than thighs. If you take the time to marinate them well, they remain juicy and tender for grilling. Use your preference, and if using breast, watch them well when grilling so the do not overcook and dry out.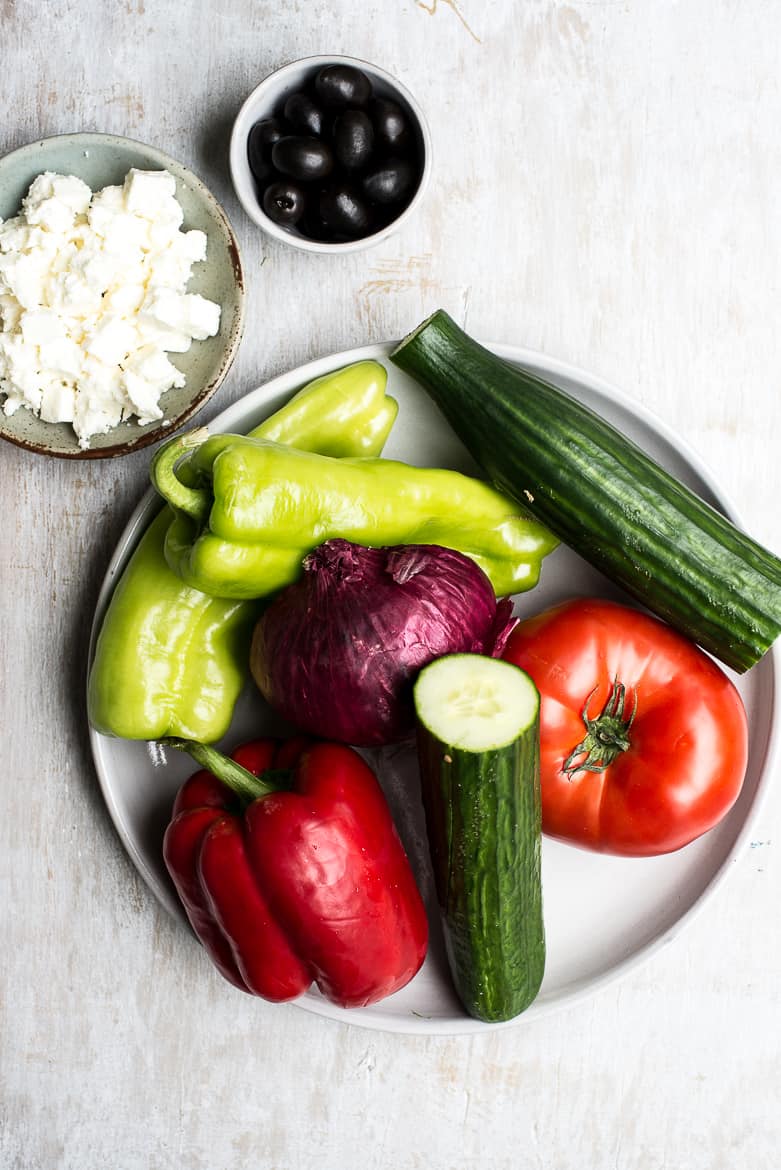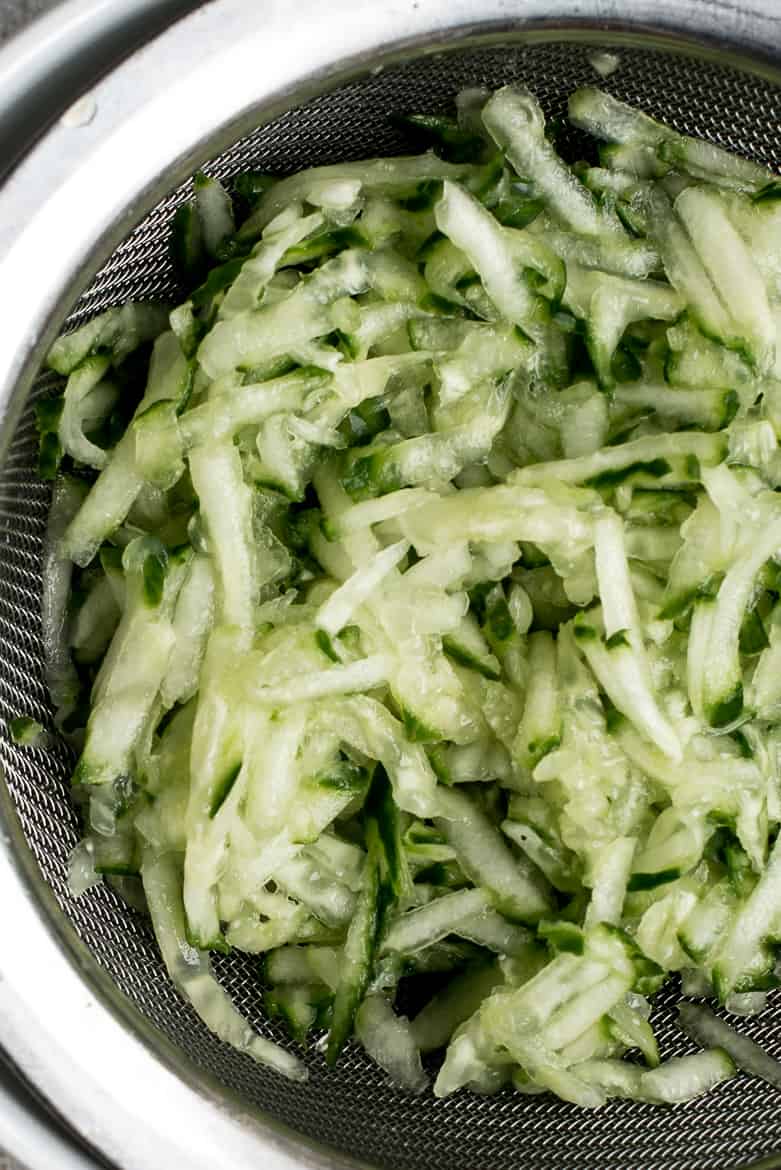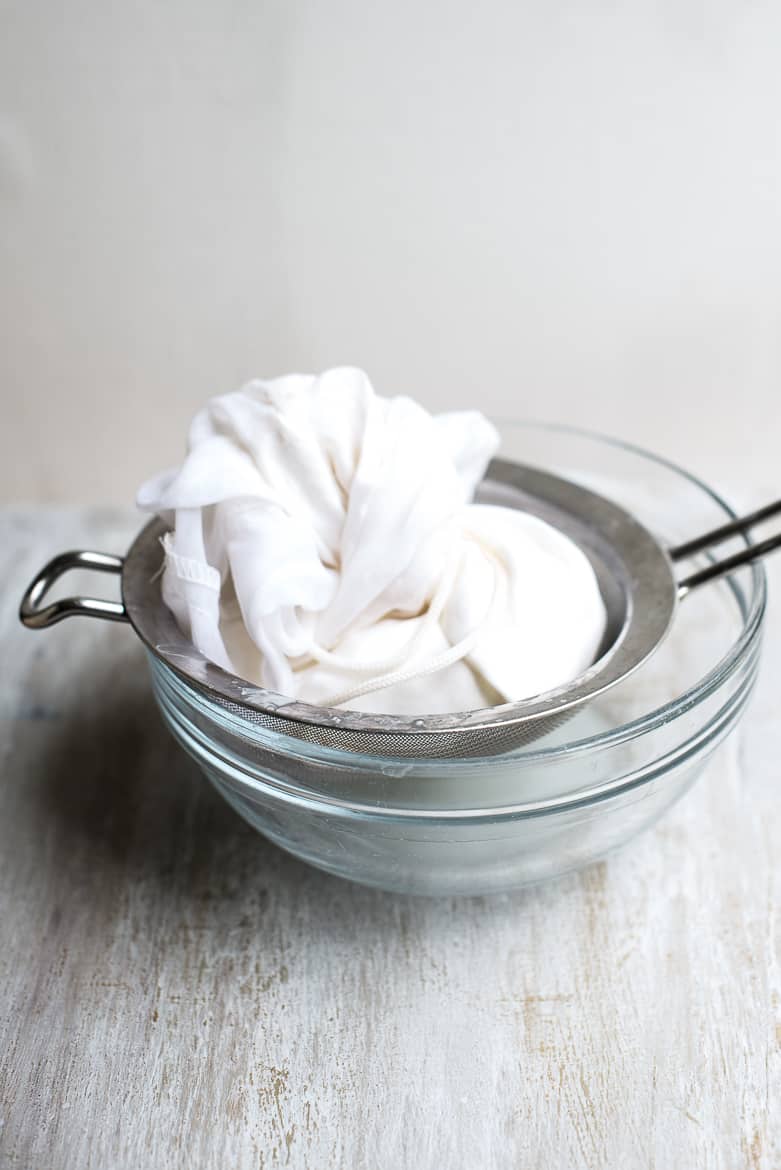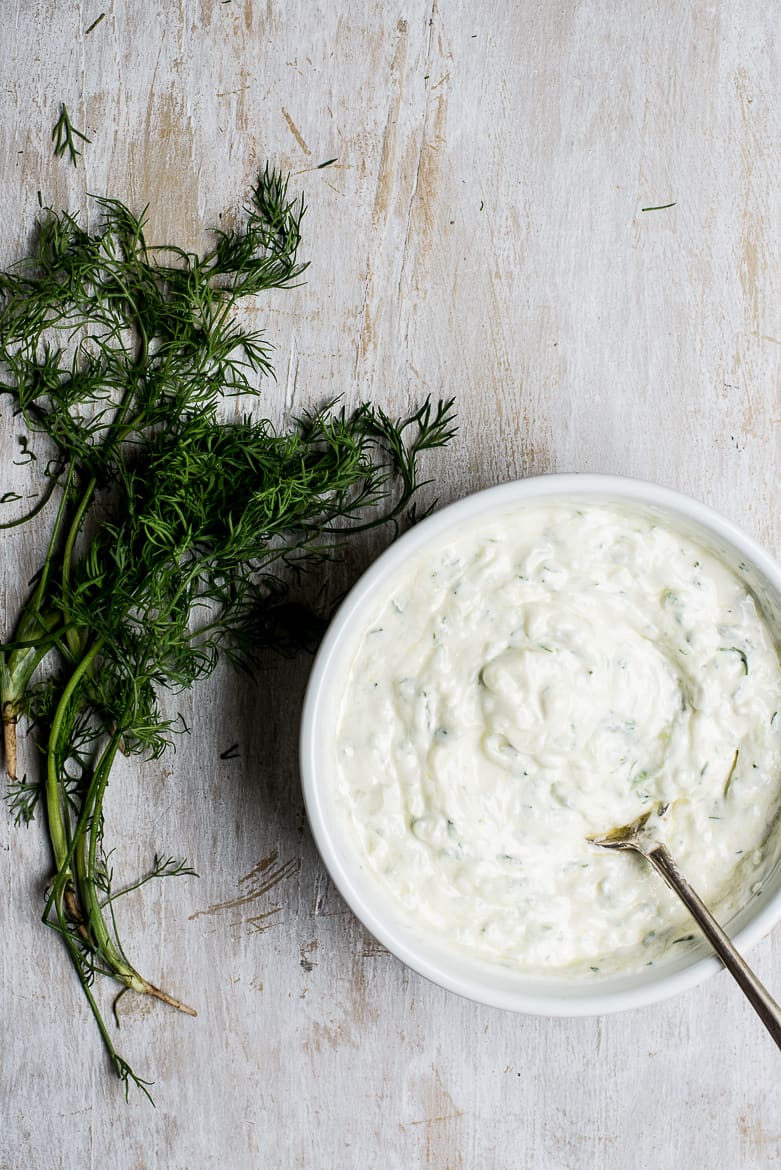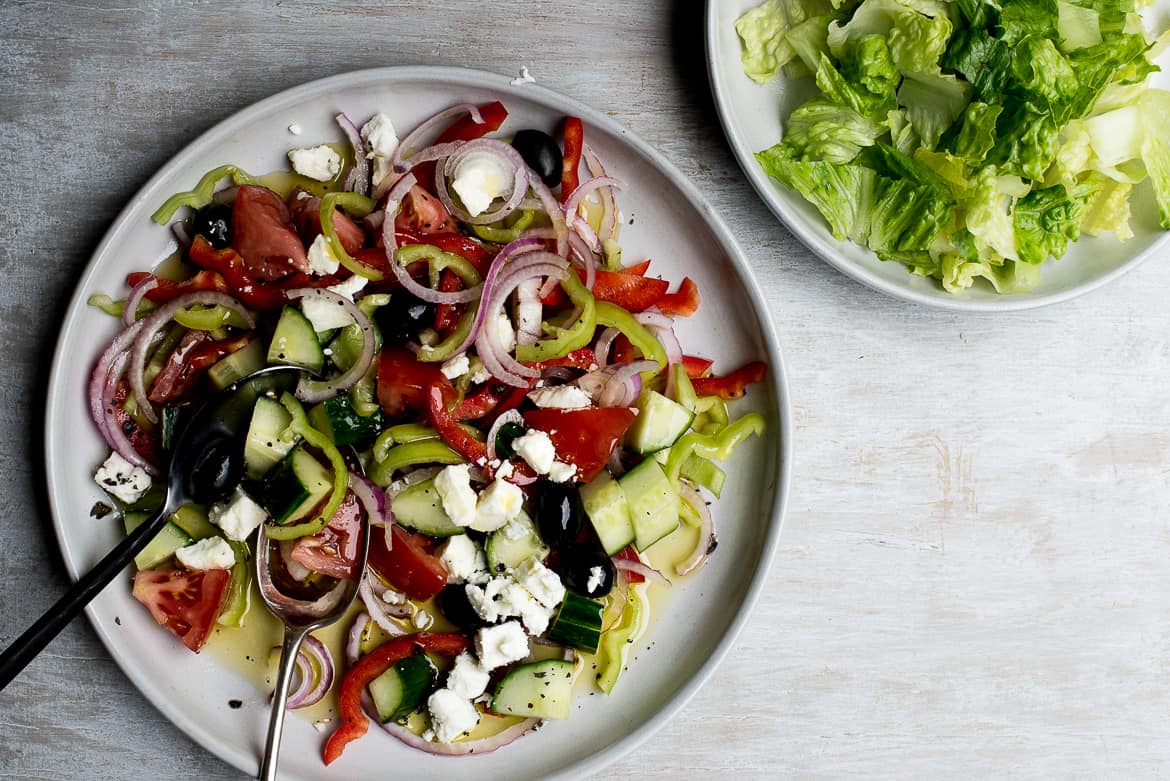 A Greek-style salad is seasonally fresh, light and wonderful alongside, or stuffed, into your souvlaki. With such simple ingredients, I always thought a Greek salad was hard to get wrong until a quick google search uncovered some very heated debates on how to get it perfect. To dice or slice the cucumbers, to add green or red peppers or none at all, vinegar or no vinegar, romaine lettuce or no romaine, to dice, crumble or slice the feta, to use fresh or dried oregano, and lastly, Nigella even hints this salad is so overdone that it might have reached an uncool status. Yikes. Though she then quickly instructs us to "forget about all that, because a good Greek salad is, not surprisingly, made for languorous picking at in the heat." Ok then.
I do add green, or cubanelle peppers, to mine, because I have had Greek salads with peppers and I love it. I find fresh oregano a nuisance to find so dried is the way I go for both the chicken and the salad. Whether romaine lettuce belongs in a Greek salad or not seemed to be the most contentious of the debates. I don't dare toss it in but I do serve it on the side because we find it cool and refreshing in our rolled up pitas. Take a deep breath and adjust and proceed how you wish. Hip or not, a Greek salad will always be welcomed, and devoured, in our home — especially when stuffed into a juicy chicken souvlaki.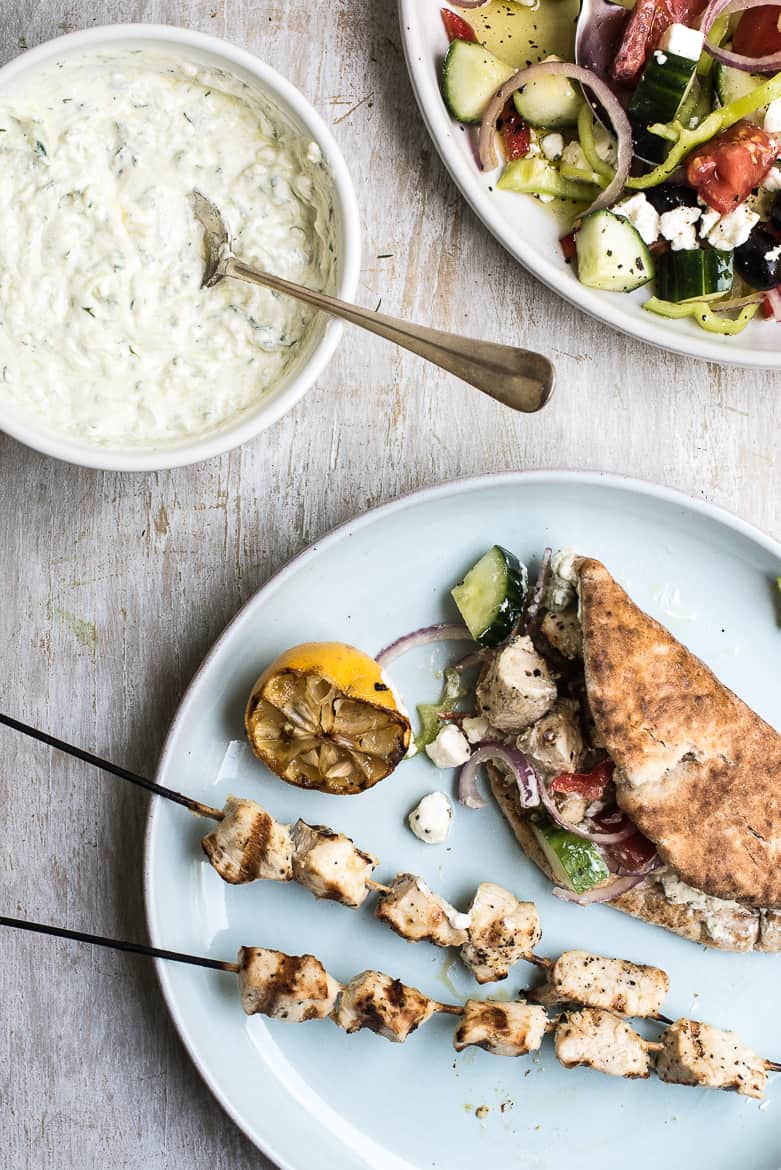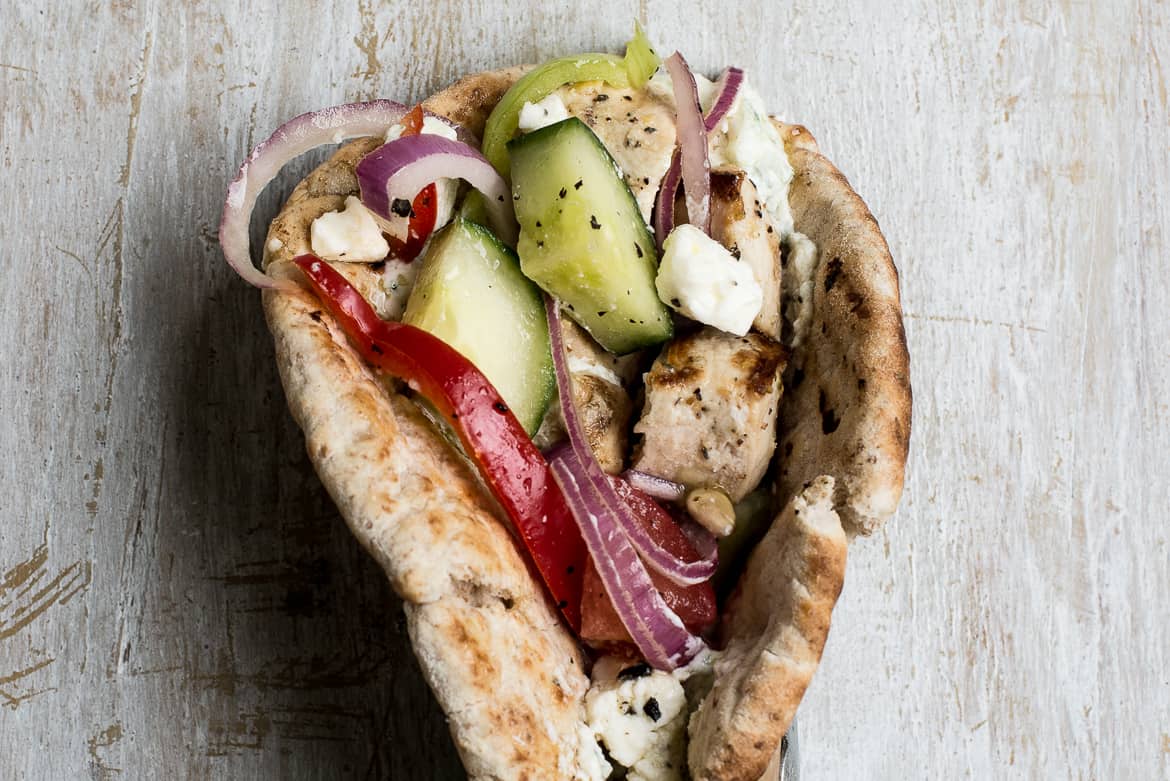 Print Recipe
Pin Recipe
Grilled Chicken Souvlaki with Tzatziki Sauce and Greek Salad
Don't be put off by the long recipe below, it can all be pulled together really quickly. This is a great light and seasonal dish for a crowd and/or for a quick weeknight meal.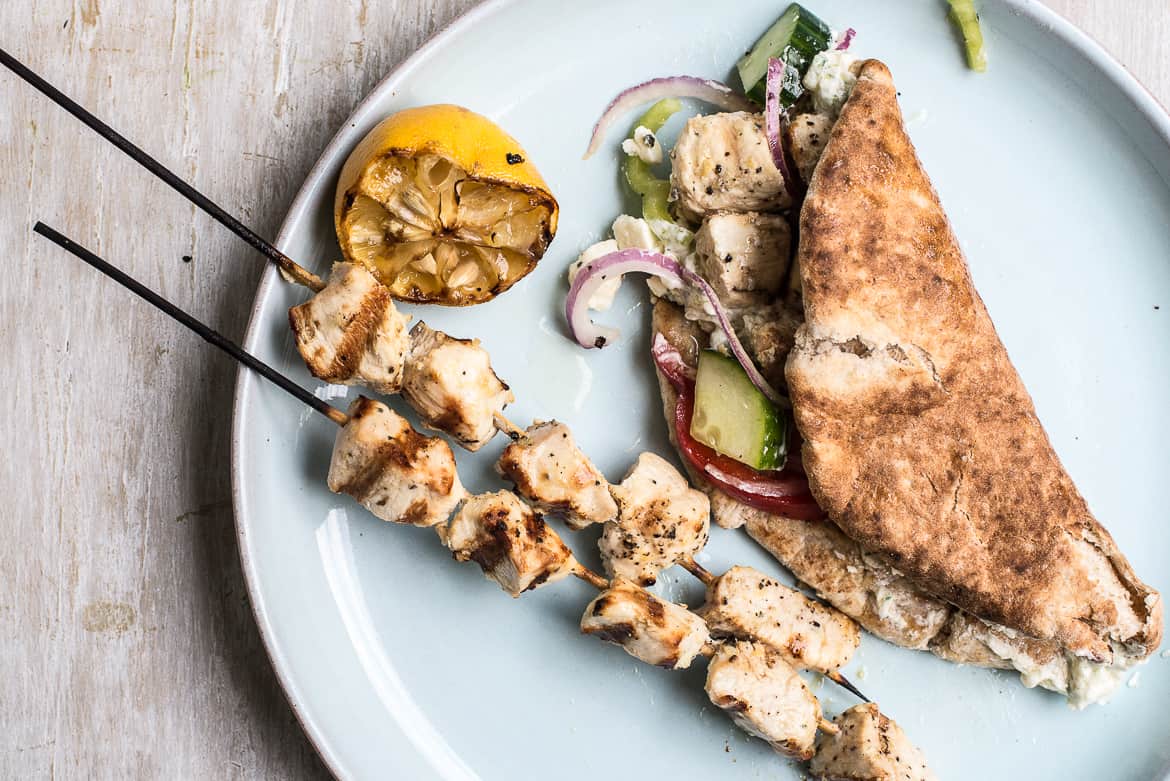 Ingredients
For the chicken

1/4

cup

lemon juice

1-2

lemons halved

for grilling* (optional but delicious - see notes)

3

medium cloves of garlic

finely grated

2

teaspoons

dried oregano

1/4

cup

extra-virgin olive oil

Sea salt to taste

Freshly ground black pepper to taste

2

pounds

boneless-skinless chicken breast

cut into 2-inch cubes

8-12

metal or wooden skewers

soak wooden skewers in water for at least 30 minutes

6

whole-wheat pitas

For the Tzatziki

1/2

english cucumber

grated

1/2

teaspoon

kosher salt

2

medium cloves of garlic

finely grated

1

cup

full fat Greek yogurt**

strained if not full fat - see notes

1-2

Tablespoon

lemon juice or white wine vinegar

2

Tablespoons

extra virgin olive oil

1

Tablespoon

chopped fresh dill

optional

For the Greek salad

1

english cucumber

peeled and cut into 1/4 inch cubes

2

medium ripe tomatoes

cut into 2 inch pieces

1

green or cubanelle pepper

seeded and thinly sliced

½

small red onion

sliced thin

1

teaspoon

dried oregano

preferably greek oregano, plus more for sprinkling

3/4

cup

kalamata olives

not pitted if possible

3

Tablespoons

red wine vinegar

1/4

good quality-extra virgin olive oil

plus more for drizzling

8

ounces

feta

sliced or cubed

Flaky salt

to taste
Instructions
In medium bowl, whisk lemon juice, garlic, oregano, olive oil, salt, and black pepper. Add chicken cubes to the bowl and toss to coat evenly. Marinate at room temperature for 30 minutes or cover and refrigerate longer or overnight.

Meanwhile make the tzatziki sauce: Place grated cucumbers in strainer set over bowl. Toss with 1/2 teaspoon salt and let sit to drain, about 30 minutes. Gently squeeze any water out of the cucumbers, place in a small bowl, and mix with garlic, yogurt, lemon juice or vinegar, olive oil and dill. Season to taste with salt. Refrigerate until ready to serve.

Make the Greek salad: Combine the cucumbers, tomatoes, pepper, onion and oregano on a large platter or shallow bowl. Scatter the olives over top. Drizzle the red wine vinegar and olive oil over top. Sprinkle with oregano. Set aside until ready to serve (do not add the feta yet).

Heat the grill to high. Thread the chicken pieces onto the skewers. Grill skewers, turning evenly, until well browned on all sides and cooked through, about 6-8 minutes. If grilling the lemons, set the lemon halves cut-side down on the hot grills at the same time as the skewers, do not flip.

Remove chicken and lemons to a serving platter. Spritz the chicken with one half of the charred lemon juices, and let rest 3 minutes.

Meanwhile, grill pitas until warm and slightly charred, about 1 minute per side.

Finish the salad: Place feta on top of salad and drizzle with a little more olive oil and a few pinches of oregano. Season with flaky salt to taste.

Serve chicken skewers with salad, pita, tzatziki sauce, and remaining charred lemons.
Notes
*Grilling the lemons helps loosen up and release their juices and it is a step I no longer ever skip. Sprinkled over the grilled chicken, it adds a robust acidity and sweet tangy flavour that I find totally addictive.
**Full fat Greek yogurt has already been strained and is quite thick, which is essential for a good tzaziki sauce. However, if you only have plain yogurt, you can strain it yourself for a few hours or overnight in the refrigerator. Just fold some cheesecloth over itself a few of times, or use a nut milk bag if you have one, place it in a sieve, and pour in the yogurt. It will drain quite a bit of liquid within a few hours but overnight would be best to achieve the thickest yogurt possible.