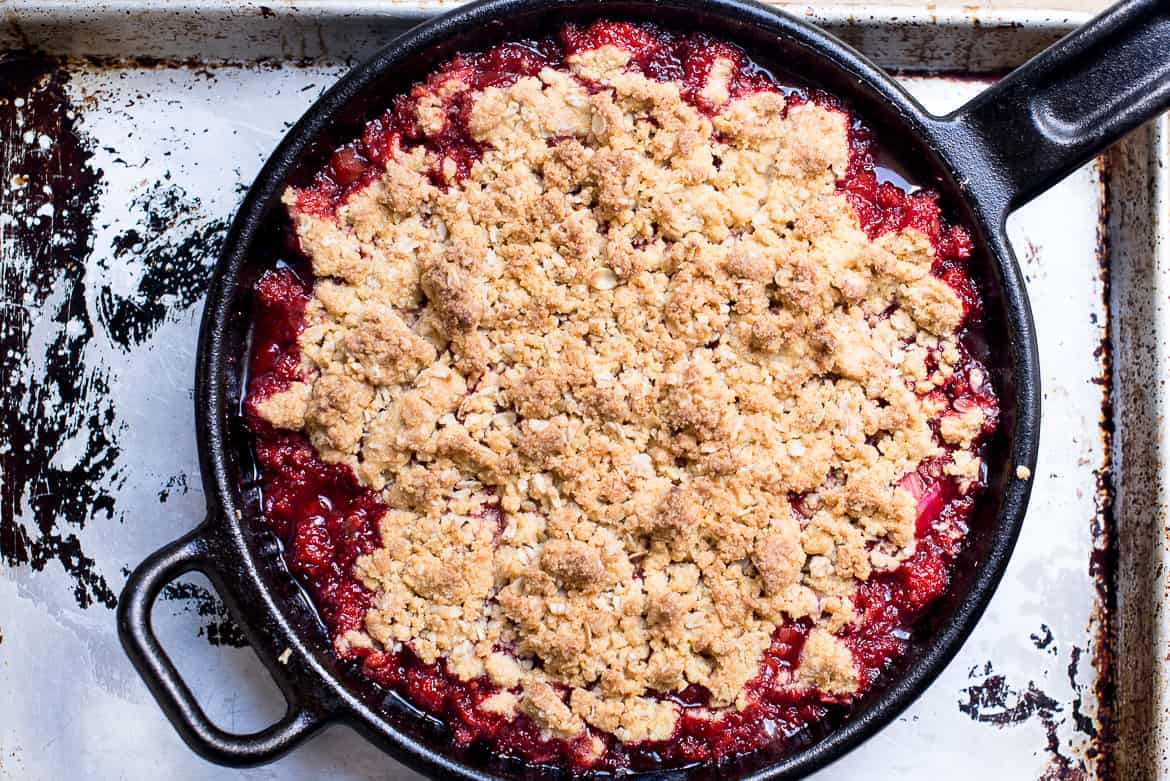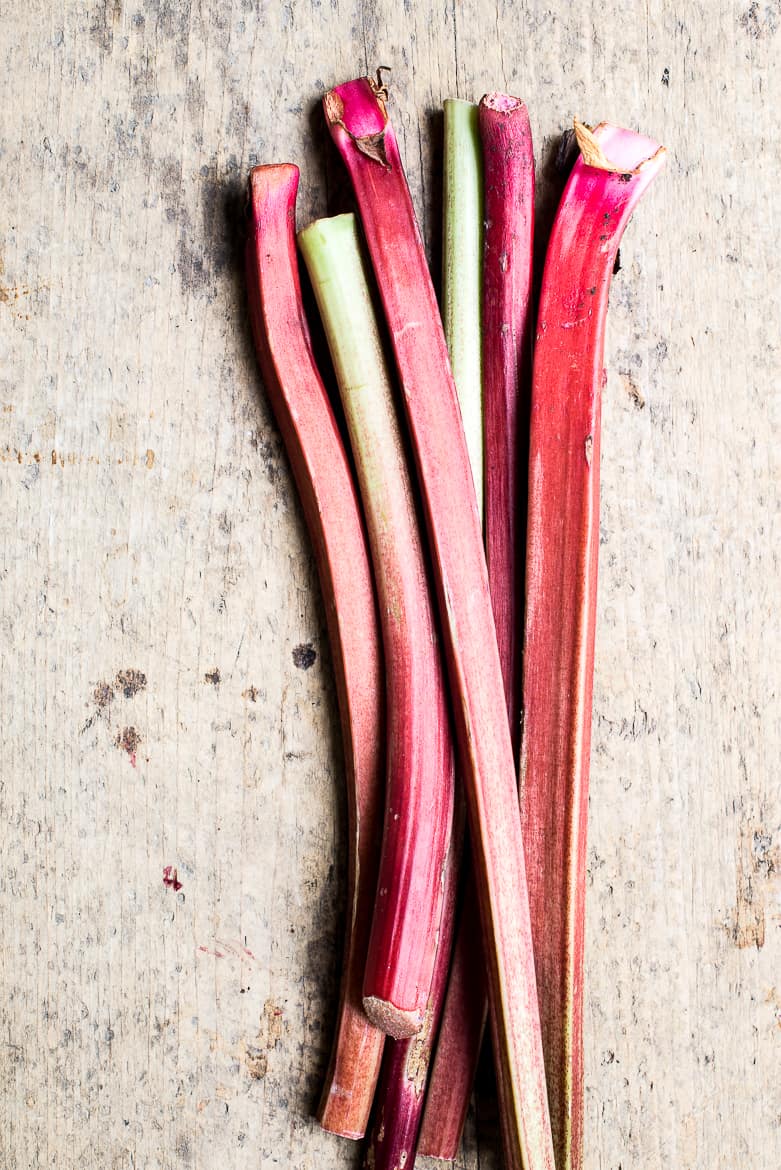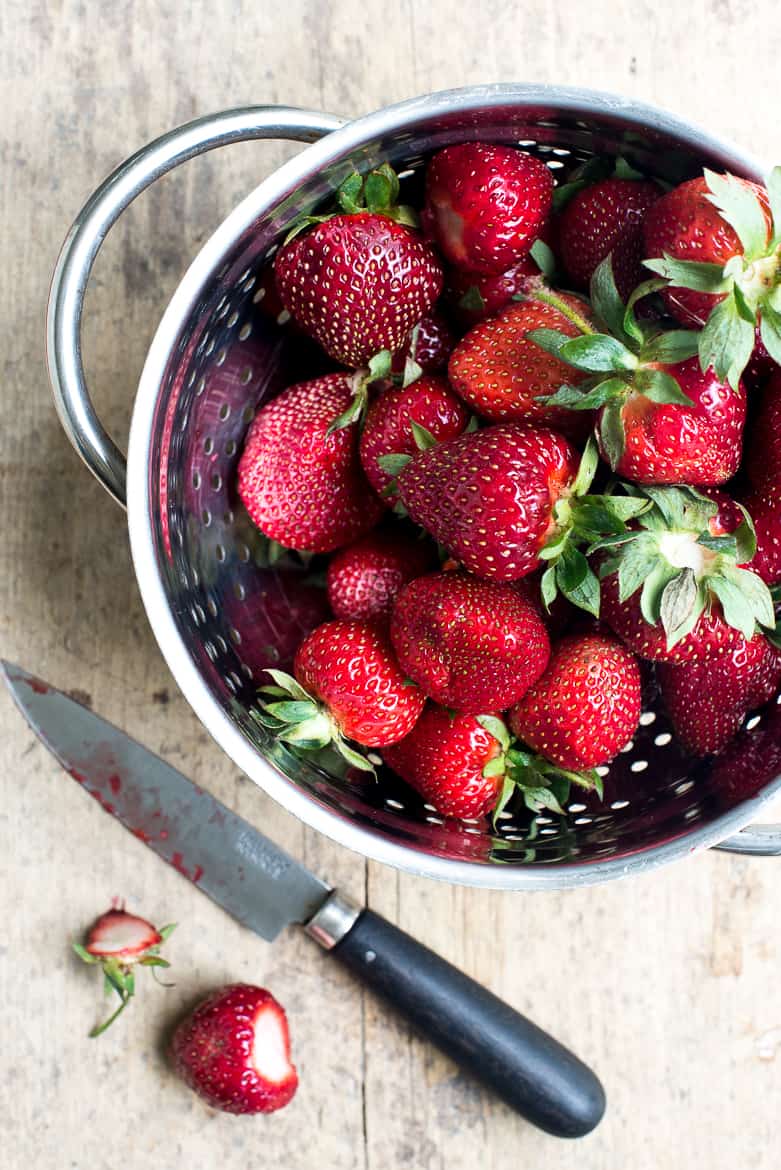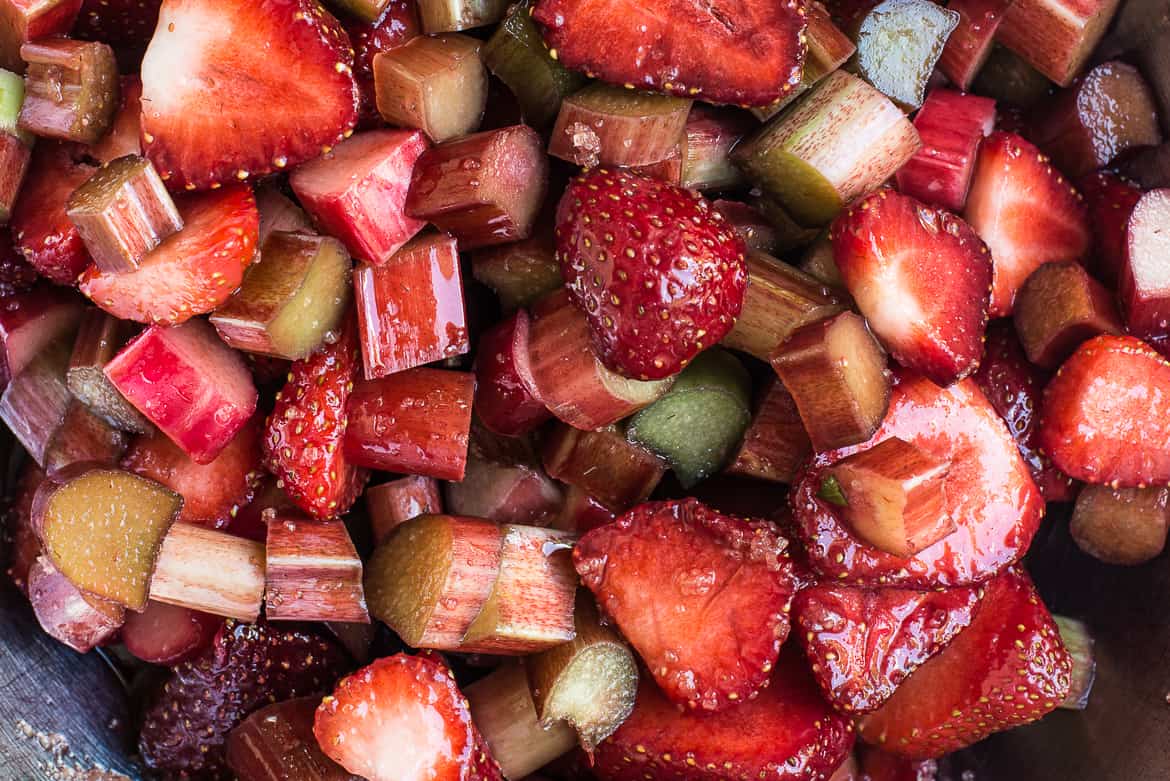 "They won't be here much longer" the kind farmer warned as he noticed me eyeing hesitantly at his bunches of ruby-red rhubarb. I smiled and told him his rhubarb was beautiful and of course paid him for a few bundles. What I didn't tell him is that I already had two other bundles in my bags. I just can't resist supporting all the fine folks who grow beautiful food for our community, and I also can't resist buying rhubarb, or any produce for that matter, when their season is about to end.
Strawberries were everywhere so I also had a rather ridiculous amount of ripe red ones from the lady that had little trouble convincing me the larger baskets are cheaper in the long run. No problem, I had crisps to make and heading into Father's Day weekend, there was no question which recipe I wanted to use.
About This Strawberry-Rhubarb Polenta Crisp Recipe
The recipe for this strawberry-rhubarb polenta crisp is adapted from Chef Travis' cookbook Gjelina.  Though I always have polenta in my pantry, I had never used it to top a crisp. Turns out it's pretty fabulous.
Using fresh seasonal fruit is always the way to go when making a crisp but especially so when Chef Travis instructs us to "Serve this when strawberries are at their finest. Their sweet, concentrated juice bubbles up and oozes over the sides of the baking dish". Finally stocked with my sweeter, redder, better, strawberries that would bubble and ooze, I couldn't wait to give it a go. Expectations were high but, not surprisingly, this recipe did not disappoint. Still managing to keep this classic crisp rustic and simple, the addition of polenta imparts a bit more crunch and it's savoury flavour brilliantly complements the sweet jammy fruit bubbling beneath it.
About The Polenta
I make polenta all the time, typically avoiding the quick-cooking kind; true polenta – real ground corn – is incomparable in taste and texture. However instant polenta (par-cooked) is what is called for in this recipe, which crisps up perfectly and adds a beautiful golden hue to the topping.
Though the original recipe is pretty perfect as is, I needed a vegan version for a class so I have adapted this recipe to suit it. Bear in mind, though the coconut oil works fine, butter will always make a better tasting crisp. I also like to use less refined sugars and flours and I imagine it would be just as good with gluten-free flour as well. Once out of the oven, let it sit for at least a half-hour or so, by then your crisp will be eagerly awaiting a good dollop of ice cream— or yogurt for a breakfast treat. Enjoy!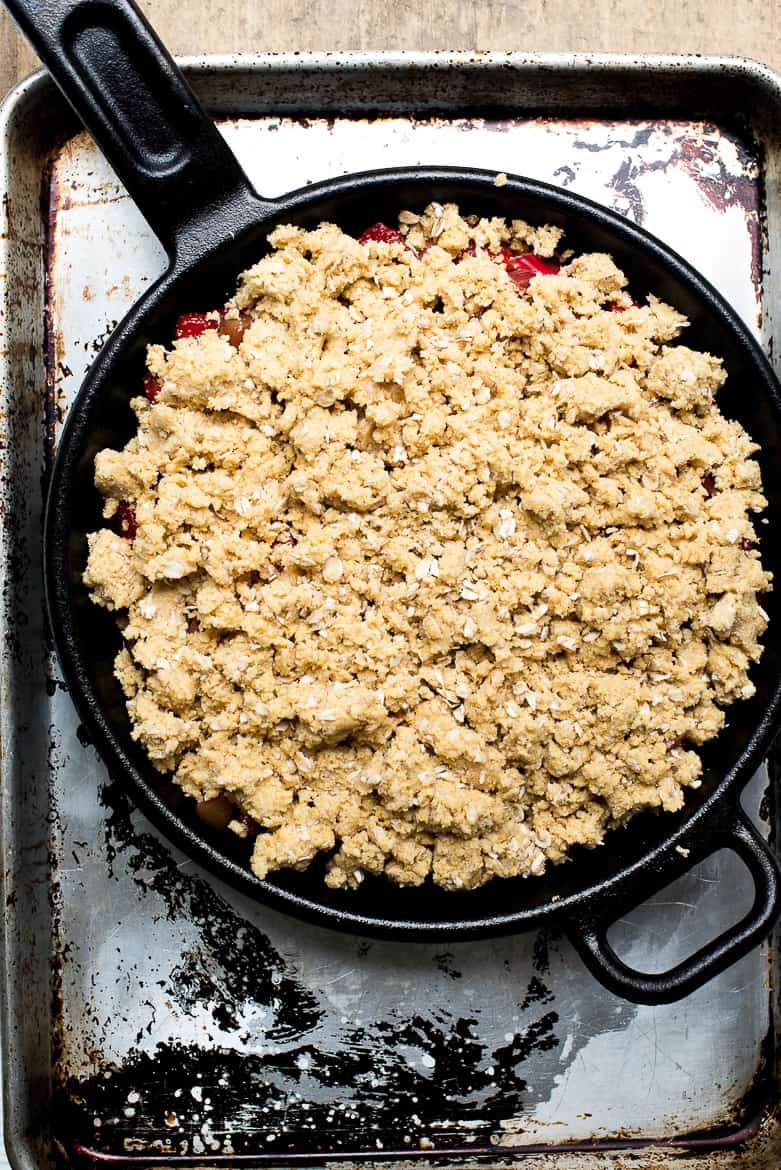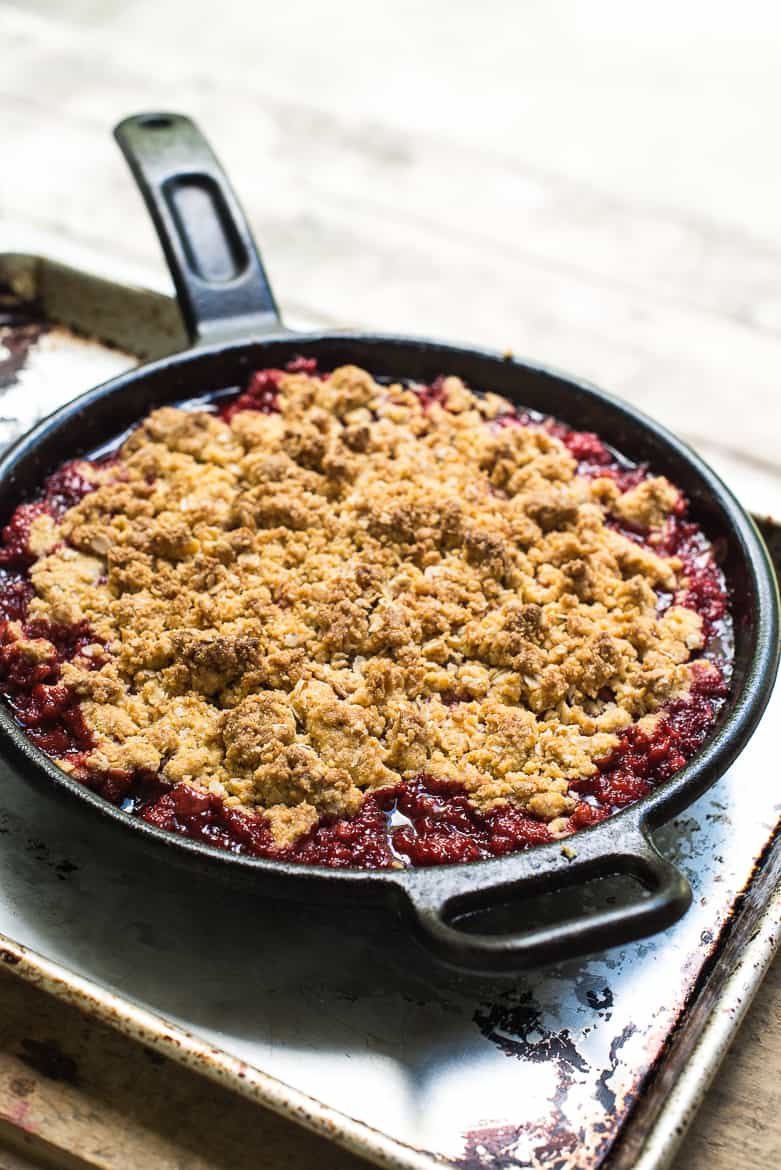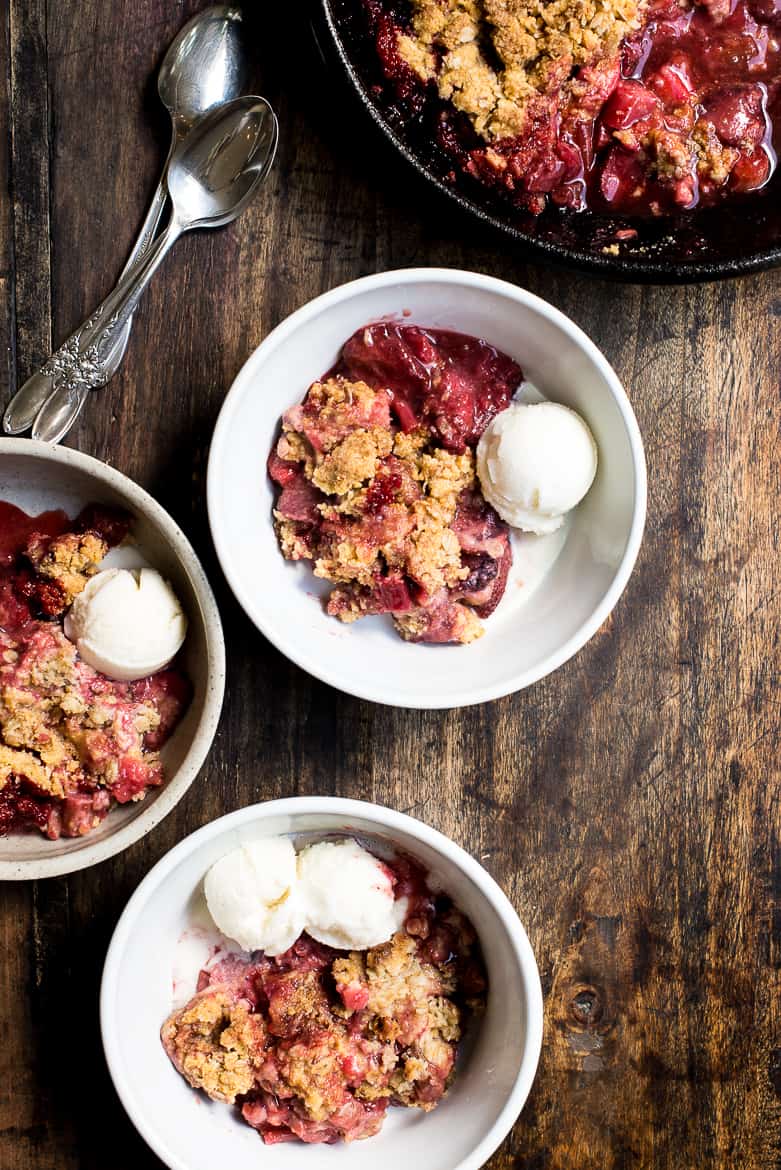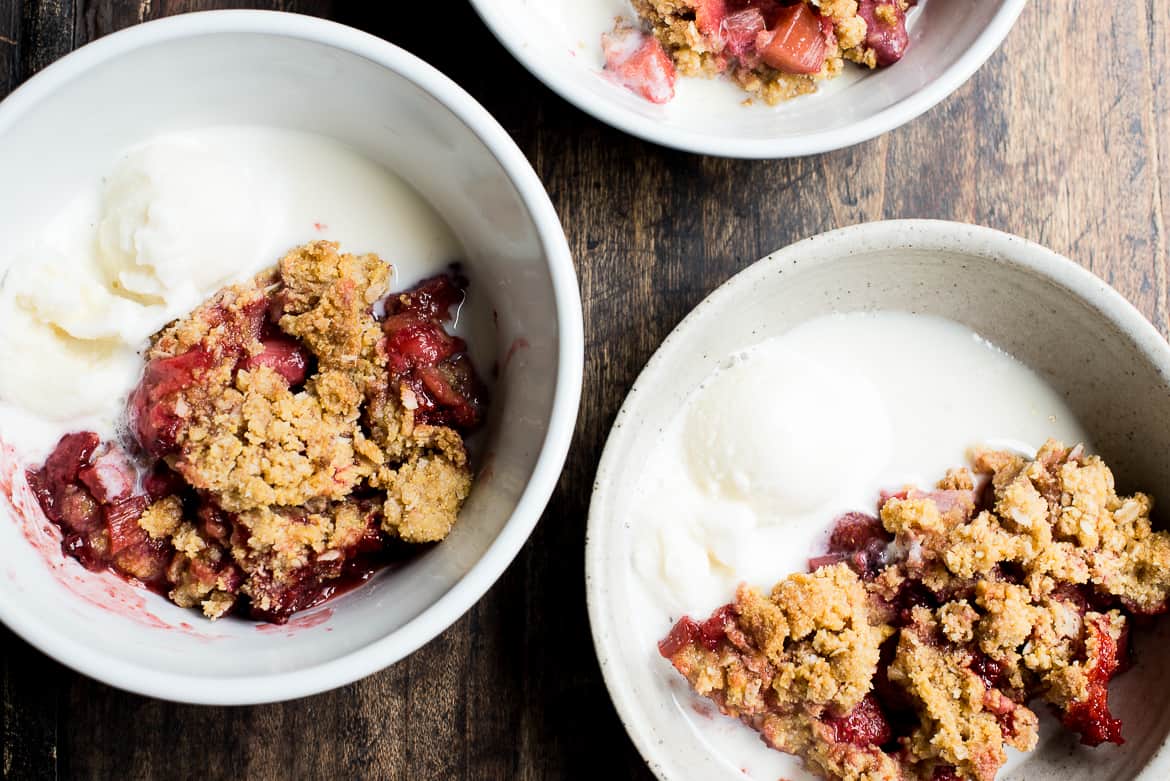 Ingredients
Topping:

½

cup

plus 3 Tbsp cold coconut oil

or unsalted butter or Earth Balance, cut into small cubes

1

cup

whole wheat pastry flour

or all-purpose flour or GF flour combos of your choice

½

cup

quick-cooking polenta

1/4

cup

old fashioned rolled oats

optional

1/3

cup

coconut palm sugar

brown sugar or cane sugar

Pinch

of kosher salt

Strawberry-Rhubarb Filling:

4

cups

fresh strawberries

hulled and halved

4

cups

rhubarb

cut into 1-inch dice (about 5 stalks)

½

cup

cane sugar

1 1/2

Tbsp

arrowroot powder

or all-purpose flour

Juice of ½ lemon

Pinch

of kosher salt
Instructions
Preheat the oven to 375°F [190°C].
Make the topping
In a food processor, combine the coconut oil or butter, flour, polenta, oats (if using) sugar, and salt. This can also be done by hand with a pastry blender. Pulse ten times or until a crumbly dough forms. Refrigerate until you are ready to use. (The topping can be made up to 1 week in advance and stored in an airtight container in the refrigerator or frozen up to 3 months.)
Make the filling:
In a large bowl, gently toss the strawberries and rhubarb with the sugar, arrowroot or flour, lemon juice, and salt.

Pour the filling into a 9- or 10-inch baking dish or oven-proof deep skillet. Crumble the topping over the top covering the fruit well.

Place baking dish on a sheet pan and bake until the crisp is lightly browned and the filling is bubbling, 30 to 40 minutes. Let cool on a wire rack for 40 minutes.

Serve with ice cream or yogurt, if desired.