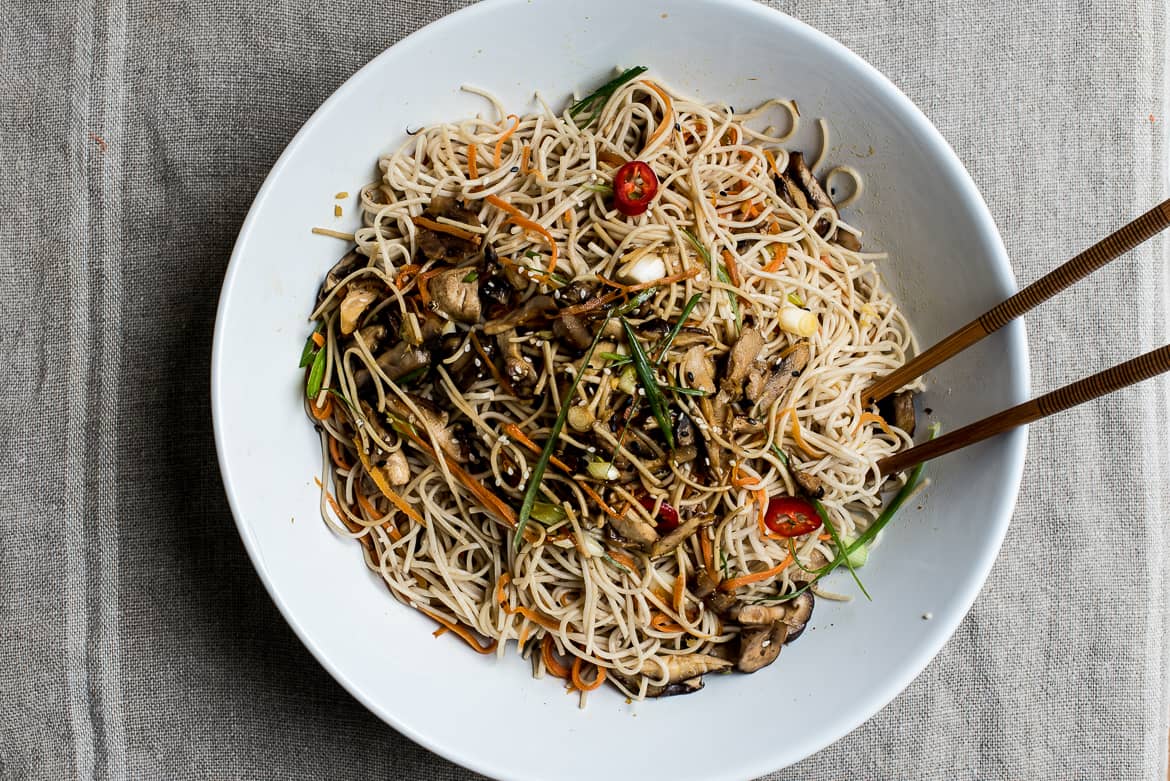 Once the warm weather comes around, I start to want to eat a little lighter, have less meat, less carbs, and add a lot of colours and flavours to my food. Meals also need to be a little simpler and easier in order to enjoy the beautiful sunny days ahead (they are coming right?).
This is a stir-fry that fits that bill. With an uncomplicated preparation, it is substantial but seemingly light, perfectly adaptable to pairing with seasonal produce, and comes together fairly quickly. It has sharp flavours from the sauce—rice vinegar, soy sauce, and mirin—that coats the noodles, with an optional spicy punch from red chilis or sriracha. Served warm or cold, it also saves well to pack for lunch or to make ahead to bring to a potluck.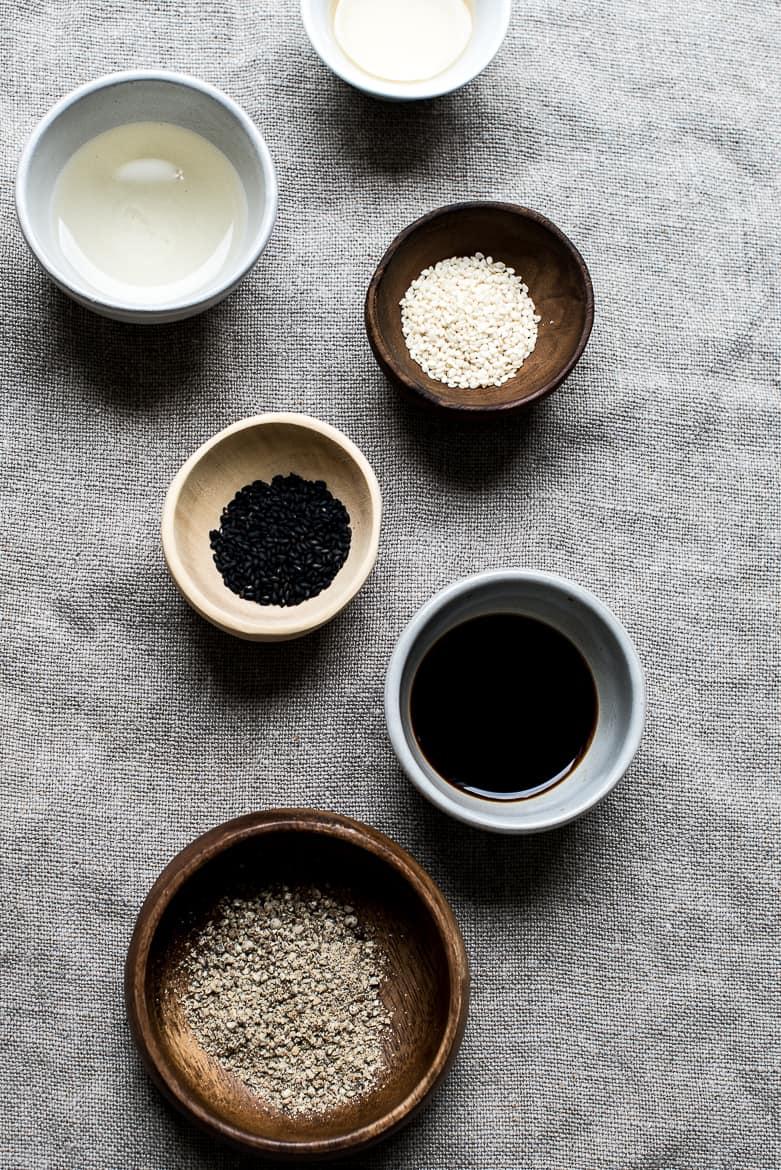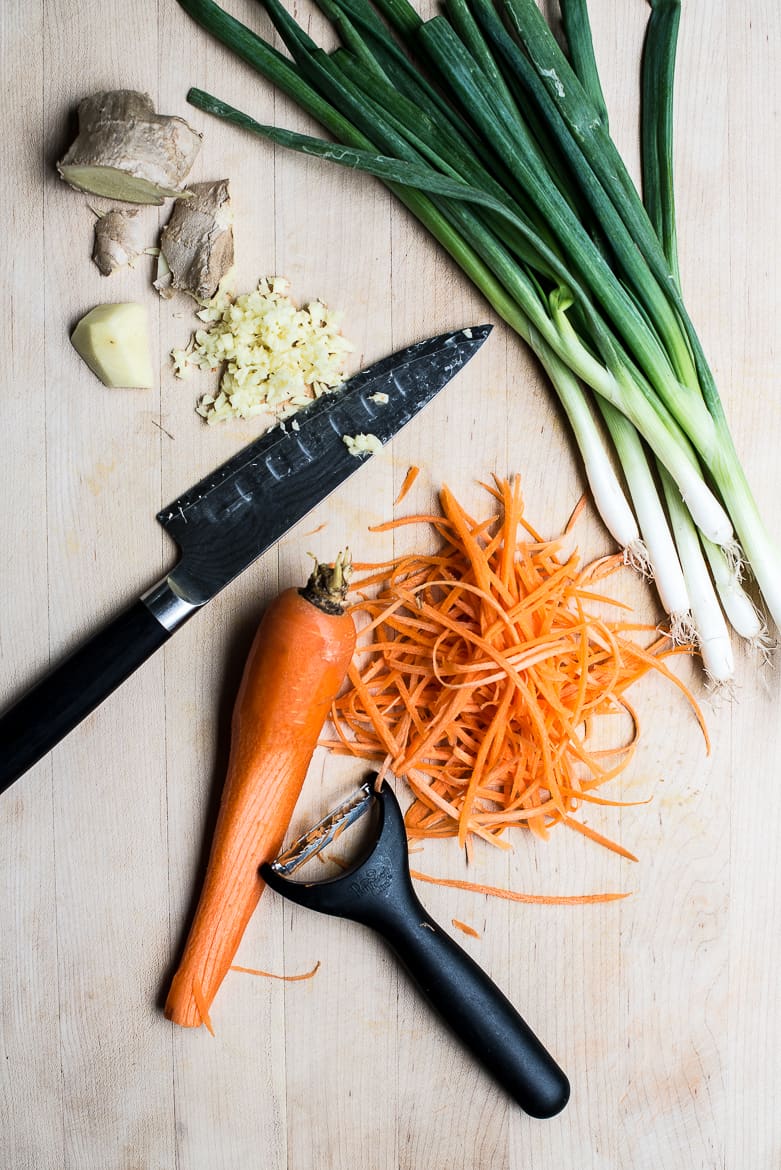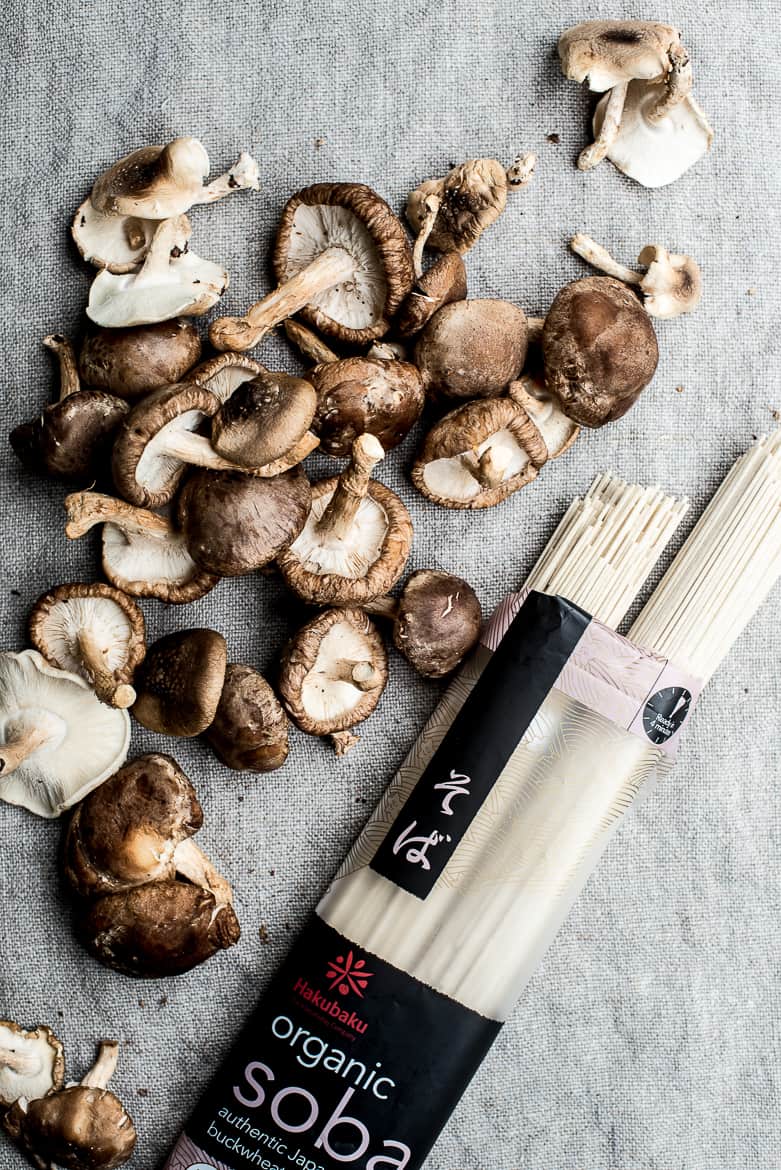 What are Soba Noodles?
Soba noodles are a Japanese pasta made with buckwheat. Many soba noodles are a wheat and buckwheat blend but I prefer the ones made with 100% buckwheat, which are made from gluten-free buckwheat flour and have a delicious nutty taste. Buckwheat is also low in calories, full of fiber and protein, and contain almost 50% less carbohydrates than regular wheat pasta.
How To Cook Soba Noodles
It is important to note that unlike regular wheat pasta noodles, soba noodles cook quickly and they should also be cooked in a gentler simmer as opposed to the rolling boil of pasta. Follow the package instructions carefully and taste a noodle after 4 minutes, you want them only slightly more cooked than al dente. Also the opposite of what you would do with regular pasta, soba noodles will need a good rinse and wash after being cooked. And by wash, I mean wash. This ensures the noodles cool down and don't become gluey or stick together. Here's how I like to rinse/wash mine; once they are just cooked, drain the noodles in a colander and immediately start rinsing them under cold running water, vigorously but gently swishing them around and lifting the noodles in small handfuls, making sure they are not sticking together. When the water is running clear and they are no longer gummy, drain them well and transfer to a large serving bowl. If not using right away, add a few teaspoons of sesame oil and toss to coat well.
The Stir-Fry
I like this dish loaded with shiitake mushrooms which usually requires a special trip to the supermarket since they are quite perishable, but aside from that I use whatever vegetable I have in the fridge. Do try and use a vegetable that will cook as fast as the mushrooms, shredded carrots are my favourite but sweet peppers or zucchini would also work. Asparagus are gorgeous right now and would also be delicious if you don't mind the extra step of giving them a quick blanch. Like with all stir-fries, having all your vegetables chopped and sauces prepped is a good idea since everything cooks fast and needs to be added quickly. I often keep this meal vegetarian, especially if making it for lunch, but thinly sliced beef, or chicken, cooks quickly and makes a heartier dinner. Make extra and you will pat yourself on the back as you gleefully pack it for lunch the next day.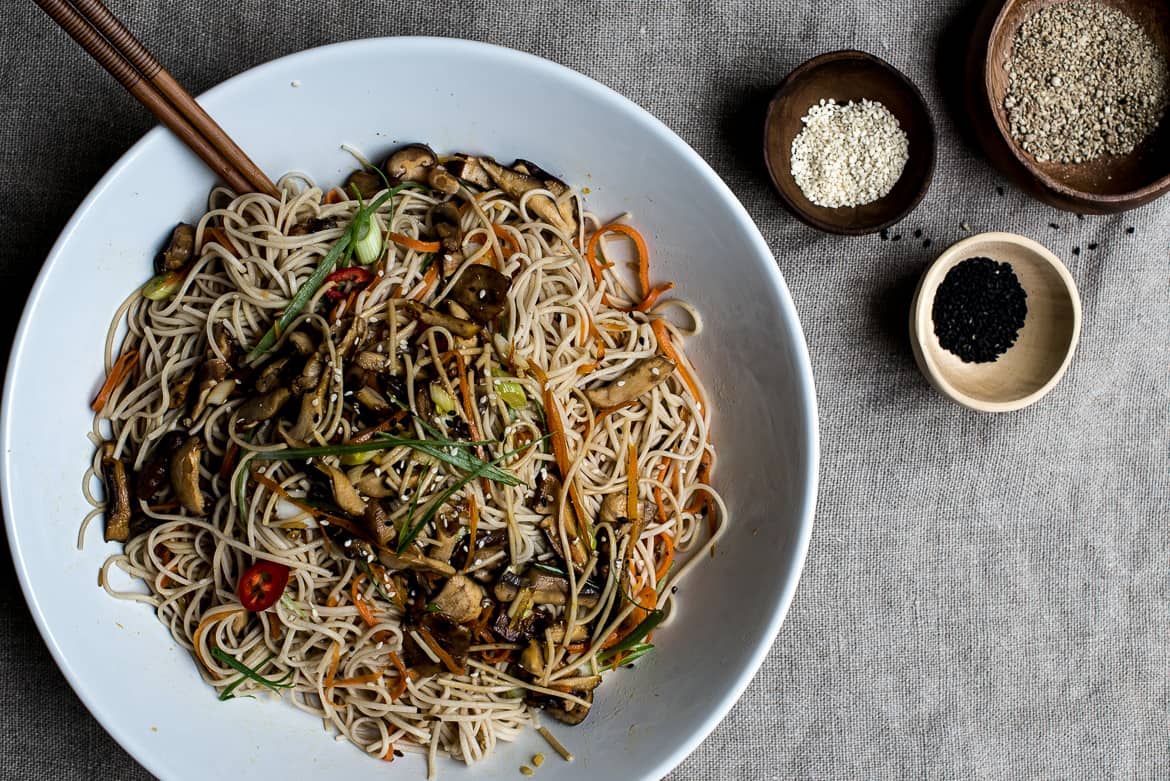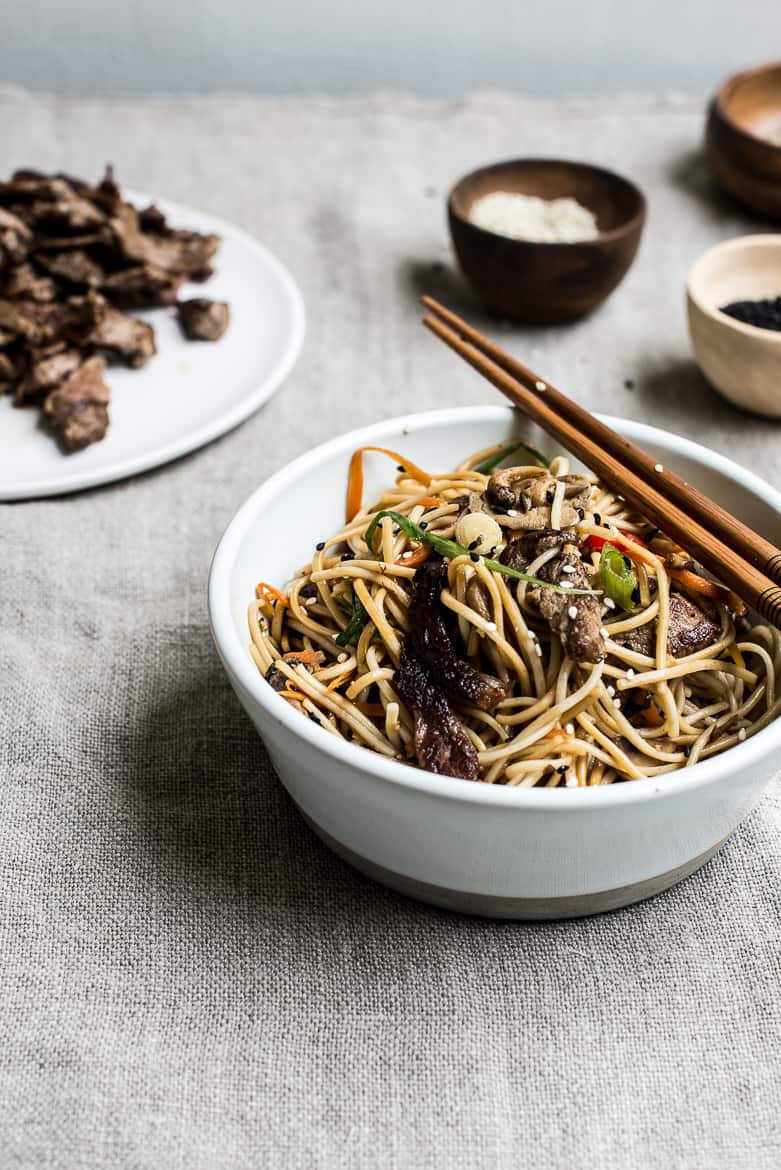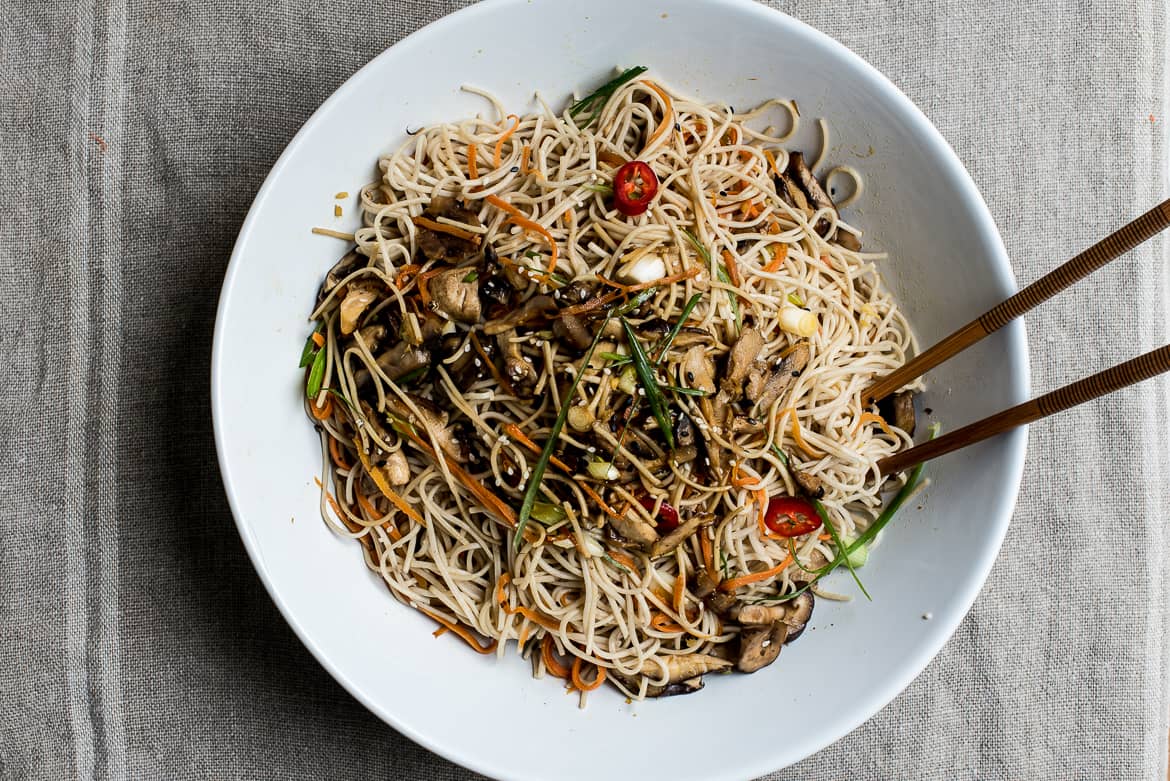 Ingredients
¼

cup

soy sauce or wheat-free tamari

2

Tablespoons

mirin

2

Tablespoons

rice vinegar

1

teaspoon

sriracha

optional

1

teaspoon

coconut sugar

or honey

8-10

ounce

package soba noodles

or noodle of your choice

2

tablespoons

coconut or vegetable oil

1/2

pound

shiitakes and/or oyster mushrooms

1

large carrot

julienned

1

Tablespoon

ginger

finely-minced

1

teaspoon

garlic

finely-minced

2

scallions

thinly-sliced (plus more to garnish)

1

red chili

seeded and thinly sliced (optional)

2

Tablespoons

toasted sesame oil

Black and/or white sesame seeds

to garnish

Crushed white pepper

optional

For beef or chicken

if using

*1/2 pound rib-eye or flank steak

or 2 small boneless, skinless chicken breast, sliced very thin

salt and pepper to taste
Instructions
In a small bowl, whisk the soy sauce, mirin, rice vinegar, sriracha and coconut sugar. Set aside.

Cook the soba noodles according to the package instructions.

Immediately drain in a colander set in the sink, rinse and wash under cold running water, until water runs clear and noodles are completely cooled, and let drain again thoroughly. Transfer to a large serving bowl and a few teaspoons sesame oil if not using right away.

In a sauté pan or wok, heat the coconut oil over high heat. When the oil is hot, but not smoking, add mushrooms with a pinch of salt, stirring often, until tender, 2-3 minutes.

Add the carrots, ginger, garlic, scallions and red chili (if using) and cook for 1-2 minutes more.

Turn the heat down to low and add the soy sauce mixture, tossing everything together until well mixed. Remove from heat and add to prepared noodle bowl.

Add the sesame oil and mix well. Top with sesame seeds, crushed white pepper (if using) and remaining green onions.

Serve right away with beef or chicken on the side, if desired.
Prepare beef or chicken (if using)
In a sauté pan or wok, heat 1 tablespoon coconut oil over high heat. When the oil is hot, add the beef (or chicken) and a pinch of salt and pepper and cook for 2 minutes on each side. Cook in two batches, then transfer to a plate.
Notes
Adapted from the Best Cookbook Ever via Food Republic
If you wish to have this dish hot, add the prepared soba noodles to the pan of cooked stir-fried veggies, heat through over medium heat for a few minutes, and serve immediately.