A pull-apart, sticky, gooey, buttery, Homemade Chocolate Monkey Bread that is sweet-enough, but not too sweet for a spectacular breakfast treat or dessert. Perfect for Easter weekend.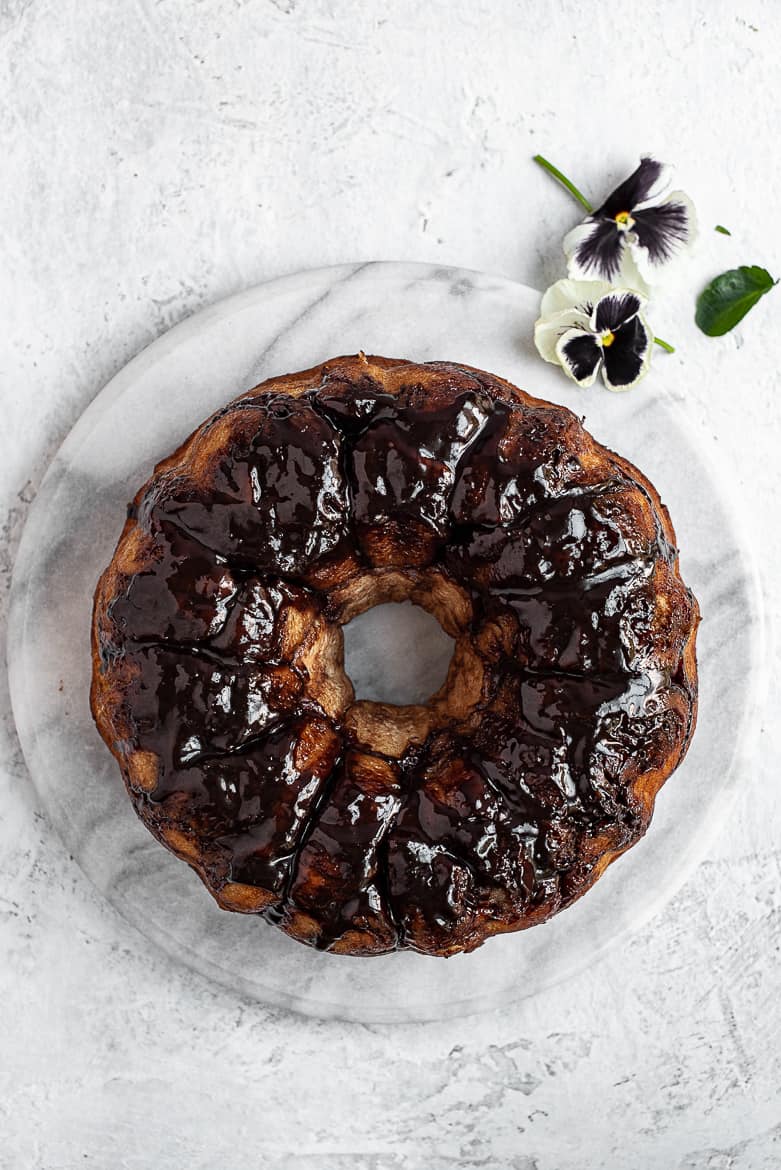 Hi friends. Hope you're well on this week 4, (5…6 ?) of self-isolation. This Easter weekend will be hard. I will be missing my two oldest kids and other family members that cannot be with us. There definitely will not be much celebrating and I won't be cooking a whole lot either. But in the hopes of not having the saddest Easter ever, I thought I'd make dessert the focus this time around. A really decadent one too. Why not.
This chocolate monkey bread is a feast for the eyes. It is based on an Ottolenghi recipe from an Easter theme column he wrote for the Guardian a few years back. Though it looked divine, I almost skipped right past it for two reasons. One, as much as I love Ottolenghi I was not in the mood for any of his customary long ingredient list recipes. Two, I had only had monkey bread once before in my life and it was so sweet I had no interest in ever eating it again. But it's Easter and the shiny puddle of chocolate made me give it a second glance. To my surprise, the ingredient list was fairly short and very pantry friendly. It also didn't call for copious amounts of sugar so I gave it a go. It was fantastic but I did have a little trouble with the dough (too dense) and with the chocolate syrup burning a little. Way too many monkey breads later (I am going keto after this quarantine) I am finally super happy with the results.
What is monkey bread
Monkey bread is a sweet, pull-apart, coffee cake-style bread. Classic monkey bread consists of tiny balls of biscuit or brioche dough rolled in butter and sugar and then piled into a bundt pan. Often, the balls of dough are drowned in a caramel sauce of butter and sugar before baking.
Once you invert the baked cake onto a platter, you have a sticky, gooey, bubble bread of sorts that you eat by pulling apart with your hands. Hence, the monkey bread name.
How to make monkey bread from scratch
I didn't grow up eating monkey bread so I am fairly new to this quirky bread. To my surprise, most monkey bread is made with store-bought biscuit. Cool, you can go that route if you wish and then proceed with this recipe for the sauce. However, making the dough is super easy and soooo much better than using a Pillsbury dough. Remember, I am not a baker, nor do I enjoy baking much, but I find this monkey bread really rewarding. And trust me, if I can do it, so can you.
This is a brioche-style bread dough that doesn't take that long to proof, about 1 hour for the first rise, then 30 minutes for the second. But to make things easier, if you'd like, you can make the dough the night before and let it proof in the fridge overnight.
The beauty of this chocolate monkey bread recipe is that it calls for only 2 tablespoons of cocoa powder. It is rich and chocolatey without having to melt expensive chocolate bars or chips.
Tips and notes to make the best monkey bread
Use a scale to measure the ingredients: My recipe for this monkey bread makes a slightly wetter dough than Ottolenghi's. I find this makes the dough less dense and more pillow-y. If at all possible use a scale to weigh the ingredients. If you don't have one, make sure you use the spoon and level method to measure the flour.
Use the right pan to bake monkey bread: Baking the monkey bread in a bundt pan makes an impressive presentation once un-molded. But there is more than just aesthetics for using a bundt pan. A bundt pan allows for even distribution of heat so that the middle of the dough is cooked properly. The size also matters. Don't use anything under 9 1/2-inches (24cm) in circumference or the bread and sauce will overflow. If you don't have a bundt pan, you can make the monkey bread in a 9×13-inch baking dish. See recipe notes for cooking time adjustments. Do not use a removable bottom pan or the sauce will leak through.
Grease the pan well: You will need at least 1 tablespoon melted butter to grease the bottom and sides of your pan. This ensures the bread will not stick.
Chocolate sauce: Do not thicken the sauce too much or you will run out before coating all the balls of dough. If the sauce gets too cool and thick, warm slightly and add a few tablespoons of water. This makes the biggest difference in a achieving a shiny, glaze-y sauce for the monkey bread.
Thoroughly Coat each dough ball: Monkey bread will fall apart if not sticky enough. Coat each dough ball thoroughly in the chocolate sauce so they stick together when baked.
Un-molding the Monkey Bread: Once baked, the monkey bread needs to be un-molded fairly quickly or it will stick to the bottom the pan. Let it rest in the bundt pan for only of 5 – 10 minutes after baking, then un-mold on a large plate or platter. Let rest until cool enough before devouring.
Bake on low heat: Particularly for a chocolate monkey, low heat is essential so that the bread doesn't burn on the top. In addition, placing the monkey bread pan on the lowest rack of the oven, ensures that the top will not burn.
Variations for chocolate monkey bread
Ottolenghi adds chocolate chips to the monkey bread. I pass on the chips, but feel free to add a 1/2 cup to the dough before the first rest if you wish. If you aren't feeling any of the chocolate, or you don't have any cocoa powder on hand, simply omit the chocolate.
I reduced the sugar by quite a bit in my chocolate sauce. If you prefer it sweeter, go ahead and add another 1/4 cup brown sugar to the sauce.
You can also add nuts, dried fruit, or seeds to the monkey bread dough. And if you wish, roll the dipped dough balls in sugar and cinnamon. I won't judge, given that it's quarantine and all.
To freeze and thaw monkey bread
Once the monkey bread is cooled, wrap tightly in plastic wrap the foil. Alternatively, place portions of the monkey bread in ziplock bags. Freeze up to 3 months.
Thaw monkey bread on counter then place on a parchment lined baking sheet. Warm in a preheated 300 degree F oven for 10 minutes or until soft and warm to the touch.
Here is the step-by-step to make this monkey bread:
Mix dry active yeast with melted butter, warm milk, sugar and vanilla. Rest for 5-10 minutes until yeast is foamy.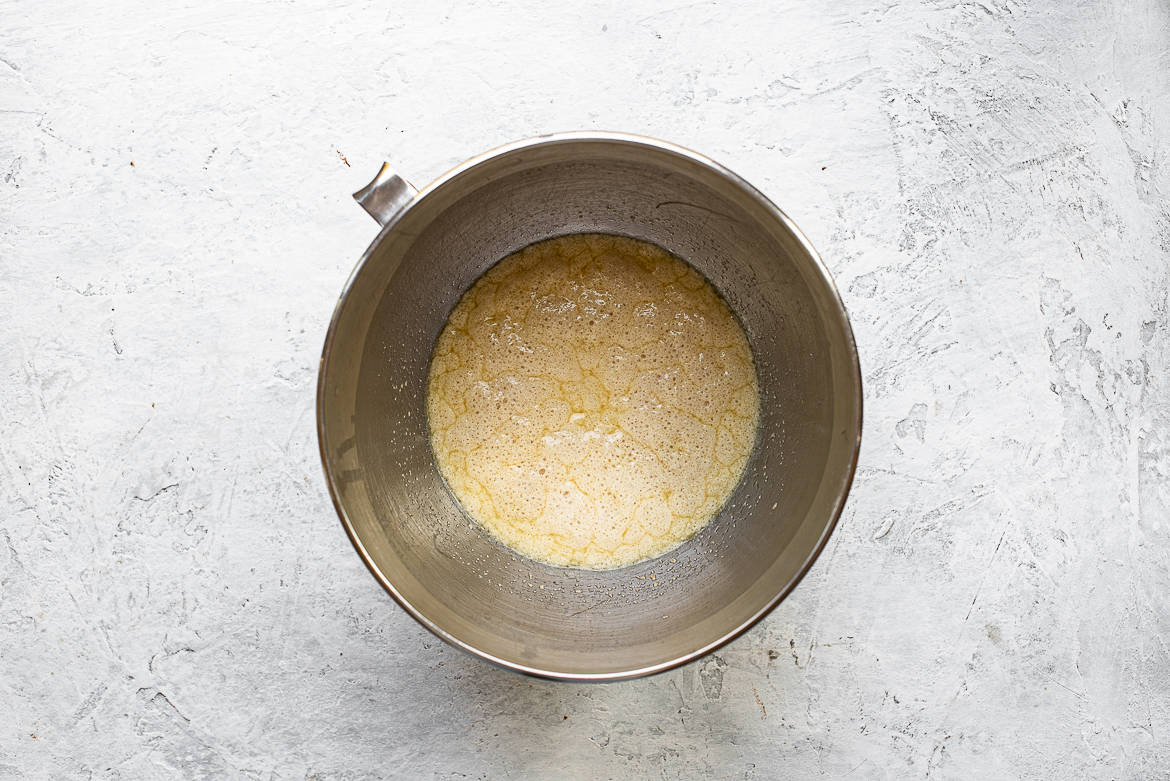 Add 1 egg and 1 cup flour. Mix with dough hook for 1 minute then add remaining flour, pausing machine to scrape down the sides of the mixer.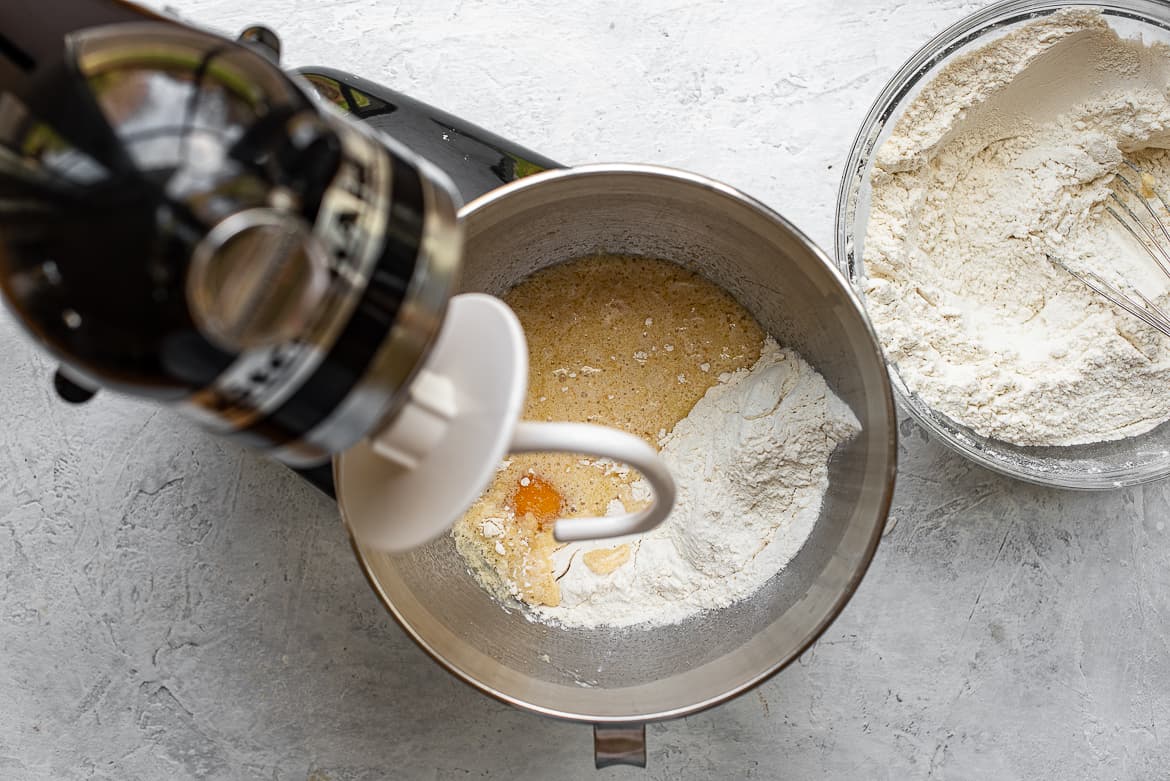 Mix for 3-5 minutes until dough has all come together.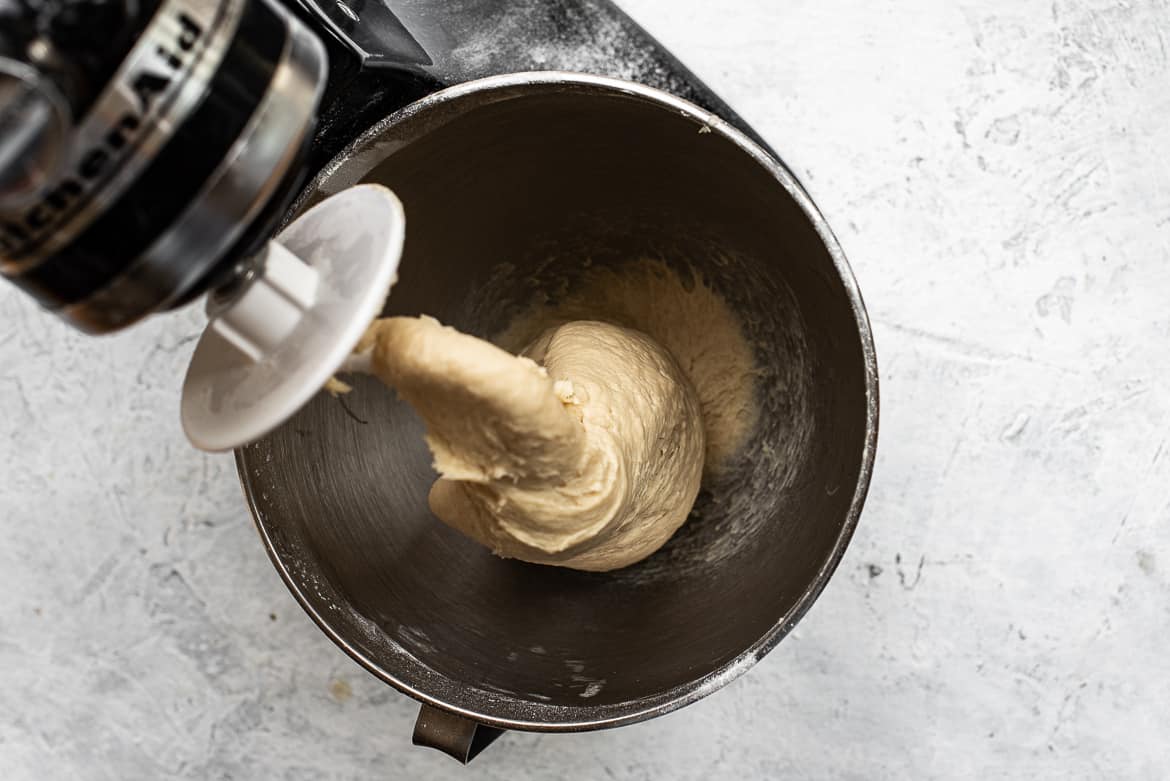 Knead dough by hand in a lightly floured surface for 2-3 minutes. Place dough in a greased bowl and cover with tea towel. Let dough rest in a warm place until doubled in size, about 1-2 hours.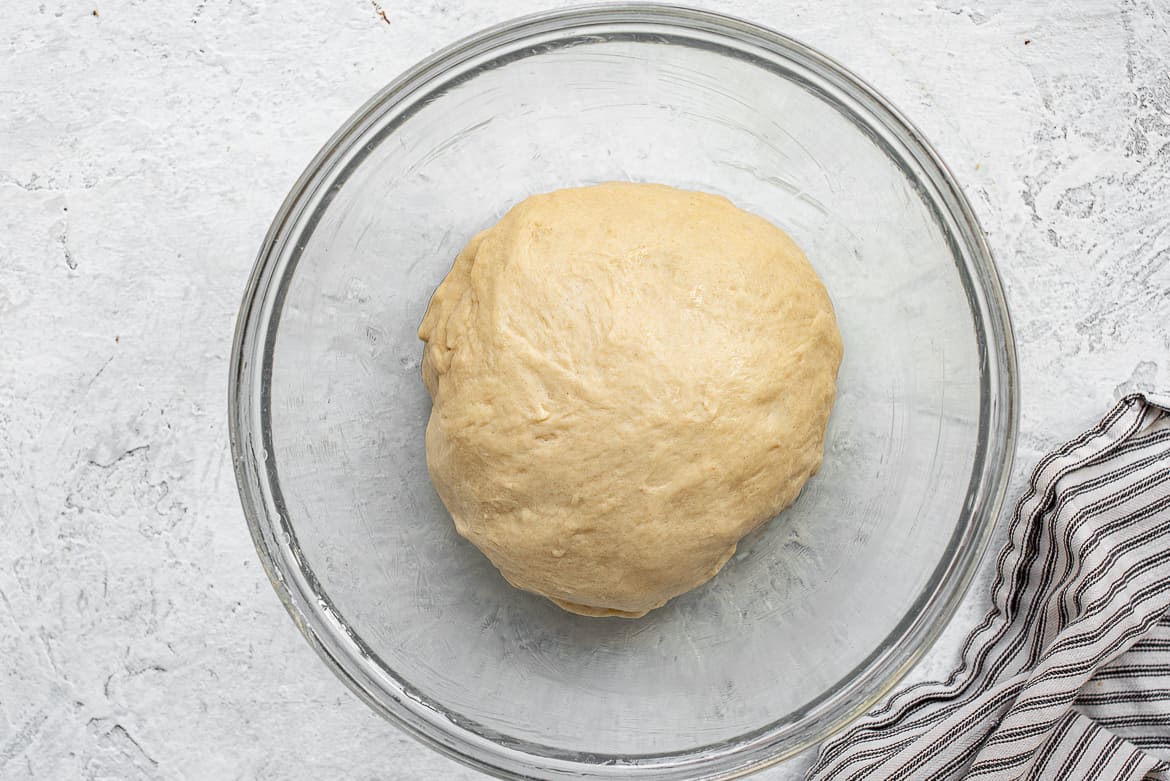 It should look like this.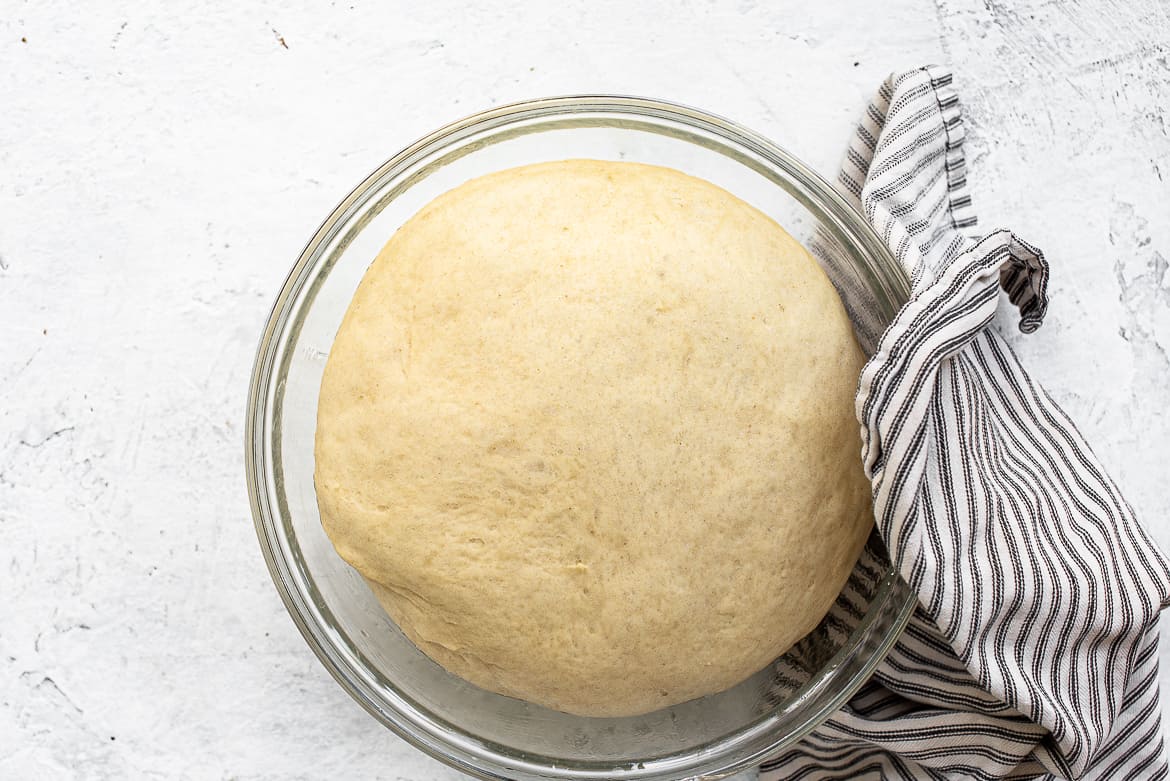 Shape dough into two logs and cut each log into 12 pieces to make 24 balls.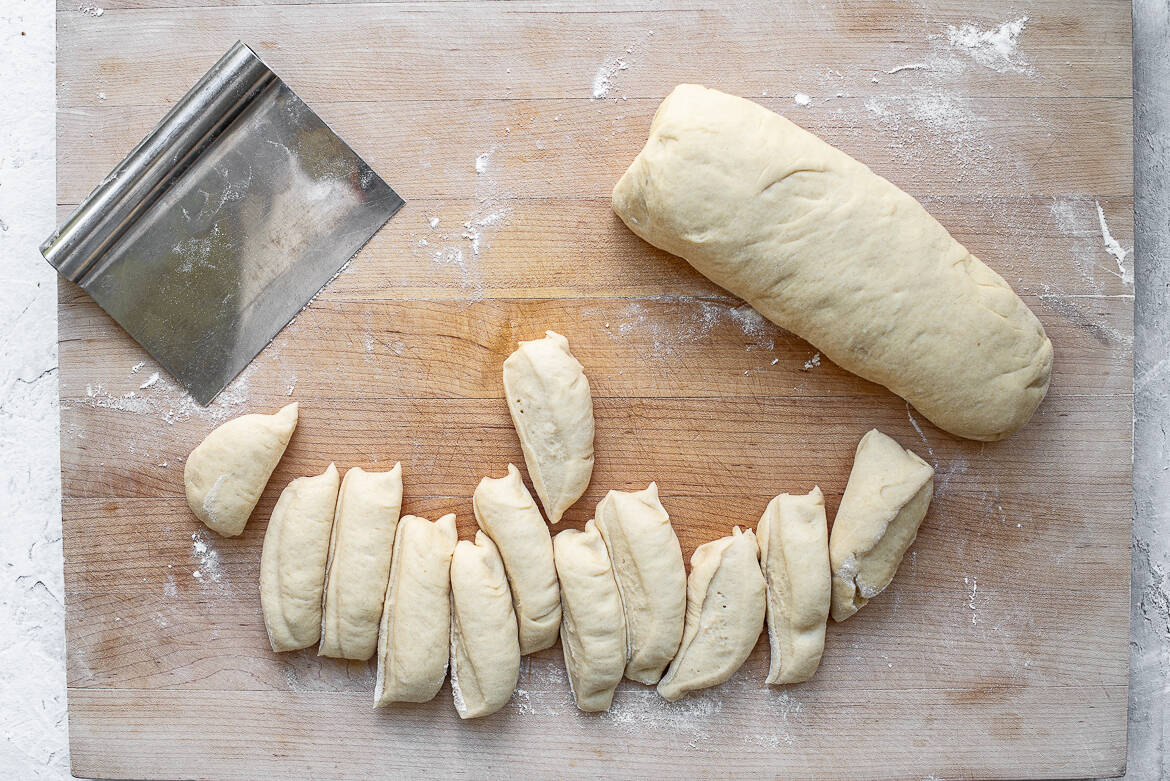 Roll the dough pieces into balls. It doesn't matter if they are slightly uneven in shape or size.
Roll each ball into chocolate sauce and place on the bottom of the bundt pan.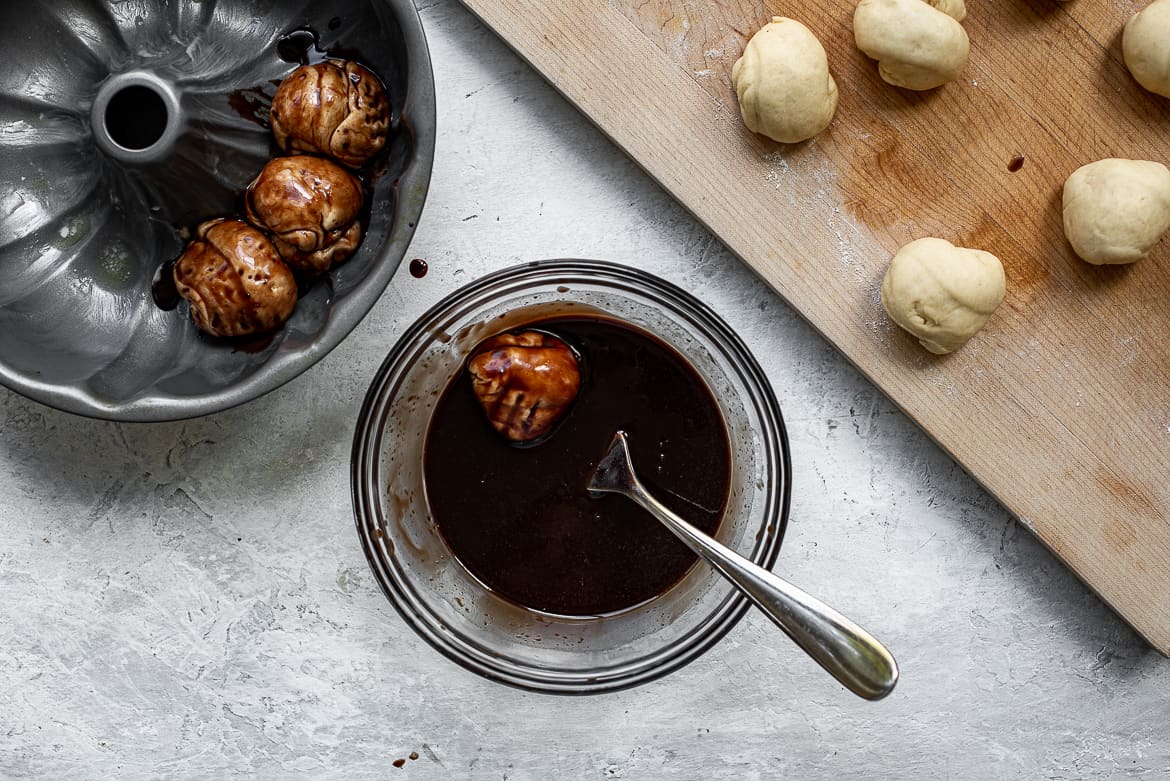 Continue adding layers of dough balls to the bundt pan until there are none left and pour any remaining sauce over the shaped balls. Cover the pan with a tea towel and the shaped monkey bread rest for 30 minutes or until almost doubled in size again.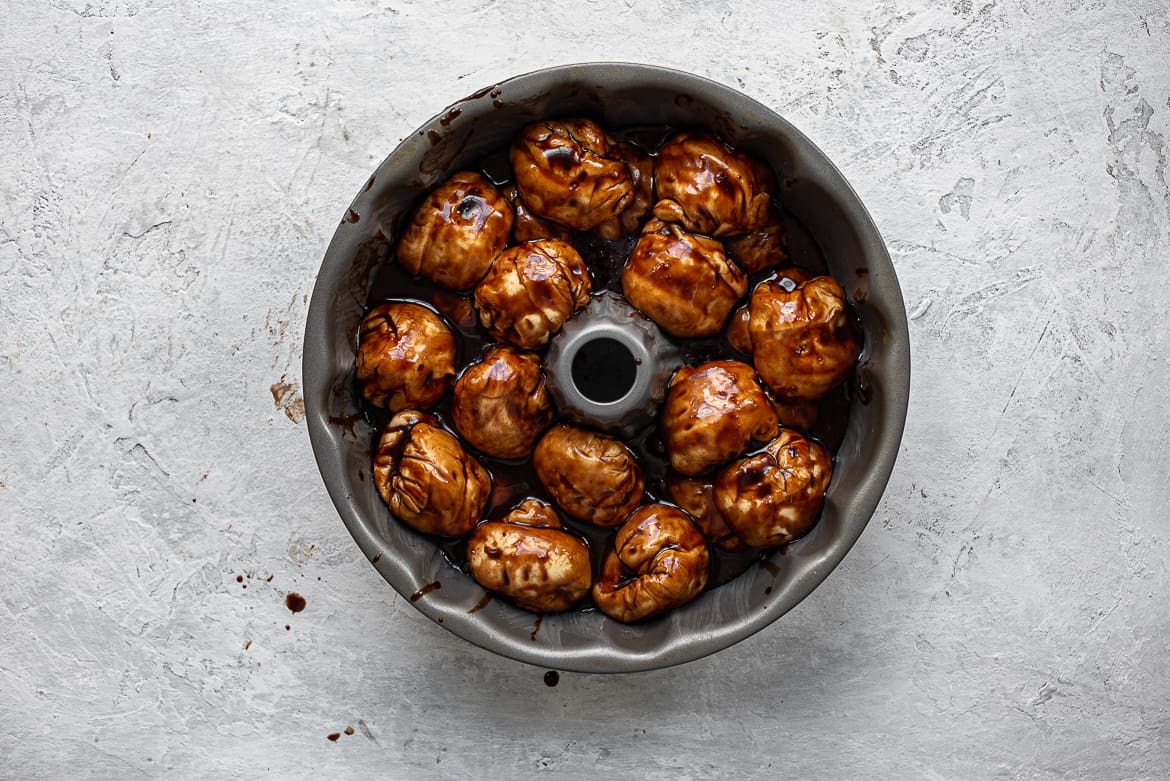 Bake the monkey bread in a 325 degee F oven for 30-35 minutes or until the top is slightly golden brown.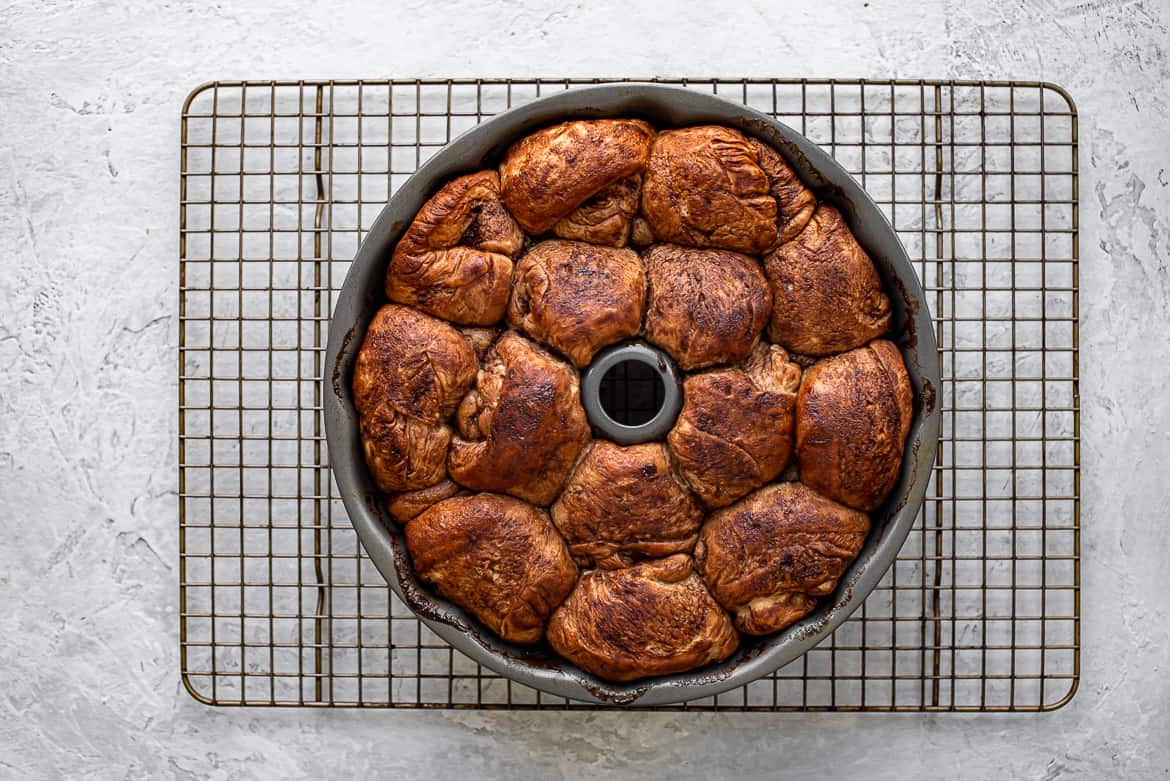 Un-mold the monkey bread after 5-10 minutes by converting it onto a large plate or platter. Don't wait longer to un-mold or the bread will stick to the bottom. Serve warm.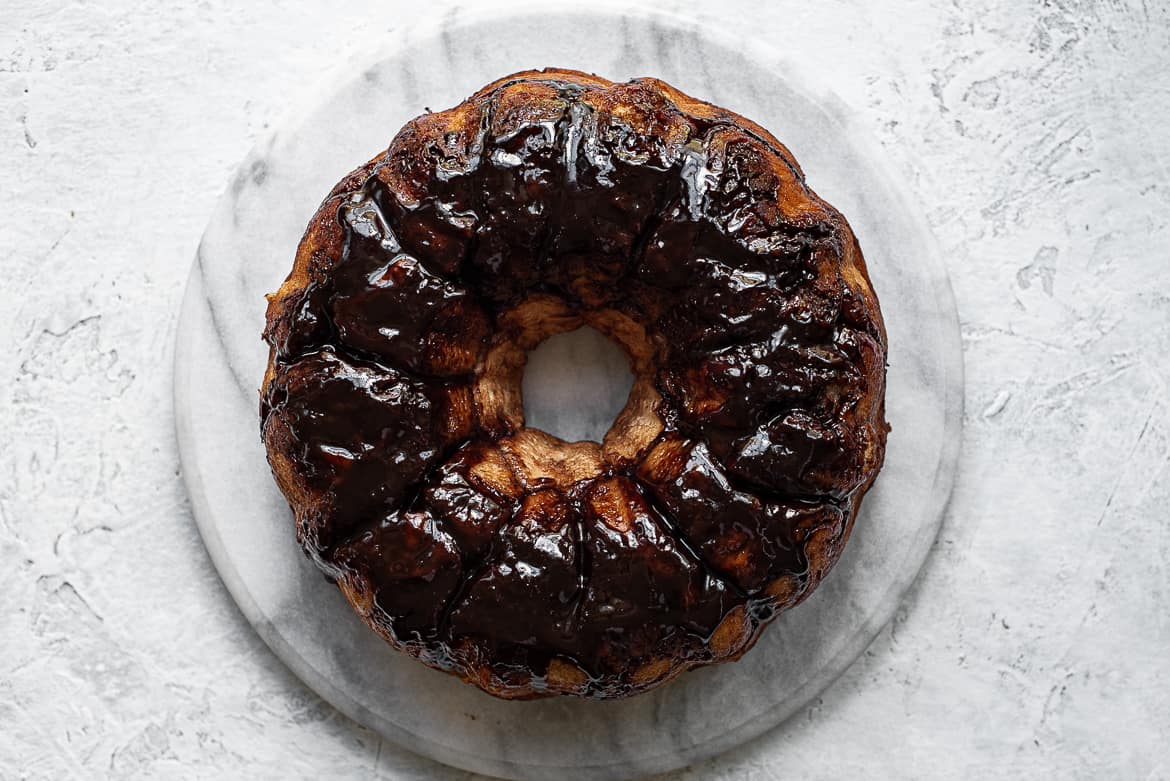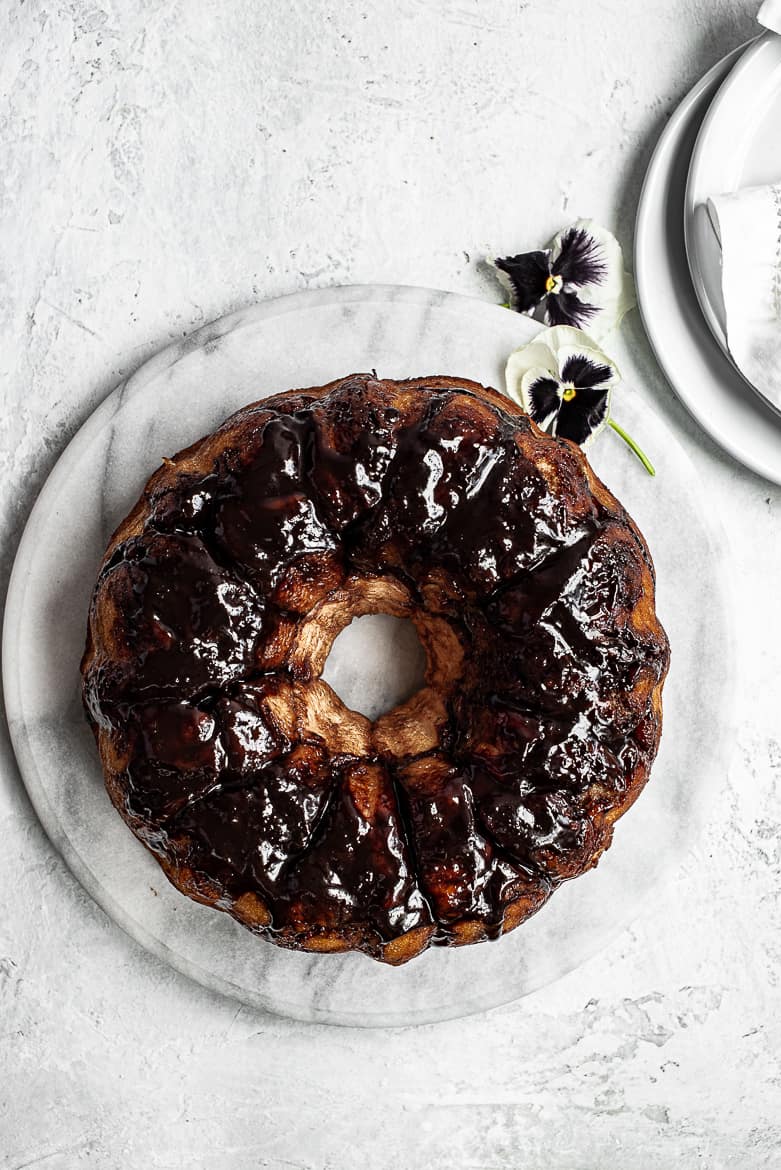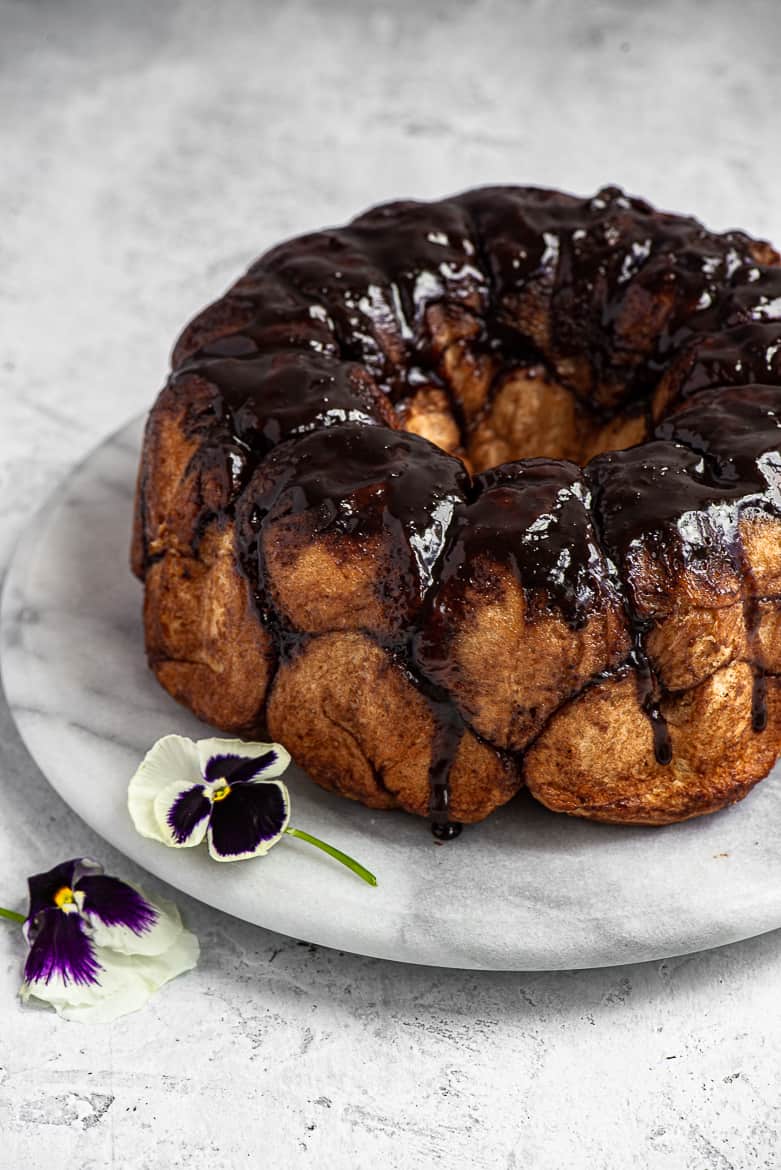 This showstopper chocolate monkey bread is so satisfying to make from scratch and undeniably fun to eat with your hands. Make something delicious this weekend, dear friends, it's really good for the soul.
Print Recipe
Pin Recipe
Homemade Chocolate Monkey Bread
This chocolate monkey bread recipe is adapted from Ottolengi's Easter column. I have made quite a few changes to the recipe, most notably adding an egg to the dough for a more brioche-style bread. If you prefer, you can make the dough without the egg.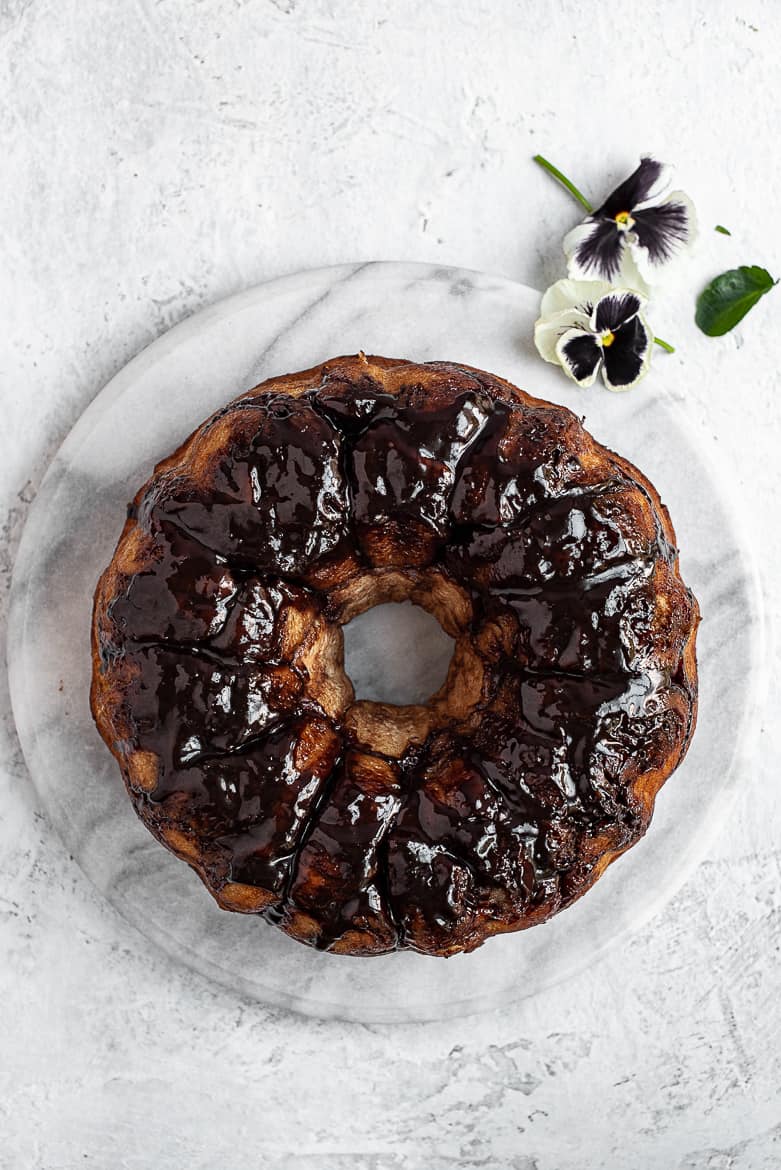 Equipment
24cm (9 1/2-inch) circumference Bundt pan.
Ingredients
1/3

cup

(70 grams) unsalted butter

plus 1 tablespoon extra, melted, for greasing

1 1/3

cup

(300 ml) whole milk

or 2%

3

Tablespoons

(38 grams) sugar

1

teaspoon

vanilla extract

2 1/4

teaspoon

(8 grams) active dry yeast

or instant (quick rise) yeast

1

egg

1

teaspoon

kosher salt

4 1/3

cup

(560 grams) all-purpose flour
For the chocolate sauce
1

stick

(113 grams) unsalted butter

1/3

cup

(80 grams) light brown sugar

1/3

cup

(80 ml) maple syrup

Finely grated zest of 1 large orange

optional

2

tbsp

Dutch processed cocoa powder
Instructions
Melt the butter in a small sauce over medium-low heat. Mix in the milk, sugar, and vanilla and stir until milk is just warm, about 1-2minutes. The mixture should be warm (about 105 degree F) but not too hot or it will kill the yeast (see notes for tips on yeast.)

Add the mixture to the bowl of a stand mixer fitted with a dough hook or paddle attachment. Whisk in the yeast and allow to sit for 5-10 minutes until frothy. Add the egg, salt, and 1 cup of the flour. Beat on low speed for 30 seconds, then add the remaining flour, scraping down the sides of the bowl with a rubber spatula as needed. Beat on medium speed for another 3 minutes or until the dough comes together and pulls away from the sides of the bowl.

Transfer the dough to a lightly floured work surface and knead by hand for 2-3 minutes to form a smooth ball. Lightly grease a large bowl with oil or melted butter. Place the dough in the bowl, turning it to coat all sides in the oil. Cover the bowl with a clean kitchen towel. Allow the dough to rise in a warm spot for 1-1 1/2 hours or until doubled in size.

Make the sauce: Place all the ingredients in a small saucepan over medium heat. Whisk to combine and cook, stirring frequently, for three to four minutes, until the butter, sugar, and maple syrup have melted together into a rich, but not too thick, sauce. If the sauce cools and thickens too much, add a few tablespoons of water.

Roll the dough into two 9-inch logs, then cut each log into 12 fairly equal pieces. Roll each piece into a ball, then dip them one by one into the sauce, until roughly coated all over. Arrange each coated ball of dough in the bundt pan, building up the layers in the pan as you go. When all the balls are coated, pour any remaining sauce over them. Cover the pan with a tea towel and leave in a warm spot for 30 minutes, or until nearly doubled in size again.

Adjust oven rack to lowest position and preheat the oven to 325° F. Bake the monkey bread for 35 minutes, until slightly golden brown, then leave to cool for 5 minutes but no longer than 10 or the bread will stick to the pan. Put a large plate or cake stand on top of the bundt pan and invert the bread onto the plate. Gently tap on the bundt pan to ensure the bread has released and slowly lift off the pan. Allow the monkey bread to cool for 10 minutes. Serve warm.
Notes
*Err on the side of caution and only add the yeast to the liquid when it feels just warm (tepid) to the touch. 
Alternate pan: If you don't have a bundt pan, you can make the monkey bread in a 9x13 baking dish. Bake the monkey for 25-30 minutes or until slightly golden on top. 
Overnight Instructions: Prepare the dough, place in greased bowl, then cover tightly and refrigerate overnight or up to 15 hours. Remove the dough from the refrigerator at least 2 hours before planning on baking the monkey bread and keep covered. Proceed with recipe instructions for shaping the dough into balls. 
Leftovers: Monkey bread tastes best served warm and on the same day. Any leftovers should be covered tightly and stored at room temperature for 1 day or in the refrigerator for up to 4 days. Reheat gently in a low-heat oven before serving, if desired.