This large-batch recipe for Warm Orzo and Chickpea Salad with Spinach is quick and easy to prepare. Incredibly tasty, it is great as a main meal or as a side dish. Leftovers keep for days in the fridge making it perfect for many delicious lunches.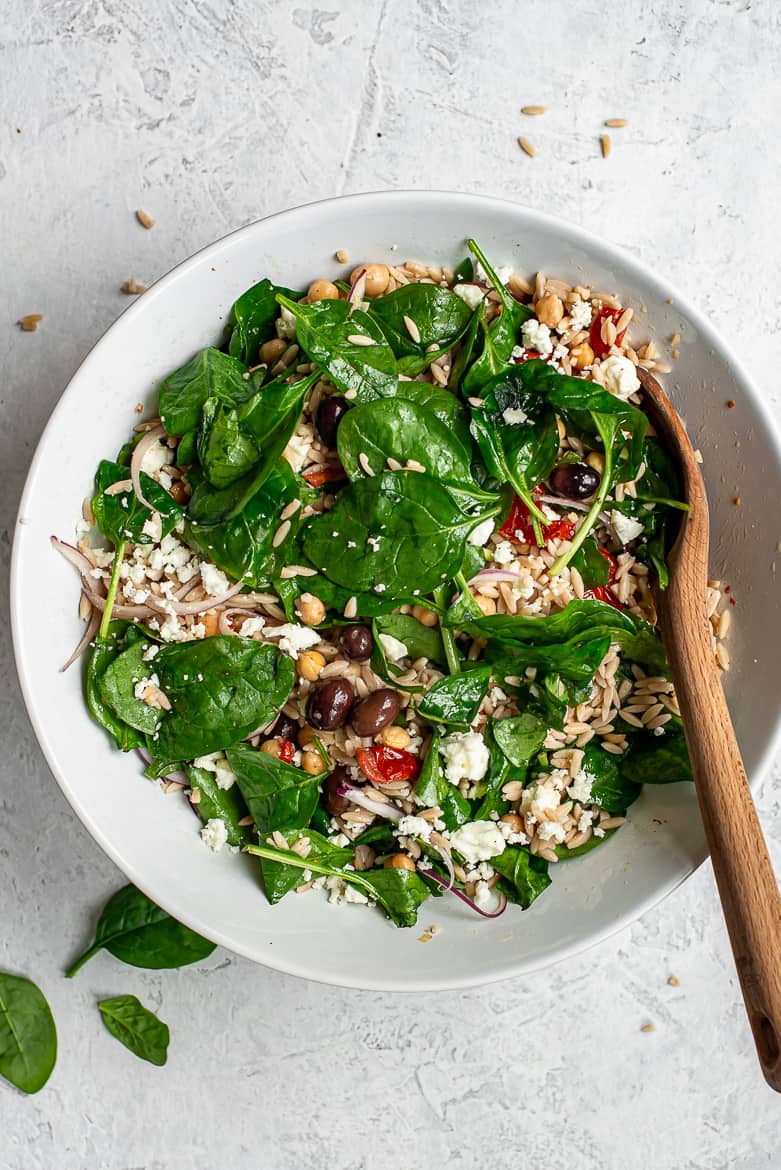 Happy Tuesday everyone. Are you sick of cooking yet? I hear ya. So, so, so much cooking. I have read about how some chefs are concerned that once this over people will still be too scared to go eat out. Please don't worry dear chefs, I assure you people will be flocking. Me included. It's not the dinner routine, I am really ok with that. But the lunches, the incessant need for snacks, the pressure to have healthyish breakfasts. Not to mention, the never-ending clean up. Uff, it's a lot.
So lately, I have found it very helpful to make big batches of pantry-friendly, hefty salads that really work in times like this. They work as a side for dinner (or a light main) and later as a very hearty and satisfying lunch for days after. This warm orzo and chickpea salad, with so much spinach that your body will thank you, is currently ticking off all those boxes. It is just as delicious served at room temperature or even cold-ish from the fridge. I do however, recommend you first give it a try warmed up, as per recipe. Insanely good and comforting.
About orzo pasta with chickpeas and spinach 
The orzo I use here is a spelt orzo that had been sitting in my pantry for quite a while. If you haven't had spelt pasta before, I highly recommend it. It has a delicious nutty flavour, is more easily digested than regular wheat pasta, and is very high in both fibre and protein. It may be hard to find right now but it is worth keeping an eye out for it when all this is over. If you live in the Kitchener-Waterloo area you can find spelt orzo here.
If you can find whole wheat orzo that is a good option as well. Combining regular white orzo with whole wheat is another great way to lighten an all whole wheat pasta that sometimes turns people off.
All that being said, feel free to use any other pasta to make this salad. Just be aware that gluten-free pastas will not reheat well or last as long as regular pasta. If you go that route, let your refrigerated salad sit on the counter until it loses its chill.
The presence of chickpeas in this salad is due to a few reasons. To start, I know we have all stocked up on canned chickpeas and this salad is a great way to use them up. In addition, the chickpeas offer great heft to the salad and of course some protein should you choose to make this salad a light dinner.
Adding a good amount of spinach to this salad is what will make you feel better about consuming the carbs. Use any other hearty green you have on hand such as kale or swiss chard.
Add-in variations
I like sun dried tomatoes in pasta salads and here I use sun dried cherry tomatoes because that is what I had in my pantry. Sun dried cherry tomatoes are small enough that you will not need to chop them. To me, they also seem softer and tastier than regular sun-dried tomatoes but any sun dried tomatoes will work. And if they aren't your thing, feel free to leave them out. Instead, add fresh cherry tomatoes that you can heat up with the chickpeas or simply add them to the salad at the end.
This salad obviously leans on Mediterranean ingredients so olives and feta cheese are most welcome. I added toasted walnuts for a little extra crunch but you can use pine nuts or almonds if you prefer. Other ingredients that go well in this salad are sweet red or yellow peppers, cucumbers, black (or white) beans, or goat cheese in place of the feta.
To serve
For a light yet satisfying meal, serve this orzo salad topped with avocados or alongside sweet plantains – so good! Also excellent alongside any grilled meat or fish.
I hope you give this warm orzo and chickpea salad a go. The whole familia will love it and it will save you from making lunches for days. Stay safe and stay home, dear friends.
Here is the step-by-step to make this warm orzo salad:
Start by sautéing garlic, chickpeas, and sun dried tomatoes in 1 tablespoon olive oil.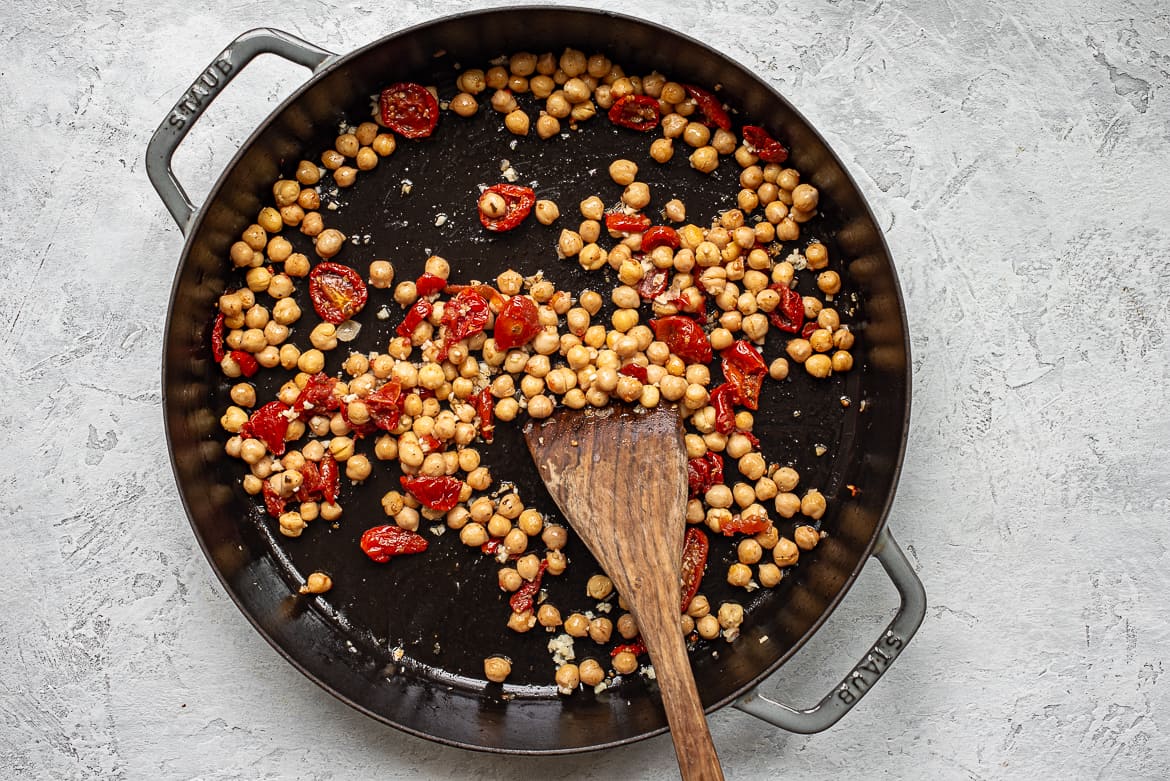 Add the cooked orzo, or pasta of choice, and toss until warmed through. Off the heat, add the spinach and toss gently just until spinach wilts slightly.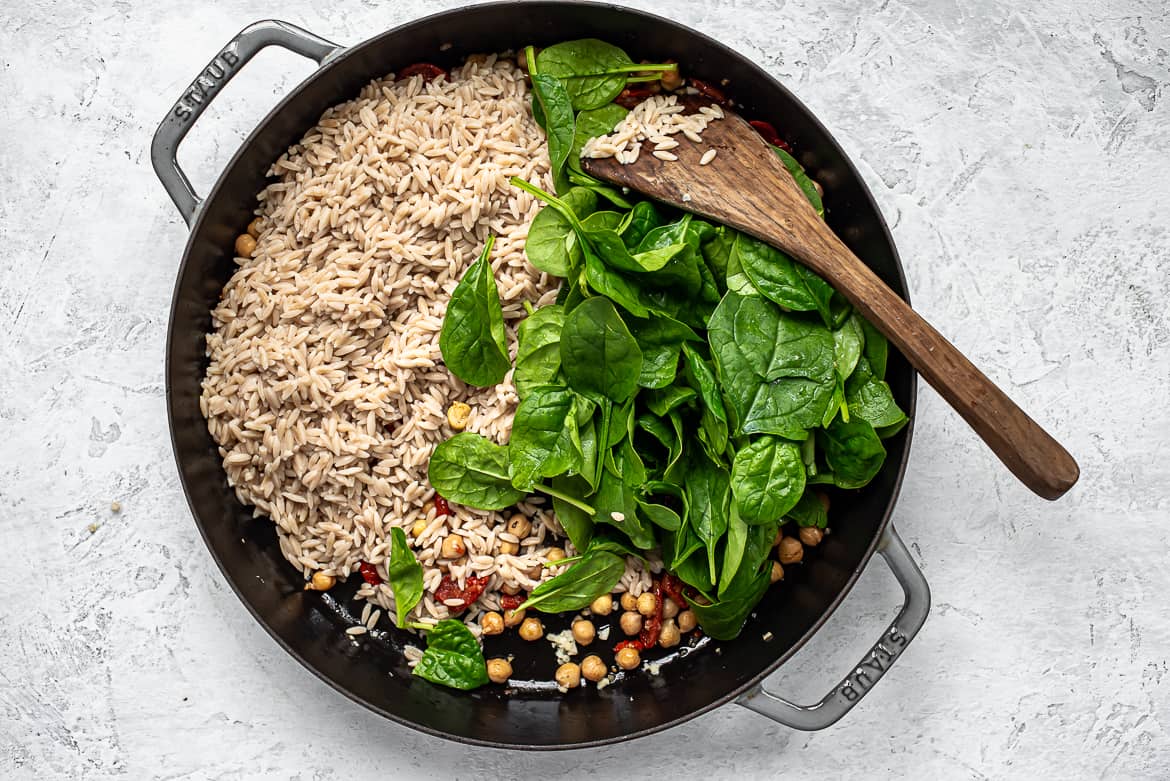 Add olives, if using.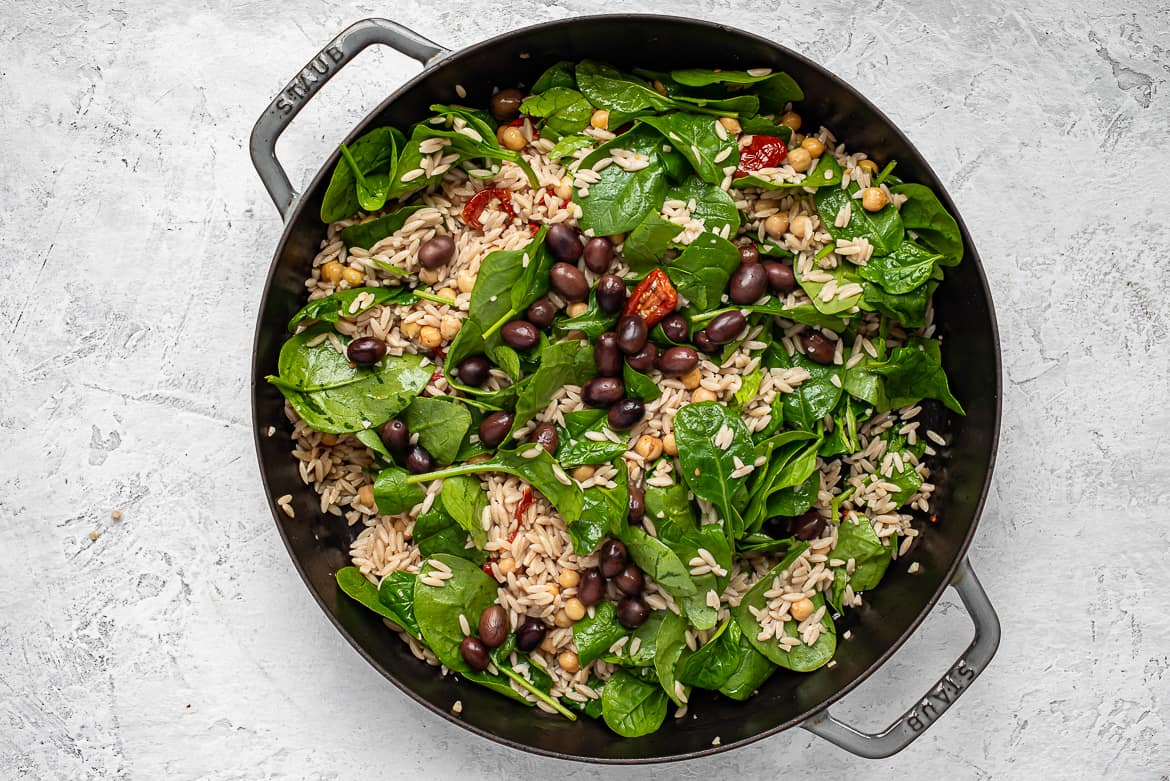 Transfer the pasta salad to a large bowl and add the sliced red onions. Pour in a simple dressing made with lemon juice, red wine vinegar, honey and extra-virgin olive oil. Toss gently.
Top with feta cheese and toasted walnut pieces, if desired. Best served warm or at room temperature.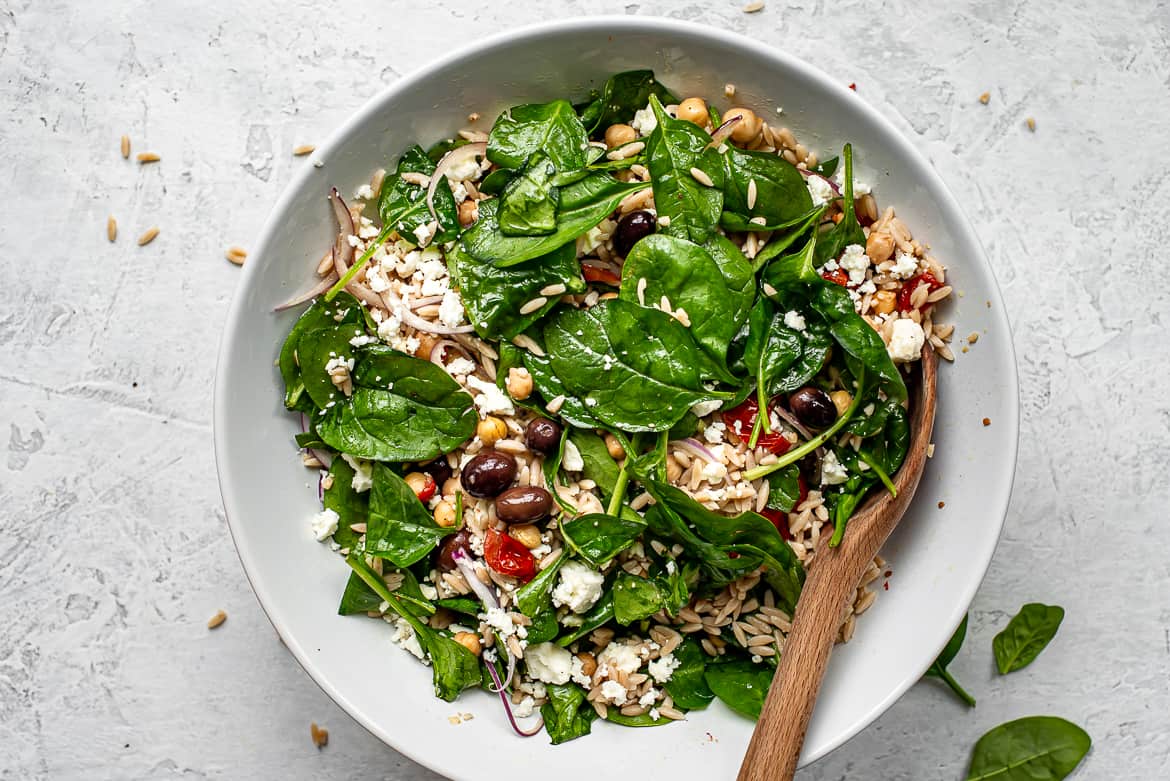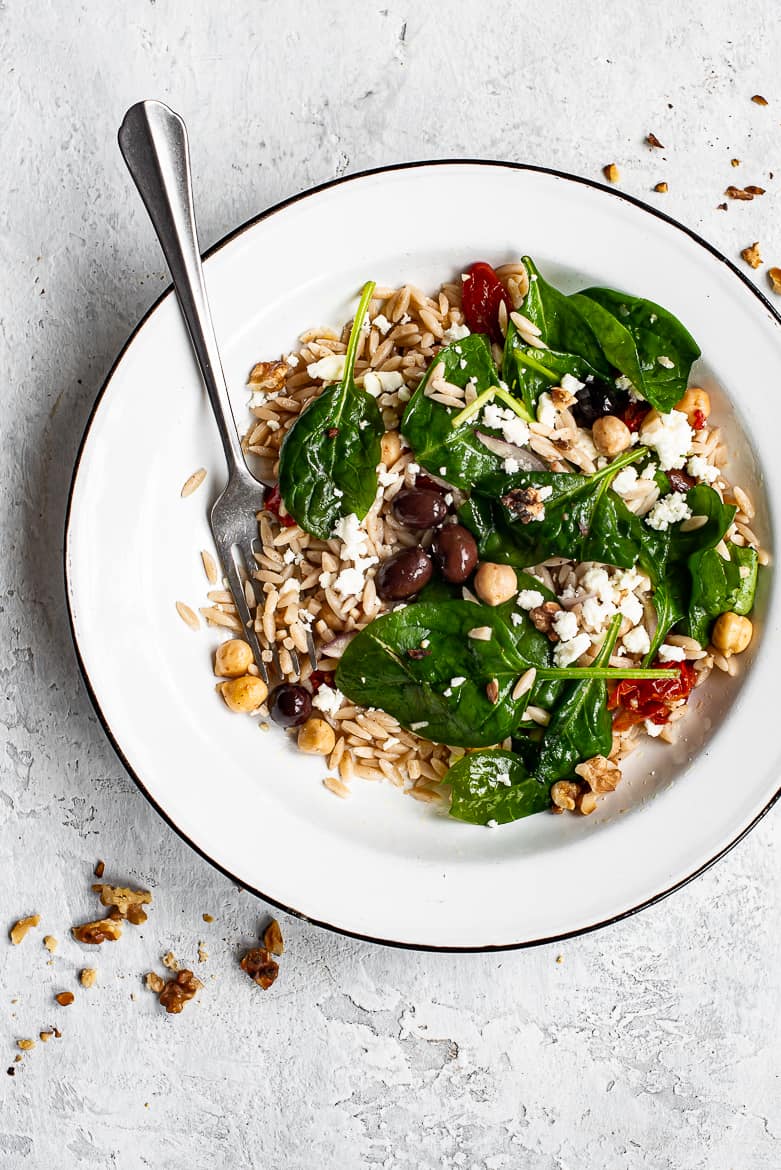 Print Recipe
Pin Recipe
Warm Orzo and Chickpea Salad with Spinach
This recipe makes a very large batch of warm pasta salad making it ideal for meal prep, lunches, pot-luck, etc. Recipe can be cut in half, if desired.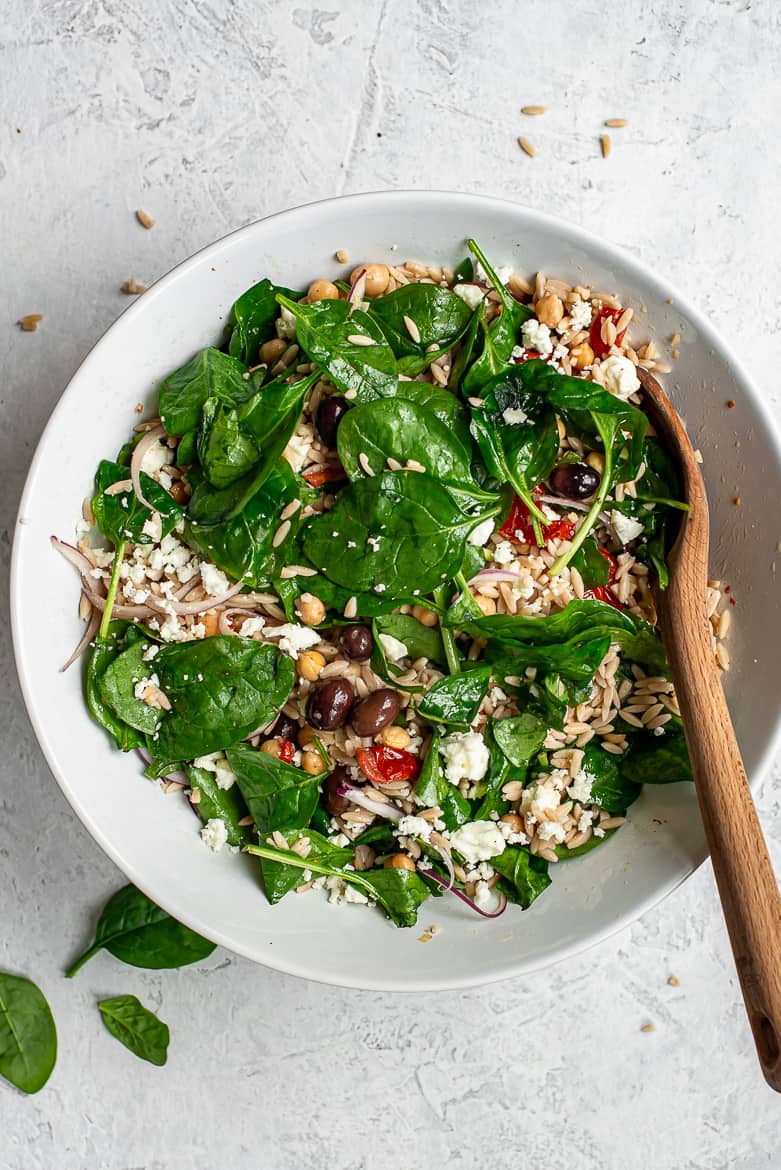 Ingredients
For the dressing
2-3

Tablespoons

fresh lemon juice

from one lemon

2

Tablespoons

red wine vinegar

or any vinegar you have

1

Tablespoon

honey or maple syrup

a pinch of kosher salt and freshly cracked pepper

4

Tablespoons

extra-virgin olive oil
For the Salad
1

box

(454 grams) dried orzo regular, spelt, or whole wheat

or any small shape pasta of choice

Kosher salt and freshly ground pepper

1

Tablespoon

extra-virgin olive oil

2

garlic cloves

minced

2

cans chickpeas drained and rinsed

drained and rinsed

1/2

cup

sun dried tomatoes

drained and chopped

4

cups

baby spinach

washed and dried well

1

cup

kalamatta olives
Other Optional Add-Ins
1/4

red onion, thinly sliced

4

oz.

feta cheese chopped or crumbled

1/2

cup

toasted walnuts

or pine nuts
Instructions
Make the dressing: Whisk all the ingredients in a small bowl. Set aside.

Bring a large pot of water to a boil and add 2 tablespoons salt. Cook orzo until al dente, 8 to 10 minutes. Drain, rinse in cold water and drain again.

Place a large skillet over medium heat. Once hot, add the olive oil followed by the garlic, chickpeas, sun-dried tomatoes, 1 teaspoon salt and few cracks of freshly ground pepper. Sauté until garlic is fragrant about 1 minute. Add the cooked orzo and toss until warmed about 3-5 minutes. Taste and add more salt and pepper if needed.

Stir in baby spinach and olives and remove from heat.

Transfer to a large serving bowl and pour in the dressing, tossing gently to combine. Serve warm or at room temperature topped with feta, red onions, and toasted walnuts, if desired. .
Notes
The ingredients in this pasta salad will hold up well and taste even better the next day. It is best served within 3-4 days but will last up to 6 days in fridge.