Beautifully perfumed with fragrant Moroccan flavours, this Moroccan Sheet Pan Chicken with vegetables is a cinch to prepare and so deliciously good, you should definitely make a little extra.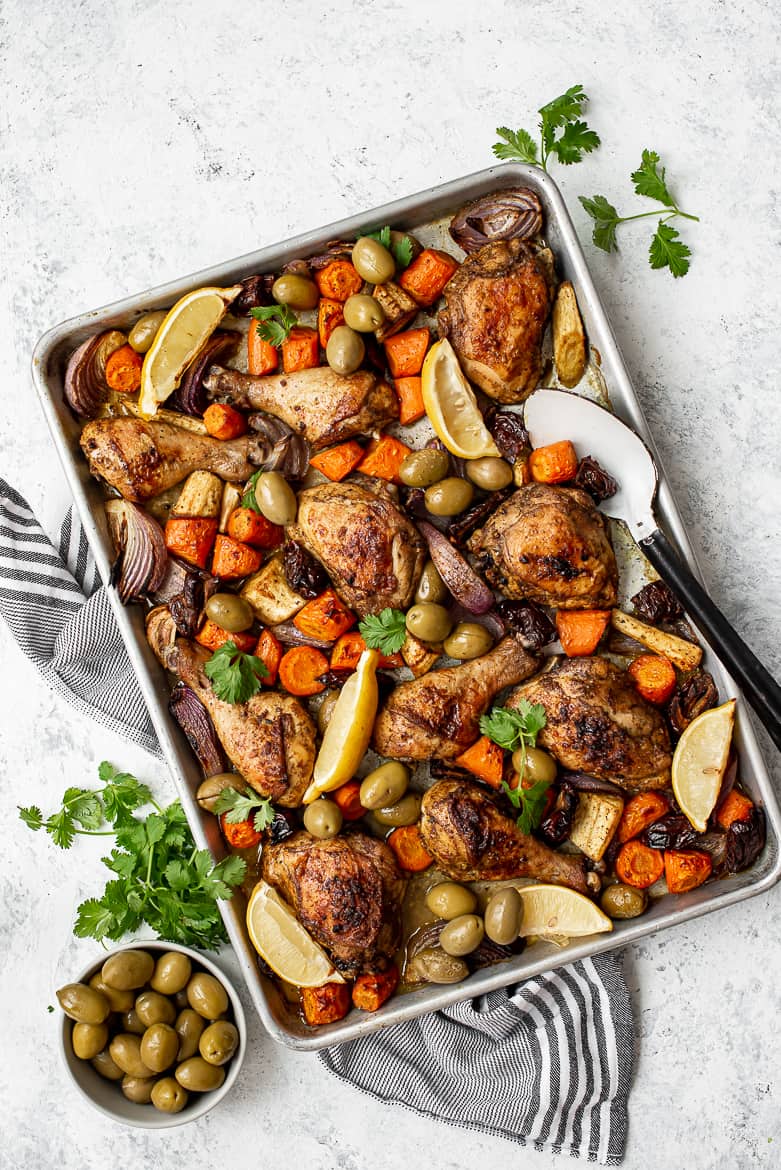 As soon as the bone-chilling weather arrives, my oven becomes the kitchen workhorse with some variation of meat or vegetable roasting away every night. And what is better than having them both roasting at the same time? Not much. I don't think I have to sell you on the magic of sheet pan dinners. Requiring very little effort, and making very little mess, they are the most useful, no-hassle meals a home cook can make. With this recipe, bone-in chicken and hearty vegetables get assertively seasoned with Moroccan spices. So assertive that the aroma drifting from your oven might just transport you to a mountainside café in Morocco. Okay maybe not, but I promise the aroma is enchanting nonetheless.
The spices in Moroccan chicken 
To give this dish it's delicious and aromatic Moroccan flavour, I rub the chicken and vegetables with rich fragrant spices — cumin, cinnamon, ginger, coriander, turmeric, and paprika. For a bit of a kick I also add a little cayenne pepper. If you happen to have ras-el-hanout (I tell you all about it here) you could use that in place of all the spices.
I have tinkered with the spices for Moroccan dishes for quite a while. The combination I suggest in this recipe is simple and really works for me. That said, feel free to customize it to what you like or dislike. For example, if you really dislike ginger, omit it and add more cumin or turmeric. Likewise, if you can't handle heat at all, leave out the cayenne or use just a tiny pinch.
How to make Moroccan sheet pan chicken 
I like to use chicken legs or thighs for this dish because but they stay juicy despite the long roasting time and high heat of the oven. But if there is one thing I dislike with a sheet pan chicken is an obscene amount of fat on my tray. I know, I know, chicken fat is delicious and flavours the veggies, but I don't want a pool of it so I use kitchen shears to cut off a lot of the fat and some of the skin. The chicken will remain juicy and still release a lot of fat, it's a good compromise. If you have white meat lovers, bone-in chicken breast also works but I like to cut them in half if they are very big.
Here, for the vegetables, I used carrots, red onions, and parsnips. A few lemon wedges scattered around, offer tangy deliciousness. You can of course replace any of the veggies with other hearty winter vegetables of your choice — sweet potatoes, potatoes, any squash, turnip — would all be great choices. Garlic, minced or whole (your choice), is also added. Dates are commonly used in Moroccan chicken dishes. On the sheet pan, they become irresistibly caramelized and juicy so try not leave them out.
When I take the sheet pan out of the oven, I like to throw in a handful (or two) of plump green olives. Feel free to leave them out if you wish, but not if you're having me over. Hands down, my favourite part of this dish is the winning combination of the briny olives that warm through with the residual heat of the sheet pan, the lemon juices, and the heavenly spice mixture. So good.
For a vegan or vegetarian version, replace the meat protein with chickpeas and/or cauliflower steaks and serve with a hearty salad — divine.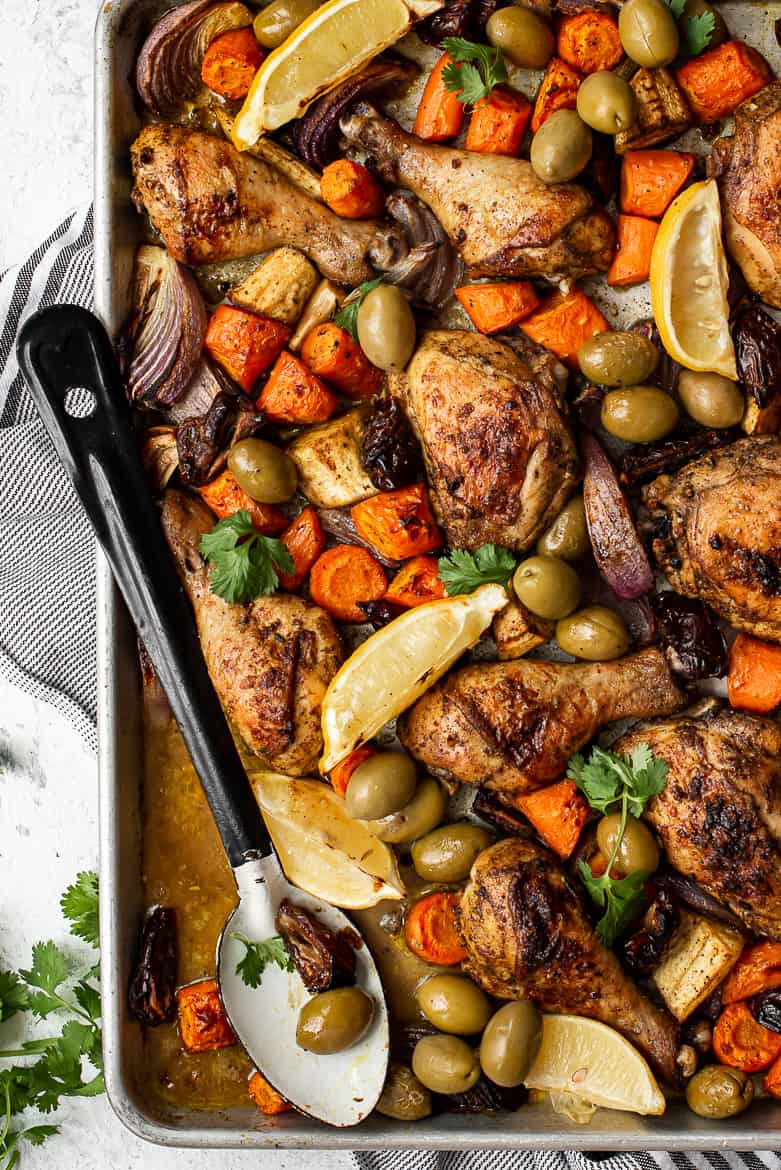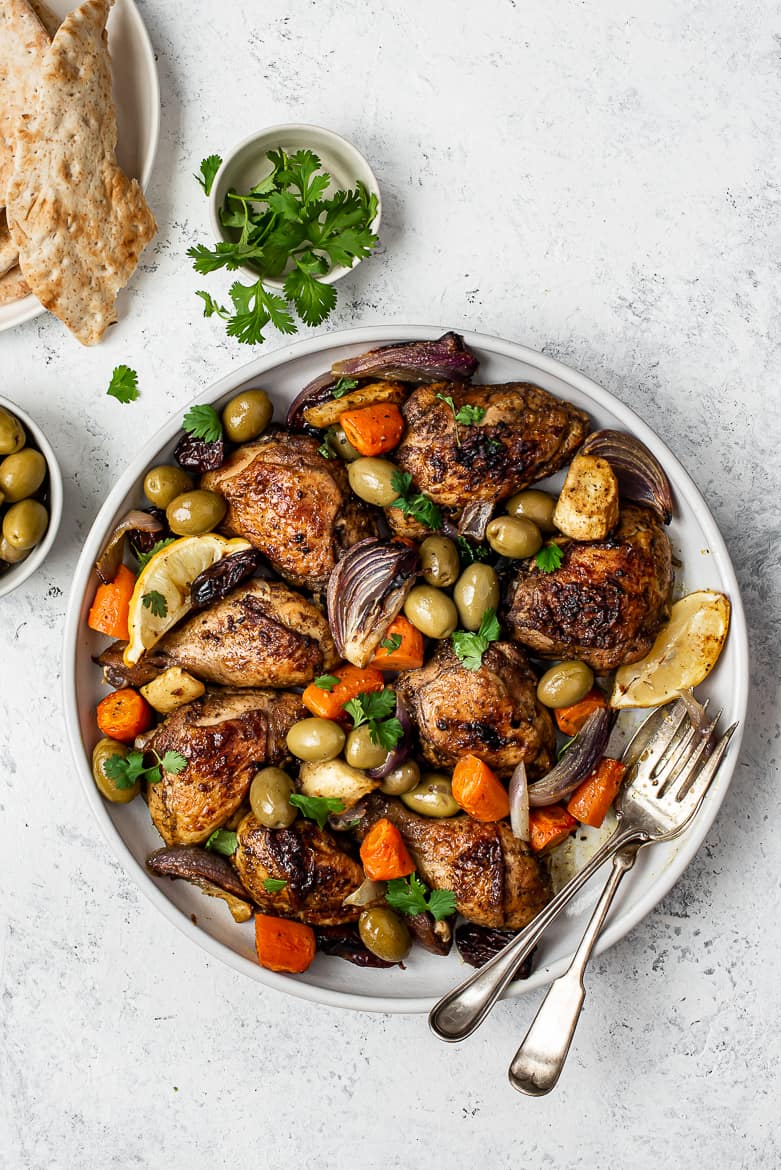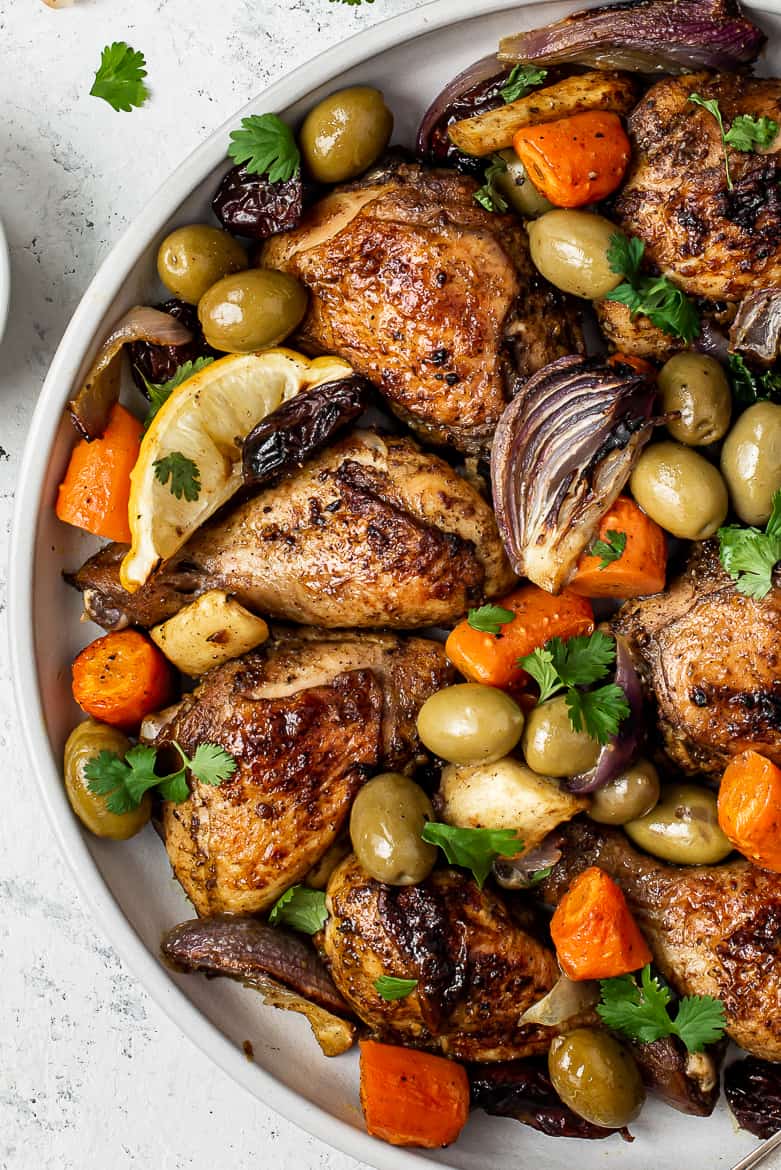 A few tips for successful sheet pan dinners
The sheet pan. The size of your sheet pan is important so you can fit everything without overcrowding. If the food is too close together it will steam and not brown nicely. A 13″x18″ rimmed sheet pan, also known as a half sheet pan, will be the most useful size. If you love sheet pan dinners, or have a large family, I highly recommend you invest in this one. I use mine a ton. Tip: make sure it fits in your oven before you buy it – mine juuust fits.
Use two pans if necessary. If your food seems overcrowded, consider using two pans. This will also allow you to split the food that needs less or more time, making it easier to manage.
Try and pair foods that cook at the same time OR add food in stages if necessary. When making a sheet pan dinner, I aim for not having to worry about adding food in different stages. For this recipe, aside from the olives, it all goes in together which makes it so less hands-on. However, that's not always possible if you choose more delicate vegetables to cook alongside thicker cuts of meat. Add heartier vegetables (like potatoes) with the meat, and later add the delicate veggies (broccoli, green beans, etc).
Use the broiler. If the food looks cooked, but a little on the pale side, use the broiler for a few minutes. This will encourage extra crisping and browning.
Use parchment paper for easy cleanup. This one is tricky because yes parchment paper makes for an easy clean-up. But food, especially vegetables, seem to get crispier without it. In addition, you won't be able to use the broiler (parchment burns fast) if needed. I tend to opt for no parchment unless I'm using a sticky, messy sauce.
What to serve with Moroccan sheet pan chicken
Needless to say, the goal of the sheet pan dinner is that it will be a meal all on its own which is why we throw in a lot of delicious veggies to cook with the chicken. If you have time, prepare a quick salad to go with the chicken and vegetables, or leave some couscous to steep in hot water. More often than not, however, I simply serve this Moroccan meal with some warm fluffy Naan.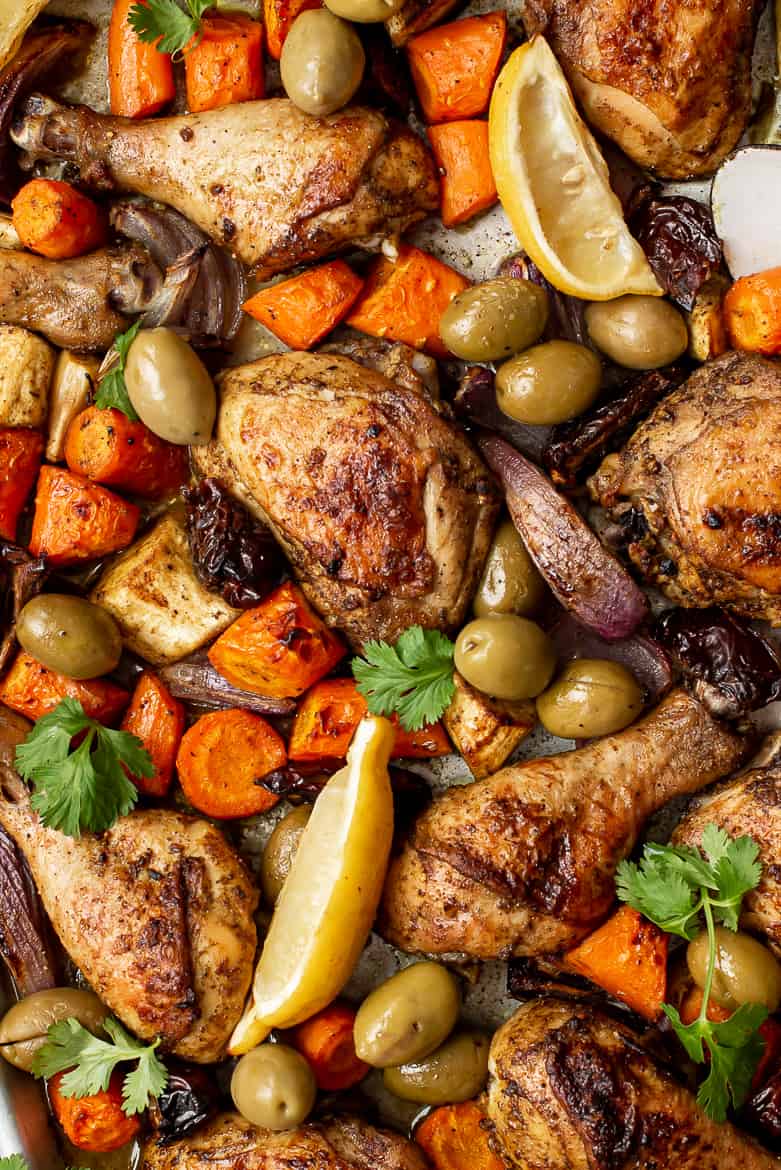 Bursting with earthy flavours and aromas, this is a ridiculously easy and scrumptious meal. Would love to know if you give it a try!
Similar recipes you may enjoy
Grilled Moroccan Chicken Kebabs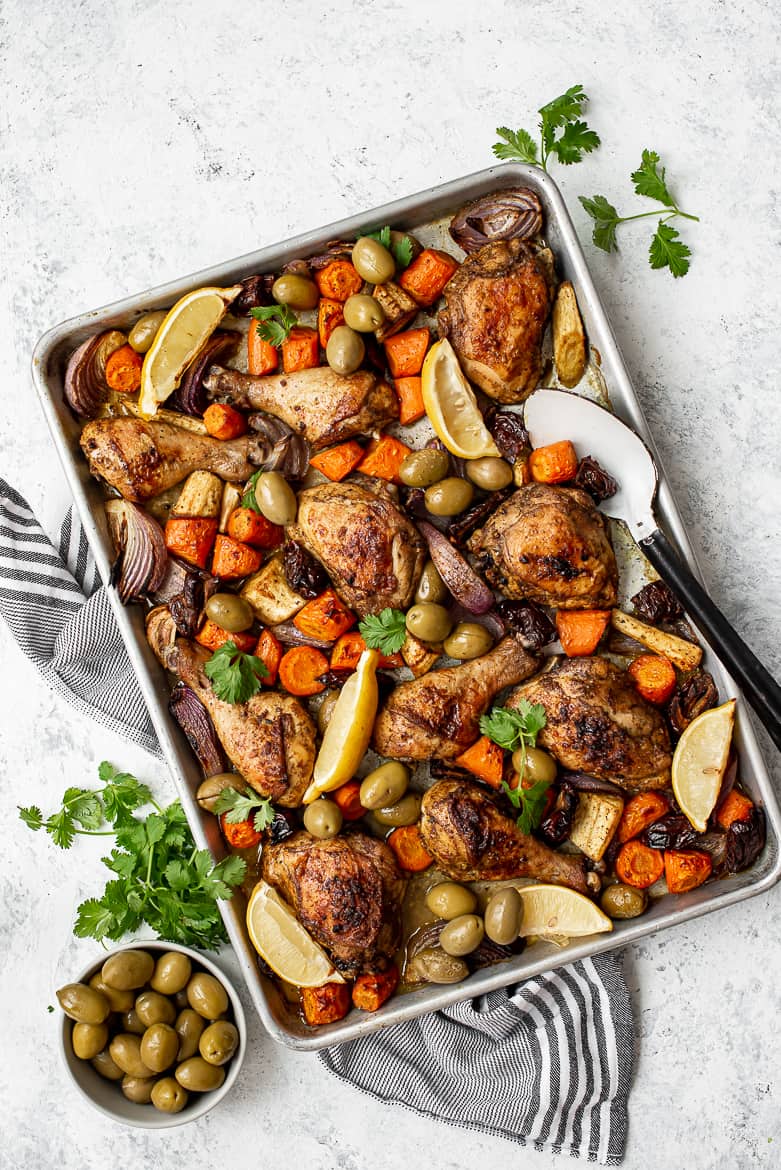 Ingredients
For the Spice Mixture
1

teaspoon

ground cumin

1/2

teaspoon

ground cinnamon

1

teaspoon

sweet paprika

3/4

teaspoon

ground turmeric

1

⁄2 teaspoon ground ginger

1

⁄4 teaspoon cayenne pepper

1

teaspoon

kosher salt
For the Sheet Pan Chicken
4

tablespoons

extra-virgin olive oil

divided

3

cloves

garlic

crushed

4

chicken legs

or 4 thighs and 4 drumsticks

2

large red onions

sliced into wedges

4

large carrots

cut into 2-inch pieces

4

medium parsnips

cut into 2-inch pieces

1

large lemon

sliced into wedges

6

mejdool dates

pitted and quartered (optional)

Kosher salt and Freshly ground black pepper

1/2

cup

green olives

not pitted (optional)

1

⁄4 cup cilantro leaves

roughly chopped, for garnish (optional)
Instructions
Preheat oven to 425 degree F.

In a small bowl, combine all the spice mixture ingredients.

In a large bowl, combine 3 Tablespoons olive oil, garlic, and 3 teaspoons of the spice mixture. Mix well. Add the chicken pieces and rub all over to thoroughly coat with the mixture. Place the chicken pieces skin side up on a large sheet pan (*see notes).

In the same large bowl, place the onions, carrots, and parsnips and 1 tablespoon olive oil. Add the remaining spice mixture and toss well. Arrange the vegetables around the chicken in one layer and scatter the lemon wedges and chopped dates all around. Season with a little more salt and some freshly cracked black pepper.

Place the sheet pan in the preheated oven and roast until an instant-read thermometer inserted into the chicken registers 165° and the vegetables are tender, about 45 minutes.

Remove the sheet pan from the oven and scatter the sheet pan with olives and cilantro, if using. Serve with couscous or naan, if desired.
Notes
*I recommend using a large, half sheet pan (13"x18"). Alternatively, you can use two smaller ones.