This earthy, creamy, and rich Farrotto with Roasted Cauliflower and Sage makes the perfect cozy winter meal. Healthy and robust, farro grains make the most spectacular risotto.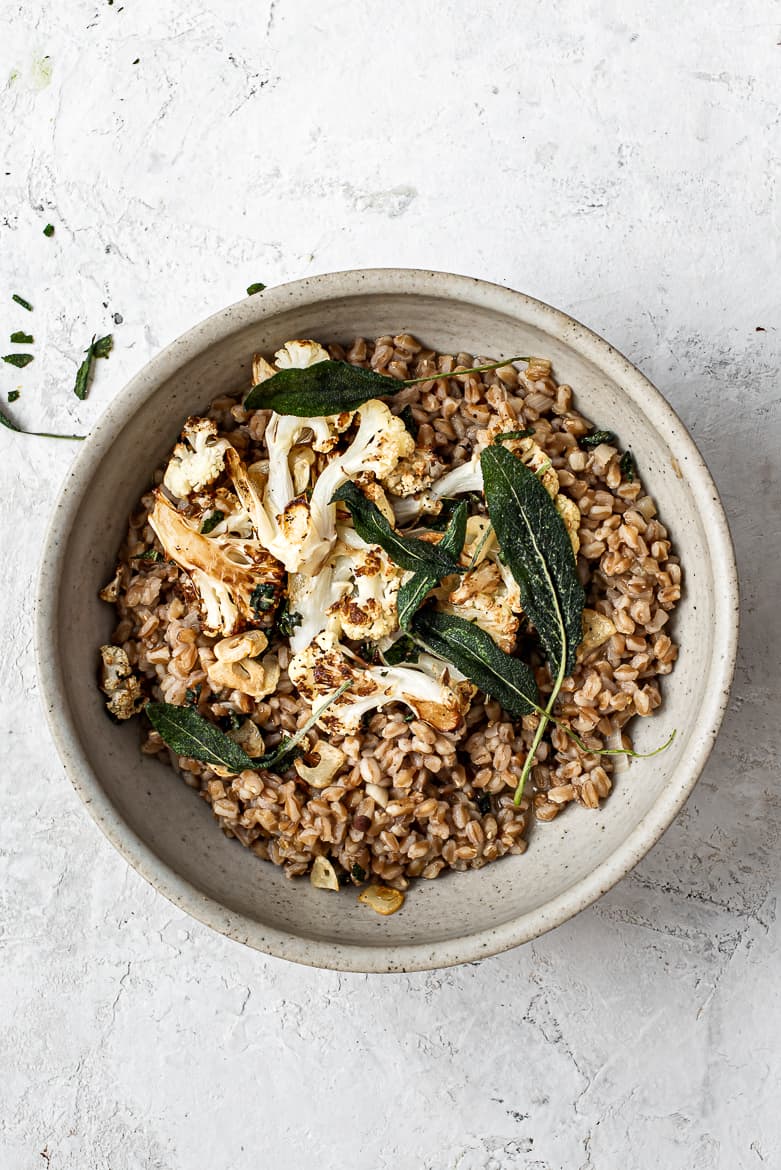 My pantry is stocked with grains that are hard to pronounce (hi freekeh, kamut, sorghum) and may even seem intimidating. The reality is, some are easier to cook than plain rice. Not kidding, and farro is one of them. Farro is a very healthy and useful grain to have in your repertoire. Great as a side dish but also fabulous when it takes center stage. This farotto with roasted cauliflower and sage is truly one of my favourite vegetarian winter meals and is incredibly easy to make and comes together relatively quickly. The pleasing, unique texture of nutty farro combines beautifully with salty parmesan cheese, roasted cauliflower and fresh crispy sage. And bonus, this dish has no special tricks or hard-to-source ingredients since Farro can now be found at most grocery stores and healthy markets.
What is farro
Google farro and you will see it described over and over as a deliciously chewy and nutty grain. That's because it truly is! Farro is a nutrient-rich ancient wheat grain which looks similar to barley or spelt but I find is more flavourful. It is an excellent source of protein, fibre, and nutrients like magnesium, B vitamins, and iron, which makes it a great choice for vegans to incorporate in their diet. Farro is not gluten free but has less gluten than other more modern refined wheat grains, so some with gluten sensitivities can tolerate it.
Farro has been a staple in many European countries, Italy especially, for many decades but only in the last few years has it been gaining popularity in North America. If it's not yet a staple in your pantry, it should be. It's a very filling, healthy grain and perfect for dishes like this farrotto, or for adding to salads, soups or casseroles.
Important to note, farro comes in different varieties that will affect the cooking time; whole grain, semi-pearled, and pearled. It is always best to check the package for extra guidance or tips and to taste often while cooking until desired texture is achieved.
Whole Farro: Has more texture and chew but will need the longest cooking time because the grain is left intact. Soaking the whole grains will achieve a faster cooking time.
Semi-Pearled Farro: Half of the grain remains intact so it has a reduced cooking time.
Pearled Farro: This is the most common variety found in North American supermarkets and has the quickest cooking time. Despite all of the bran and outer husk being removed, pearled farro still contains some fibre.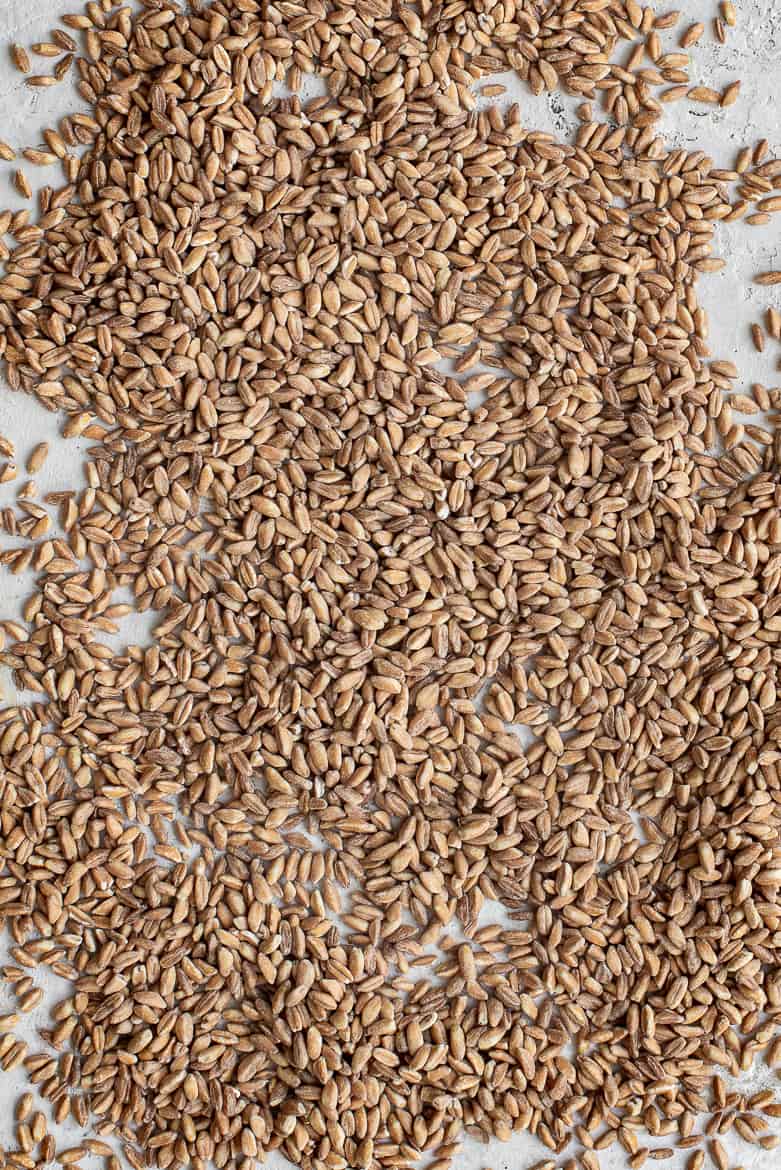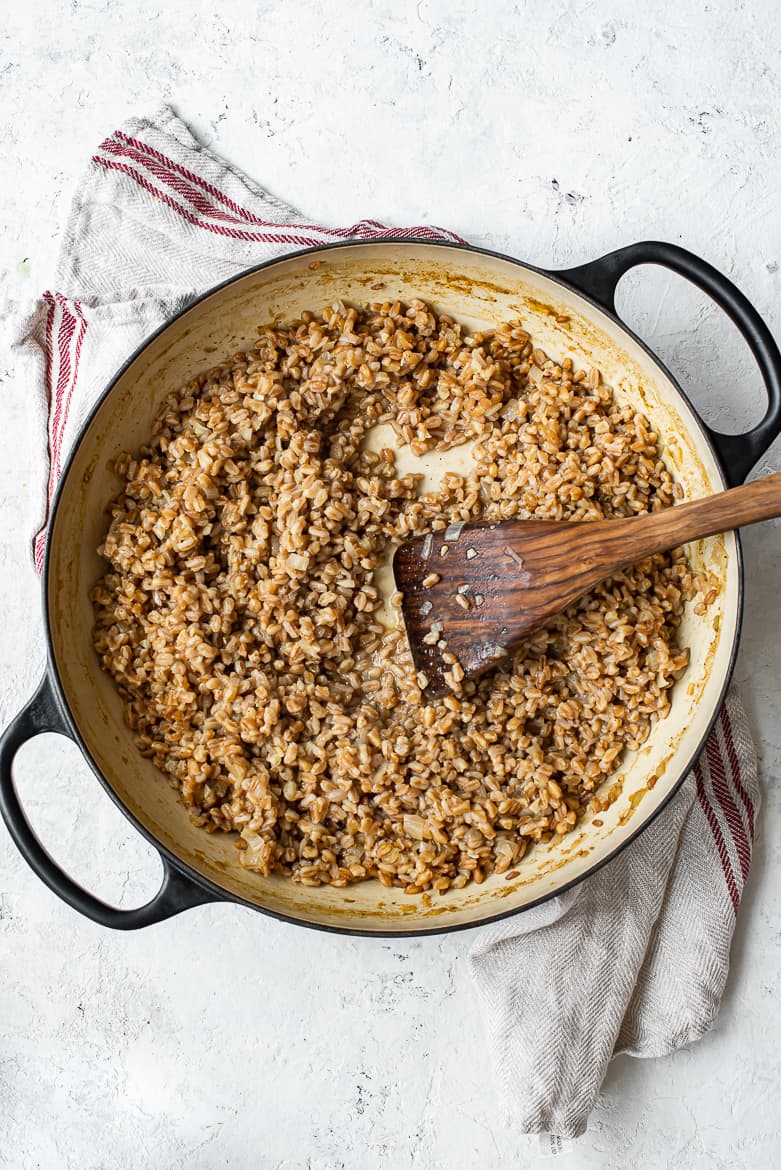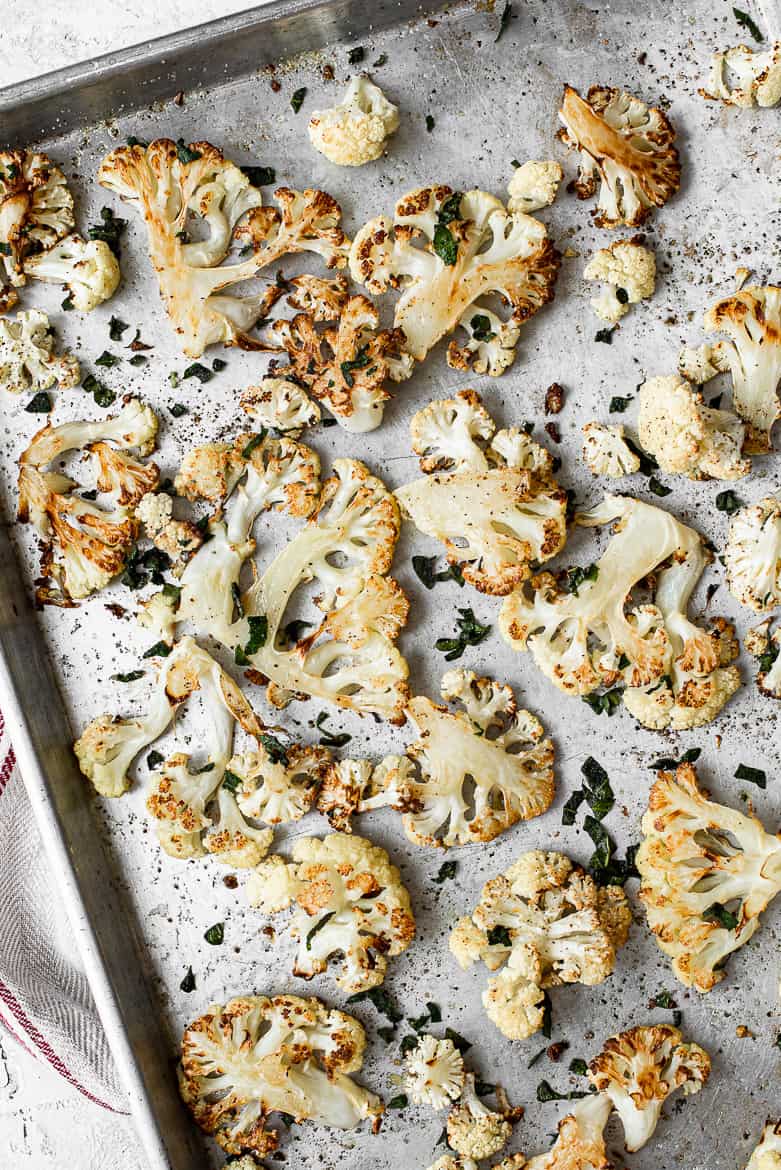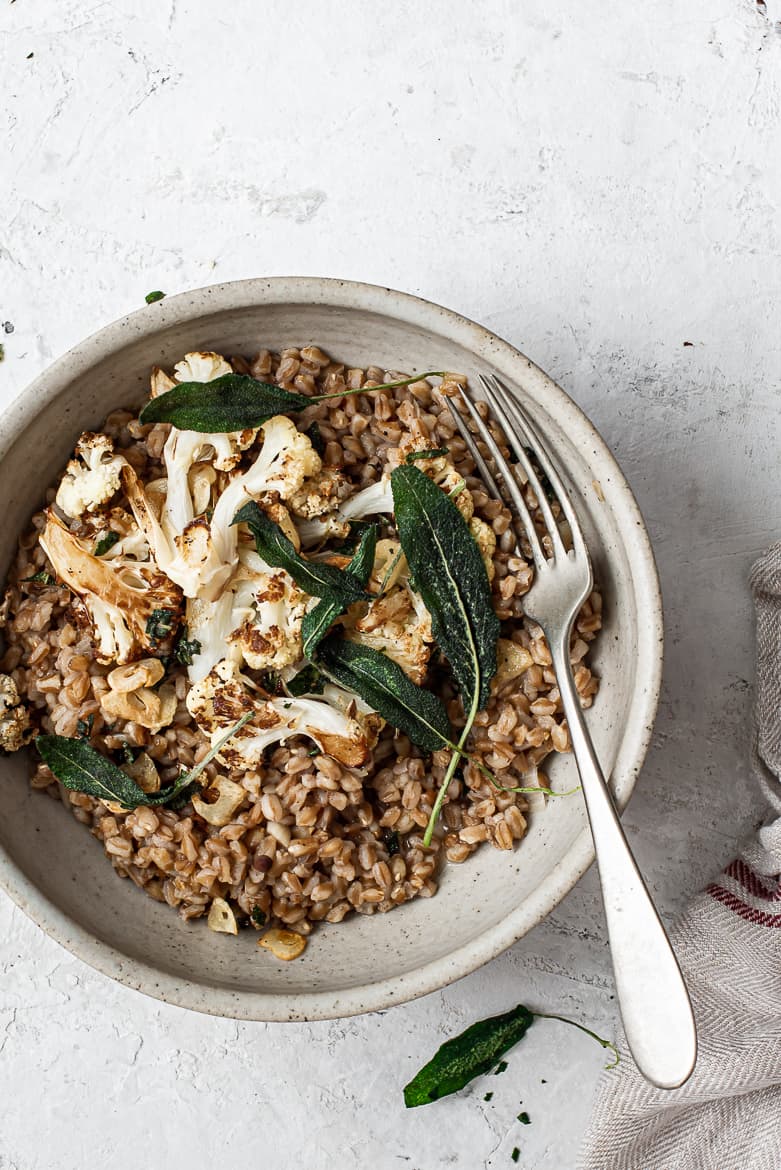 What is farrotto
Farrotto is a risotto-style dish made with farro instead of arborio rice. Like risotto, farrotto is made by sautéing onions and garlic, coating and toasting the grains with the oil, then deglazing with white wine before adding the broth. To finish, and much like risotto, a shower of rich and buttery reggiano cheese just before serving is optional, but adds wonderful creaminess and flavour to the farotto. If vegan, you can skip the cheese or use nutritional yeast or a vegan parm.
Aside from being healthier, farrotto has a few advantages to traditional risotto. First, you will not have to stir the grains nearly as much as with a risotto. In fact, I make this even easier by adding the broth all at once, then stirring occasionally as it slowly cooks. Farro does not release starch like arborio so it will not be as creamy as risotto. In my experience, ladling the broth slowly does not make much difference. Second, and perhaps best of all, farrotto can be very forgiving; add more broth if the grains are too al dente, or remove some of the liquid if the grains are cooked and too much liquid remains. Even if slightly overcooked, farro grains retain their texture and bite. Lastly, farrotto reheats beautifully which risotto never does.
What is the best broth for farrotto
If you have been following my recipes, you will know I am a huge fan of homemade broth. However, I know many of you (us) don't always have the time, energy, or desire to spend making it so I have been on a mission to find the best store-bought broth. For this farrotto I use a mix of store-bought mushroom and vegetable broth. The mushroom broth gives the farrotto an incredible depth of flavour that I absolutely love. This is the mushroom broth I use — it has a surprisingly short list of clean ingredients and the flavour is perfectly balanced.
Until recently, I had not been able to find a vegetable broth I could stomach. New to me, this one is quite delicious and doesn't have a fake flavour like many other brands.
Alternatively, use all vegetable, or all mushroom broth, or half of either with half water.
How to serve farrotto
Because farrotto is heartier than risotto, it makes a filling main course all on it's own but even better when topped with a vegetable. Farrotto pairs exceptionally well with "meaty" vegetables such as mushrooms, asparagus, and, my favourite, cauliflower. For this recipe, I roast cauliflower florets with chopped fresh sage in the oven while the farrotto cooks on the stovetop. The whole lot comes together in less than 45 minutes and it is simply scrumptious. You can also serve farrotto as a side with fish, or any roasted or grilled meat.
I love a little sage excessiveness so I fry extra sage leaves in some olive oil along with sliced garlic chips. This is, of course, an optional extra step, but so good on top of the finished dish. Check the recipe notes for instructions, if interested.
To reheat farrotto
As previously mentioned, unlike traditional risotto that becomes mushy if not eaten right away, farrotto is a lot more forgiving. It can sit covered at room temperature for up to 1 hour. When ready to serve simply add 1/2 cup hot broth or water and heat over low until heated through. If reheating from the fridge, place 1/2 cup to 1 cup broth, or water, in a pan and bring to a simmer. Add the farrotto and stir gently until heated through.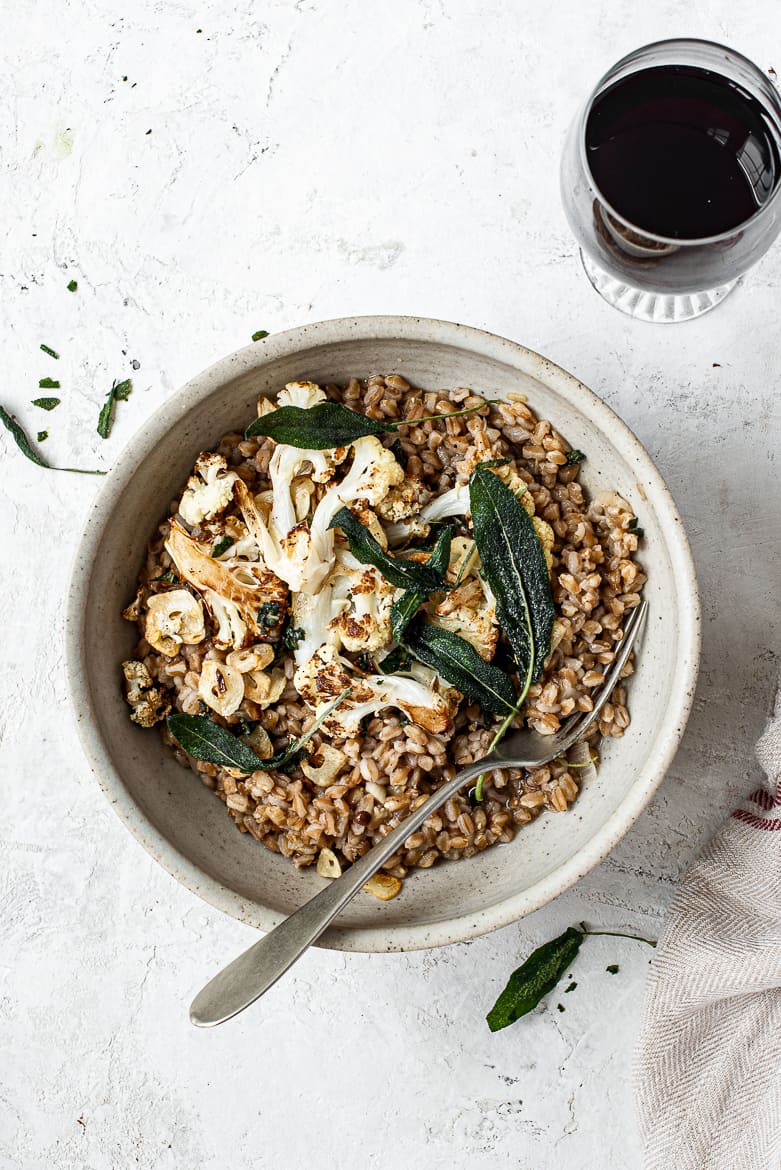 This farrotto with cauliflower and sage will not disappoint. It is a simple, comforting, and warming meal for cold winter nights. Whenever I make this recipe I devour my portion then shamelessly go back for seconds. I think you will too.
Similar recipes you may enjoy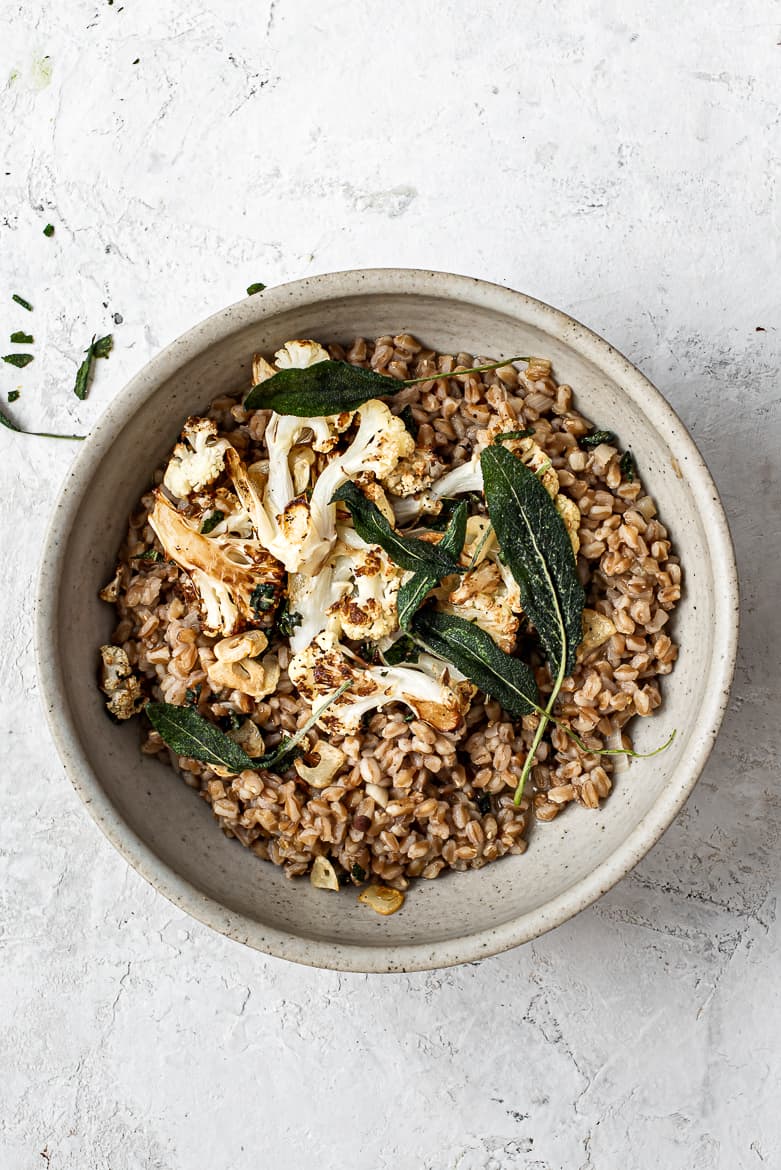 Ingredients
For the Farrotto
2

tablespoons

extra virgin olive oil

1

large shallot

finely diced (or 1 small yellow onion)

1

teaspoon

kosher salt

3

cloves

garlic

minced

1 1/2

cups

Farro

semi-pearled or pearled, rinsed and drained

1/4

cup

dry white wine

4-5

cups

low-sodium vegetable broth

divided (I use a mix of mushroom and vegetable broth. *See notes)

freshly cracked black pepper to taste

1/4

cup

grated Parmesan cheese

plus additional for serving (optional)
For the Roasted Cauliflower
1

medium head cauliflower

cut into large florets, with some stem still attached**

1

Tablespoon

extra virgin olive oil

1/4

cup

chopped fresh sage

1

teaspoon

kosher salt

freshly cracked black pepper to taste
Instructions
Preheat oven to 425°F. Place the cauliflower florets, on a baking sheet, add 1 tablespoon olive oil and toss to coat. Roast for 15 minutes, add the chopped sage and roast for a further 5-10 minutes or until the florets are golden and crisp. Set aside and keep warm.

Place the broth in medium saucepan and bring to a low simmer. Keep warm over very low heat.

In a large heavy-bottomed pan, heat the oil over medium heat. Add the shallot, along with 1 teaspoon kosher salt. Sautée over medium-low heat for 3-5 minutes, stirring often, until the shallot is soft and translucent but not browning. Stir in the garlic and cook 1 more minute.

Add the farro and stir to coat in the oil for about 1-2 minutes. Pour in the white wine and cook for 2 to 3 minutes, stirring often, until the wine has been completely absorbed. Pour in 4 cups of the hot broth and bring to a boil. Reduce the heat to a low simmer and cook for 25-30 minutes, stirring gently every 5-10 minutes. If the farrotto seems to be getting dry add another 1/2 cup broth.

Taste for doneness; the farro should be tender and slightly chewy in the center. If the grains seem ready but there is a lot of liquid in the pan, simply scoop some out with a spoon and reserve it for reheating at a later time.

Off the heat, add the grated parmigiano-reggiano and stir gently to combine. Again, if the farrotto seems dry, add the remaining 1/2 cup broth. Season to taste with kosher salt and freshly ground pepper.

Serve the farrotto topped with roasted cauliflower. If using, sprinkle farrotto with extra sage and garlic chips (***see notes). Pass around extra cheese, if desired.
Notes
*For this farrotto I like to use a mix of store-bought mushroom and vegetable broth. The mushroom broth gives the farrotto an incredible depth of flavour that I absolutely love. This is the mushroom broth I use. And this is the only vegetable broth that I find does not have a strong, fake flavour.
Alternatively, use all vegetable, or all mushroom broth, or half of either with half water.
If possible, slice the cauliflower into 'steak florets'. The flat sides of the cauliflower steaks allow the pieces to more evenly caramelize on the sheet pan.
**Optional Crispy Fried Sage Leaves and Garlic Chips:
2-3 Tablespoons extra virgin olive oil
10 sage fresh sage leaves
2 garlic cloves, thinly sliced
Place a small pan over medium heat and add olive oil. Fry the sage leaves for 3 seconds. scoop out with tongs and place on a paper towel to drain. Add the sliced garlic and cook until golden brown, about 2-3 minutes. Place the garlic chips in a bowl, along with the remaining oil.