These Vegan Banana Chocolate Chip Cookies are instant winners. The banana adds wonderful moisture and flavour to these dairy-free, and gluten-free cookies. Loaded with chocolate, these cookies are soft and chewy and exceptionally tasty!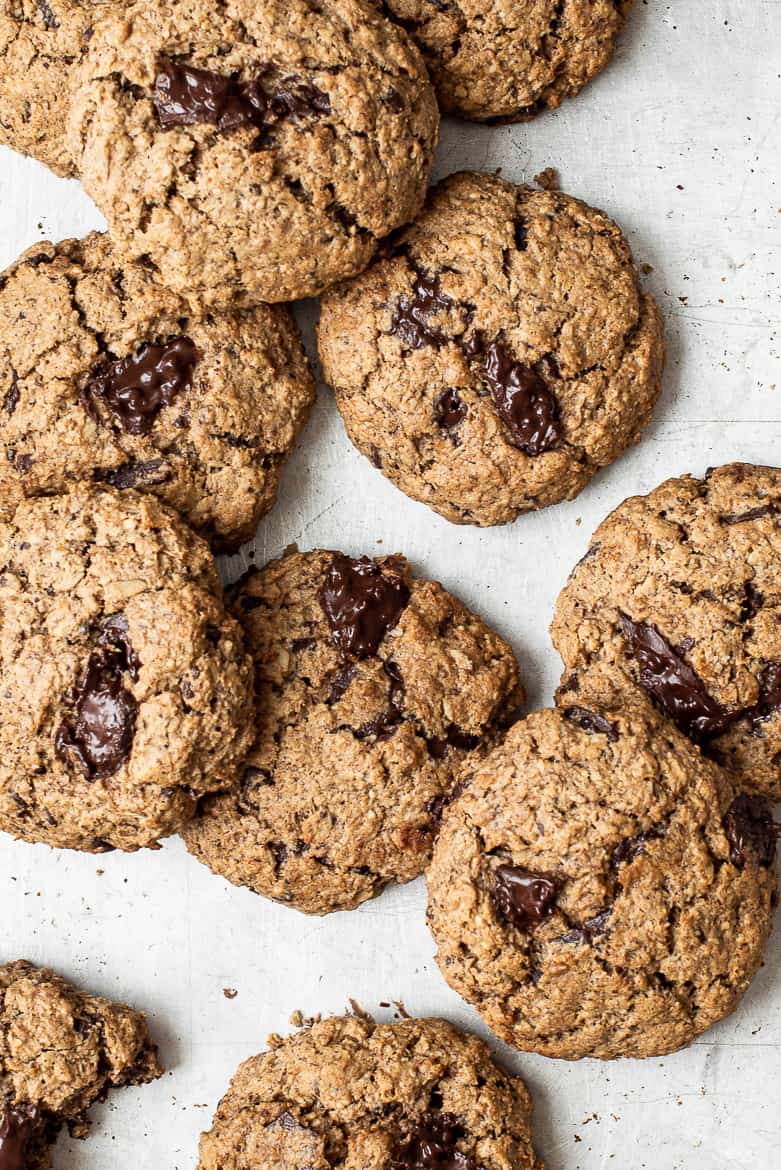 Around here, banana bread is a most loved treat. If I add chocolate chips, then the love is even greater. A while ago, I decided to give this flavour combo a try in a cookie that I was testing for a vegan class. Perfectly chewy and a bit squishy, these cookies have no eggs, no gluten, no butter, are lightly sweetened, and loaded with chocolate chips to tempt the skeptics (aka my youngest). The cookies haven't made it into a vegan class menu (yet) but let me tell you, these cookies are fabulous and I have made them repeatedly for us.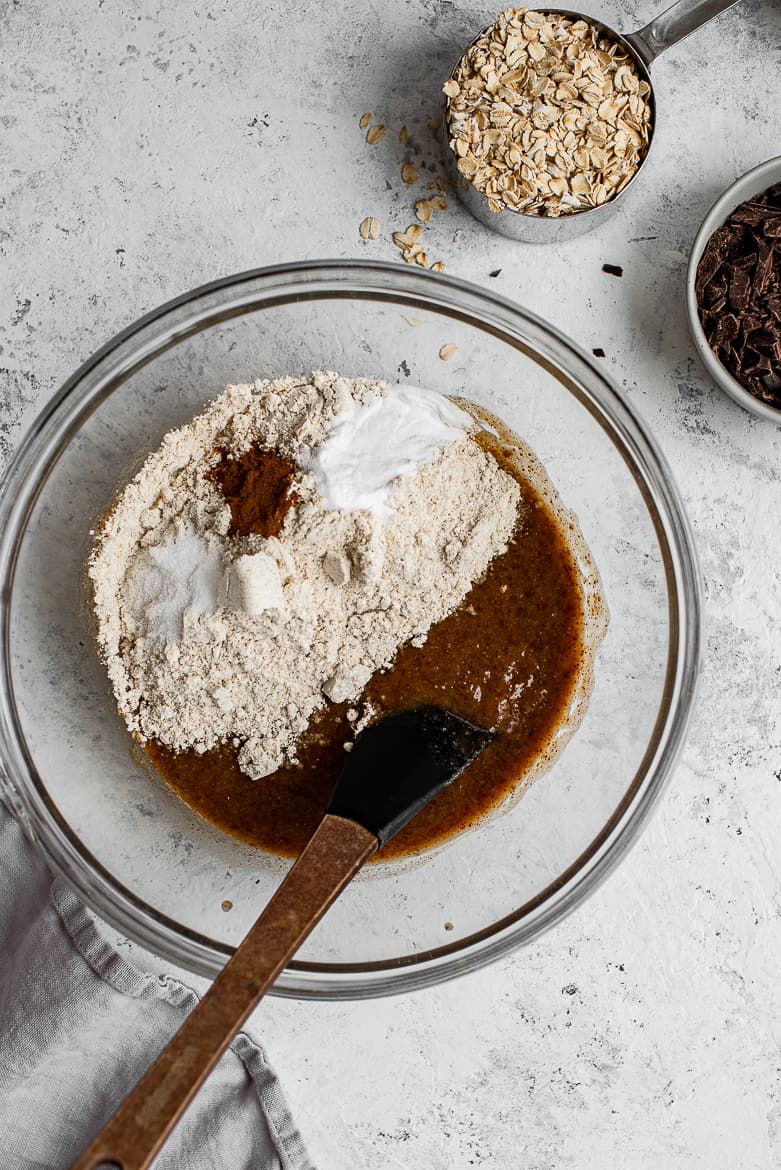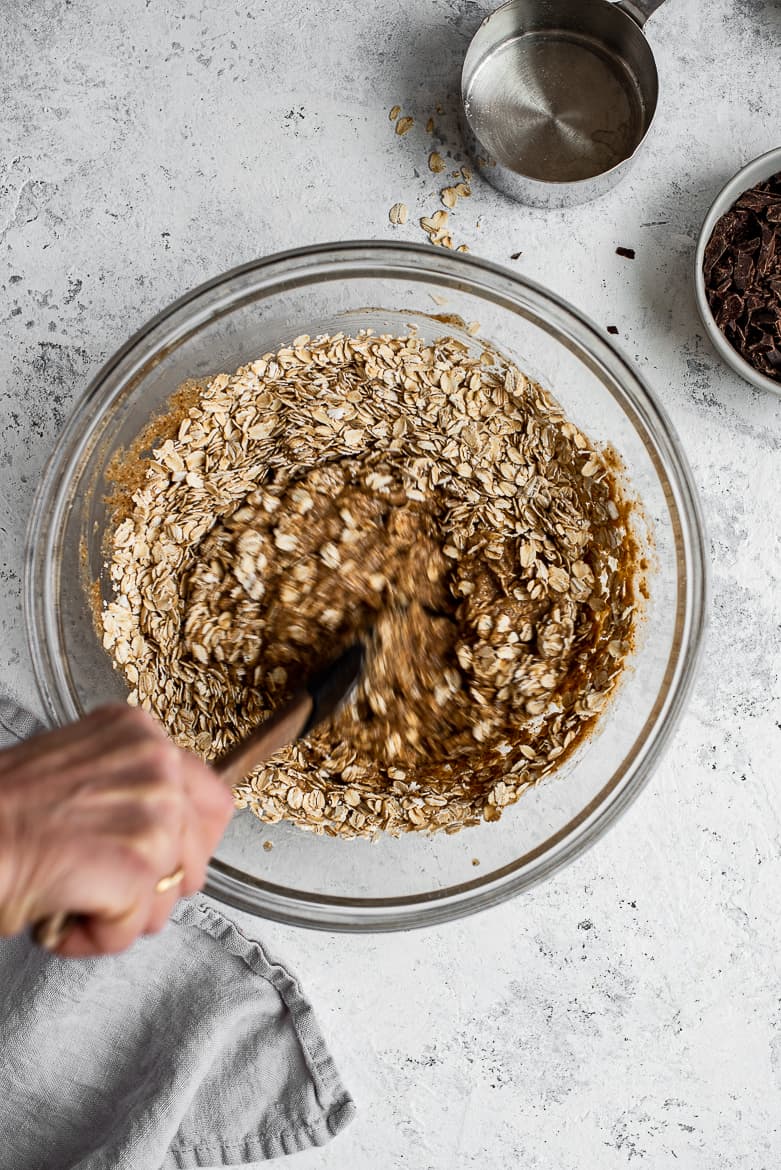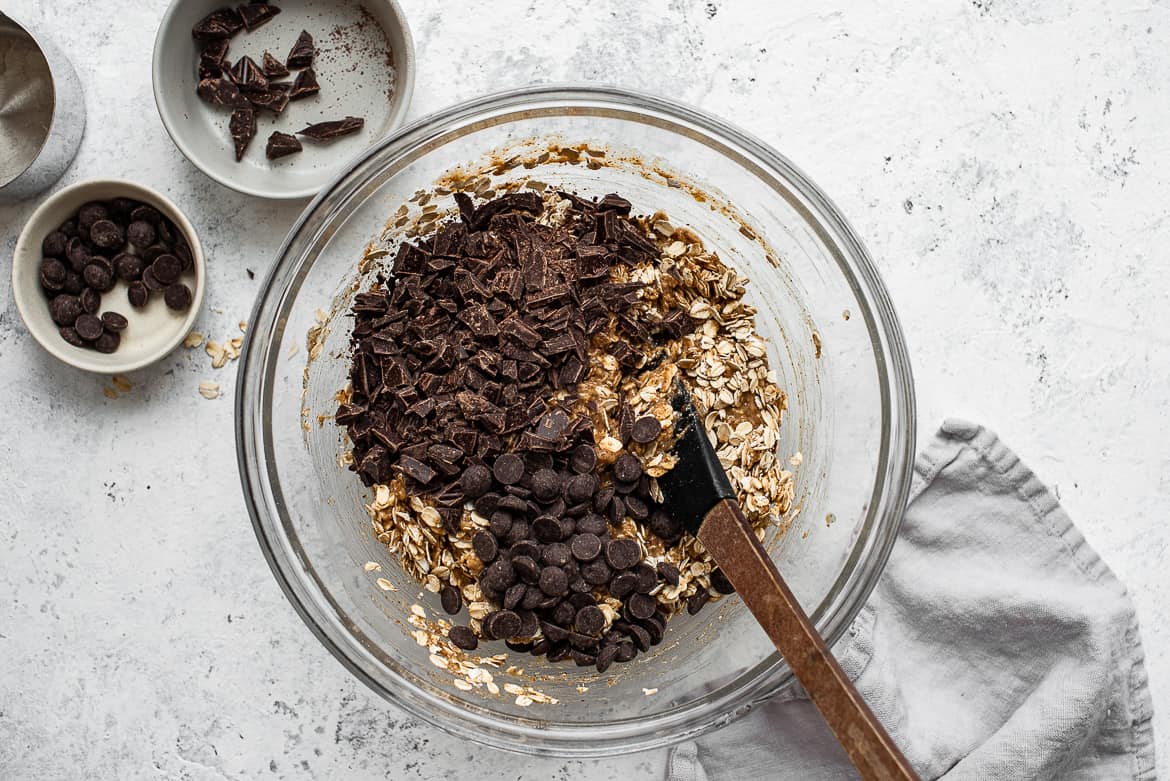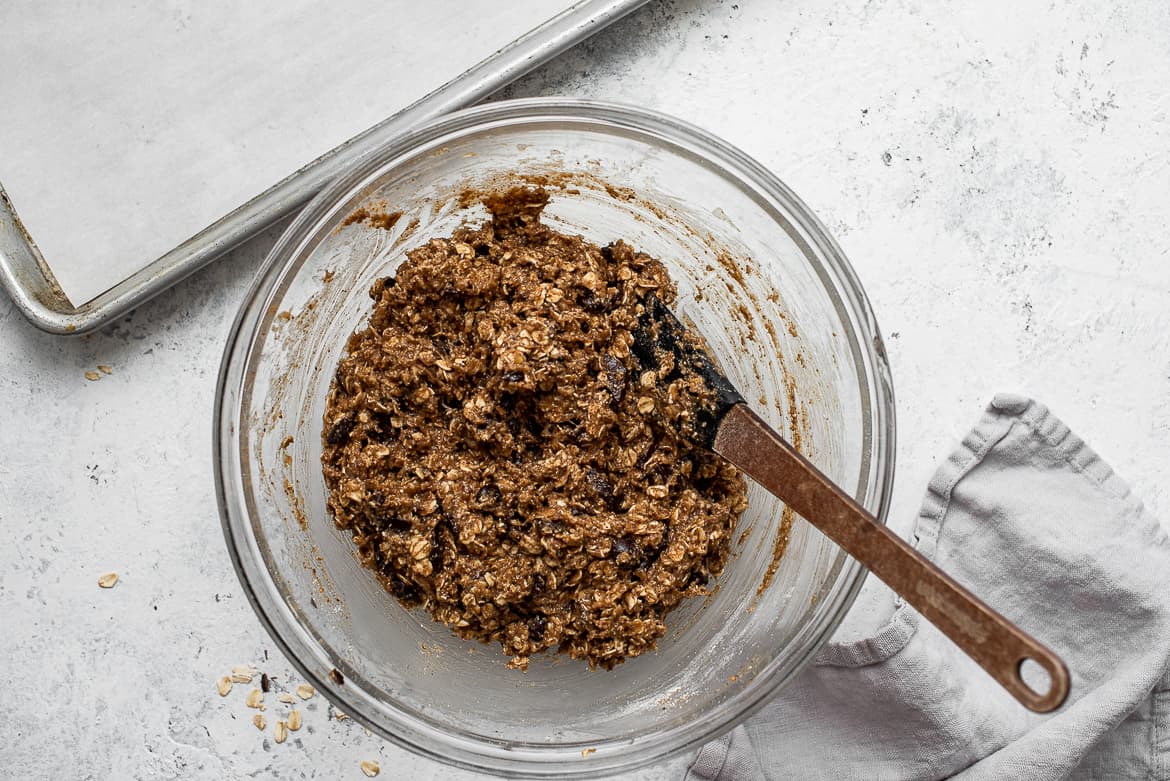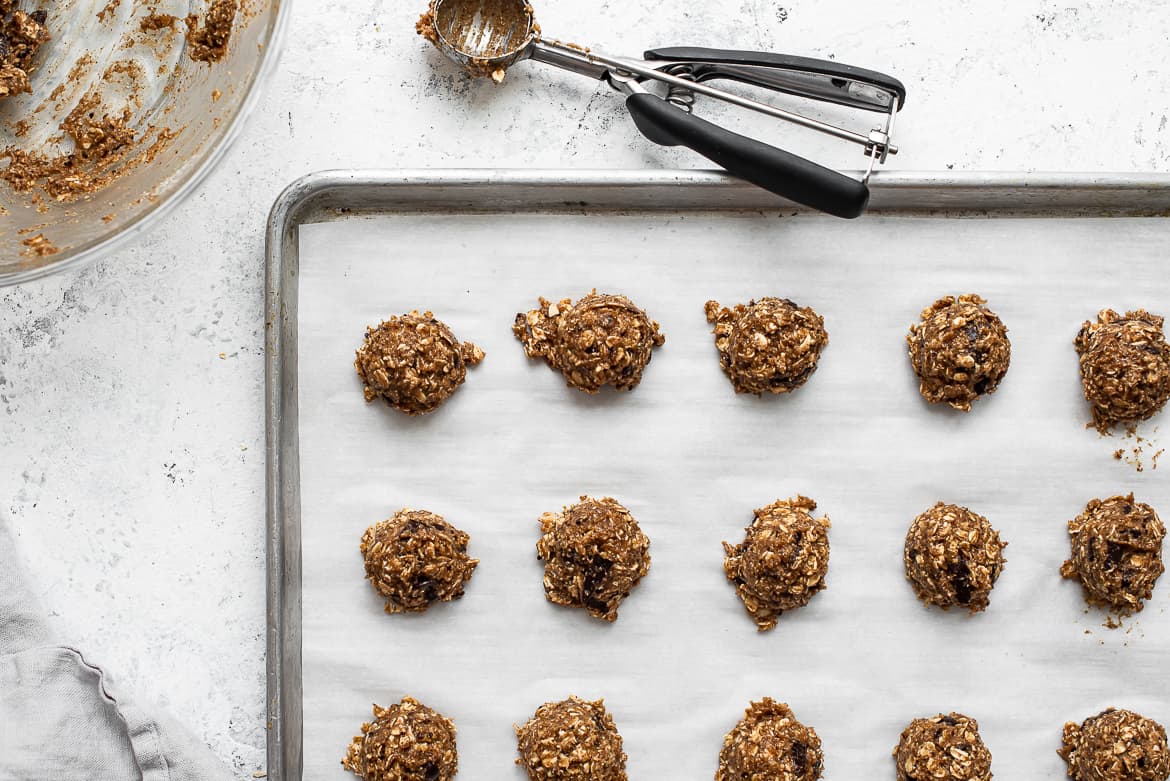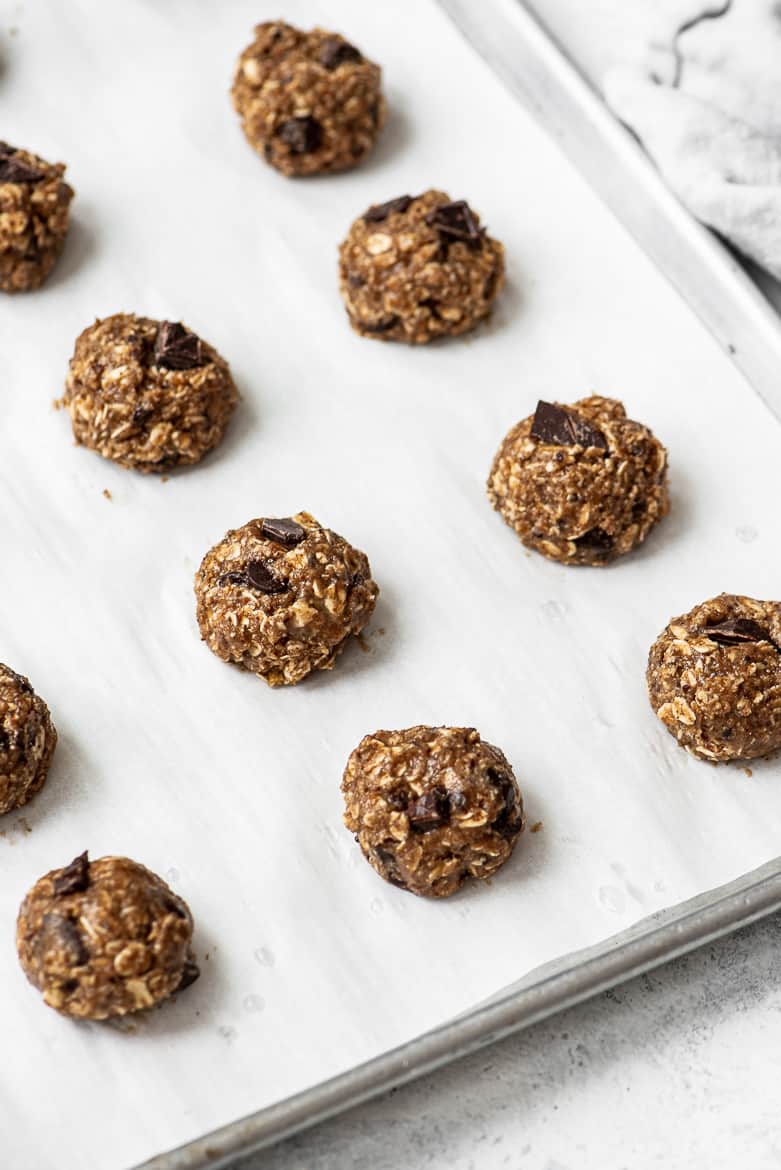 Easy vegan banana chocolate chip cookies
If you love a quick and healthful snack, you're going to love having these vegan banana chocolate chip cookies around. I keep some frozen because otherwise we would go through them waaaay too fast.
Maple syrup and bananas both sweeten and add moisture to the cookies, the almond butter acts as a delicious binder, and the nubbly oats and oat flour add a healthy dose of whole grains and fibre. In my books, the decadent amount of chocolate in these cookies disqualifies them as a "breakfast cookie" or a "healthy" cookie. But health-ier? I think it works. And truth be told, I usually can't resist grabbing one to enjoy with my morning coffee.
How to make vegan banana chocolate chip cookies
Best thing about these cookies? Few ingredients, one bowl, and about 10 minutes of hands-on time. Delicious, pretty healthy, and everyone loves them.
Here is the gist:
Mash 2 very ripe bananas, add melted coconut oil, maple syrup, almond butter, and vanilla. Mix well with a whisk or spatula. To the banana mixture, add baking soda, cinnamon, salt, and oat flour. Mix really well then add the oats and chocolate chips. I like to use larger chunks of chocolate along with the chips. But use all chips if that is more convenient for you.
Measure them out with an ice cream scooper or just your hands. Roll them a bit with damp hands so the edges aren't so scraggly and become too crispy in the oven. Flatten the cookies a little with your hand, then bake and enjoy. Couldn't be simpler and so, so good.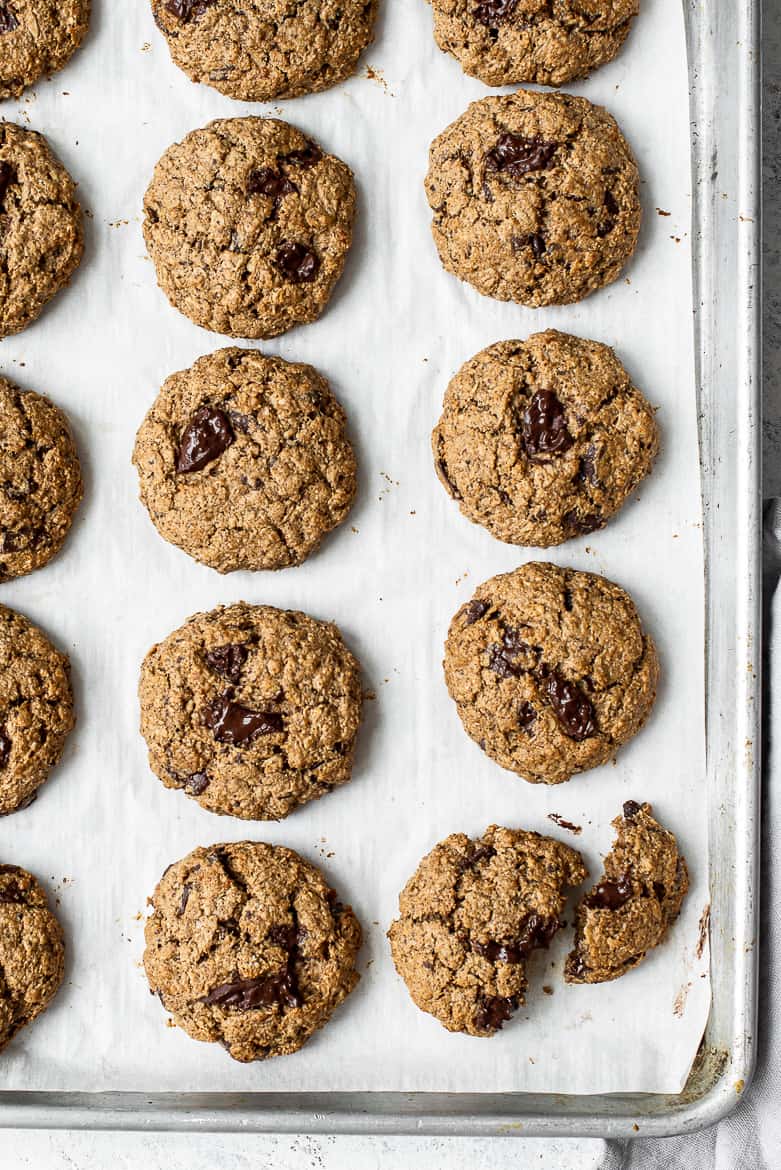 A few tips
Oat flour: Sometimes it is not that easy to find it. You can make your own using rolled oats in a blender. For 1 cup of oat flour, simply blend 1 cup of oats. You can also use almond flour.
Add more flour: The brand of almond butter can sometimes make a difference in the batter. If it seems too sticky and not holding together, add another 1/4 cup, or even more as needed.
Do not overbake: The secret here is to slightly underbake the cookies, which keeps them soft and fudgy.
Variations: If avoiding nuts, replace the almond butter with a smooth, pourable, tahini sauce or other seed butter (make sure it is smooth). If avoiding chocolate, use raisins or dried cherries instead and add a handful of seeds such as sunflower or pumpkin seeds and/or nuts, and shredded coconut. I make the non-chocolate version all the time and though not as popular with my youngest, it is my favourite. I will post a recipe on those soon.
Make ahead and store: Once the unbaked dough has been rolled into balls, they can be kept in the fridge for up to 2 days, or frozen for up to 3 months. Let thaw on a prepared sheet pan at room temperature before baking or bake them from frozen and add a few minutes cooking time. Store baked cookies on the counter, in a storage container, for up to 4 days. You can also freeze the baked cookies in a ziplock bag or storage container for up to 2 months.
These are truly gloomy times with scary virus threats looming and so much political unrest around the world. Cookies won't change anything but they might just provide a much needed distraction from it all. May I suggest you make a double batch, share them, and spread some much needed love. If you make these cookies, I would love to hear all about it so please leave a comment down below. Stay healthy and happy weekend, friends!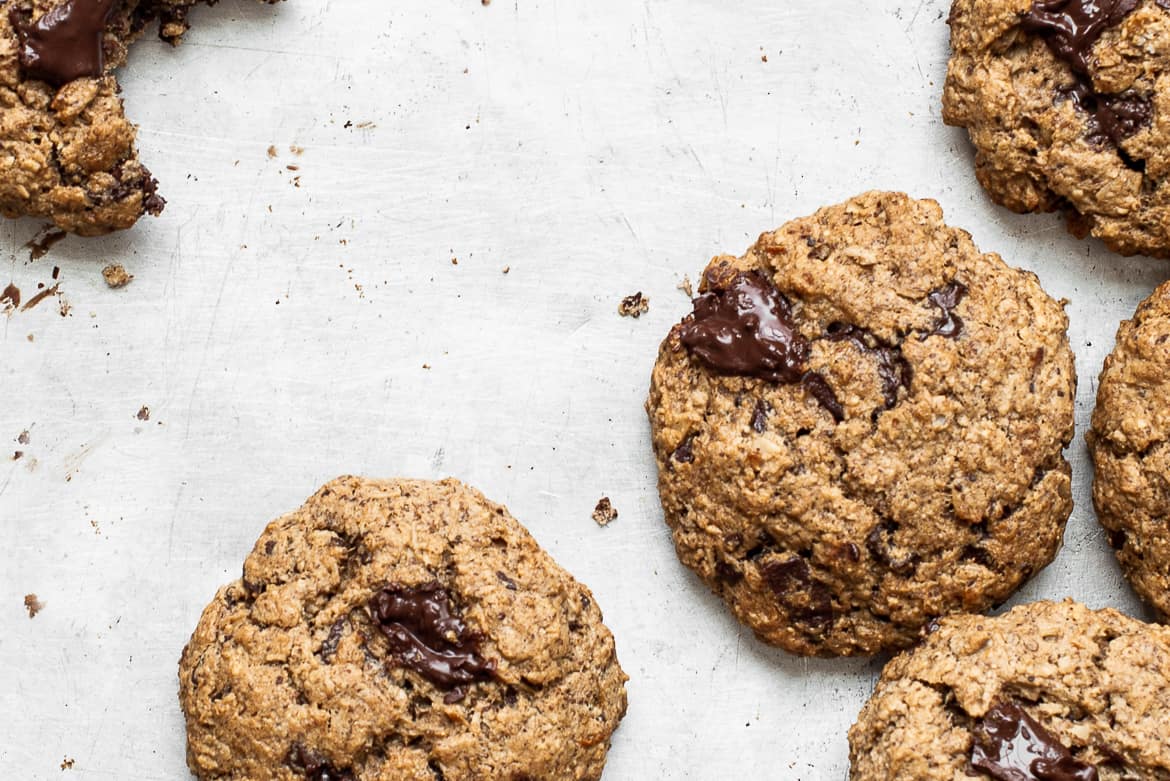 Other recipes you may enjoy
Almond Chocolate Dipped Biscotti 
Print Recipe
Pin Recipe
Vegan Banana Chocolate Chip Cookies
Update: This recipe has been updated to increase the amount of oat flour and decrease the maple syrup. You may find you need slightly more or less flour, depending on the almond butter you use.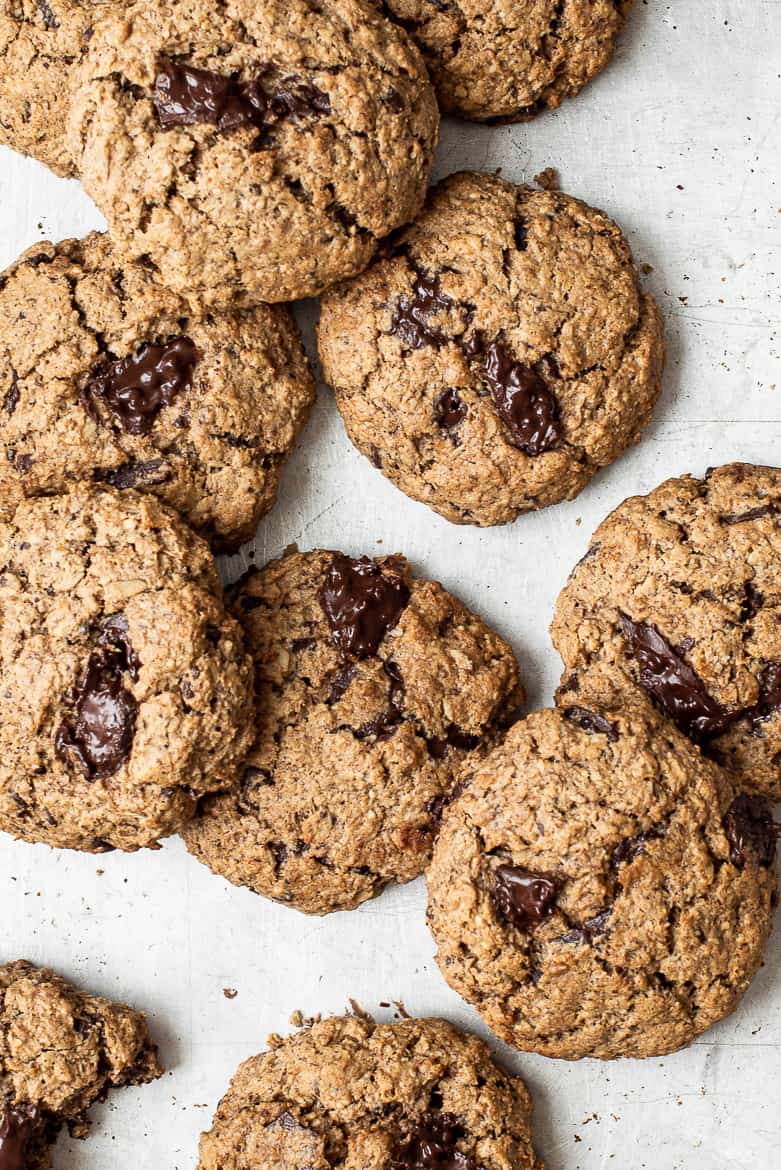 Ingredients
2

large

very ripe bananas

1/4

cup

melted coconut oil

1/2

cup

pure maple syrup

1/2

cup

almond butter

2

teaspoons

pure vanilla extract

1 3/4

cups

oat flour

plus a little more, if needed*

1

teaspoon

baking soda

¼

teaspoon

ground cinnamon

1

teaspoon

fine grain sea salt

2

cups

old fashioned rolled oats

1

cup

chocolate chips

or chunks, or a mix**
Instructions
Preheat oven to 350F. Line two sheet pans with parchment paper. Set aside.

In a large mixing bowl mash the bananas. Whisk in the melted coconut oil, maple syrup, almond butter, and vanilla extract until the mixture is smooth and emulsified. To the wet ingredients, add the oat flour, baking soda, cinnamon, and salt. Stir vigorously to mix the ingredients really well. Fold in the rolled oats and chocolate chips.

Use a 1 ¾ -inch ice cream scooper to form dough into balls, and place on prepared baking sheets about 1 1/2" apart. Flatten cookies slightly with a damp hand. Bake 13-15 minutes or until cookies begin to brown and tops look dry. Do not overbake.

Cool a few minutes and then transfer to wire rack to cool completely.

Store cookies at room temperature in a lidded container for up to a week. The cookies are even better and softer the next day.
Notes
*The brand of almond butter can make a difference in the batter. If it seems too soft and not holding together, add 1/4 cup more flour or even more as needed.
**For even more deliciousness, I like to use a mix of bitter-sweet chocolate chunks and semi-sweet chips. Use whatever you have on hand - it all works.