Comforting and astonishingly easy, this meatless One-Pan Pasta is a stove-to-table dish that has minimal prep and cleanup, a 10-minute cook time, and loads of flavour. A winning weeknight meal you will want to repeat all year long.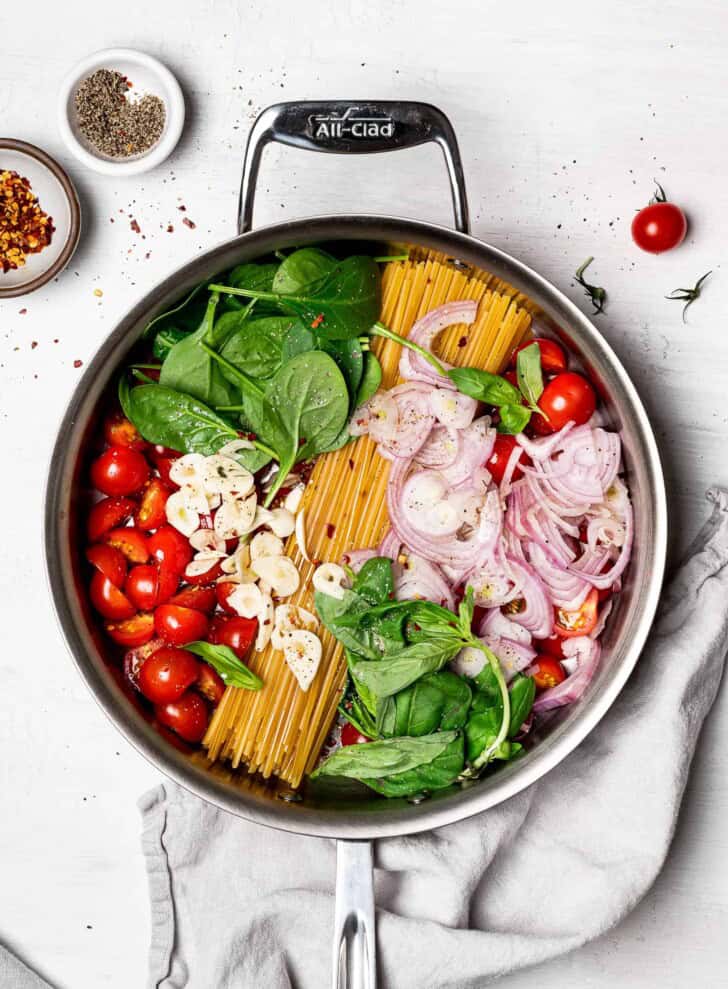 One-pan pasta is not a new idea, but it's definitely worth revisiting once in a while. If you haven't made it, you've likely heard about it since Martha Stewart Living published the recipe almost 10 years ago. I admit, I ignored it for years, quite horrified by the mere concept of it. Eventually, I caved. Likely on an evening when even bringing a large pot of water to a boil seemed like too much effort.
Here we are years later, and I still occasionally whip up a version and marvel at the pure geniusness of it. You need only one pot/pan, some good pasta, onions, garlic, cherry tomatoes, fresh basil and the perfect amount of liquid. In about 20 minutes – which includes the veggie-chopping time – you end up with perfectly cooked pasta that is coated in a tasty, silky sauce. A true feast that is ready in minutes and is very easy on the wallet.
However, as easy and simple as it sounds, it is important to note the recipe can be tricky. Some have immediate success with it, vowing never to cook pasta any other way. Others have epic fails despite following the recipe to a T. I haven't had any disastrous results, but some have been better than others. Here we will cover all the tips I believe will provide you with a very delicious and very satisfying one-pan pasta meal.
The Basic Concept For One-Pan Pasta
Sure, a one-pan pasta dish eliminates the tedious requirement for boiling a large pot of water, and the draining part. But I think the real allure of this recipe is that as the pasta cooks, a simple, but delicious sauce is also getting made. All in one pot, all in a short amount of time. It really is a recipe that will trump all other possibilities for when you're feeling lazy, or it's yet another busy weeknight, or you have very little left in your fridge.
The concept of the one-pan pasta was initially unappealing to me for a few reasons. First of all, I couldn't wrap my head around pasta cooking in such little water. But articles like this one, convinced me to give it a try. Then, the fact that the sauce was made with essentially poached onions and garlic, made it all sound very wrong. Again, I was the one that was wrong. The "poached" onions and garlic sort of melt into the liquid with the high heat and become silky and delicious.
In short, I won't ever give up cooking pasta the traditional way; in a large pot of boiling water and a sauce made separately in another pan. But for a quick, cozy, and pretty delicious meal, this one-pan pasta dish really can't be beat.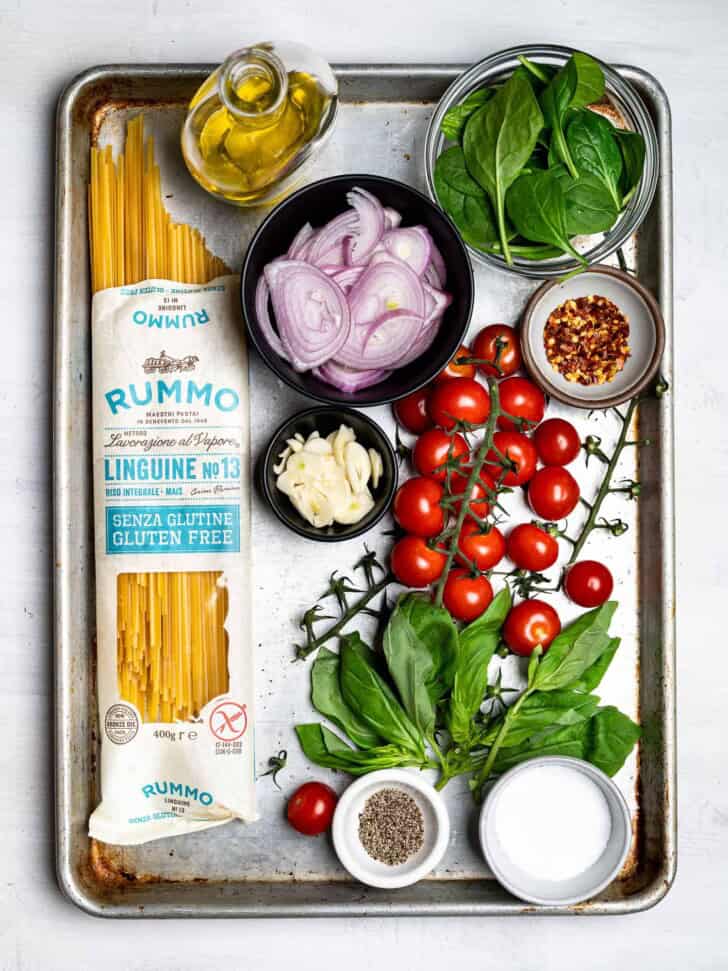 Main Ingredients, Substitutions, And Tips
THE PASTA 
The safest bet is to use a good quality linguine or spaghetti pasta. These will take the least amount of time to cook and will hold their shape well. That said, short-shaped pastas are a little easier to stir in the pan and will also turn out well.
The other tricky thing to keep in mind is that you should use a bit less than a whole package of  pasta. This is a bit of a nuisance since it means you will be left with a bit of pasta that you will have little use for. As annoying as that is, adding the whole package leaves less room for the pasta to cook evenly. Once you have made the dish a few times and become comfortable with the cooking time and water ratio, you can add more.
THE WATER 
Yes, water is a main ingredient as the amount you use can really make or break this dish. If you stick to 1 cup of water per 2 ounces of pasta, you should be good. I have always had success with this ratio, but sometimes I do need to add a little more water towards the end. If adding more water, make sure you are adding hot (boiling is best) water so you don't cool everything down.
If you are using a gluten free pasta it's going to take a bit of trial and error until you get the water ratio right because it will depend on the pasta you use. For the Rummo GF linguini I used in this time around, I needed almost 5 cups of water. See more on using GF pasta below.
SAUCE INGREDIENTS 
Here you have a bit more freedom just don't go too wild and cram the pan full. The original recipe adds thinly sliced onions and garlic, cherry tomatoes, and fresh basil. I used shallots in this recipe but any onion will work. I also like to add a bit of greens such as baby spinach or chopped Swiss chard.
You could also add some other quick cooking cooking vegetables such as chopped mushrooms, green beans, or canned tomatoes. You can also cook some vegetables separately and add them to the cooked pasta dish at the end.
ADD A PROTEIN
If you would like to add a protein, I recommend cooking it separately then adding it to the finished dish. Some great options are pan-fried tofu, shrimp, salmon, or clams. Cooked sausage, pancetta or bacon are also very popular choices for this one-pan pasta.
TO FINISH
Of course some grated parmesan to finish this one-pan pasta dish is highly recommended. Omit the parmesan if avoiding dairy, or use a vegan parm, or a bit of nutritional yeast. A few pinches of crushed red pepper flakes add a really nice kick. Lastly, a chiffonade of basil makes a lovely garnish and highlights the sweetness of tomatoes.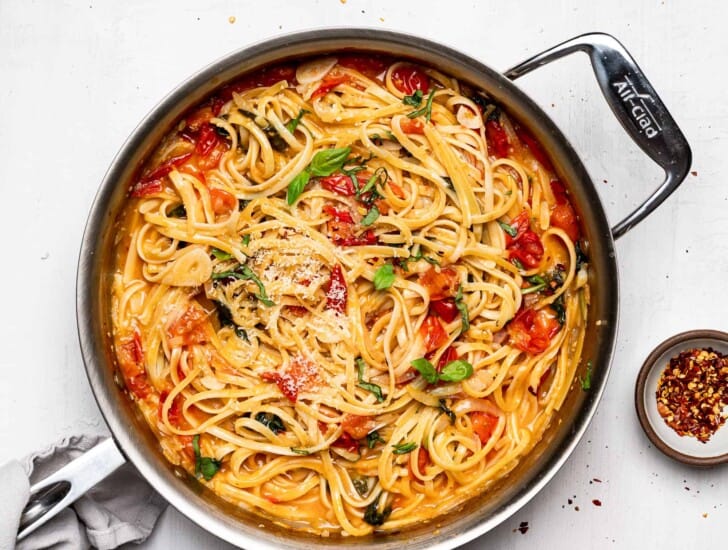 Can I Use Gluten Free Pasta?
Perhaps the most asked question about this one-pot pasta dish is whether you can use gluten-free pasta. You absolutely can. However, not all gluten-free pastas will work. I would avoid quinoa-based, or chickpea-based pastas because they will turn mushy really fast. As you can see in the ingredient photo, I have used a glute-free pasta that is made with rice and corn. I really love all of the Rummo gluten-free pastas but this linguine is the only one I have tried with this technique so I can't report on the others.
What Is the Best Pan To Make One-Pan Pasta
The pan you use can also impact the outcome of this dish. Many negative reviews claim a tall pot does not allow the water to evaporate so it ends up too saucy or with mushy pasta. So if possible, always use a large, low-sided sauté pan. If all you have is a tall pot, start with a bit less water, and add more if needed.
Also, keep in mind that the pasta should always lay flat so it can be submerged in the liquid. For this reason, it is best to use a pan that accommodates the long strands. If using a smaller pan, as a last resort, you can cut the strands in half to fit them but know that a few Pasta Grannies will be fainting when you do this (ha).
How To Make One-Pan Pasta
Start by placing the pasta, tomatoes, onion, garlic, basil, and baby spinach in a large pan. Make sure the linguine is laying flat in the pan. Drizzle everything with some olive oil and season  with salt, pepper, and few pinches of red pepper flakes.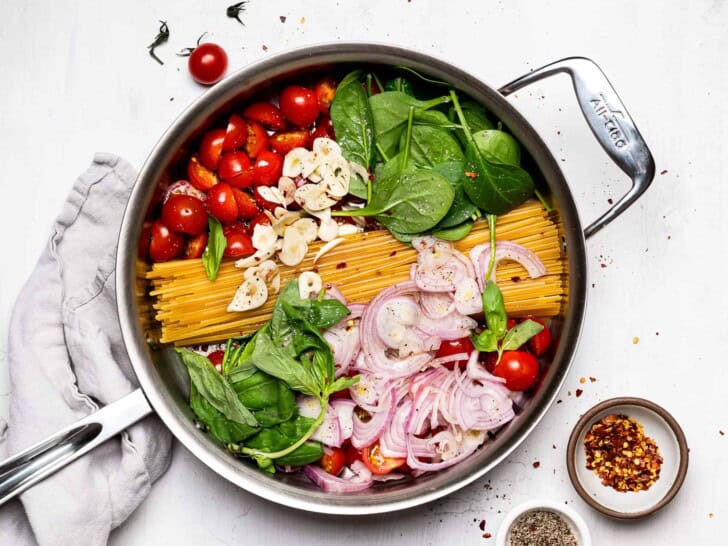 Pour in the water and bring to a boil over high heat.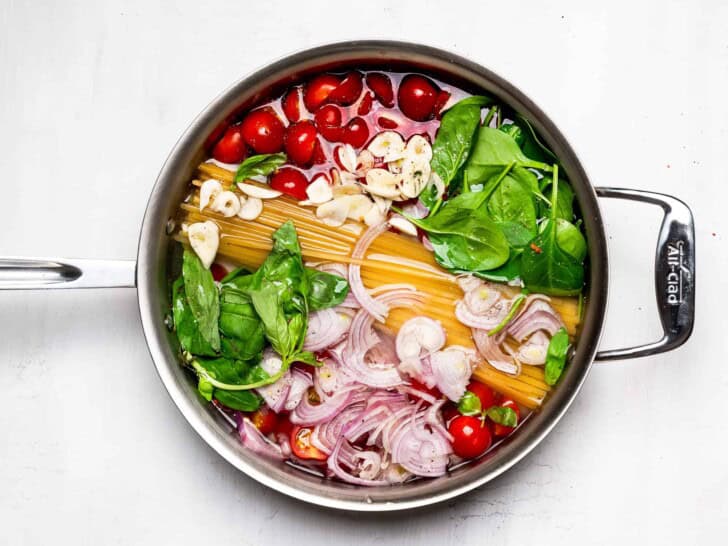 Once boiling, reduce the heat slightly and continue to cook, stirring and separating the pasta frequently with tongs until pasta is al dente and water has nearly evaporated, about 9 to 10 minutes. If the water has evaporated before the pasta is cooked, or if the pasta is sticking to the bottom of the pan, add another cup of boiling water.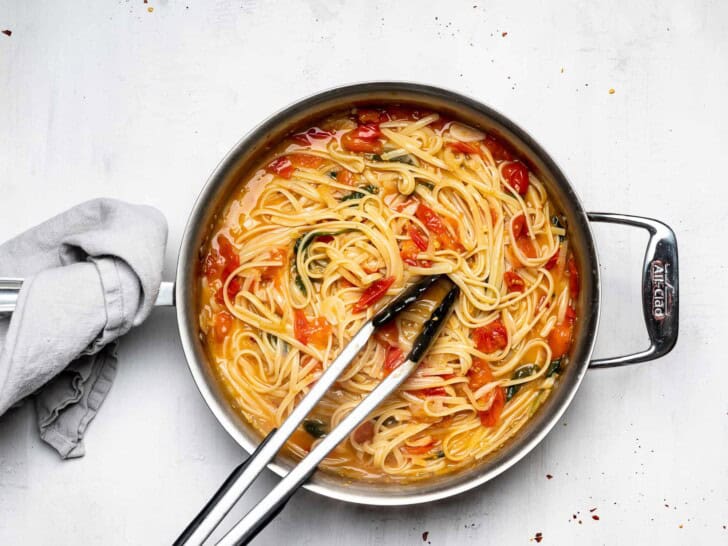 Off the heat, stir in some Parmigiano-Reggiano and a few more pinches of crushed red pepper flakes, if using. Divide among bowls, and garnish with more fresh basil. Drizzle with a bit of oil and a sprinkle more of parmesan cheese.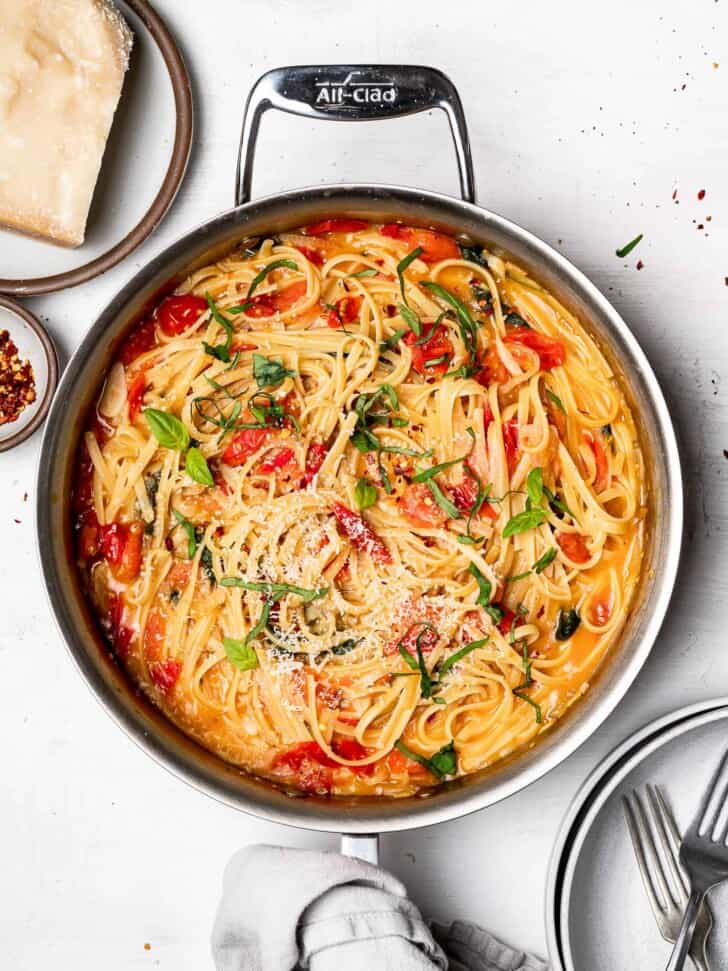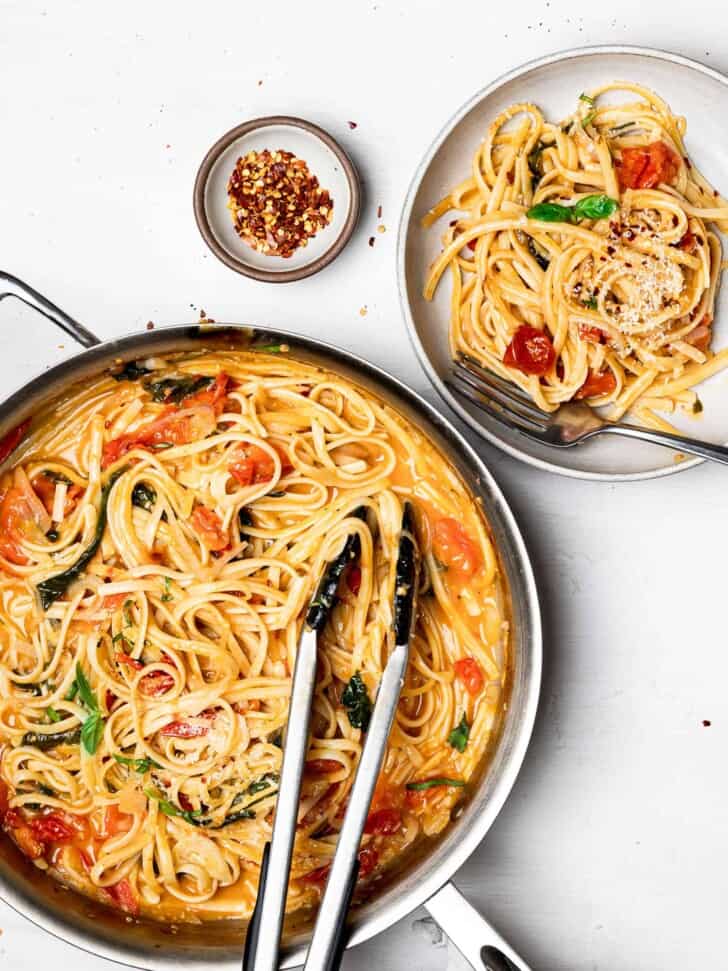 Tips
Season the dish well. You do not need to add as much salt to this dish as when you cook pasta in a lot of water. But you still want to make sure it doesn't turn out bland. Add the salt and pepper right at the beginning so the pasta has time to absorb all the seasoning.
Stir pasta constantly. As soon as the water comes to a boil, you want to stir the pasta pretty constantly. This helps avoid the pasta sticking together or sticking to the bottom of the pan.
Control the heat. You want the pasta to cook over high heat but not too high that everything will start sticking to the bottom. Depending on the pan you use, you will have to keep an eye and lower or increase the heat accordingly.
Add more liquid if necessary. Depending on the pasta you use, or other ingredients you use, you may need more or less liquid. I have never needed less than 4 cups of water but I have often needed to add more.
More Vegetarian Pasta Dishes To Try
If  you give this One-Pan Pasta recipe a try, please feel free to leave a comment and/or a star rating below. We appreciate and welcome all your feedback. Thank you!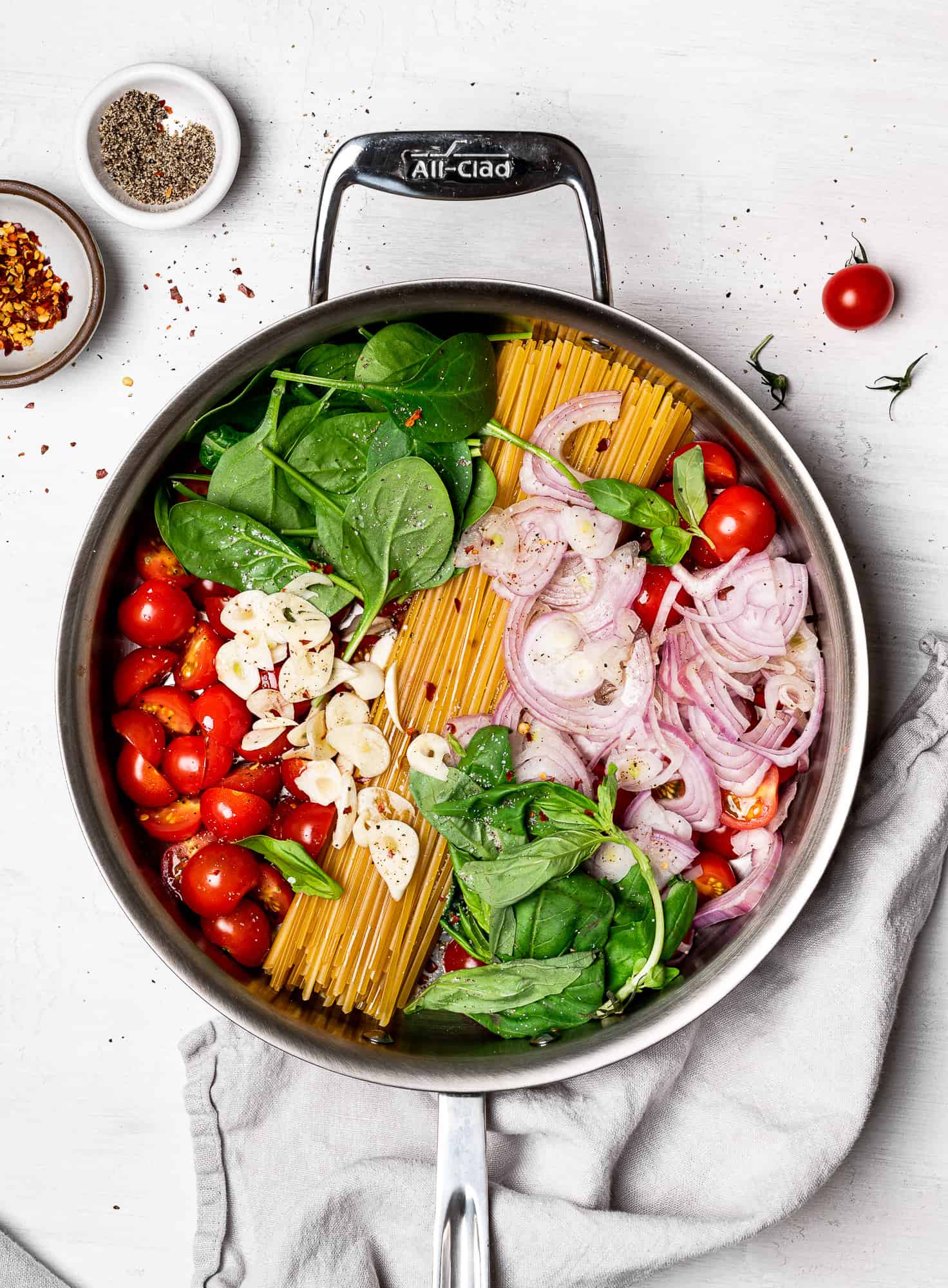 Ingredients
12

ounces

linguine

or spaghetti

1

pint

cherry tomatoes

washed and halved

1

small white or yellow onion (about 1 cup)

finely sliced (I used shallot)

3

garlic cloves

peeled and thinly sliced

2 - 3

sprigs of basil

plus some extra chopped leaves for garnish

2

ounces

baby spinach

2

tablespoons

extra virgin olive oil

plus more to finish

1 1/2

teaspoon

kosher or sea salt

1/4

teaspoon

freshly ground pepper

optional

1/2

teaspoon

crushed red pepper

or to taste

4

cups

water

2

ounces

parmesan cheese grated

optional, plus more to finish
Instructions
In a large straight-sided saute pan, or skillet, place the linguini, tomatoes, onion, garlic, basil sprigs, and spinach. Make sure the linguine is laying flat in the pan. Drizzle everything with 2 tablespoons olive oil and season with 1 1/2 teaspoon salt, 1/2 teaspoon pepper, and few pinches of red pepper flakes, if using. Pour in the 4 cups of water and bring to a boil over high heat.

Once boiling, use tongs to stir and lift the pasta around every so often so that it separates and doesn't stick to the bottom of the pan. After 7 minutes, start testing the pasta for doneness. If it needs more time and most of the water has evaporated, add 1 cup of boiling water. Otherwise, continue to cook until al dente, 2 to 3 minutes more.

Turn off the heat and gently toss the pasta a few more times. There might still be some liquid but it will contuse to be absorbed by the pasta. Stir in the parmesan, if using and toss to combine.

Divide among bowls, and garnish with chopped fresh basil. Drizzle with a bit of olive oil and a sprinkle more of parmesan cheese, if desired.
Notes
Slightly adapted from Martha Stewart Living
To store: Any leftovers can be stored in an airtight container and refrigerated for up to 3 days. 
Make it vegan: Omit the Parmesan or use a vegan parmesan. A bit of nutritional yeast would also work here. 
Make it gluten free: I would avoid quinoa-based, or chickpea-based pastas because they will turn mushy really fast. I have used gluten-free pastas that are made with rice and corn with great success. Rummo gluten-free pastas are all delicious but I have only tried this one-pan pasta technique with the rice and corn linguini so I can't report on the others.