This Pan con Tomate (Spanish Tomato Bread) is a beloved Catalan dish made with just a few fresh ingredients: ripe tomatoes, rustic bread, garlic, olive oil, and salt. Beyond simple, and beyond delicious.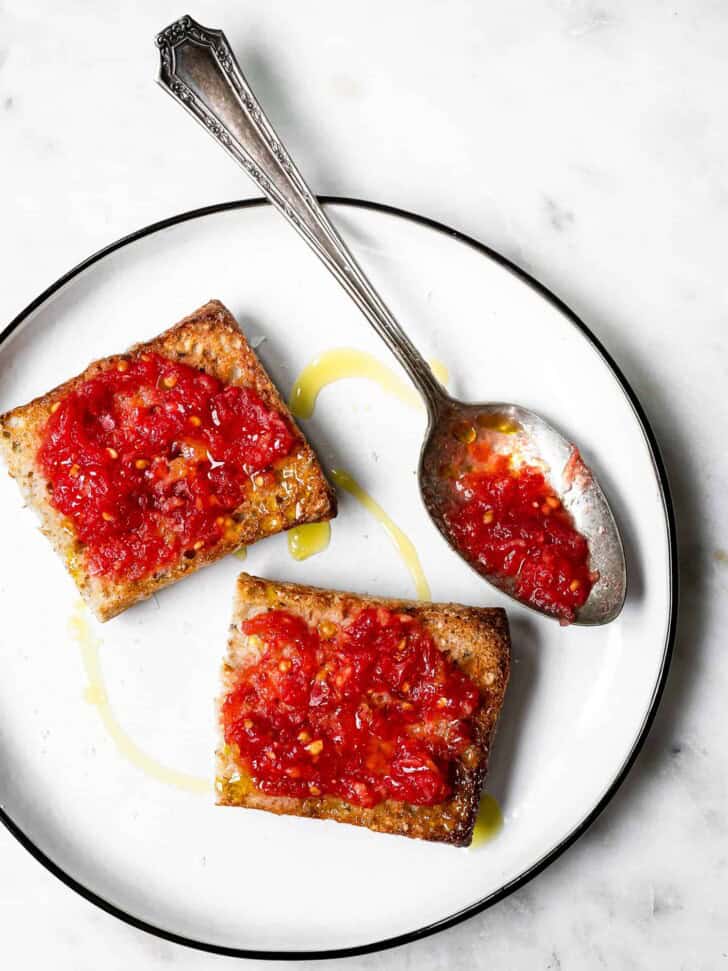 I meant to share this recipe long before tomatoes were justabout  to be done for the season. Alas, the last month was even crazier than predicted for me and recipes didn't materialize as planned.
Nevertheless, you may still find yourself with a heap of tomatoes from your garden or the market – where I just found some very tasty ones – and this pan con tomate (Spanish Tomato Bread) is 100% what you should make with them. It has been my lunch almost every single day since summer tomatoes became available. Fast, simple, and quick to make, I know you'll go just as crazy for it as I do.
Pan Con Tomate (Spanish Tomato Bread)
Pan con tomate translates to bread with tomato. The simple but super popular dish originated in Catalonia where it is known as pa amp tomàquet. Toasted bread, sometimes rubbed with raw garlic, is topped with the pulp (no skin) of raw tomatoes, extra virgin olive oil, and sea salt. In Spain, pan con tomate is also known as pan tumaca.
Though you certainly can order pan con tomate as a tapa in bars and restaurants throughout Spain, it is actually considered more of a breakfast dish or a side dish to be shared at the table. And depending on the region of Spain you are in, the preparation of it will vary. In the Catalonia region, if you order pan con tomate, you will likely be offered all the components separately so you can rub the toasted bread with the garlic and tomato yourself, then drizzle it with olive oil and a few sprinkles of salt.
In Madrid, the pan con tomate is served with the tomato pulp grated in a bowl with the olive oil and salt (sometimes garlic) already added. The toasted bread is served separately for you to top with the tomato mixture and extra olive oil to drizzle if you wish.
No matter how it is served, pan con tomate is sublimely delicious. The most important thing to know about pan con tomate is that it should always be served freshly made, or the bread will get soggy.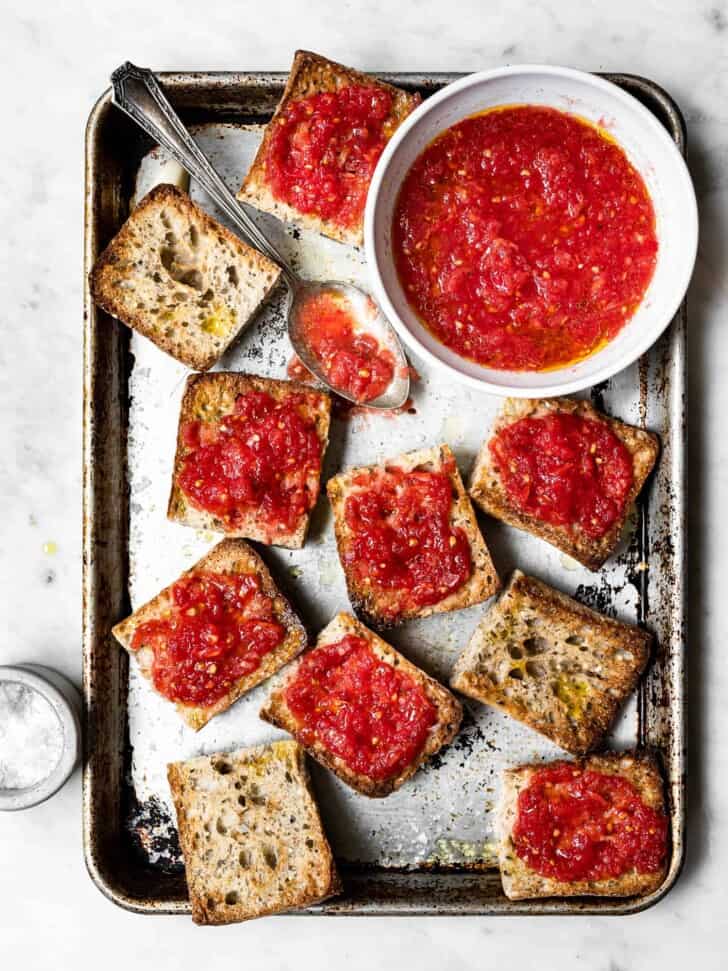 Ingredients & Notes
To make pan con tomate you will need just a few ingredients:
Tomatoes: The tomatoes are quite obviously the star of the show here so you really must choose them wisely. Read the section below for all my tips on picking the best tomatoes.
Bread: In Catalonia, the classic bread used to make pan con tomate is coca bread, similar in look and texture to a ciabatta or rustic baguette. I used ciabatta buns which have the perfect holes and craters to catch all the delicious tomato juices. Whichever bread you use, it is crucial to toast it really well so the tops and sides get crispy and crunchy. This well-toasted, crispy texture on the bread will act as your "grater" for the garlic. In addition, a toastier bread will not become soggy too quickly.
Garlic: A peeled garlic clove sliced in half is often used to brush all over the top of the toasted bread. Not all pan con tomate is served with garlic in Spain but we love ours with lots of garlic flavour. The larger the garlic clove, the easier it will be to hold for rubbing.
Olive oil: Use the best extra virgin olive oil you can find here. It will make your pan con tomate extra tasty.
Sea salt and flaky salt: Tomatoes love salt. Add a few pinches of salt right into the tomato pulp, then top with flaky salt when serving.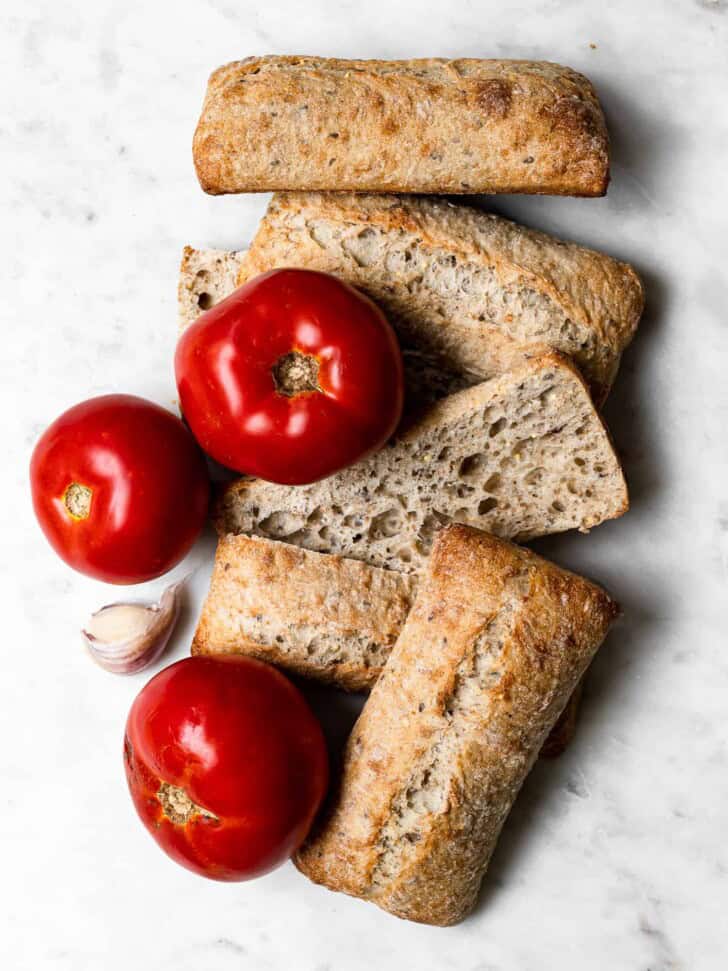 Best Tomato For Pan Con Tomate
A special variety of tomato called tomàquet de penjar or tomacon in Catalán, would be the ideal tomato to use for pan con tomate. The inside of these tomatoes is so pulp-y that all you need to do is rub the toasted bread with a cut tomato and all the pulp spills out. No need to use a box grater. Unfortunately, that variety can only be found in the Catalonia region so unless you reside there, you will need to use a different variety.
Though you could use any summer tomato, Roma and other paste tomatoes—with meaty texture and little to no seeds—will have the best flavour to make a delicious pan con tomate. If you aren't able to find Roma, a meaty variety that doesn't seem too watery, like the ones you see in the photo above, would be a good second choice. For best results and flavour, just make sure the tomatoes you use are perfectly ripe.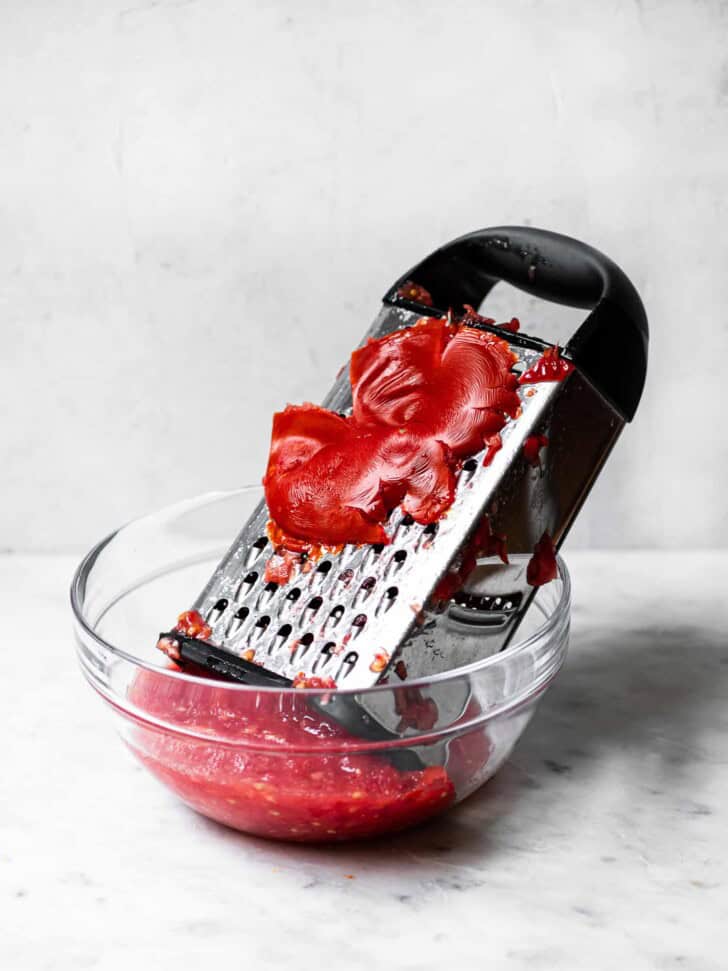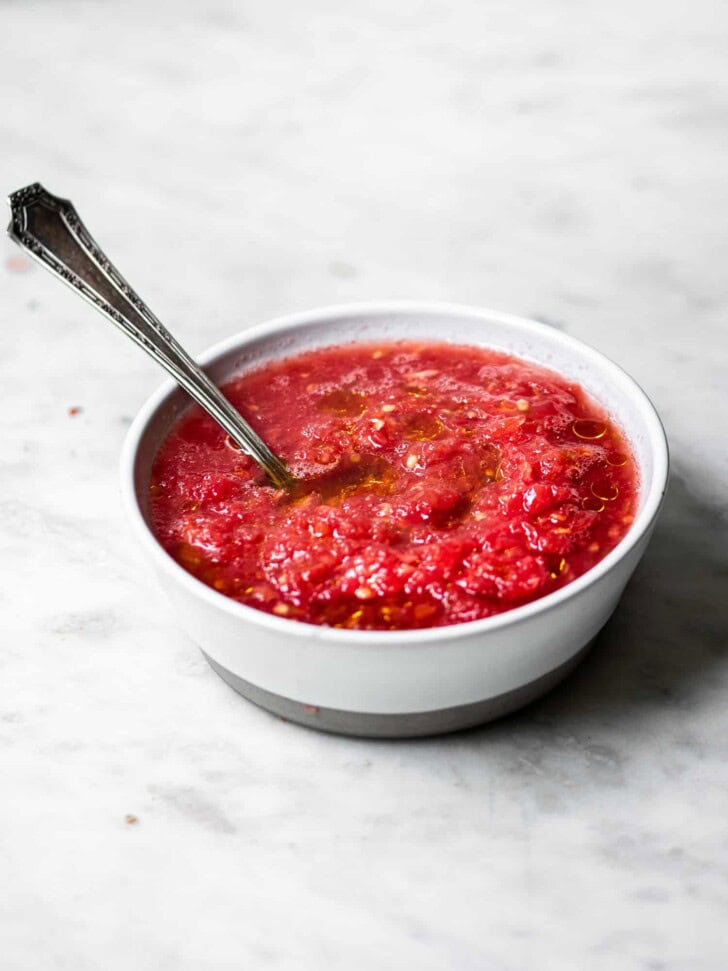 How To Make Pan Con Tomate
Serving Ideas and Suggestion
Resist the temptation to load up your pan con tomate with endless ingredients. The timeless allure of this dish lies in its exquisite simplicity. That said, you will occasionally see pan con tomate topped with anchovies, manchego cheese, or a thinly sliced Spanish ham. I cannot blame you if you do the same.
Serve pan con tomate on its own for a simple lunch, or as an appetizer. I often have it with a hard boiled egg on the side. It is also wonderful alongside these dishes:
Print Recipe
Pin Recipe
Pan con Tomate
Pan con Tomate (Spanish Tomato Bread) is a beloved Catalan dish made with just a few fresh ingredients: ripe tomatoes, rustic bread, garlic, olive oil, and salt. Beyond simple, and beyond delicious.
Ingredients
3

large Roma tomatoes

or 3 small beefsteak tomatoes

Kosher or sea salt

1

loaf ciabatta

or similar style loaf, or buns

1

large garlic clove

halved lengthwise

Extra virgin olive oil

Flaky salt,

such as Maldon
Instructions
Preheat oven to 425 degrees F.

Cut off the top end of the tomatoes. Place a box grater in a large bowl. Place the cut-side of the tomatoes over the large holes of a box grater and using a flat hand grate the pulp out of the tomatoes leaving the peel behind. Drizzle the tomato pulp with a bit of olive oil and season with a few pinches of Kosher or sea salt Set aside.

Slice the ciabatta in half horizontally lengthwise, then cut into 4-inch pieces. If using a loaf-style bread make sure to slice it fairly thick so it can stand up to the tomato topping.

Toast the bread until golden and crispy, about 8 to 12 minute; the time will vary depending on the type of bread and the thickness so keep an eye on it.

Rub the top surface of the warm toasted bread slices with cut sides of garlic clove.

Top the bread with the tomato pulp and drizzle with a bit more olive oil. Sprinkle with flaky salt and serve immediately. 
Notes
TIPS 
Use a nice rustic bread. A crusty baguette or ciabatta buns will provide the best base for the mound of tomato pulp.
Toast the bread well. You don't want the bread burnt but it should be really crunchy so it doesn't get soggy.
Use very ripe, in-season tomatoes. This is a tomato dish that is best enjoyed with late summer tomatoes.
Serve immediately. Pan de tomate is not great soggy. At all. Top the bread with he tomato pulp only when you're ready to serve it.