This easy, creamy, healthy, and not-too-sweet Roasted Carrot Soup with Crispy Chickpeas is lightly spiced with ginger and turmeric to make the most satisfying bowl of autumn goodness. To brighten it up a touch, add dollops of lemon yogurt sauce just before serving.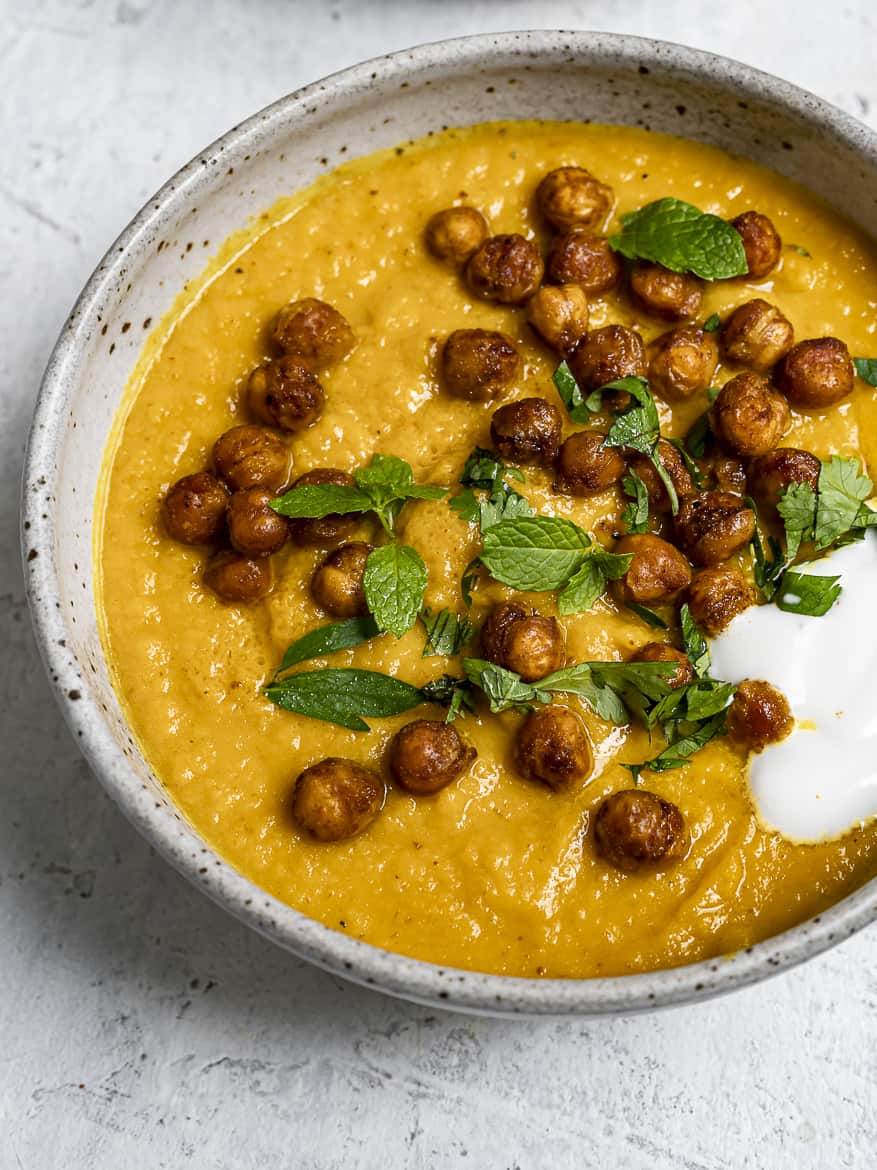 It is hard to escape the abundance of squash and root vegetables at the markets right now. After a little tease of returning warm weather, the chill is back and looking like it is here to stay so let the soup/stew/casserole season begin. Today we are starting with a roasted carrot soup recipe that I know you are going to love. It is a carrot soup that actually tastes like carrots. No cream, no coconut milk, just a jolt of ginger and turmeric for fragrant, warming flavours, and savoury onions and garlic to balance the sweetness of the carrots. Roasting the carrots intensifies their sweetness and just before serving, it gets topped with spiced crispy chickpeas because all soups are better with a little crunch and texture. A dollop of lemony yogurt sauce to finish makes this the perfect cozy bowl to ease into the colder days.
Choose the best carrots
This soup is delicious with just about any regular carrot. That said, I would pass on the big, tough-skinned, woody ones, or the bagged carrots that are filled with really large ones that have no flavour. Almost all supermarkets have bagged organic carrots that are not expensive and those seem to always be on the smaller size and quite tasty. For a real treat, seek out the farmers' market carrots that have just been dug out of the ground and are so sweet you will be gnawing at them like a bunny before you even get home.
Roasting the carrots for flavour
The reason for roasting vegetables is simple: Caramelization makes them taste better. When roasted, carrots will take on a beautifully concentrated sweetness that you will notice when the first spoonful of soup touches your lips. I like to roast my carrots in a 425° degree hot oven, with a generous amount of olive oil, and a sprinkle of cumin seeds. The carrots become butter-soft on the inside, only slightly browned on the outside, and take on a beautifully concentrated sweetness.
You can certainly skip the roasting step and boil the carrots instead. The soup will still be delicious. Just maybe not brag-worthy delicious.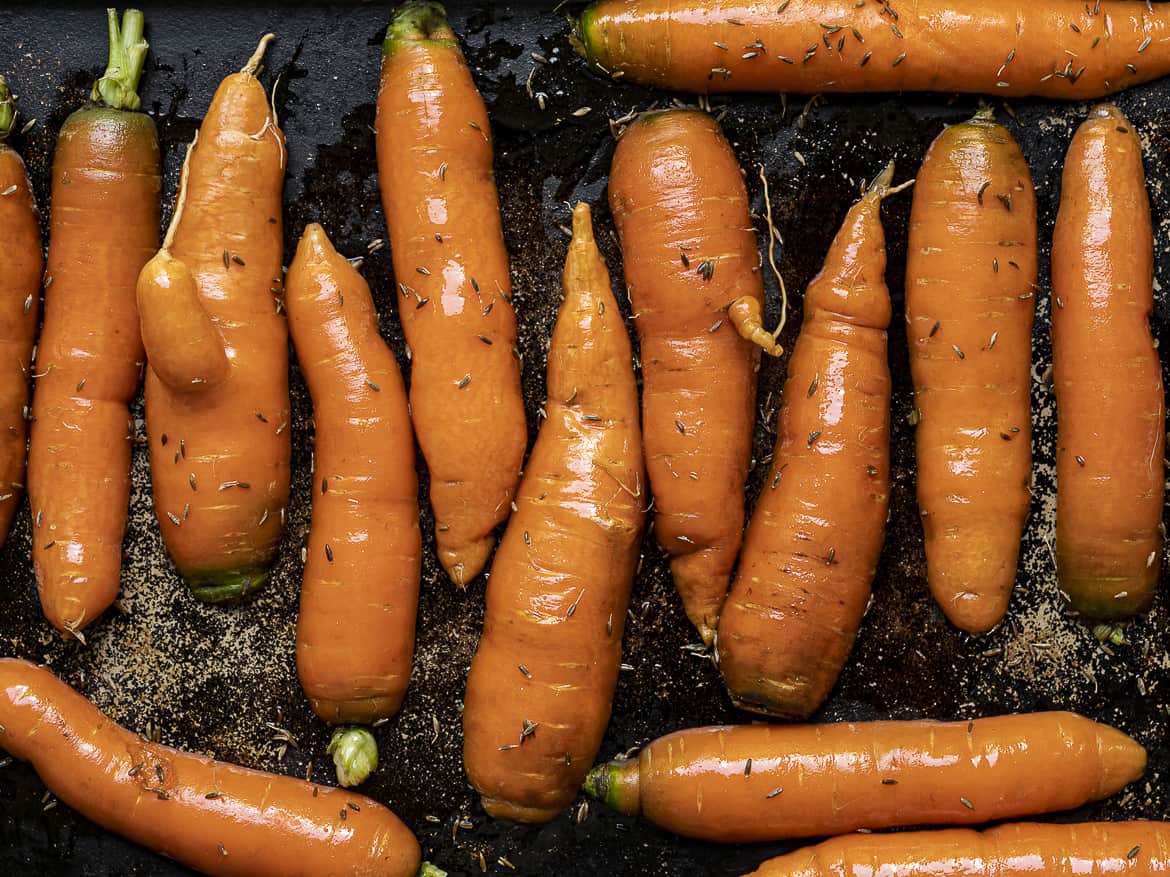 Do you need to peel the carrots
If I buy organic, or market carrots, I don't bother peeling carrots anymore. Unless they have particularly thick or rough skin, I just scrub them well with a vegetable brush. Having said that, I like this carrot soup a little rustic, and not as silky smooth as say a butternut squash soup. If you prefer a silkier soup, peeling the skin is key.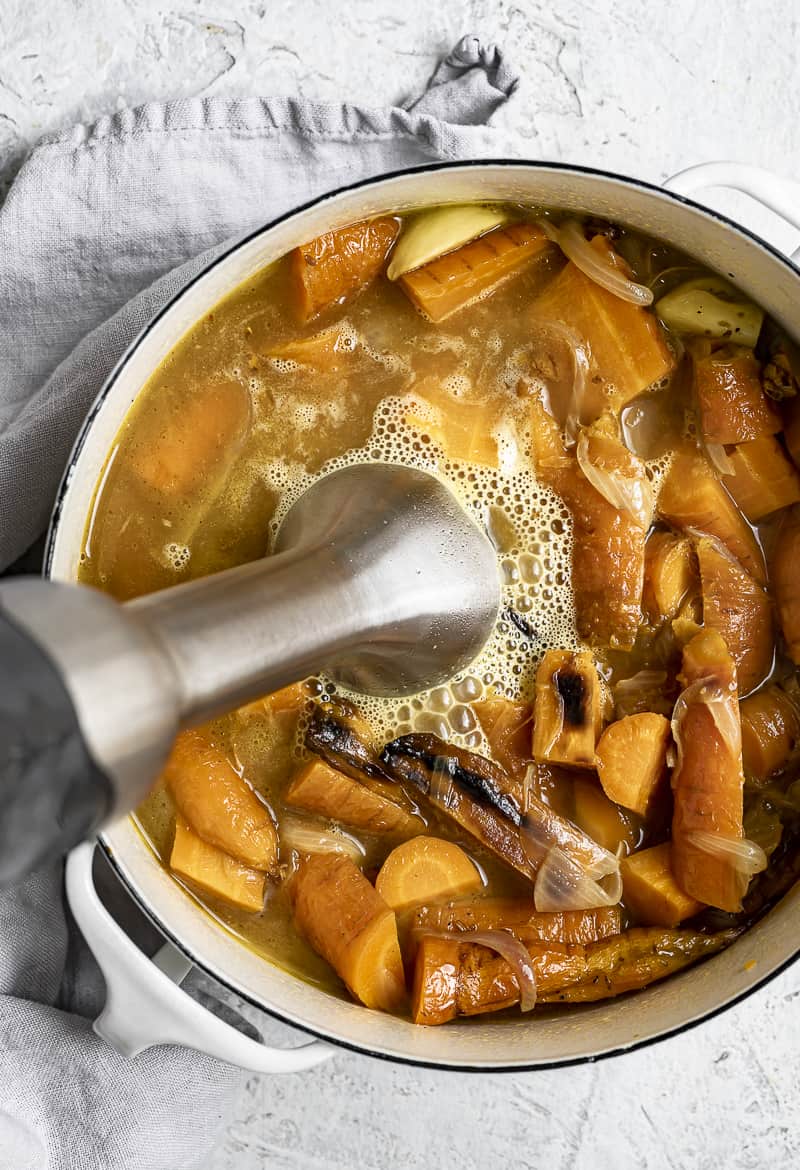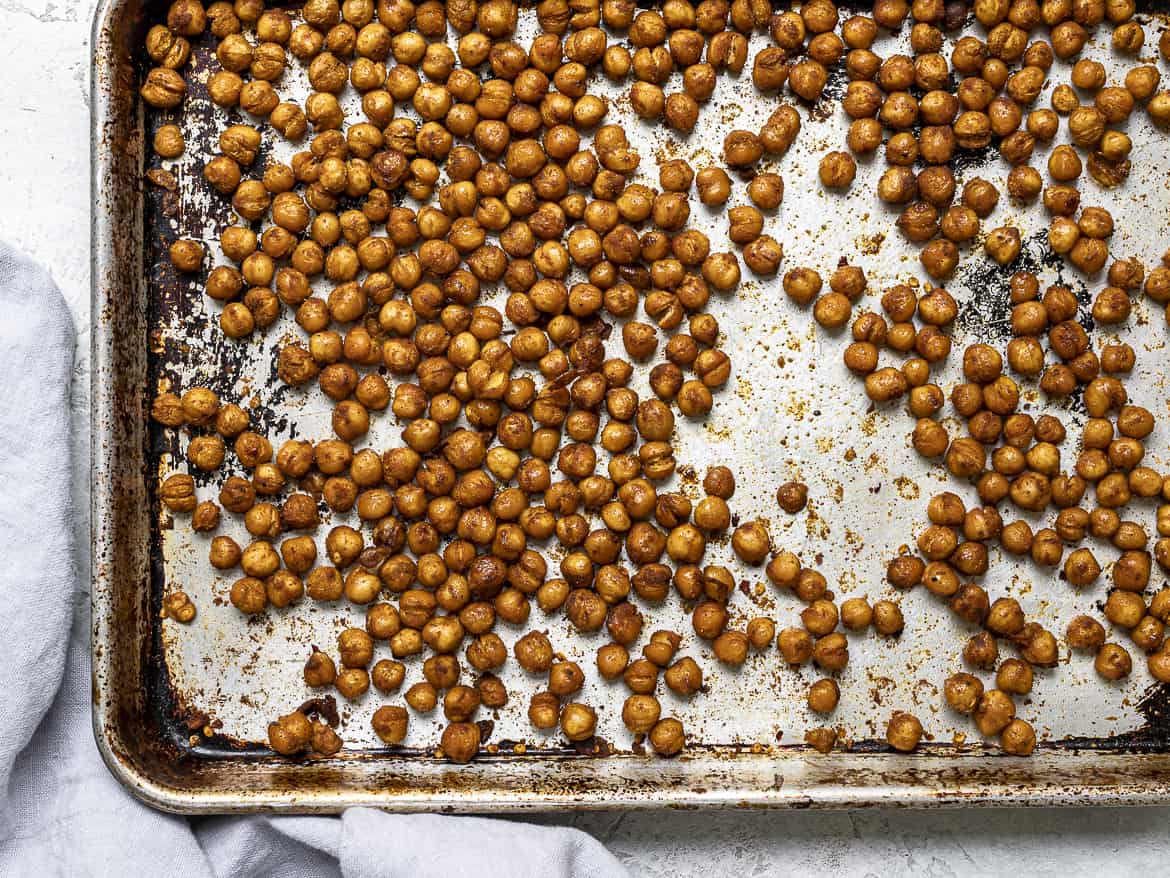 Tips to make crispy chickpeas 
The crispy chickpeas are of course optional but they are so easy to make and ridiculously good. They add a little more deliciousness, heft, and satisfying crunch to this roasted carrot soup that you won't want to miss out on. Chickpeas are also very nutritious – high in fibre and antioxidants and a great source of plant-based protein – so I like to include them in my diet whenever I can.
Here are some of my favourite tips for making great roasted chickpeas:
Dry them well. Once rinsed, chickpeas need to be very well dried before you pop them in the oven. I like to place the chickpeas in a large tea towel and rub them until they are really dry. The less moisture, the crispier the chickpeas will be. If you have time to let them dry out for a bit longer on a baking sheet, do so.
Add spices after roasting. The chickpeas need to roast for over 30 minutes to really crisp up. This long roasting time can cause the spices to burn so add them as soon as you take the chickpeas out of the oven.
Eat them hot. The chickpeas will become less crispy as they sit so top the soup as soon as they come out of the oven. Once cooled, the leftovers will still be delicious even if they are a little chewier. Keep them stored at room temperature in a tight lid container
Make the best roasted carrot soup 
Roasted carrot soup takes a bit of time but the process is mostly hands off. For very little effort you will be rewarded with a deeply satisfying bowl of goodness as the chilly weather begins.
Here is the simple how-to:
Roast the carrots: I like to rub the carrots with plenty (but not too much) olive oil then sprinkle with some cumin seeds. The cumin seeds are optional but they get really toasty in the oven and add a great earthy flavour to the soup.
Roast chickpeas for garnish: The chickpeas will roast along with the carrots, but will come out of the oven a little sooner.
Sauté onions, garlic, ginger and turmeric: While the carrots and chickpeas roast, sautée the onions, garlic, fresh ginger and turmeric root (you can use ground turmeric) in a large pot until softened.
Add the roasted carrots to vegetables: Once roasted, add the carrots to the vegetables along with the vegetable broth, or water, and season with salt and pepper to taste. Let the flavours meld for a few minutes before blending.
Blend: Using an immersion blender or high-powered blender, blend the soup until smooth.
Serve: To serve the soup, pour it into individual bowls and top with the crispy chickpeas, fresh herbs, and a few dollops of lemony yogurt, if desired.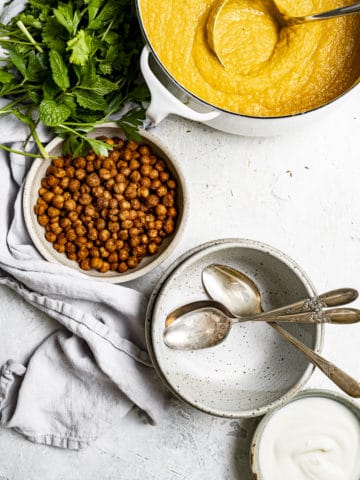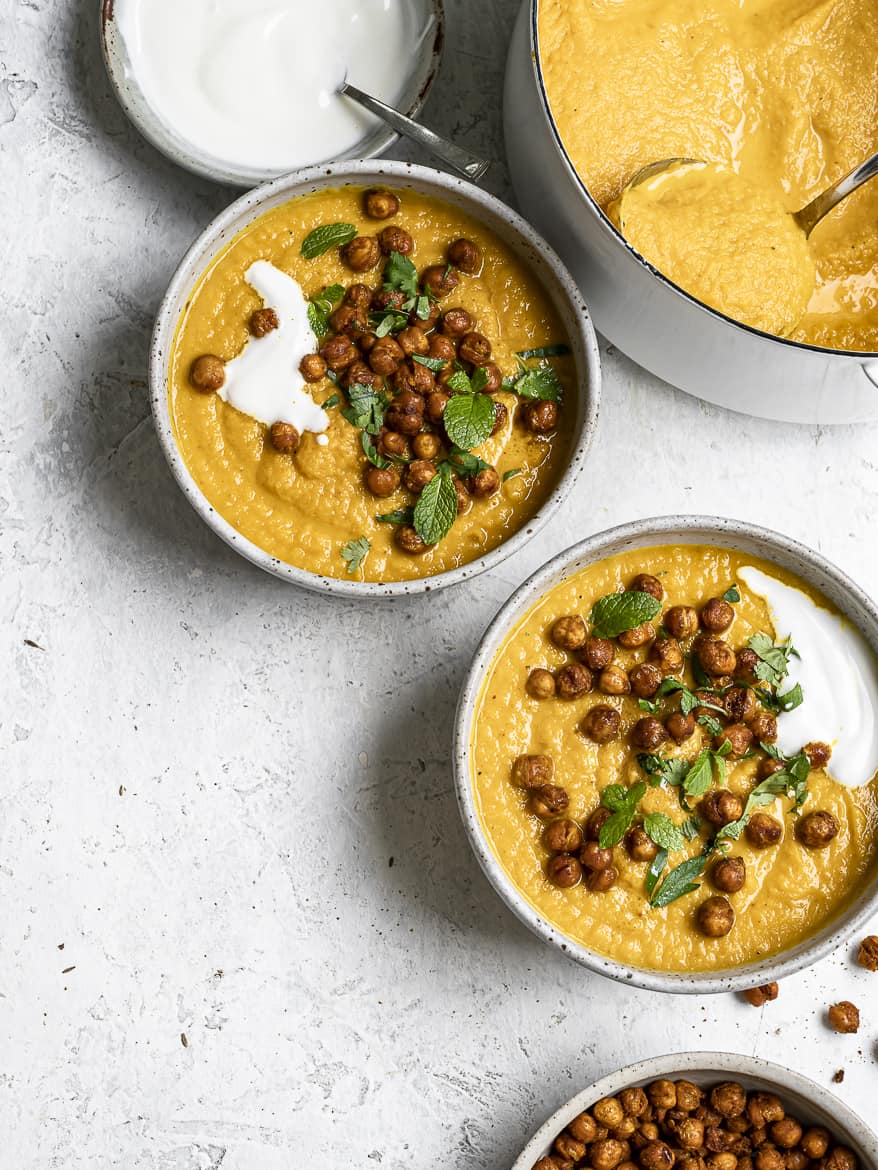 A few tips for the soup:
Use homemade vegetable broth: I have said this many times before, unlike chicken broth, I have yet to find a good store-bought vegetable broth. They all seem to be too sweet or too strong-flavoured. If you prefer not to make your own, I recommend you use water instead which to be honest works beautifully for this soup. Alternatively, a good compromise is to use half water and half store-bought vegetable broth.
Don't rush the carrot roasting step! The carrots will need 45-55 minutes to become sufficiently tender, soft, and caramelized. You can do this step earlier in the day, or even the day prior, then refrigerate the roasted carrots until ready to use.
Use a blender for silky-smooth soup. This is a matter of preference. The immersion blender will not make your soup super smooth no matter how long you blend. If you want silky-smooth, carefully add the hot soup to a blender in batches.
What to serve with roasted carrot soup
I like to serve this roasted carrot soup as a starter to a light meal. However, the chickpeas do make it quite filling so it could be served as a main with some crusty bread and/or a salad on the side. Or, knock it out of the park and serve it with your favourite grilled cheese sandwich for dunking. Yum!
Bonus, any soup leftovers are even better the next day and make a fabulously satisfying lunch.
Other cozy soups to enjoy:
Print Recipe
Pin Recipe
Roasted Carrot Soup with Crispy Chickpeas
Roasting the carrots will take a bit of time but you will be rewarded with a much tastier, full-bodied, soup that is ridiculously silky, easy to make, and tastes spectacular.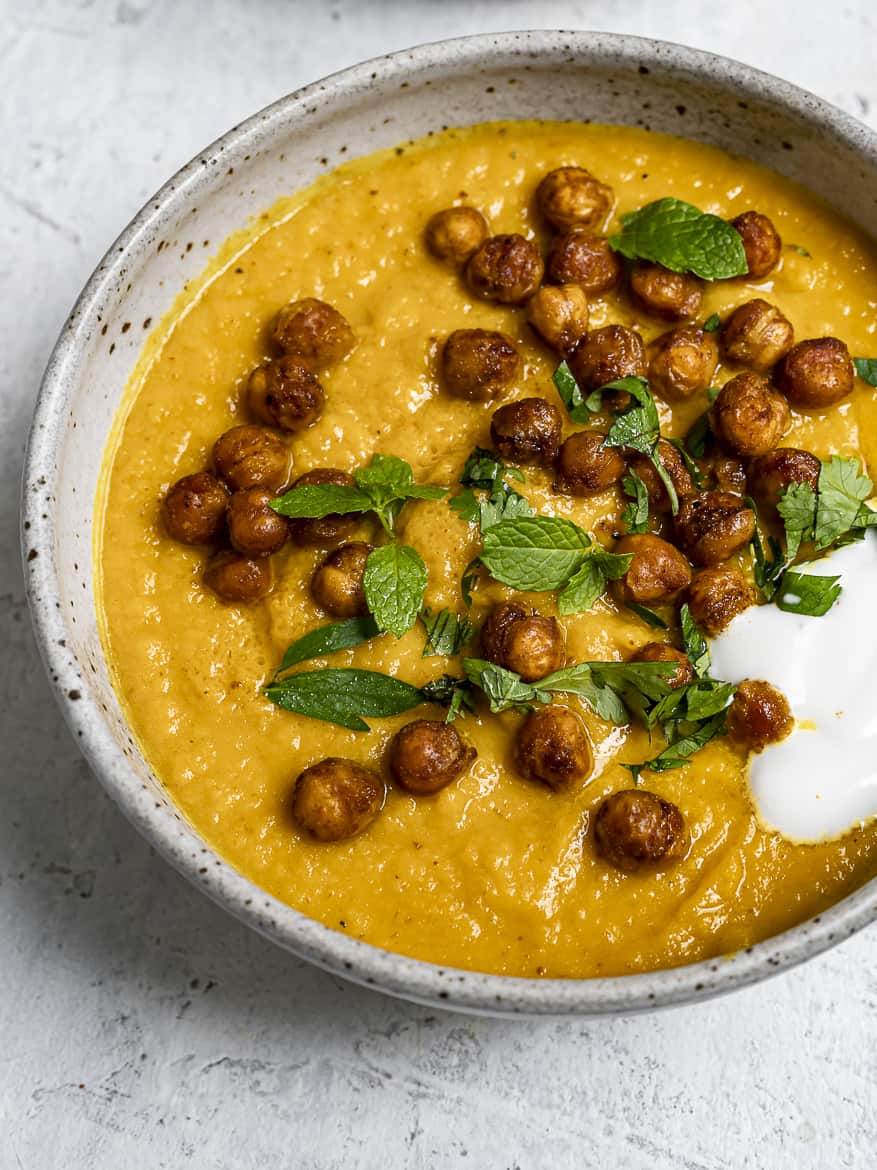 Ingredients
For the Roasted Carrot Soup
3

pounds

carrots

scrubbed clean

3

Tablespoons

extra virgin olive oil

divided

1

teaspoon

cumin seeds

optional

1

large red or yellow onion

thinly sliced

2

cloves

of garlic

sliced in thick chunks

1

inch

piece of fresh ginger

peeled and thinly sliced

1

inch

piece of fresh turmeric root

peeled and thinly sliced (or sub 1/2 teaspoon ground)

1

teaspoon

kosher salt

freshly cracked black pepper to taste

5

cups

vegetable broth or water

plus more to thin if necessary

1/4

cup

Chopped herbs such as parsley, mint, and cilantro

for garnish
For the Crispy Chickpeas
2

15-ounce

cans chickpeas

drained and rinsed

2

tablespoons

extra virgin olive oil

1/2

teaspoon

kosher salt

1

teaspoon

ground turmeric

1

teaspoon

ground cumin

1

teaspoon

ground coriander

1

teaspoon

sweet paprika

1/2

teaspoon

smoked paprika

optional

1/4

teaspoon

cayenne pepper

optional
For the Lemon Yogurt sauce (optional)
1/2

cup

full-fat Greek-style plain yogurt

2

tablespoons

fresh lemon juice
Instructions
Preheat the oven to 425° F.

Cut the carrots in half lengthwise, or in quarters if very thick, and place them on a large baking sheet (see notes*). Add 2 tablespoons olive oil and the cumin seeds, if using. Toss to coat and arrange them in a single layer.

Roast the carrots until they're caramelized on the edges and tender when pierced through with a fork, 40 to 50 minutes, tossing halfway. (The roast time will vary greatly depending on the variety, size, and age of carrots you use.)

Meanwhile, prepare the chickpeas. Place the rinsed chickpeas on a large tea towel, or paper towels, and rub gently to dry, discarding any peels that come off. Place them on a large baking sheet evenly laid out so they are not on top of each other (use two trays if needded). Drizzle with 2 tablespoons olive oil and 1/2 teaspoon salt. Stir to coat. When the carrots have been roasting for about 20 minutes, place the chcikpeas in the oven with the carrots, and roast for 30-35 minutes or until they are crispy, giving the tray a shake halfway through cooking. As soon as you take them out of the oven, season the chickpeas with all the remaining spices, tossing to coat them well.

While the carrots and chickpeas are roasting, in a Dutch oven or large soup pot, warm the remaining 1 tablespoon olive oil over medium heat. Add the onion and cook, stirring occasionally, until softened 5 -7 minutes. Stir in the garlic, ginger, turmeric, salt and pepper, and cook until fragrant, about 1 minute. Pour in the vegetable broth (or water) and bring to a gentle simmer just before the carrots are done.

When the roasted carrots are cool enough to handle, cut them into 2-inch pieces and add them to the pot. Bring the mixture back to a boil over high heat, then lower the heat to maintain a gentle simmer. Cook for 15 minutes to allow the flavors to meld.

Use an immersion blender directly in the pot to blend the soup until fairly smooth. Alternatively, for a smoother soup, puree the soup in bathces using a blender and return it to the pot to keep warm. NOTE: If using a blender, make sure your soup has cooled enough to safely puree.

Taste and adjust seasoning, adding a little more salt and pepper, if necessary. If serving with yogurt sauce, stir the yogurt and lemon juice in a small bowl. Serve the soup warm, topped with the crsipy chcikpeas, fresh herbs, and a few dollops of the lemon yogurt sauce.
Notes
*I prefer to cut the carrots once the have roasted and softened. If you prefer, feel free to cut the carrots into 2-inch, diagonal pieces before roasting them. 
Leftovers keep well in the refrigerator, covered tightly, for about four days.
To freeze, place in a freezer-safe container for up to 3 months.